Happy New Year everyone!! Wishing you a lot of love, health and happiness in the new 2018, and of course may the new year be filled with tons of makeup and beauty. I was debating if I should do a post like this since I've seen a 100 posts already but my IG followers voted Yes, so here we are. I decided to limit the products to 15 and make it easier for me because I would probably be here all day picking products and writing a super long post.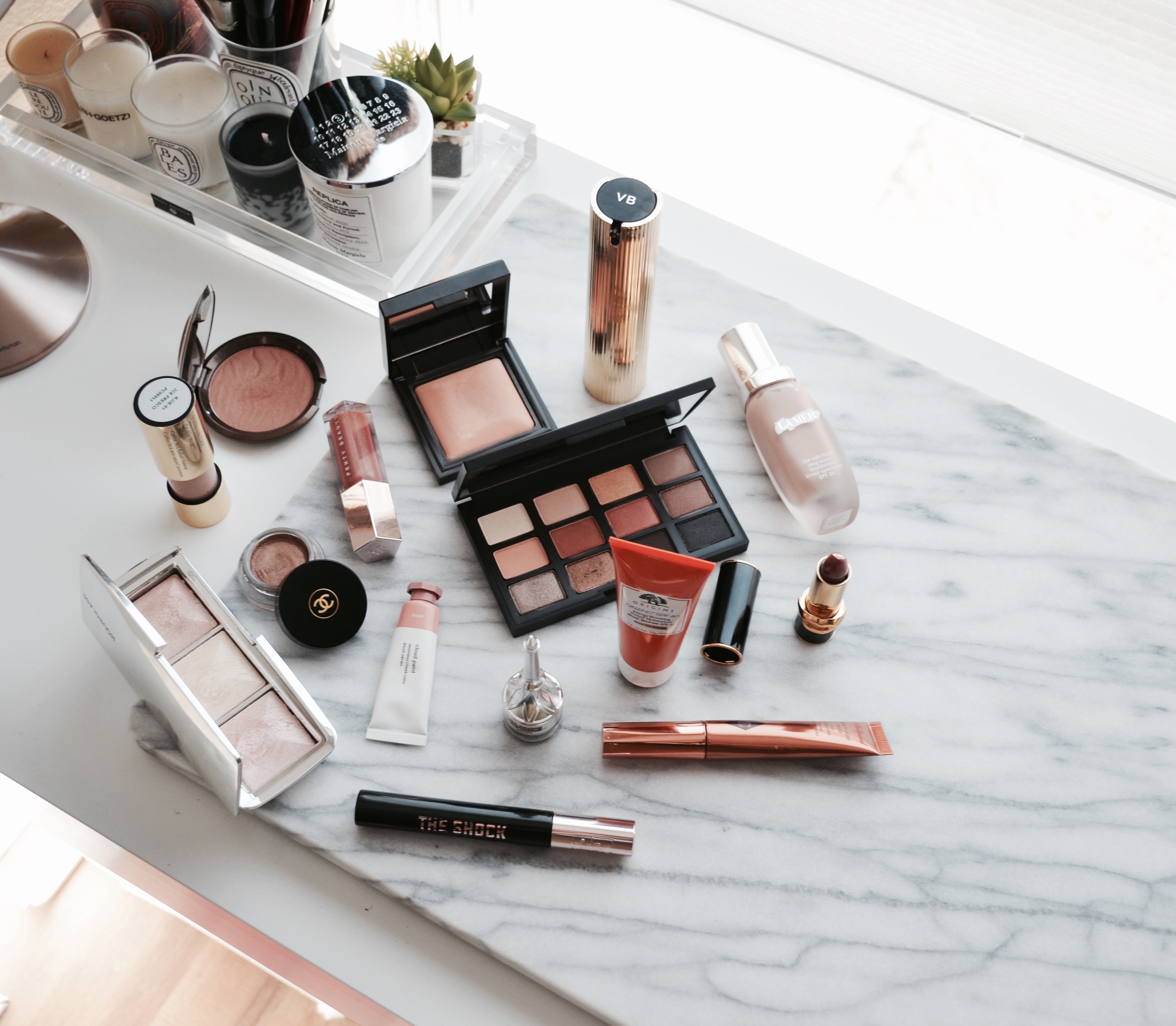 Base
La Mer The Soft Fluid Long Wear Foundation SPF20 – This was love at first use. The La Mer foundation provides light to medium coverage with a beautiful natural and even glowy finish. This is one of the few foundations that I can use when I have a lot of dryness. It doesn't catch on any dry patches and it just looks like skin. A great investment if you are looking for a new foundation to try.
Estee Lauder Double Wear Nude Cushion Stick Radiant Makeup – Packaged in a stick form with a sponge on the end, this is my go-to travel foundation. It is light, natural and glowy (you see a pattern there?) and looks like skin. I also love the Double Wear Nude that comes in the bottle but since it doesn't come with a pump, I don't like to travel with it.
Origins GinZing SPF40 Energy Boosting Tinted Moisturizer – When I'm going for a no makeup makeup look and just want to slap something quick without using any tools, I go for this. This is a wonderful tinted moisturizer that blurs out pores and evens out my skin tone. Plus it has the SPF of 40 so I can skip a step when I'm in a hurry. Pure love for the Origins GinZing Tinted Moisturizer.
VB x Estee Lauder Morning Aura Illuminating Creme – A pricy illuminating primer and moisturizer in one but oh so worth it in my opinion. The creme gives a beautiful lit in within look that you can wear on it's own just to liven up the skin or as a primer under your foundation. Estee Lauder, please make this permanent as I would definitely repurchase when I finish my bottle.
Laura Mercier Candleglow Sheer Perfecting Powder – I have to admit, since my skin went from combo to normal and even dry in the winter, I haven't been using much powders. But the Laura Mercier Candleglow powder is a love because I can use it even when my skin is dry. It's one of those Hourglass type powders that gives a glow but also sets your makeup really well. I use it all over the face and also to set my under eye and it works both ways. It doesn't add any coverage and it is very light on the skin. It also doesn't give a matte look. My skin is natural and glowy which is the look I'm always going for.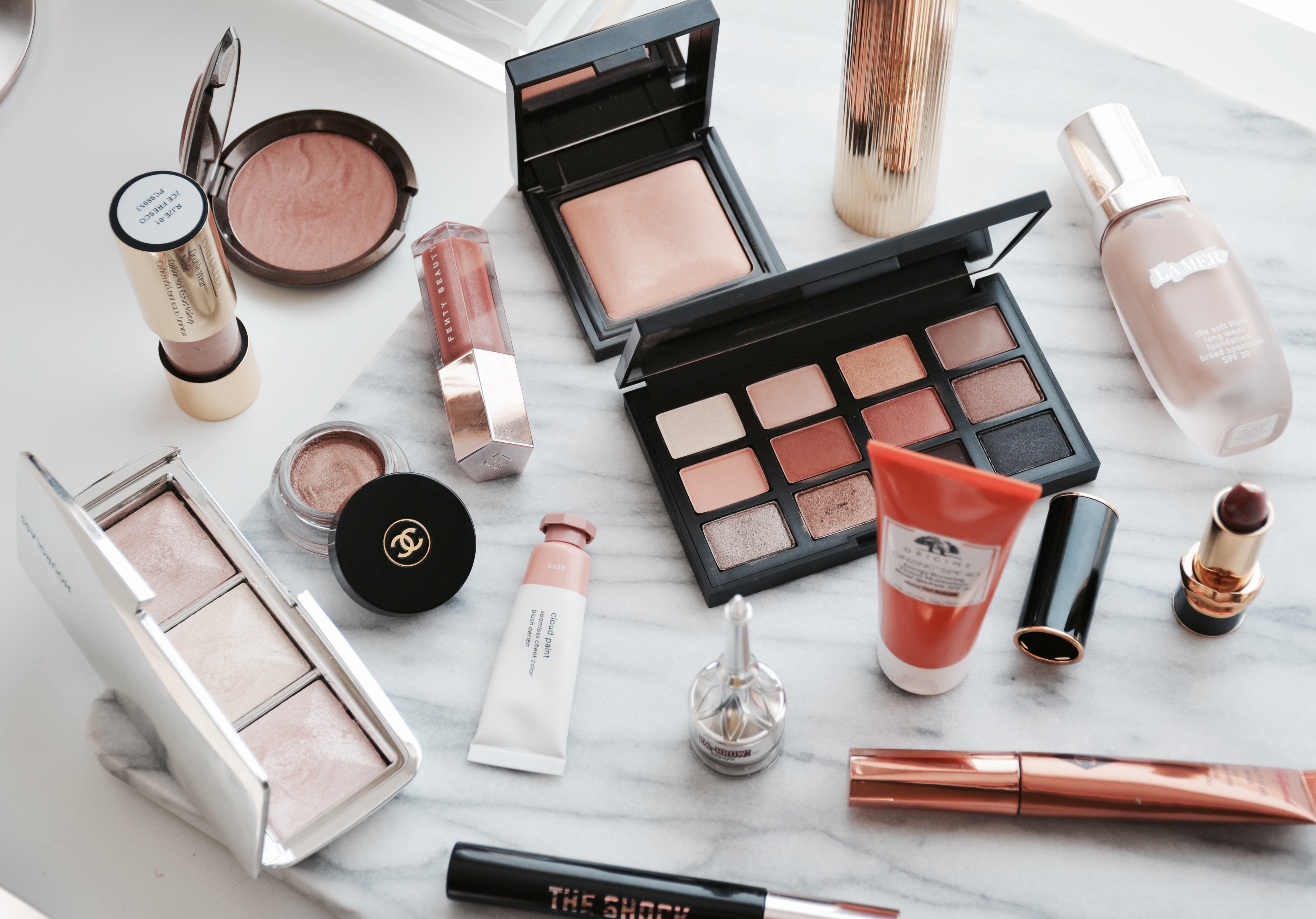 Brows and Lashes
The Benefit Ka Brow Cream Gel Eyebrow Color was my go-to brow product. I use the shade in #4 and it is perfect if you are blond but you like your brows darker. It's easy to use as it comes with a tiny brush on the top and you can't go over the top as easy as other brow gels on the market.
YSL The Shock Volumizing Mascara – I am a big fan of YSL mascaras. The Baby Doll mascara used to be my go-to back in the day but I found a new love this year. The Shock Mascara gives me dramatic lashes without budging or smudging all day. It can get a little clumpy because the formula is on the wet side but I also like that look.
Eyes
Nars Narsissist Loaded Eyeshadow Palette – Hands down one of my favorite palettes that Nars has released. There is not a shade in the palette that I don't like and that is so rare when it comes to palettes. Review and swatches here if you want to know more about the palette.
Chanel Ombre Premier Longwear Cream Eyeshadow in Memory – This new formula that Chanel released is amazing. It gives a wash of color that lasts all day without creasing but also the shimmer is very subtle so they are more suitable for daytime wear. Memory is a beautiful warm toned bronze shade that I've been wearing a lot. I wear it on it's own or even as a primer for a brown smoky eye. Love it!
Cheeks 
Becca Sunlit Bronzer – This is one of my favorite bronzer formula when I want to achieve a natural looking bronzed glow. It blends effortlessly on the skin and gives a beautiful glow without any noticeable shimmer. It's my go-to summer bronzer but I also like to use it when my skin feels dull (which in winter, is all the time).
Glossier Cloud Paint in Dusk – A cream blush formula that blends so easy by using just your fingers. Dusk is a neutral bronze shade that goes so well with the bronze goddess look that I'm always going for. Plus the formula comes in a small tube which is very travel friendly.
Hourglass Ambient Metallic Strobe Lighting Palette – If you like a wet type of a highlighter, you have to get this palette. I'm hoping that Hourglass will release the powders as singles and make them permanent as this is one of my favorite powder highlighter formula. Review and swatches here.
Charlotte Tilbury Hollywood Beauty Light Wand – Sticking to the "wet look" but in a liquid form, this one is also amazing. A little goes a long way and the liquid actually lasts on my skin all day without setting. You can check out more details and swatches here.
Lips
Pat McGrath Labs Luxe Trance Lipstick in She's Heaven – I will have a review up soon about this shade plus others I have but to keep it short, everything is amazing about this line of lipsticks. From the packaging, to the formula, love it all.
Fenty Beauty Gloss Bomb Universal Lip Luminizer in Fenty Glow – This was definitely the launch of the year. I tried couple of things from Fenty but the lip gloss stole my heart. It is the perfect glossy formula that is not sticky and the shade literally suits everyone. And this is coming from someone who doesn't wear glosses that often.
Whew that was a long one. Next up is a dedicated post about my skincare favorites. I think skincare is even more important than makeup so I'm looking forward to writing the post.
Now tell me what were your favorites for 2017. Do you see anything that you also loved?
SaveSaveSaveSaveSaveSaveSaveSaveSaveSaveSaveSaveSaveSaveSaveSaveSaveSaveSaveSaveSaveSaveSaveSaveSaveSaveSaveSaveSaveSaveSaveSave