When it comes to base makeup, I prefer something natural and a base that will give me a skin like finish, but still provides some coverage. There are a lot of light coverage foundations that I love (read about my favorite bases for dry skin here) but I recently picked up some new releases and had the chance to test them out before I left on vacation.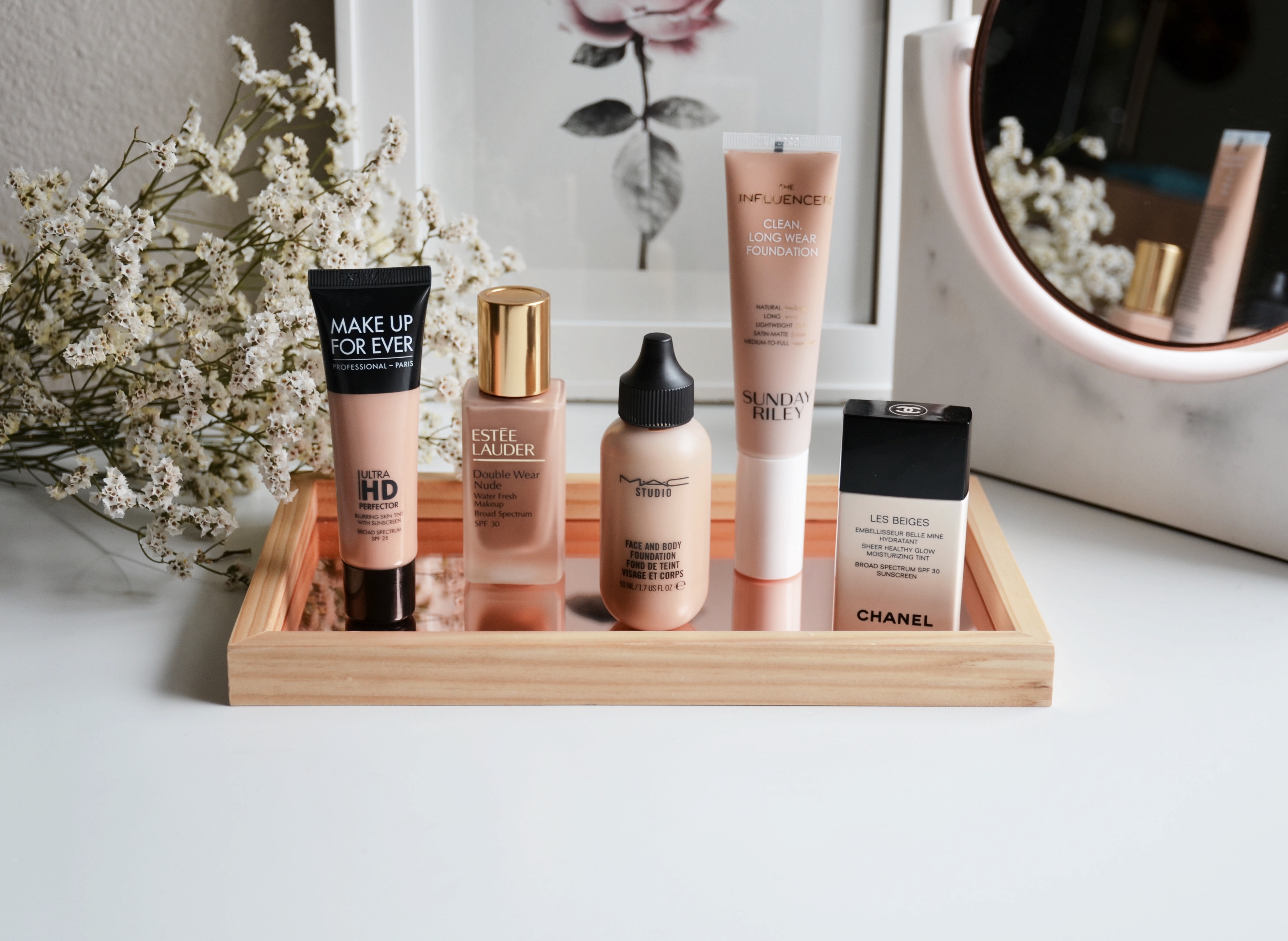 I have four new bases (three of them are new releases and one has been around for awhile but it is a new one for me) and a HG base that I will repurchase over and over again, the Estee Lauder Double Wear Nude Water Fresh Makeup.
First up, the Makeup For Ever Ultra HD Perfector Skin Tint Foundation SPF 25. This is a sheer coverage foundation with a natural finish and SPF 25. The line has 10 shades but since the base is quite sheer, the shades are flexible. Every shade can be used on three to five different skin tones. I wear the shade in 6 Warm Sand which is a good match for my light to medium skin tone.
The formula of the Makeup For Ever Ultra HD Perfector is super light and weightless on the skin. It has slight blurring properties and a sheer coverage that is enough to even out my skin tone. I like that the base has spf which makes it perfect for the summer. This is more of a tinted moisturizer type of a base so it is not for people who like their coverage. It is good for people with normal, combo and oily skin. If you have dry skin, I wouldn't recommend it as it catches on dry patches.
I like to wear this base on my no makeup makeup days or whenever I need a pick me up. It looks very natural and skin like which is the look I'm going for.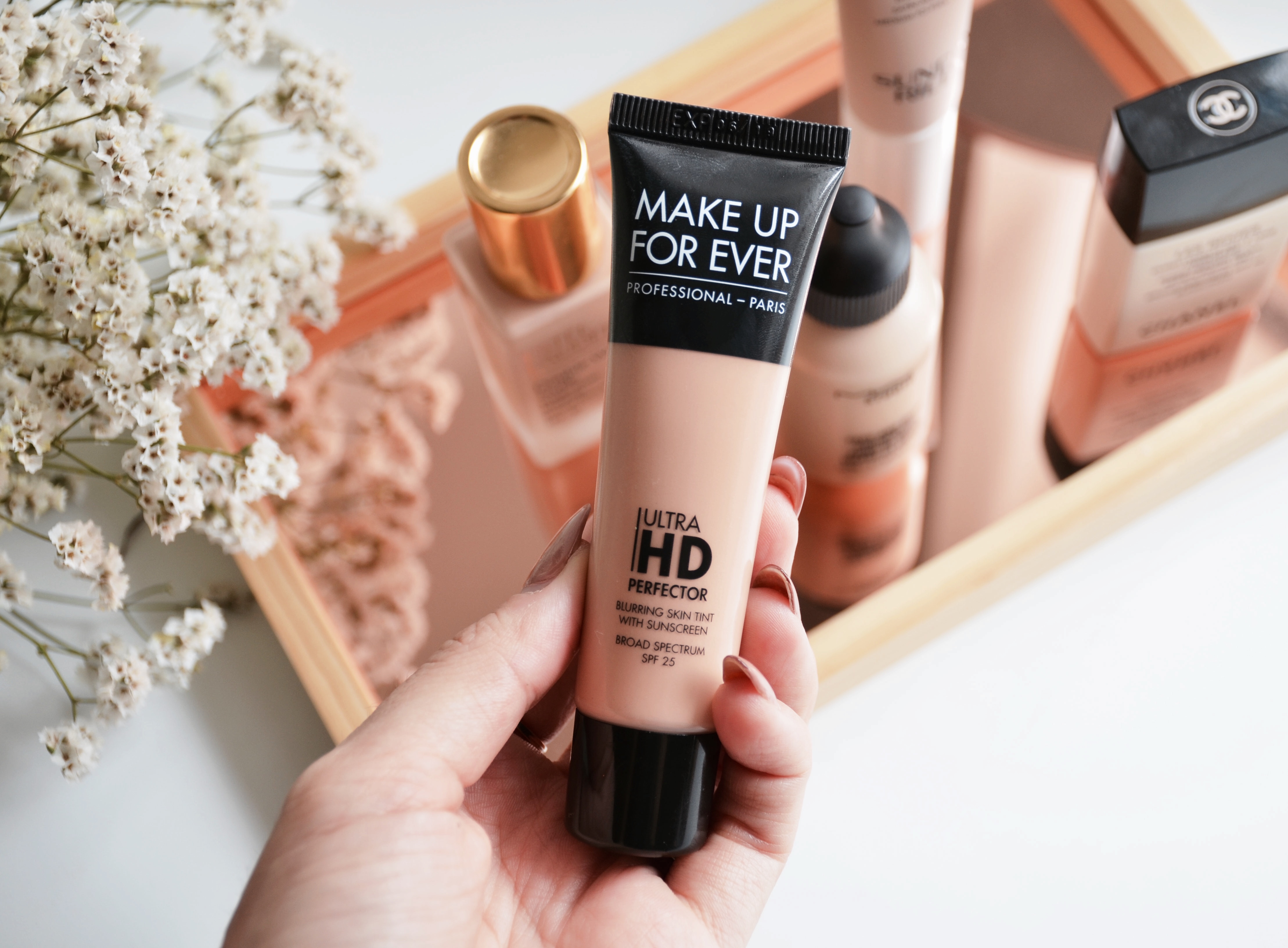 I'm not going to go in much details about the Estee Lauder Double Wear Nude Water Fresh Makeup (you can read my full review here). All I can say is that this is my HG everyday base. It has light to medium coverage and a beautiful glowy finish. If you have dry skin, you need to try this. Also even when you build up the coverage, up to medium, the foundation still looks like skin.
Mac Studio Face & Body Foundation has been around for awhile now. I think this is a very popular foundation among makeup artists as it is buildable plus multi-use.
The finish of the Mac Face & Body is amazing. It has a glowy skin like finish which never looks cakey or fake. You can go from sheer to good medium coverage and the foundation builds up really well. It is also waterproof and sweat proof so it is a great base for summer. I would recommend it for people with dry, normal and combo skin. If you have oily skin, I think the base would be too glowy and hydrating for you.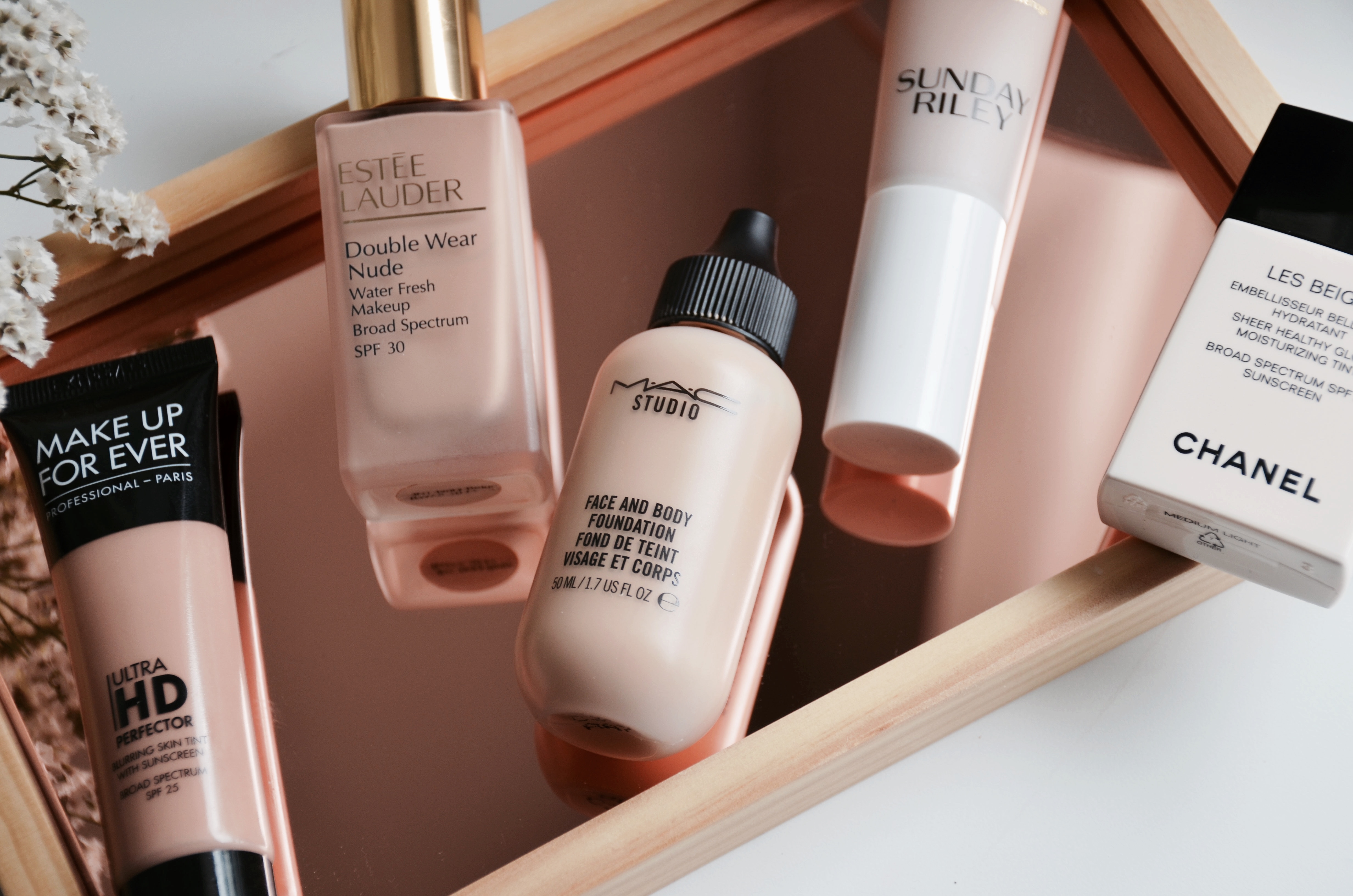 Sunday Riley came out with their first makeup type product. The Influencer Clean Long Wear Foundation combines the benefits of skincare but with the coverage of makeup. It is described as a medium to full coverage foundation but in my opinion, it is more of a light to medium coverage base.
It has a natural finish and just looks like skin. I have read a lot of mixed reviews on this base but I am so glad I decided to get it. I love the finish on my normal skin and it is one of the only bases that I've used since I got it ( I also took it with me on my trip, that's how much I love it).
I find the Influencer Clean Long Wear Foundation quite hydrating so I always use a powder to set my makeup (the Hourglass Veil Powder has been a go to). I think if you have oily skin, this base might not work for you as it gets quite glowy through the day. I don't mind that as I have normal skin but I can imagine if someone has oily skin, you will need to blot or retouch your makeup.
The line has 20 shades and I highly recommend trying at least a sample of it. It works wonderful for my normal skin so it might work for you too.
Chanel released a new Les Beiges Sheer Healthy Glow Moisturizing Tint SPf 30. I am a huge fan of the Les Beiges line (love both the powder and the luminous powder) so I had to pick it up.
This base, as the name implies, is a sheer tinted moisturizer that gives a hint of color and a beautiful glow on the skin. I like that it has an spf30 so again, it makes for a great everyday base for summer (also if you like to wear light makeup on the beach, it is perfect for that too).
The packaging is also pretty compact and comes in a tube so it is very travel friendly. It comes in six shades but since the formula is sheer I think you don't really need to get an exact match for your skin tone.
What is your favorite light coverage base for summer? Have you tried any of the new foundation releases?
SaveSaveSaveSaveSaveSaveSaveSaveSaveSave