Flesh Beauty recently released their Holiday 2018 Collection. The collection features a brand new eyeshadow palette, two new shades from the Fleshpot Eye & Cheek Gloss and four Proud Flesh Matte Liquid Lipcolors. Both the eyeshadow palette and the glosses are listed as limited edition and the four new Matte Liquid Lipcolors looks like are part of the permanent line.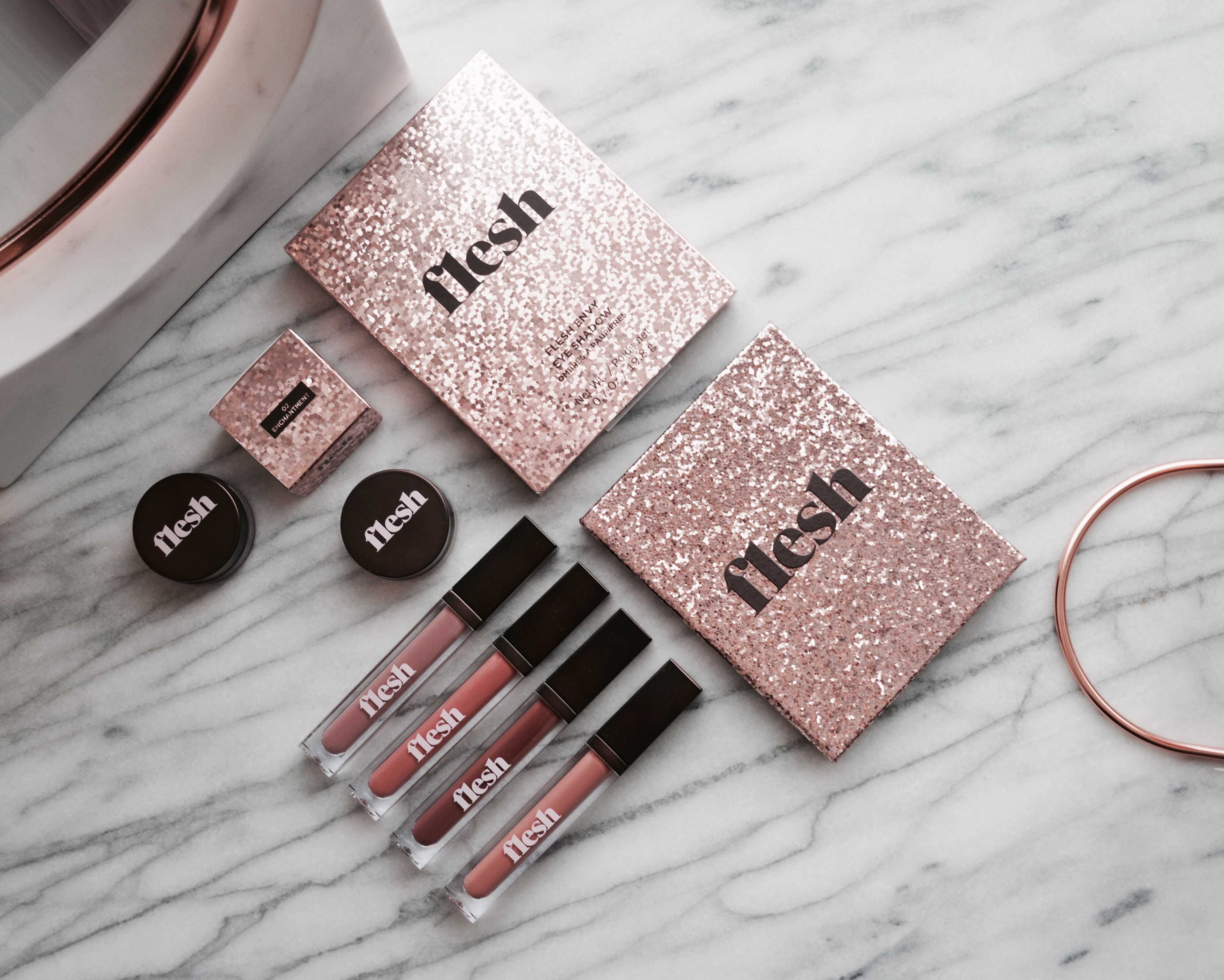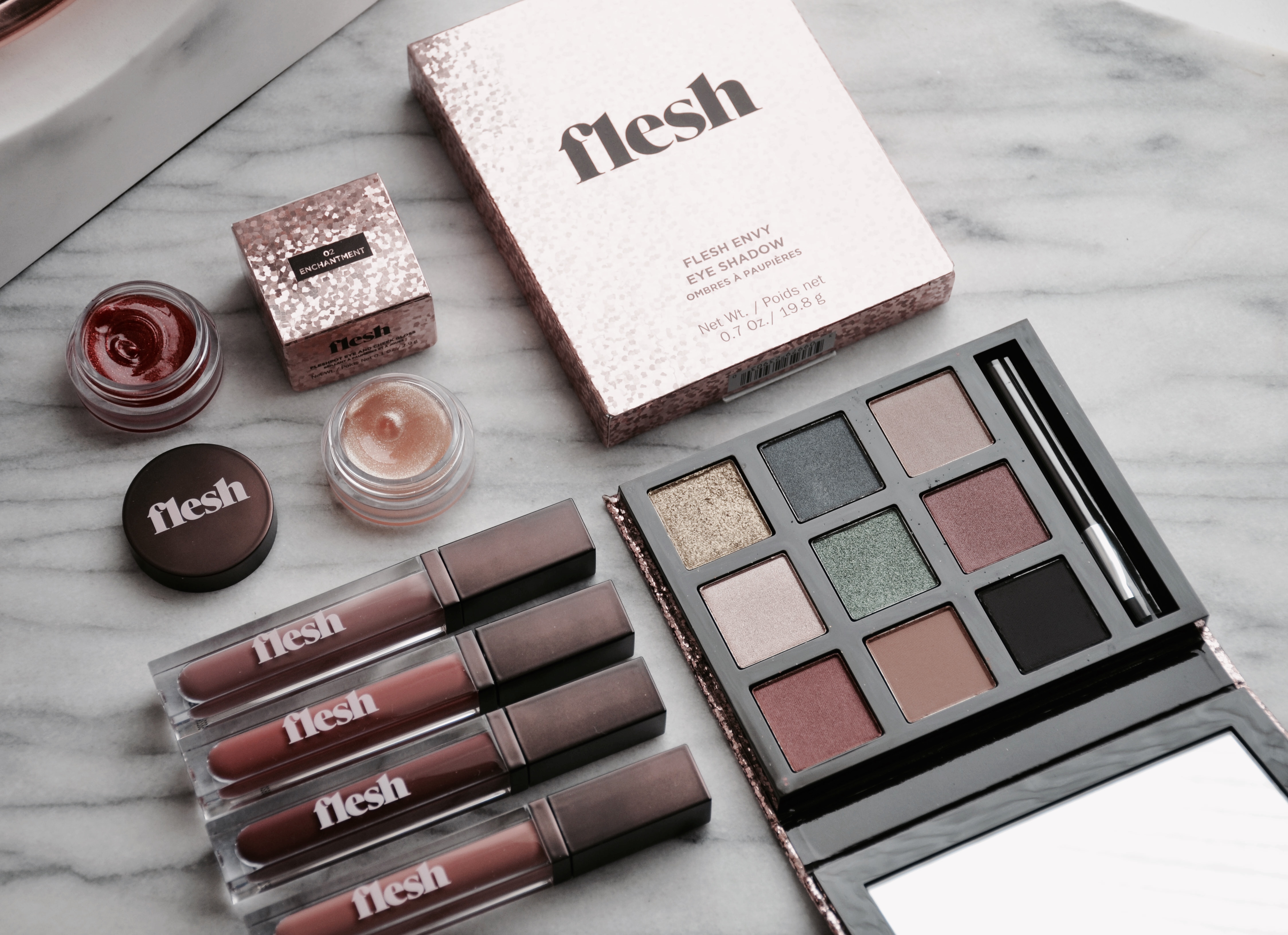 The Flesh Beauty Flesh Envy Eyeshadow Palette comes in LE sparkly pink packaging. It is the same size as their Fleshcolor Eyeshadow Palette so it comes with 9 shades. The theme of the palette is holiday looks. We get a lot of deep shades that are great for creating smoky festive looks.
There is a good mix of matte, shimmer and one metallic shade. The shimmers in the palette are not over the top shimmers. They are more subtle but with rich color payoff so I feel like you can use them in the crease and also as one eyeshadow looks.
The shades that come in the Flesh Envy Eyeshadow Palette are:
Guilty (scarlet red)
Tickle (satin champagne)
Slap (intense gold)
Touch (matte brown)
Greedy (metallic emerald green)
Slither (shimmering midnight blue)
Nerve (matte black)
Tempt (shimmering red wine)
Slip (satiny taupe)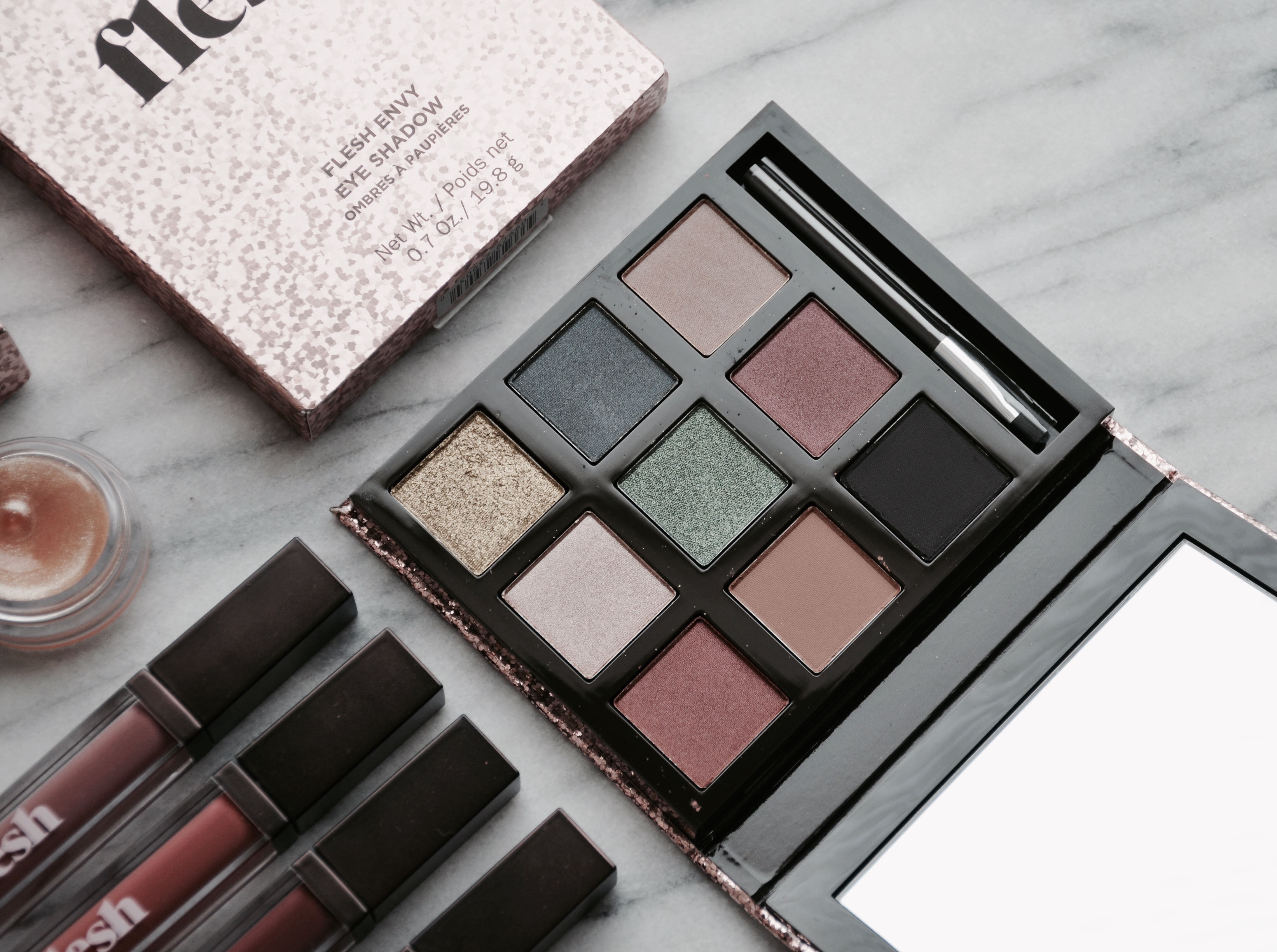 Swatches of the Flesh Beauty Flesh Envy Eyeshadow Palette
Both the matte and shimmer shades are a pleasure to work with. They are pigmented and blend and diffuse really well on the eyes. The one metallic shade has bigger chunks of sparkle in the pan so it is best applied either with fingers (I got the most intense payoff with fingers) or with a wet flat synthetic brush.
The palette is definitely on the deeper side. There is a beautiful mix of warm and cool toned shades that are great for creating smoky eyes that are not your usual black or brown.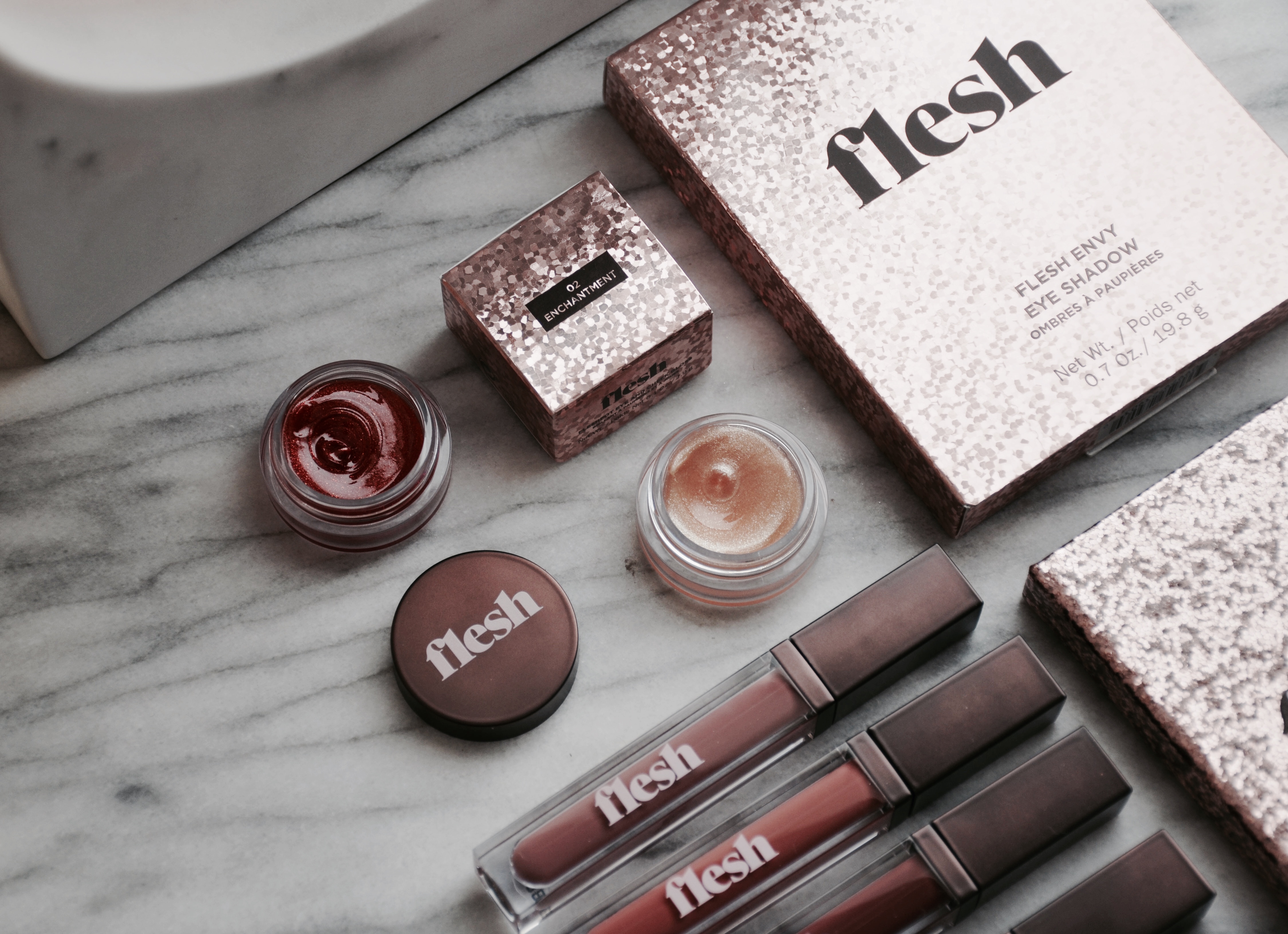 The Fleshpot Eye & Cheek Gloss has one of my favorite formula when it comes to eye glosses. It is very easy to use and it actually stays put on the eyes. Used alone, it gives a beautiful wet look finish on the eyes with a hint of shimmer. You can also use it over top eyeshadow as a gloss topper. You will experience creasing when the gloss is used over top powder eyeshadow but that comes with every product of this type.
On the cheeks, these give a wet look effect but they don't set so they are great for someone who has dry or normal skin.
Flesh released two new limited edition shades in Disco Nap (clear gloss with gold and silver pigments) and Enchantment (a sheer red with silver pigment).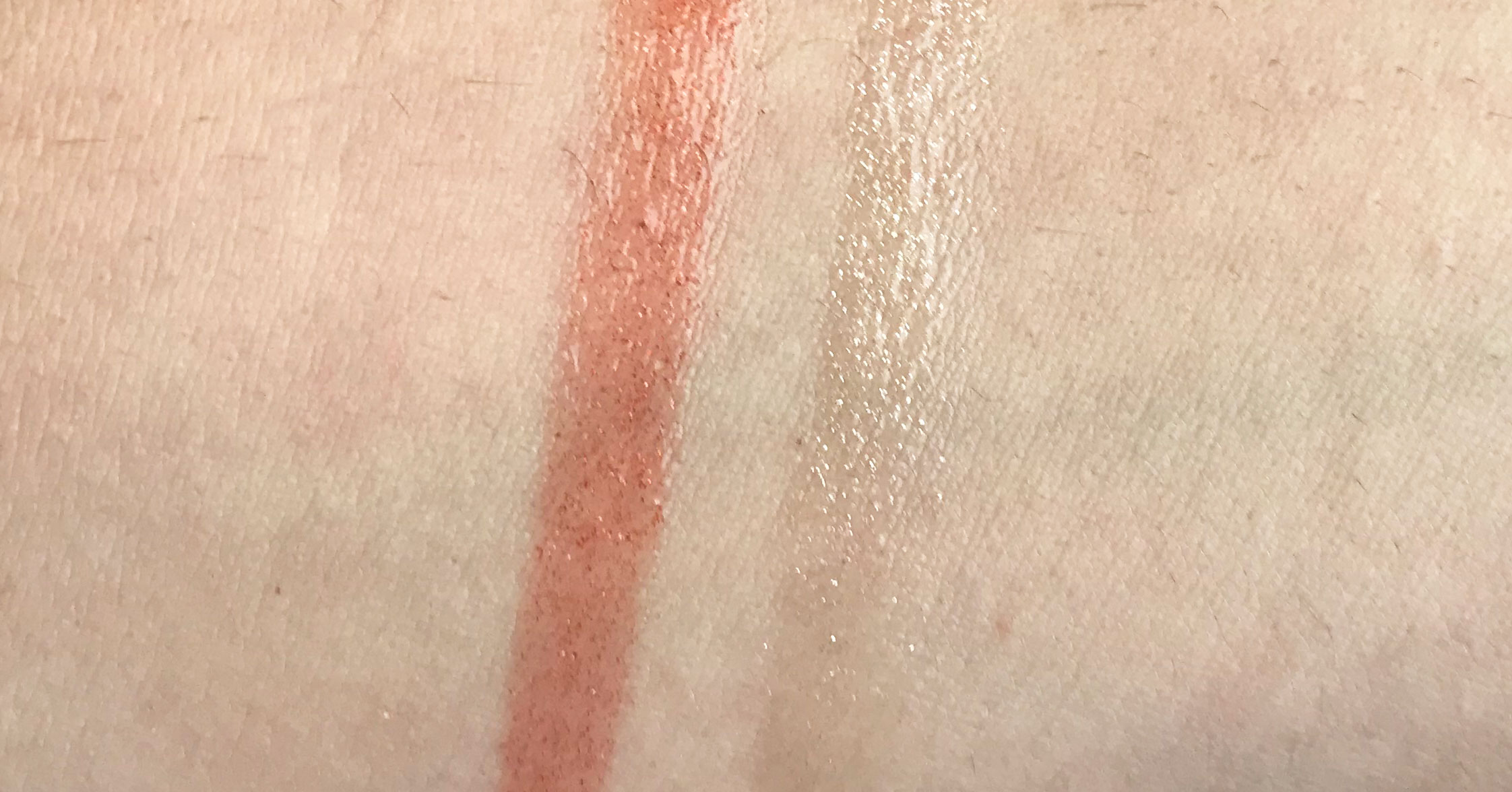 Swatches L to R: Enchantement, Disco Nap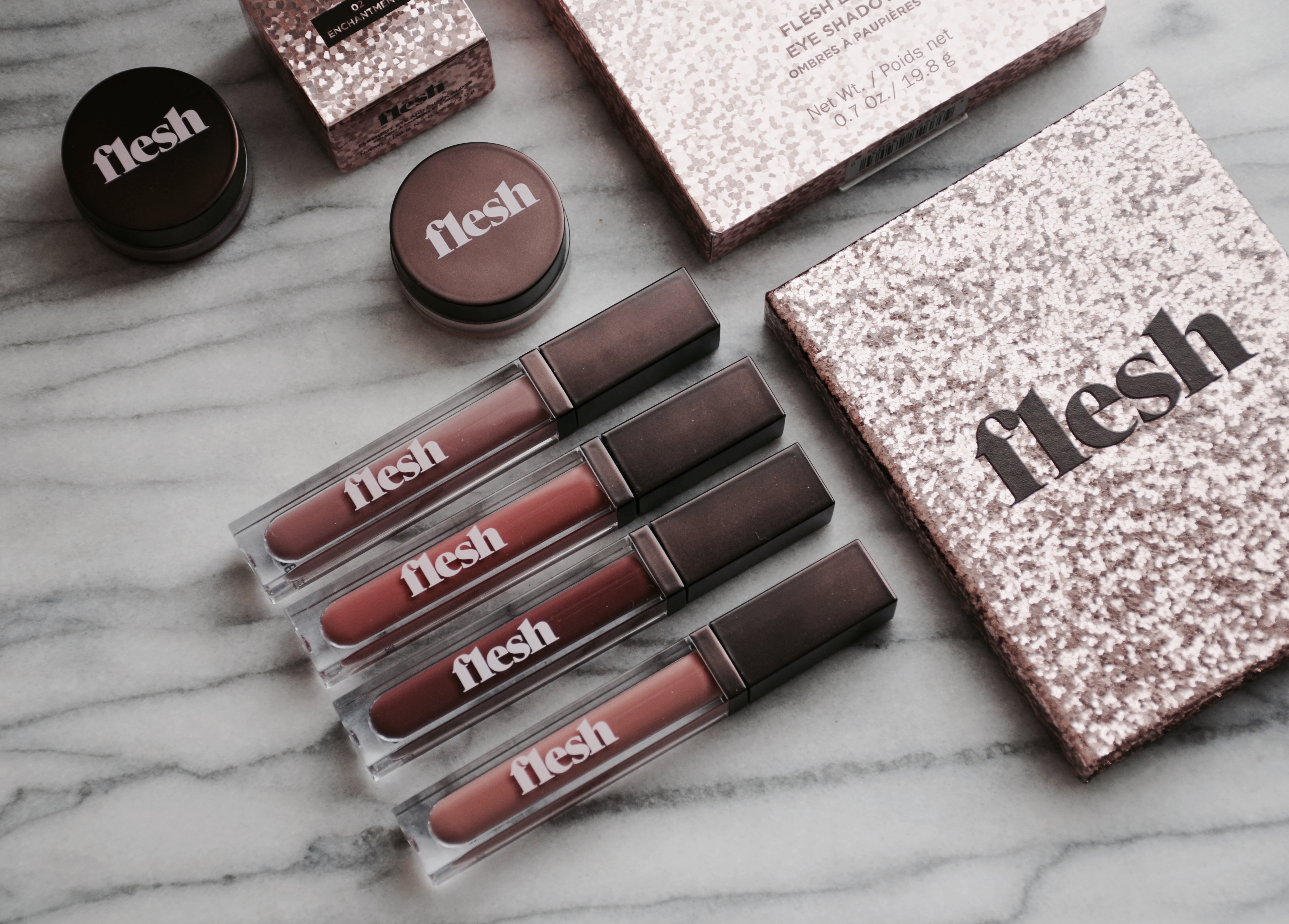 Flesh released four new shades of the Flesh Proud Flesh Matte Liquid Lipcolor and they are all on the neutral side. It was my first time trying this formula and I was pleasantly surprised.
I have to admit, I haven't worn liquid lipstick in awhile. I always come back to them in winter but in summer, all I was wearing is glosses and sheer hydrating lipsticks.
The formula of the Proud Flesh Matte Liquid Lipcolors is very thin. It applies evenly with one swipe and it doesn't dry super fast. It dries to a matte finish that is transfer proof. The liquid lipstick is very lightweight, it literally feels like you're not wearing anything on the lips. It does get a little dry through the day but I wore it on dry lips and it didn't crack or make my lips look dryer looking. They have a light minty scent that I didn't smell after application.
The new shades that Flesh released are: Glide (taupe pink), Buff (spicy rose), Sprawl (reddish pink) and Slouch (light rosy pink).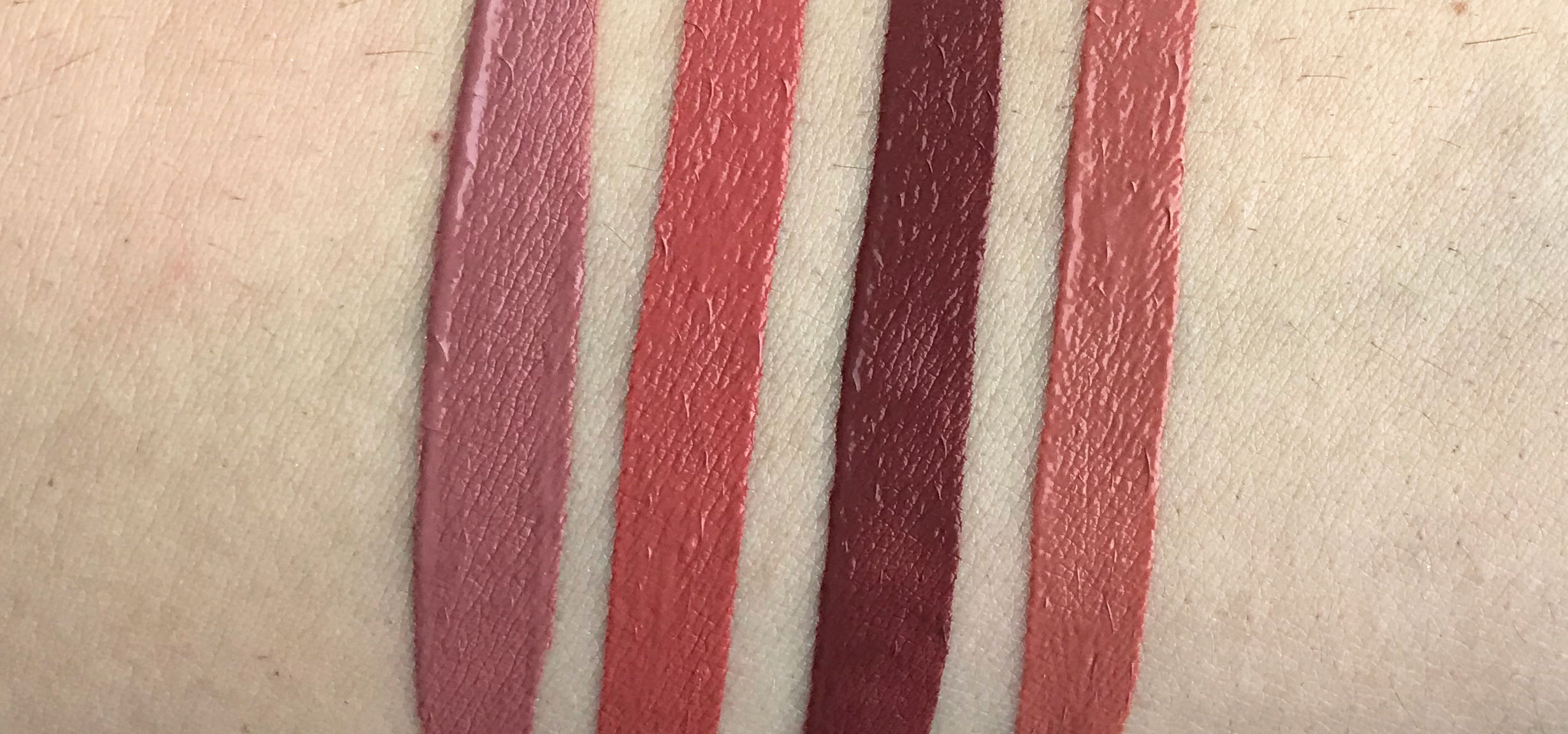 Swatches L to R: Glide, Buff, Sprawl, Slouch

Glide

Buff

Sprawl

Slouch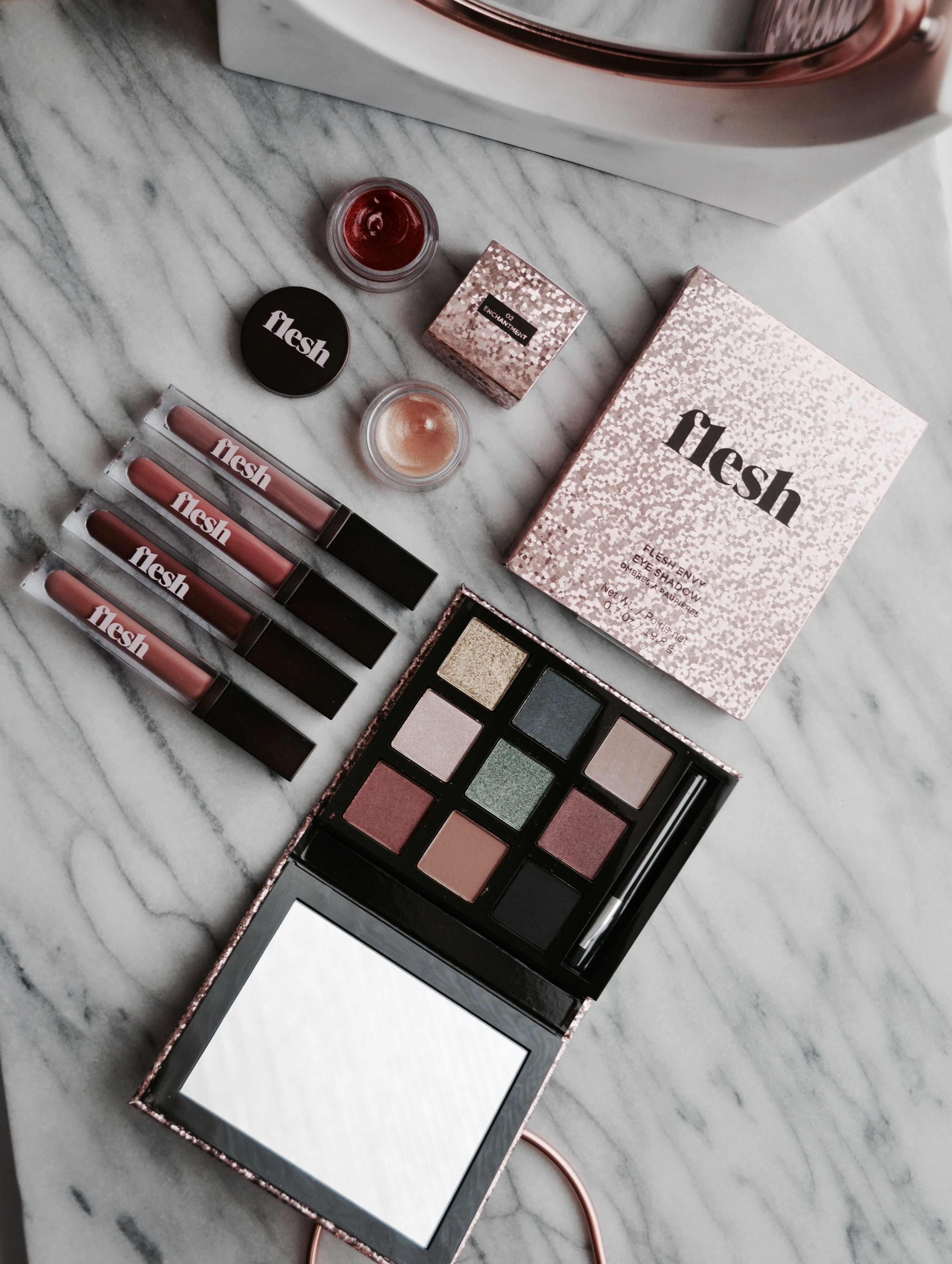 Bottom line, some pretty exciting releases from Flesh. I really like everything in the collection. The eye glosses are beautiful and a unique product to try. The eyeshadow palette is of great quality and different enough from everything that's on the market right now. And the liquid lipsticks are a new good formula to try. I especially love the shades in Buff and Slouch.
Flesh Beauty is exclusive to Ulta and available both online and in selected stores.
*PR Sample