The Urban Decay Naked Cherry Eyeshadow Palette is the newest addition to the Naked family. Urban Decay recently discontinued the original Naked Palette (I might of shed a tear for our loss) but they added a totally new palette to the line. The Naked Cherry Palette, as the name implies is inspired by cherries. Urban Decay also released three lipsticks, a Naked Cherry Highlighter & Blush Palette and a travel size of the All Nighter Setting Spray in a cherry scent.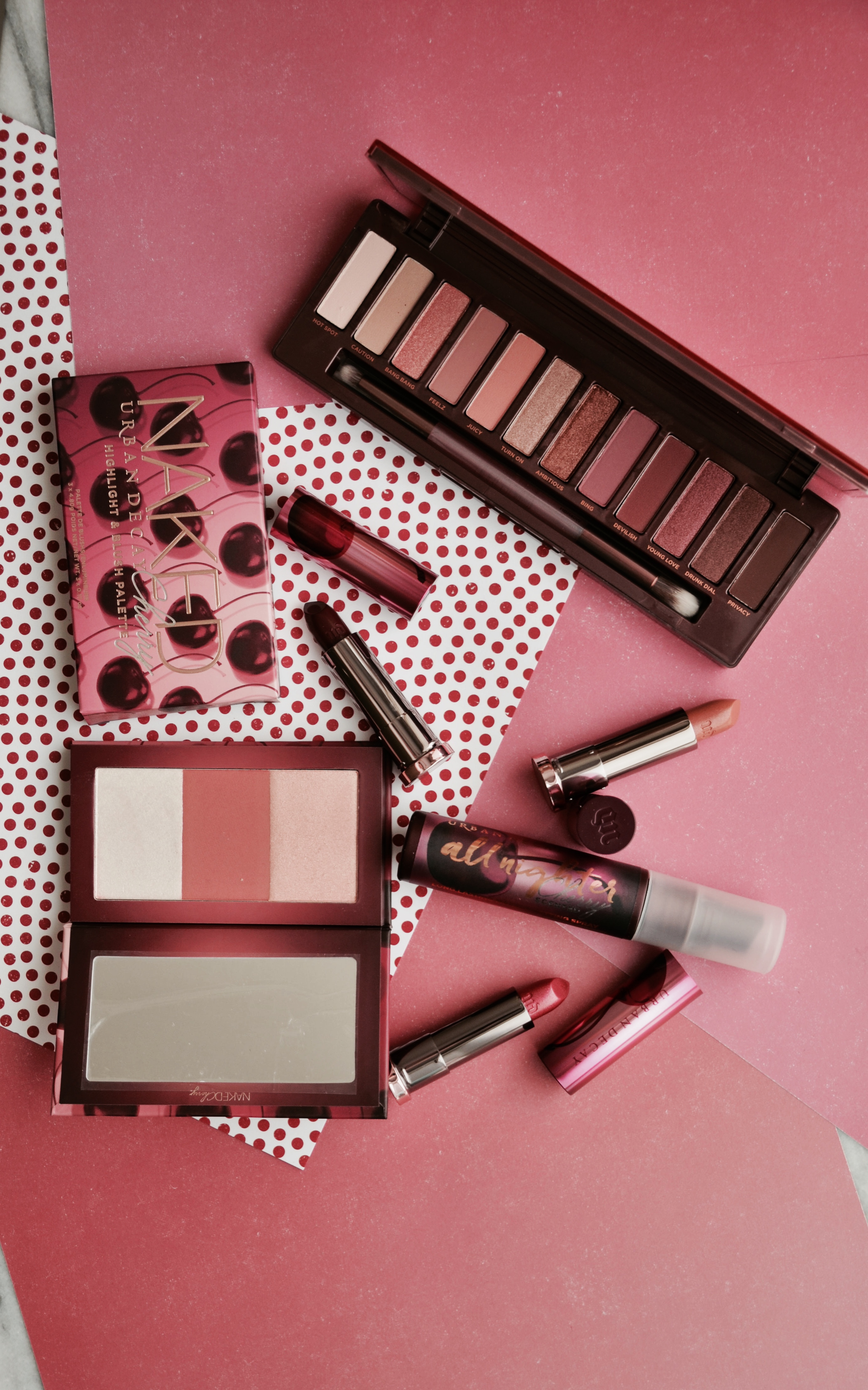 I have to admit, when I first saw the preview of the Naked Cherry Eyeshadow Palette, I loved it but I wasn't sure how the shades will work on my skin. To my surprise the shades not only work really well on my light/medium warm skin tone, they look beautiful.
I'm so glad that Urban Decay included a lot of mattes in the Naked Cherry Palette. In fact, there are more matte shades in the palette than shimmery shades which is a big change for a Naked palette.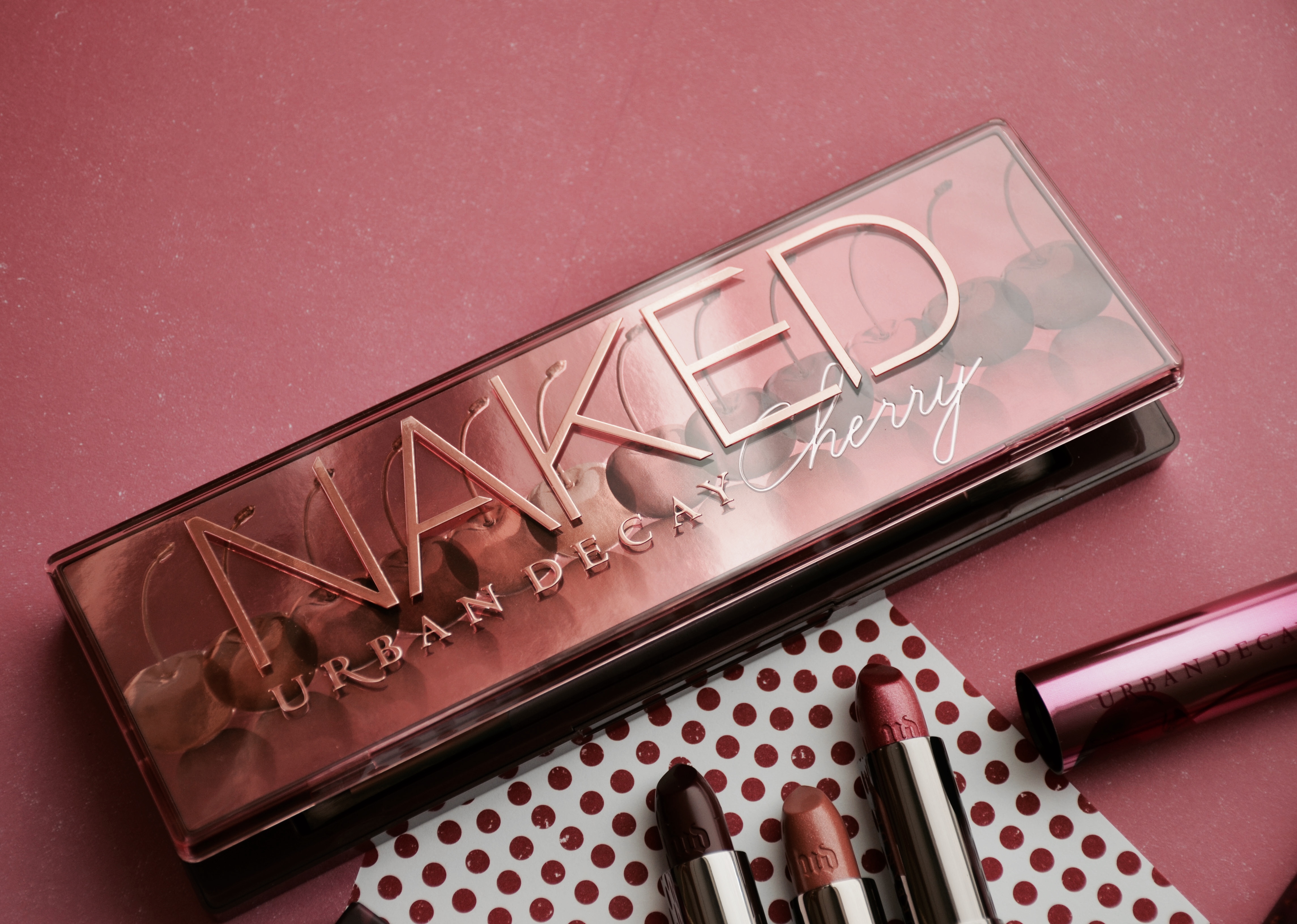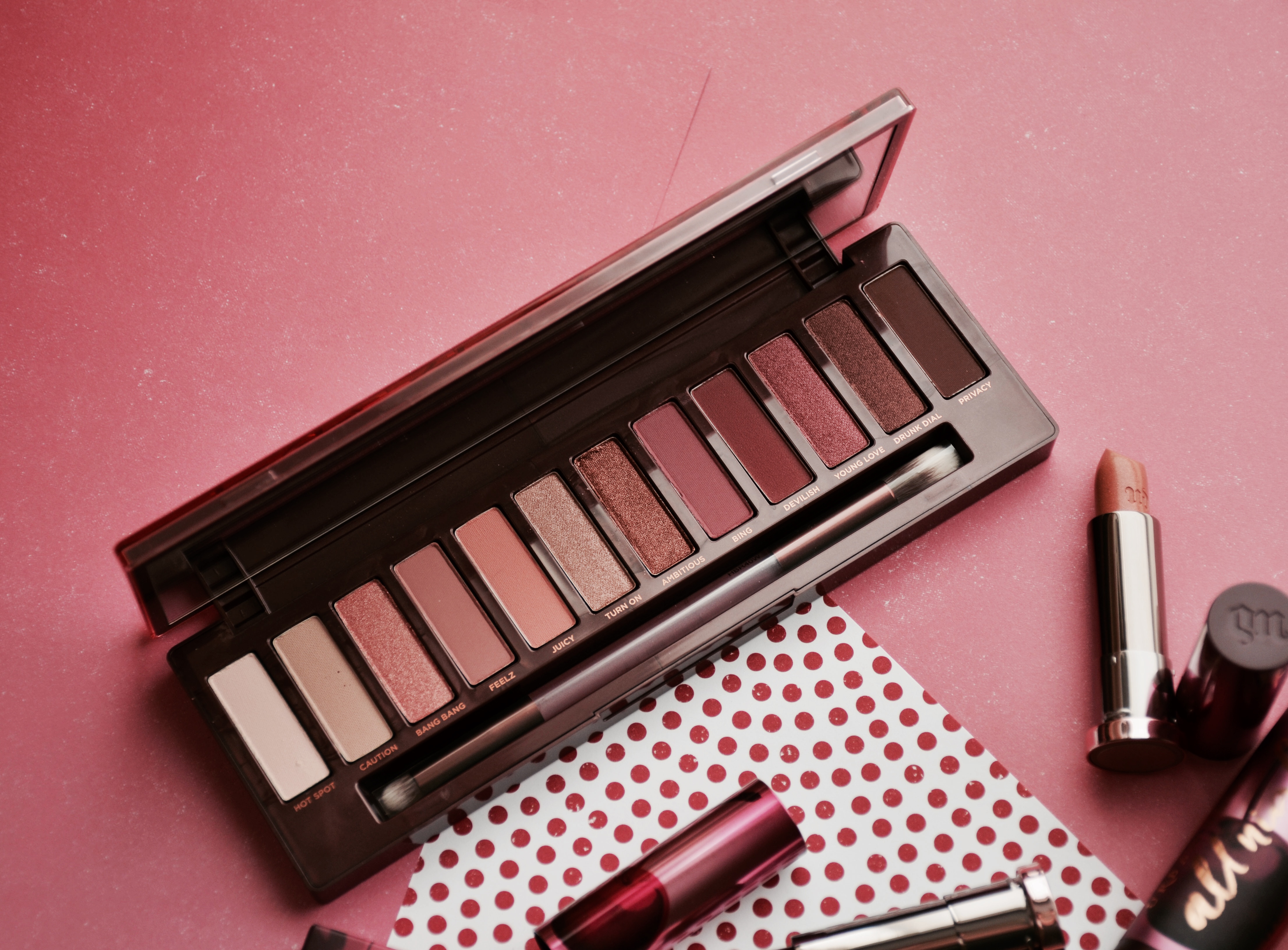 The shades that come in the Urban Decay Naked Cherry Eyeshadow Palette are:
Hot Spot (ivory matte)
Caution (soft neutral beige matte)
Bang Bang (shimmering pink with gold shift and iridescent micro-sparkle)
Feelz (soft dusty rose matte)
Juicy (soft warm peach)
Turn On (pale metallic rose shimmer)
Ambitious (metallic rose copper)
Bing (deep mauve matte)
Devilish (reddish plum matte)
Young Love (metallic cranberry)
Drunk Dial (deep metallic burgundy)
Privacy (deep brownish-plum matte)

Swatches L to R: Hot Spot, Caution, Bang Bang, Feelz, Juicy, Turn On, Ambitious, Bing, Devilish, Young Love, Drunk Dial, Privacy
The formula of the shadows is on par with the other Naked palettes. I feel like Urban Decay makes one of the best formulas when it comes to eyeshadows. They are pigmented, easy to blend and always true to color. The matte shades in the Urban Decay Naked Cherry Palette are quite impressive. They are buttery soft but not powdery and blend so easy on the eyes.
As you can see by the swatches, there is a good variety of shades that all lean on the warm side. You get lighter shades that you can use for every day looks but you also get some deep berry shades that are great for creating sultry smoky eyes. I love the berry tones in the palette! They are perfect for fall makeup.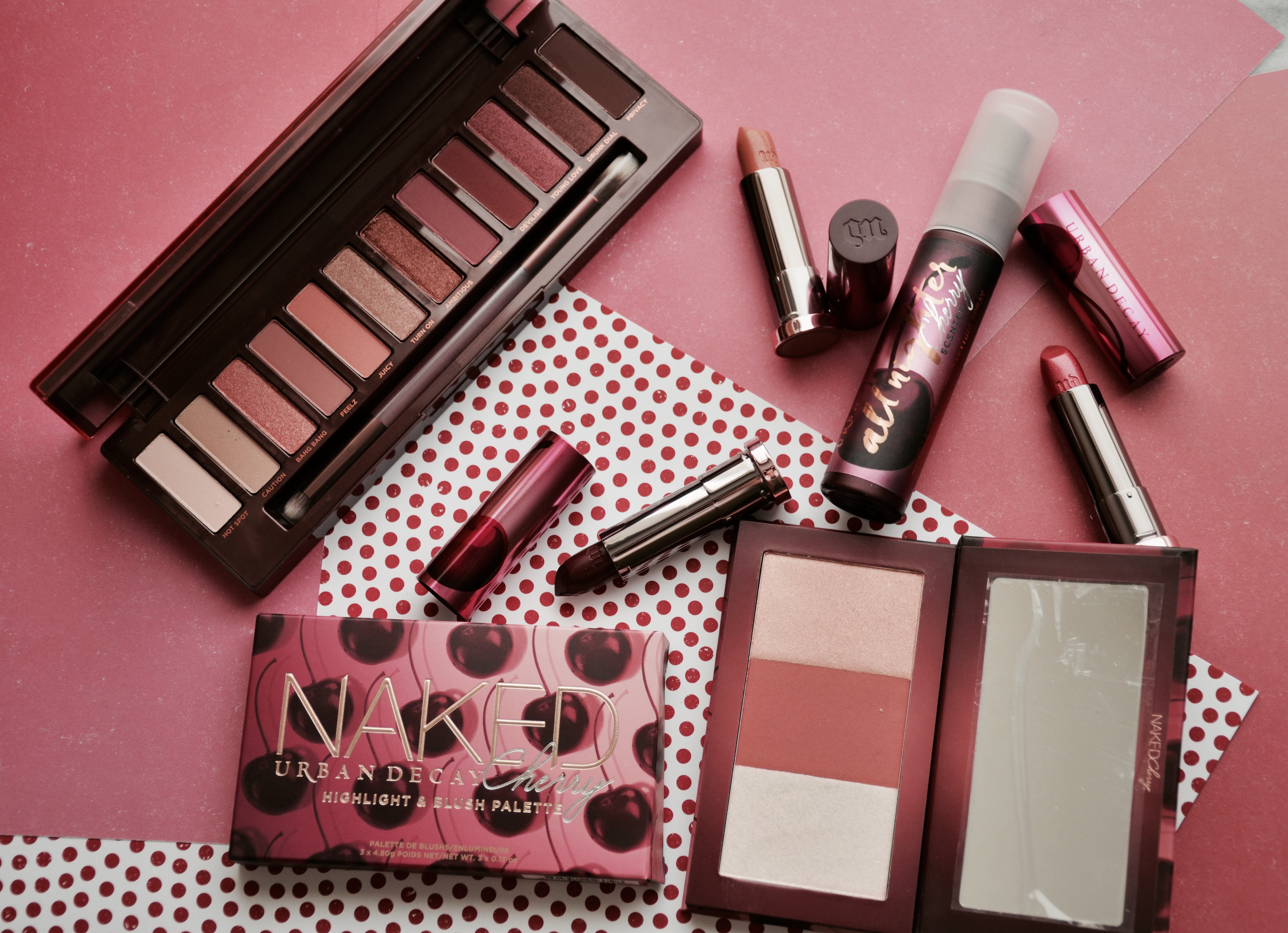 The Urban Decay Naked Cherry Highlighter & Blush Palette comes with two highlighter shades and a beautiful warm deep pink blush. The shades compliment the eyeshadow palette from the same line so well.
The first highlighter shade is your classic gold champagne shade that everyone loves. It has good buildable pigmentation and gives glow on the skin without being too shimmery.
The blush in the palette is supposed to be an universally faltering shade. It is a warm deep pink shade that will suit most skin tones. The formula of the blush is a little stiffer so the shade is meant to be buildable. Since it is a deep shade, I like that it is not super pigmented so you can actually control how much pigment you like on the cheeks.
The third shade is also a highlighter shade which Urban Decay also recommends using as a blush topper. It is a white iridescent shade that gives a beautiful subtle glow on the skin. The shade has a slight lavender shift and it's best used to intensify a glow. I like to mix both shades in the palette and get a more intense dewy look on the cheeks.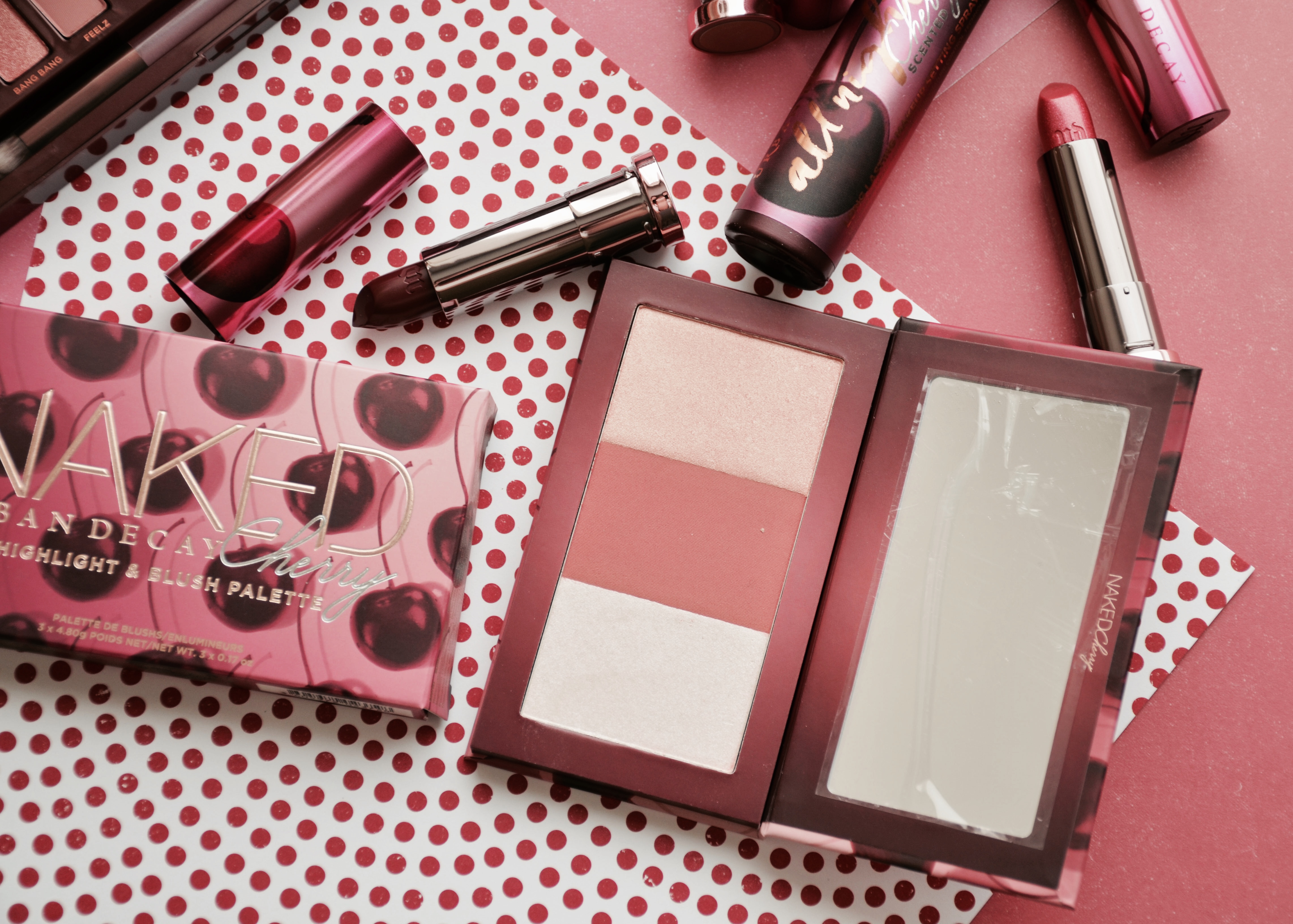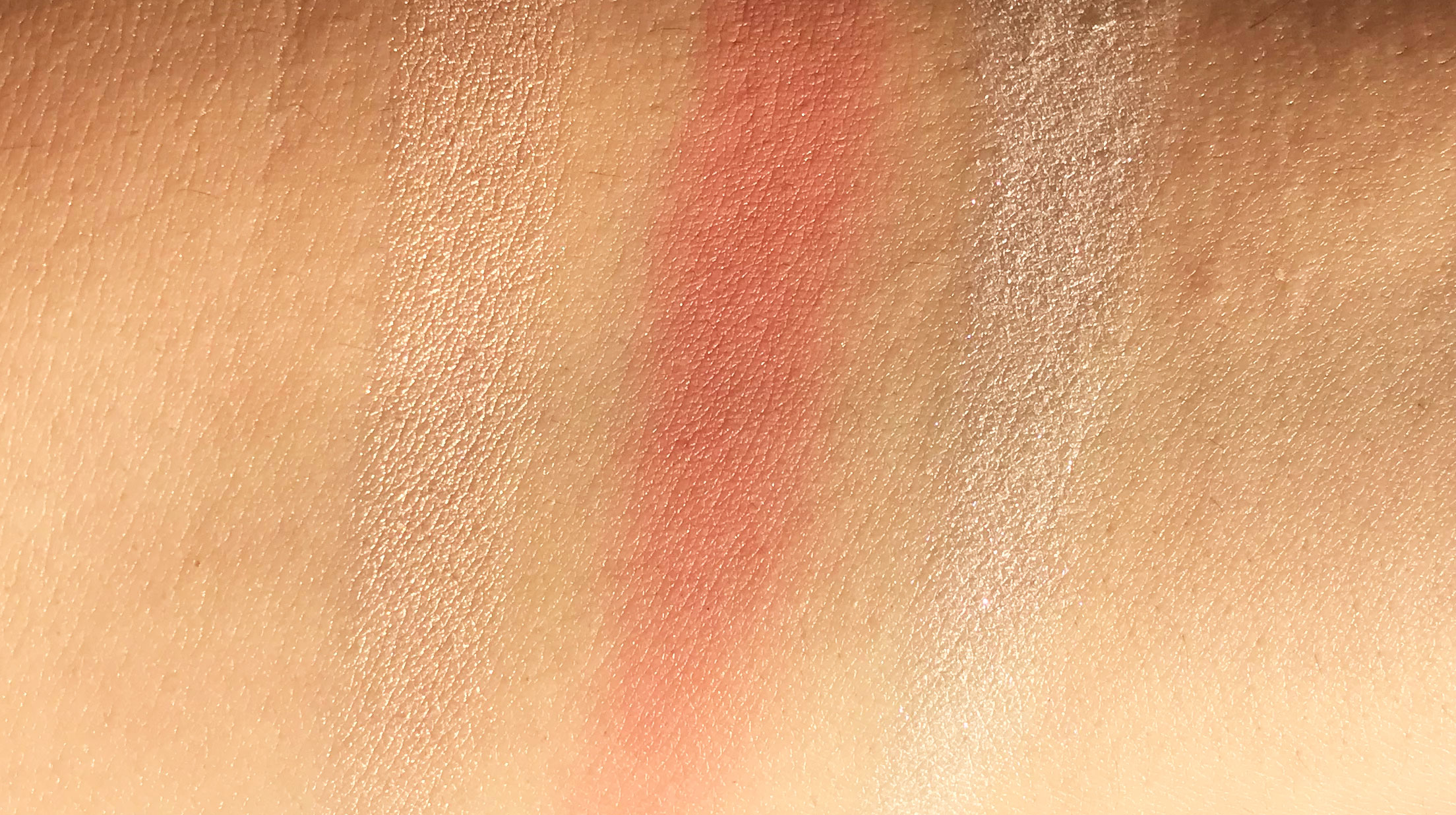 Swatches of the Urban Decay Naked Cherry Highlighter & Blush Palette
I'm a big fan of the All Nighter Setting Spray. I use it every time I need my makeup to last all day. I also make sure to take it with me every time I travel in a hot tropical climate. It really does make a difference in the lasting power of my makeup.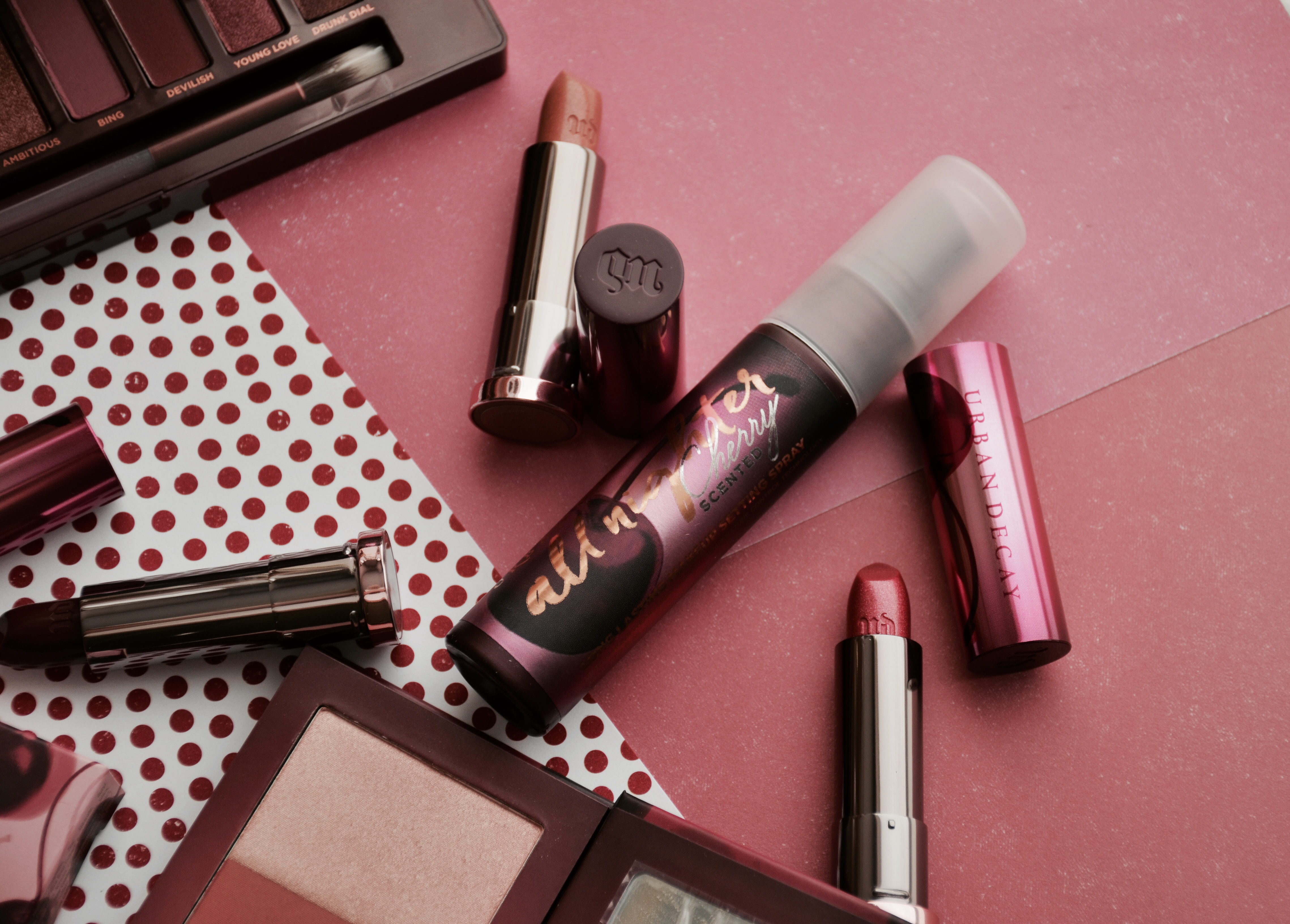 The All Nighter Setting Spray from the Naked Cherry Collection comes in a travel size and special edition packaging. It has a slight cherry scent that you don't feel after application. The scent is not of fresh cherries, it's more of a black cherry scent which I like.
There are three lipsticks in the Naked Cherry line. The Vice Lipsticks that come in the collection are packaged is special cherry themed packaging. The shades that come in the line are: Juicy (light peachy pink with copper micro shimmer), Devilish (berry pink with tonal micro shimmer) and Cherry (deep berry wine in satin finish).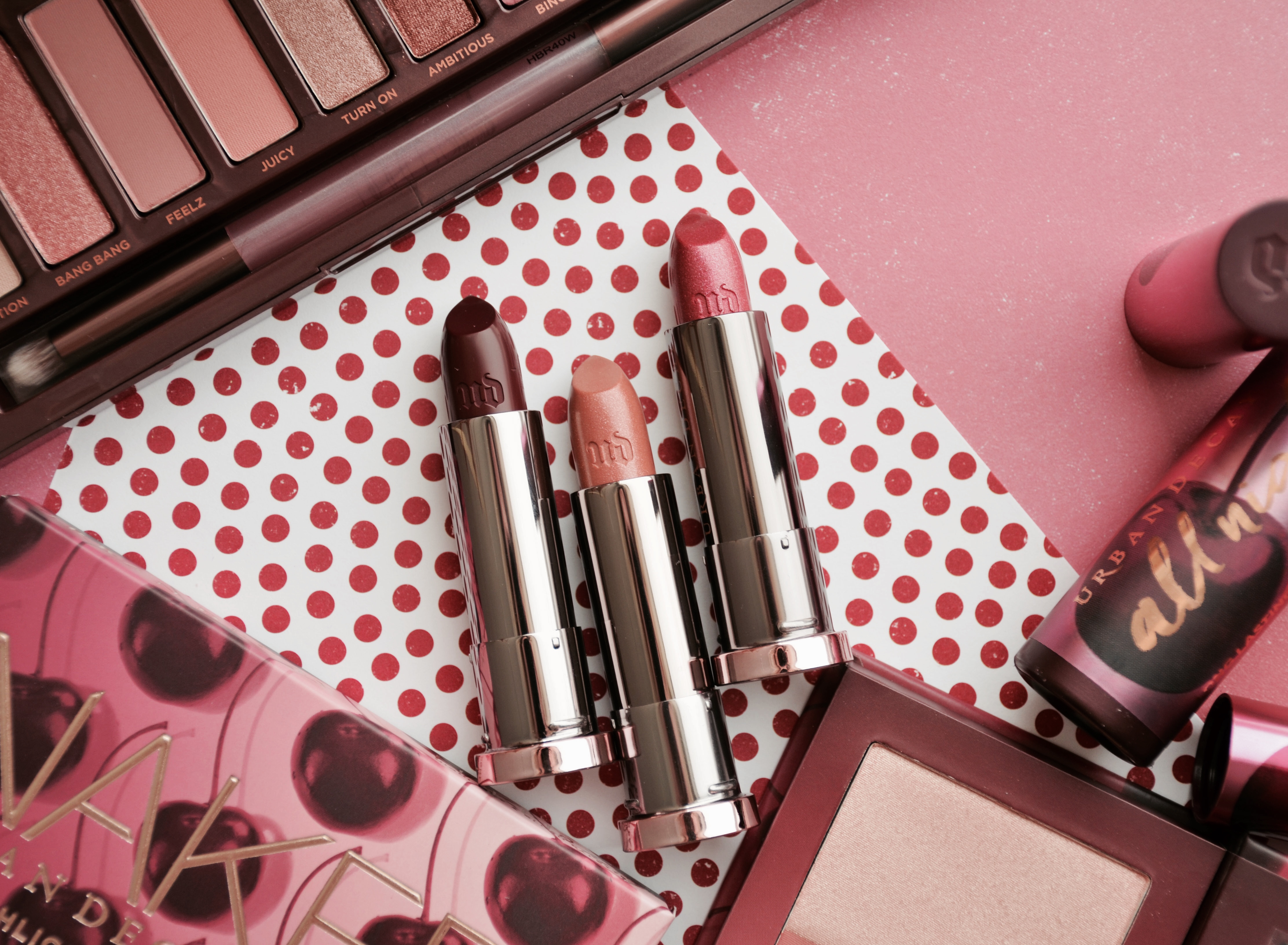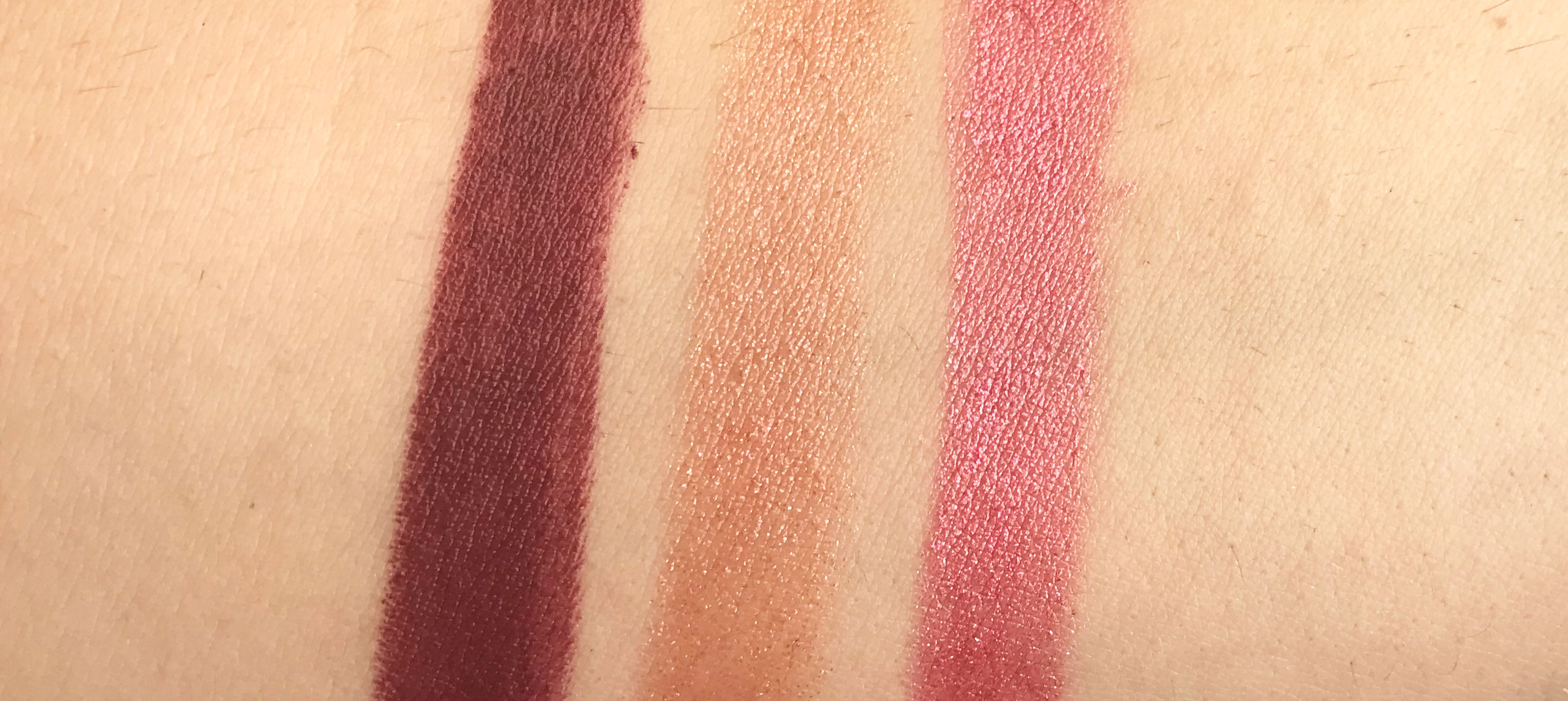 Swatches L to R: Cherry, Juicy, Devilish

Juicy

Devilish

Cherry
I surprisingly love all three shades. When I saw Juicy and Devilish in the bullet, I though I wouldn't like them on me since they are shimmery. But I think they quite compliment the eyeshadow palette and actually look nice on my skin tone.
The shade in Cherry is even more beautiful in person. Since it is in a satin finish it has a shine that makes your lips look juicy. The shade applies evenly on the lips and doesn't bleed when using a lip liner.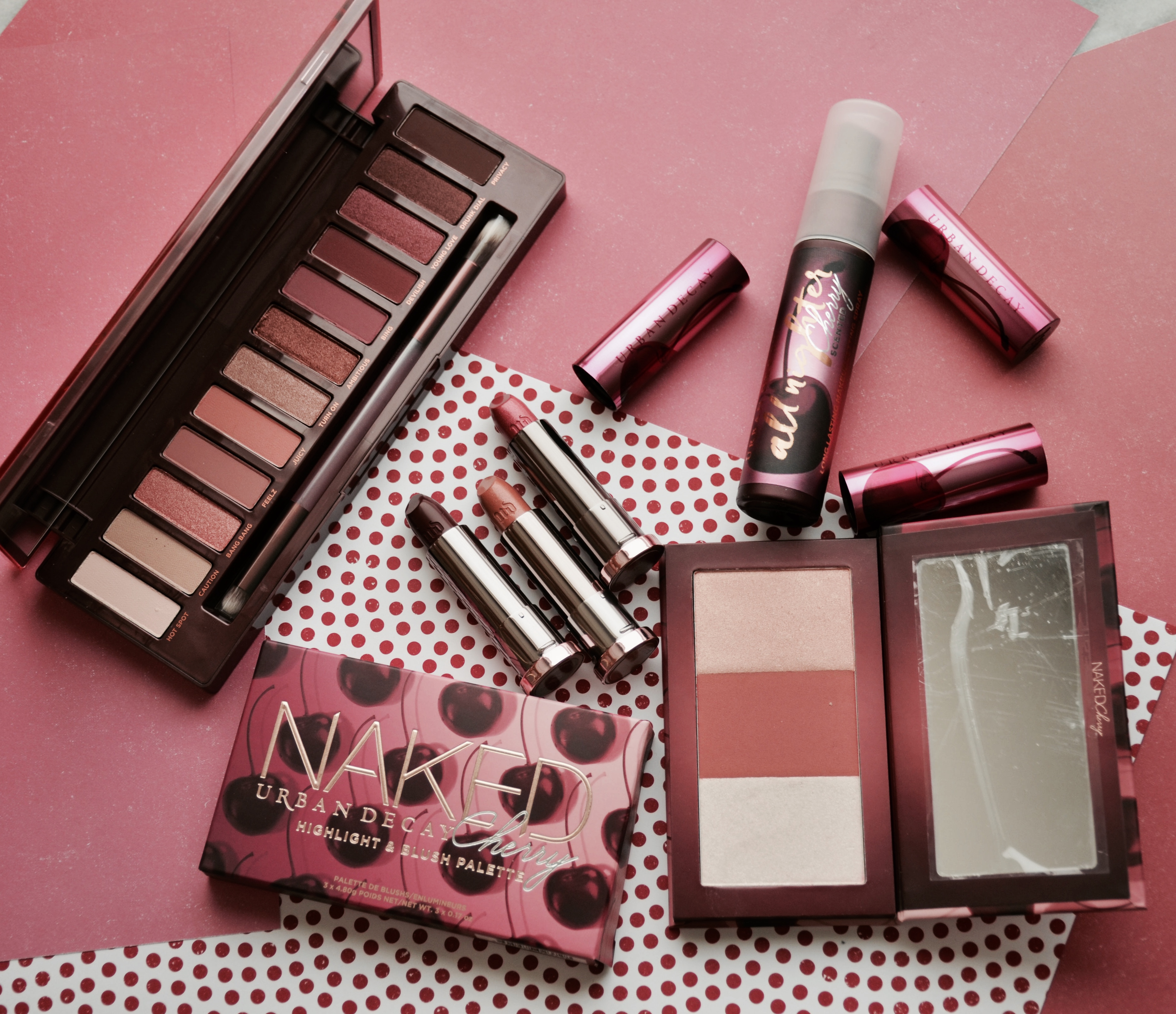 Bottom line, I love the Urban Decay Naked Cherry Collection! The Naked Cherry Eyeshadow Palette is a big hit for me. From the shade selection, to the formula, I think the palette is quite original. I don't have anything like it in my collection and I do own a lot of shadows. It might look intimidating when you look at it with all the deep berry shades but it is actually quite wearable.
*PR Sample