Flesh Beauty is a new makeup line that is an Ulta exclusive. The face behind the brand is the founder beauty editor of Allure, Linda Wells. She is also part of Revlon as a chief creative director.Flesh Beauty is an all inclusive brand (they launched 40 foundation shades) and released highlighters, blushes and lipsticks for all skin tones.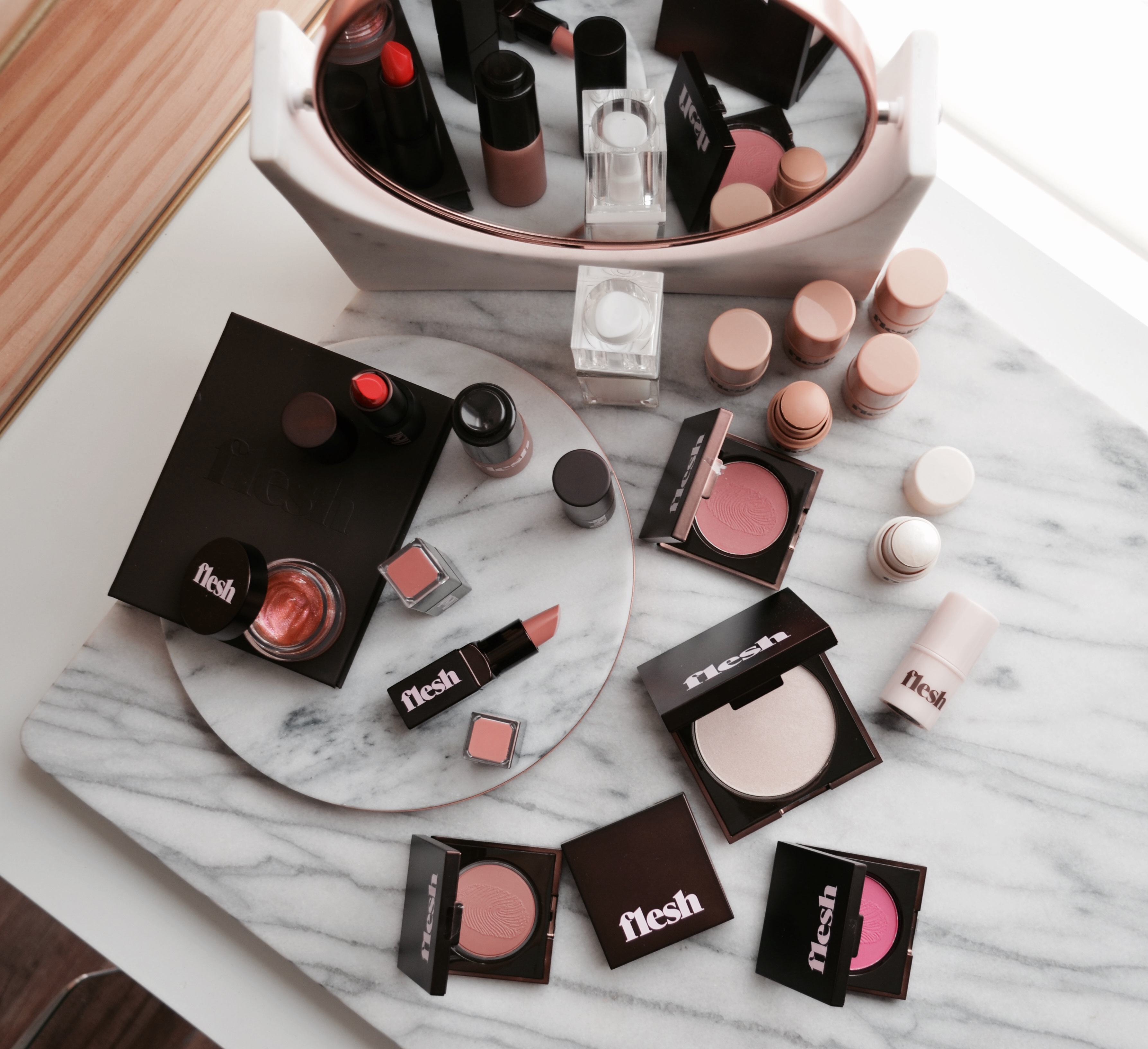 I received a glimpse in to the whole collection and finally tested everything. The Flesh Beauty line has a lot of wearable neutral shades but also pops of color. They have some unique products packaged in aesthetically pleasing minimal packaging. I will say, that they didn't hold up with the names of the products. Some of them are quite controversial (at least for some people).
The Flesh Firm Thickstick Foundation is a portable stick foundation (0.16oz of product). It has a natural buildable coverage and a skin like finish. The line has 40 shades which is amazing for a first launch.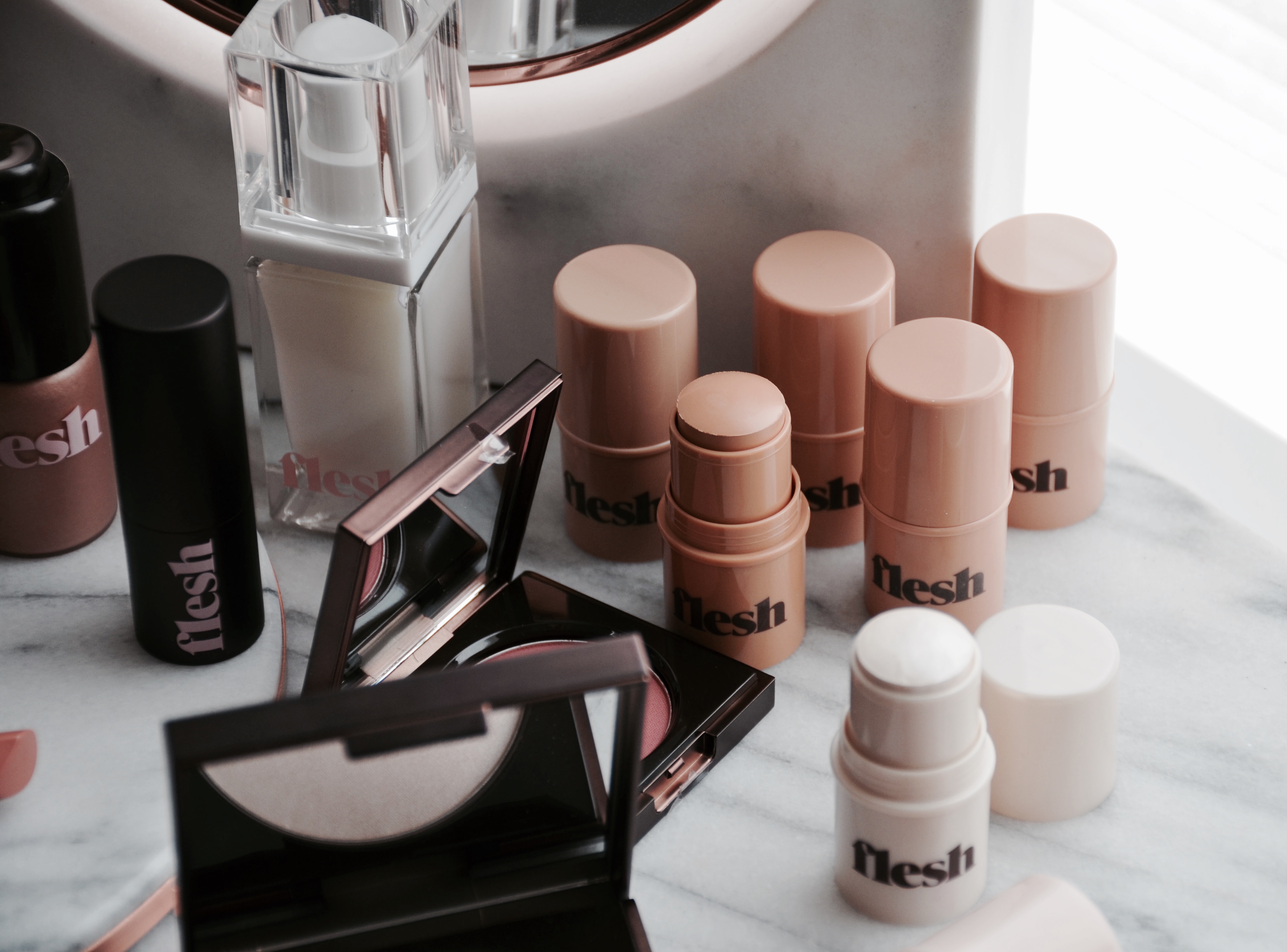 The Thickstick is the most portable foundation I have. It doesn't come with a lot of product but a little goes a long way with this foundation. When you swatch and apply on the skin, the stick foundation feels quite thick. But as soon as it's blended out (I use a buffing brush), it literally looks like skin. I do two swipes on each cheek and one on my forehead to get light natural looking coverage. The finish is glowy so if you are oily you definitely need to set it with powder. I use my current go-to, the Hourglass Vanish Setting Powder.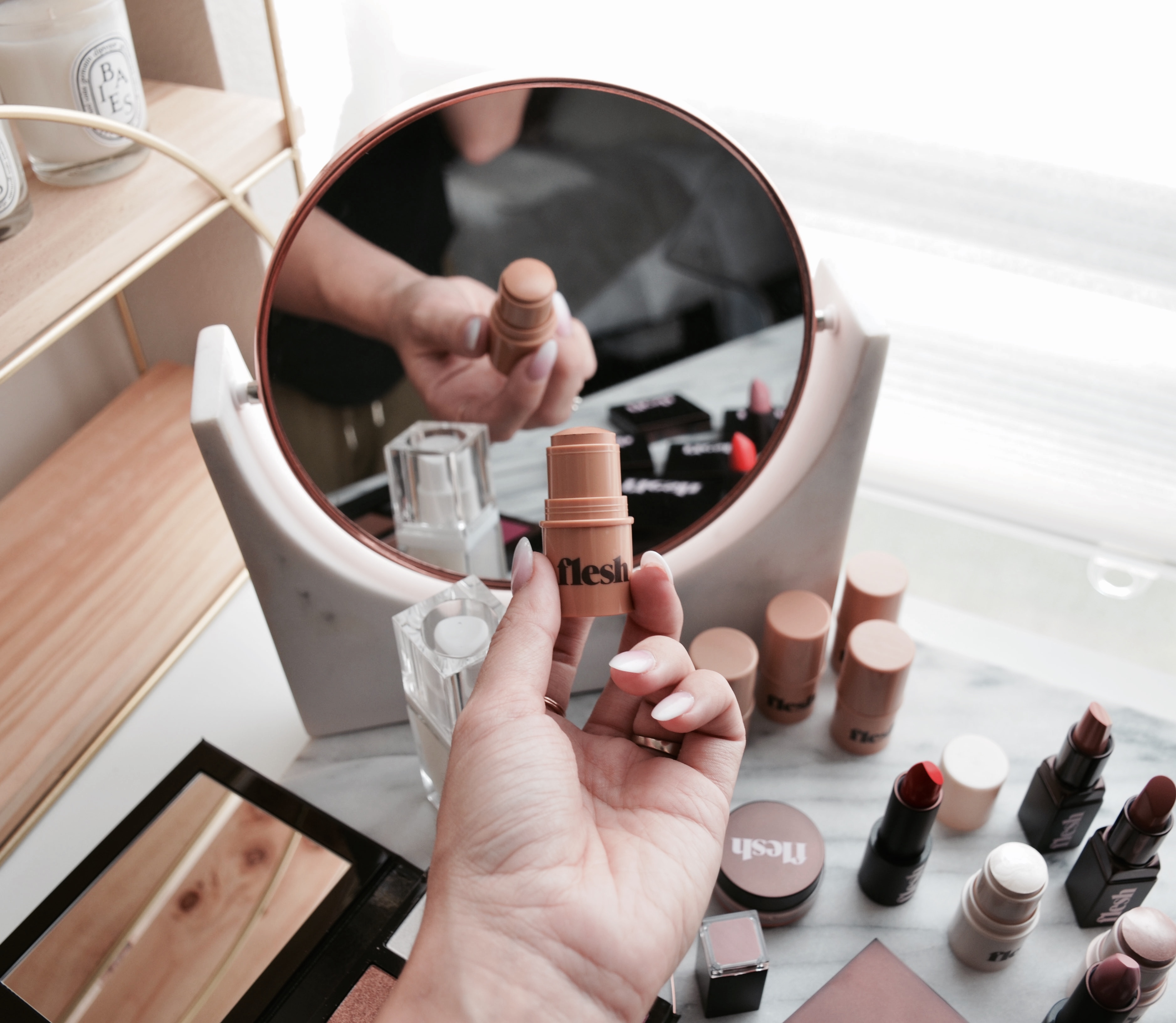 Swatches L to R: 08 Custard, 09 Honey, 11 Creme Brulee, 15 French Toast, 16 Apple Strudel
My perfect match is the shade in 11 Creme Brulee which is described as for light to medium skin tones with neutral undertone. I've been using this foundation since I got it. Love the finish and longevity!
Another product that comes in a stick form is the Touch Flesh Highlighting Balm. It's described as a balm that delivers sheer luminous glow. It comes in four shades and I have the first two lighter shades in Startle (pearlescent sheen) and Pinky (frosted pink). If you like your glow on the subtle side and you are looking for more of a glossy sheen, these will be right up your alley.
The formula is sheer and glossy but it is not sticky on the skin. The shade in Startle gives me the most heavenly glow. I don't apply these directly from the stick since dragging the product can probably move your base, so I always either dab with my fingers or use a brush.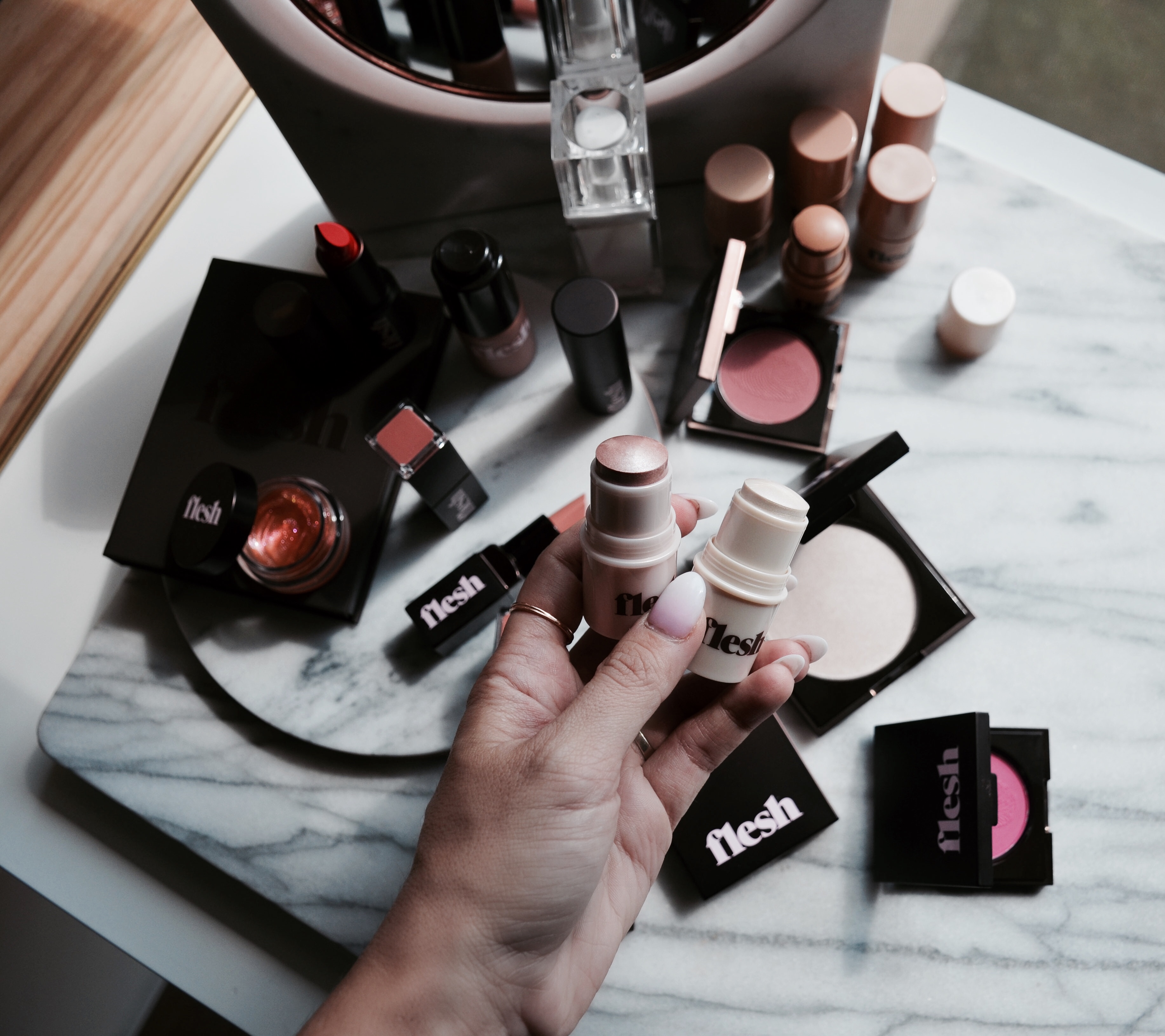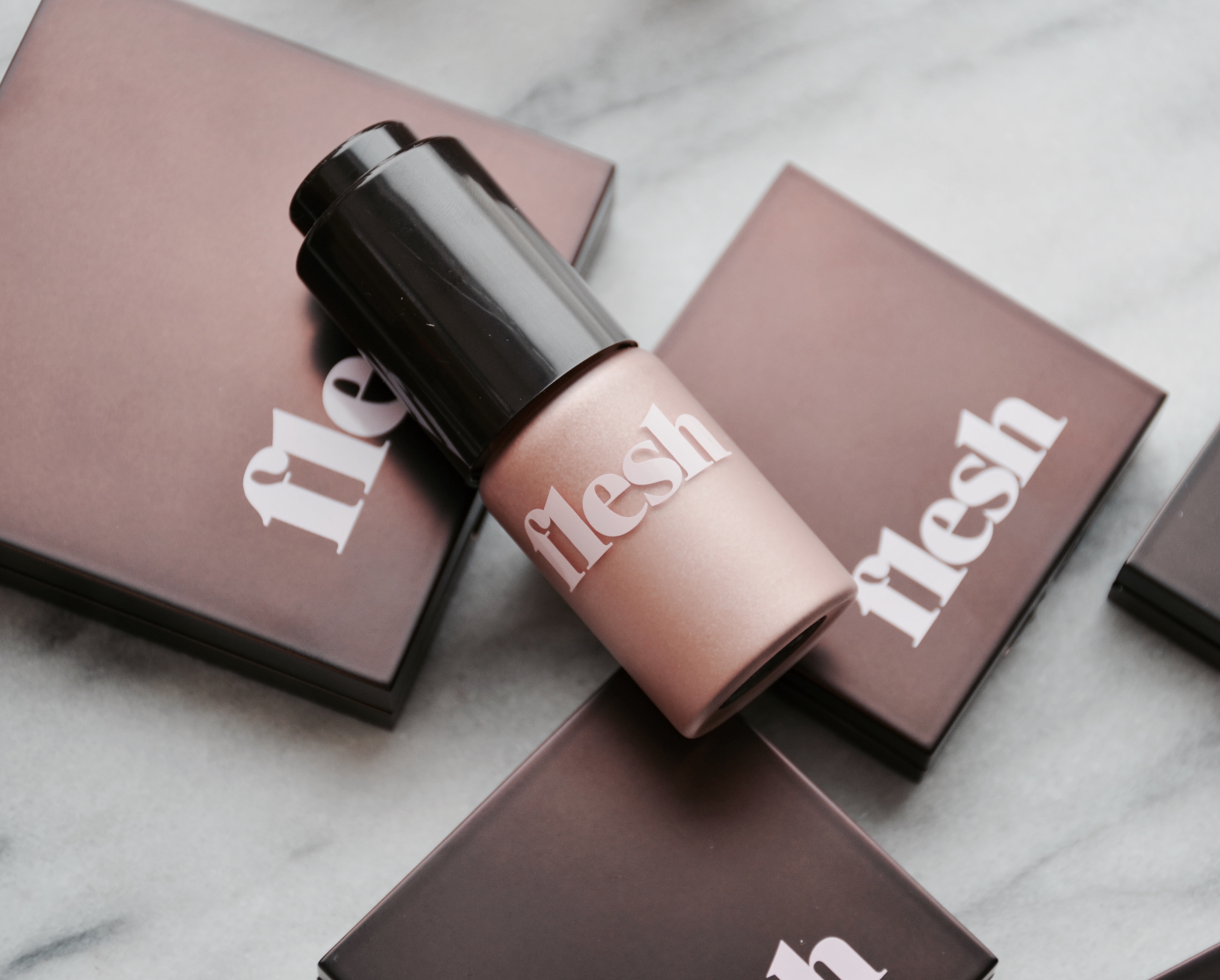 The Ripe Flesh Glisten Drops are illuminating drops that give an etherial glow on the skin. I like to use these on their own as liquid highlighter but also mix them with my primer or foundation. The glow is buildable so you can go as subtle or as beaming as you like. There are also four shades in the line and I got the shade in Whisper which is a blushing champagne shade.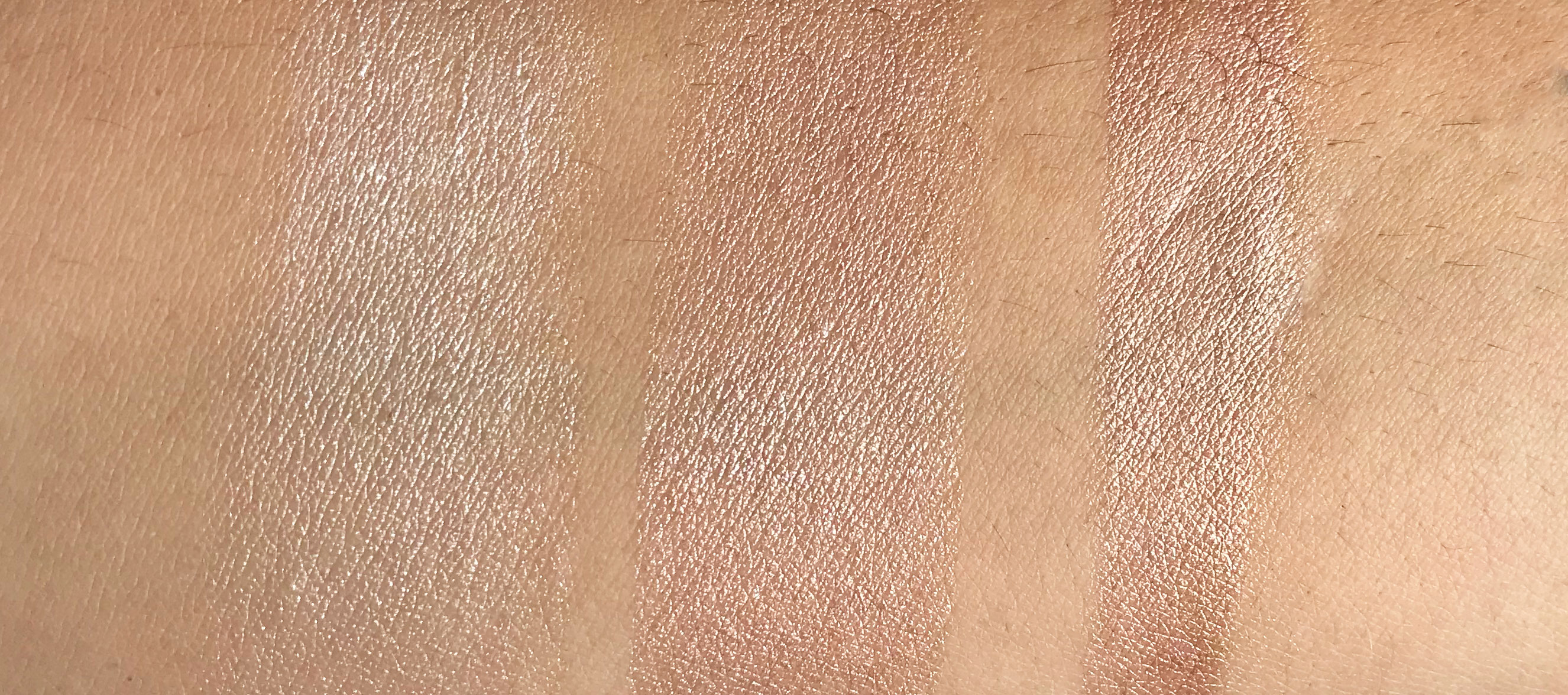 Swatches L to R: Startle, Pinky, Whisper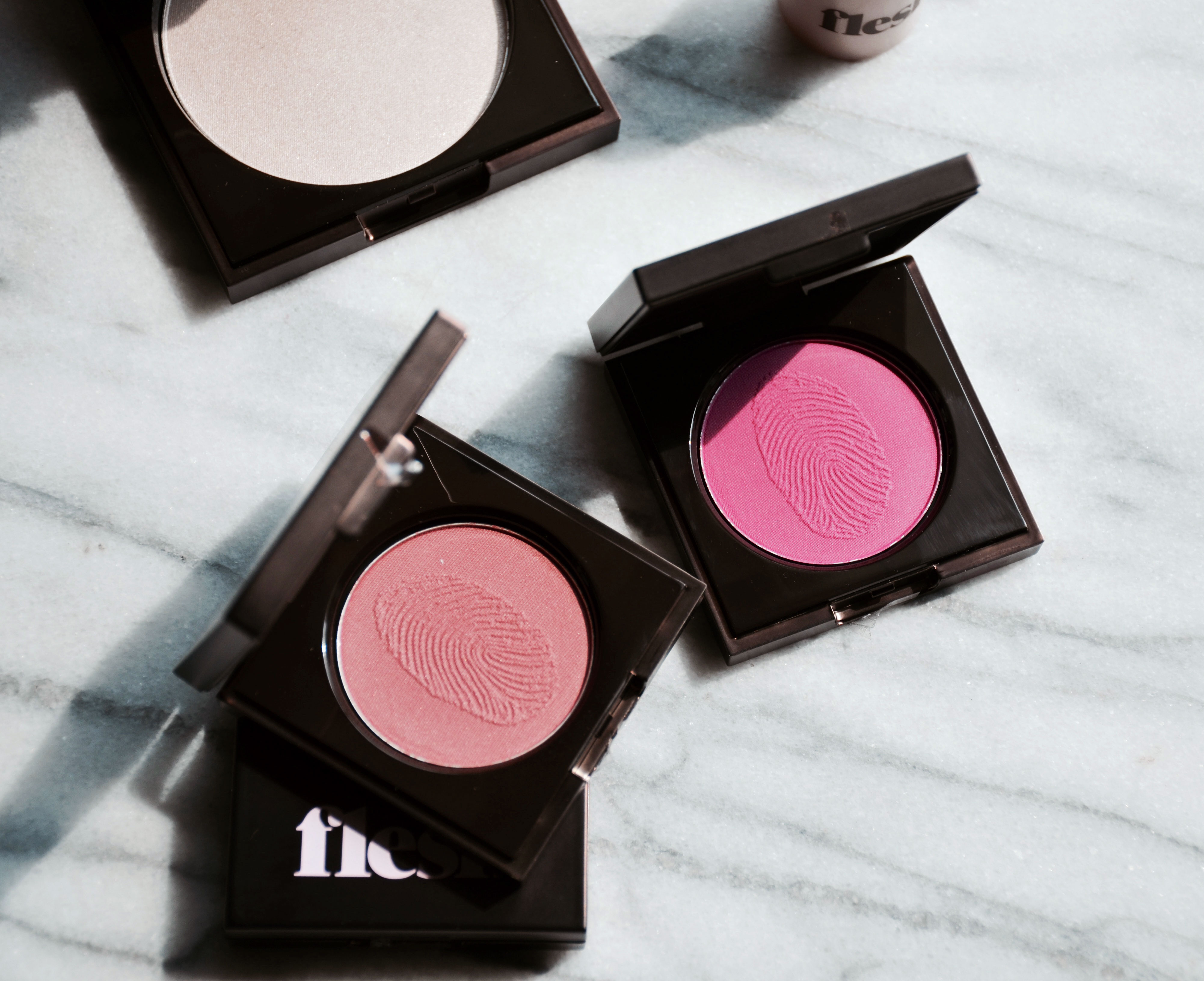 I received two of the Tender Flesh Blushes in the shades Pulse (shimmering dusty rose) and Rub (matte hot fuchsia). The formula of these is super pigmented. You only need a dab with your brush and you are good to go. They have a cute finger imprint which I'm happy to say that it doesn't disappear after few uses. Out of the two, of course i prefer the shade in Pulse since I like neutral blushes. Pulse is a neutral rose shade that has fine golden shimmer. When applied on the cheeks, the blush gives a beautiful glow in within look.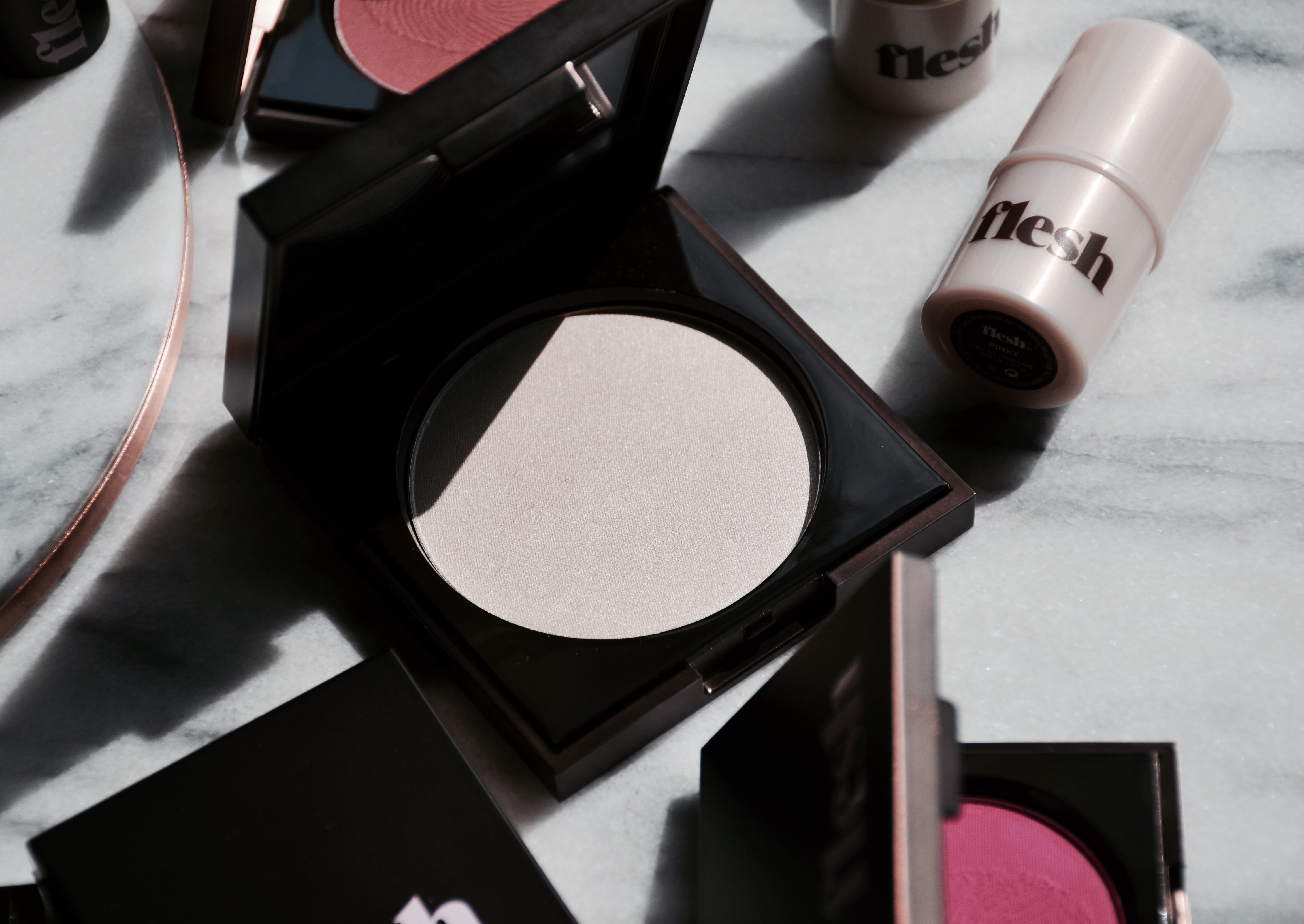 The Flesh To Flesh Highlighting Powder in Boost is a beautiful pearlescent shade. The formula is soft and appears as a glow on the cheeks without being over the top. This is what I would call, a work appropriate highlighter. It is not super subtle but also not beaming. It has the perfect in between glow which I like for the daytime. The line has six available shades so there is a shade for every skin tone.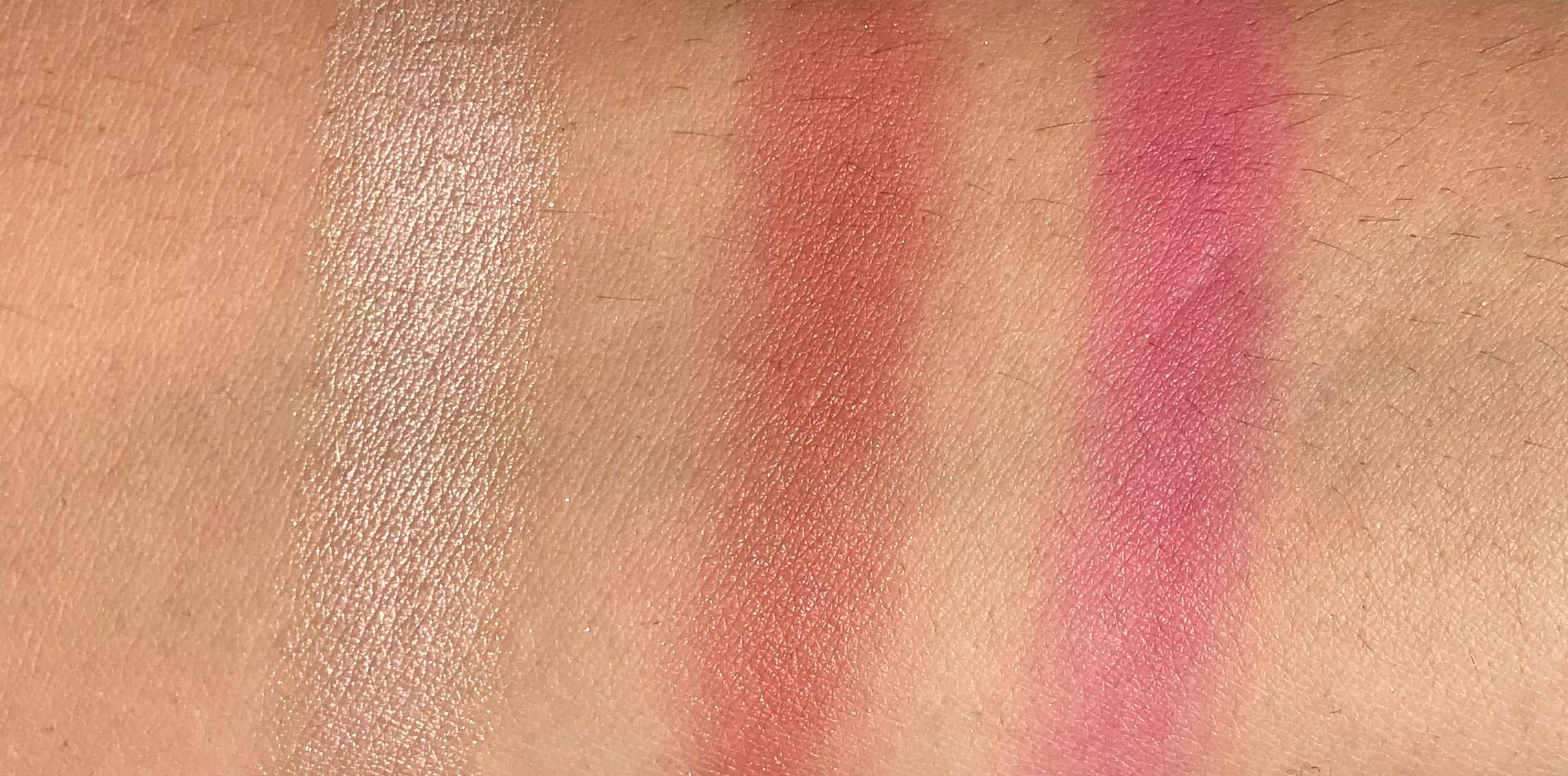 Swatches L to R: Boost, Pulse, Rub
I think the most unique product in the line, is the Fleshpot Eye & Cheek Gloss. It is a transparent and iridescent gloss that you can use on the eyes and cheeks. It has flecks of gold, peach and pink which you can see when exposed in direct sunlight. The consistency of the gloss is a tad sticky which makes the product actually stick to the skin and not move. On the eyes, it gives a beautiful editorial glossy look. You only need a tiny bit of product since the gloss is quite clear. If you want color, you can layer it over top other eyeshadows but you can expect some creasing since it's a gloss.
Applied on the cheeks, it is heaven! It gives dimension and a glossy and dewy look on the skin and stays put all day.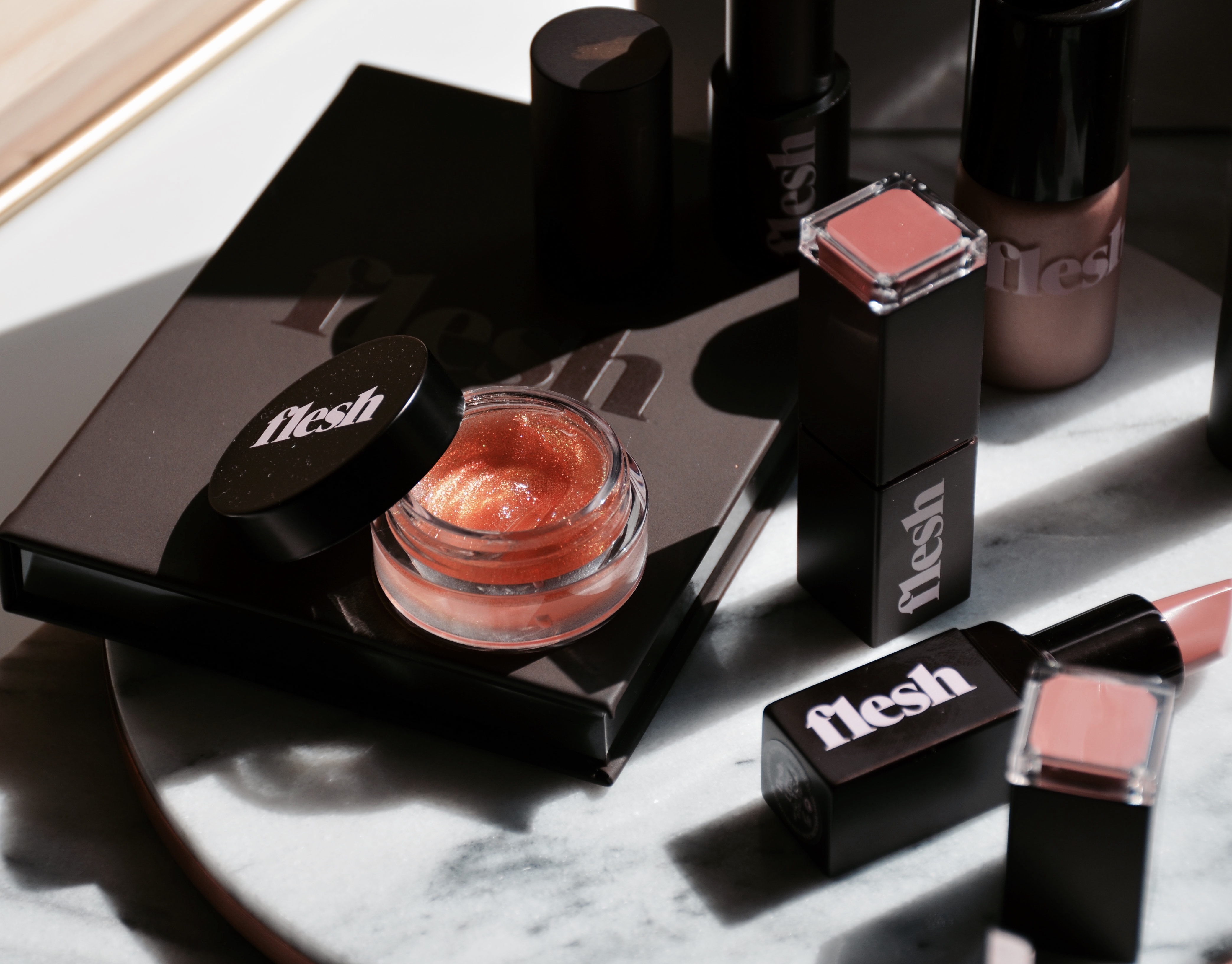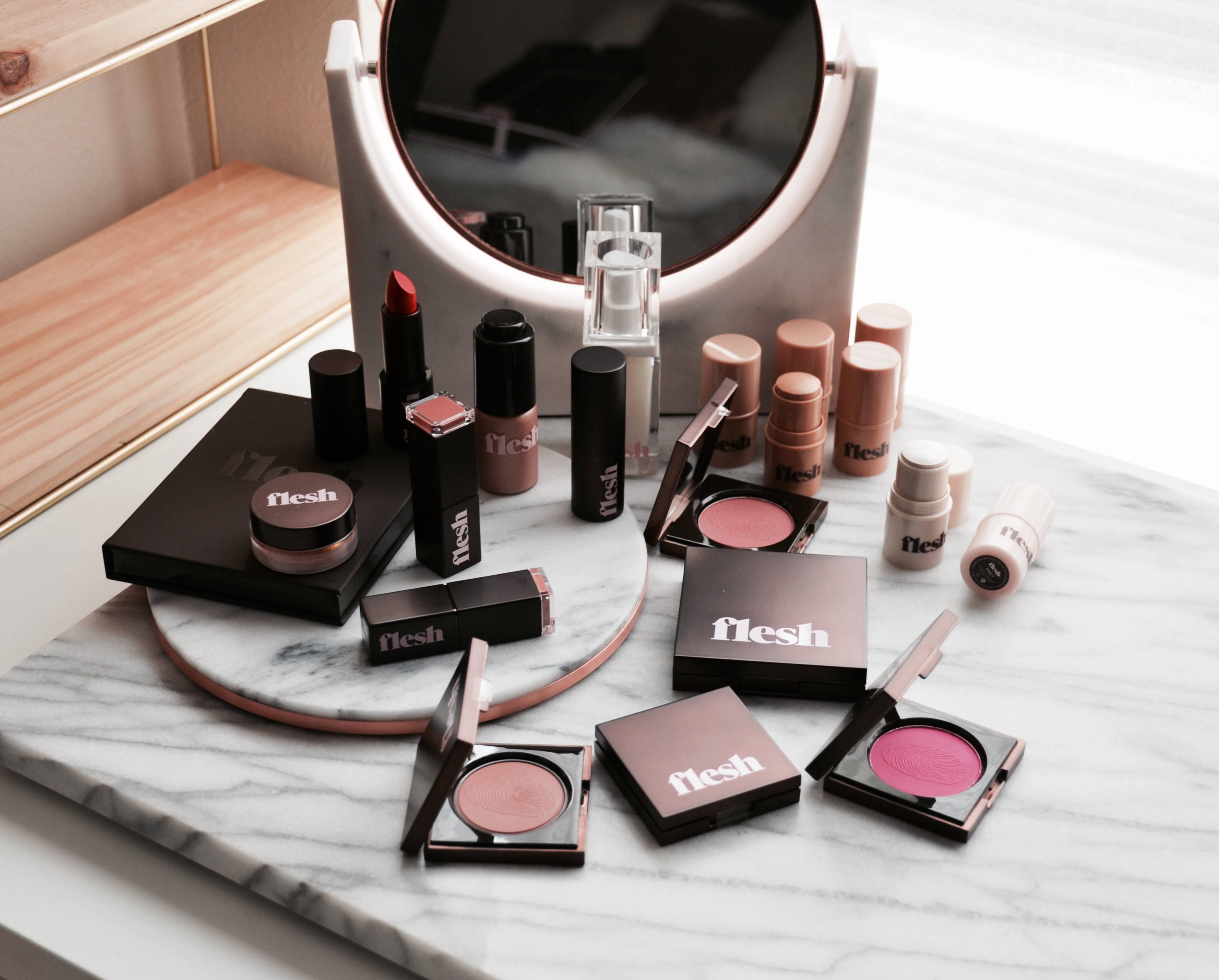 There is one primer in the collection called Flesh Illuminating Primer. There are blue and purple photo reflecting agents in the primer that add radiance to the skin. The texture is gel like and very light. The primer sinks right in to the skin without leaving a sticky feeling after application. I think the primer works really well with the stick foundation. It is not the most illuminating primer I've tried (love my glow) but it adds a subtle glow on the skin while prolonging the wear of your makeup.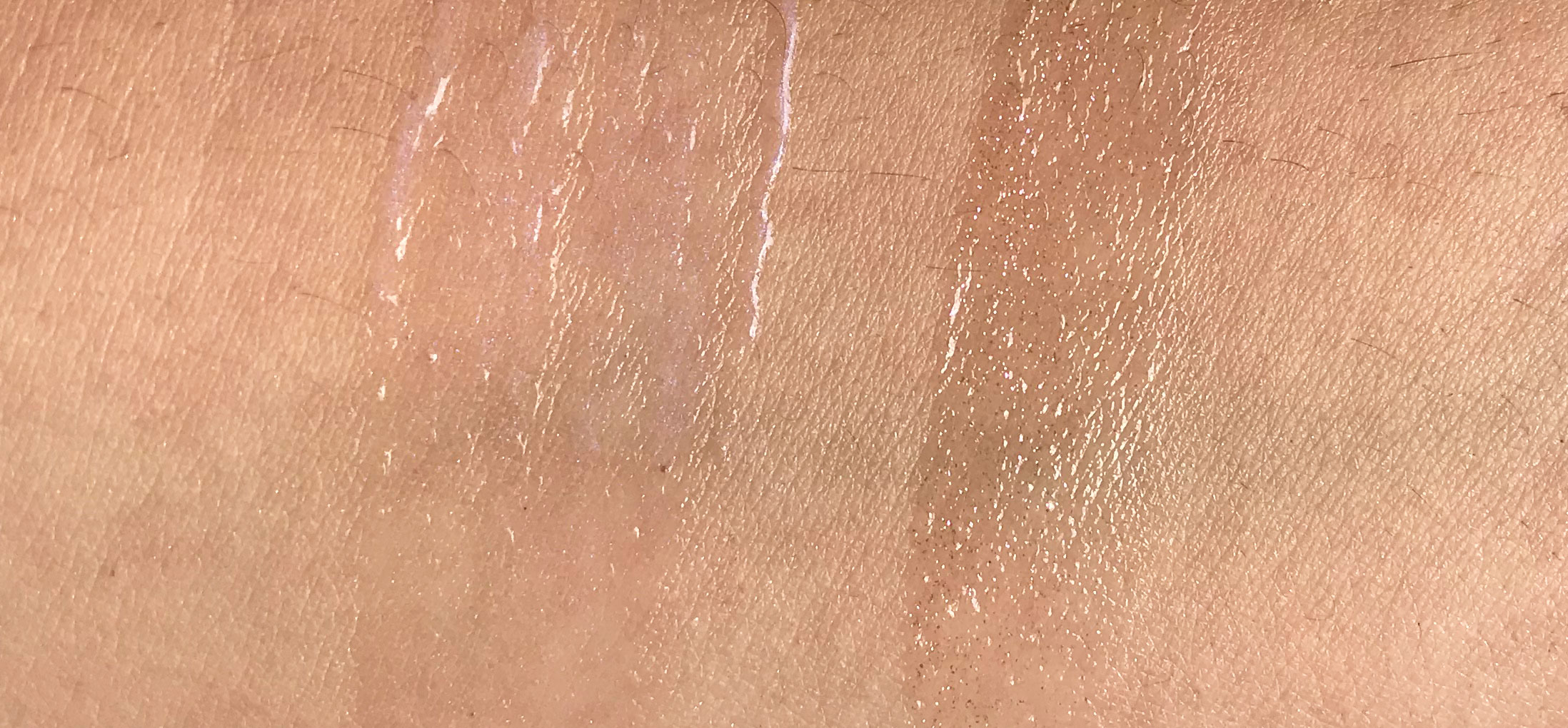 Swatches L to R: Flesh Illuminating Primer, Fleshpot Eye & Cheek Gloss
The Fleshcolor Eyeshadow Palette is a nine pan eyeshadow palette that has mainly neutral shades and one pop of color. The palette features mate, satin and metallic finishes and it is formulated without parabens.
The shades that come in the palette are:
Expose (shimmery pearl)
Unveil (flashy yellow gold)
Rush (bright pink)
Chasm (rose gold)
Taste (shimmery dusty rose)
Feeling (metallic dark brown)
Mind (deep matte chocolate brown)
Touch (matte brown)
Nerve (matte black)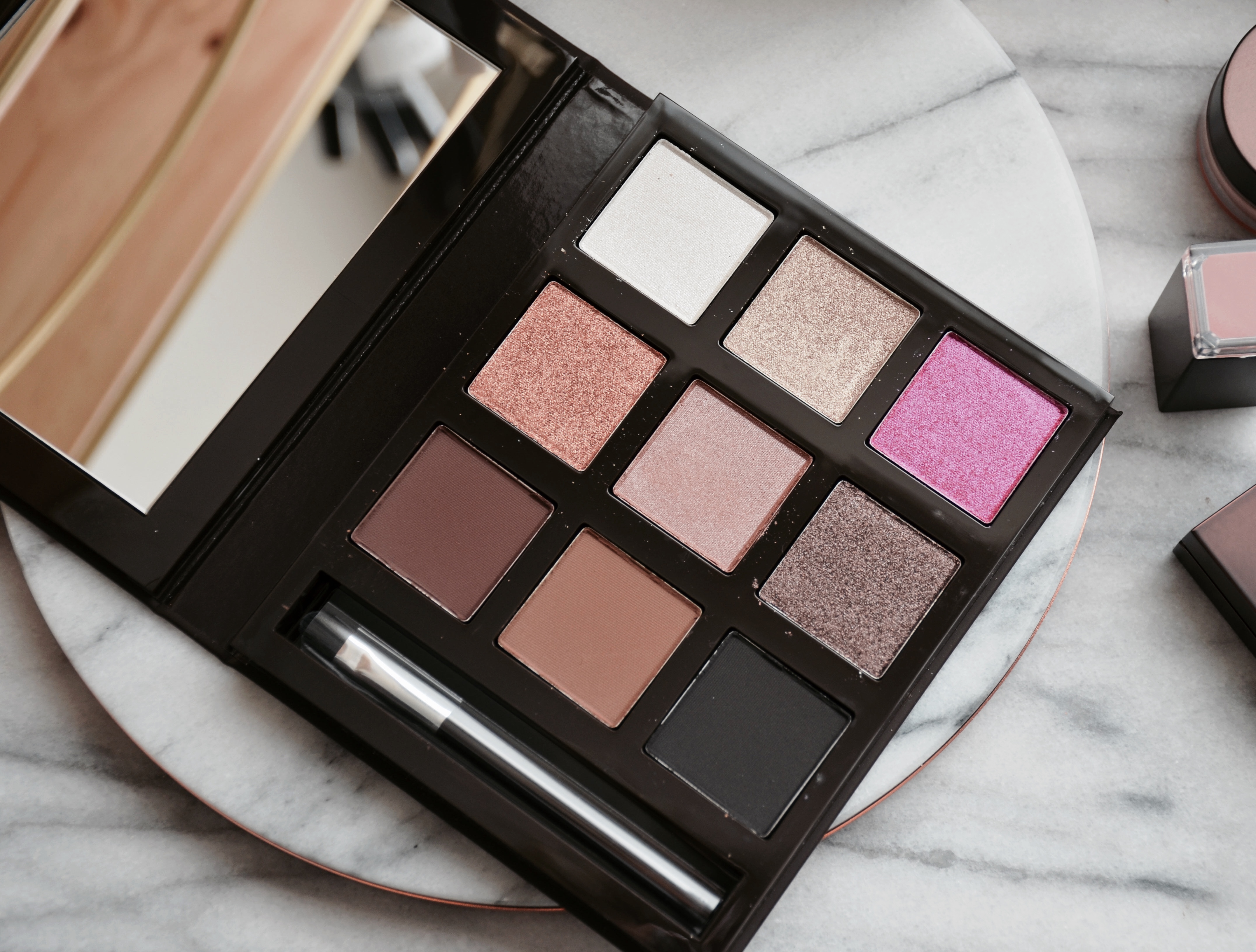 Swatches L to R: Expose, Unveil, Rush, Chasm, Taste, Feeling, Mind, Touch, Nerve
As a neutrals lover, I really like the shade selection. I like that they included neutral shades that are not on the warm side (we've seen so many warm neutrals lately). The matte shades in the palette are easy to work with. They are not super pigmented so you can build up the intensity as you please (very easy to work with if you are beginner). The satins also perform really well on the eyes (I love using these as a wash of color on the eyes). For the metallics, they are pigmented but you do get fallout. The easiest way to avoid that is either to use them wet or to use your fingers for application.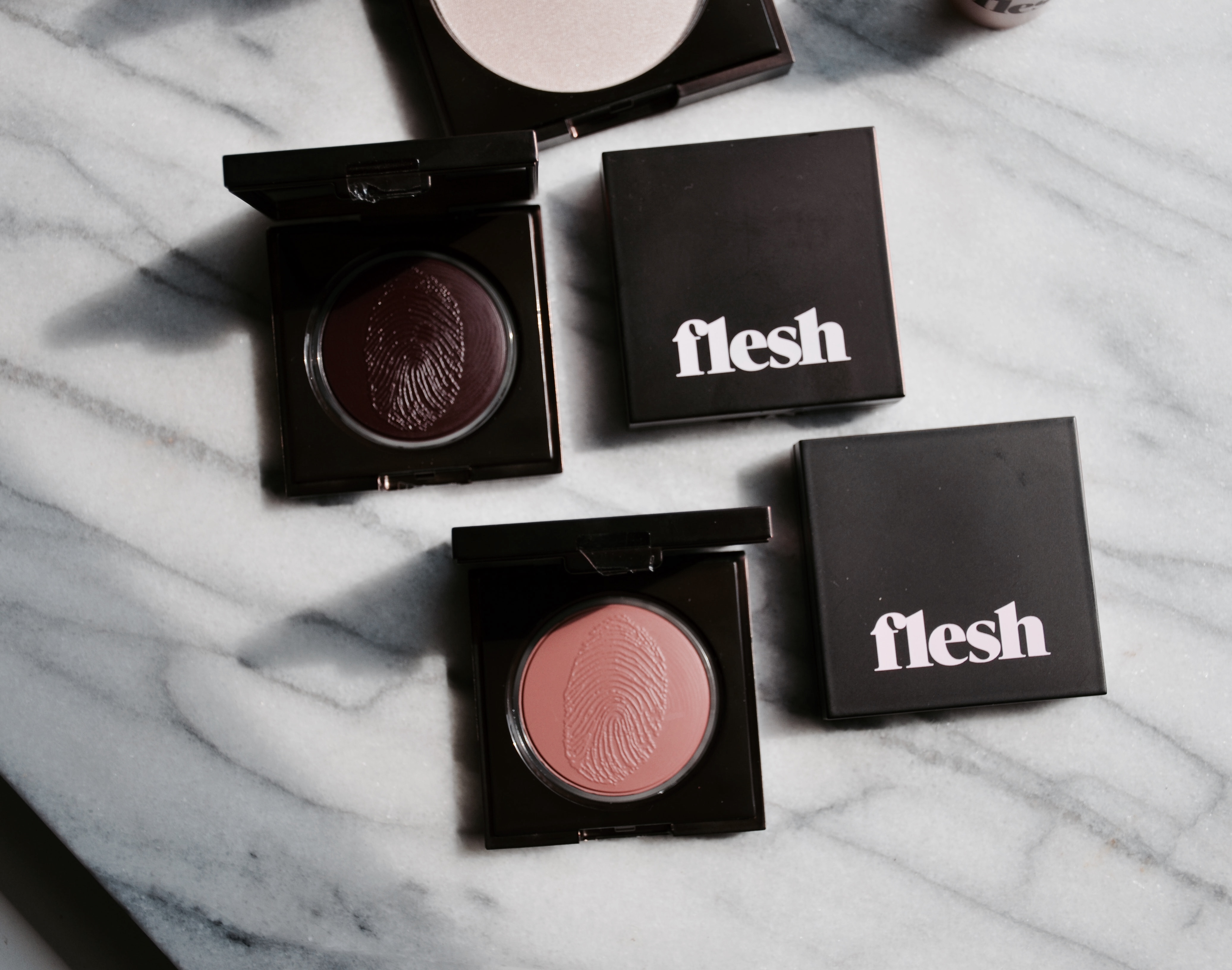 One of my favorite product from the line is the 
Flesh Swipe Flesh Lip Color
. It is a satin to matte finish lip product that comes in a portable compact. You can either use your fingers for application or use a lip brush if you like a precise look.
What I like to do with these is just use my fingers and dab the product on the lips. They give a beautiful flush of color on the lips and give that blotted effect. They are buildable so you can build them to full intensity but I like them sheered out.
I received two shades in 
Jiggly
(dusty rose) and 
Firm
(burgundy). Both shades look very intense in the pan but they apply lovely on the lips. Firm will definitely be my go to fall shade when I want a blotted effect lip look.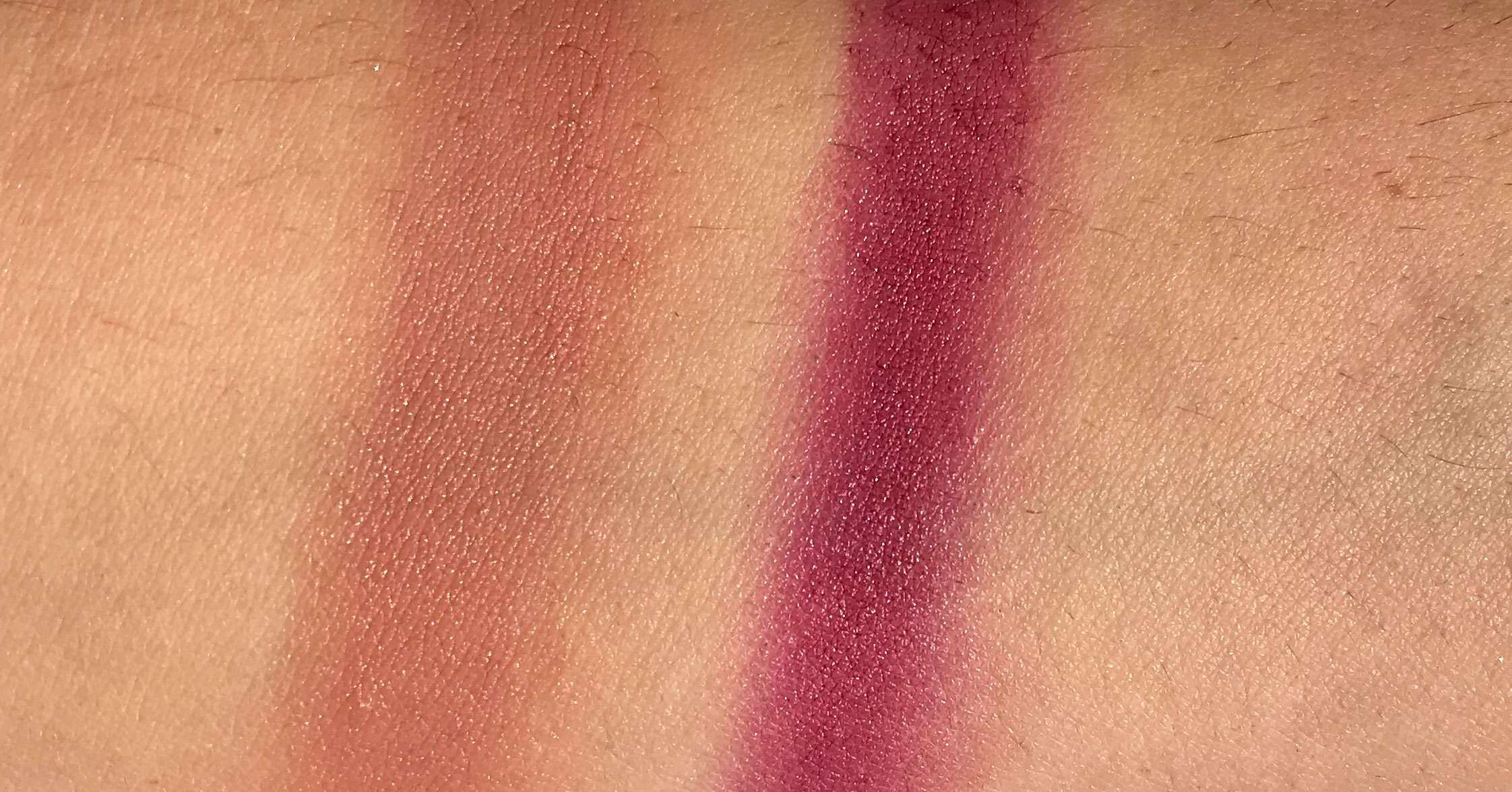 Swatches L to R: Jiggly, Firm
There are two different lipsticks in the line. The
Fleshy Lips Lipsticks
have a sheer formula and come in four shades of nude. They are supposed to be a better version of your natural lip color. I find the formula hydrating and really nice for natural makeup days or for whenever I'm not wearing any makeup. I received two shades in
Lick
(sheer peachy pink) and
Hungry
(sheer reddish pink). Love both shades!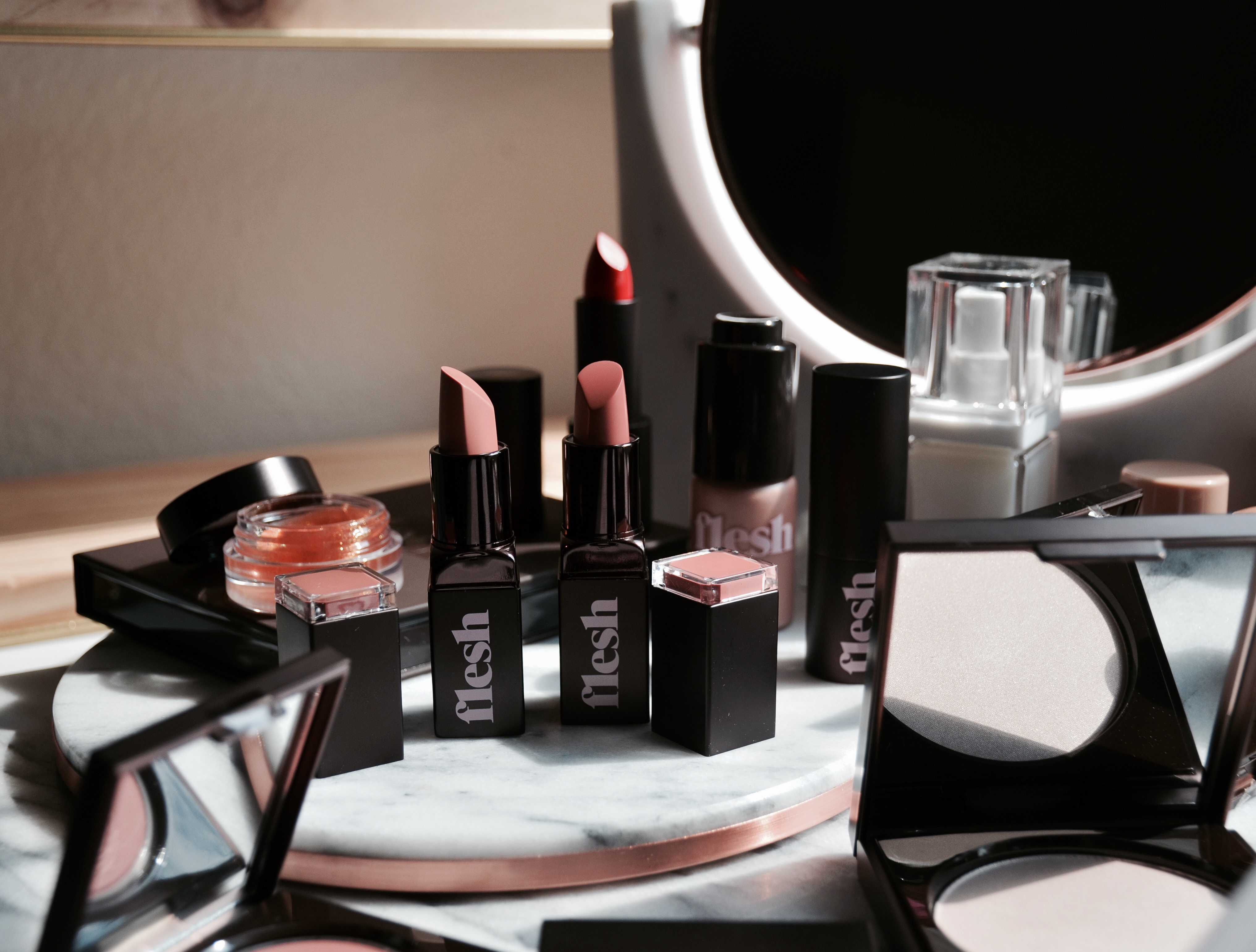 The
Strong Flesh lipsticks
have a satin texture and one swipe pigment. They are moisturizing but also last a long time on the lips. The pigment is really amazing! You get full on bold pigment with only one swipe. The two shades that I got are
Superb
(dusty rose) and
Soul
(bright coral orange).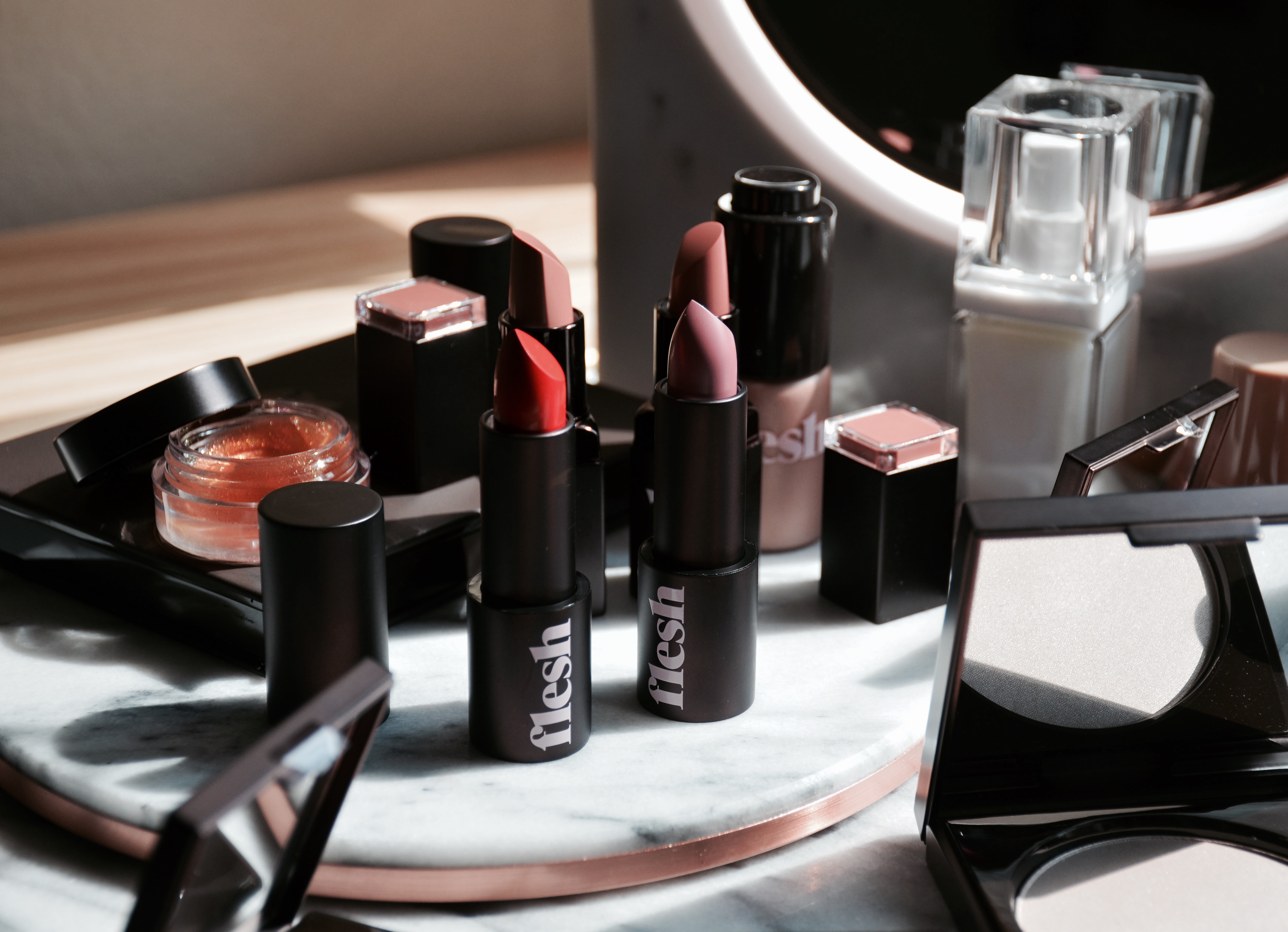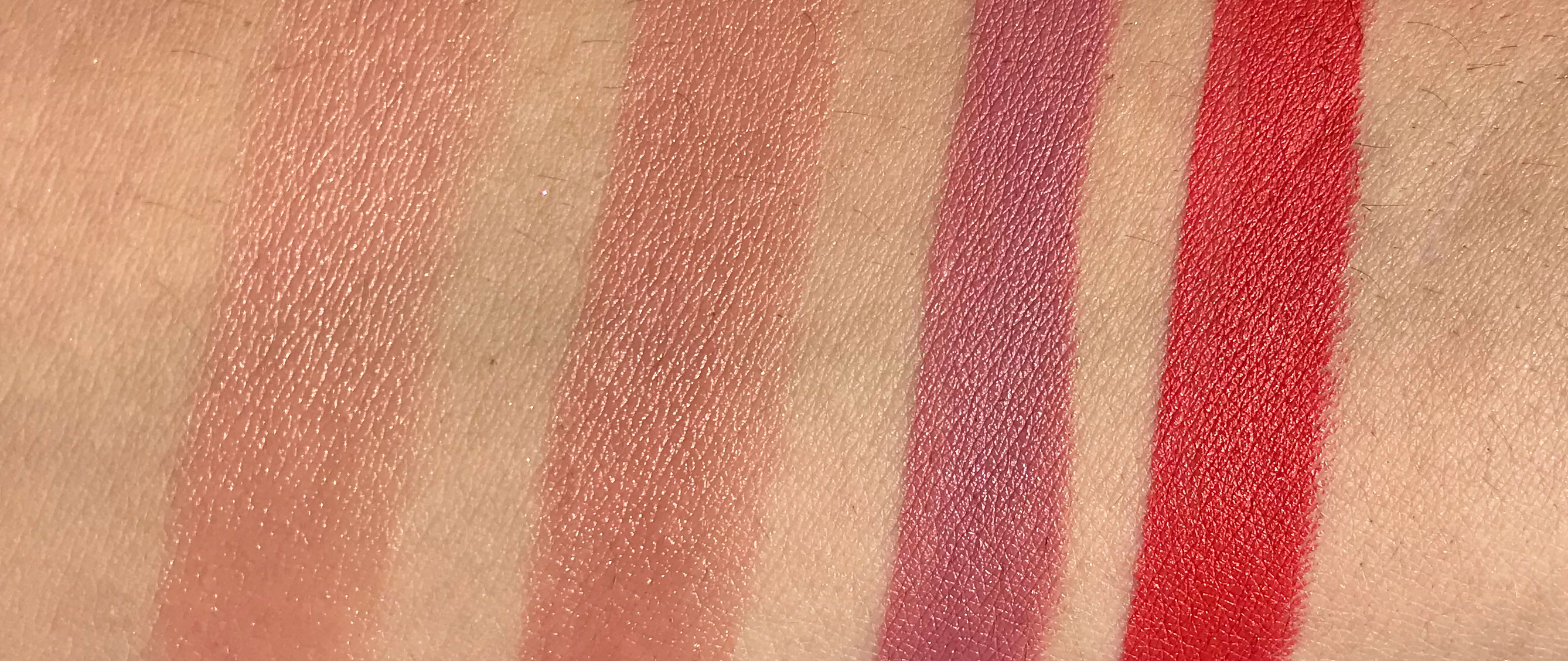 Swatches L to R: Lick, Hungry, Superb, Soul
Bottom line, I think
Flesh Beauty
did a great job with their first release. From the simple and minimal but beautiful packaging, to the product selection, it really is a solid makeup line and worth a look.
Have you checked out
Flesh Beauty
? Let me know if you've tried anything from the line.
*PR Sample