How many bronzers and highlighters can a girl have? Of course we need variety so my bronzer and highlighter drawer is packed to the top (I literally don't have space for more so I have to free up a second drawer). The beauty market is saturated with highlighters and there is a reason for that. Everyone wants glowy skin.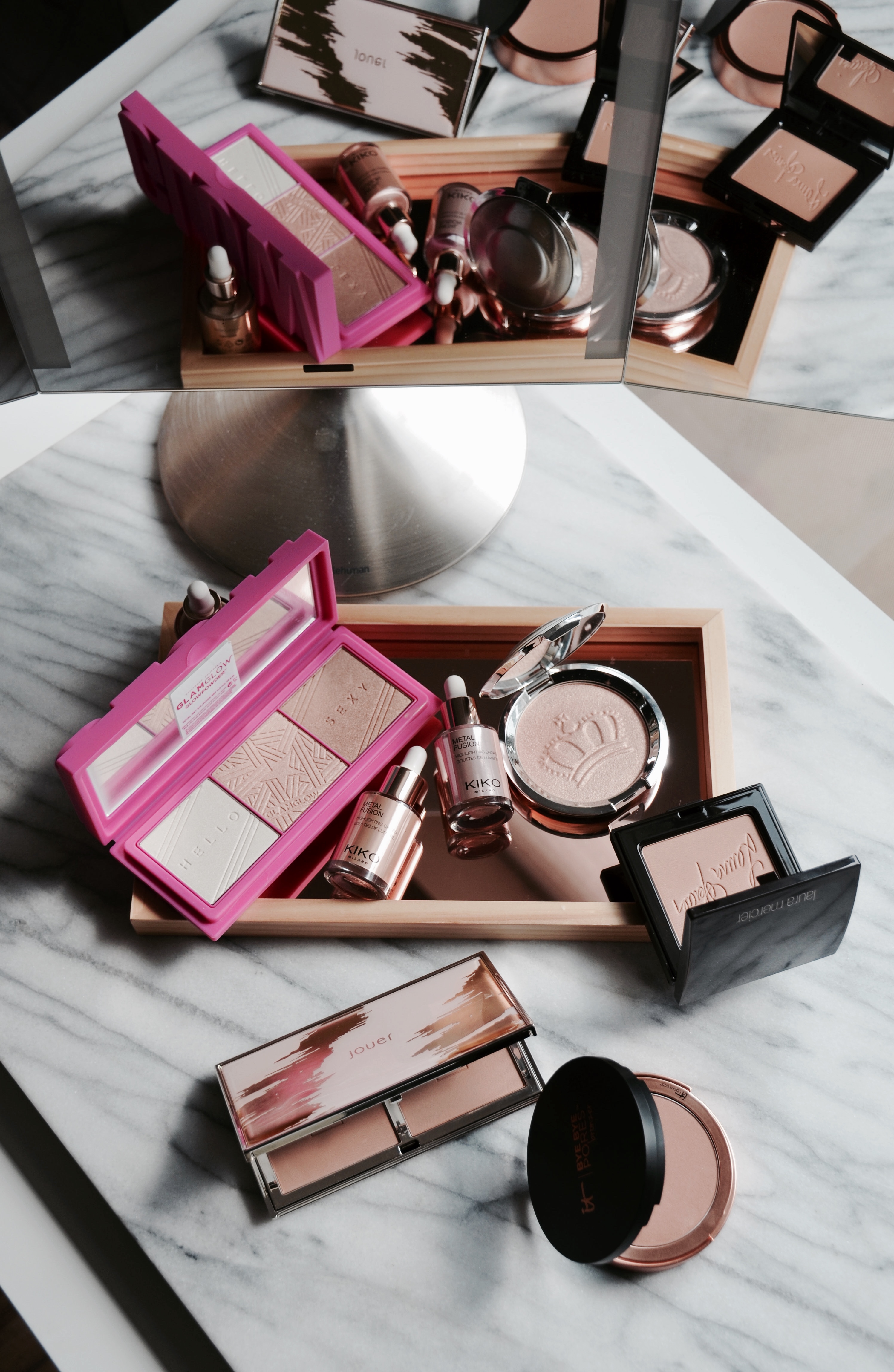 I've been testing some newer releases from both the bronzer and highlighter category, and I wanted to share my picks of products that I think are worth checking out. The ones that stood out from the crowd with both formula and shades:
GlAMGLOW GLOWPOWDER Hyaluronic Acid Infused Glow Palette – The first highlighter product from the skincare brand is infused with hyaluronic acid, Brazilian golden clay, golden gemstones, and a TEAOXI Vitalflower Complex. It features three shades, from a pearl white to a golden bronze shade. The texture of the powder is very creamy and it is buildable. The powders blur imperfections and give a beautiful glow on the skin that can be both subtle and beaming.
They blend seamlessly on the skin and the more you blend the powder, the more natural and glowy it gets. The highlighting powders have the same scent as their Glowstarter Mega Illuminating Moisturizer but you don't smell it after application. Also did I mention the packaging? It is rubber and has that matte soft touch feel (very satisfying to the touch).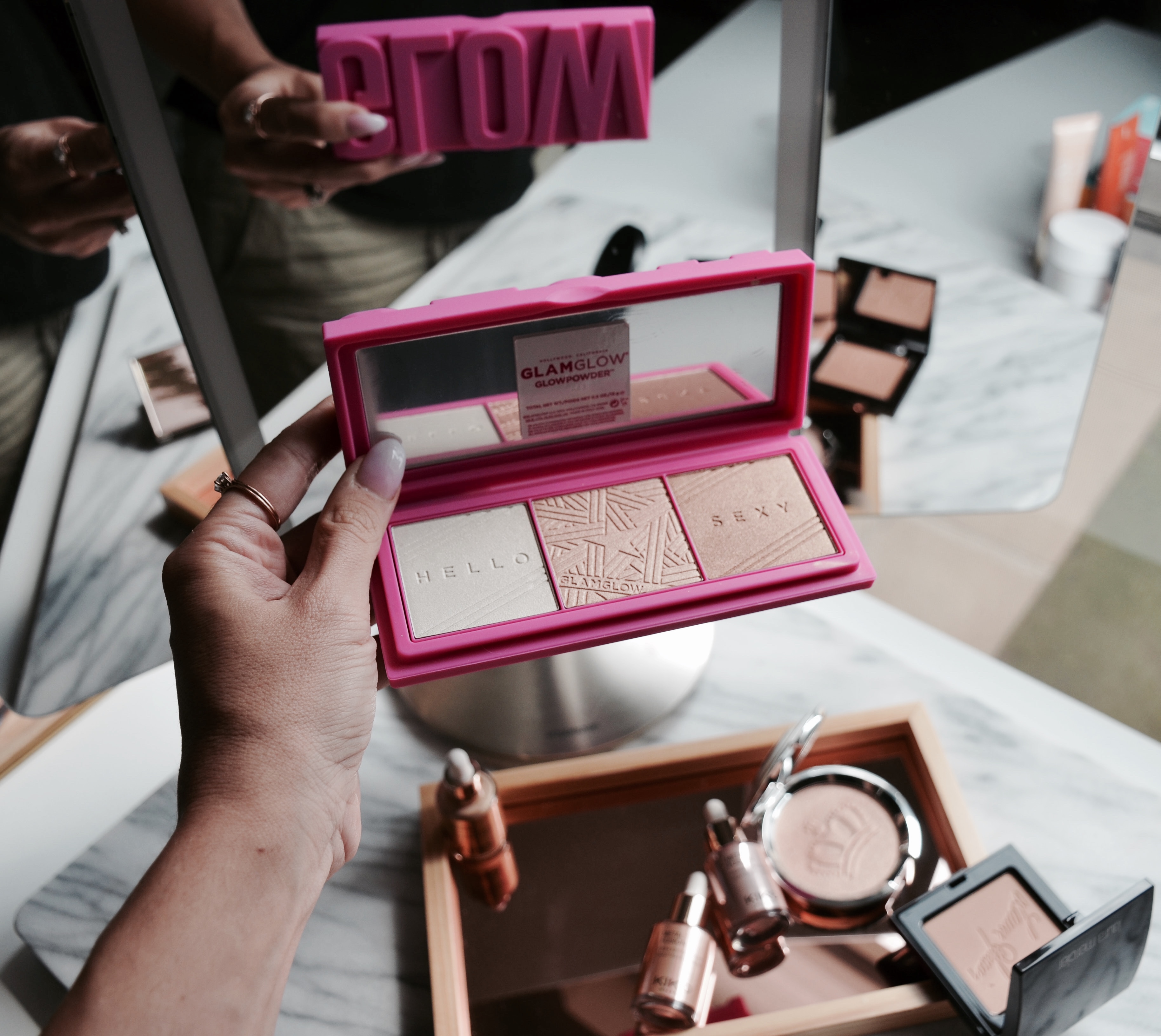 Becca Shimmering Skin Perfector Pressed in Royal Glow – A limited edition shade that has a beautiful crown embossing. It was inspired by the mystique and beauty of the United Kingdom's Crown Jewels. The shade is described as a bronzed opal with shimmering gold pearl. It is a peachy golden light bronze shade that will suit medium skin tones and up. I'm not going to talk about the formula much since you can't really go wrong with any of the Becca highlighters. The formula is always creamy, pigmented and gives a beautiful beaming glow on the skin.
This shade is an exclusive to their website, so you can only find it on beccacosmetics.com.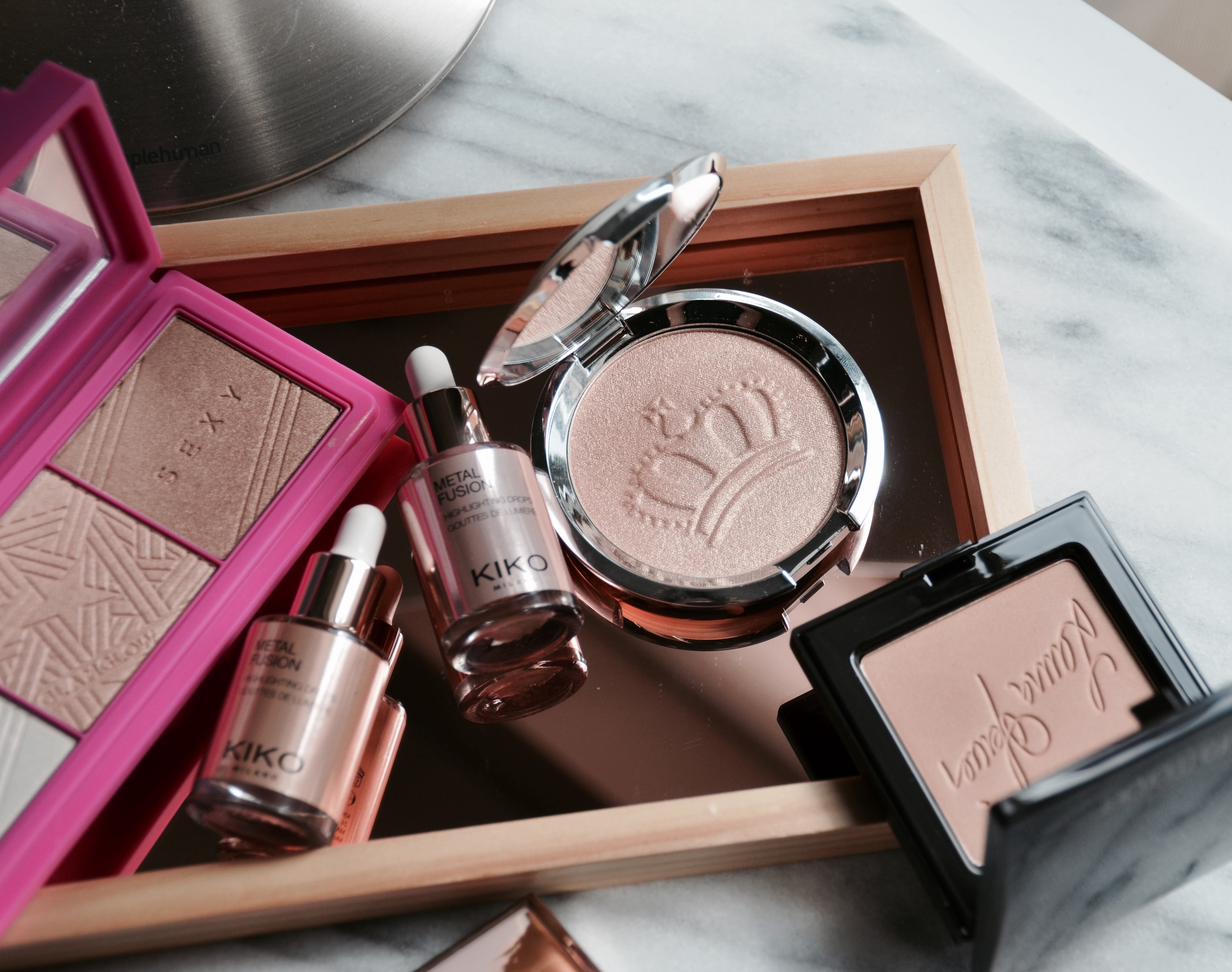 Kiko Cosmetics Metal Fusion Highlighting Drops – They are liquid highlighter drops that you can use on their own or mix with other liquids like your foundation or moisturizer. I received three shades in 01 Platinum Rose (a pearlescent pale pink), 02 Sweet Dreams (champagne) and 03 Gold Mine ( a true warm toned gold).
The formula of the Kiko Cosmetics Metal Fusion Highlighting Drops is less intense than the Cover FX drops but they still pack some glow. The finish on the skin is glowy and almost glossy. I also love to mix these with my foundation or even primer for an all over glow.
I couldn't find the Kiko Cosmetics Metal Fusion Highlighting Drops on their website so I think they were limited edition. If you have a store near you, maybe check if they still have them in stock. I know they usually do big discounts on limited edition collections.

Swatches L to R: GLAMGLOW Glowpowder Glow Palette, Becca Royal Glow, Kiko Metal Fusion Highlighting Drops in Gold Mine, Platinum Rose and Sweet Dreams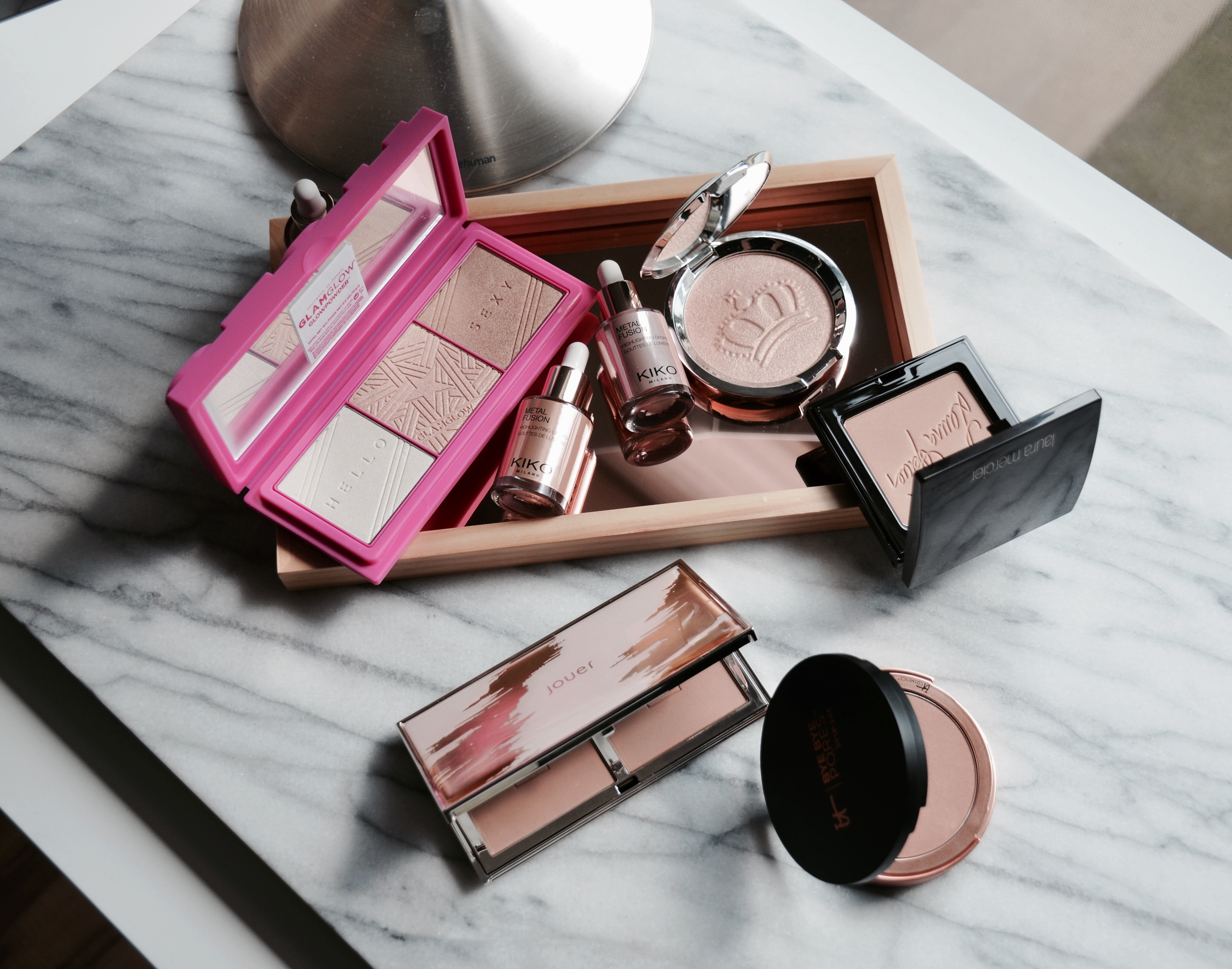 Jouer Sunswept Bronzer Duo in Light to Medium – A duo of a lighter and a darker shade, this bronzer has the same formula as the Bouquet Blush Duos. The powders are soft, not powdery and blend like a dream on the skin. The Light to Medium shade is quite light. I only received this shade and planning on getting the darker one since it will work better for my medium skin.
The Light to Medium compact still works for me but I do have to build up the shades if I want more color. I think this compact would work better if you have fair to light skin. The tones of both bronzer are so so nice. They have that in between tone which is not too warm but also not too cool toned.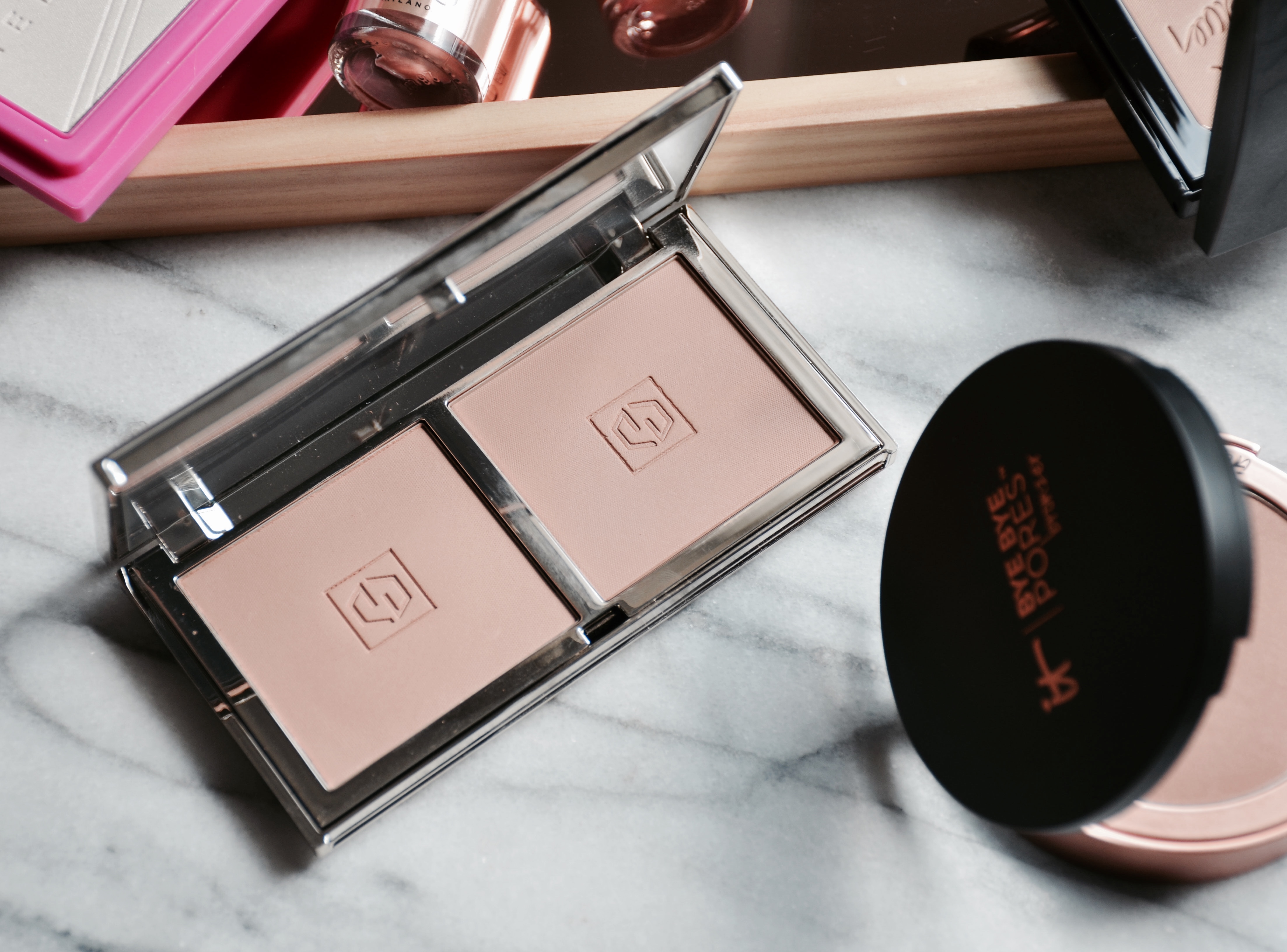 It Cosmetics Bye Bye Pores Bronzer – A glowy bronzer that also blurs pores? Yes, please! Infused with Bye Bye Pores Optical Blurring Technology and real silk, this talc-free, oil-free bronzer is designed to glide over your skin without settling into lines or pores and diffuse the look of imperfections for your most flawless glow.
The bronzer gives a natural looking glow and bronzed effect without being over the top. The shade is my perfect bronzer shade. It gives a sun kissed glow without being too warm on the skin. Nothing but love for this bronzer!
Laura Mercier Matte Bronzing Powder in Soleil 1 – A matte powder that gives a natural looking bronze glow on the skin without any shimmer. The bronzer blends seamlessly on the skin and gives a sun-kissed look without being too warm. Soleil 1 is the lighter shade of the two and will suit people with fair to medium complexion. There is also a shade in Soleil 2 which is darker so suited for medium skin tones and up.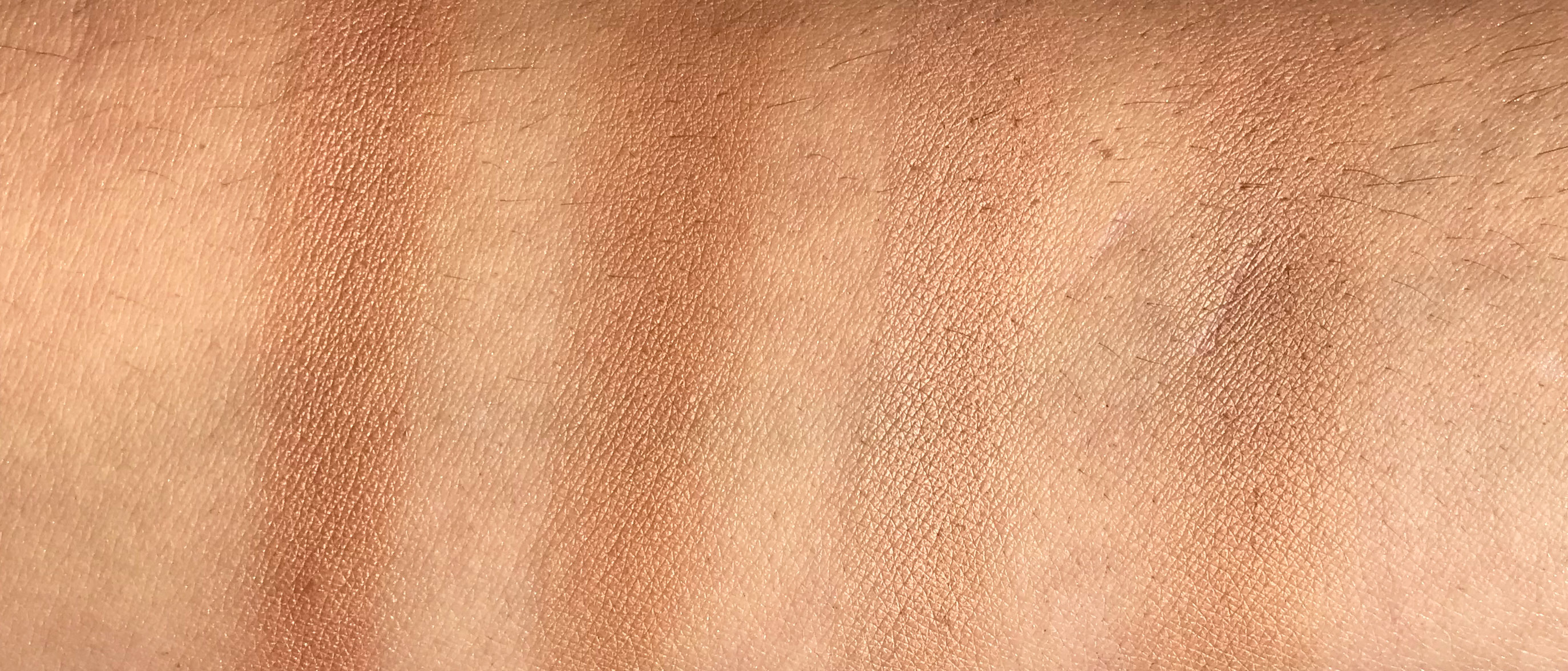 Swatches L to R: It Cosmetics Bye Bye Pores Bronzer, Laura Mercier Matte Bronzing Powder in Soleil 1, Jouer Sunswept Bronzer Duo in Light To Medium
What are your thoughts on the new highlighter and bronzer releases? Do you think the market is oversaturated or you still would like to see more products released from brands? As for me, I can never get enough of the glow and bronzed looks. I just love trying new formulas.
*PR Samples Included
SaveSave
SaveSave
SaveSave
SaveSave
SaveSave
SaveSave