Testing new makeup makes me so excited. I love trying and finding new products that work out for me. Every year around the holidays, we get so many new beauty releases, that sometimes it can get a little bit overwhelming. Today I included some makeup products that I finished testing (some are part of Holiday collections and some are just permanent).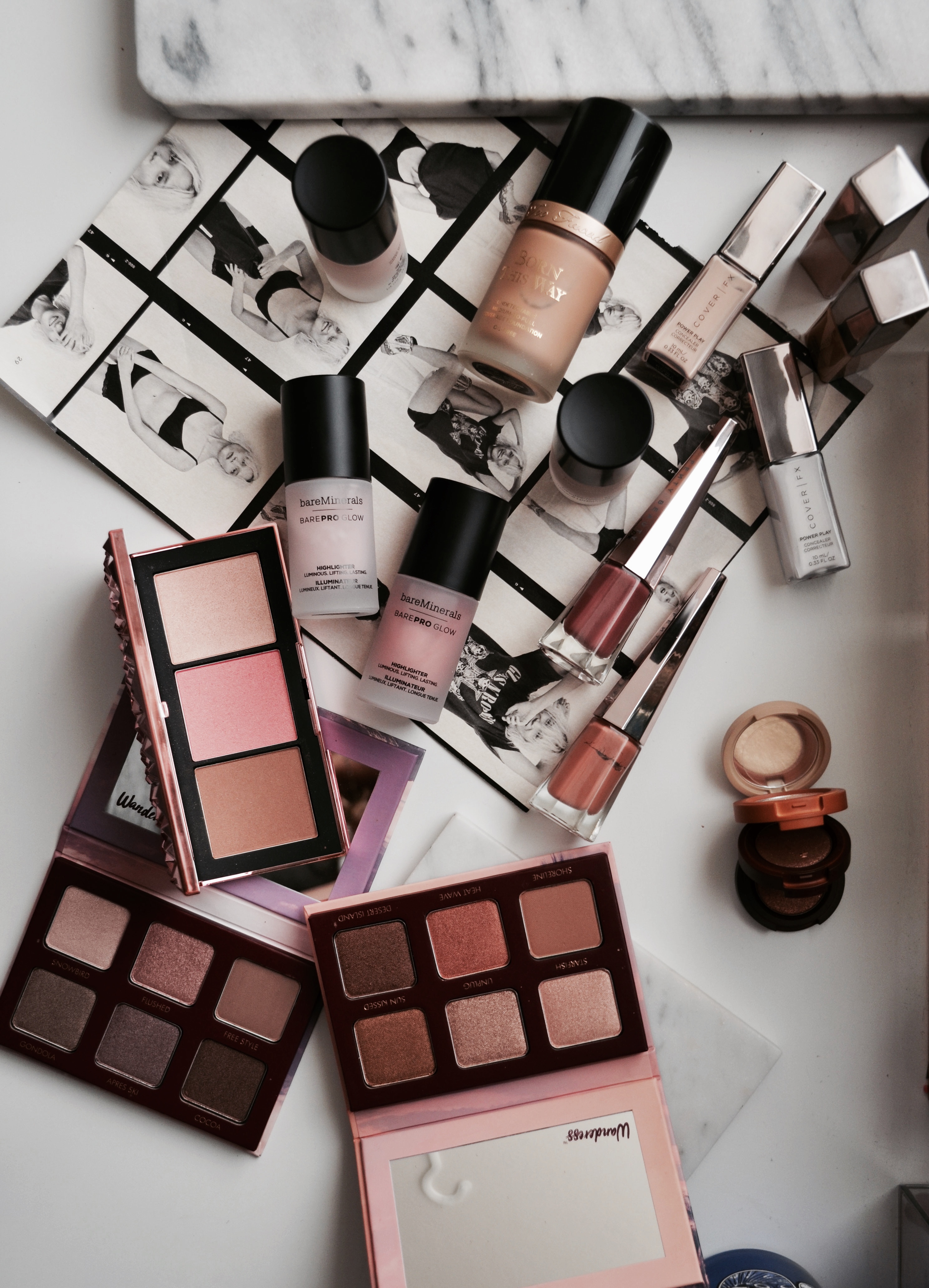 bareMinerals released new BarePro Glow Highlighters. They are liquid highlighters that can be used on their own or mixed in with your favorite skincare product or foundation. There are four shades in the line in: Whimsy (iridescent pink), Joy (pinky peach with gold shift), Free (champagne gold) and Fierce (bronze).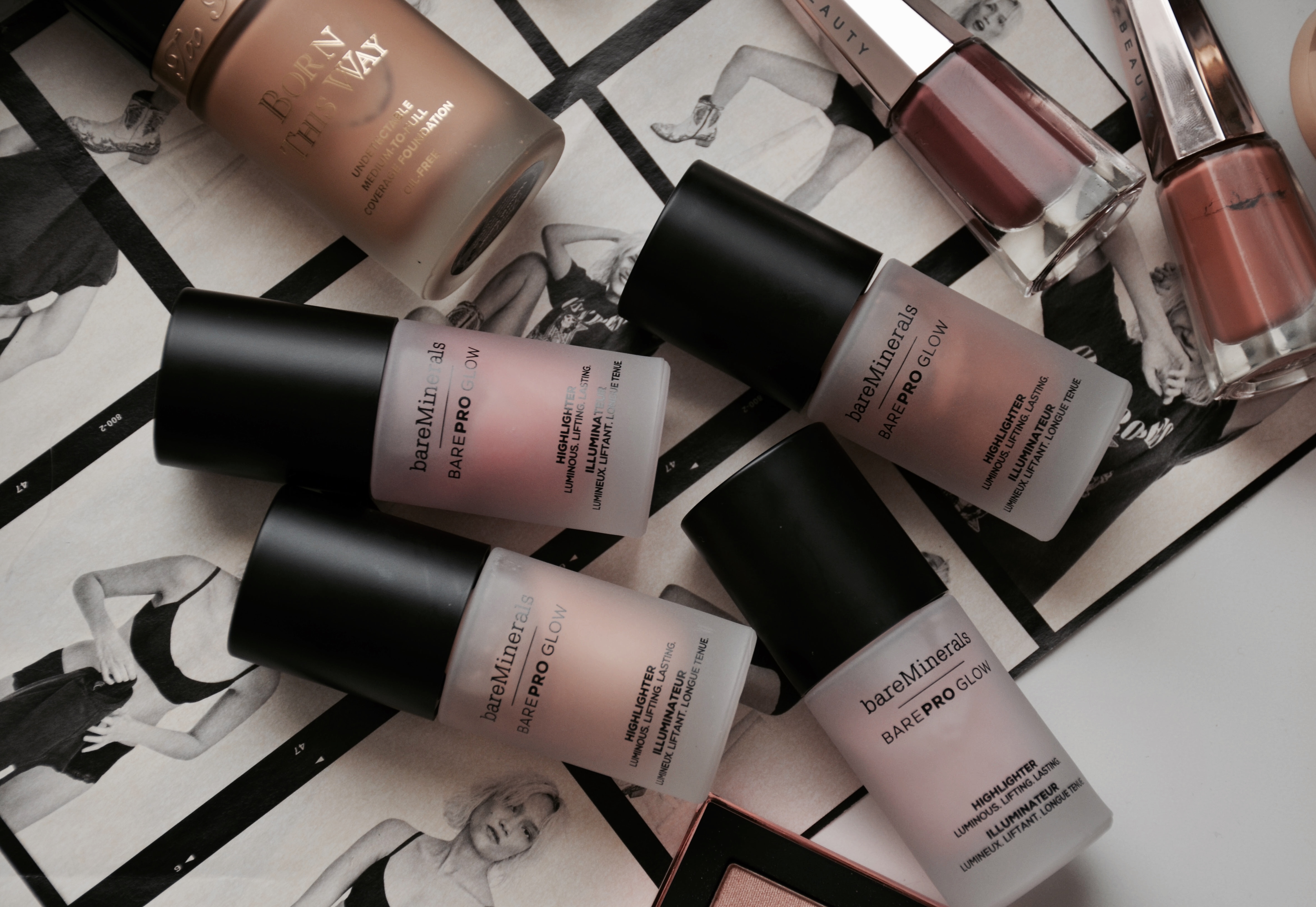 The bareMinerals BarePro Glow Highlighters* come in a glass bottle with a pump. The formula of the liquid highlighters is infused with oat sugar which helps with smoothing, green lentil extract and bamboo extract (help with skin texture and pores). The liquid separates in the bottle so I highly recommend shaking before you pump product out. These are subtle liquids. They are so subtle that I can even use them as primers before foundation. The finish that they give is a subtle glow that almost looks like glass skin. They also feel oily so they are great for people with dry or normal skin.
I love using the shade in Joy as a subtle blush or over top a matte blush to add some glow. Joy reminds me of Nars Orgasm in the liquid form (just more subtle) which I also like.
Swatches L to R: Whimsy, Joy, Free, Fierce
Kaja is a new Korean makeup brand that recently launched at Sephora. I picked up one of the Beauty Bento Bouncy Shimmer Eyeshadow Trio in Toasted Caramel to try. This is a shimmer eyeshadow trio that comes stacked in a bento inspired packaging.
Toasted Caramel features bronze tones ( a champagne gold, lighter and deeper bronze). The formula of these feels almost like cream to the touch. They are shimmery eyeshadows that are best used either with fingers or wet if you like a full metallic impact. They are a nice concept but I still need at least one matte shade to create a simple eye look. These are not one of those shimmers that look good in the crease (at least not on hooded eyes). They are cute but not a must try.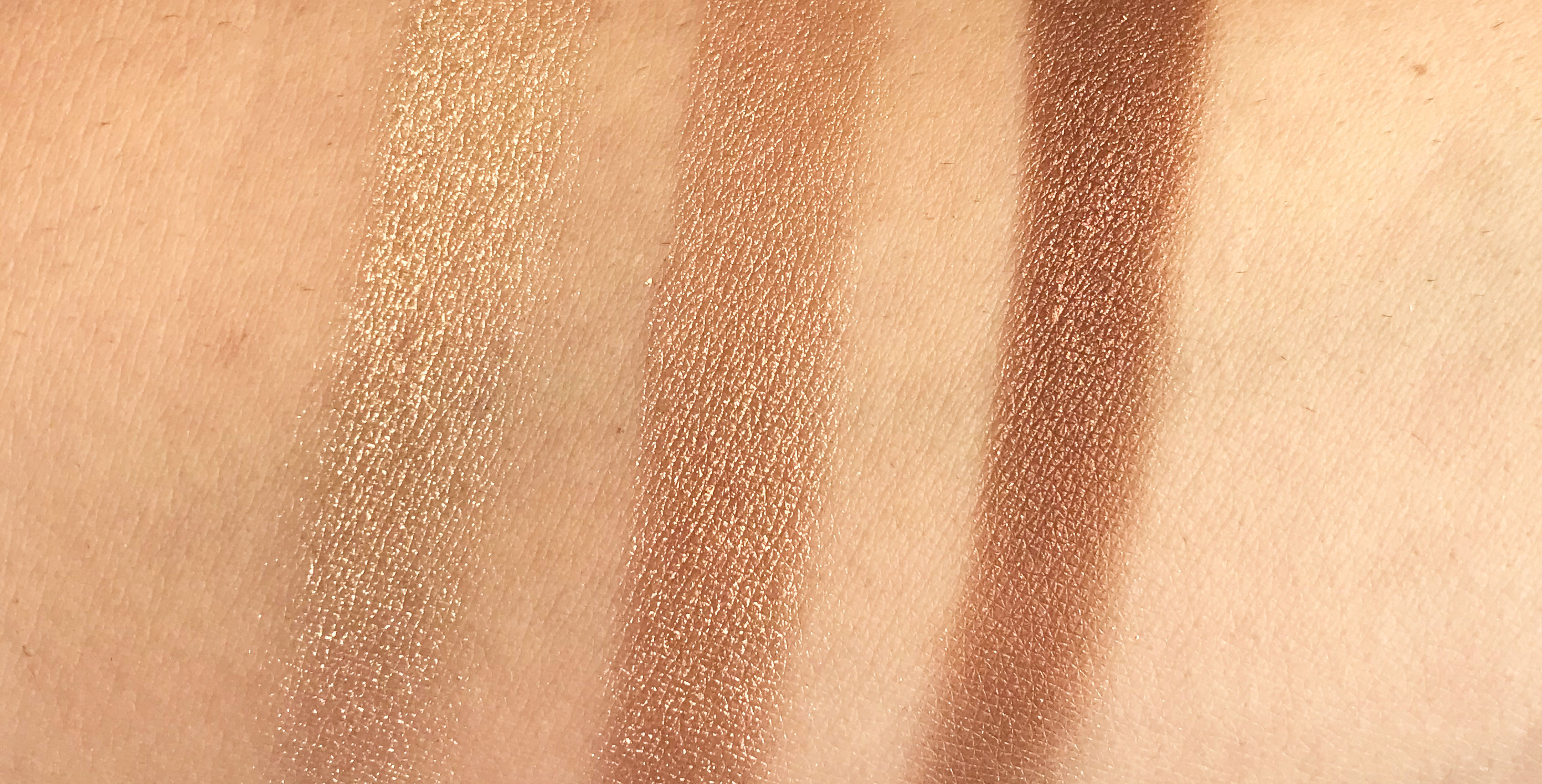 Swatches of Toasted Caramel L to R: Gold Dust, Sunny Amber, Gilded Chocolate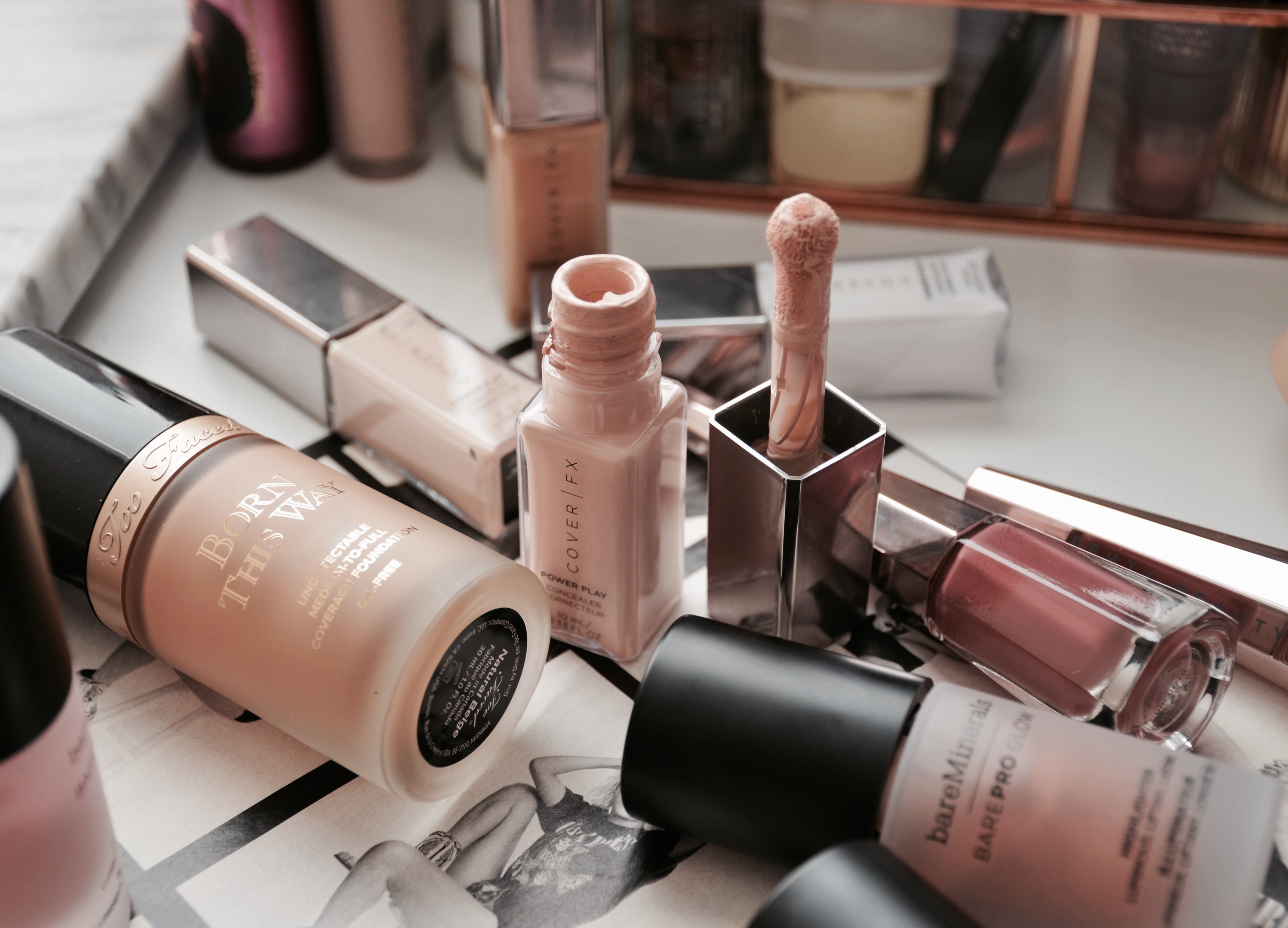 Cover FX launched a brand new line of concealers that are part of their Power Play line. I'm a big fan of the foundation so I was very excited to try these. They come in 30 different shades and four undertones (neutral, pink, golden and golden olive). They even have a white shade which I'm guessing is good for mixing.
The Cover FX Power Play Concealer* is described as a long-wearing, crease proof full coverage concealer that feels light on the skin and provides pollution defense. The new concealer is free of parabens, fragrance, mineral oil, talc, gluten, sulfates, and phthalates.
How to choose your shade:
First, find your shade range (Light to Deep):
– Fair
– Light
– Medium
– Deep
Next, find your undertone (Underlying Skintone)
– P = Pink (a rosy, cooler hue to the skin)
– N = Neutral (equal parts of pink and golden to the skin)
– G = Golden (a yellow, warmer hue to the skin)
– G+ = Golden Olive (warmer and more olive than G shades)
It comes with a very interesting ball point applicator which I actually like. Since I don't use a lot of concealer under the eyes, I use two dots under each eye and get good light to medium coverage. The consistency of the concealer is thick so less is more when it comes to this concealer. You can easily achieve full coverage that doesn't look heavy on the skin.
As for the finish, I find it natural matte but also not drying. I'm currently wearing the shade in G Light 1 which is a little too light for my skin. I'm guessing the shade in N Light 2 would work better for my skin tone.
Coverage wise, it is very comparable to the Tarte Shape Tape and the Too Faced Born This Way Concealer. The consistency is not as drying as the Shape Tape but also not as dewy as the Born This Way.

Swatches L to R: White, N Fair 2, G Light 1, P Light 2, G Medium 2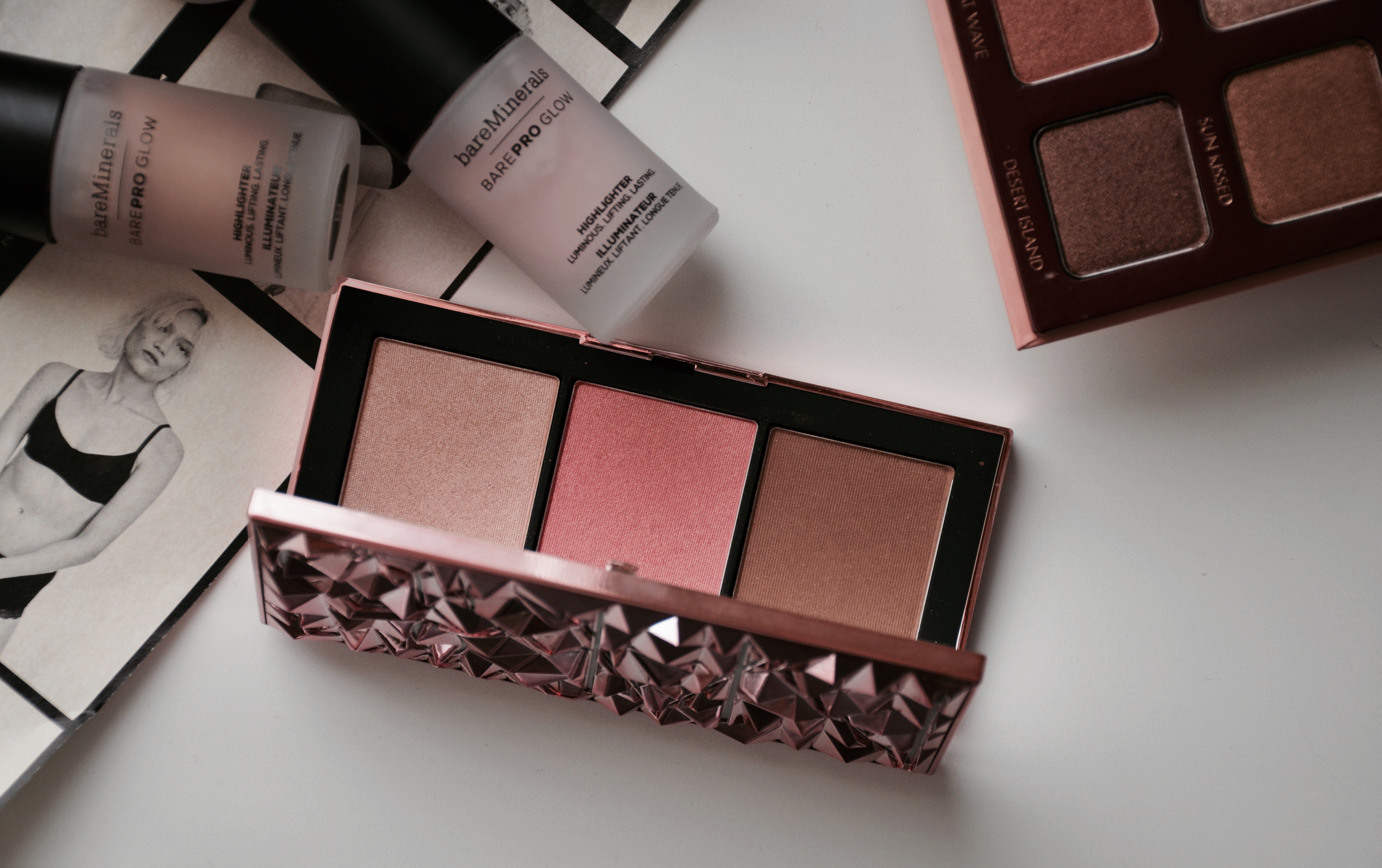 The Nars Orgasm Infatuation Palette is part of Nars's holiday collection. It is a limited edition palette that features the Laguna Bronzer, blush in Orgasm and new Orgasm highlighting blush. As soon as I saw the beautiful spiky metallic pink packaging, I knew I had to have this palette. Plus I don't have either Laguna or Orgasm in powder form so I decided to get it.
If you are not familiar with the Laguna bronzer, it is a buildable golden bronze shade that is great for people with fair up to medium skin tone. It gives a sun kissed look and that golden goddess effect without looking over the top.
Orgasm is a pretty pinky peach shade with gold shimmer. This is also a buildable powder so you will not get straight on super pigmented blush in one swipe. The powder blush feels a little stiffer than the rest of the powders so it is not my favorite. I have the liquid version of the Orgasm blush and I actually prefer the finish of that one more. It gives a more dewy and glowy look on the cheeks, which I love.
The new Orgasm Highlighting Blush is a light pinky peach highlighter that gives a beautiful subtle glow on the skin. It actually gives a similar glow skin like finish as the newer single pan highlighters that Nars released. Love both the shade and the finish!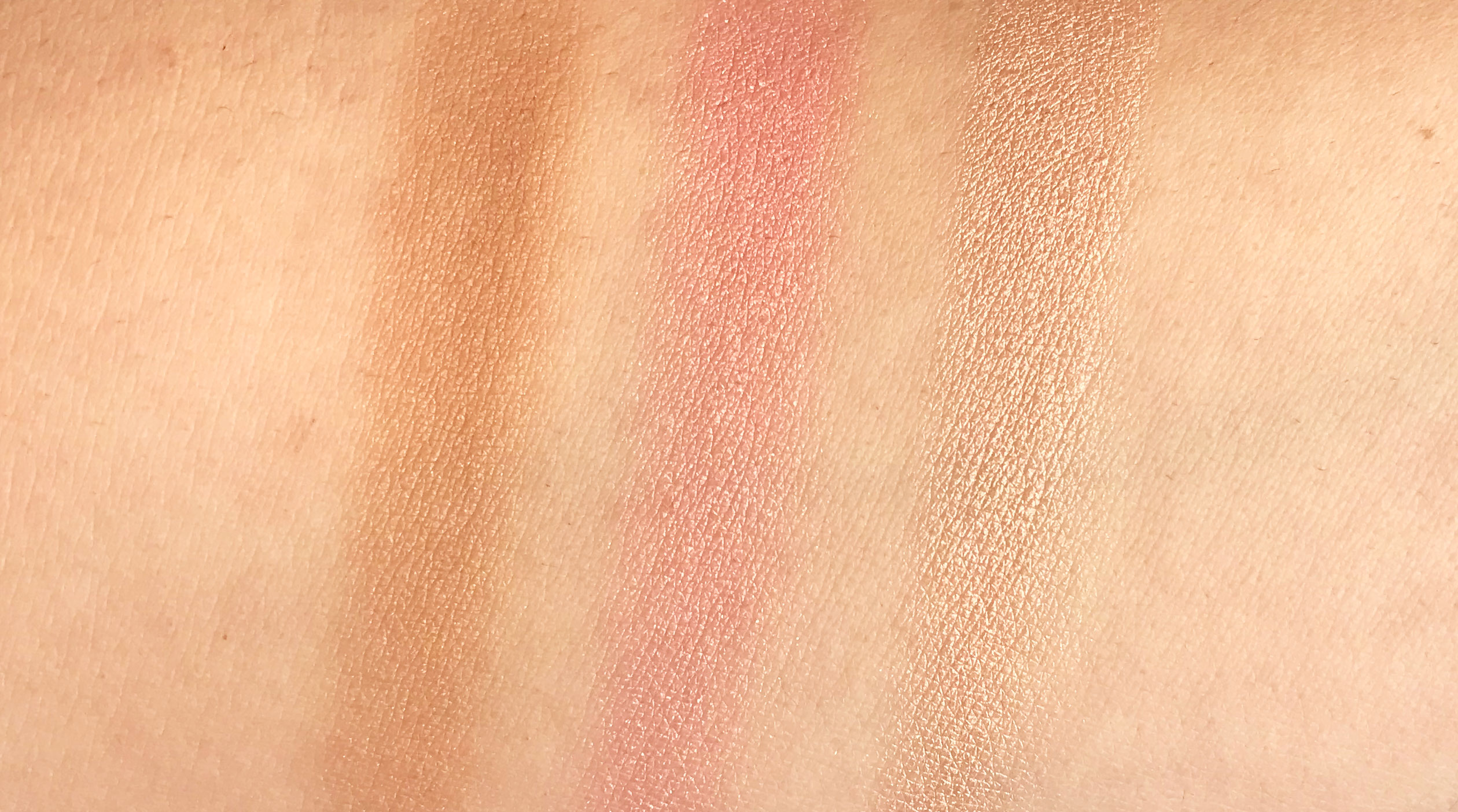 Swatches L to R: Laguna, Blush in Orgasm, Orgasm Highlighting Blush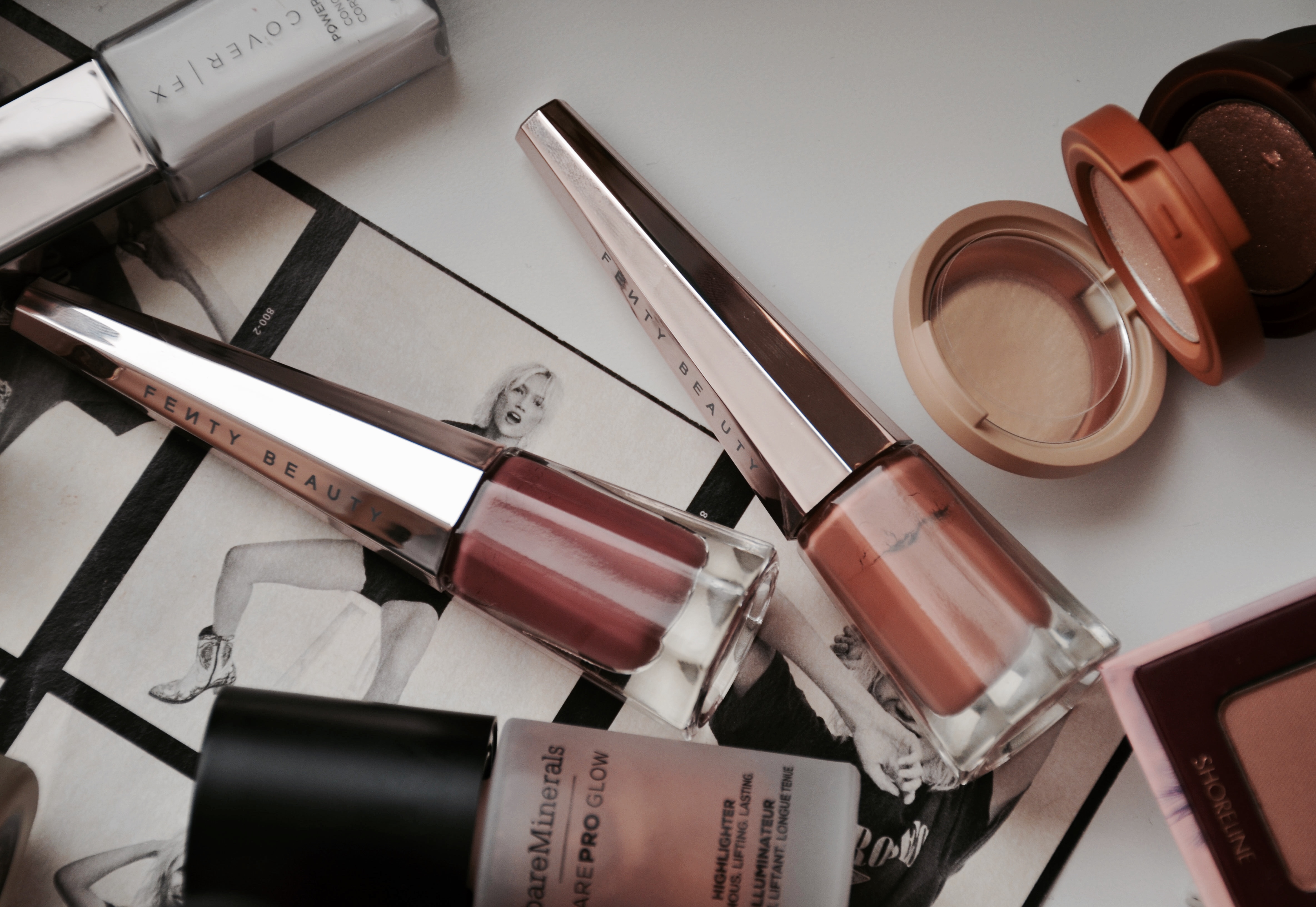 The Fenty Beauty Stunna Lip Paint Longwear Fluid Lip Color in Unbutton and Uncuffed are some of the new shades that recently launched. The original shade in Uncensored is one of my favorite liquid lipstick red shade so I was interested in trying the new more neutral shades.
Unbutton is a peachy nude shade while Uncuffed is a beautiful rosy mauve. Both are great for every day use and will suit most skin tones.
The formula of the Fenty Beauty Stunna Lip Paint Longwear Fluid Lip Color is liquidy but not super thin. It dries down to a soft matte finish that is not completely transfer proof. They are not as drying as other liquid lipsticks I've tried so I find them very comfortable to wear.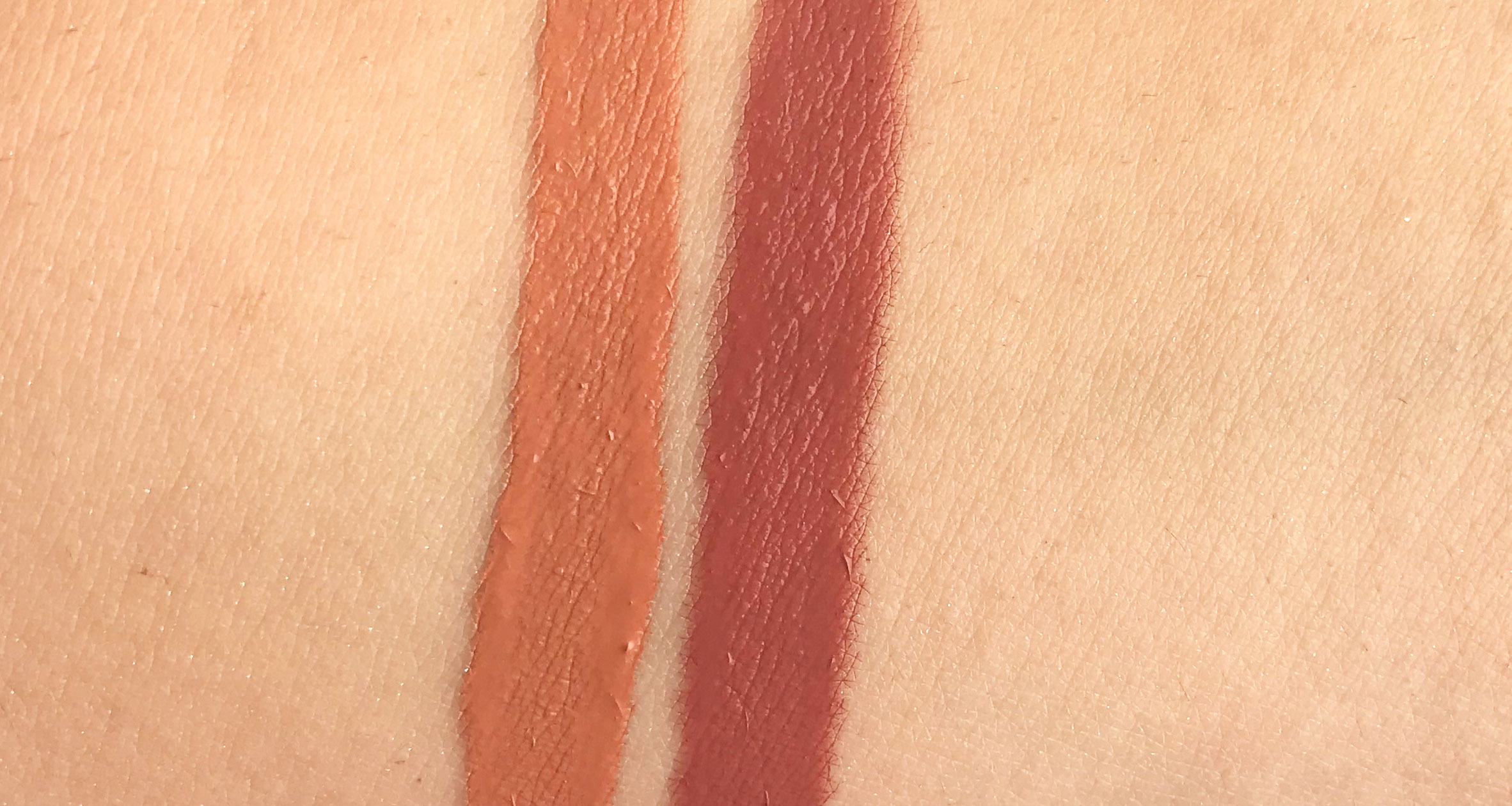 Swatches L to R: Unbutton, Uncuffed

Unbutton

Uncuffed
Wander Beauty released two new limited edition eyeshadow palettes. The Wanderess Off Duty Eyeshadow Palette which features warm toned every day shades and Wanderess Chill Eyeshadow Palette, that has cooler tones.
Both are compact palettes and great for travel. They both feature six shades (one matte and five shimmery shades). I love the easiness of the palettes. They are very user and beginner friendly as the shades go so well together.
The formula is also lovely and easy to work with. Both the shimmers and the matte shades are pigmented and defuse well on the eyes.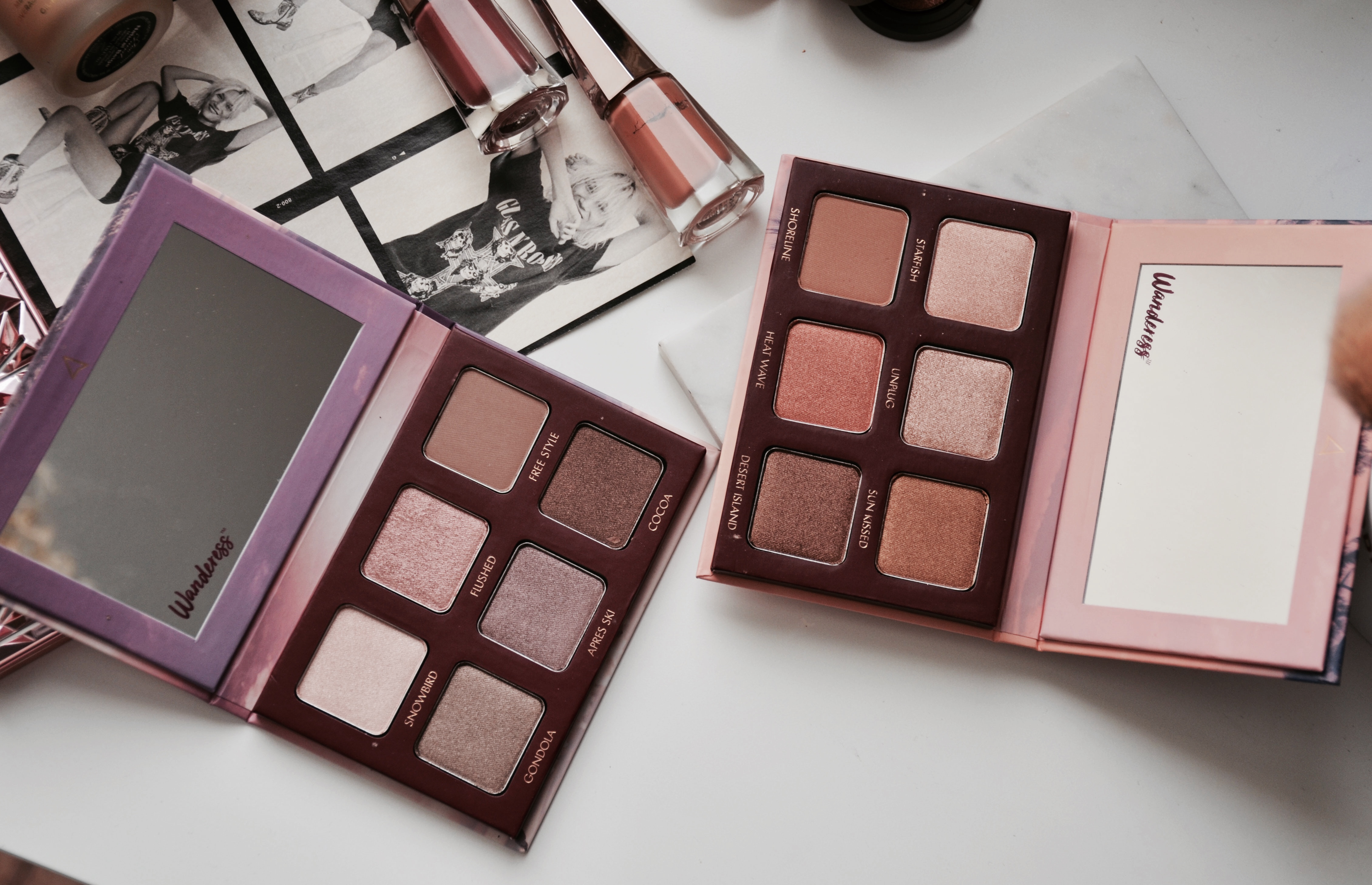 The shades that come in the Wanderess Chill Eyeshadow Palette* are:
Snowbird (satin light pink)
Flushed (foil pinky purple)
Free Style (matte cool nude)
Gondola (satin cool taupe)
Après Ski (metallic deep plum)
Cocoa (satin cool brown)

Swatches of the Wander Beauty Wanderess Chill Eyeshadow Palette
The Wanderess Off Duty Eyeshadow Palette* comes with:
Starfish (satin nude pink)
Unplug (foil warm pink taupe)
Sun Kissed (metallic golden bronze)
Shoreline (matte nude)
Heat Wave (intense brick foil)
Desert Island (golden chestnut satin)

Swatches of the Wander Beauty Wanderess Off Duty Eyeshadow Palette
As you can see by the swatches, they are both basic every day palettes. I like to use these for quick makeup looks and also when I don't have a lot of time to spend on my makeup. They really are a pleasure to use and blend very quickly on the eyes. Also the shimmers are mostly satin shade so they don't accentuate any lines. Great if you have hooded eyes like me.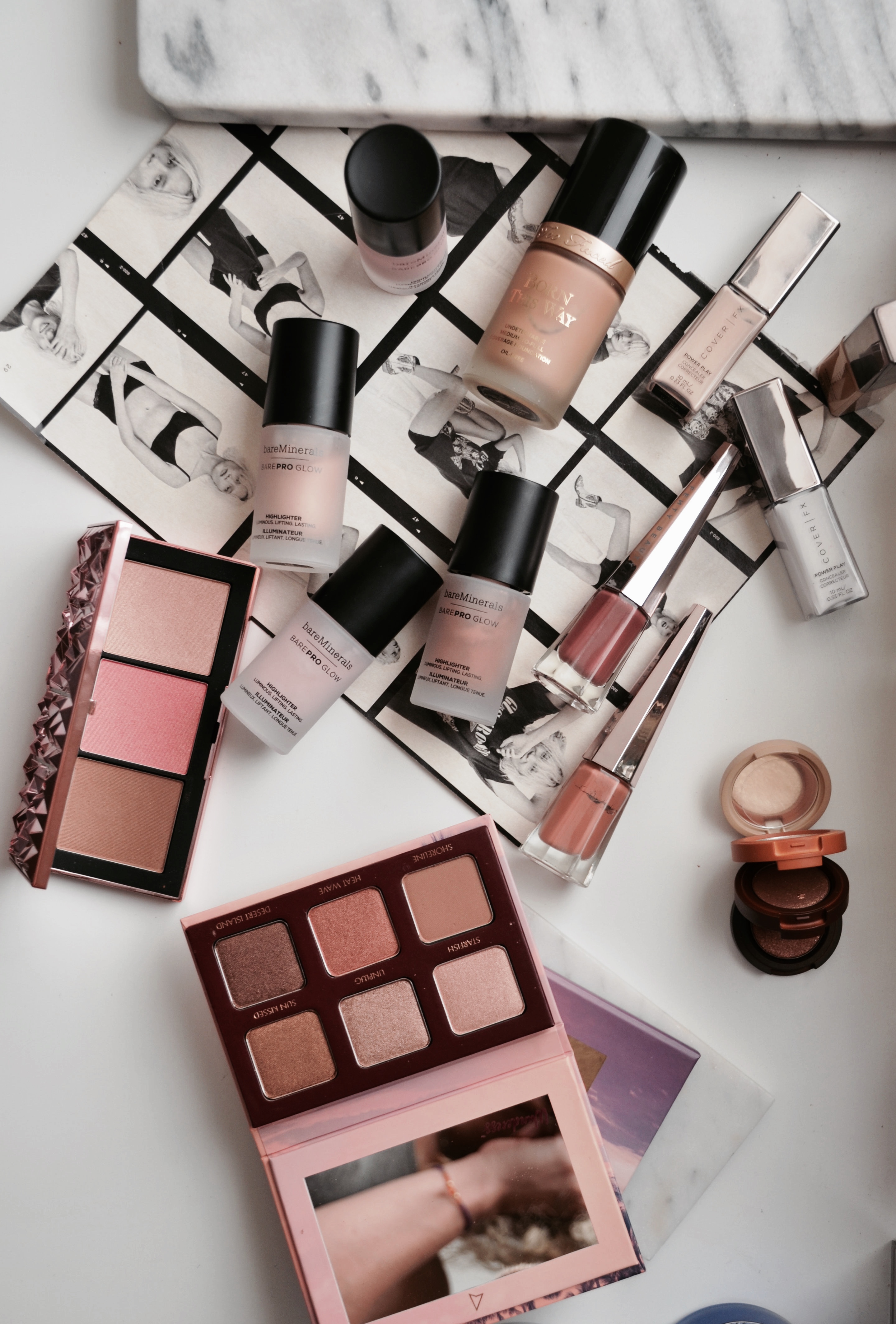 And as an honorable mention, I wanted to include the Too Faced Born This Way Foundation*. This is not a new release but it is a new foundation for me.
It is a medium coverage foundation with a natural glowy finish. It is very light on the skin and gives that skin like finish that I love. Good for people with dry, normal and even combination skin.
I highly recommend it if you are looking for a good foundation to wear in winter. It is glowy but it doesn't feel greasy on the skin. Doesn't catch on dry patches and actually has a blurring effect on my pores. Nothing but love for this one.
*PR samples include *