Spring and even summer collections are starting to appear on the market and I can't be more excited. As much as I like winter and fall makeup, I love spring and summer beauty even more. It is all about the glowy, healthy and bronzed skin, which I think we all love.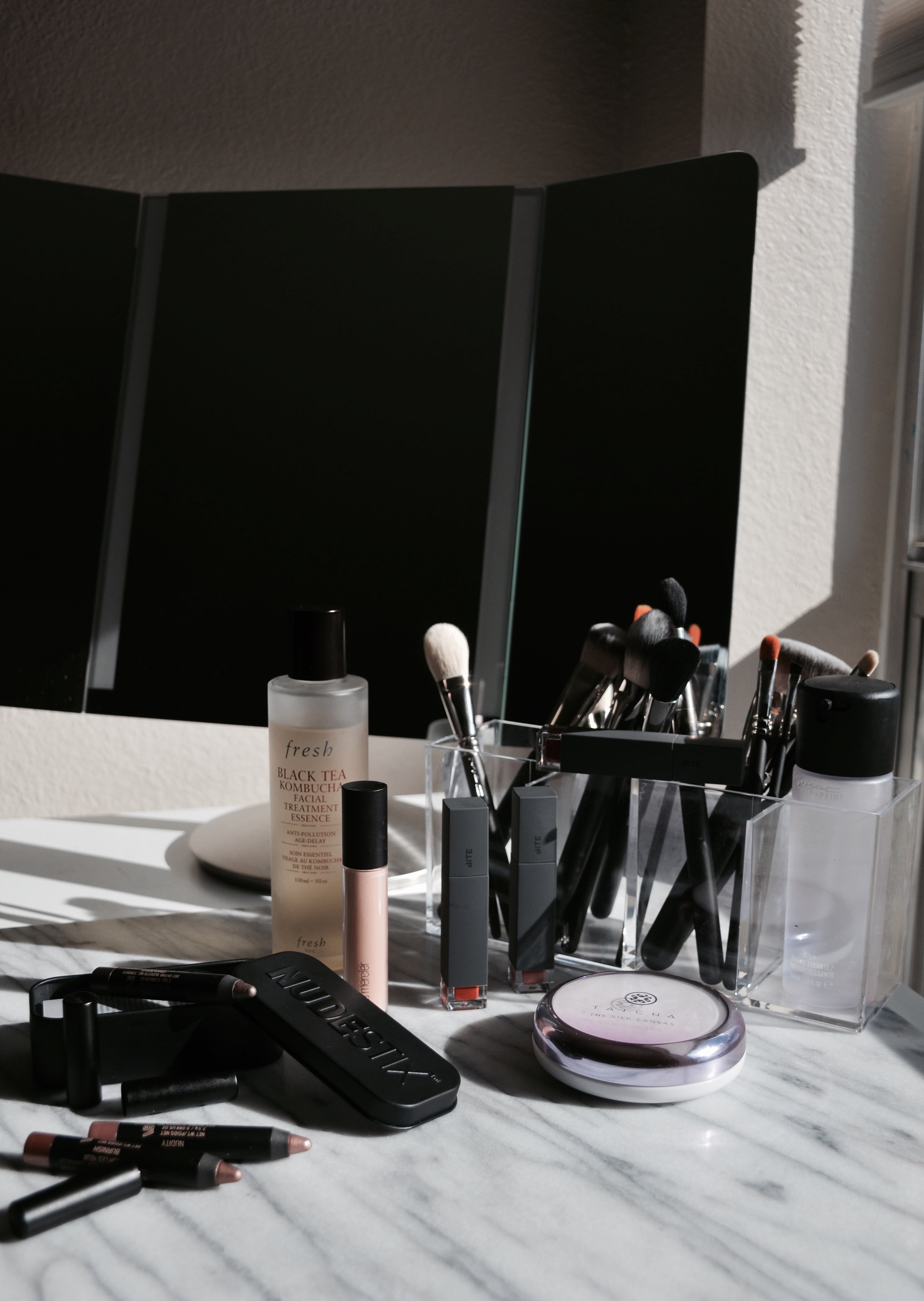 I've been testing a lot of new skincare and makeup releases and here are my top 5 that I think everyone should try:
Fresh Beauty Black Tea Kombucha Facial Treatment Essence – An essence powered by kombucha which helps with moisture, fine lines, enhances luminosity and provides anti-pollution and antioxidant protection. I've used quite a bit as you can see by the bottle. You only need a couple of drops for daily use. I've been using it both day and night after cleansing on dry skin.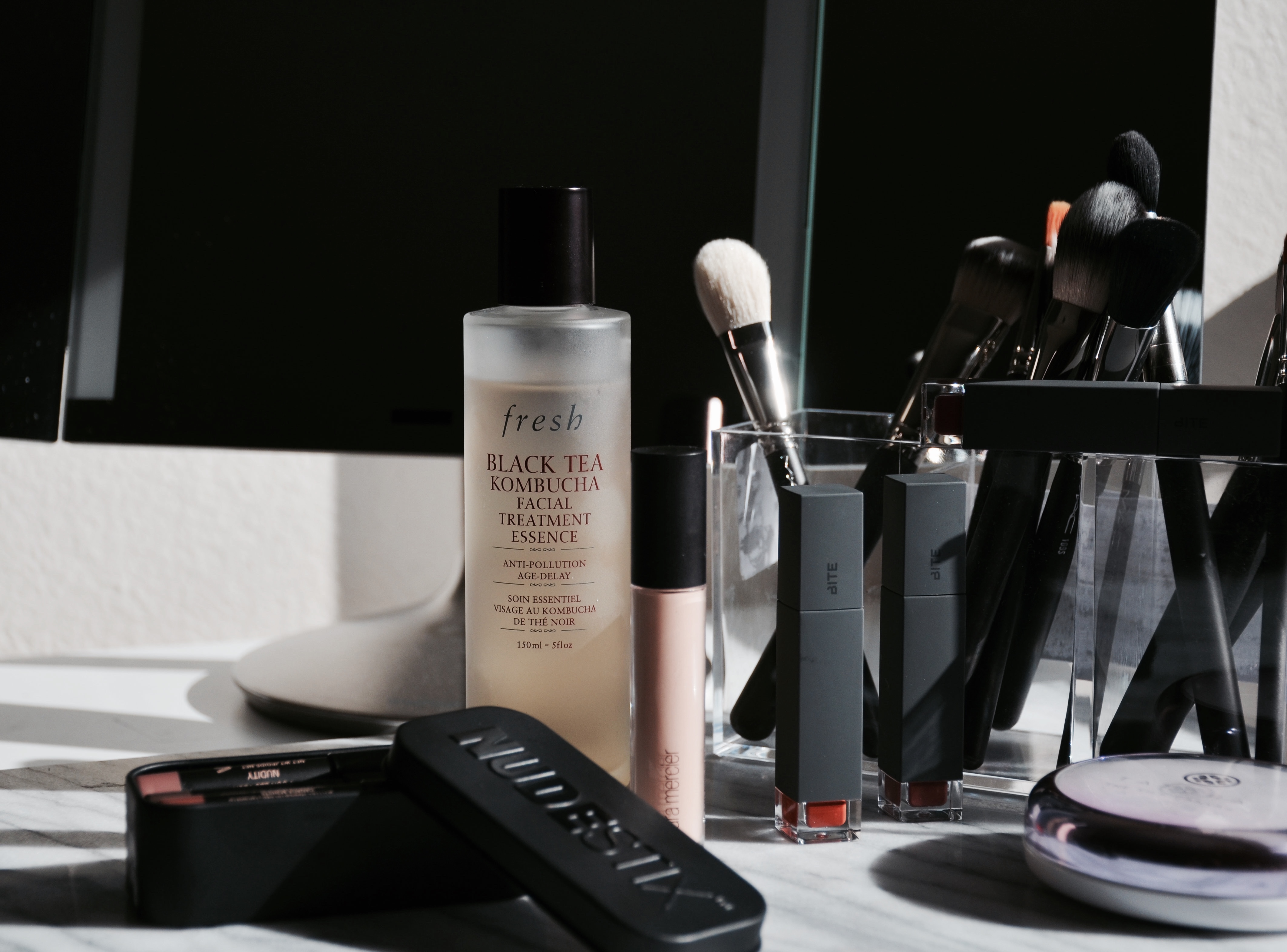 The essence feels more hydrating than other essences I've tried. It actually feels like you're putting something on your skin. I can notice straight up hydration and even plumpness of my skin. It feels very refreshing to use and I've been really enjoying the extra step in my skincare routine.
From Sephora's website:
This fast-absorbing essence is powered by kombucha, fermented black tea, that is scientifically proven to protect against pollution, which accelerates signs of aging and leads to dull, dry skin. As the first leave-on treatment in your skincare ritual, it delivers concentrated ingredients and preps the skin for the products that follow. The result is hydrated, luminous, younger-looking skin.
Ingredients:
-Kombucha (Fermented Black Tea): Helps to smooth, increase luminosity, and protect against pollution and free radicals for younger-looking skin.
-Mandarin Peel Extract: Helps promote a beautifully uniform complexion.
-Kigelia Africana Fruit Extract: Helps smooth the appearance of skin texture.
-Hyaluronic Acid: Works to attract and seal in moisture for supple skin.
I've been layering both the Fresh Kombucha Essence with the Fresh Rose Deep Hydration Toner and my skin has never felt more hydrated and just healthy. Highly recommend!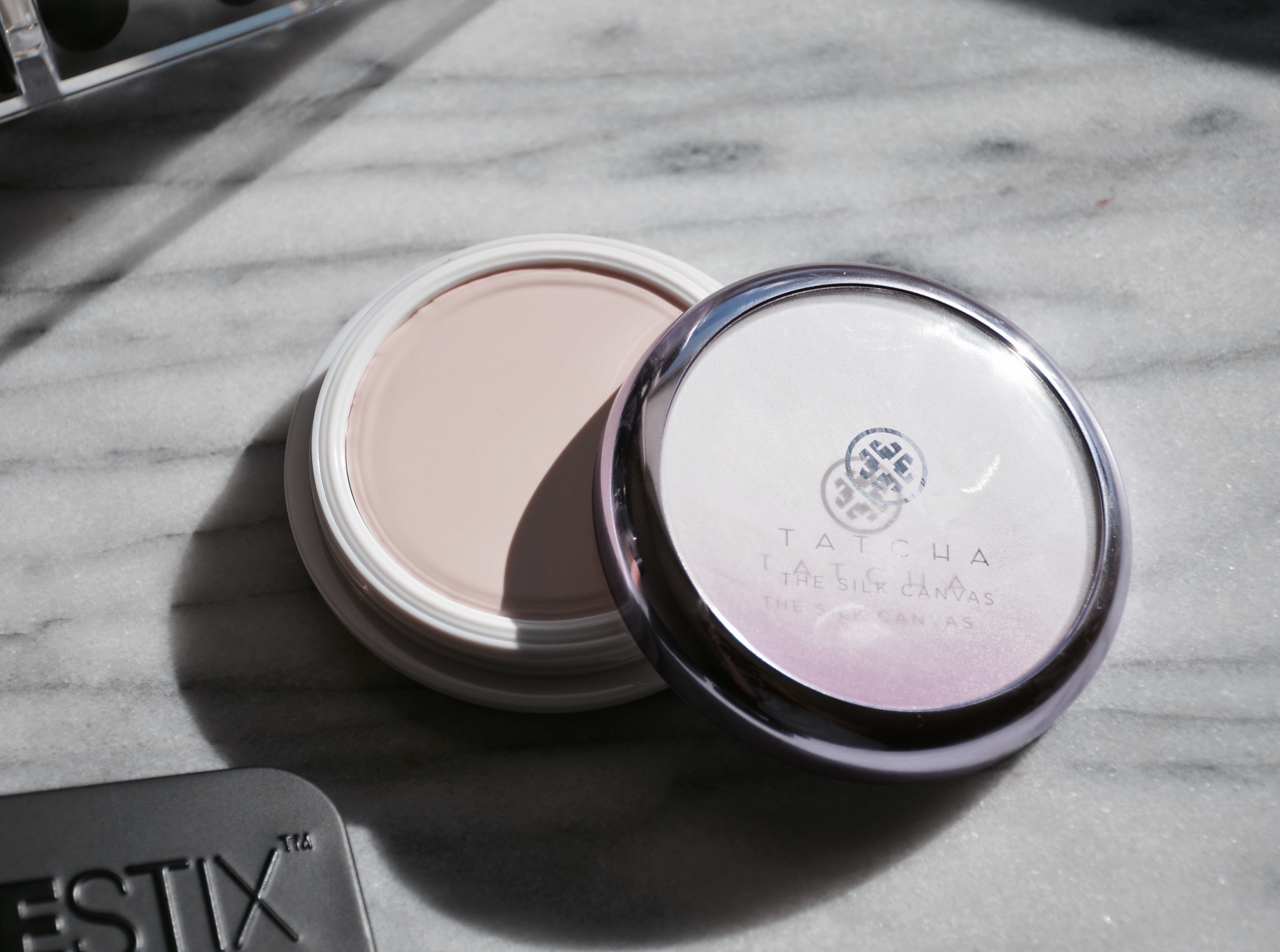 Tatcha The Silk Canvas Protective Primer – Described as a velvety priming balm of pressed silk that smooths and helps makeup last longer while keeping it out of the skin and preventing clogged pores and breakouts.
This is one of the most unique primers I've tried. It comes in a balm form so you scoop a little with the provided spatula. You only need a pea size to cover your whole face. The primer is good to be used on the face, eyes and lips. It has blurring properties and leaves the skin smooth and fresh looking. It also prolongs the wear of your makeup and it's good for all skin types.
Ingredients:
-Thin Layers of Silk (Fibroin, Sericin, and Silk Powder): Keep skin smooth and glowing all day.
-Anti-pollution Natural Actives: Fight immediate attack from environmental stressors and help support the skin's barrier function to act against future attack, visibly reducing the appearance of wrinkles and dullness.
-Hadasei-3: A complex of three anti-aging nutrients reveal soft, youthful-looking skin.
I've been using The Silk Canvas Protective Primer all over the skin, on the eyes and I've also been mixing it with my cream products to make them last longer on the skin. It is a beautiful primer that also has skincare benefits. It comes with 20g of product which I think justifies the price.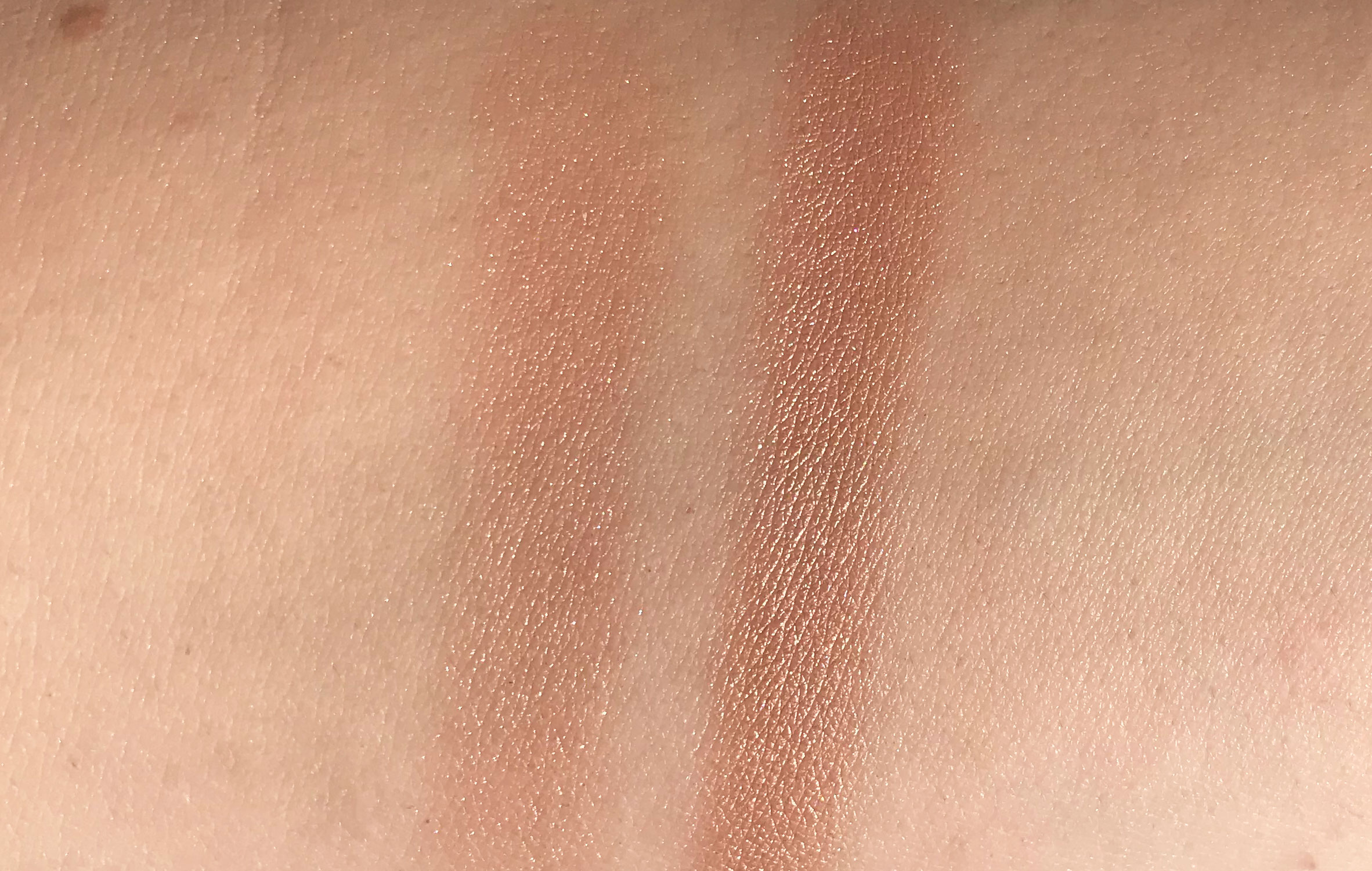 Eyeshadow swatched without primer and with the Tatcha The Silk Canvas Protective Primer
Laura Mercier Flawless Fusion Ultra Longwear Concealer – A medium to full coverage concealer that covers, perfects and hydrates the skin and provides 12h wear. I got the shade in 2N which is listed for light skin tone with neutral undertones.
I would say that the shade that I got runs on the darker side. I got the concealer so I can use it for under the eyes and the shade works well but doesn't provide me with any brightening since it's almost the same shade as my skin tone.
The formula is creamy, non-drying and has a natural matte finish. I have dry under eye area and this works amazing when I use a damp sponge for blending. It covers really well but still looks natural on the skin and doesn't crease on me even when I don't use powder. It also works great on the skin for spot concealing and doesn't cling on any dry patches. It's been one of my go-to concealers since I got it.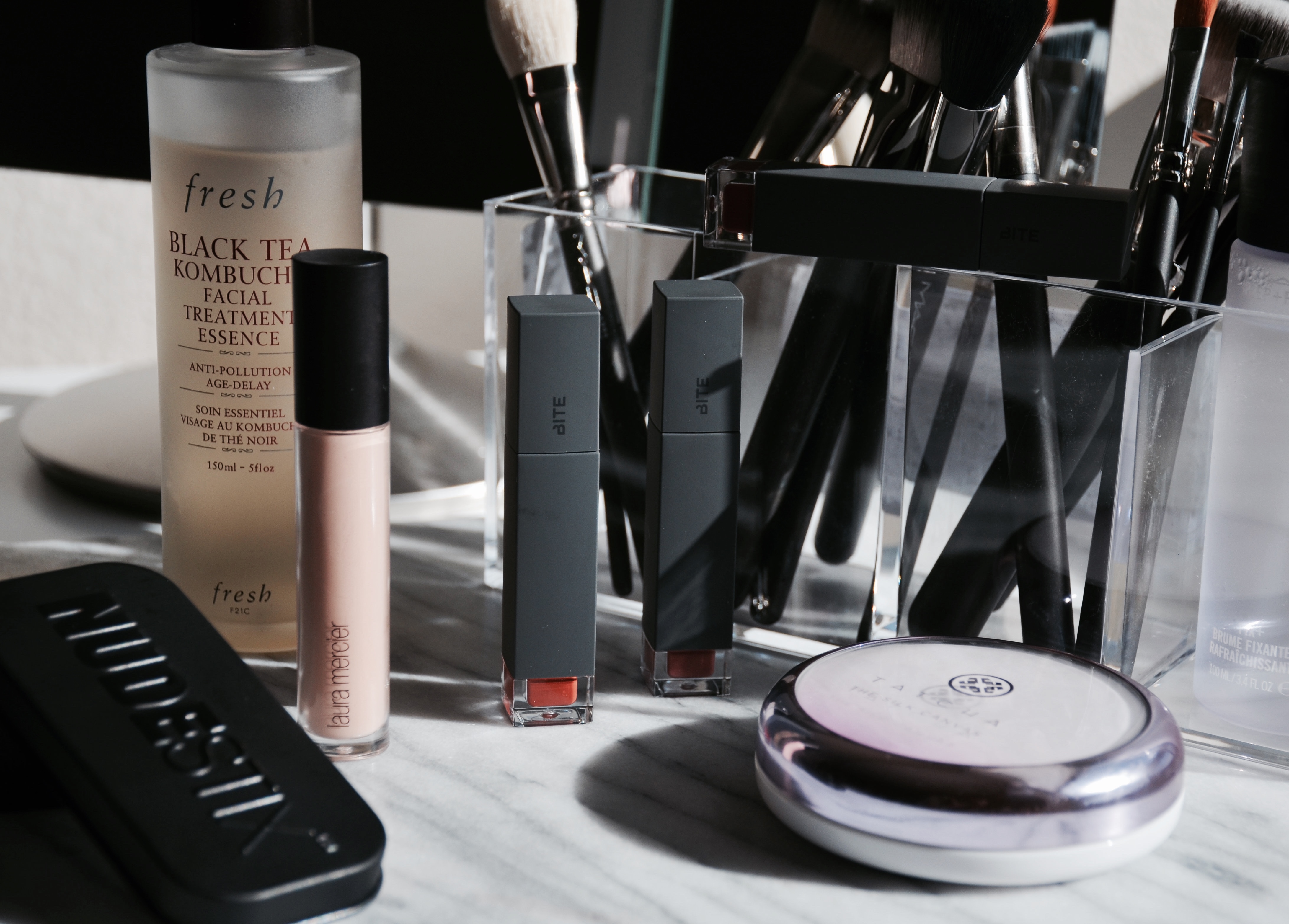 Nudestix Nude Metallics For Eyes – A three piece mini eye set that features nude metallic shades that are waterproof and budge proof. The shades that come in the set are : Burnish (soft bronze), Nudity (rose gold) and Smoke (shimmery taupe).
The formula of the Magnetic Luminous Eye Color are budge proof. As soon as they set, you can't smudge them even with rubbing. The mini set is great for creating nude neutral looks. You can use the eyeshadows as a base (to intensify a look) for your powder eyeshadows or on their own, for quick and easy makeup looks.
I don't even use a brush for blending. They are super easy to work with, you just apply the eyeshadow directly on your eyes and blend with fingers. I also like that the shimmer is not over the top so they are very daytime appropriate.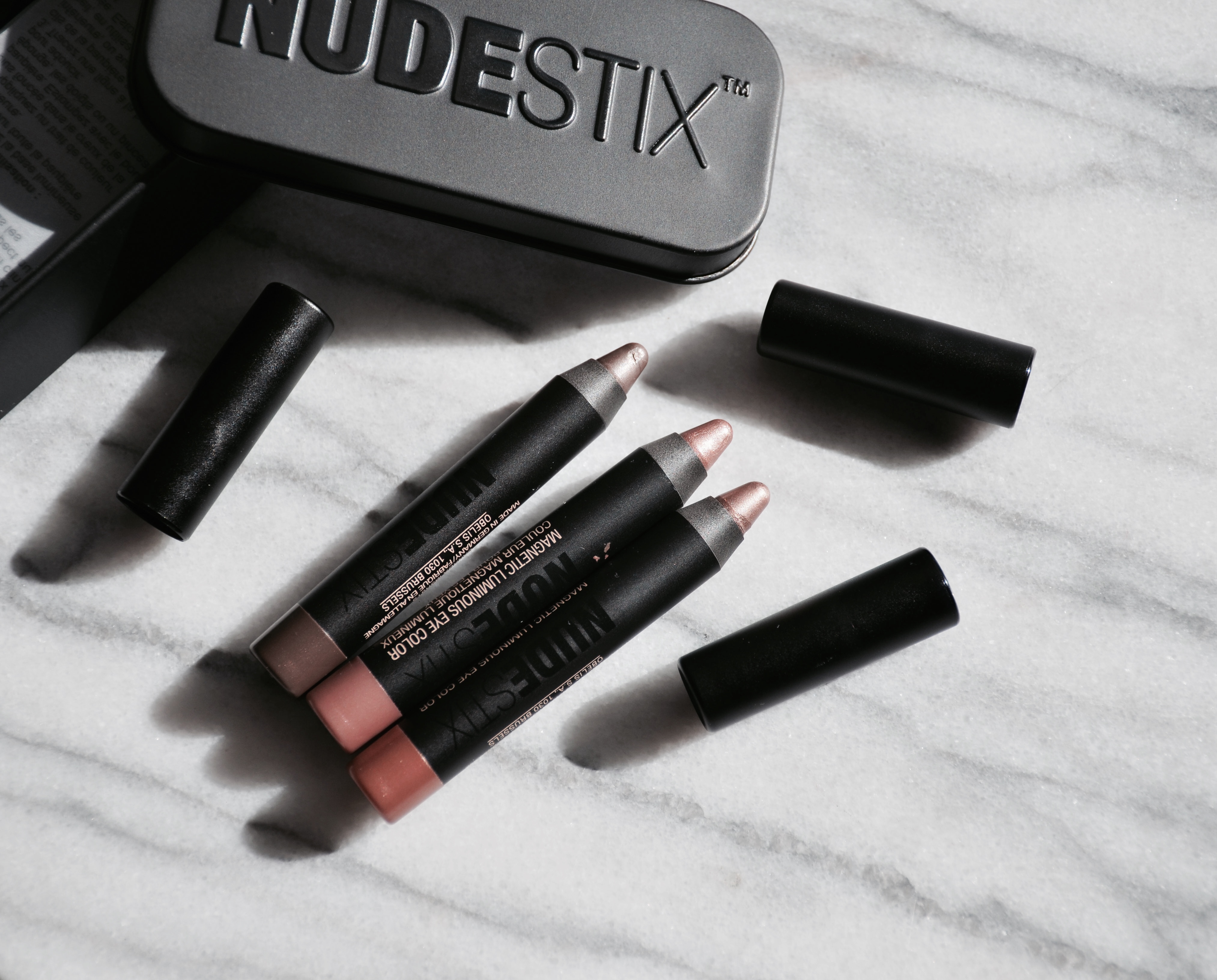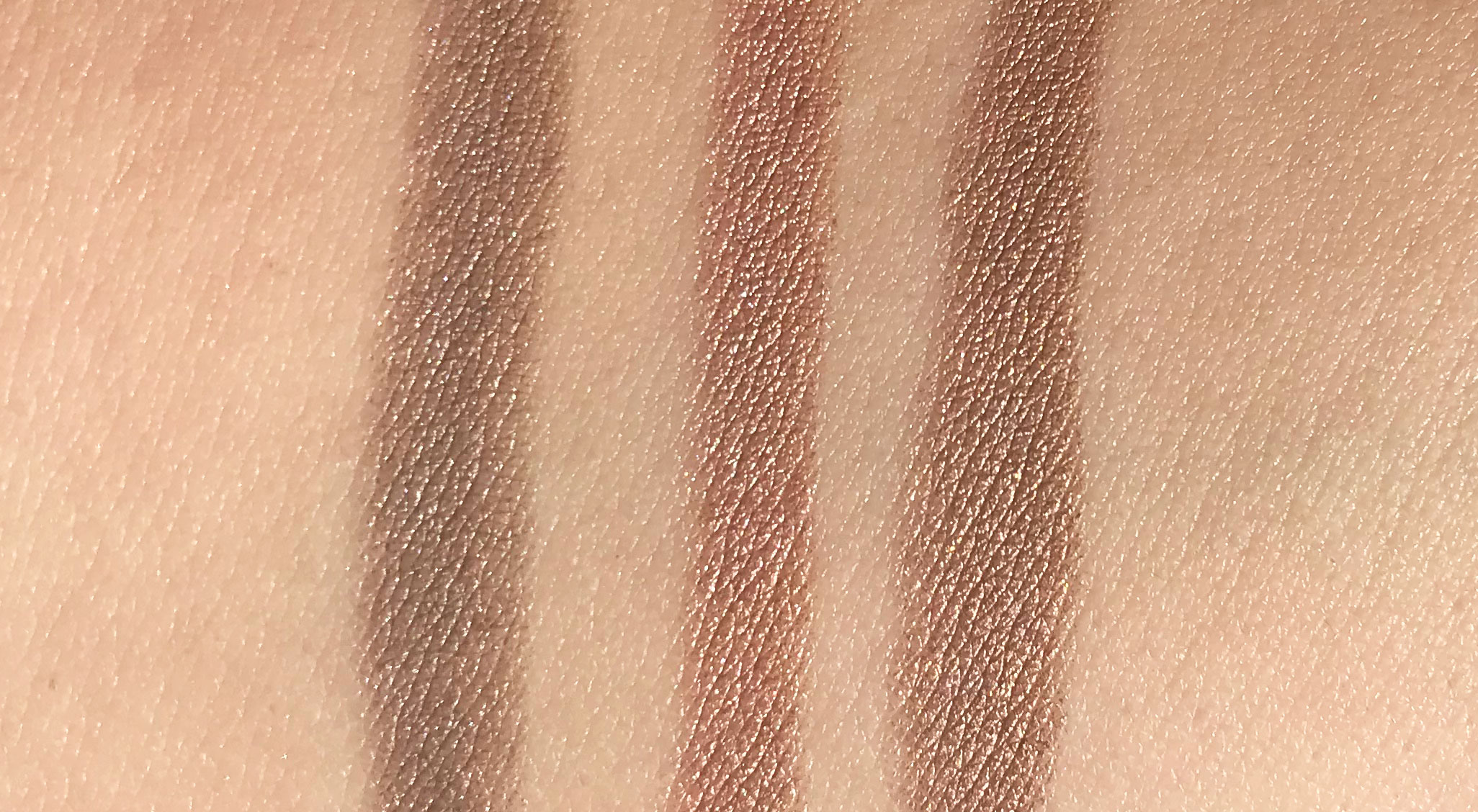 Swatches L to R: Smoke, Nudity, Burnish
Bite Beauty Amuse Bouche Liquified Lipsticks (new shades) – I'm a big fan of the Bite Amuse Bouche Liquified Lipstick formula. I did a review when the lipsticks originally launched that you can check out here. They released ten new shades that are part of The Unearthed Collection. The new shades are inspired by the natural beauty of young root vegetables.
I picked up three shades that caught my eye in Chicory (muted rosy-brown), Jicama (muted rose-terracota) and Arrowroot (earthy pumpkin). I ordered the shades online sight unseen so if I would of gone to the store I would not pick both Chicory and Jicama as they look similar on the lips. Chicory is slightly lighter on the lips as you will see on the swatches but still not different enough to justify both shades.
The formula is as amazing as the other shades I have. They glide on the lips, provide shine and full on pigment while being super comfortable to wear.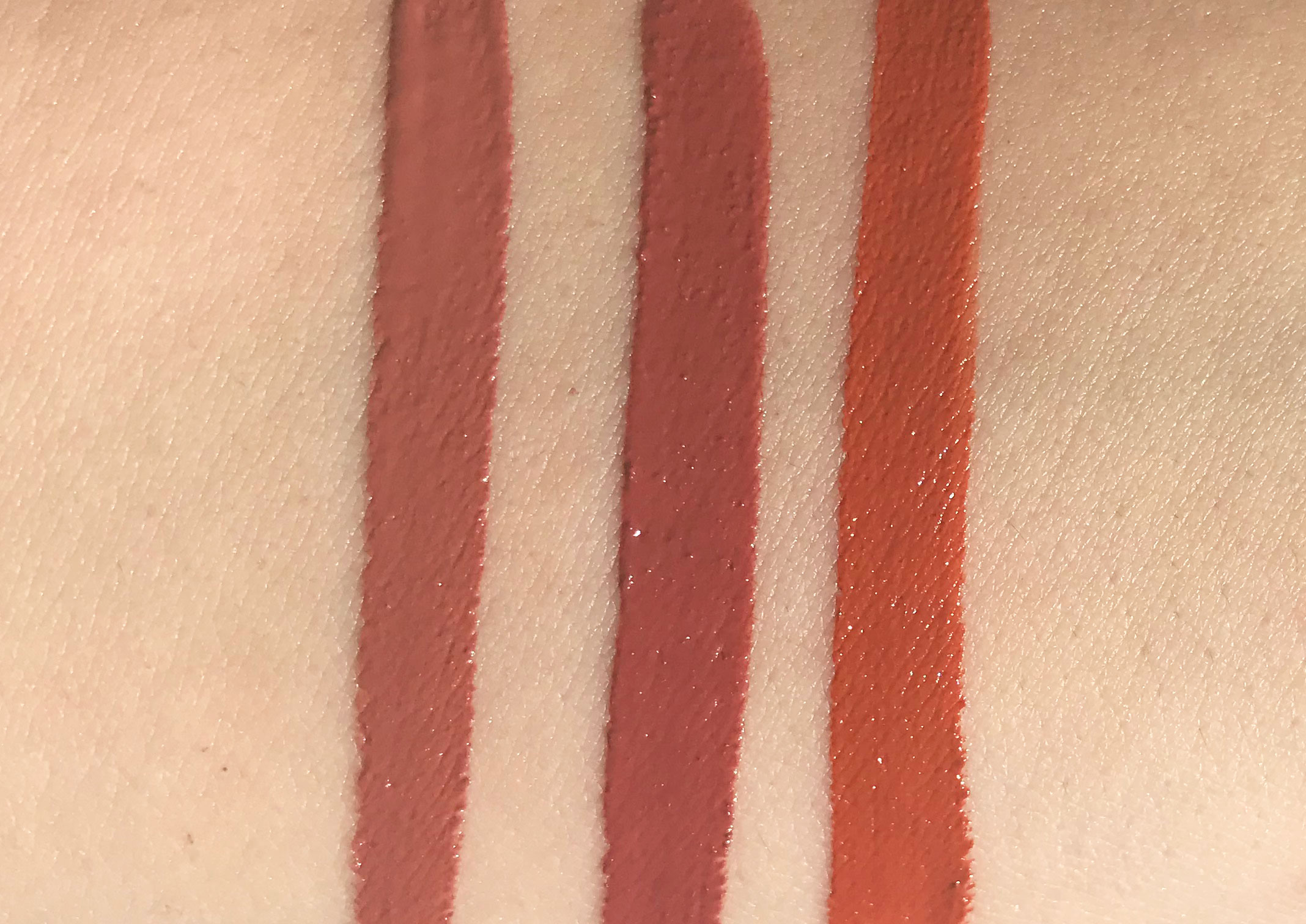 Swatches L to R: Chicory, Jicama, Arrowroot

Chicory

Jicama

Arrowroot
These are the five new beauty launches that I think are worth checking out. All products pretty much will work for most skin types and skin tones. They all have great formulas and perform really well on the skin. I'll also have another blog post with new releases in the following week with products that I'm currently testing.
*PR samples include the Fresh Kombucha Essence and Tatcha The Silk Canvas Primer. Other products mentioned were purchased by me
SaveSaveSaveSaveSaveSaveSaveSave