I've been testing out some Jurlique skin care products for more than a month now and I can say that I've been loving everything I've tried so far. If you're not familiar with the brand Jurlique is a natural skin care brand based out of South Australia.
They do skin care for the face as well for the body and they have different types of product depending on your needs.
I tested out a bunch of their best selling products: The Clarifying Deep Cleansing Gel*, their famous Rosewater Balancing Mist*, Calendula Redness Rescue* and Herbal Recovery Advanced Serum*. All skin care products are free of Sulphates, Petrochemicals, Parabens, PEGs, Silicones, Formaldehyde donors, Colourants.
I've been using the Clarifying Deep Cleansing Gel on it's own but also with my Foreo Luna Mini. The cleanser is a gel type cleanser with natural botanical microspheres of Jojoba esters derived from Jojoba Oil that gently exfoliate and cleanse the skin. You can use it to remove makeup or just to cleanse your skin. What I like about the cleanser is that it is gentle enough but also cleanses my skin really nicely and doesn't strip my skin.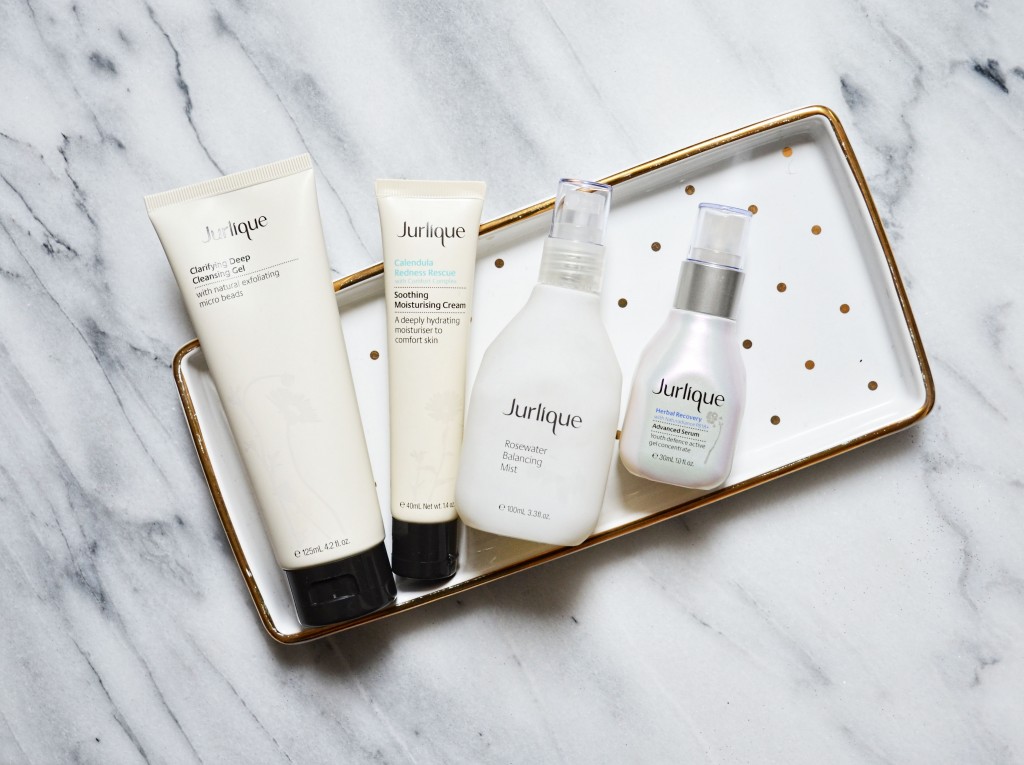 The Jurlique Rosewater Balancing Mist is a daily hydrating mist that has a nice rose scent which is not overpowering and feels very refreshing. The mist is ideal for normal to combination skin and also has antioxidant properties. It's one of the better rose scented mists I've tried as it doesn't smell artificial, it just has that scent of fresh picked roses. I'm a big fan of rose mists and this is no exception.
If you suffer from redness and dry and flaky skin you need the Calendula Redness Rescue cream. My skin has been freaking out because of the extremely dry weather so I started getting some dry patches which never happens. This cream not only smells nice, of calendula, it's very moisturizing and hydrating. It's very hydrating cream so I would recommend this to anyone up to normal skin, if you have combo or oily skin I think this will be too much for your skin.
Before I apply my moisturizer I always use a serum and my choice has been the Herbal Recovery Advance Serum. The Herbal Recovery Advanced Serum help reduce fine lines, increase elasticity, restore radiance and hydration. It's a really nice gel like serum that also smells like Calendula and helps my skin with hydration.
Since my skin has been on the dry side these products all help with restoring moisture and hydration. If you suffer from winter skin I highly recommend at least getting the Calendula Redness Rescue cream as it has helped my dry patches a lot.
Have you tried any Jurlique products? What's your favorite?