June is almost over and I can't wait for July as that month is extremely special to me. My blog is turning two at the end of July, I can't believe it's been two years since I decided to open this tiny space for me to share my love for beauty. For the other thing, I was debating for a long time if I should share it here since I'm a pretty private person and don't share a lot of things from my personal life. But I've decided to change that because I believe that I've created some great friendships through my blog and feel like you should get to know me better.
Well I'm pregnant with my second baby and my due date is in July and it is a girl! We already have a four year old boy so I'm super excited that we'll get to have a girl. Not to get emotional (pregnancy hormones), I'm going to stop here and carry on with my favorites :).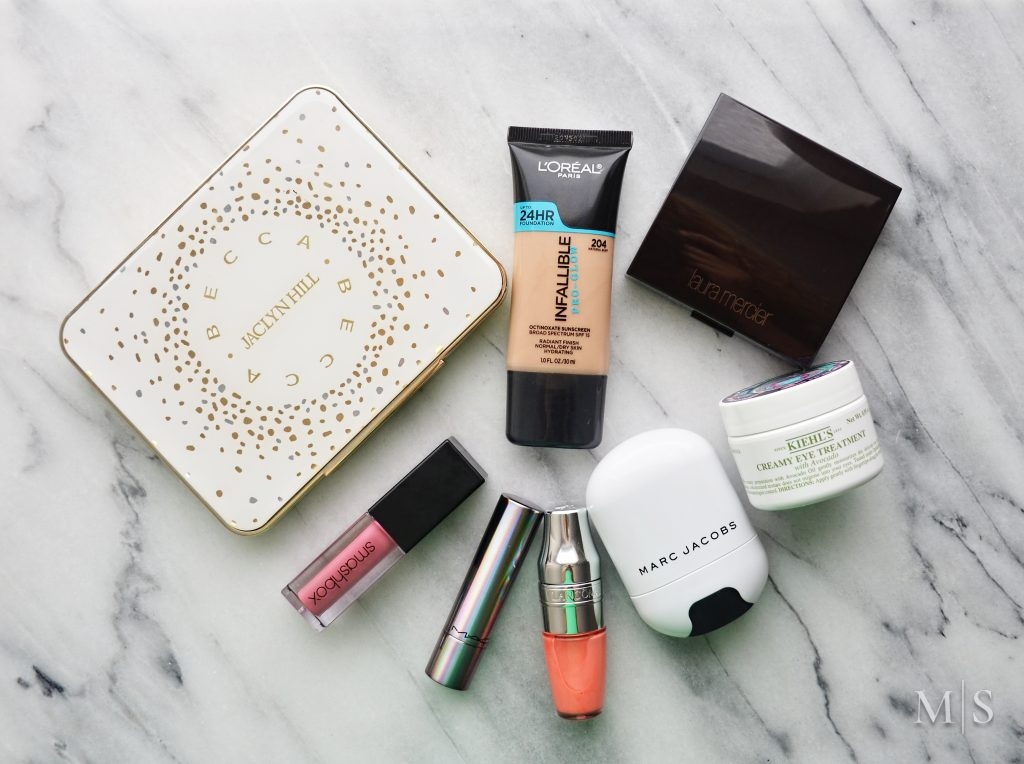 I feel like the month of June was a month for highlighters. I think I tried so many new releases of highlighters and of course that's why I have three that made it in my favorites.
The highly anticipated Becca x Jaclyn Hill Champagne Collection Face Palette launched this month and it is a beauty. Everything about the palette is exceptional, from the pretty and well made packaging to the blushes and the highlighters that come with the palette. If you're interested in more details and swatches, I did a whole blog post about the collection that you can read here.
Another great highlighter that comes in a cream form is the Marc Jacobs Glow Stick Glistening Illuminator in Spotlight. Again from the packaging to the actual products, everything is top notch. This is one of those highlighters that you can use on every day basis since it's more subtle and also take with you for on the go because of the perfect size.
Laura Mercier also recently released a new line of highlighters with the prettiest pattern. I had the pleasure of testing out the shade in Addiction and fell in love with the texture. It's also a highlighter that it's more subtle on the skin but you can also pack it on if you like a more intense look. Swatches and review here.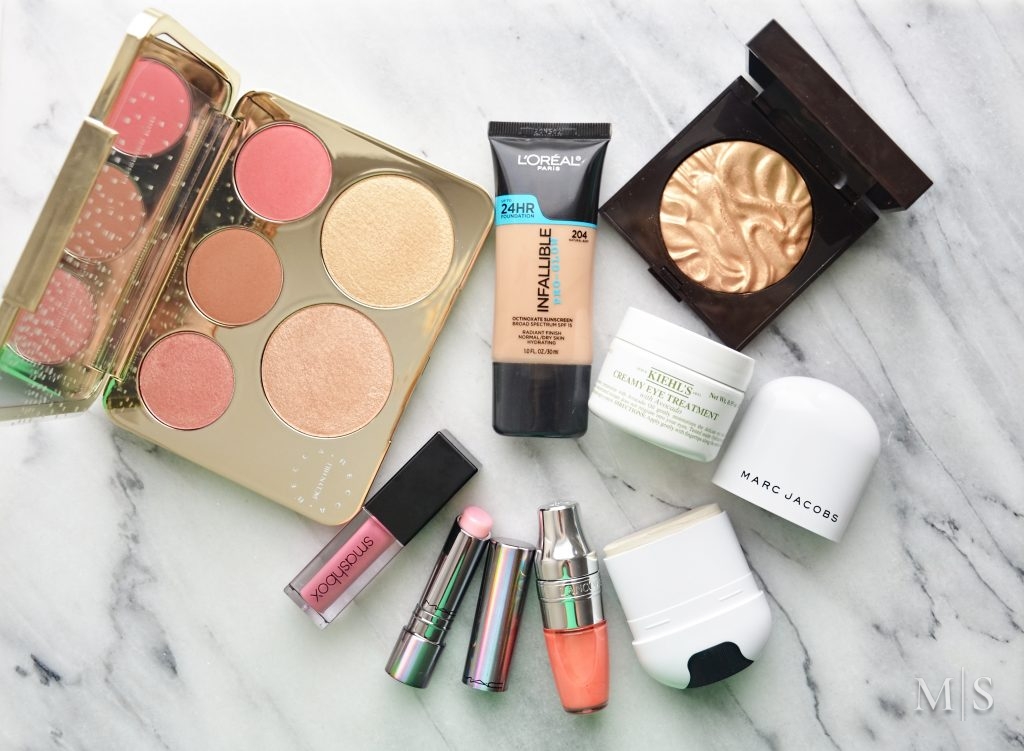 A new foundation launch that I got extremely excited about was the L'oreal Infallible Pro Glow foundation. It officially launched at the end of this month but it appeared online at certain stores earlier in the month so I had to grab a shade. I love the matte version of this foundation but I feel that for me it can get a little drying so as I guessed it the Glow version is perfect for normal skin. It's a wonderful foundation from the drugstore and I highly recommend you check it out if you have normal to dry skin. It's the perfect lightweight foundation for summer that also provides good coverage.
I've been testing out a lot of skincare this past month and I couldn't include all the products in here because this blog post would be too long. But I'm planning to do a skincare routine post so I'll share my recent favorites there. One skincare item that I had to mention is the Kiehl's Creamy Eye Treatment with Avocado. If you have problems with dry under eyes you need this cream!
And for the end of this post, I have three lip products to share with you guys, two very hydrating lip products and one liquid lipstick. The MAC Tendertalk lip balm in Candy Wrapped has been my go to lip balm since I got it. It just gives me that my lips but better look and keeps my lips in good condition so it's definitely becoming a bag staple. The other hydrating lip product is the Lancome Juicy Shaker in Freedom of Peach, a lip oil with a peachy coral tint that's perfect for the summer months.
Smashbox launched a new line of liquid lipsticks and they're amazing! I've been testing the shades that they sent me for awhile now so watch out for a blog post about them with swatches. The shade in Dream Huge has been one of my favorite shades to wear when I want a long wearing lip option. It's a really nice pinky mauve shade and super comfortable to wear.
What have you been loving in the month of June? Please share in the comments below.