MAC recently released a limited edition collection inspired by the living doll. For those who don't follow trends and actually break them MAC delivers hues of fuchsia, violet, emerald and deepest plum.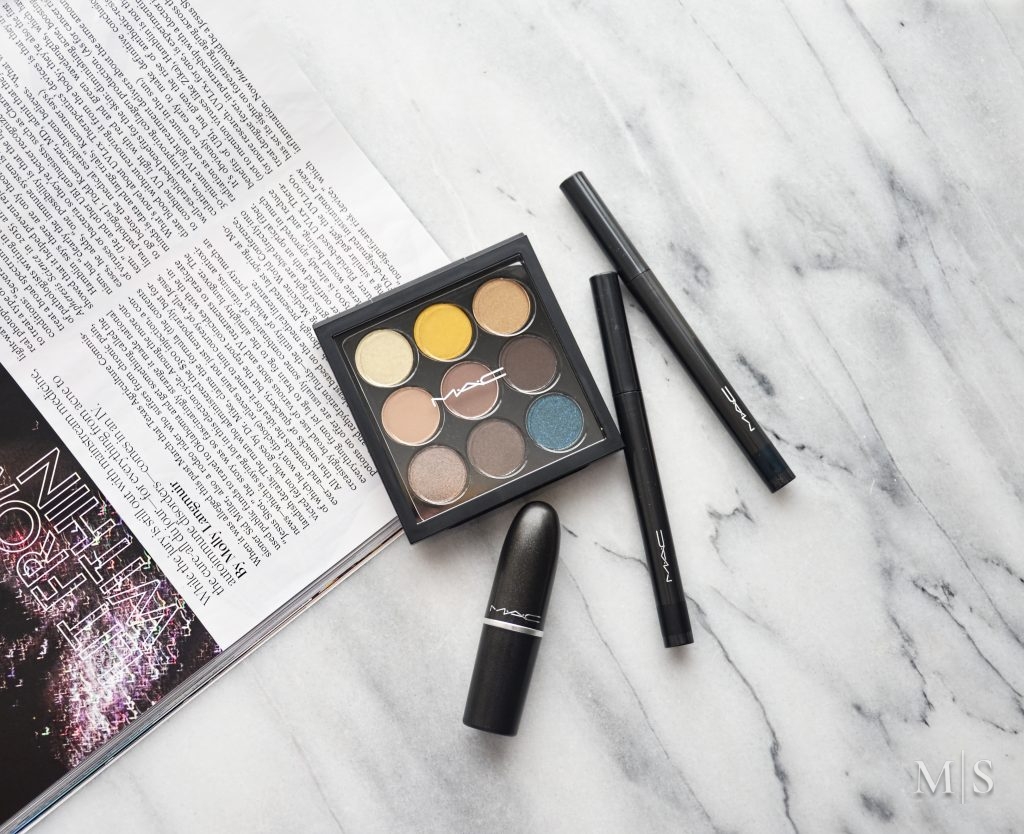 The MAC Fashion Pack collection contains two travel friendly eyeshadow palettes, four lipsticks in very fun shades, fluidline pens and some fun shades of their MAC Studio Nail Lacquers.
I've been testing out a couple of pieces from the collection including the Eye Shadow x 9 palette in She's A Model, two Fluidline Pens in Indelibly Blue and Retro Black and a lipstick in the shade Stylist's Tip.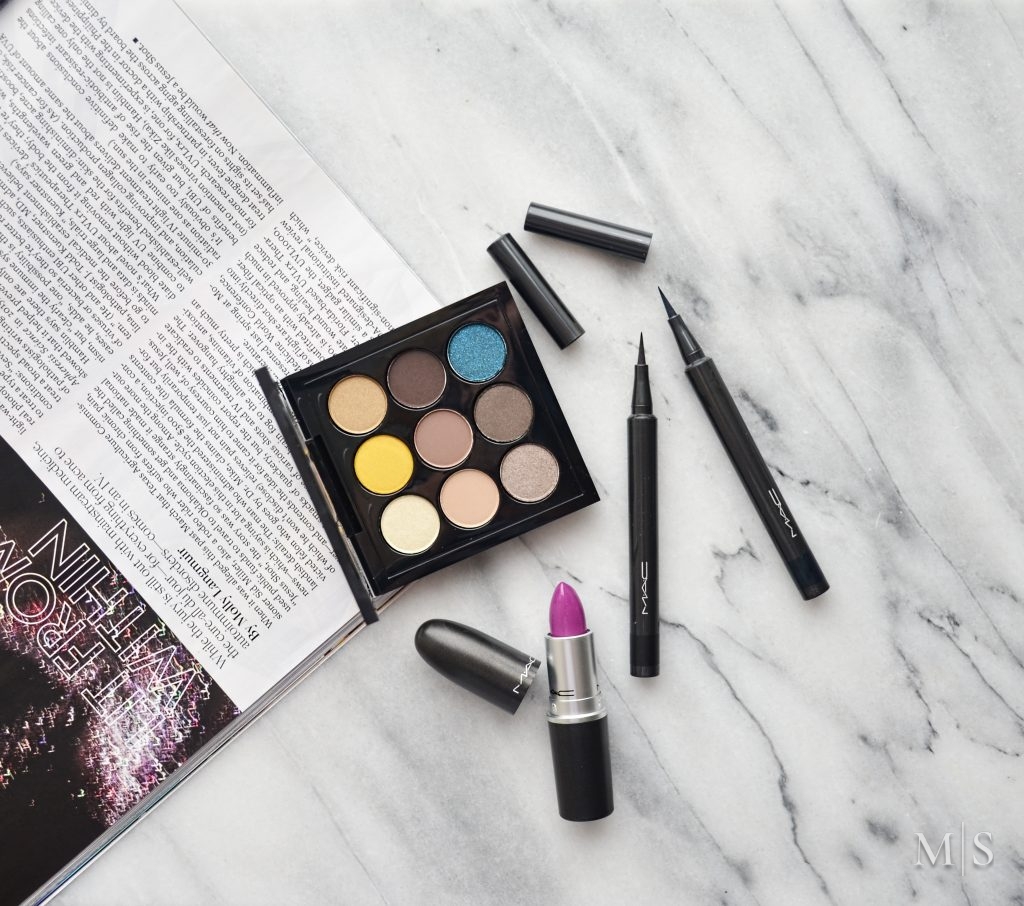 The MAC Eye Shadow x 9 in She's A Model is a 9 pan eyeshadow palette that features neutral and cool toned eyeshadows with the pop of teal for creating endless looks. It has eyeshadows in matte, satin and frost finish. The eyeshadows that come in the palette are:
Fresh Blade : Pale frosted yellow (VLXP)
Gilded Lids: Bright yellow w/pearl (Satin)
Sample Sized: Dirty Golden Olive (Frost)
Fab Accent: Soft nude (Matte)
Cool Complement: Dirty midtone neutral (Matte)
Dance In the Dark: Deep Cool Brown (Matte)
Big Attitude: Dirty Grey (Frost)
Not Basic Black: Characoal Brown w/pearl (Velvet)
She's A Model: Blackened Teal w/pearl (VLXP)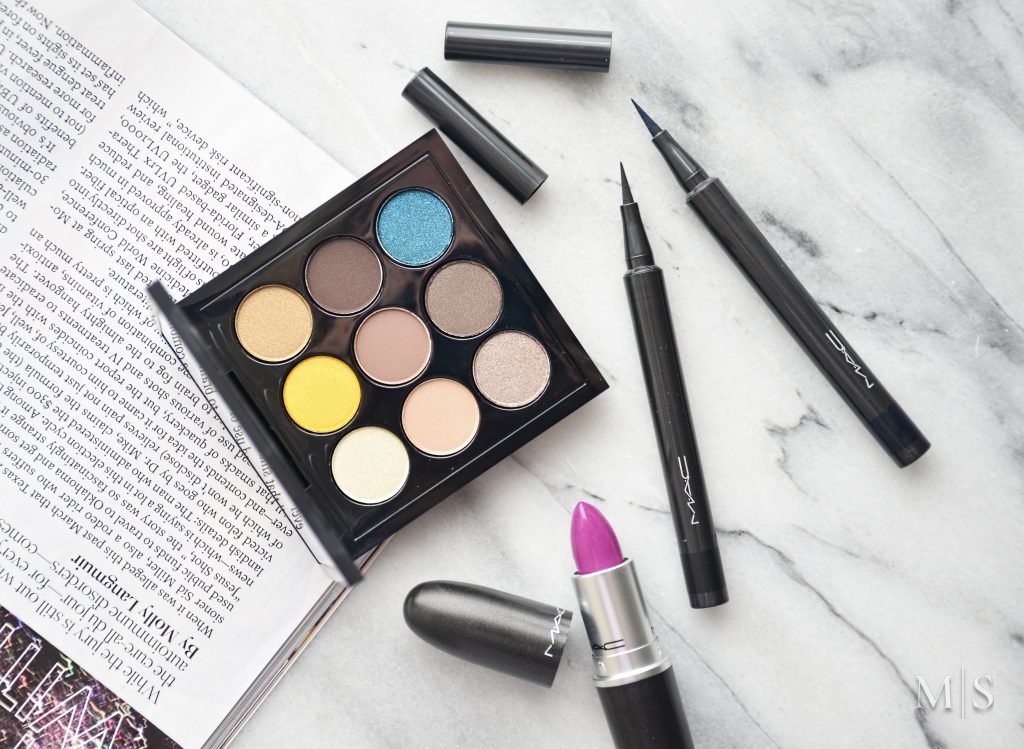 If you're not familiar with the MAC Eye Shadow x 9 palettes, they're made to be travel friendly so the pans are smaller than your regular full size eyeshadow from MAC. I have several of their palettes and they're all very convenient to take with me when I travel. Most of the eyeshadow palettes that I have are of pretty good quality with a couple exceptions and She's A Model is one of the good ones.
All the eyeshadow in the palette feel very soft to the touch and pack a good pigment. The one eyeshadow that I felt was a little powdery is Dance In The Dark which is the deep cool brown in matte finish so I had to be careful when I dipped the brush not to pick up a lot of product just to prevent fallout.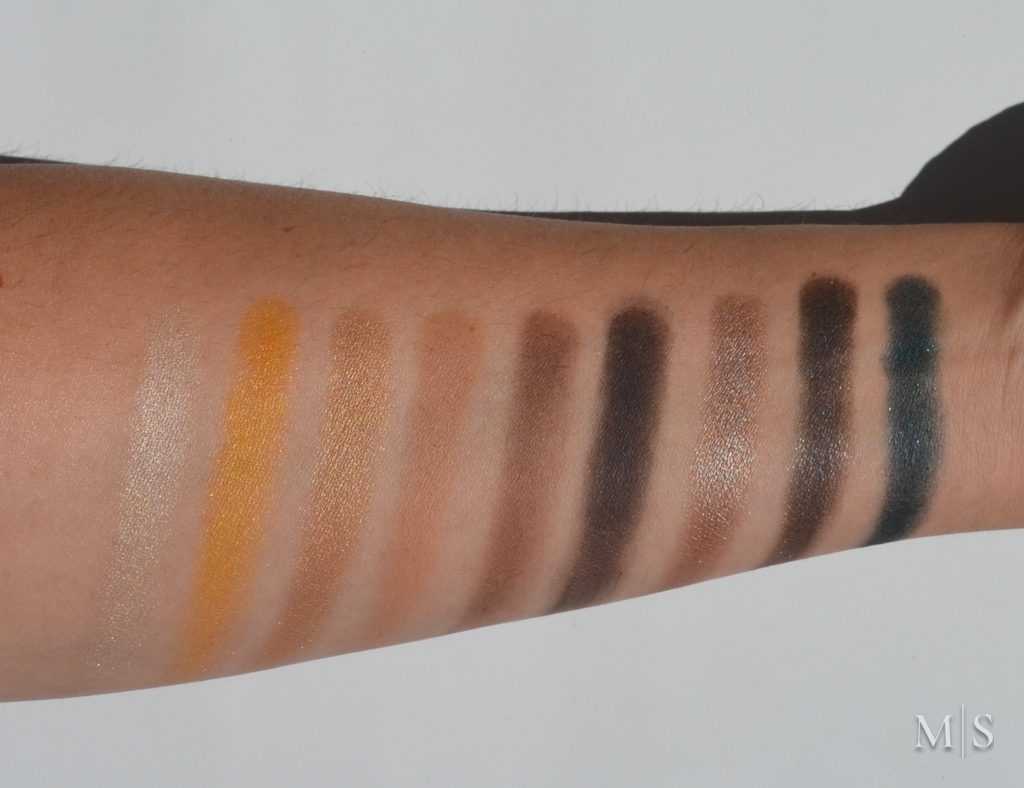 Swatches of the MAC Eye Shadow x 9 in She's A Model L to R: Fresh Blade, Gilded Lids, Sample Sized, Fab Accent, Cool Complement, Dance In the Dark, Big Attitude, Not Basic Black, She's A Model
I already own a black Fluidline so I knew I was going to like the two shades from the Fashion Pack collection. The Fluidline combines the pigmentation of a liner with the versatility of a pen which is very easy to use. The tip provides enough movement so you can easily create either a very thin or a thick line. The formula is liquid and dries down to beautiful matte finish. The shade in Indelibly Blue is a very pretty deep navy blue shade that I love to use when I wish to add a pop of color to my eyes. The shade in Retro Black is your usual very dark black shade that's perfect for creating a classic cat eye.
The only lipstick I received from the Fashion Pack collection is the shade in Stylist's Tip which is a deep violet shade in amplified finish. If you're not familiar with the MAC amplified finish formula of lipsticks, they're the most pigmented lipsticks from their whole line and they also have a creamy finish that's very comfortable to wear.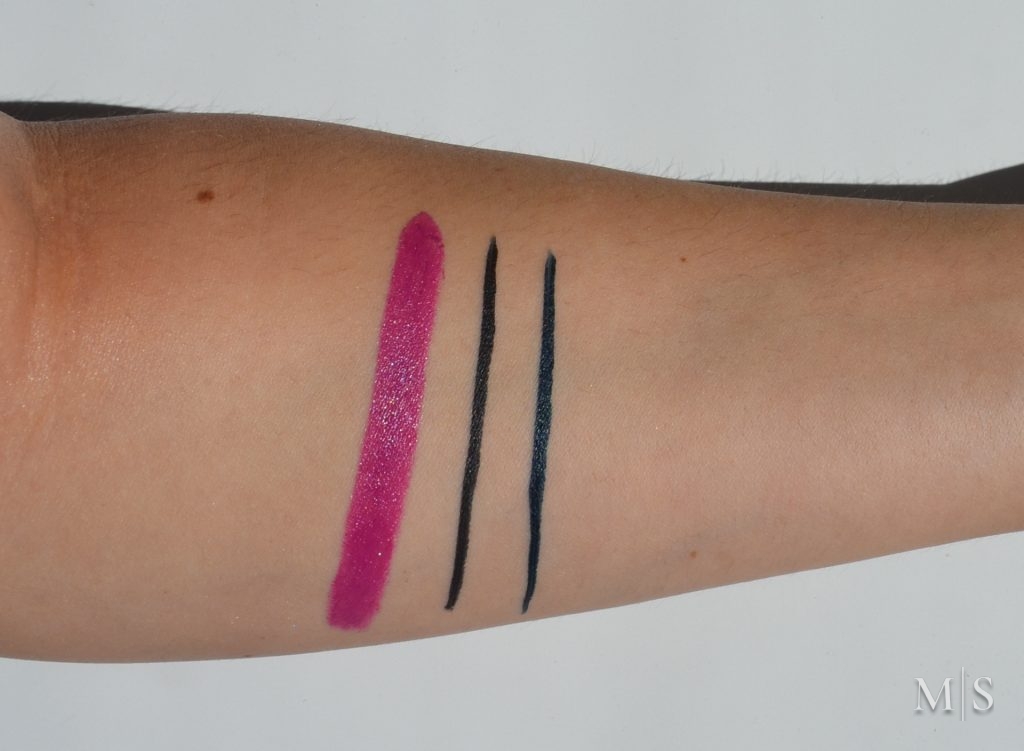 Swatches L to R: MAC Fashion Pack lipstick in Stylist's Tip, MAC Fashion Pack Fluidline in Retro Black, MAC Fashion Pack Fluidline in Indelibly Blue
The MAC Fashion Pack collection is already available both on maccosmetics.com and in stores. It's a limited edition collection so if you have your eyes on something I suggest getting it before they sell out.
*PR Samples