If you have fair to light skin you know how hard it is to find blush products that are light enough to work for your skin. Most of the cheek products on the market are focused more on medium skin tones but there is a Benefit blush that is perfect for lighter skin tones.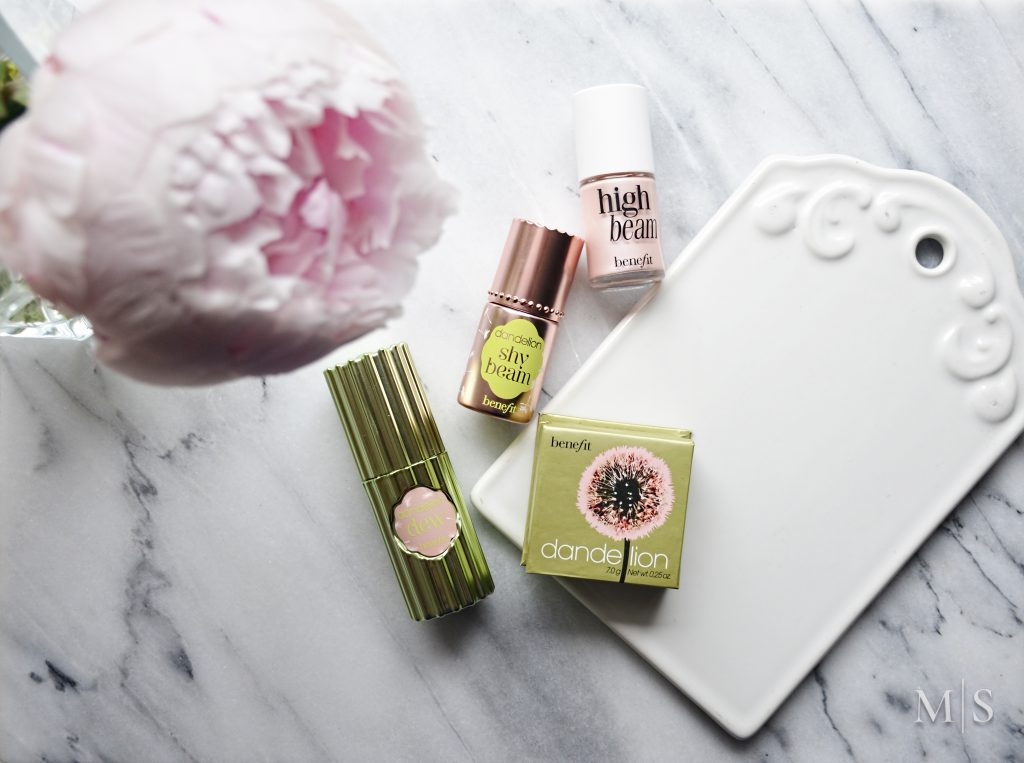 The Benefit Dandelion Box O' Powder Blush is described as a soft pink blush with a radiant finish. This is a blush specifically designed for lighter skin tones, if you're darker it will not show up on your skin. This is one of those blushes that looks very natural on the skin and just gives a nice flush of pale pink color to the cheeks. On their website it also says that you can use it as an all over face powder but for my skin that didn't work out, I could see specks of shimmer all over the face which I don't like in a face powder.
Benefit recently expanded their Dandelion line and added two new products, the Dandelion Shy Beam Matte Highlighter and Dandelion Dew Baby Pink Liquid Blush.
The Benefit Dandelion Shy Beam Matte Highlighter is a nude pink matte radiance highlighter. It's a highlighter with no shimmer and great for brightening. It can either be used before your base or as a matte brightening highlighter over your foundation.
As with every Benefit product the packaging is just the cutest and so girly. The Shy Beam comes in the same type of packaging that the High Beam is, it has the same nail polish like applicator which makes application very easy.
I use this product mainly to brighten my under eye area, because of the pale pink shade it works great as an under eye brightening corrector. You can also use it on the highest points of your face if you prefer a matte highlighter but for me I like my glow too much to use a matte highlighter on my cheeks.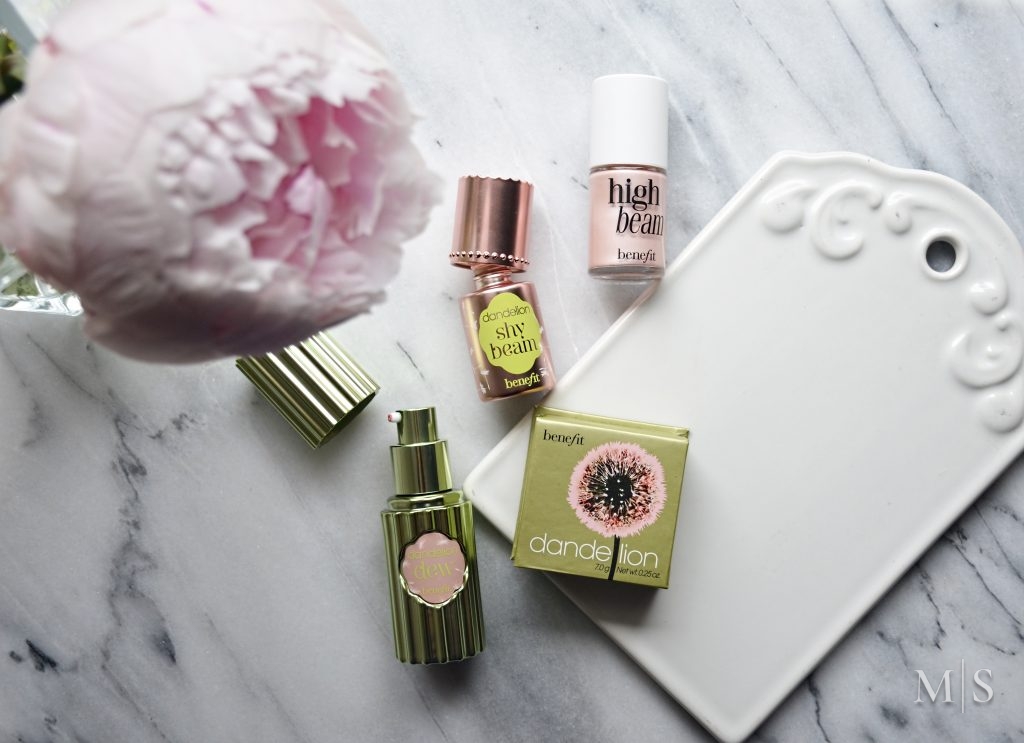 The Benefit Dandelion Dew Baby Pink Liquid Blush is a dewy soft pink liquid blush that gives your cheeks a radiant look. I find the shade with the liquid Dandelion more intense than the powder version so I think the liquid version will work even if you have medium skin tone.
The formula has a mousse like texture and blends very easy on to the skin. It leaves your cheeks with a very nice dewy and healthy looking glow without containing any shimmer.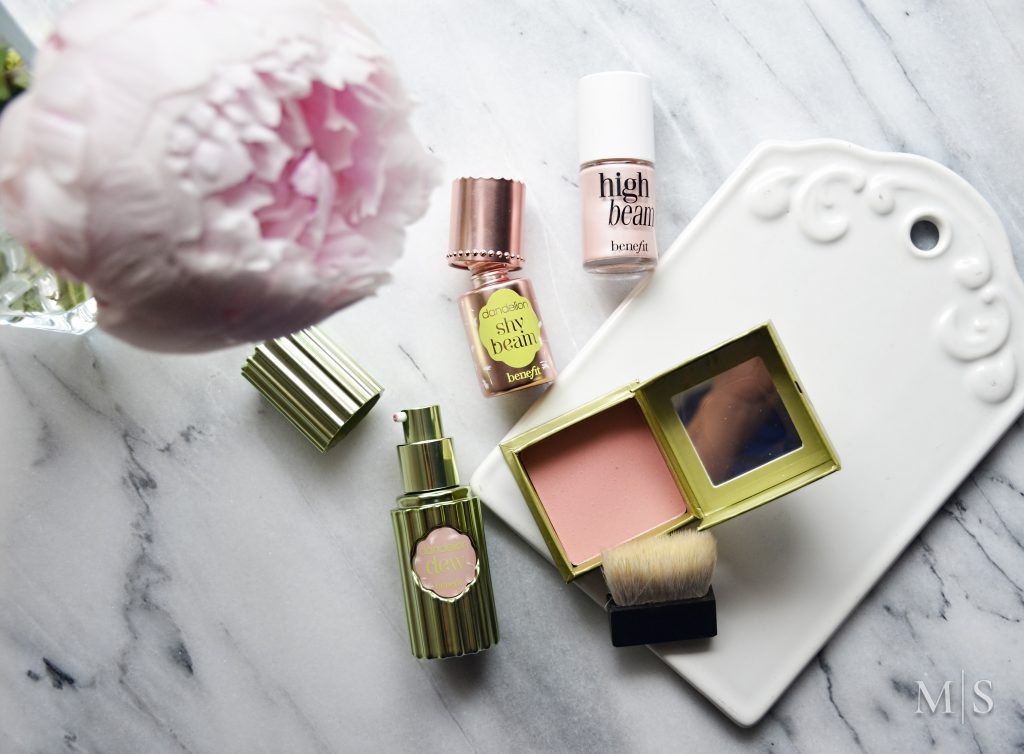 And lastly I wanted to mention another product from Benefit that works great if you have fair to light skin tone, and that's the Benefit High Beam. It's a satiny pink liquid highlighter that gives a subtle glow to the face. It has a pearlescent like finish and makes your cheeks look dewy and lit from within. You can use it either before your foundation or over it for a more intense look. The nail polish like applicator makes it very easy for spot highlighting and the lasting power is very impressive for a liquid product, it lasted me around 8 hours without any touchups.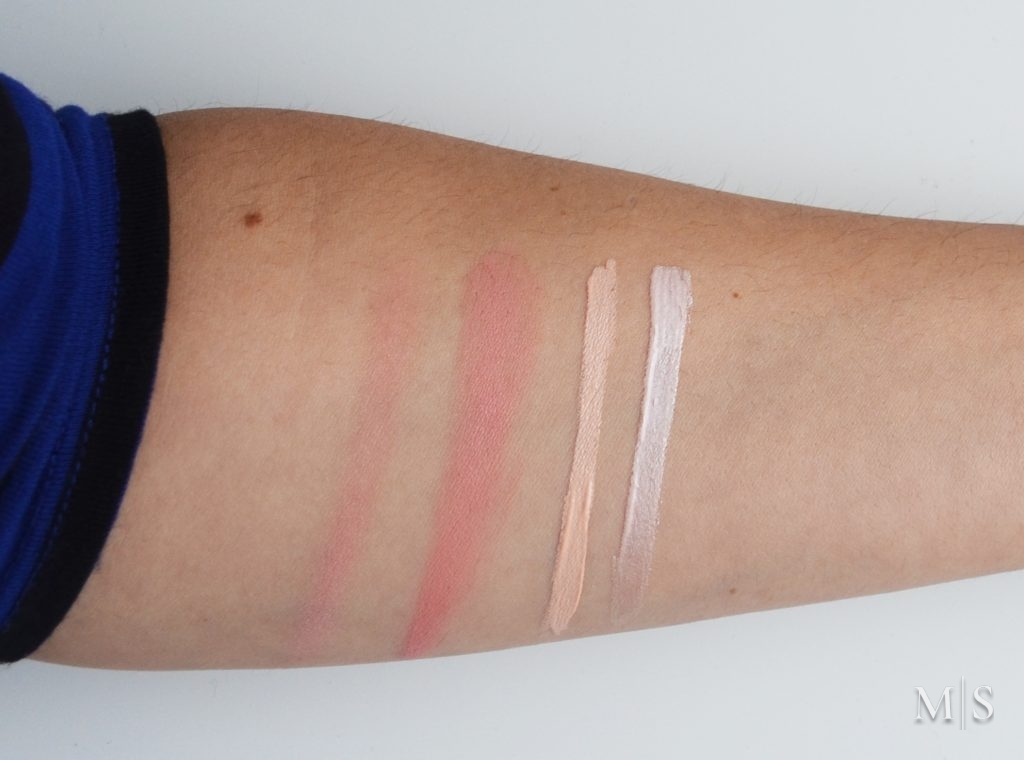 Swatches L to R: Benefit Dandelion Box O' Powder Blush, Benefit Dandelion Dew Baby Pink Liquid Blush, Benefit Dandelion Shy Beam Matte Highlighter, Benefit High Beam
I mostly reach for the mentioned products during the colder months since I'm lighter in skin tone so they work pretty well. For the summer my skin gets to a medium skin tone so I can only use the liquid blush which works perfectly for the summer months.
Have you tried any of the Dandelion line products?
*PR Samples