I'm going to keep my December favorites short and sweet. I've been also working on my yearly favorites so expect probably two posts with a roundup of makeup and skincare favorites.
December is one of my favorite months. With the holidays and the Christmas spirit I just love the whole atmosphere, everybody is so happy. There were not a lot of new launches in December just because everyone focuses on their holiday shopping but there were some pretty good sales.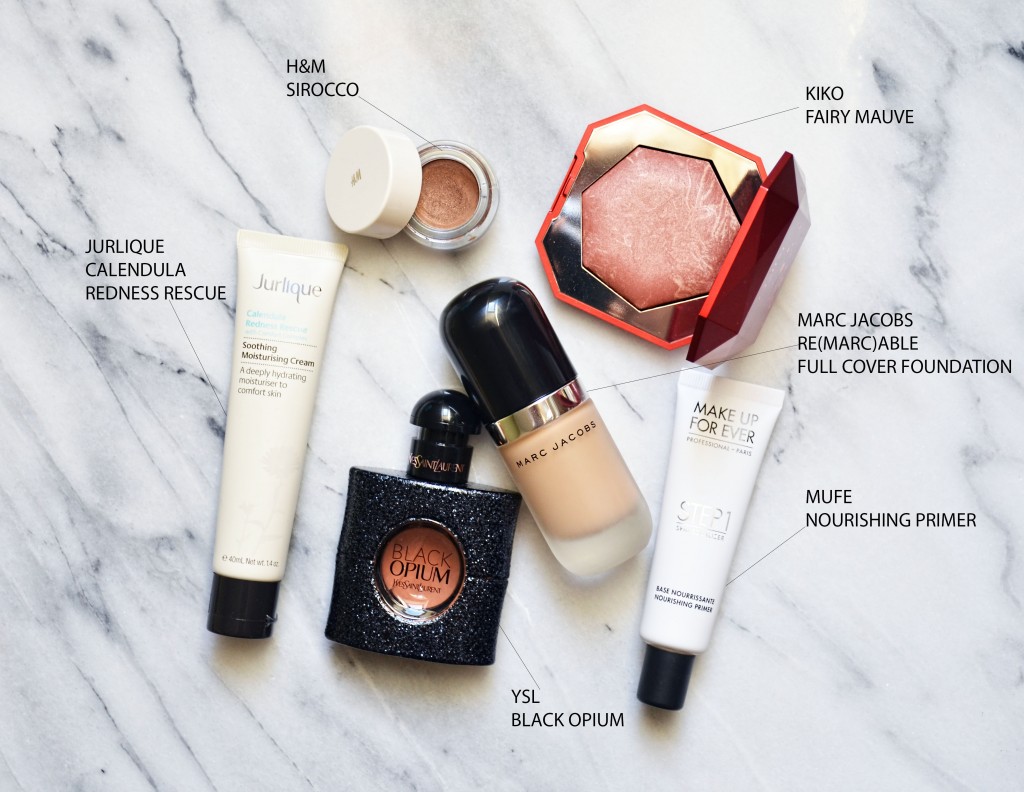 I tried to keep my list shorter than usual so here are the products that I absolutely loved in the month of December:
Jurlique Calendula Redness Rescue*- My skin savior! This cream has helped my dryer skin and reduced any redness that I had from it. It's very moisturizing so if you have dry skin I highly recommend it.
H&M Cream Eyeshadow in Sirocco – A one swipe wonder what this shadow is. It's creamy, pigmented and doesn't crease which is everything that I want in a cream eyeshadow. The shimmer is subtle so it's great for every day wear.
Kiko Moon Dust Face Powder in Fairy Mauve – It's an illuminating blush that gives a nice glowy look to the cheeks without any noticeable shimmer. There were two available shades in the line but unfortunately they're sold out. Kiko has a 50% off sale going on on their website so maybe check out the other products in the line and see if something catches your eye.
Marc Jacobs Re(marc)able Full Cover Foundation Concentrate – If you're looking for a long lasting highly pigmented matte foundation this is a great one. I'll have more details about it in my review which is coming up but all I can say is that I've been loving this foundation.
Make Up For Ever Nourishing Primer* – Since it's winter my skin needs some extra hydration and especially when I use a foundation I have to make sure my face is well moisturized otherwise I can see my dry patches which is never a good look. The Nourishing Primer is just perfect for dry skin, it gives moisture to the skin and makes your face look flawless after applying foundation.
YSL Black Opium – With so many perfume options I kinda forgot that I had this but I used it once and since then I couldn't stop, it's all I've been using for the past month. If you're a fan of sweet but also sensual and sexy perfumes this is a great one to get.
What have you been loving this past month? Any new discoveries that I need to try?