The drugstore is killing it with their new spring releases! There are so many new products in the drugstore and most of the new releases look really nice. I think drugstore brands are improving their quality and you can actually find really good products in the drugstore which is nice because not everyone can afford high end makeup.
Maybelline released a lot of new products for spring and I picked up some of them to test out and review for you guys. I picked up the new Maybelline Dream Velvet Soft-Matte Hydrating Foundation, two of the new Vivid Matte Liquid Lip Colors and two of the Color Tattoo Concentrated Crayons.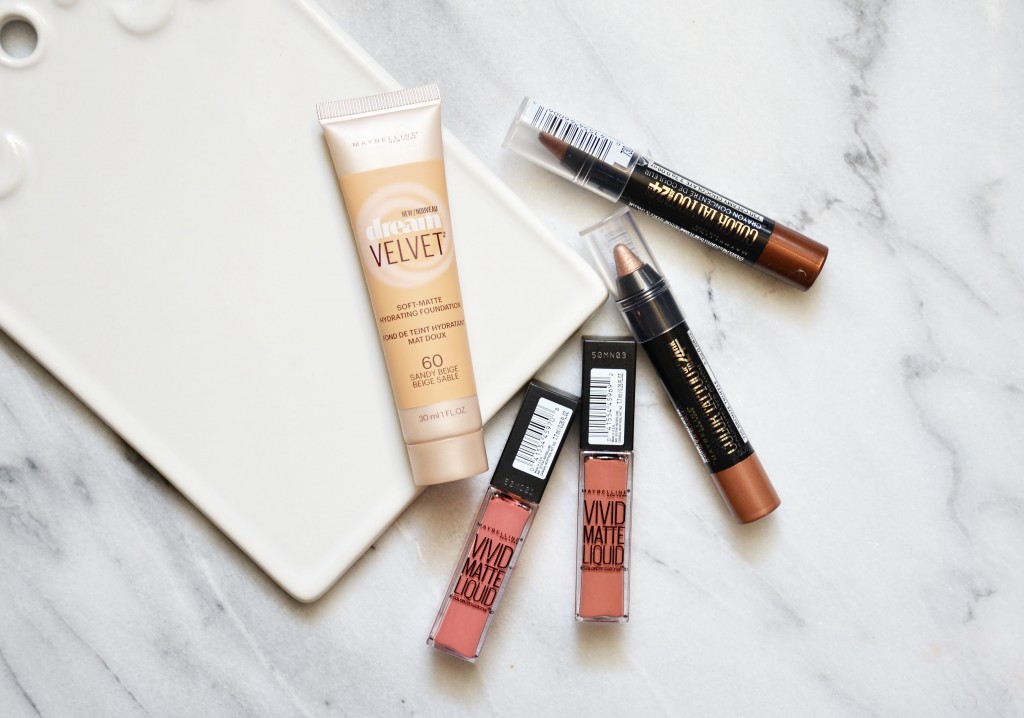 First let's talk about the Dream Velvet Soft-Matte Hydrating Foundation. I picked this up because of the name, I was curious to see how could a matte foundation be also hydrating. After trying it for a couple of days I can't say that this foundation is particularly hydrating but what I can say is that I think that this matte foundation would work for dry skin since it doesn't emphasize dry patches.
The foundation has a gel whipped formula and when applied doesn't feel heavy or cakey. The coverage is light to medium and the foundation has a velvet matte finish. I used it without any primer and after I applied my skincare and my skin looked really nice, no dry patches peeking and the foundation actually blurred out my pores. What I like about it is that you can't feel it on your face, it's very lightweight and looks natural on the skin. The line has 12 available shades and the shade in Sandy Beige 60 is a perfect match for my light to medium skin tone with yellow undertones.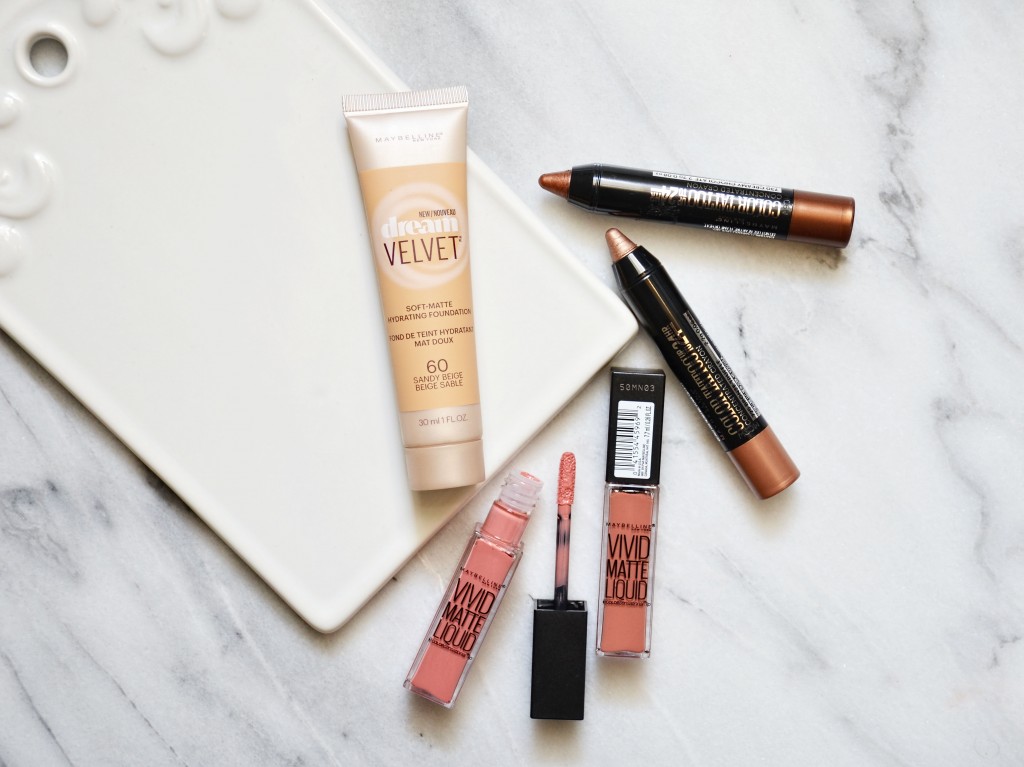 The other star of the collection are the Color Tattoo Concentrated Crayons. I picked up the shades in Bronze Truffle (taupe bronze) and Creamy Chocolate (warm bronze) and I'm so impressed by these. I'm guessing that by the name they're an alternative to their Color Tattoo line that comes in a pot which I'm a big fan of and after testing them they perform the same way. They're very creamy and super pigmented and blend so easy. I use both my fingers and a blending brush and both work really well. As soon as they set they don't budge and don't crease.
Both shades that I got are shimmery shades but as soon as you blend them out the shimmer is very subtle so they're perfect for daytime wear. I prefer my cream eyeshadows in a stick form because they're easier to use than a pot so I think these are a great addition to the Color Tattoo line.
And last but not least the Vivid Matte Liquid Lip Colors. I picked up the two neutral shades in Nude Thrill (a neutral peachy nude) and Nude Flush ( a pinky nude). Just to be aware these are not the same as your regular liquid lipsticks as they don't dry down to a matte finish. Instead they apply like a cream lipstick but the finish is in between a satin and a matte. The pigmentation on both shades is really nice and the lasting power is pretty impressive for a cream formula. They're very comfortable to wear and don't dry your lips and the lighter shades don't emphasize any dryness that you have.
They do have a scent, not sure why but it reminds me of summer but the scent is not noticeable after application. If you're sensitive to scented products just be aware before you purchase.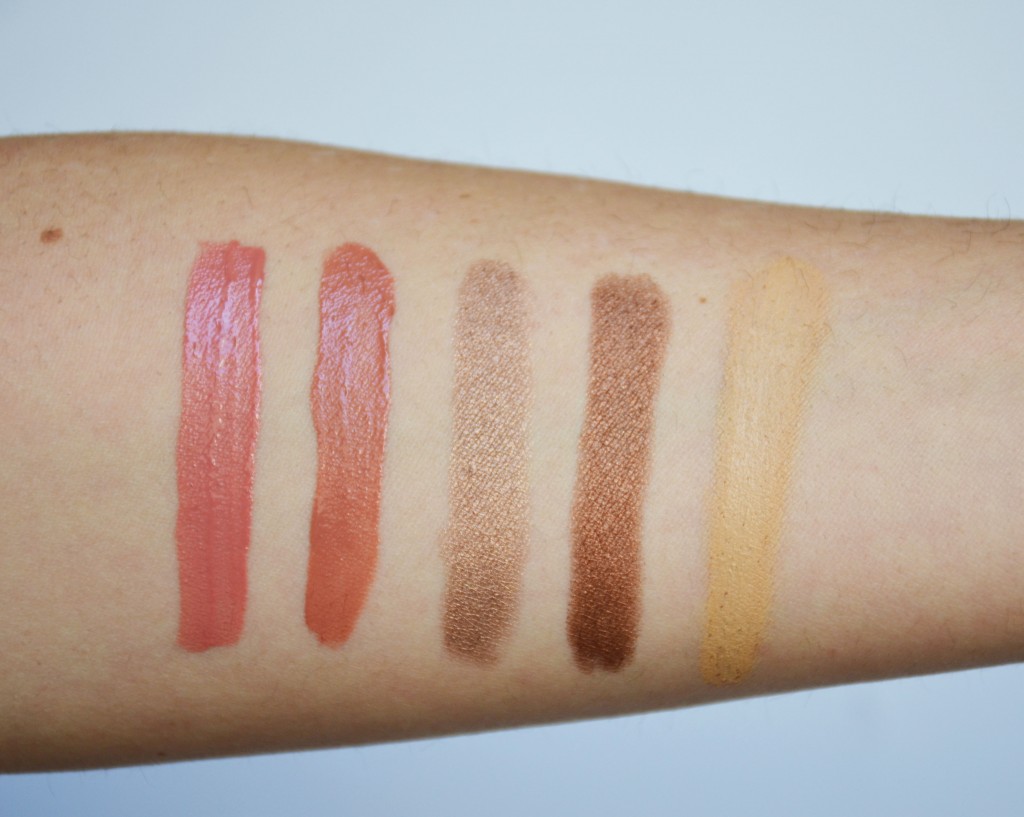 Swatches L to R: Vivid Matte Liquid Lip Color in Nude Flush, Vivid Matte Liquid Lip Color in Nude Thrill, Color Tattoo Concentrated Crayon in Bronze Truffle, Color Tattoo Concentrated Crayon in Creamy Chocolate, Dream Velvet Soft-Matte Hydrating Foundation in 60 Sandy Beige
All in all I really like everything that I picked up. I will get a lot of use from the Color Tattoo Concentrated Crayons, the foundation is awesome for every day use and the Vivid Matte Liquid Lip Colors are a great alternative to your regular liquid lipstick.
Have you picked up anything new from the drugstore?