Natasha Denona is an acclaimed makeup artist that's famous for her signature healthy skin glowy looks. She created her Glowing Skin System after years of struggling with products that looked heavy and unnatural on the skin. The System is designed to mimic freshly moisturized skin and give you a natural glow that will last you all day.
The Glowing Skin System is a five piece set plus a special gift that includes products that will help you achieve her natural signature glow: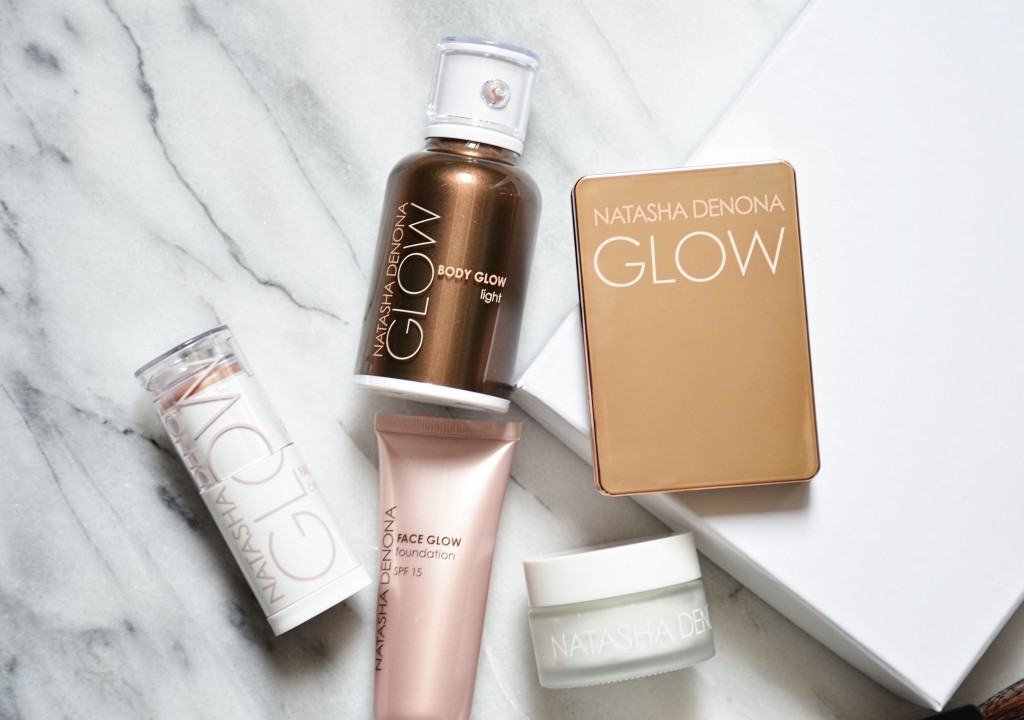 I picked the Face Glow Primer Hydrating Base because my skin has been on the dryer side so it needs all the hydration I can get. The primer comes in a white glass pot which reminds me of your regular moisturizer. The consistency of the primer is thick but it's very easy to apply and sinks in right away after application. It provides a smooth surface for your foundation and gives you a nice healthy moisturized glow. It's recommended for dry to normal skin.
The Face Glow Foundation comes in 12 different shades and the Beautylish website has actual pictures of girls with the shade description which makes it super easy to pick your shade. I wear the shade in 30- Light to Medium which is described as a foundation for light skin with orange (golden or tan) undertones. It is the perfect match for my light to medium skin tone.
The foundation contains light reflecting particles which help with blurring pores and imperfections and it also has SPF15. The coverage is light to medium and the finish is nothing I've ever tested. The finish is glowy but not extremely dewy that is slippery. When you first swatch the foundation on your hand you can see that the consistency is thick but as soon as it applies on the skin it blends out perfectly and leaves you with a natural glowy finish. I didn't feel the need to set my foundation but if you have oily skin I would apply a little bit of powder to the places that you get oily through the day. The foundation is recommended for all skin types.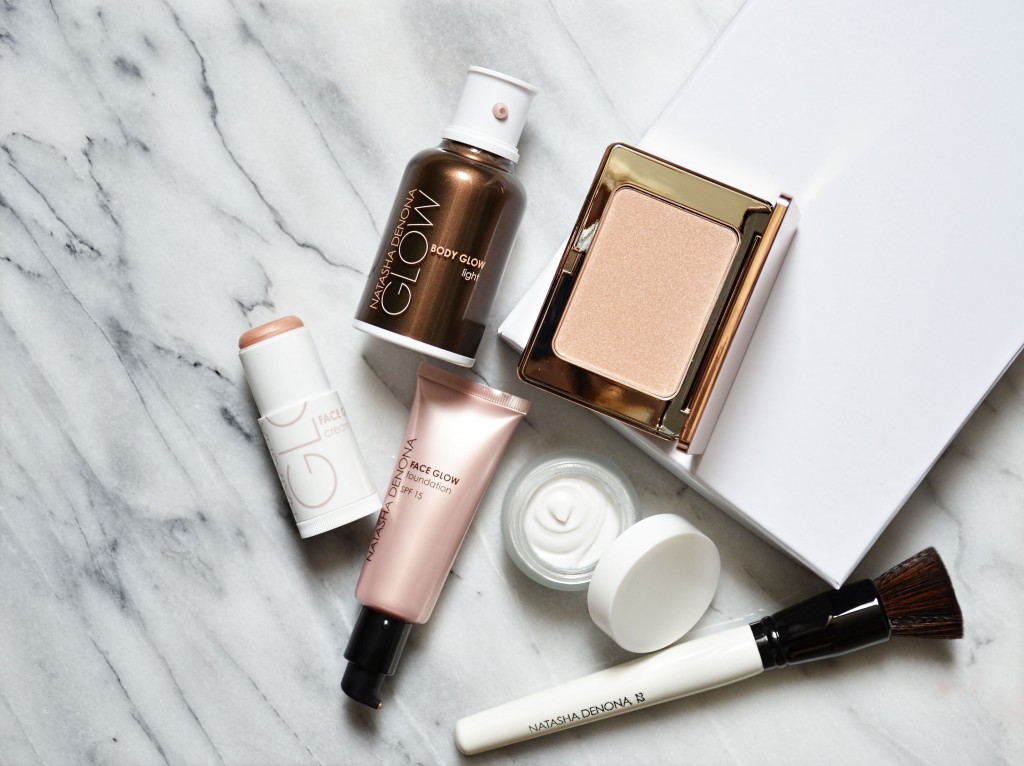 The Face Glow Cream Shimmer is a cream highlighter in a stick form. I have the shade in Light 01 which is a beautiful light gold shade. The consistency is creamy and when applied on the skin it gives you a beautiful glow without any noticeable shimmer. It doesn't settle in to fine lines and doesn't accentuate pores and I find it very natural and glowy on the skin and perfect for daytime wear. You can use it on it's own or layer it with a powder highlighter for the ultimate natural glow. I use my fingers for application but you can also use a stippling brush and it blends and applies like a dream.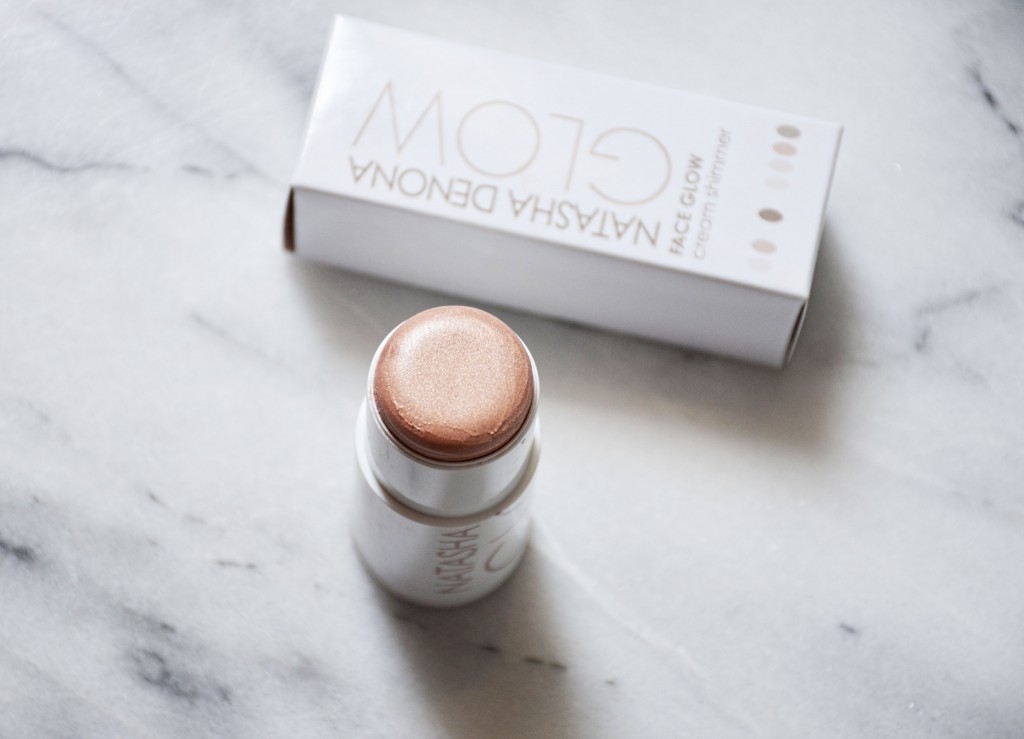 Another great product from the line, the All Over Glow Face & Body Shimmer is a hydrating shimmer in a powder form. The highlighter can be applied both to the face and the body and gives you that natural healthy glow without any noticeable shimmer. The powder is very smooth and buttery to the touch and when applied on the tops of the cheeks it doesn't even look like you have a powder highlighter, it just looks like a glow from within. It is the most natural highlighter I've ever tried but still gives you a nice glow to your cheeks. Natasha recommends layering the All Over Glow Face & Body Shimmer over the Face Glow Cream Shimmer. I have the shade in Light 01 which is a nice pale gold shade that suits my skin tone perfectly.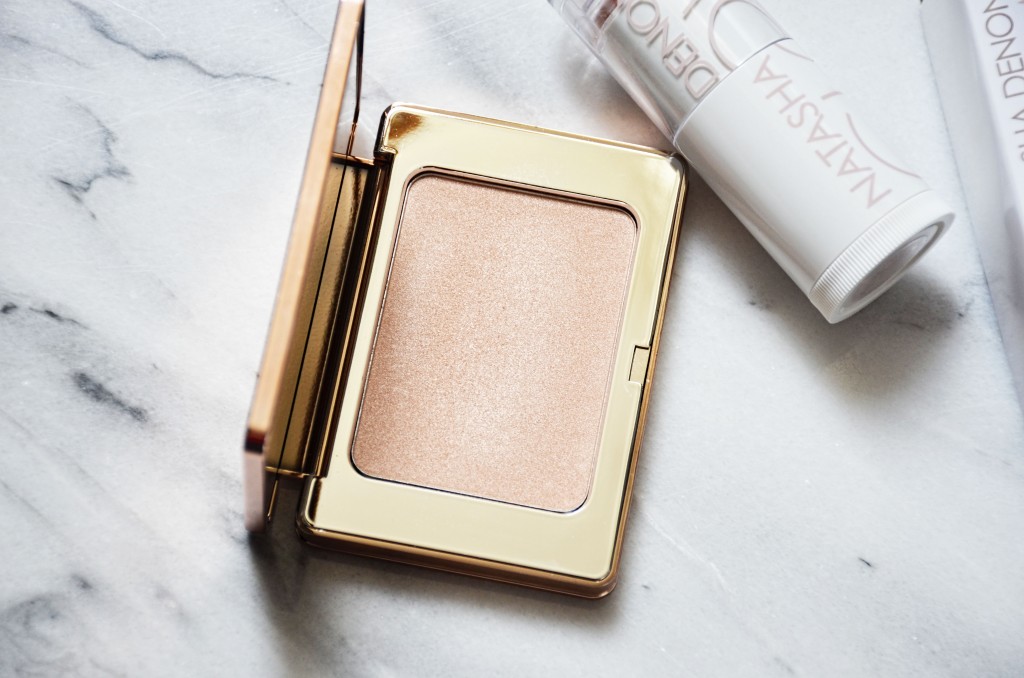 And as the last step for your ultimate glow look you need the Body Glow. The Body Glow is an illuminator for your body that was created to give you a no glitter healthy glowing skin effect. It has light consistency that blends very easy on to the skin and it is quick drying, non sticky and most importantly it's resistant to sweat and water. It gives a healthy and glowy look to the skin and it doesn't transfer on clothes which is very important to me. If you're looking for a product for your body that will make you look like a glowing goddess this is the one to try.
As a bonus I also got Natasha Denona's brush in 22 which is her large foundation brush. I used it to apply the foundation and I think the brush is of great quality. What I like about it is that it's not that dense so it doesn't soak up product and the bristles are very soft so they feel very nice on the skin.
Swatches L to R: Face Glow Cream Shimmer in 01 Light, All Over Glow Face & Body in 01 Light, Body Glow in 01 Light, Face Glow Foundation in 30 
The above products are available on Beautylish and you can get them separately or you if you want to try all of them you can get your own personalized Glowing Skin System.
Her remaining line is expected to launch by the end of February on Beautylish and they're probably getting her eyeshadows by the end of January which I'm pretty excited about, I've seen swatches online and the pigmentation and the colors look amazing.
Many thanks to the Beautylish team for sending me the Glowing Skin System. As always all opinion is my own.