I have to admit that I'm addicted to lip balm. My lips are constantly dry that I always have to make sure I have something on my lips. I have lip balms all over the house and at least two in my bag, that's how serious my problem is. I make sure I drink a lot of water, hydrate and do everything by the book but nothing really helps.
Through a lot of product testing I've discovered that overnight lip treatments help a lot if you have dry lips. They're usually thicker and more hydrating than your regular lip balm plus at night you don't move your lips or drink and eat so the treatment stays put. I have three lip treatments in my collection that has helped my lips and really made a difference in the texture, some are cheaper and some are a splurge but so worth it in my opinion.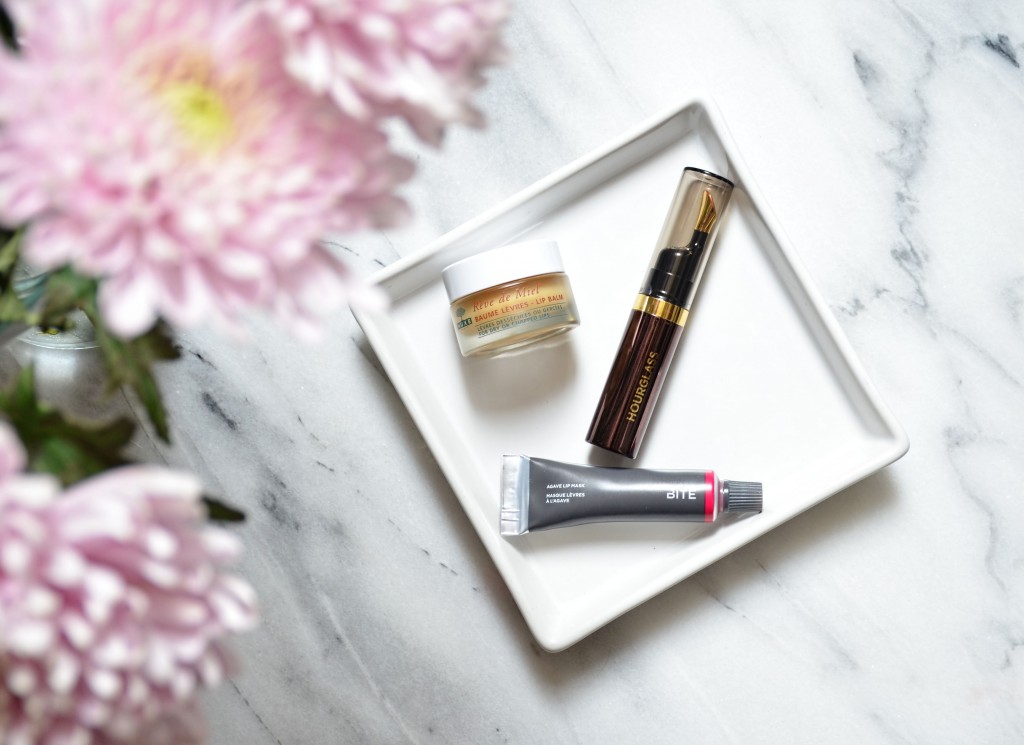 My first lip treatment that I bought is the well famous Nuxe Reve De Miel. I've heard so many bloggers talk about this so I had to try it for myself. It's a thick lip balm that doesn't feel sticky on your lips and has a yummy citrus scent. It's made without all the bad ingredients and contains a lot of oils that are good for your lips. You need a tiny bit to cover your lips and the pot is a very generous size so this will last you for a long time. I usually use this before I go to bed and do a thick coat. When I wake up my lips feel very nourished and hydrated.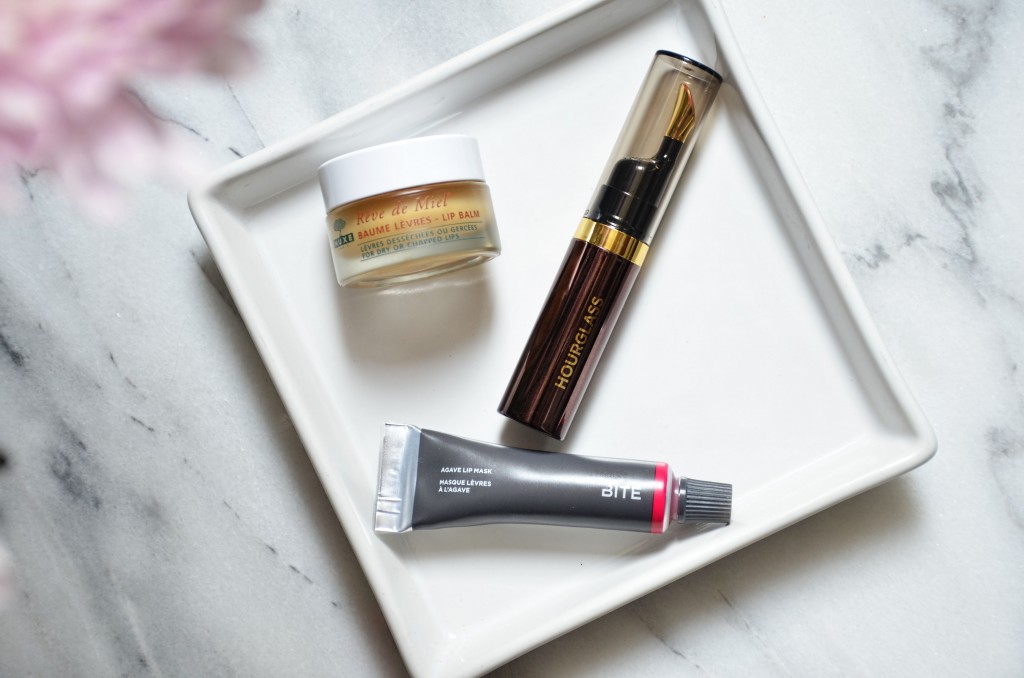 The second lip treatment that I love is the Bite Beauty Agave Lip Mask. I'm currently using up the Smashed Agave version but I actually prefer the clear one since I don't wear the mask through the day. Again the ingredients in the lip mask are all natural and good for your lips. The Bite Beauty Agave Lip Mask has a very thick consistency and because of that it lasts a long time on the lips. I apply this before I go to bed and I can still feel the product when I wake up. The mask helps with dryness and adds plenty of hydration to the lips. Plus all Bite lip products are made with natural ingredients and smell delicious.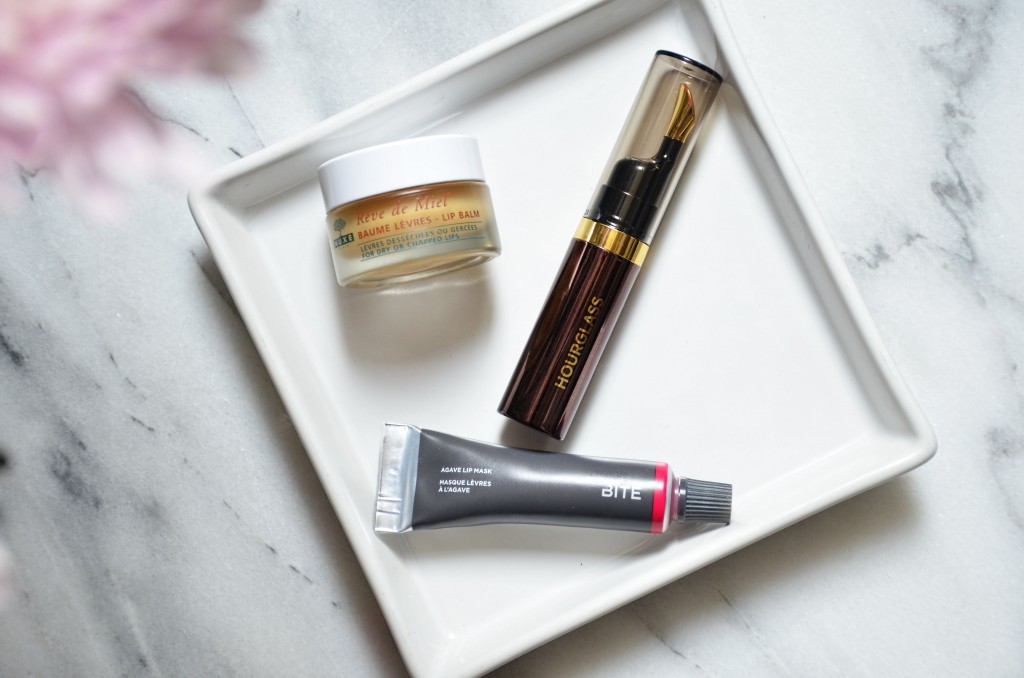 And as a last option, the most luxurious lip treatments of them all, the Hourglass N 28 Lip Treatment Oil*. This product is enriched with 14 different essential oils including Bois De Rose, Lavender, Geranium, Petitgrain, Lemon, Rosemary, Vanilla, Clove, Amyris, Orange, Ylang Ylang, Eucalyptus, Cedar, and Rose Geranium as well as lipid-rich plant oils that include Hazelnut, Kukui Nut, Rose Hip, Borage, Olive, Green Tea, Cherry Pit, Sweet Almond, Jojoba, and Evening Primrose, and is fortified with vitamins A, B5, C, and E. The packaging feels luxurious and it has a pretty neat metal applicator that feels cold to the touch. It helps with conditioning the lips, relieves dryness and protects your lips. It's definitely a splurge product that's on the pricy side but a little bit goes a long way so a bottle will last you for awhile.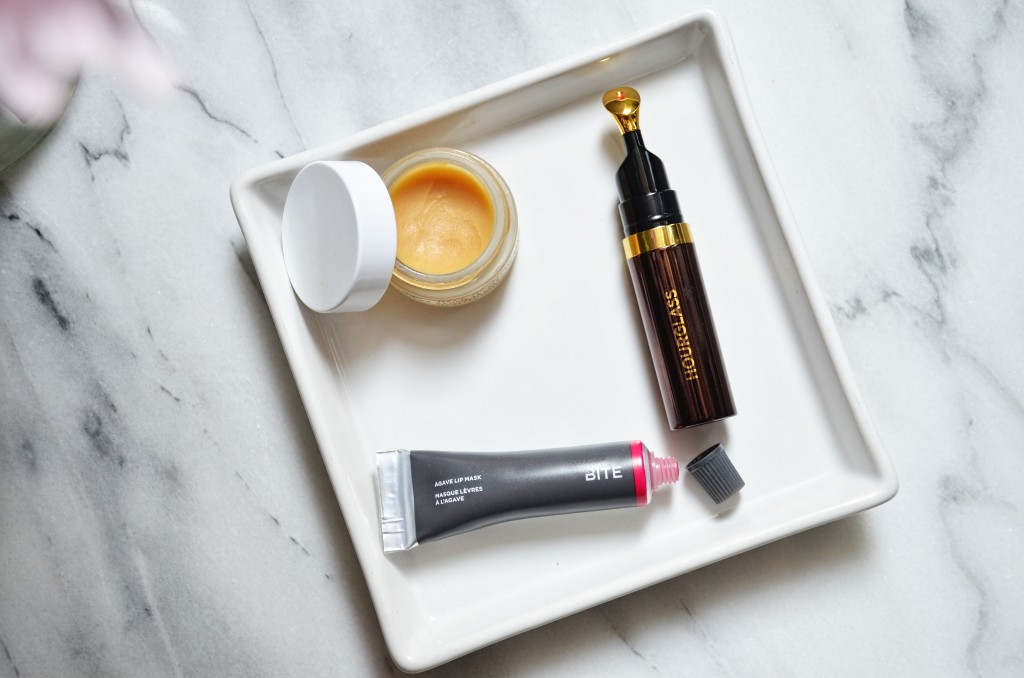 I have the Iconic shade that was released for the holidays and it is lovely. It has a red tint which sheers out as soon as you apply it on the lips and just gives you a nice flush of color. I use the Hourglass N 28 Lip Treatment Oil both night and day because it's not as thick as the other two I mention and it feels very comfortable on the lips.
Now tell me what is your must have lip treatment for dry and chapped lips?