Urban Decay x Kristen Leanne Collection is the latest release from the brand. It's a collaboration with Kristen Leanne who is a makeup artist and a Youtuber. To be hones, I didn't know who she is before the collaboration, but I checked her IG and she is a super talented makeup artist. I can see that she loves using color on her eyes so the collection looks like the perfect represetation of her style.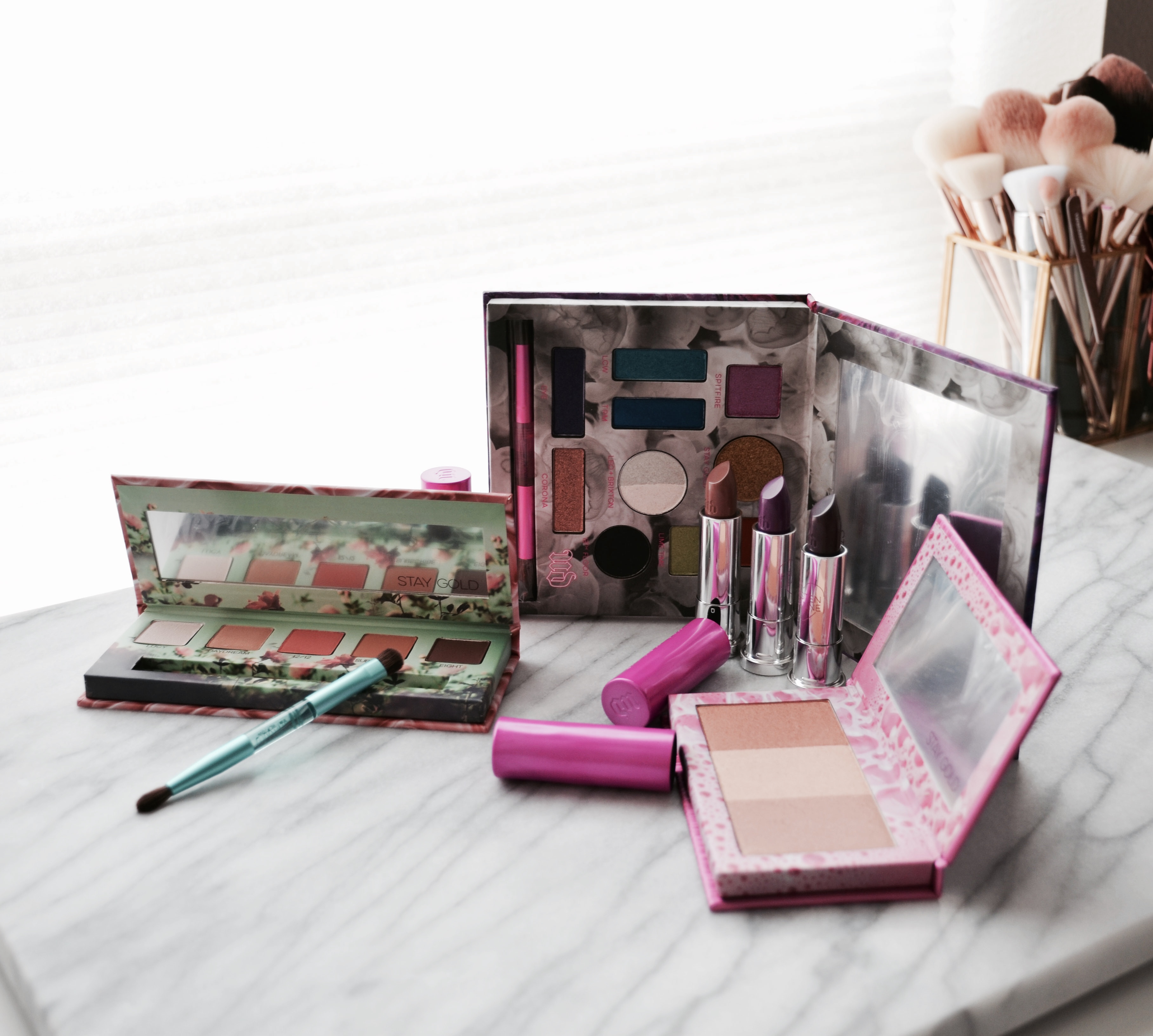 The Urban Decay x Kristen Leanne Collection comes with:
Kaleidoscope Dream Eyeshadow Palette ($39)
Daydream Eyeshadow Palette ($26)
Beauty Beam Highlighter Palette ($34)
3 Shades of the UD Vice Lipsticks in Bun Bun, Cloud 9 and Spellbound
They also have a couple of other products including a single eyeshadow and liquid lipstick which are urbandecay.com exclusives.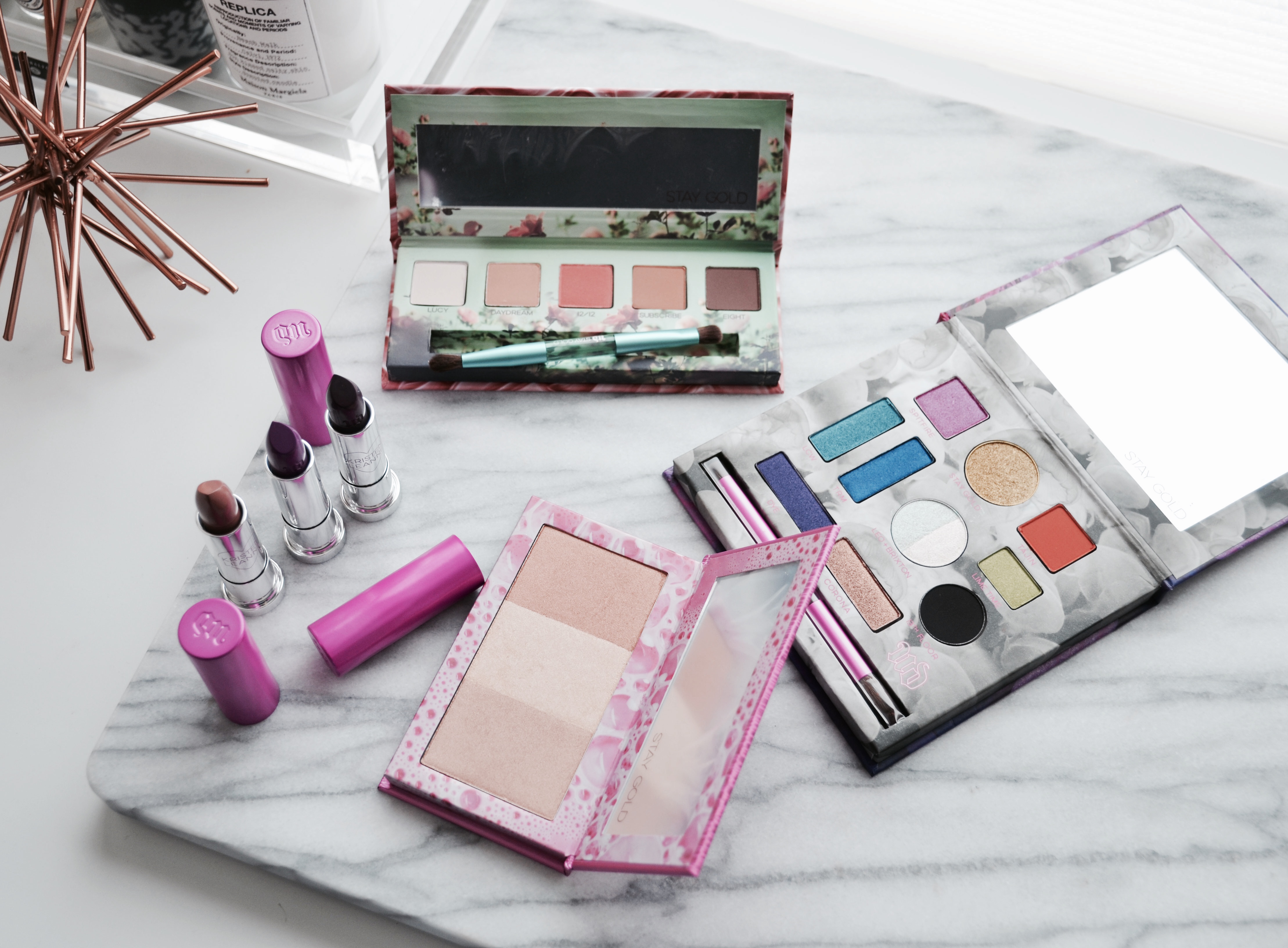 The Kaleidoscope Dream Eyeshadow Palette comes with 11 shades. It's mainly bright and vibrant shades but they also included some golden tones for the neutral lovers. You get two mattes in this palette and nine shimmery shades. There are two shades that come in the split pan which can be used on it's own or as shade shifters on top of other eyeshadows.
The shades that come in the palette are:
Spitfire (bright pink satin with purple shift)
Stay Gold (metallic yellow-gold)
Tajin (orange matte)
LCW (metallic teal blue)
TRM (metallic deep navy blue)
Leo + Brixton (holographic green pearl shift + holographic red-green pearl shift)
Lime Time (metallic neon green)
13th Floor (black matte)
Dye (violet satin)
Corona (metallic soft bronze with gold shimmer)

Swatches L to R: Spitfire, Stay Gold, Tajin, LCW, TRM, Leo, Brixton, Lime Time, 13th Floor, Dye, Corona
Holy pigment! The formula of the eyeshadows in the Kaleidoscope Dream Eyeshadow Palette is amazing. Both the shimmer and the mattes swatch beautifully and perform good on the eyes. They blend easy and you can easily layer eyeshadows if you want a more complex look.
I am not someone who loves to wear color on the eyes but this palette excites me. I think the shades also go together really well which I didn't get before I swatched them. I think because of the placement in the palette, they don't look very cohesive but they actually are. Only complain is, I think the palette needs one transition shade so you can do a whole look with the palette and not have to reach for other palettes.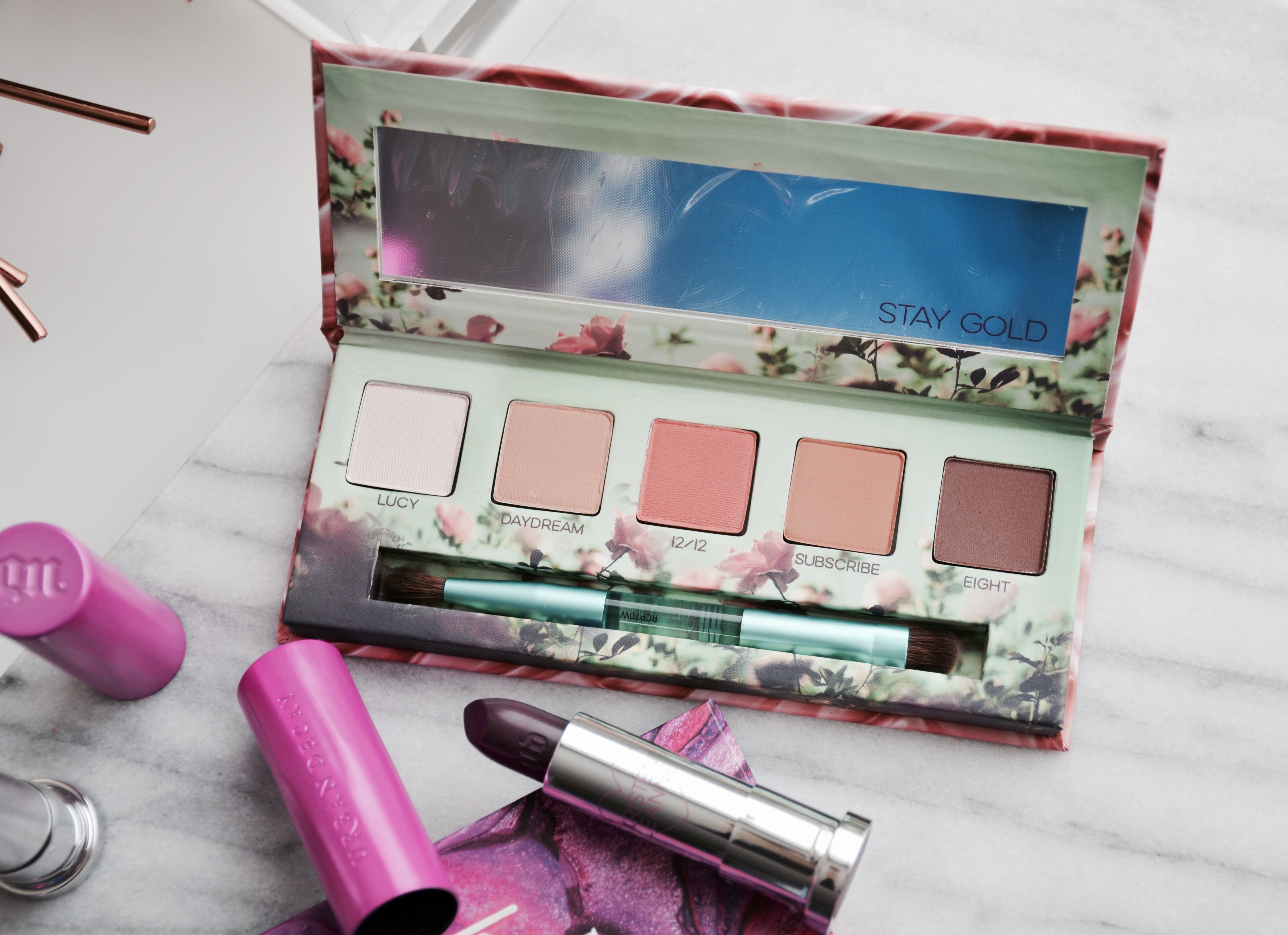 Now the Daydream Eyeshadow Palette is your every day, neutrals palette. It comes with five all matte shades and a double ended eyeshadow brush. The quality of the eyeshadows is as amazing as the other palette. For being all matte shades, the formula is creamy, not powdery and blends like a dream on the eyes.
The shades that come in the Daydream Eyeshadow Palette are:
Lucy (ivory matte)
Daydream (soft nude matte)
12/12 (soft peach matte)
Subscribe (warm nude matte)
Eight (rich warm brown matte)

Swatches L to R: Lucy, Daydream, 12/12, Subscribe, Eight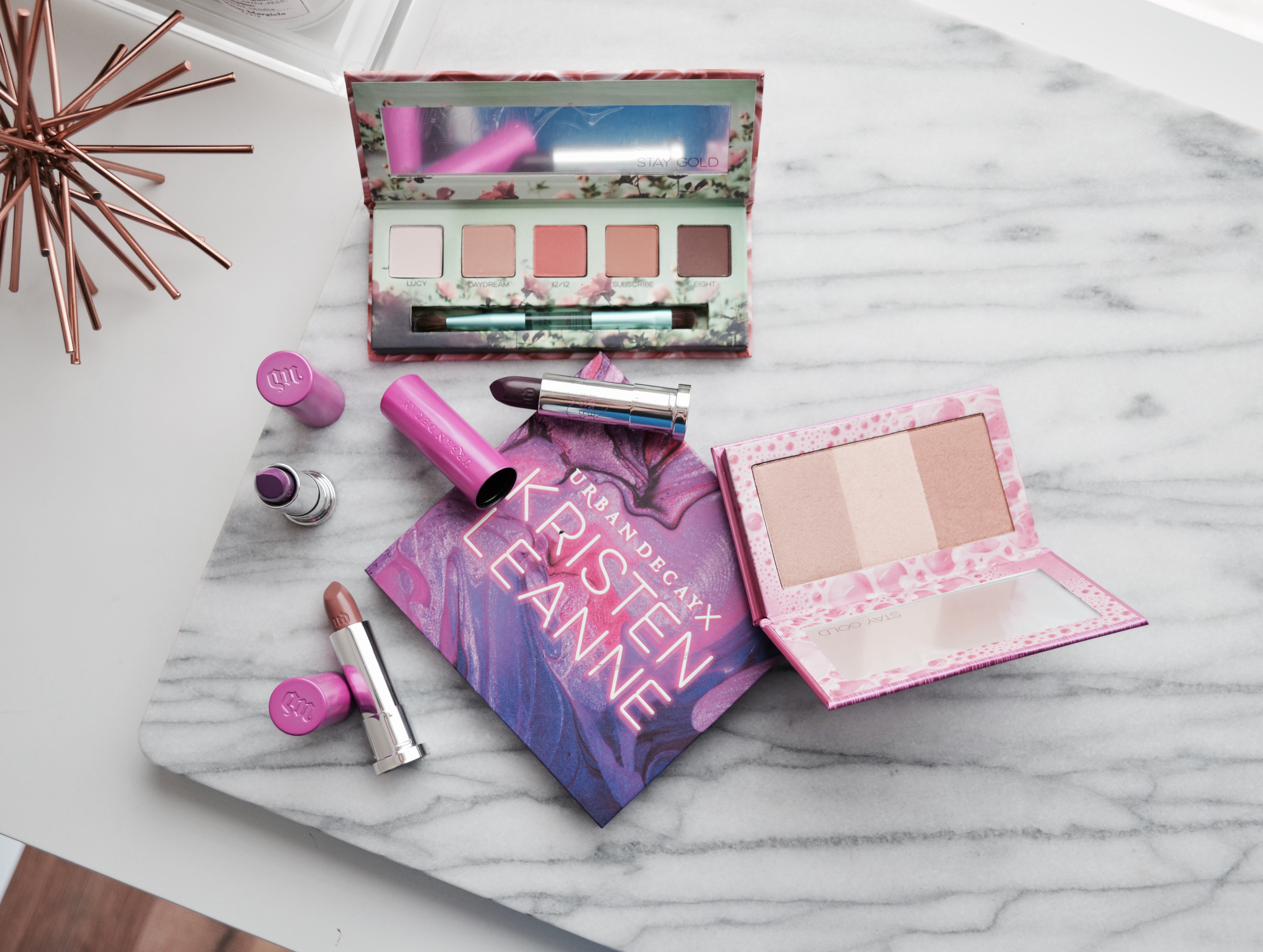 The Beauty Beam Highlighter Palette comes with three shades. The shades that come in the palette are Soft Rose (gold pearl), White (gold pearl), Warm Golden Pearl. I love that they included three different shades so the palette can suit most skin tones.
The formula of the highlighters is very smooth and buttery. They give a beautiful beaming glow on the skin without being overly shimmery. You can definitely build them up and have a very intense highlight, or you can apply a light hand for a soft day time look.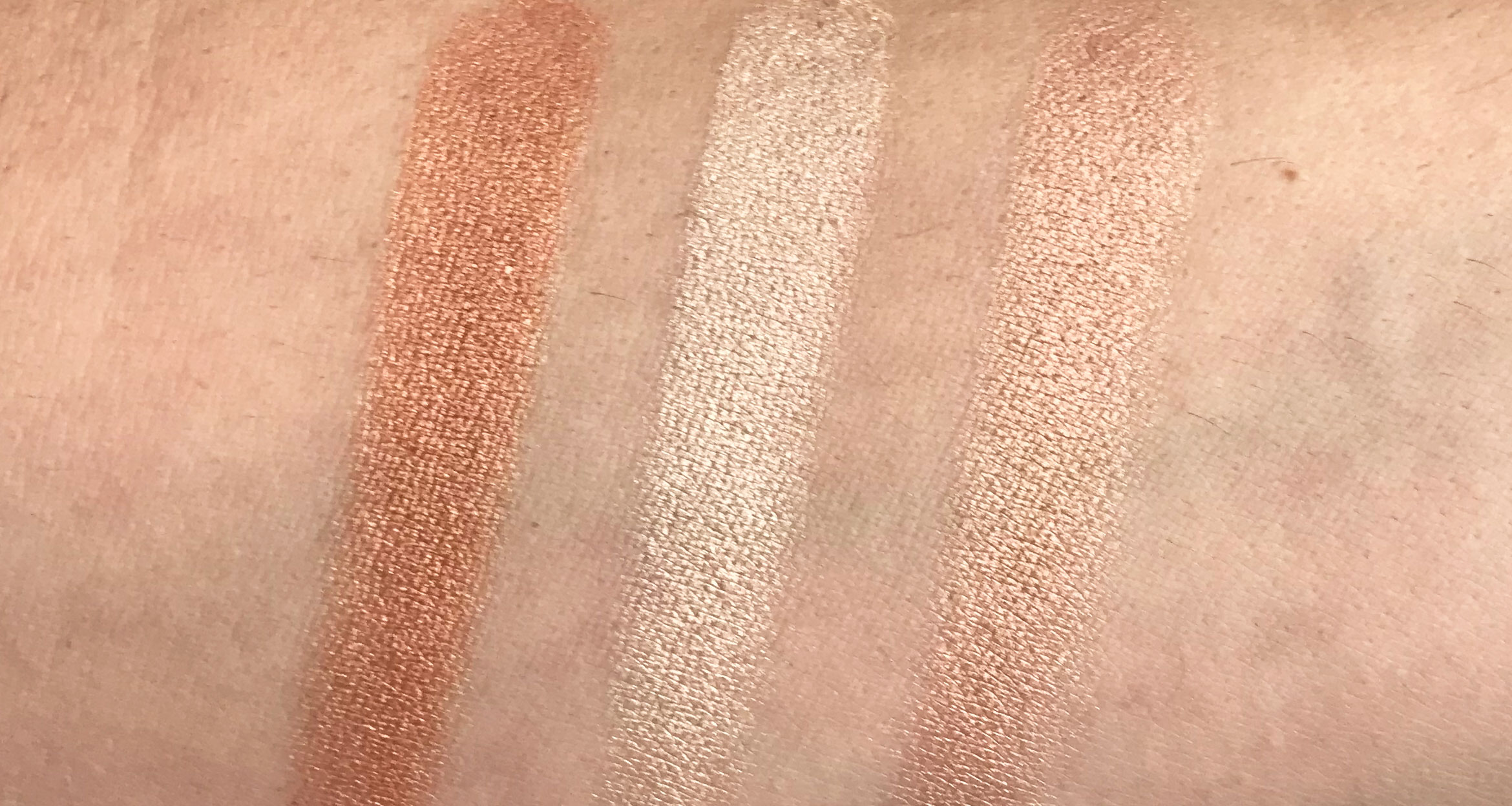 Swatches L to R: Soft Rose, White, Warm Golden Pearl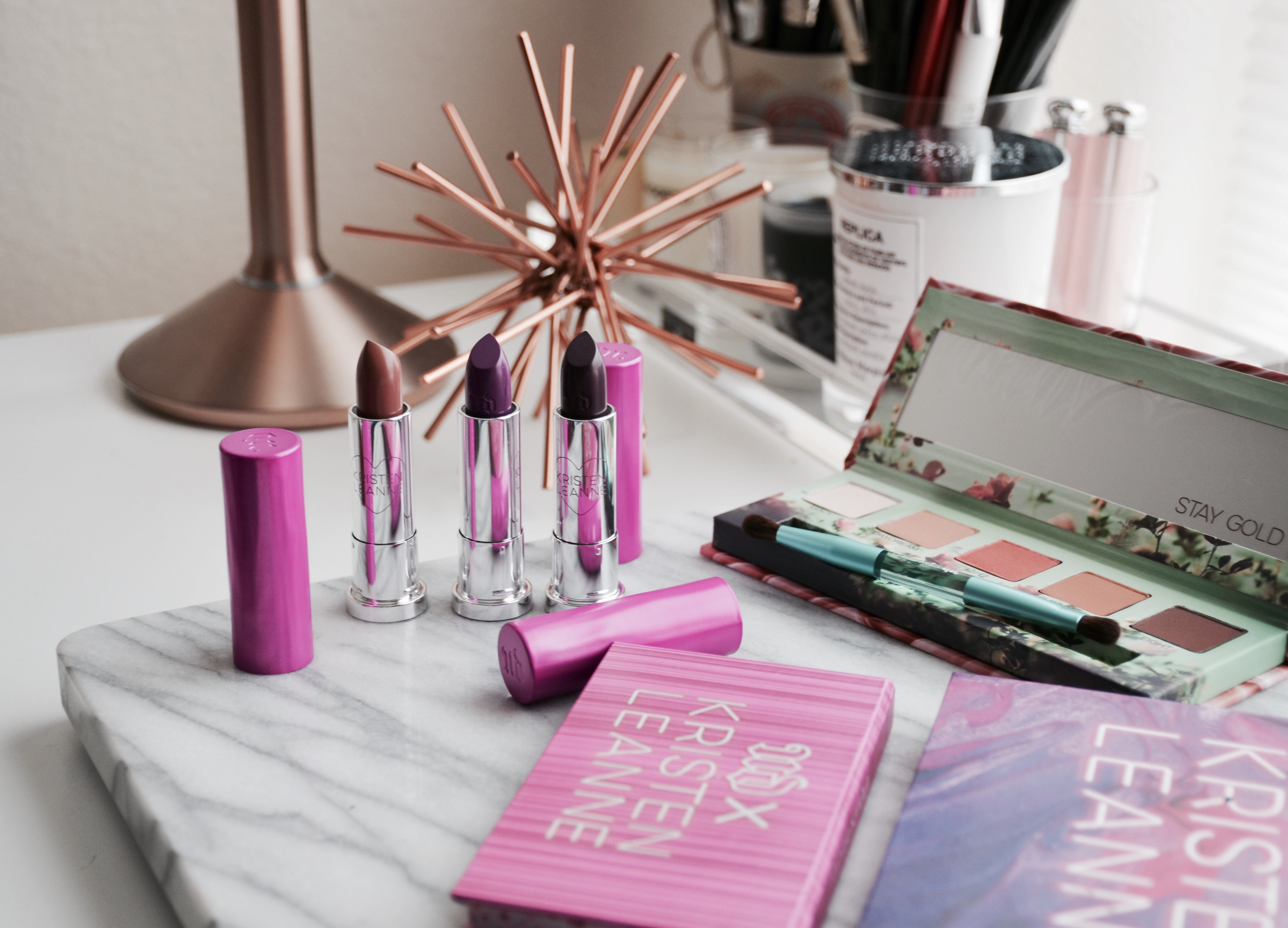 As a fan of the Vice Lipsticks, I'm glad they included three LE shades in the collection. Bun Bun, the nude in the collection is my perfect shade of nude. The shade reminds me of Velvet Teddy from Mac which is my all time favorite nude.
Bun Bun comes in the matte finish but it is not drying and feels very comfortable to wear.
Cloud 9 is a magenta purple shade also in a matte finish. This is the shade of purple I can actually pull of so I really like this shade. As with the other lipstick, this one is very comfortable to wear and applied evenly.
Spellbound is described as a deep plum shade. It's a super vampy dark plum shade that I also like to wear in winter. It had great payoff and applied evenly on the lips.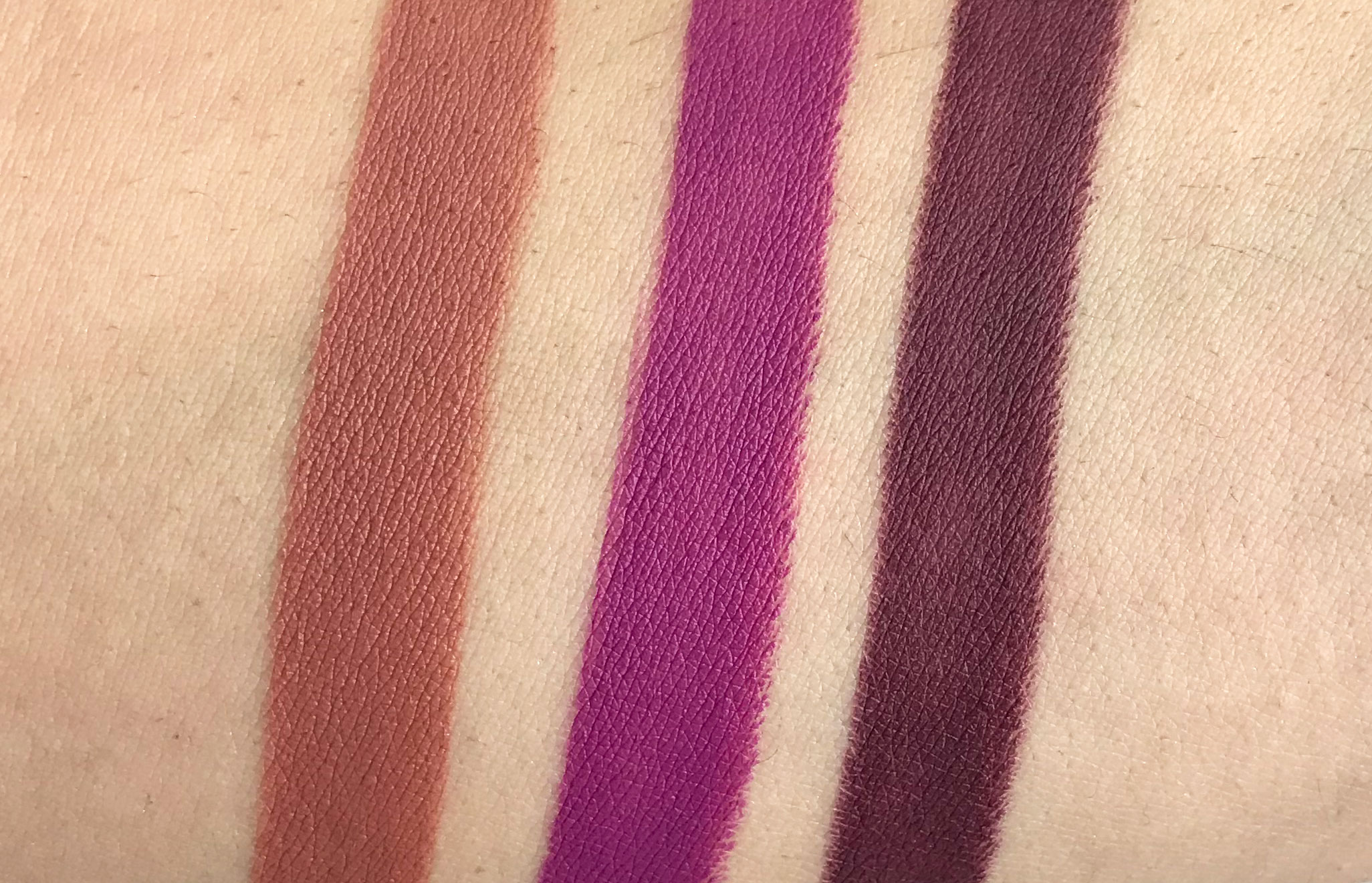 Swatches L to R: Bun Bun, Cloud 9, Spellbound

Bun Bun

Cloud 9

Spellbound
Pure love for the Urban Decay x Kristen Leanne Collection. From the quality of the products, to the colorful packaging and shade selection, I think they really caught her style. Even if you are not in to bright and colorful shades, I think there are still some options in this line. Both the Daydream Eyeshadow Palette and the Vice Lipstick in Bum Bum are awesome for everyday use if you are in to more neutral shades.
*PR Sample
SaveSave