Urban Decay Beached Collection is the brand's summer collection and it is amazing. They released a brand new eyeshadow palette, three lipsticks, two bronzers (re-promote) and two eyeliners. The Beached Collection is the epitome of summer! Featuring bronze, golds and blues, it just reminds me of a tropical vacation.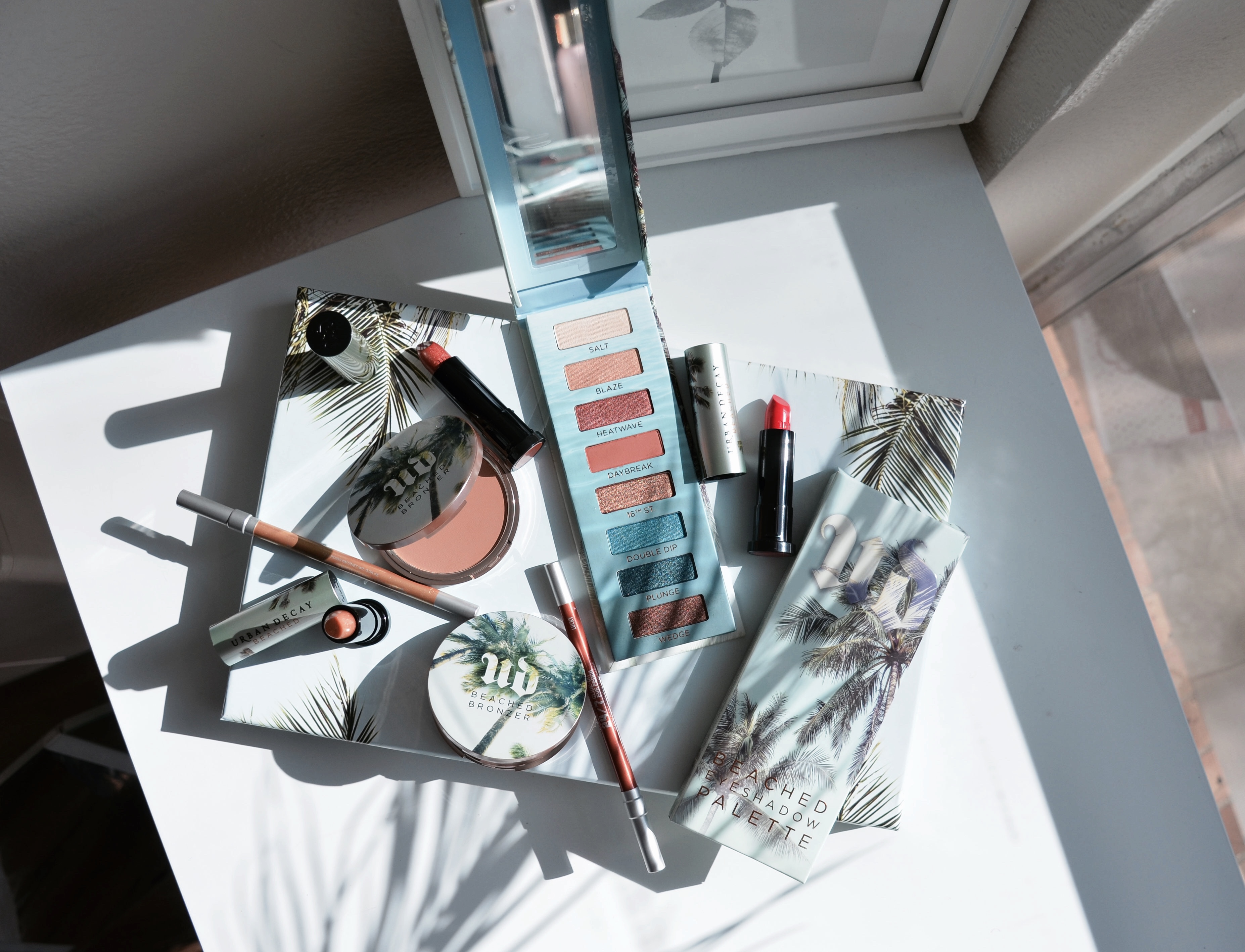 The Urban Decay Beached Summer Collection comes with:
Beached Vice Lipsticks in Tower 1, Heatwave and 100 Degrees $18 each
Beached Bronzer in Sun-Kissed and Bronzed $30 each
Beached 24/7 Glide On Eye Pencil in Goldmine and Lucky $20 each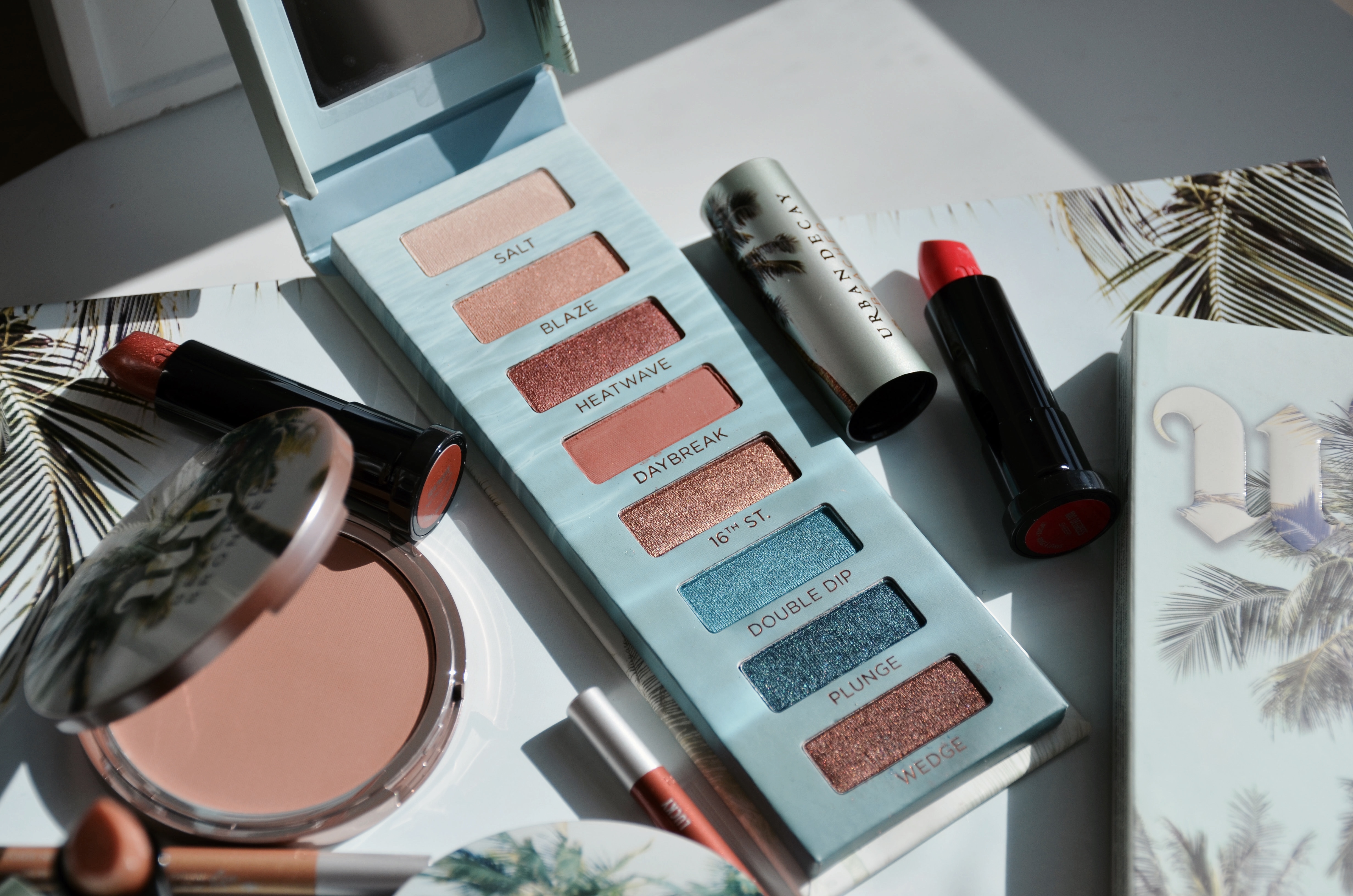 First up, the star of the collection, the new Beached Eyeshadow Palette. It comes with eight brand new shades (one satin, one matte and six metallic shades). The packaging is compact and the palm design just screams summer to me. I think they did such a good job with the shade selection as the palette is not your usual neutrals palette. It features warm wearable shades but also two pops of color that remind me of the ocean.
The shades that come in the Beached Eyeshadow Palette are as follows:
SALT (ivory satin)
HEATWAVE (metallic rust)
16th ST. (metallic bronze-gold)
PLUNGE (deep metallic blue-green)
BLAZE (light metallic peach with pink shift)
DAYBREAK (deep reddish terra-cotta matte)
DOUBLE DIP (bright metallic teal)
WEDGE (deep metallic brown-copper)

Swatches L to R: Salt, Blaze, Heatwave, Daybreak, 16th St., Double Dip, Plunge, Wedge
The formula of the eyeshadows is fantastic. As expected from UD eyeshadows, the metallics are very creamy and super pigmented (I also didn't have any problems with fallout). The one matte shade is also super pigmented so you definitely need to use a light hand with your brush.
It is a lovely palette and a good take on a summer eyeshadow palette. I don't usually wear blue eyeshadow all over the lid but I love to add a pop of color on my lower lash.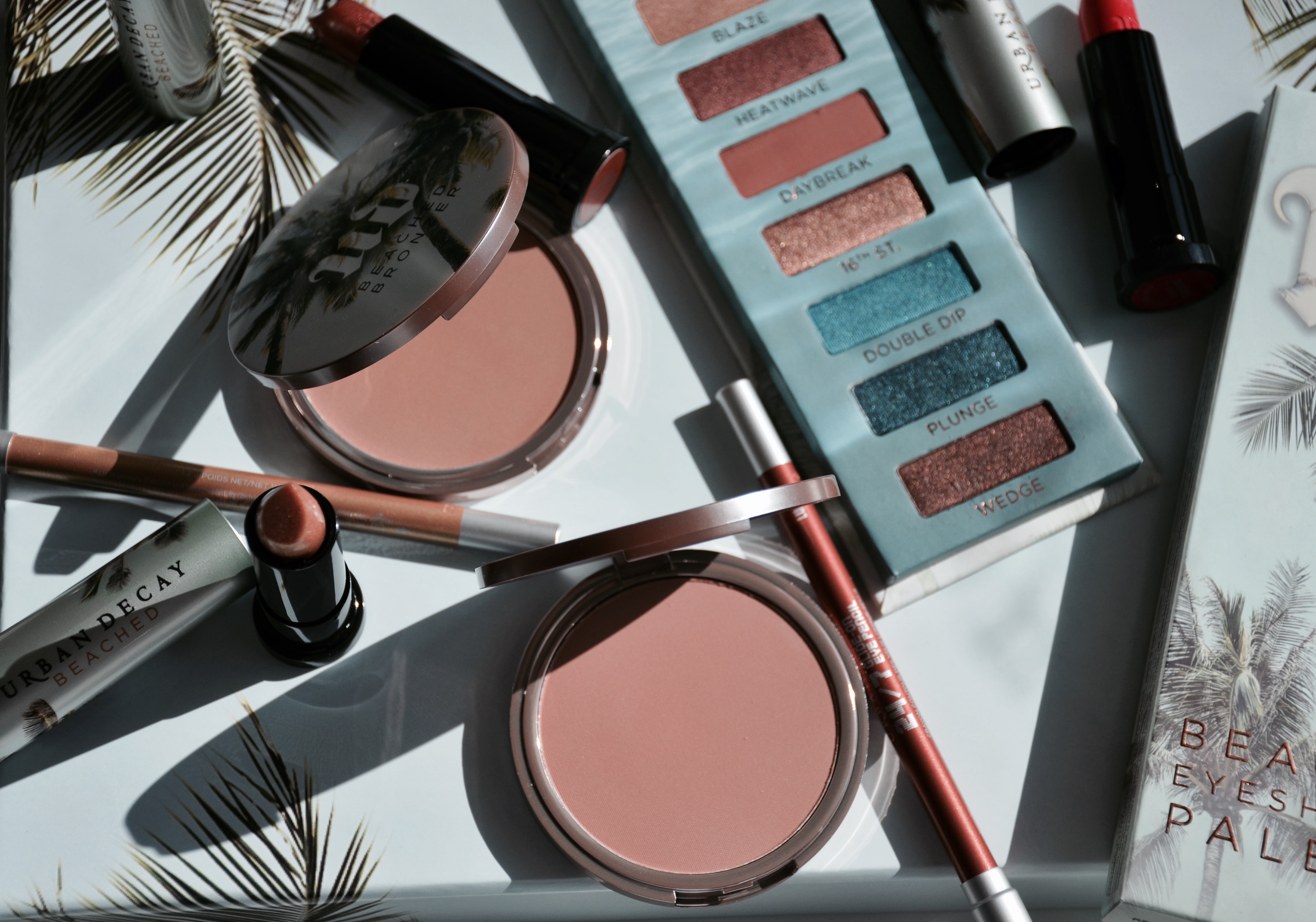 The two bronzers that come in the collection are re-promotes. They were part of Urban Decay's Summer Collection from last year. Both Sun-Kissed and Bronzed come in a matte formula that is easy to blend and has good pigmentation. I would recommend Sun-Kissed for fair and light skin tones and Bronzed for medium and deeper skin tones.
I'm not going to go in details about the bronzers since I already did a review last year that you can check out here. To keep it short, they are great bronzers for achieving a summer bronzed glow.
The two shades of the Beached 24/4 Glide On Eye Pencils are also summery shades. Goldmine is gold shimmer with gold micro-sparkle and Lucky is a burned metallic orange. Both go really well with the eyeshadow palette from the collection but I also like to wear them on their own. If you haven't tried the 24/7 Glide On Pencils, they are one of the most long-wearing but creamy pencils on the market. Highly recommend!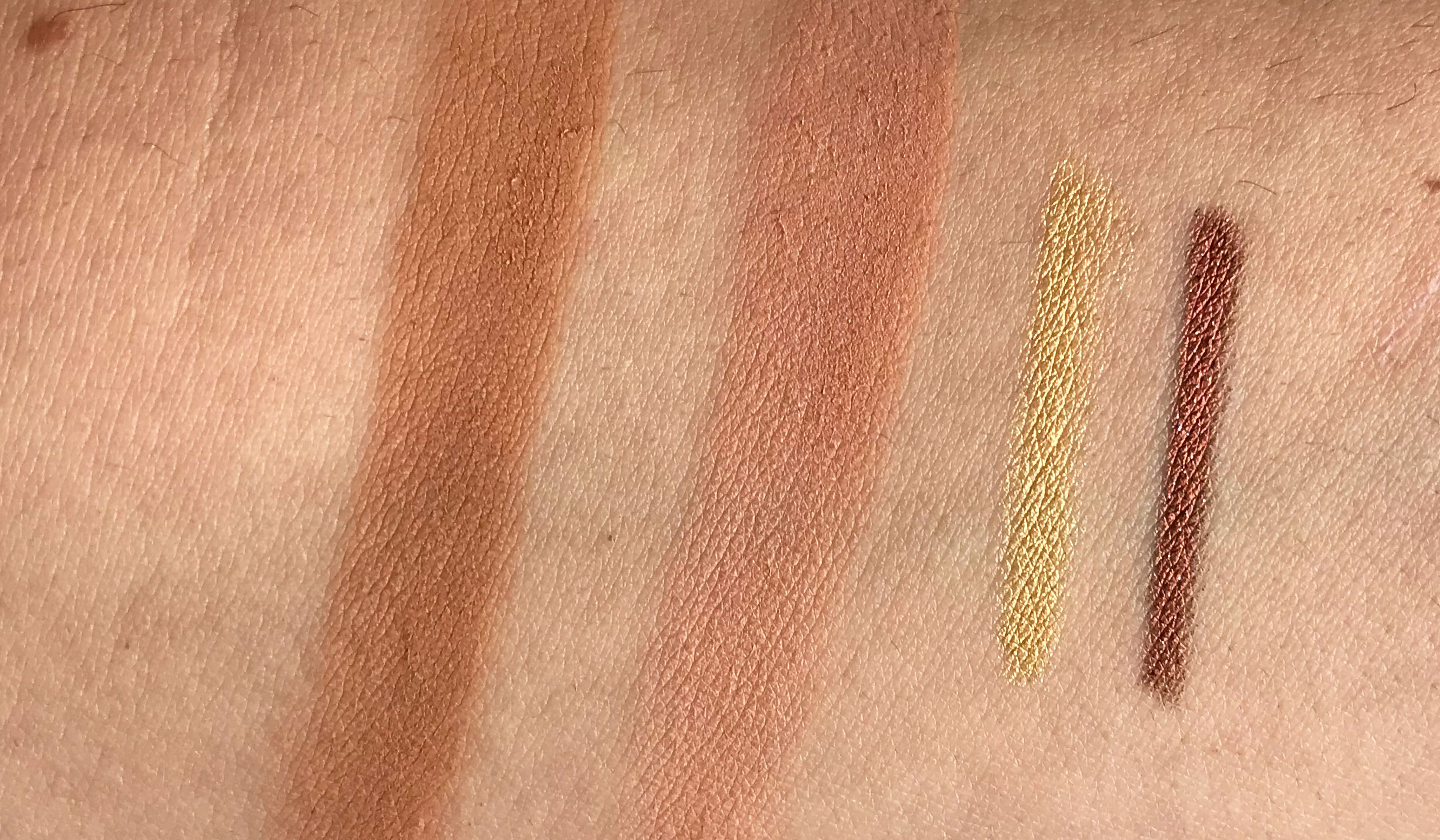 Swatches L to R: Bronzed, Sun-Kissed, Goldmine, Lucky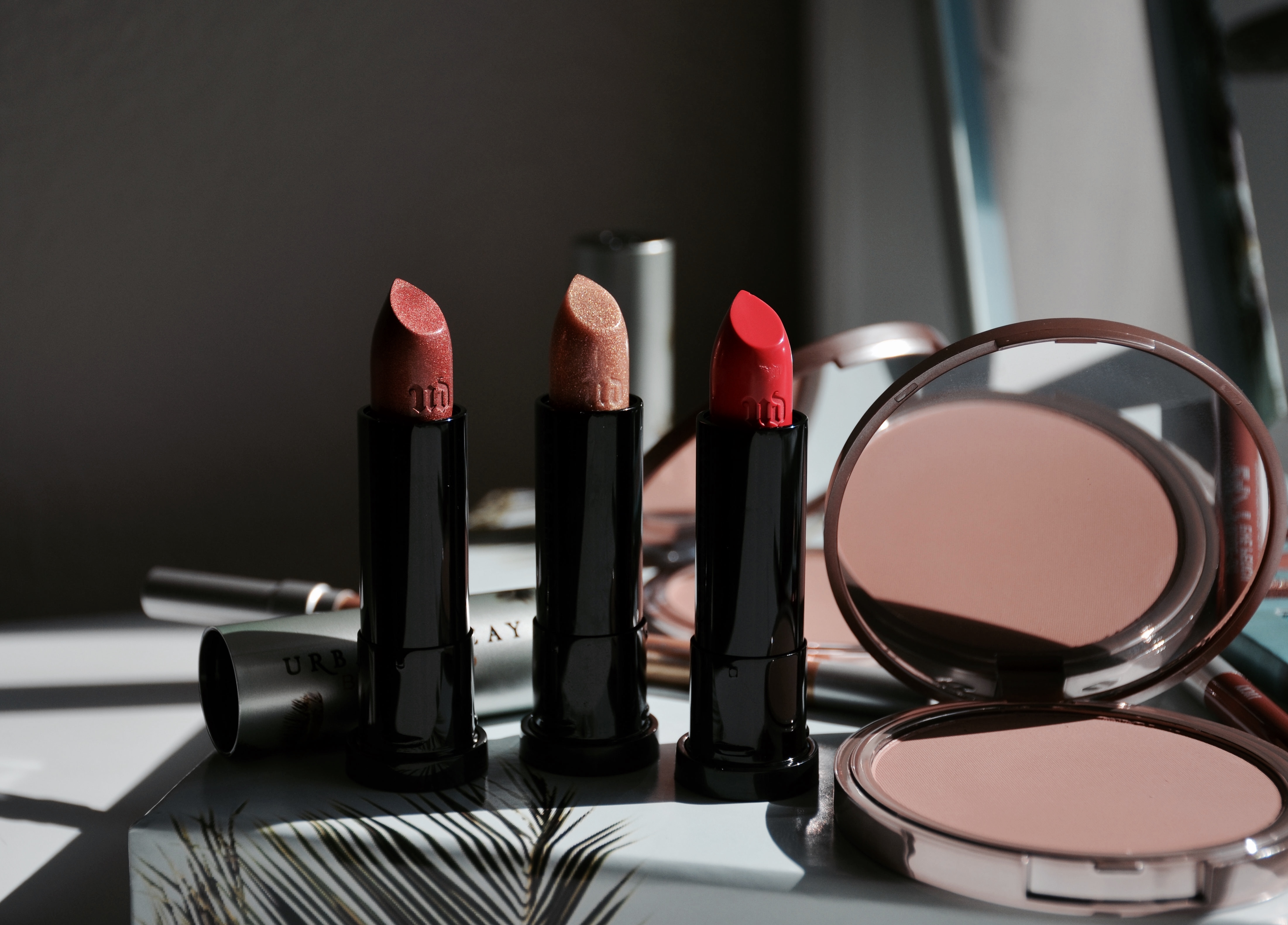 There are three lipstick shades in the Urban Decay Beached Summer Collection:
Tower 1 (shifty metallic peach)
100 Degrees (bright coral pink)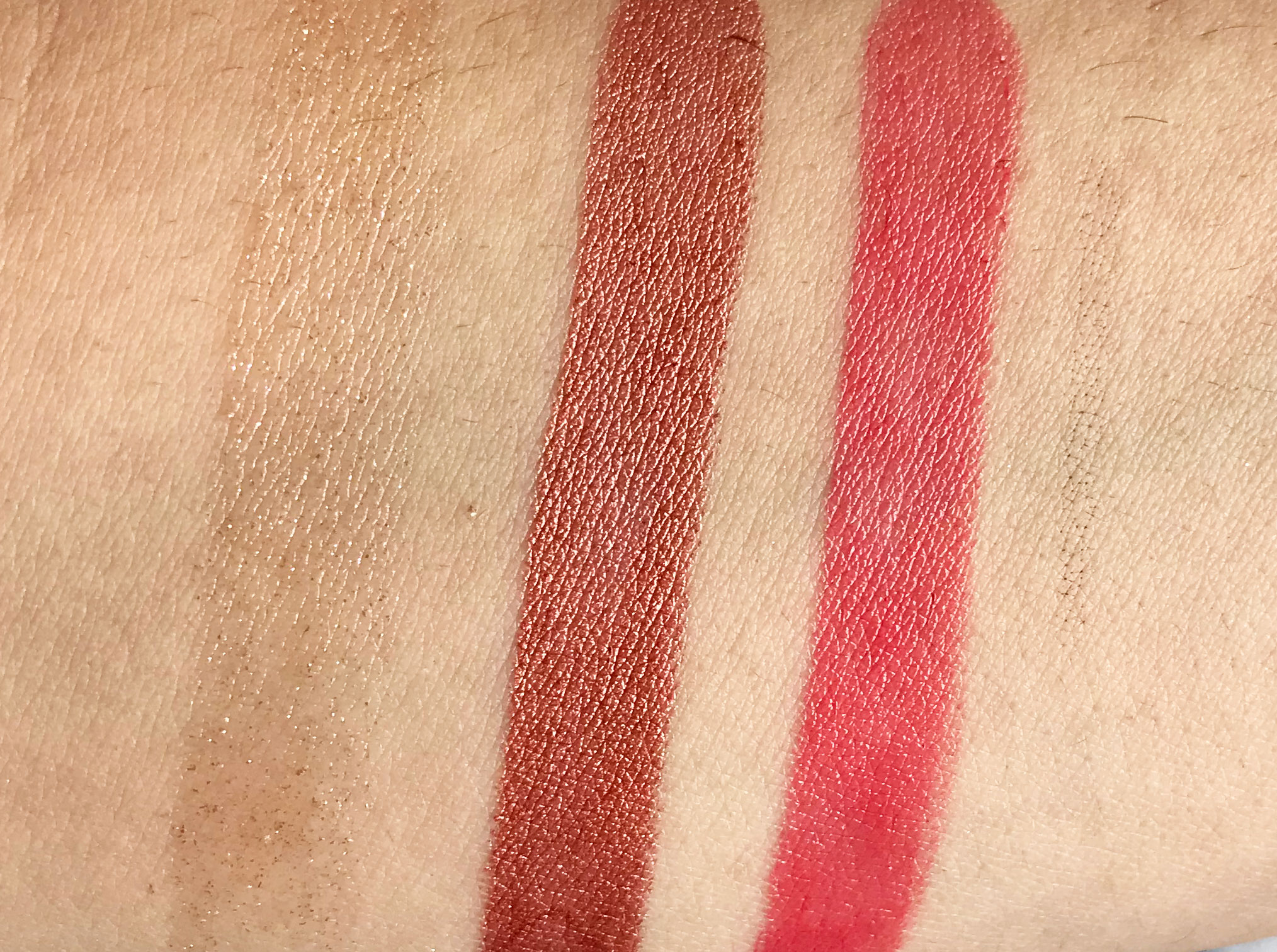 Swatches L to R: Tower 1, Heatwave, 100 Degrees 

Tower 1

Heatwave 

100 Degrees
I adore the shade in 100 Degrees! It comes in the Vice Lipstick sheer formula which makes it very wearable and not so intense. The formula is creamy and has a glossy finish which is perfect for the summer time.
Both Heatwave and Tower 1 are metallics which I don't wear often. Tower 1 is very sheer and almost appears like a shimmery gloss on the lips so it makes it more wearable for me.
Bottom line, a big hit for me. There is not a product in the Urban Decay Beached Summer Collection that I didn't like. It really is a good representation of a summer collection.
The Urban Decay Beached Collection is an Ulta exclusive but you can also find it on urbandecay.com.
*PR Sample