Urban Decay Backtalk Face & Eye Palette is the newest palette release from the brand that was inspired by the Backtalk lipstick. It's a two in one palette that has the rose and muted mauves theme. It comes with a removable mirror in the middle and an eyeshadow palette on one side, and a cheek palette, on the other.
There was a lot of buzz around this palette as soon as the promo pictures came out. At first glance, I though that the palette will be a cool toned mauve. But it actually leans quite warm. I don't mind that since I prefer warm toned eyeshadows on my skin rather than cooler tones.
The Urban Decay Backtalk Eye & Face Palette comes with:
8 Eyeshadows in::
3 Sheets (pale pink-nude matte)
Bare (light pinky-peach satin)
Curve (metallic rose shimmer with silver micro-glitter)
Backtalk (soft rosy mauve matte)
Shade (deep fuchsia satin)
Attitude (metallic red-copper)
WTF (reddish brown matte)
180 (metallic brown-red)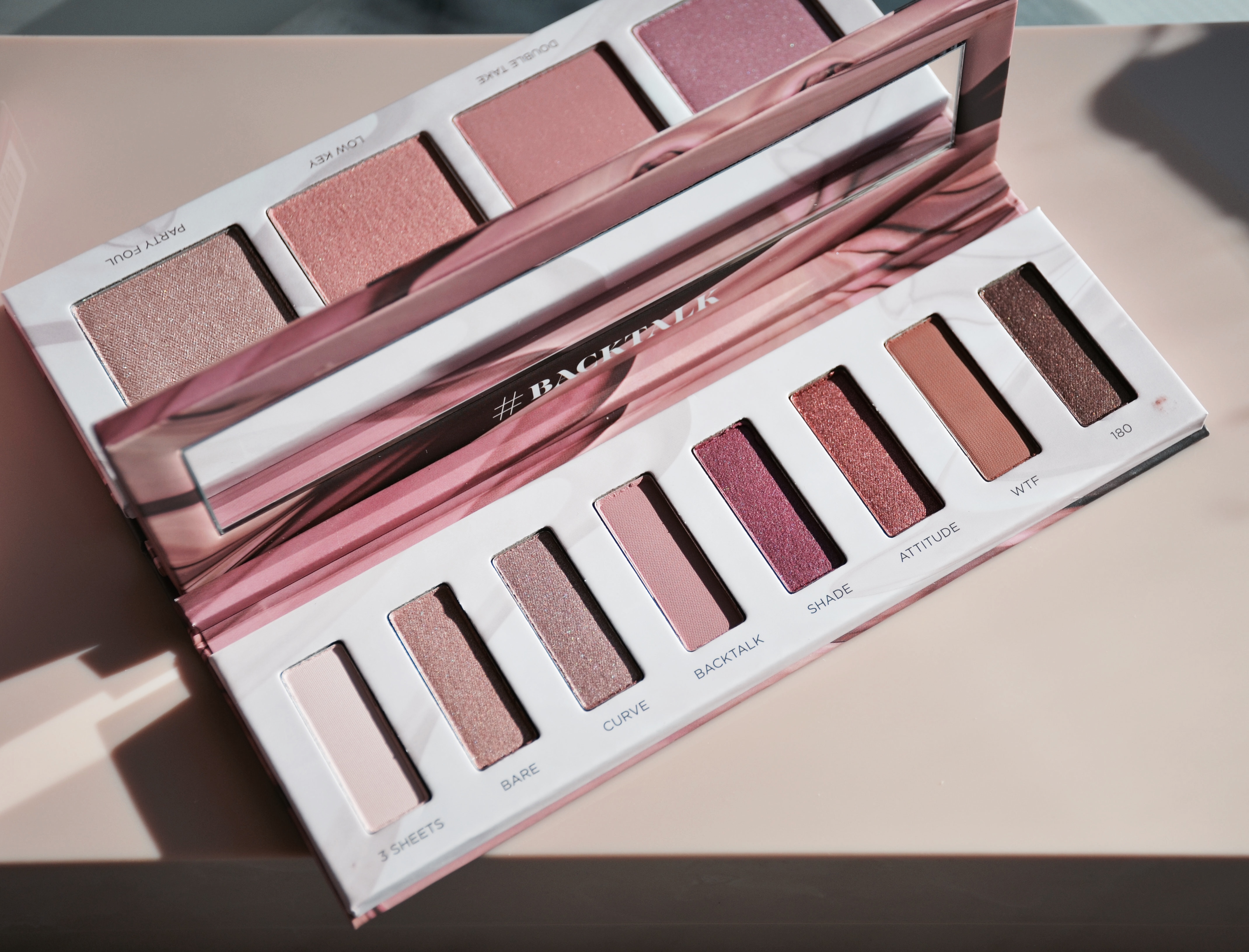 4 Blush & Highlighters:
Cheap Shot (medium pink-nude)
Double Take (rich mauve with slight shimmer)
Low Key (pink-peach)
Party Foul (light pink-nude shimmer)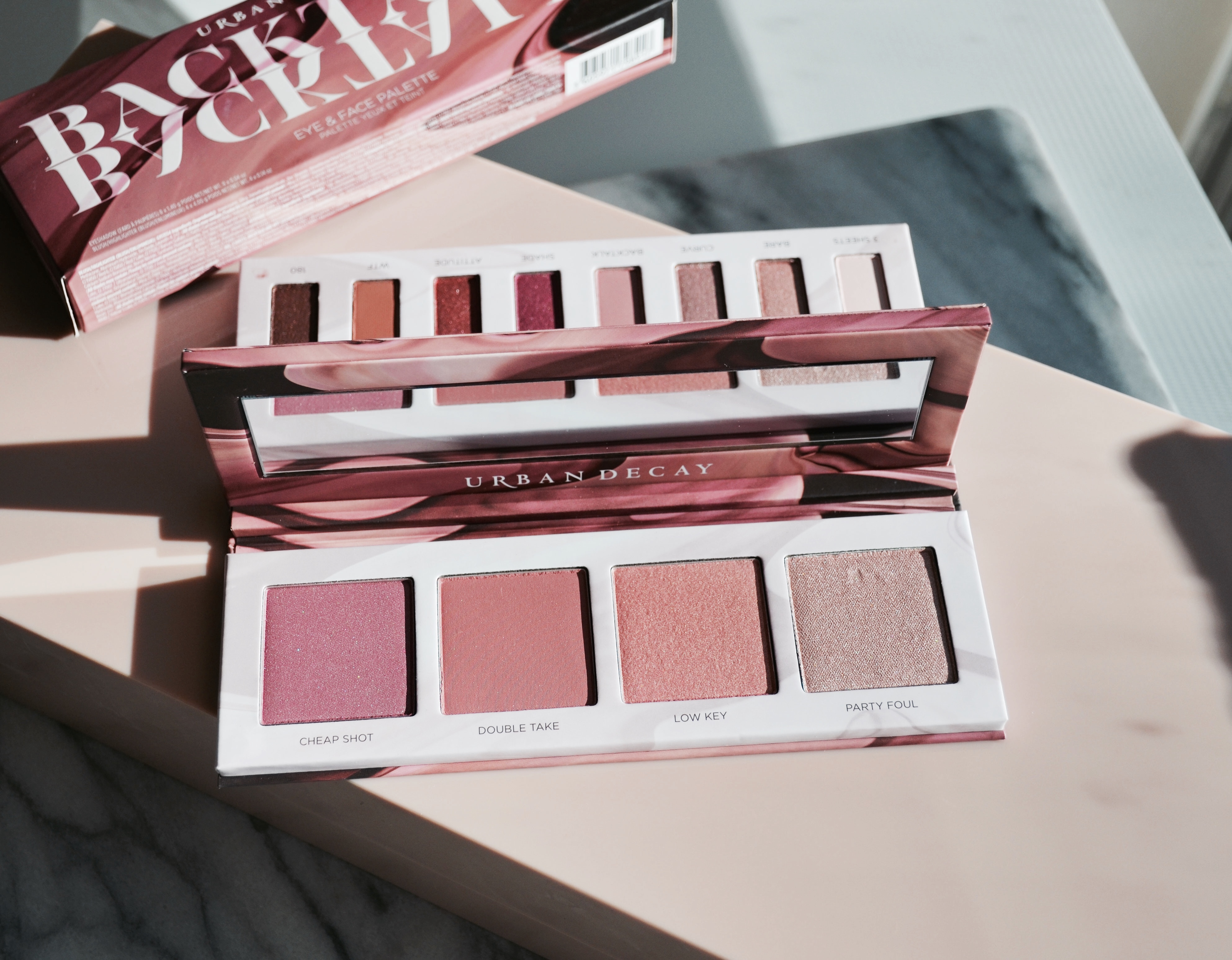 The formula of the eyeshadows is on par with other Urban Decay eyeshadows. The mattes are pigmented and blend nicely on the skin. The shimmery shades are more subtle than other shimmery shades I have from the brand but the pigment is still there. As for the shade selection, I would of liked either Bare and Curve to be a different color. The finish of the eyeshadows is different but they look identical on the eyes.
Since the eyeshadows are pressed harder in the pan, I didn't experience any fallout even with the shimmery shades. I love a softer, more natural look on the eyes but if you would like to intensify the shimmers, you can always use a setting spray. That way you get a more metallic finish rather than a subtle shimmer.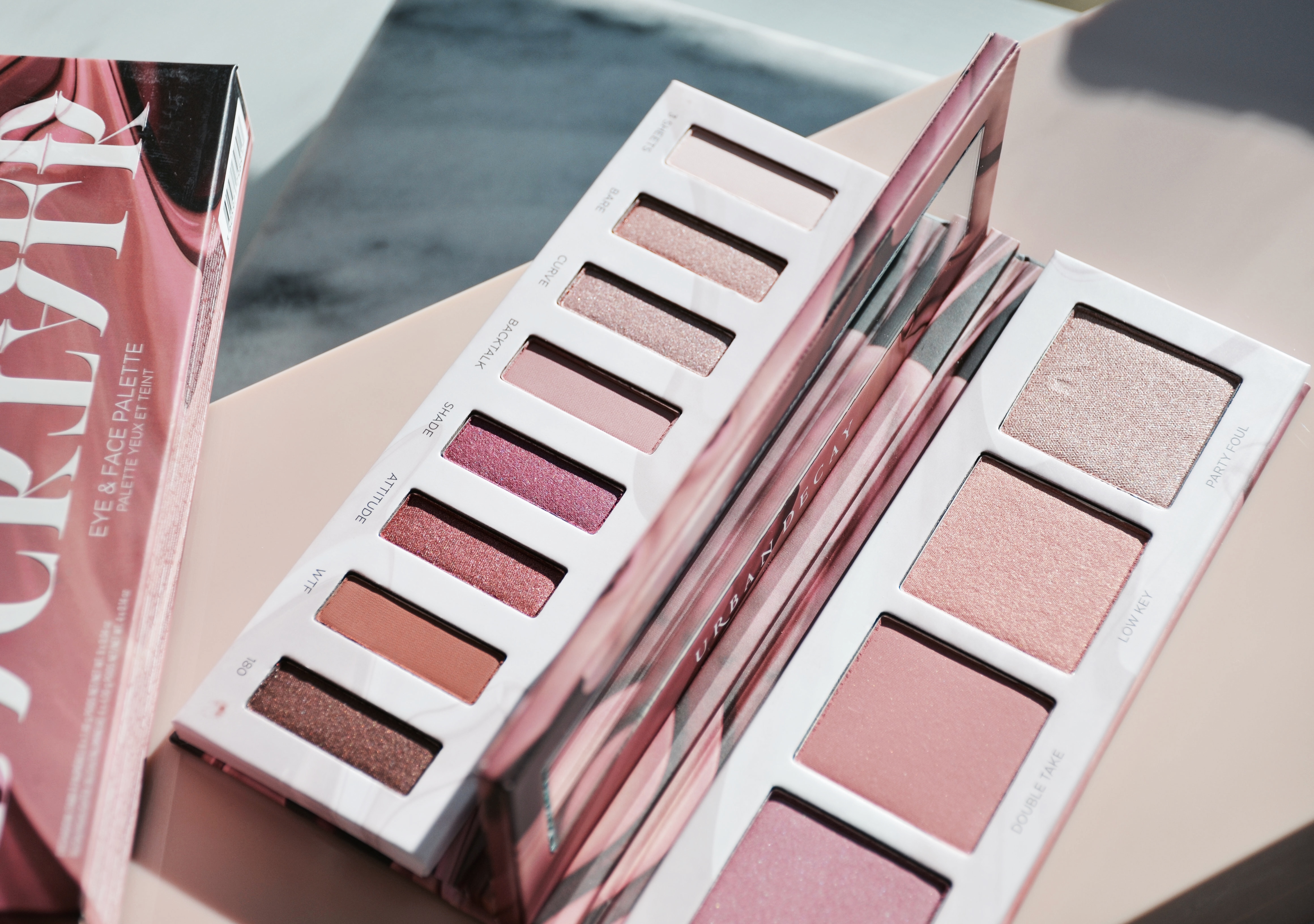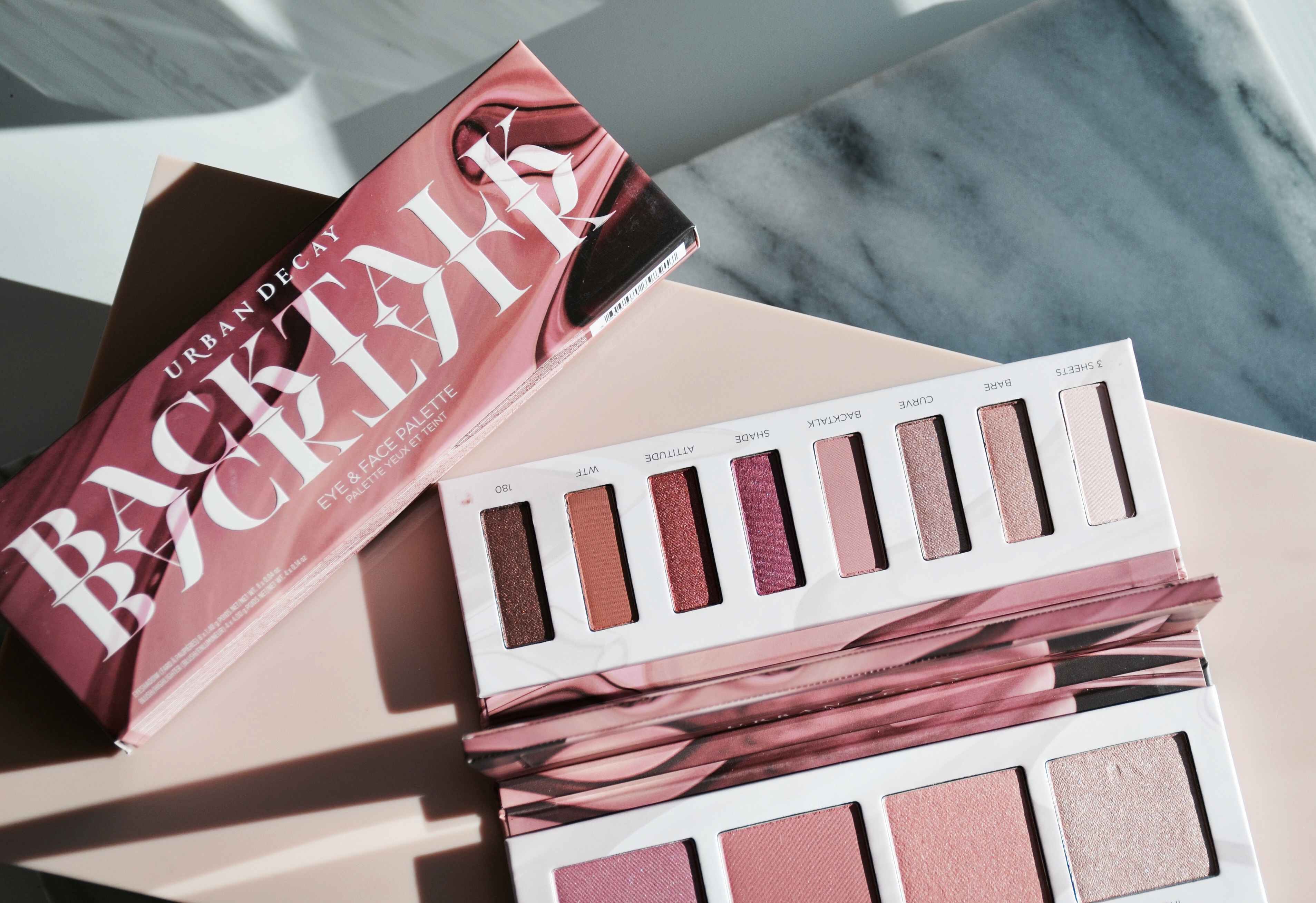 Swatches L to R: 3 Sheets, Bare, Curve, Backtalk, Shade, Attitude, WTF, 180
As you can see by the swatches, the shimmers are what I would call a sophisticated shimmer. They don't have glitter particles in them so I think they are great for creating day time appropriate looks. I also think that you get all the shades needed to create a complete look.
Both Cheap Shot and Double Take work great as blushes on my light to medium skin tone. The formula of the blushes is buildable and not overly pigmented which I prefer when it comes to blushes. You can easily do a natural flush of color or build them up for a more intense blush look.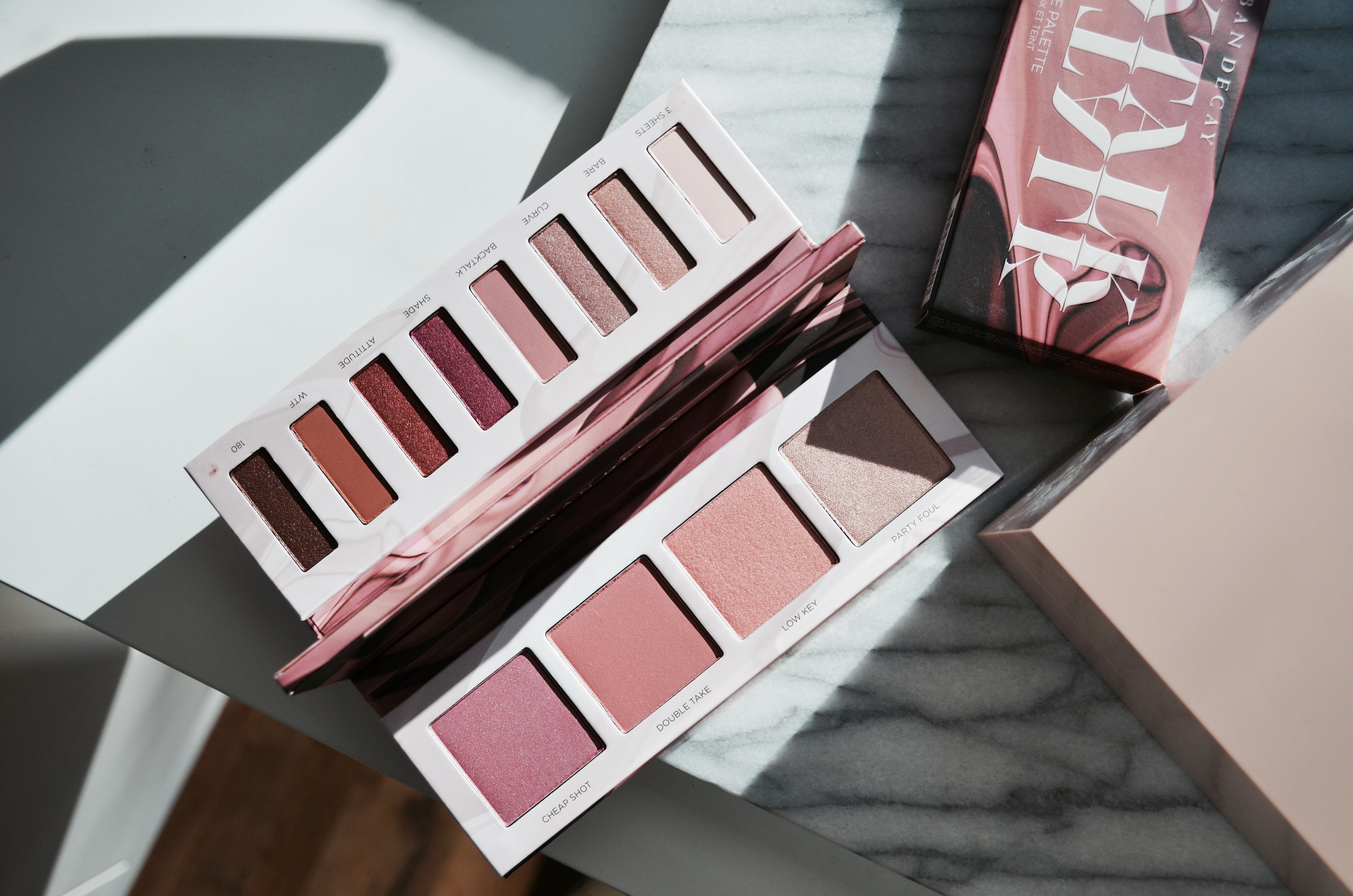 Low Key is a tad too dark for my skin to work as a highlighter but it works really well as a blush topper. When I'm tanner in summer I can definitely use it as a highlighter. Party Foul is a stunning pinky nude highlighter that will suit a lot of skin tones. The finish of the highlighters is similar to the single pans that Urban Decay had last summer. You can get a subtle glow on the cheeks but you can also build them up for a beaming look.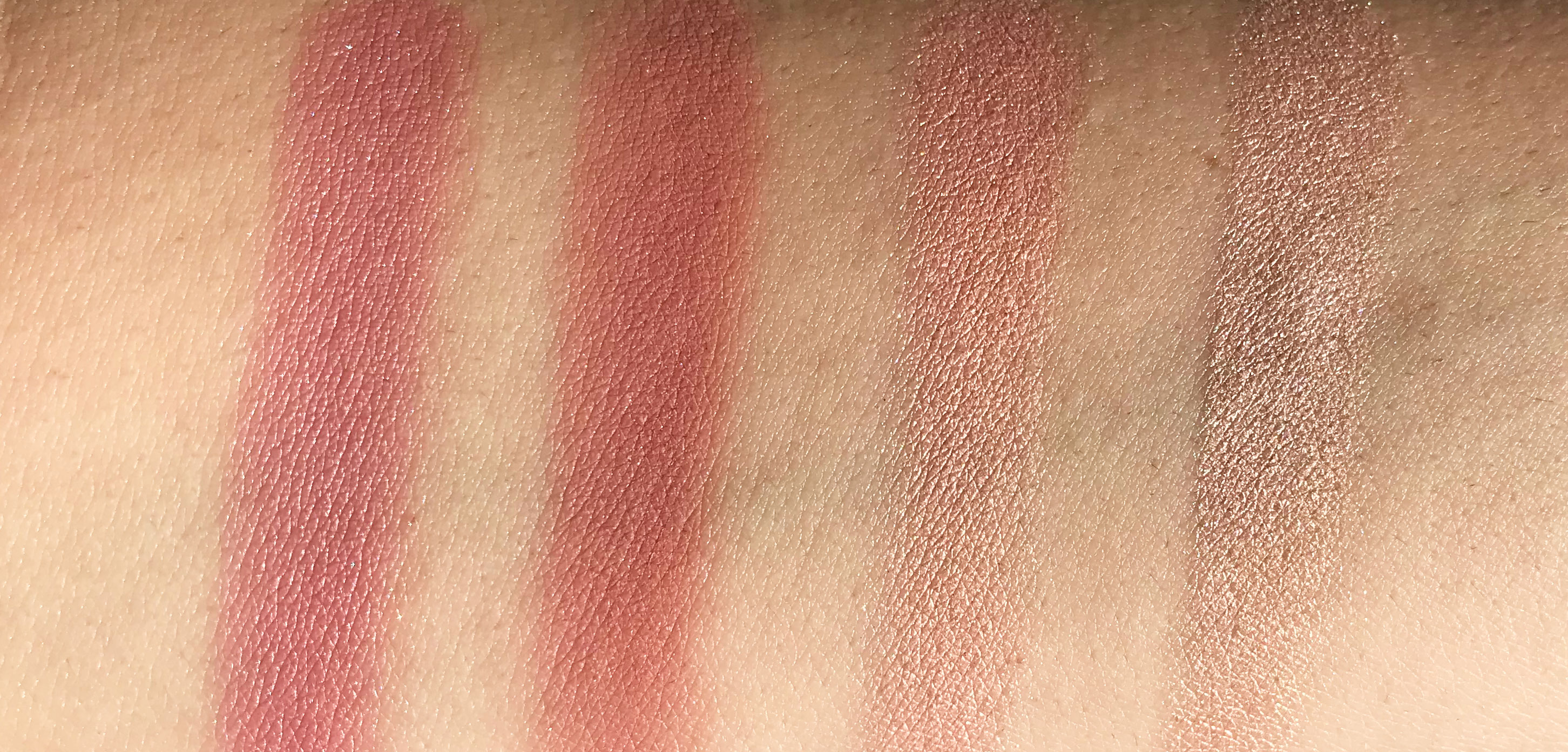 Swatches L to R: Cheap Shot, Double Take, Low Key, Party Foul
A lot of you asked me how the Backtalk Eye & Face Palette compares to the Naked 3 palette and I don't think that they are similar. The Backtalk palette leans way warmer than the cooler tones that the Naked 3 has.

Swatches of the Urban Decay Naked 3 Palette
Bottom line, I really like the Urban Decay Backtalk Eye & Face Palette. I don't usually read reviews before I test something just to make sure it doesn't influence my judgement but I looked at the Sephora reviews before I posted this and I was surprised by all the negative reviews. I'm not sure if there are inconsistencies in the quality but for me, I didn't have any problems with pigmentation at all. So my advice is, to go to the store and swatch the palette to see if you would like it.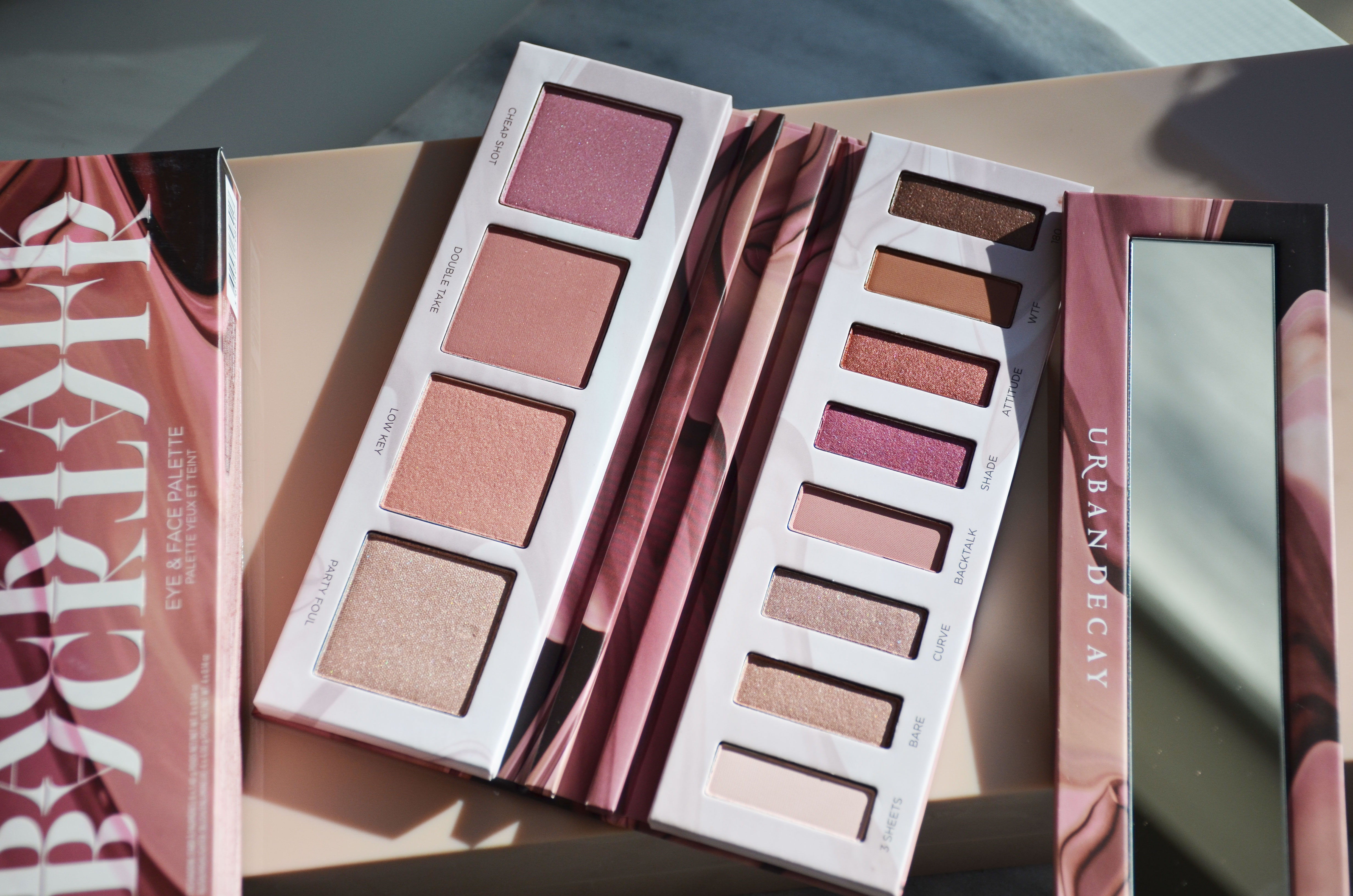 For me, since I like more subtle looks, the Urban Decay Backtalk Eye & Face Palette works really well. I can easily do daytime looks but also take it to night with darkening the look. I like that the shimmers are more subtle as they look nicer on my eyes. I find that since I'm in my 30's, super shimmery eyeshadows don't work really well for day to day use. Also if you are beginner when it comes to makeup, this is a great option since the palette is very easy to work with.
*PR Sample