Who is excited for fall? I'm still in a summer mood but with all the Christmas collections popping up already, I can definitely feel the holiday spirit. So I decided to switch things up a little bit. Instead of doing separate reviews (which you usually see on my blog), I combined some skincare and makeup bits that I tested and that have worked out really well for me. I included my thoughts and swatches as usual.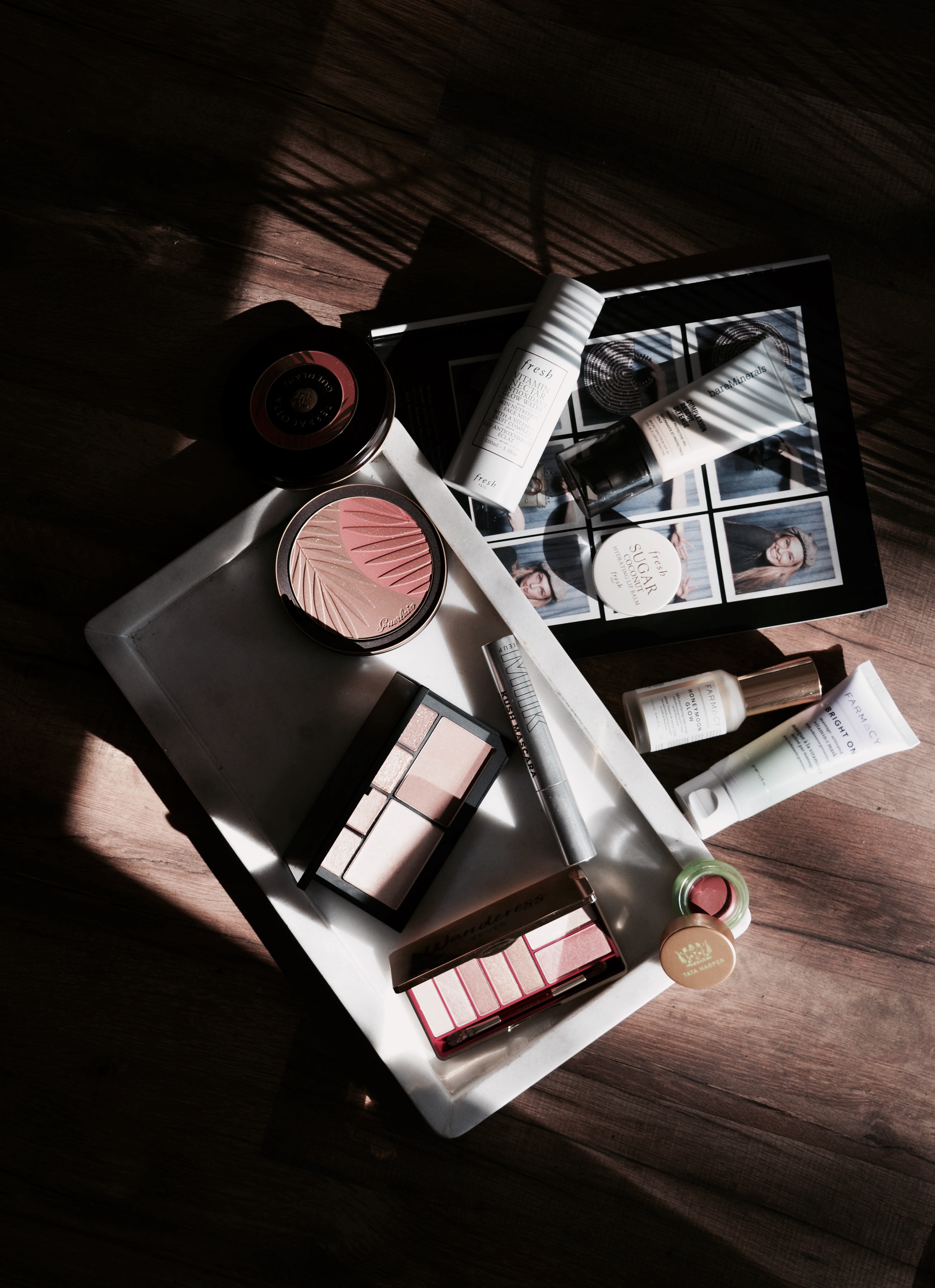 SKINCARE
Fresh Vitamin C Antioxidant Glow Face Mist* (pictured is the mini size which is perfect for travel) – It is an alcohol free multi vitamin face mist that provides antioxidants while giving the skin a dewy glow. It's formulated with vitamins C, E, and B5, lemon and orange fruit extracts, and minerals. Helps with dryness and dull looking skin and can be used before makeup application, as a primer or anytime you need a skin boost. The mist is so fine that distributes the spray evenly, and the best thing is that the mist is fast drying. Love to use this before I apply my foundation and even over foundation for a dewy finish. I also like to use it in my skincare routine when I need extra hydration. Love it!
bareMinerals Complexion Rescue Defense Radiant Protective Veil* – The first mineral based all in one veil that protects from blue light. It has SPF 30 and protects both from damaging UV rays but also from blue light, which comes from cell phones and computer screens. The lightweight cream is formulated with sugar molecules, cacao extract and mineral SPF 30. It has light reflecting pearls that leave a beautiful glowy finish on the skin without any shimmer. You can wear this under or over makeup or on it's own. I really like how light-weigh the cream feels and also the fact that it doesn't have a sunscreen smell. It is light but also hydrating enough even if you have dry skin. Highly recommend it to anyone who doesn't like a thick sunscreen as this feels like more of a moisturizer than a sunscreen. The blue light protection is a definite plus as we all know how much time we spend in front of our computers and phones.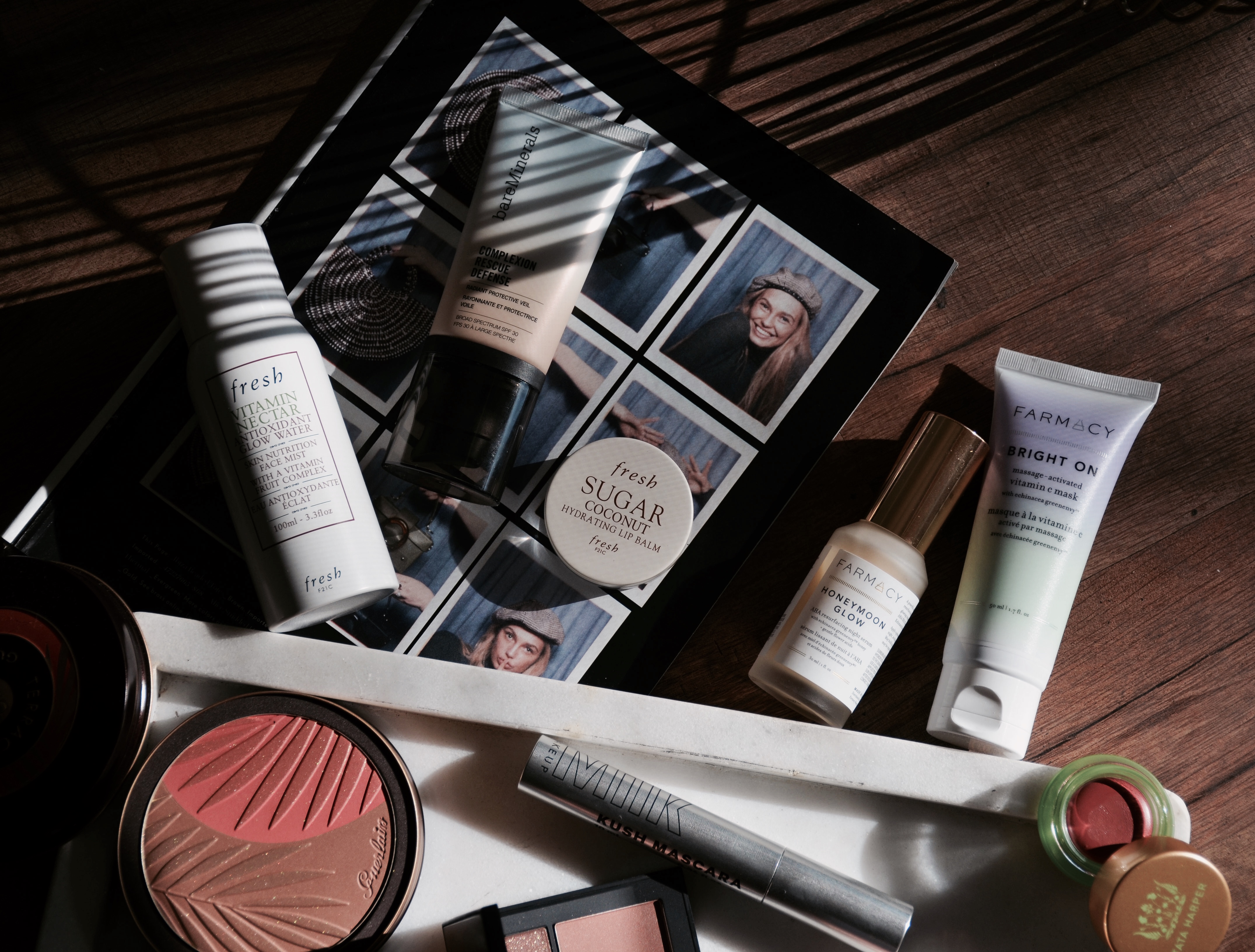 Fresh Coconut Hydrating Lip Balm – I picked up this balm during the Sephora sale and it was instant love. The lip balm is formulated with sugar, apricot kernel oil, black currant seed oil and grapeseed oil. It has the natural coconut scent and feels very hydrating on the lips. I know Fresh has different flavors of this but I went with coconut because that equals summer to me. Definitely will be picking up some of the other flavors as I love the consistency. It is not super thick, non sticky and glossy enough so I can even wear it on no makeup makeup days.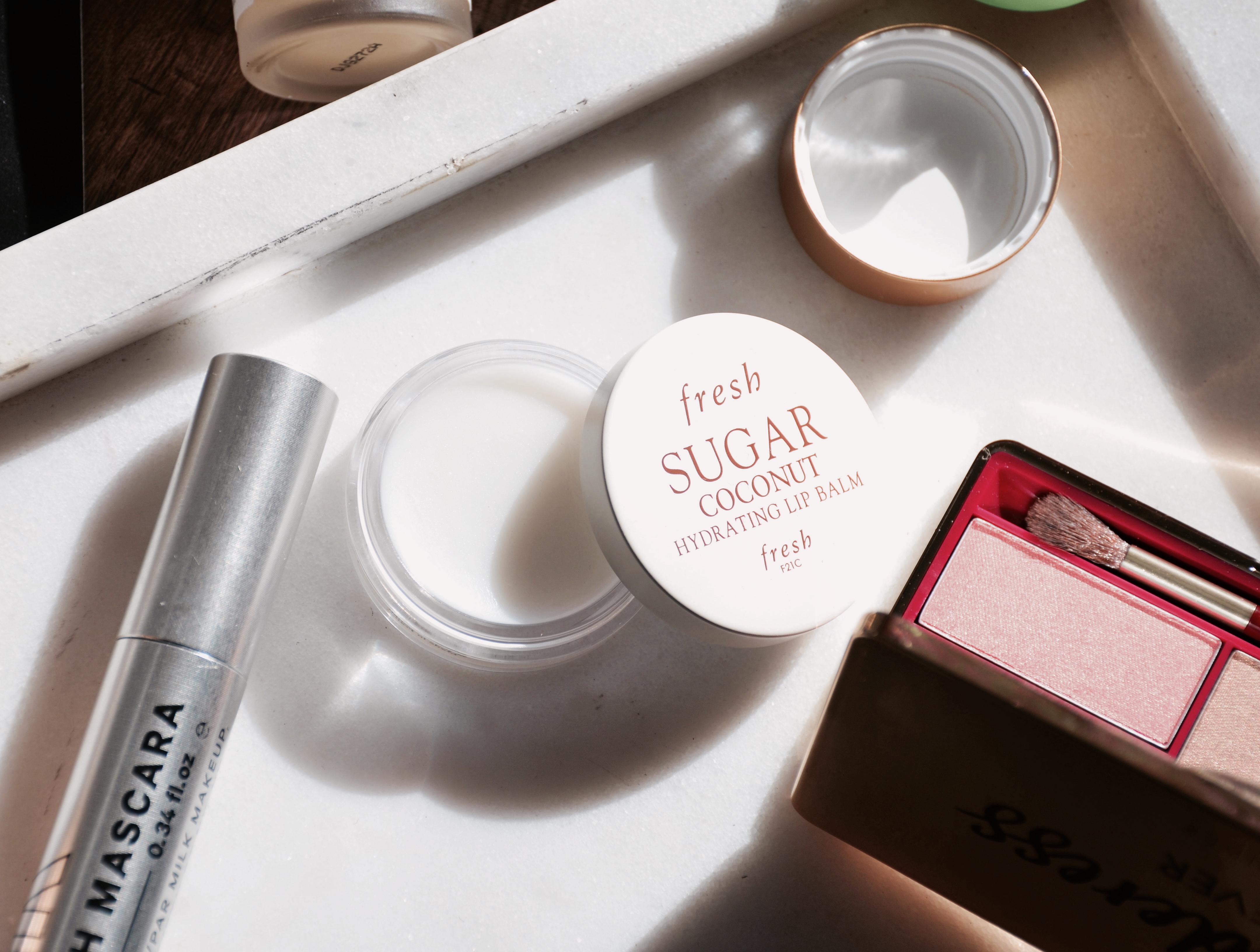 Farmacy Honeymoon Glow AHA Resurfacing Night Serum* – My first product from the brand and it has worked out so well for my skin. It is an overnight serum that helps with the look of pores and fine lines while providing chemical exfoliation. The honey helps with hydration so I think this is a great AHA/BHA serum for people with dry skin (AHA serums can be drying and cause flaking). I've been using this serum for almost a month now. I could tell a difference on my second night of using this. It just gives my complexion a glow without any greasiness and my skin tone looks more even in the morning. It is gentle enough to be used on sensitive skin and free of synthetic fragrances and mineral oil. If you apply it on wet skin it does tingle a little (not painful or anything) which I like. I can tell that the product is doing it's magic.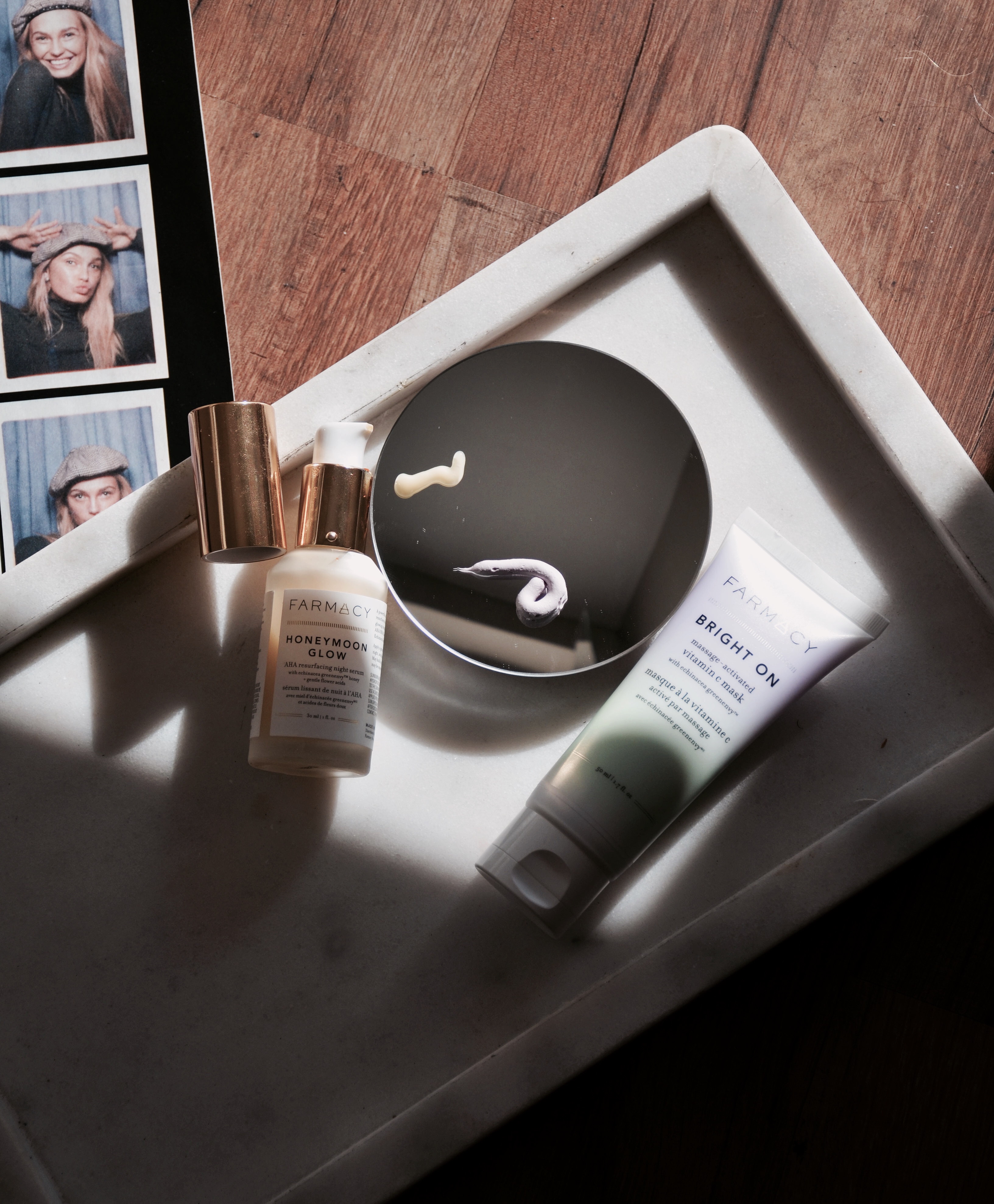 Farmacy Bright On Massage – Activated Vitamin C Mask* – It is a color changing clay based mask with Vitamin C. It brightens and detoxifies the skin and helps with skin texture and overall skin tone.
Ingredients:
-Micro-Encapsulated Vitamin C: Releases powerful brightening and clarifying benefits to leave skin looking brighter and more even toned.
-Kaolin and Bentonite Clay: Helps detox skin by removing excess oil and impurities and visibly diminishes the appearance of pores.
-Fruit-Derived Blend Of Alpha Hydroxy Acids (Bilberry, Sugarcane, Orange, Lemon, Sugar Maple): Help support natural cell turnover to reveal a brighter, smoother looking complexion.
-Aloe + Superfood Blend Of Apple, Broccoli, Kale, Blueberry and Cucumber: Help nourish, moisturize, and soothe skin.
As you massage the mask, the Vitamin C capsules burst and the mask turns from lavender to green. Then you leave the mask for 5-10 minutes and remove with water. I love that the mask is like an all in one mask. It helps with congested skin but also the AHA and Vitamin C help with brightness and even skin tone.
MAKEUP
Guerlain Terracotta Sous Les Palmiers Bronzing And Blush Powder* – Which unfortunately seems like it is sold out everywhere. It is a bronzer and blush compact housed in a beautifully designed metal tin. The powders have a gold overspray which disappears after the first use. Both the bronzer and blush shade are perfect for achieving a summer look. When it comes to Guerlain bronzers, I haven't tried a bronzer that I didn't like. Their powders are soft, blendable and give the most natural looking bronzed glow.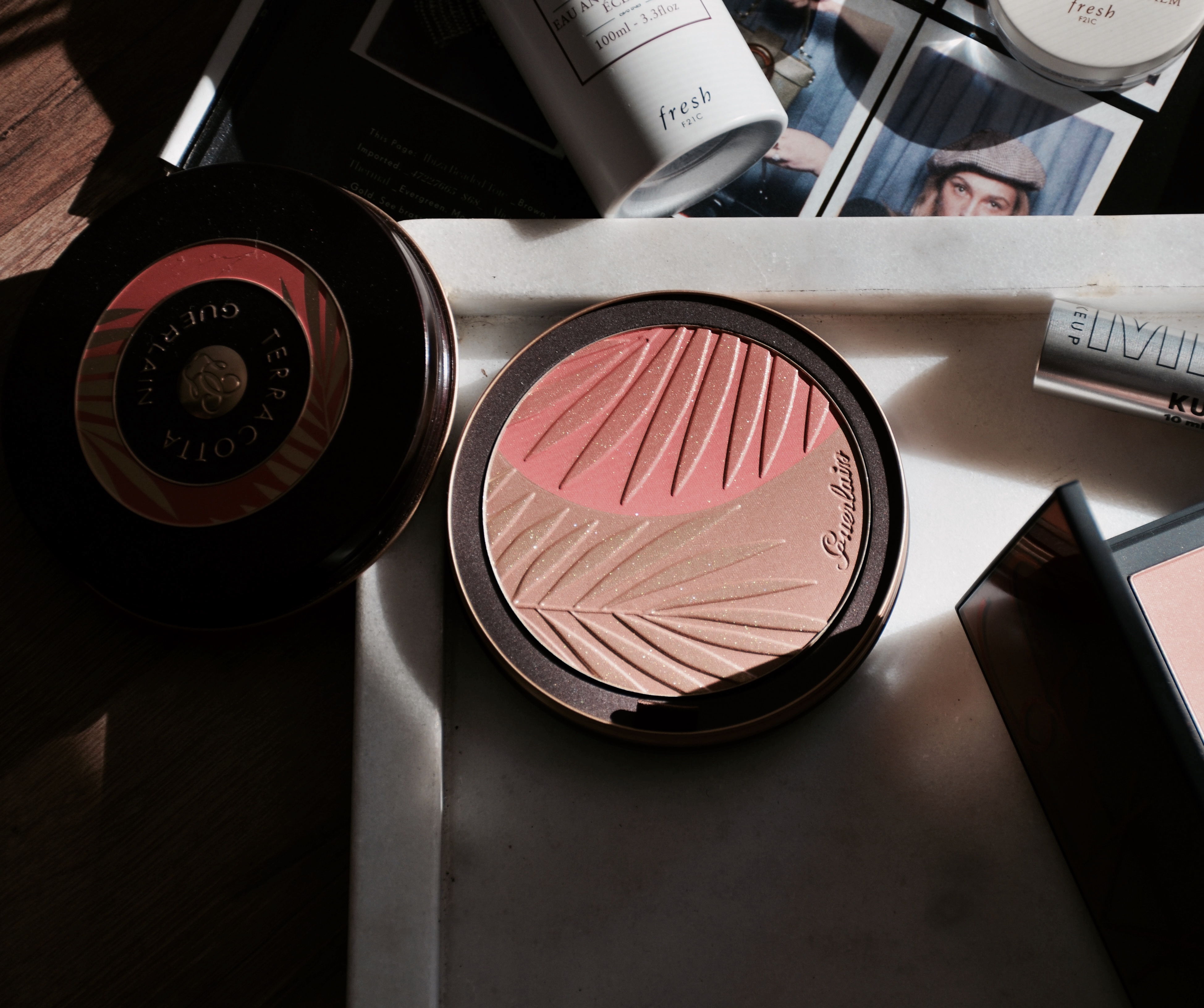 Tata Harper Volumizing Lip & Cheek Tint in Very Popular – As a big fan of Tata's skincare line I had to try her only makeup product. I also love multi-purpose products and cream blushes so it's a win win. Very Popular is a beautiful warm rose shade that goes with every look. The formula is very creamy, pigmented when swatched but looks very natural when blended on the skin. It also has a dewy finish and hydrates the skin, which I love. Tata product are all made with natural ingredients and well worth the price point. I have yet to try a product from her line that I don't like.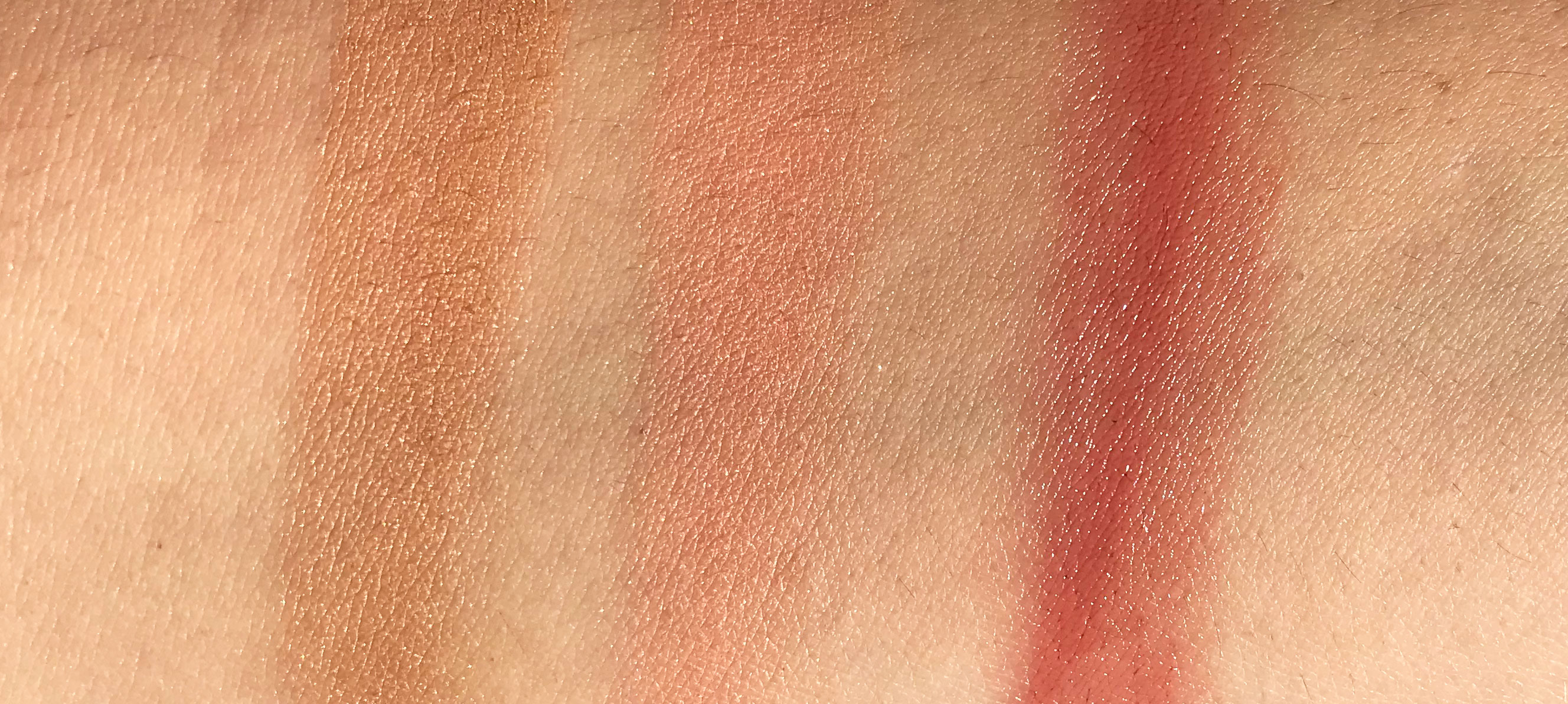 Swatches L to R: Guerlain Terracotta Sous Les Palmiers Bronzing And Blush Powder, Tatat Harper Volumizing Lip & Cheek Tint in Very Popular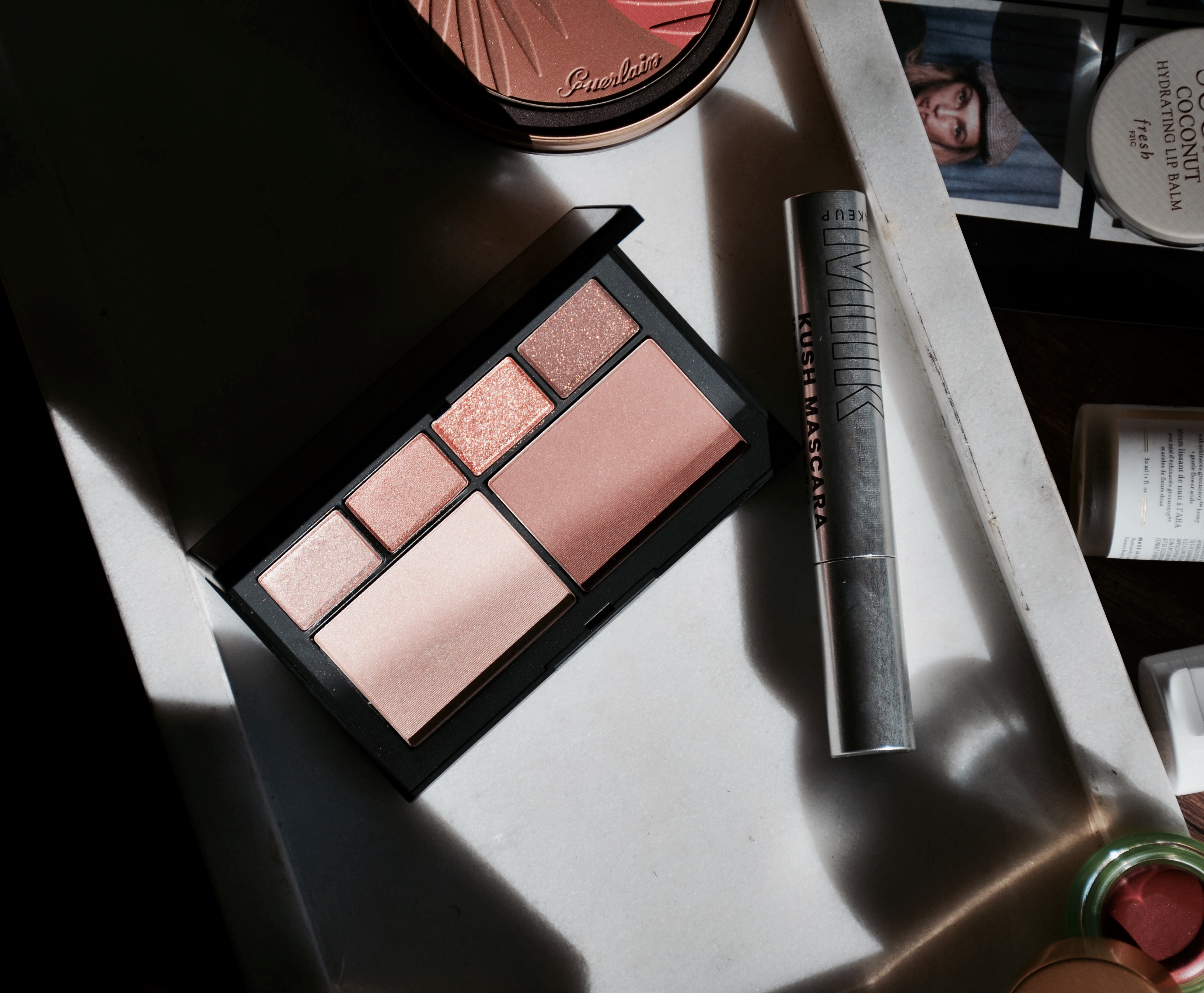 Nars Atomic Blonde Eye & Face Palette – When i first saw the promo pictures of this palette, I knew that I will pick it up as soon as it launched. I'm a sucker for anything gold and bronze and I think the Atomic Blonde palette has the perfect shades for both day and night looks. The shades that come in the palette are:
– 4 x 0.04 oz/ 1.4 g Eyeshadows in Golden bronze shimmer (Limited Edition), Shimmering copper, Metallic warm copper (Limited Edition), Bitter chocolate infused with gold
– 0.25 oz/ 7 g Shimmering warm gold highlighting powder (Limited Edition)
– 0.25 oz/ 7 g Diffused brown bronzing powder (Limited Edition)
The palette doesn't come with any matte shades but I find that I can use the shimmers in my crease and not look over the top. With the exception of the third shade which actually has specks of glitter and it is best applied either wet or with fingers. Since the bronzer is also not super pigmented, I use the shade as a crease shade and it works really well for my medium skin tone. The highlighter shade has a similar finish to the single highlighters that Nars recently released so it is more on the subtle side but buildable.
All in all, it is a great palette for someone who loves gold and bronze shades. It will be great for me as a travel palette too.

Swatches of the Nars Atomic Blonde Eye & Face Palette
Milk Makeup KUSH High Volume Mascara – A volumizing mascara with cannabis oil, thickening heart-shaped fibers, and pure pigments. It's a great mascara if you are looking for a ton of volume and lashes that feel soft to the touch. It separates the lashes really well giving them that wispy look and holds a curl on me really well. I did notice some flaking at the end of the day but it wasn't anything bad. For me, this is not the most dramatic looking mascara but it is great for every day use. I also like that I can easily take it off with just using a cleansing oil.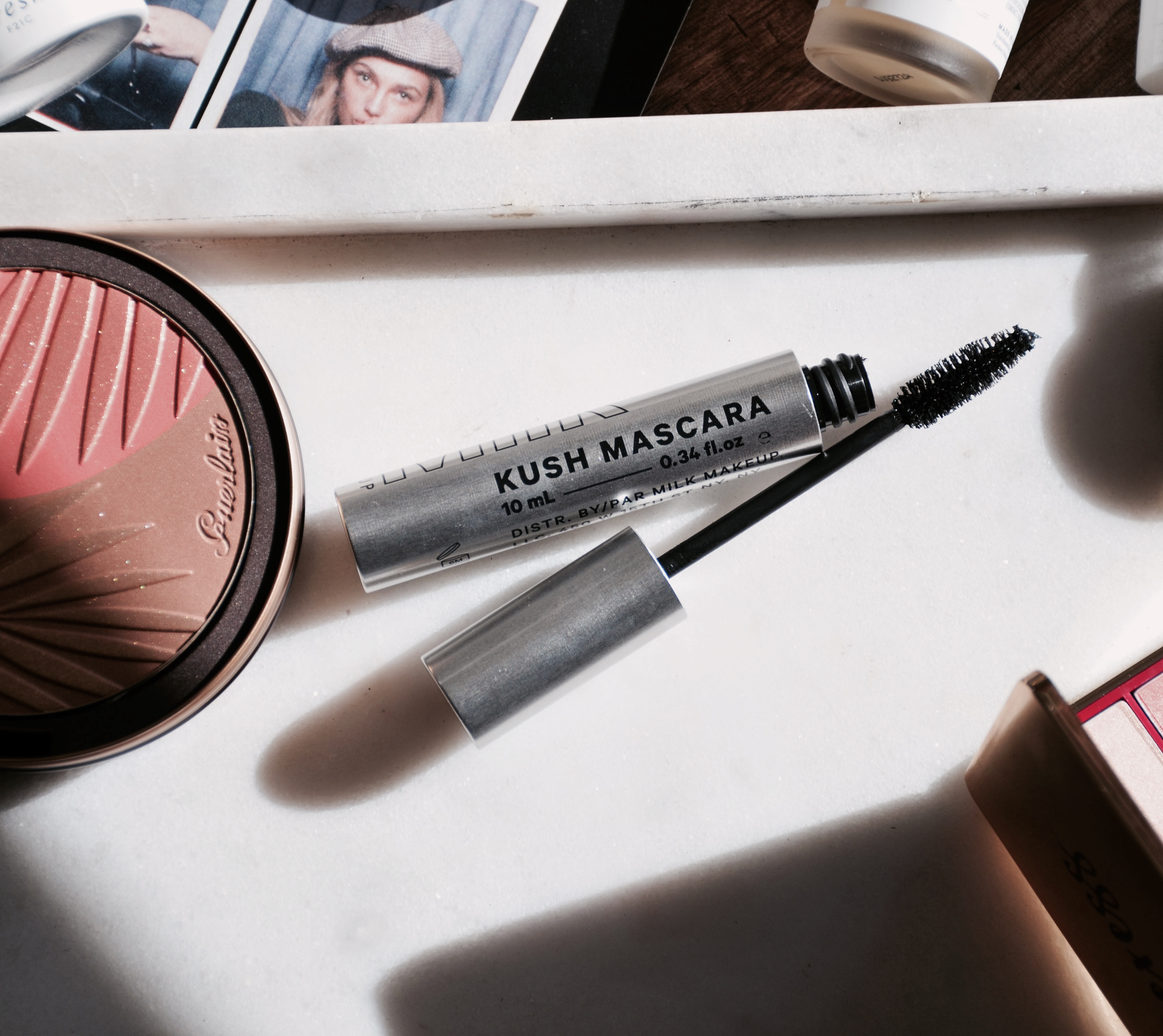 Wander Beauty Wanderess Fever Palette* – A compact travel friendly palette inspired by the summer. It has five eyeshadows, a shimmery blush and an universally flattering highlighter. The shades that come in the palette are:
Private Island, a peachy pink blush with gold shimmer
After Hours, the universally flattering golden pearl highlighter
Bonfire, a shimmering foil sienna
Golden Coast, a metallic golden bronze
Getaway, a shimmering rose gold
Sun Babe, a metallic gold
Sandbar, a nude matte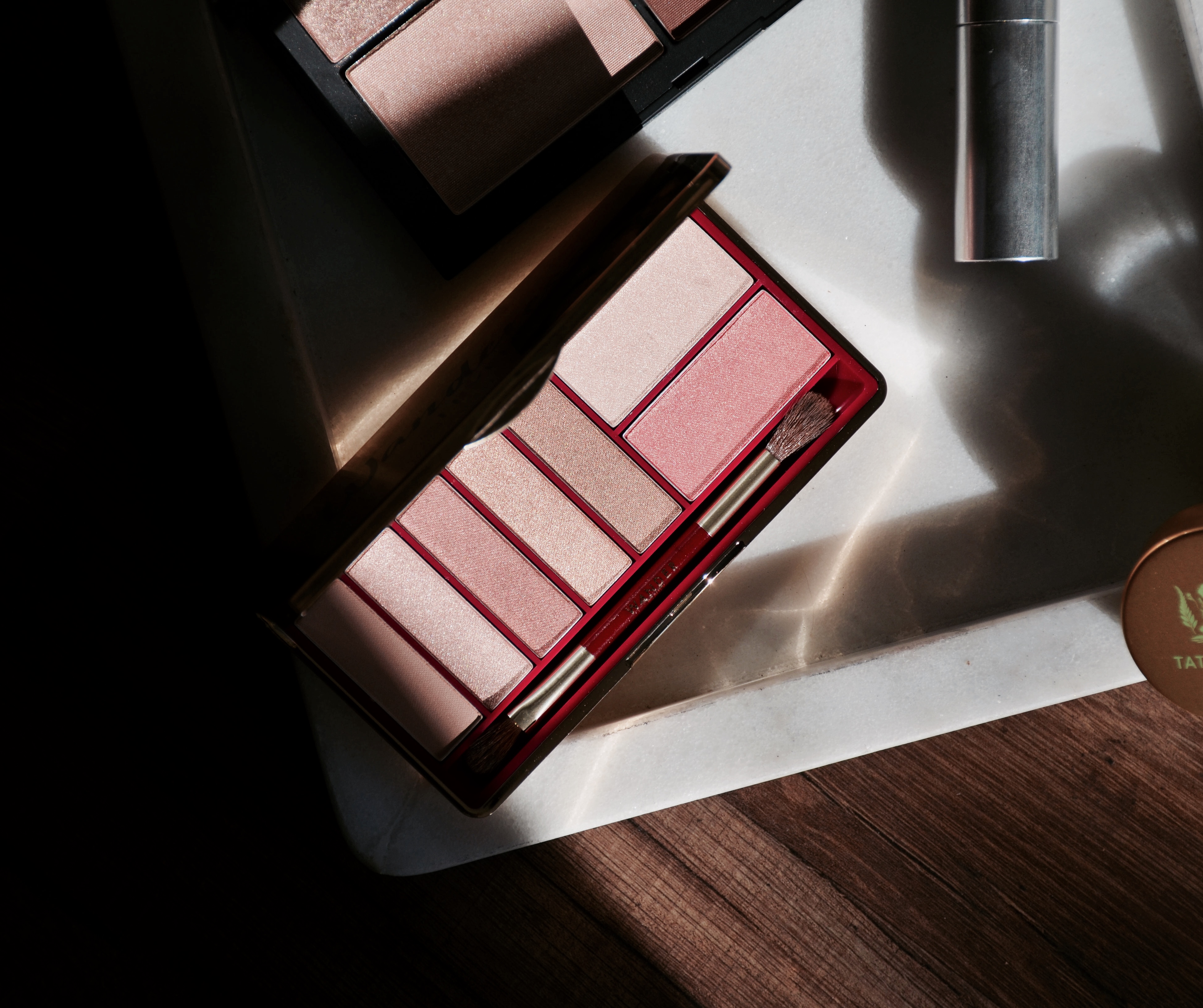 It is my first time trying powder eyeshadows and powders from Wander Beauty. I love their cream products and always bring some of them when I travel. I'm happy to say that the palette is as amazing as their other products. The eyeshadows feel very soft to the touch but don't kick off a lot of powder. They are easy to blend and very user friendly. The blush reminds me of Nars Orgasm which is my perfect summer shade. This is a great all in one palette for anyone who doesn't like to spend a lot of time doing their makeup, beginners and people who travel a lot. It even comes with a double ended brush which is of good quality.

Swatches L to R: Sandbar, Sun Babe, Getaway, Golden Coast, Bonfire, After Hours, Private Island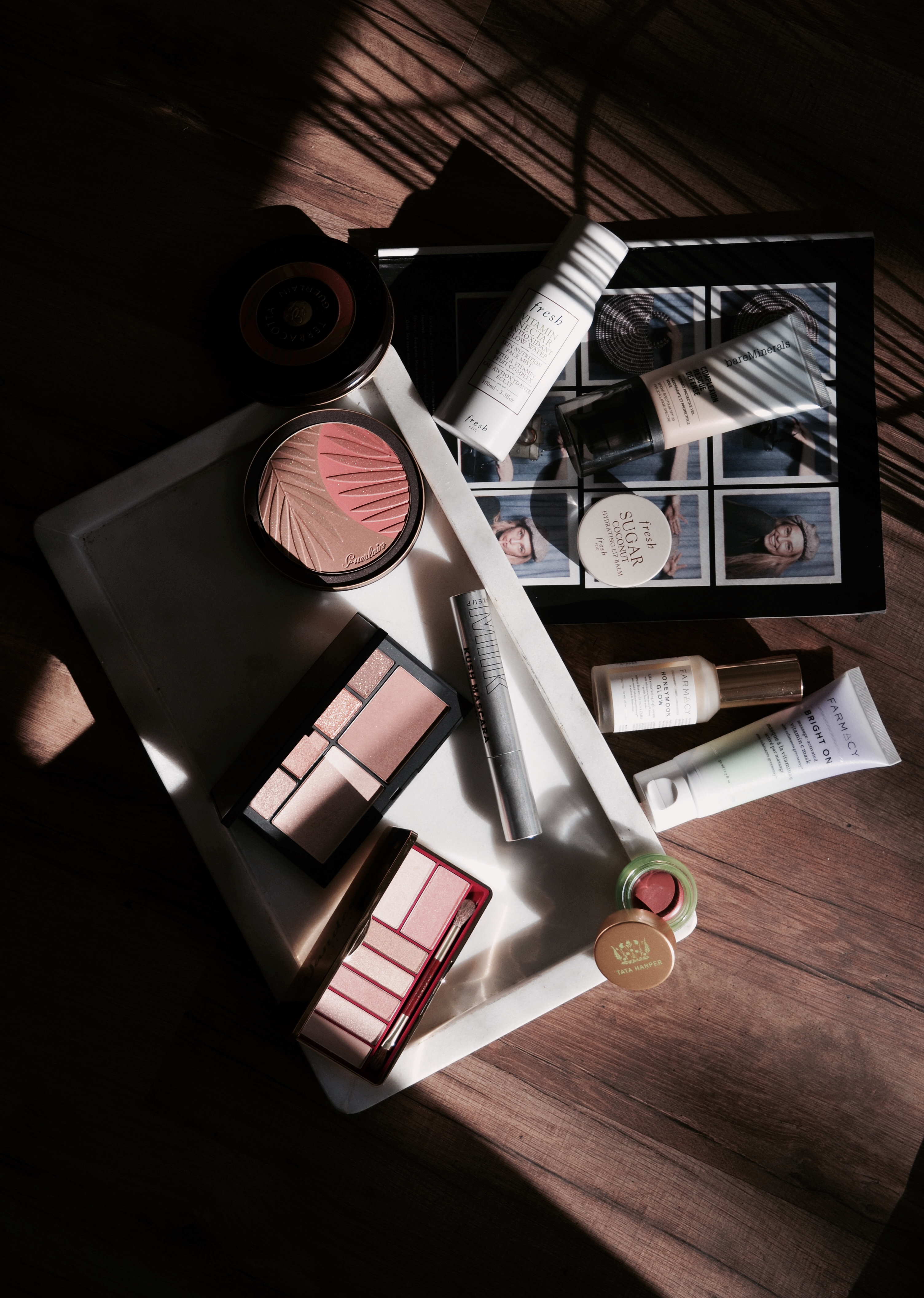 Let me know if you prefer this concept of reviewing product or if you would like to see more individual reviews.
PR Samples marked with *