Jouer Rose Gold Collection is the newest launch from the brand. Jouer released a rose gold themed collection that has an eyeshadow palette, a blush duo, powder highlighter, one gloss and one liquid lipstick, two lip toppers and a cream eyeshadow stick.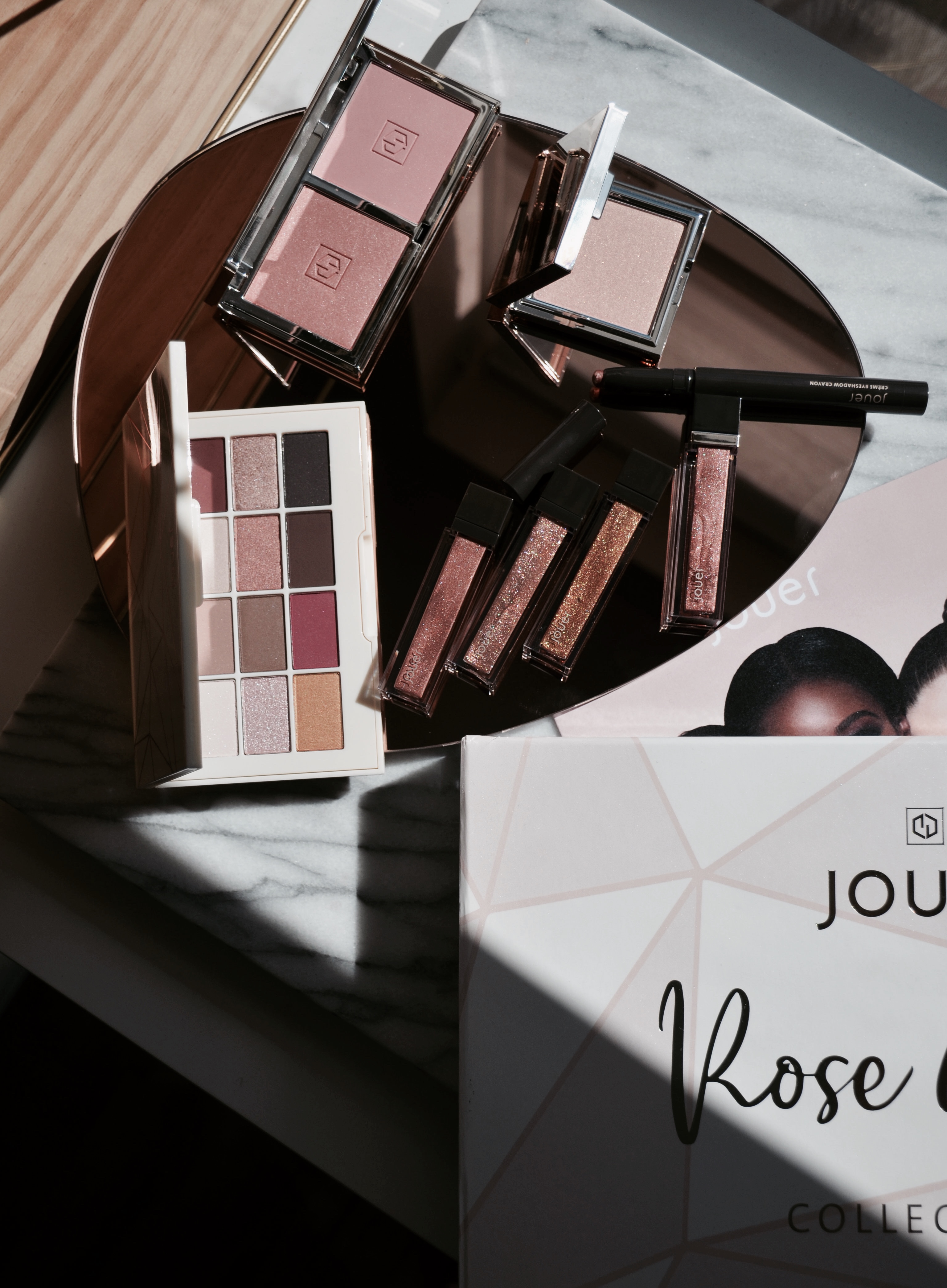 I love using rose gold hues in my makeup. I think those types of shades suit a lot of skin tones and look good on almost everyone.
I'm going to start with my favorite piece from the Jouer Rose Gold Collection, the Rose Gold Blush Bouquet Dual Blush Palette. The formula of this LE palette is the same as the other Blush Duos. It has the same silky feeling and buildable pigmentation. The blush duo comes with a darker shimmery shade and a lighter satin shade.
Both shades are pigmented and look amazing on the skin. They are easy to blend and look very natural on the skin. Even with the shimmer shade, it comes off more as a sheen on the skin which I prefer.
The Rose Gold Blush Duo comes with a warm golden peach in a shimmer finish and cool toned coral in a satin finish.
The Powder Highlighter in Rose Gold is a re-promote. It is a beautiful rose gold with a golden sheen. The Jouer highlighters are very creamy to the touch with high impact that is buildable. I like to use these with a light hand since I prefer my glow on the more natural side.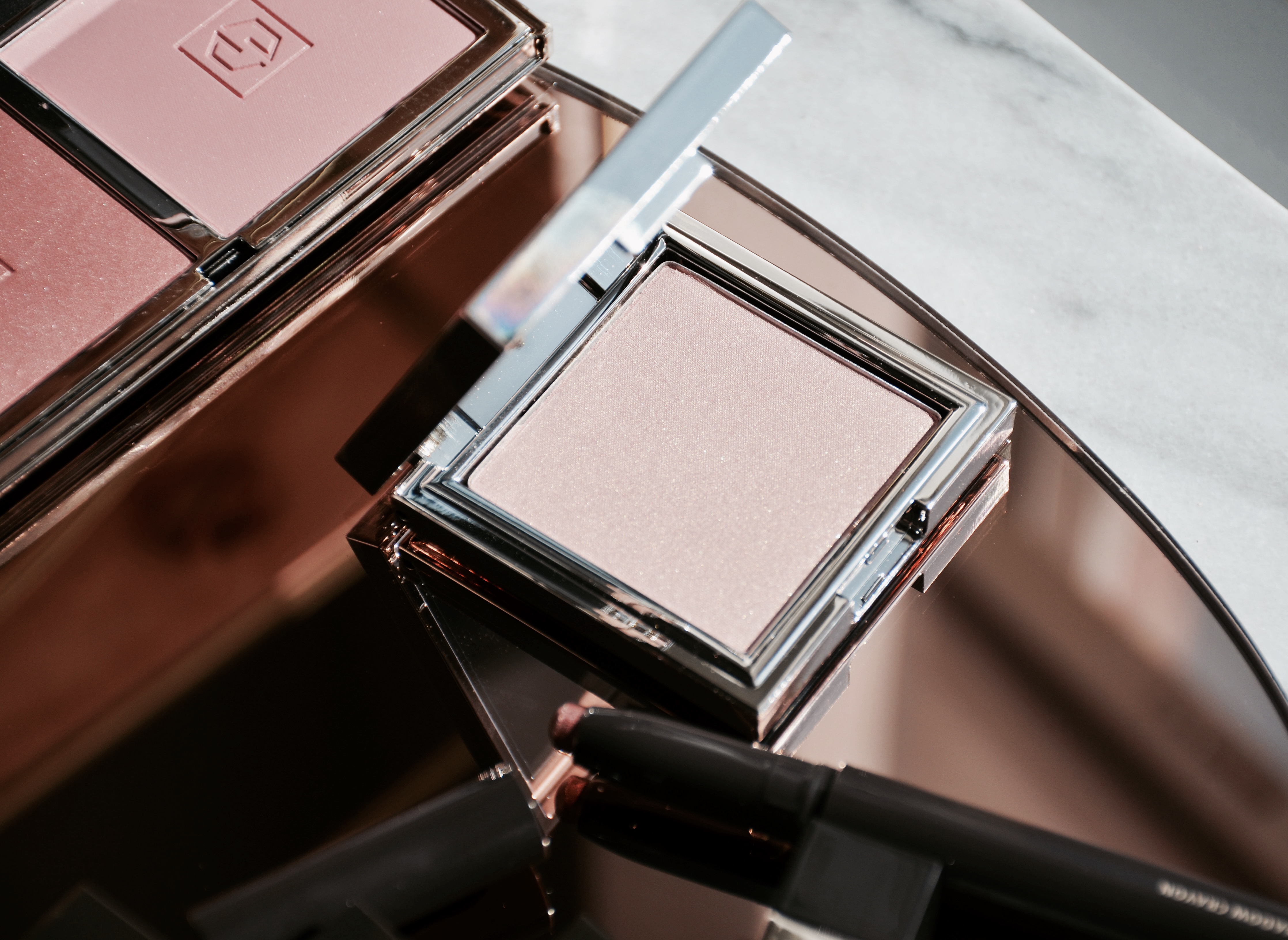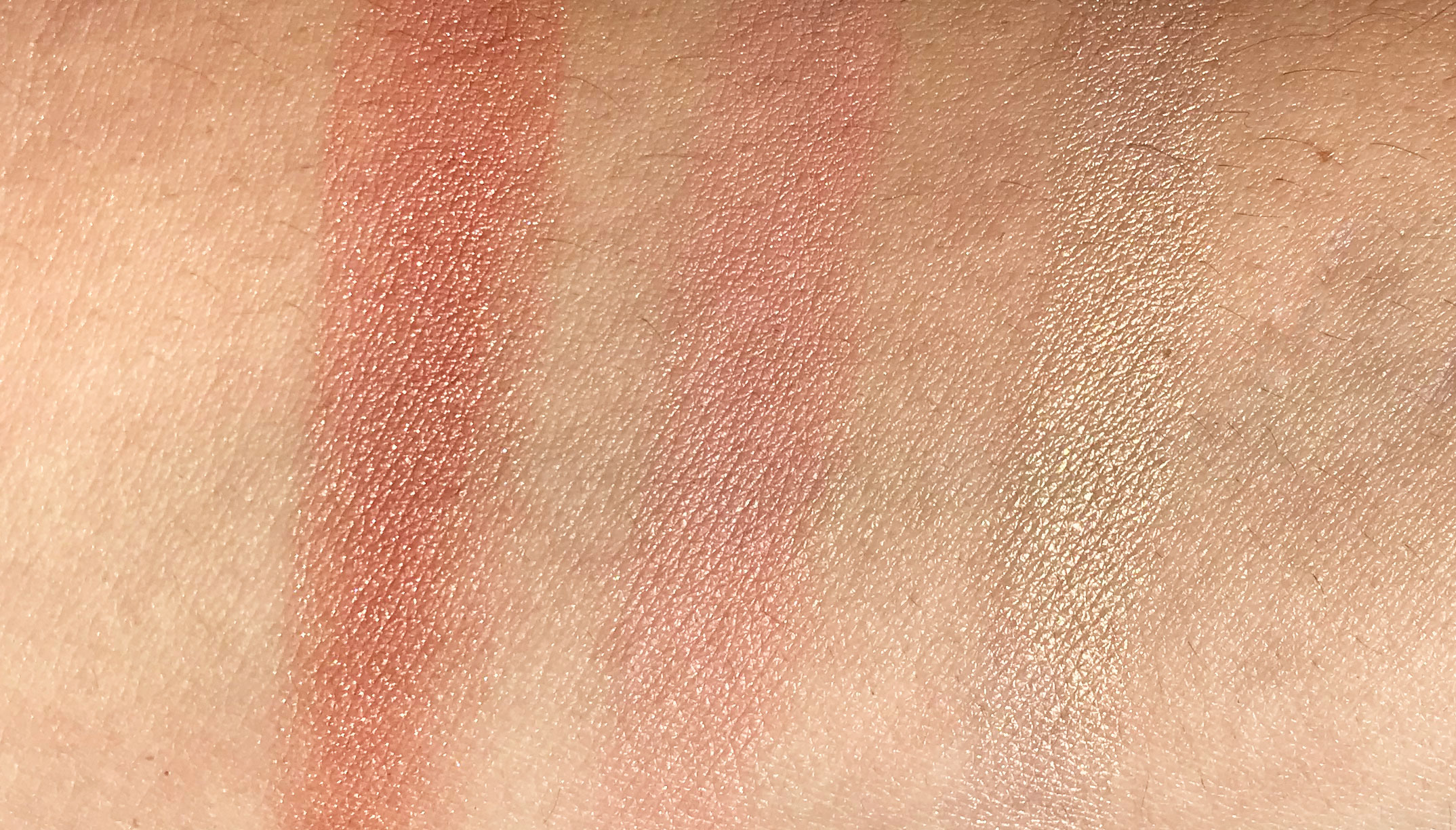 Swatches L to R: Jouer Rose Gold Blush Duo, Jouer Powder Highlighter in Rose Gold (lightly swatched)
The Rose Gold Matte & Shimmer Palette comes with 7 shades in a matte finish and 5 shades in shimmer metallic finish. The eyeshadow palette is rose gold themed but also features some pops of color. Both the mattes and shimmers are very easy to work with and blend well on the skin.
The shimmers are also not over the top. There is no chunky shimmer which makes them quite wearable even for the daytime.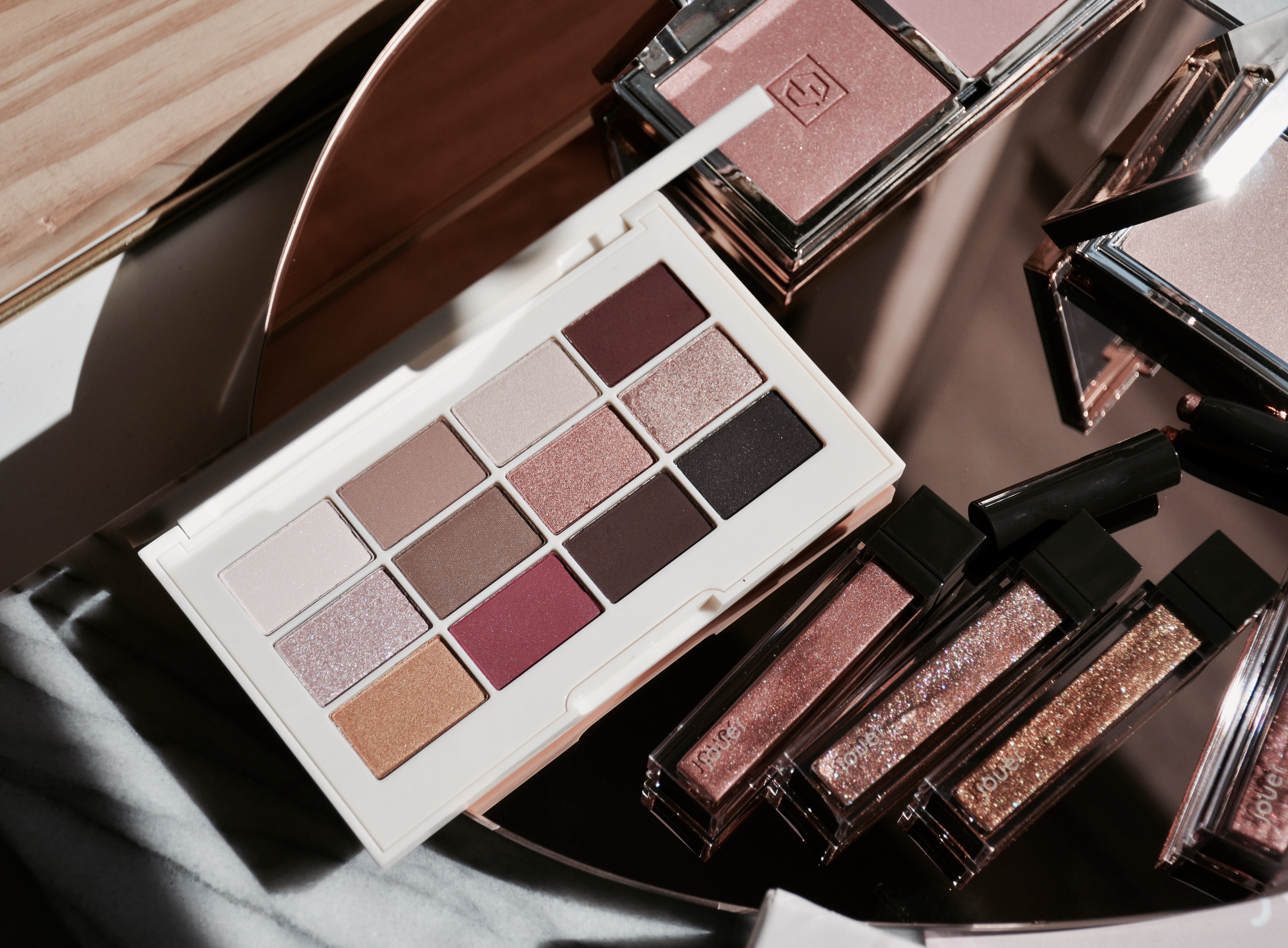 The shades that come in the Rose Gold Matte & Shimmer Palette are:
Lace (warm matte cream)
Hazelnut (warm matte pale brown)
Champagne (cool metallic cream)
Rosewood (warm matte auburn)
Rose Quartz (cool metallic ballet pink)
Toffee (warm matte taupe brown)
Rose Gold (warm metallic rosy gold)
Champagne Bronze (warm metallic champagne bronze)
Molten Gold (warm metallic yellow gold)
Orchid (cool matte deep magenta)
Mahogany (cool matte chocolate brown)
Cedar (cool matte deep brown)

I like that the palette features both cool and warm toned shades. Also the matte vs shimmer ratio is very nice (I like that it has more matte than shimmer shades). All in all it is a great palette for both every day looks but also some amazing smoky eyes that are not your usual bronze shades.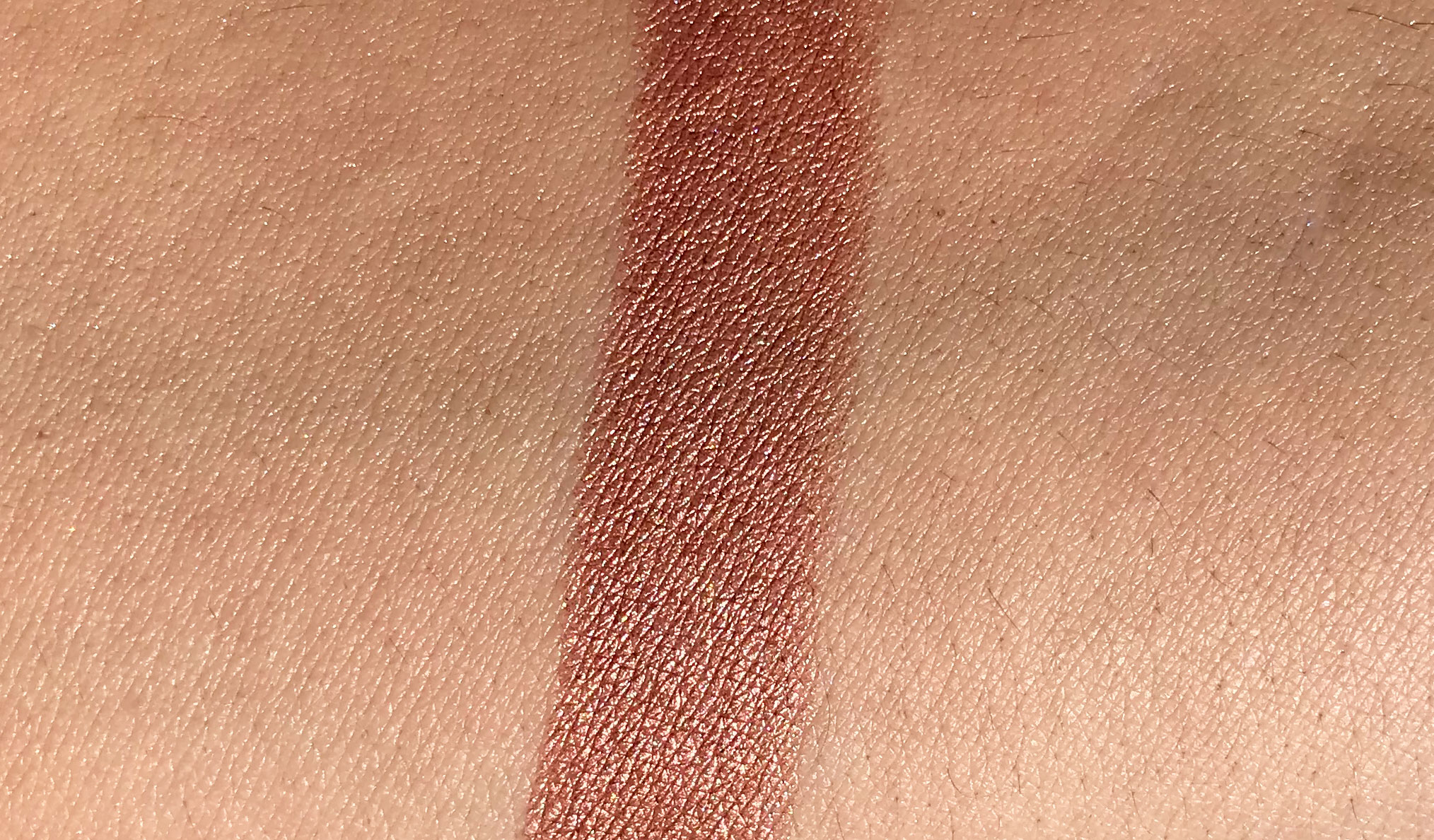 Swatch of the Jouer Creme Eyeshadow Crayon in Rose Gold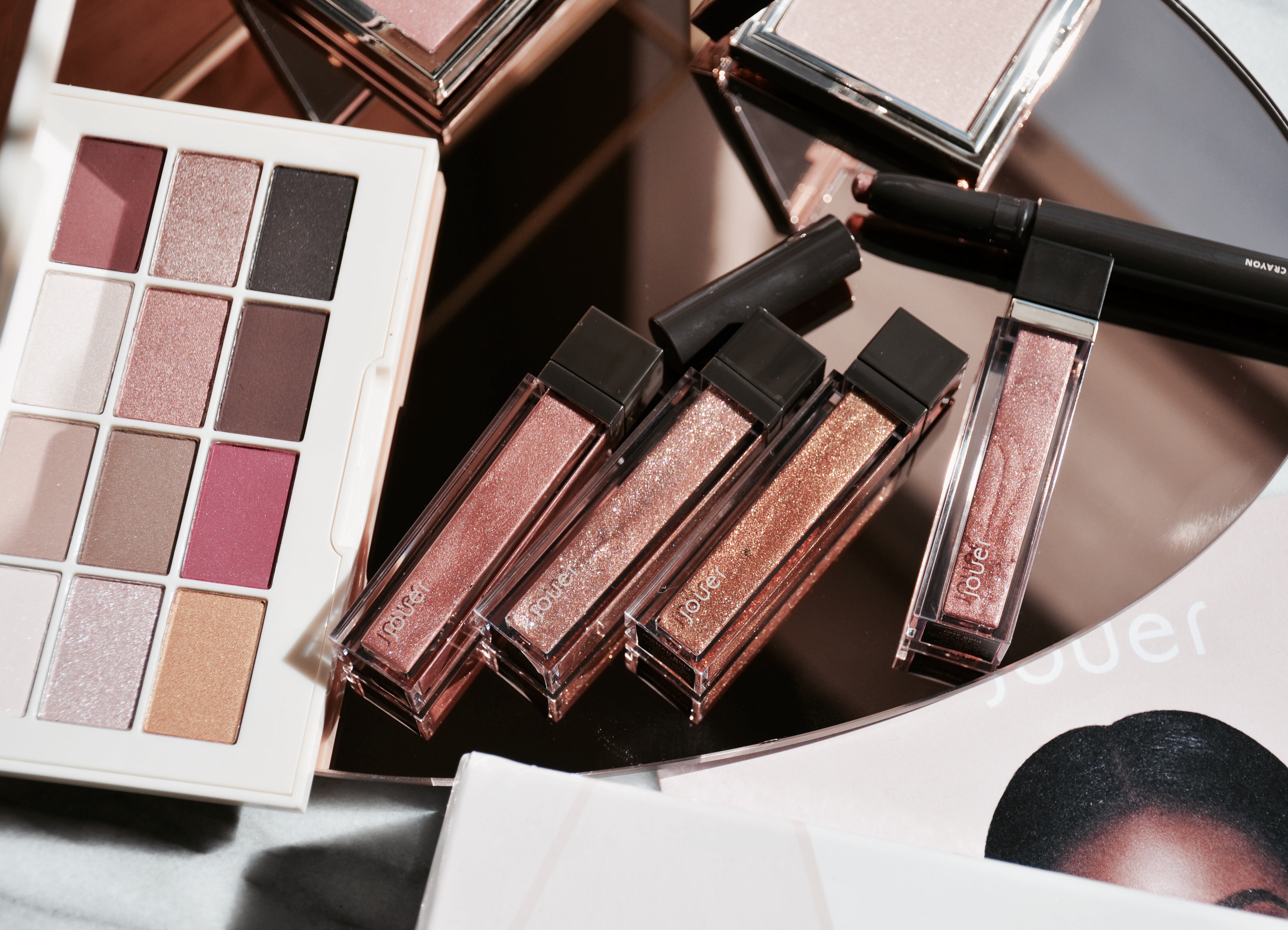 As I mentioned before, there are four lip products in the Rose Gold Collection. The two Lip Toppers in Molten Gold and Rose Gold have a long-wear sheer formula that is infused with coconut oil. They can be used on their own or as a topper of your favorite lipstick or liquid lipstick. For me, I like to use them on their own as a sheer lip gloss type of product that adds some sparkle.
The High Pigment Pearl Lip Gloss in Rose Gold is a warm rosy gold lip gloss with a very metallic finish. Jouer lip glosses have really good and nourishing ingredients like jojoba oil and coconut oil. The formula is non sticky and last a good amount of time on the lips.
And lastly, the Long Wear Lip Creme Liquid Lipstick in Rose Gold, a metallic deep rose gold shade. The formula of these is very creamy. They dry down to a matte finish that is still comfortable to wear and also transfer proof. When it comes to liquid lipsticks, I prefer a matte vs a shimmery lipstick. The shade is still very beautiful for someone who loves metallics.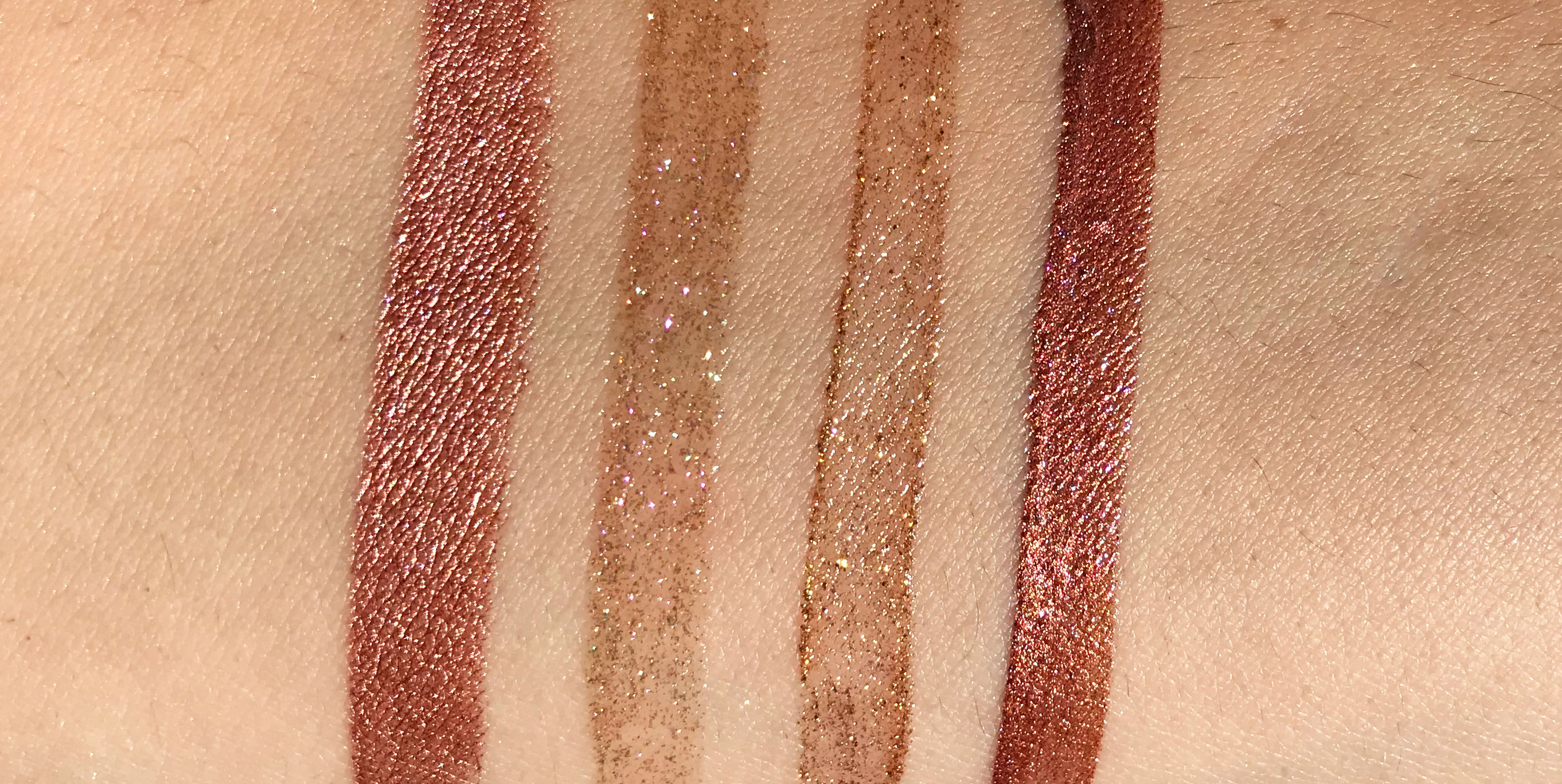 Swatches L to R: Rose Gold Lip Gloss, Molten Gold Lip Topper, Rose Gold Lip Topper, Rose Gold Lip Cream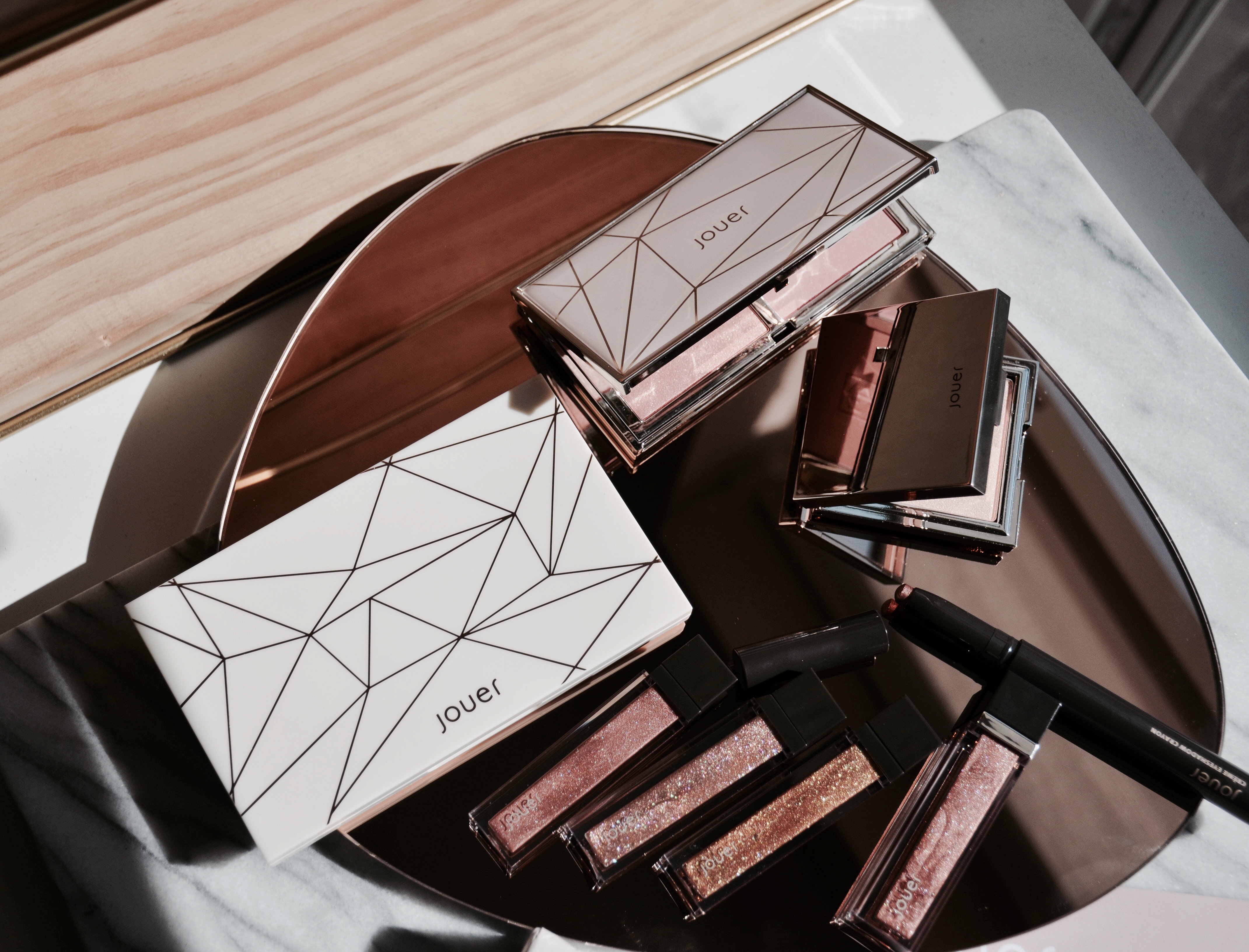 Bottom line, a very pretty rose gold themed collection from Jouer. If you are thinking of picking up one piece, I would go with the Rose Gold Blush Bouquet Dual Blush Palette. Both shades in the palette are very pretty and the formula is one of the easiest to work with. Very beginner friendly and for people who prefer a more natural look.
The Jouer Rose Gold Collection is available on jouercosmetics.com, Sephora and Beautylish.
*PR Sample