Who doesn't love a good glowy primer? Well maybe if you are extra oily you would want to skip these types of primers. But if you are dry, normal and even have combo skin, you need at least one to use during the summer. The reason I love glowy primers is their versatility but also the finish that they give. You can either mix them with your foundation if you are looking for a more subtle glow, use them all over the face or just on specific spots.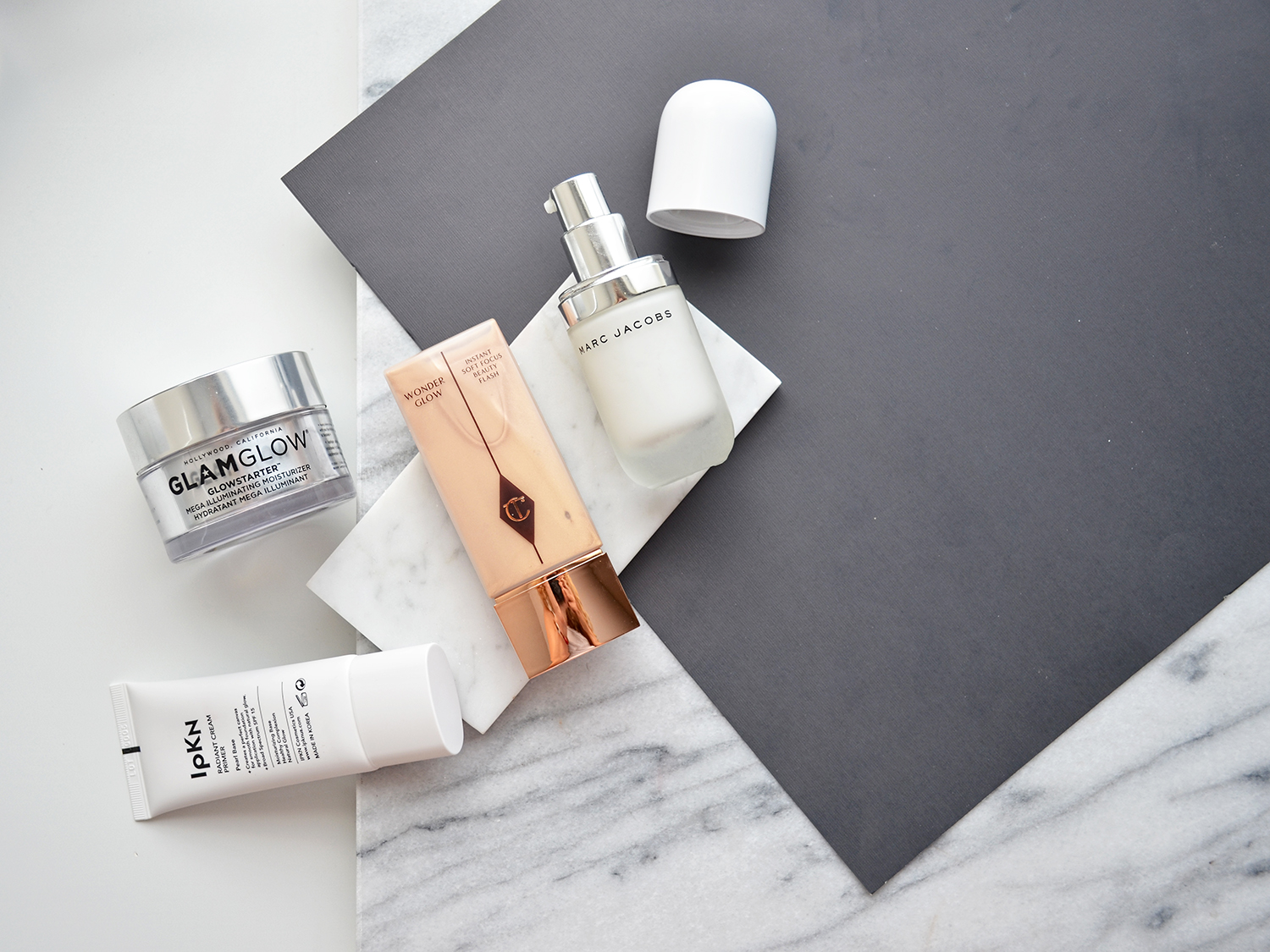 A glowy primer doesn't necessary mean that it contain shimmer. You can find a good radiant primer that leaves your skin dewy and hydrated but doesn't have any shimmer at all. A good example is my well loved Marc Jacobs Under(cover) Perfecting Coconut Primer. It provides hydration while leaving your skin glowy and healthy looking.
Other radiant and glowy primers that make the cut when it comes to providing luminosity:
Charlotte Tilbury Wonder Glow – This is a cult product of hers. It's a radiant primer that has a golden hue and makes you skin look like it has been kissed from the sun. It's good under foundation but also to use it on it's own when you don't feel like wearing makeup. It just gives your skin a pick me up without being over the top when it comes to the shimmer.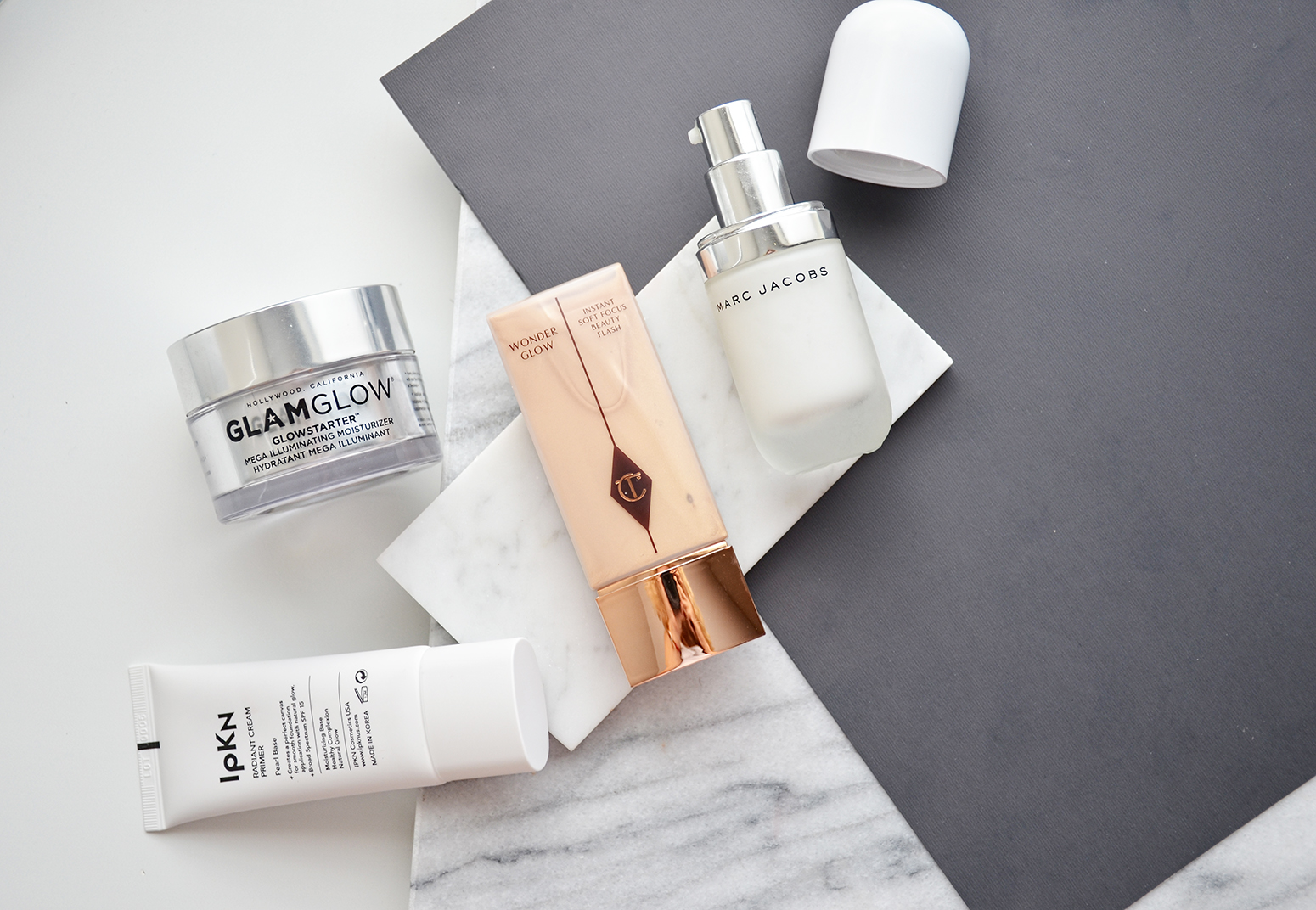 Glam Glow Glow Starter Mega Illuminating Moisturizer – Now this is not per say a primer but it is so glowy that I would not use it on it's own. This moisturizer is as glowy as you can get without looking like a tin man. Here I'm featuring the Nude Glow shade which is a beautiful light champagne. They also release two more shades in Pearl Glow and Sun Glow to suit more skin tones. Oh and the cream smells like skittles which I love.
IPKN Radiant Cream Primer SPF 15 – This is more of a thicker cream primer that provides pearl like finish but also helps nourish the skin and even blur out pores. It doesn't make your pores go away like primers that are meant for only blurring, but it does a good job of making the a little less visible. The radiant finish is strong enough that you can even use this primer as a subtle cream highlighter.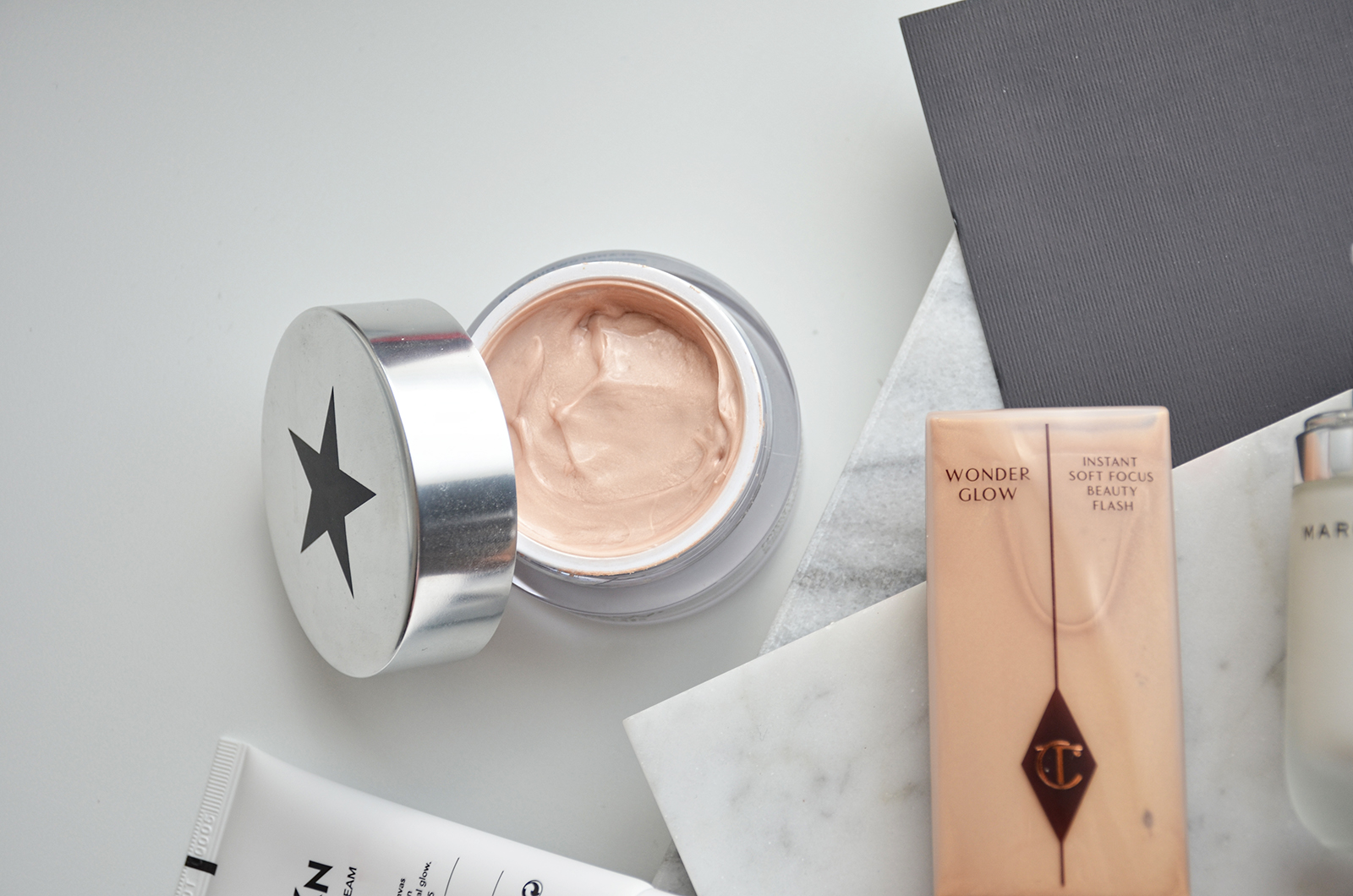 Mac Strobe Cream – The one who started it all. This iconic product has been on the market for years. Even before highlighters and glowy primers were popular Mac had the Strobe Cream. It's described as a moisturizer that boosts the look of dull skin while leaving it luminized. The original Strobe Cream came in one pinky pearl shade but recently Mac released four new shades with different hues of luminousity. My most used shade is Goldlite which provides a sheer golden look to the skin. This cream is good to be used on it's own or under and even over foundation.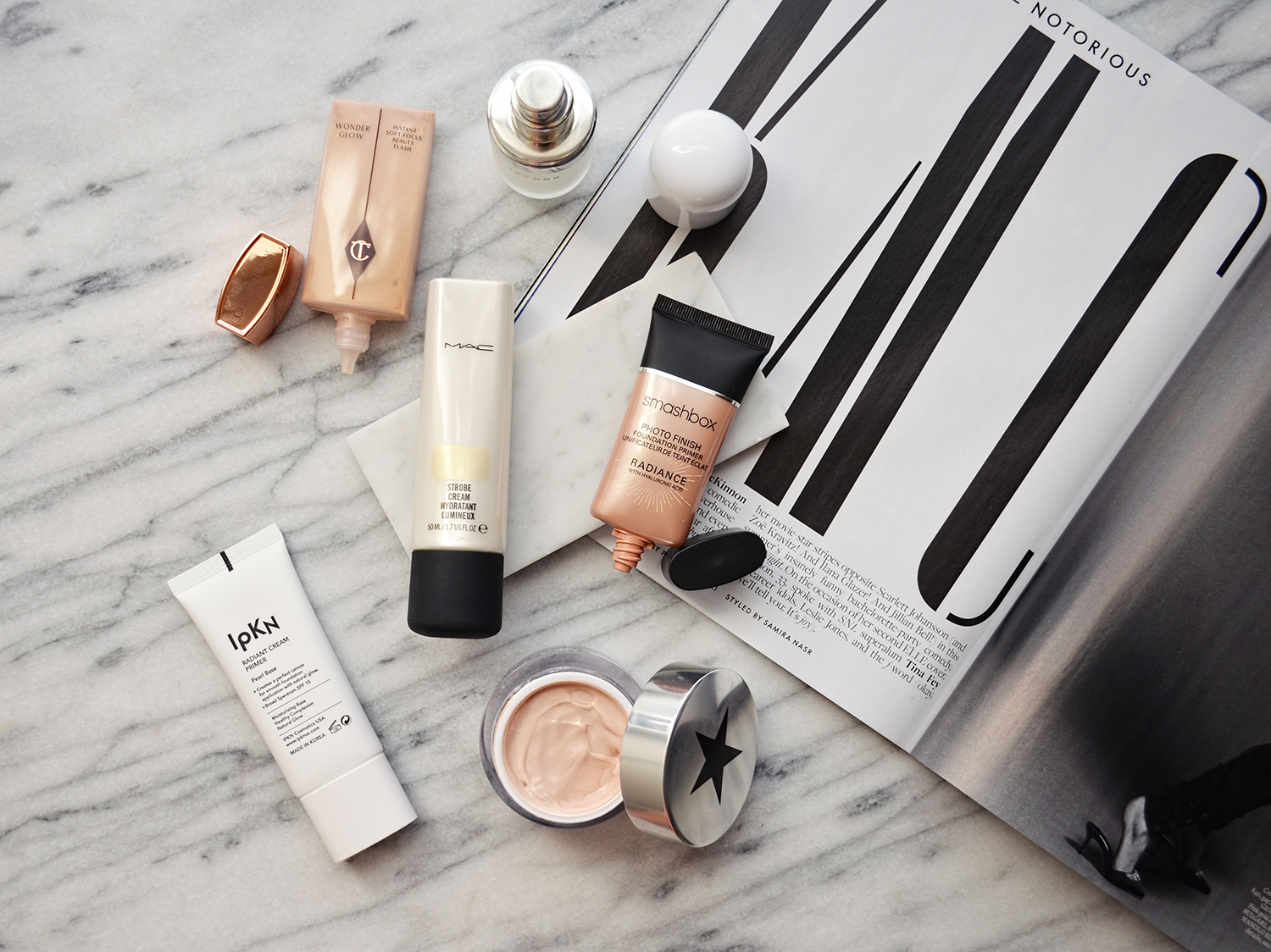 Smashbox Photo Finish Foundation Primer-Radiance – A newer release from Smashbox, the Radiance primer as the name implies provides radiance while also hydrating the skin. It has a deeper bronze hue so it leaves your skin with a little tint and what they say an "LA" glow. The primer is loaded with hyaluronic acid and shea butter which help with hydration and moisture. I would say that if you are oily this could be a lot of hydration for you so you might want to skip this one. But otherwise I think the primer would work for most skin types.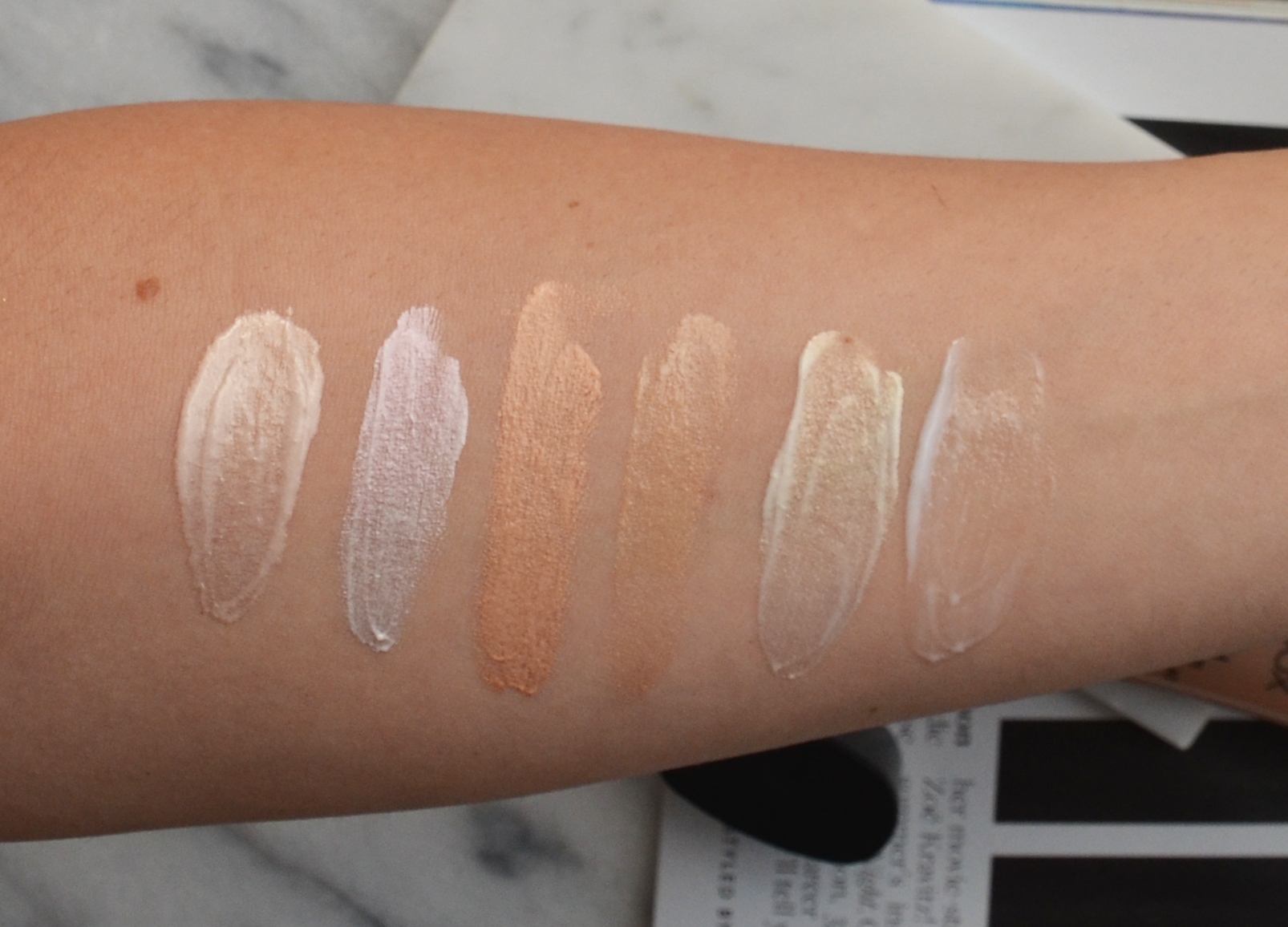 Swatches L to R: Glam Glow Glow Starter Nude Glow, IPKN Radiant Cream Primer, Smashbox Photo Finish Radiance Primer, Charlotte Tilbury Wonder Glow, Mac Strobe Cream in Goldlite, Marc Jacobs Under(cover) Perfecting Coconut Primer
What is your favorite glowy primer? Do you have any recommendations that I need to try?
*PR Samples included