Make Up For Ever released a new line of Artist Face Color Highlight, Sculpt and Blush Powders. They are individual pressed powder formula that you can get in refillable palette. You can mix and match highlighter, sculpt and blush shades and create your custom face palette. MUFE released three palettes of one pan, two and three pan shades. They all run for $2 so very inexpensive for the quality that you are getting.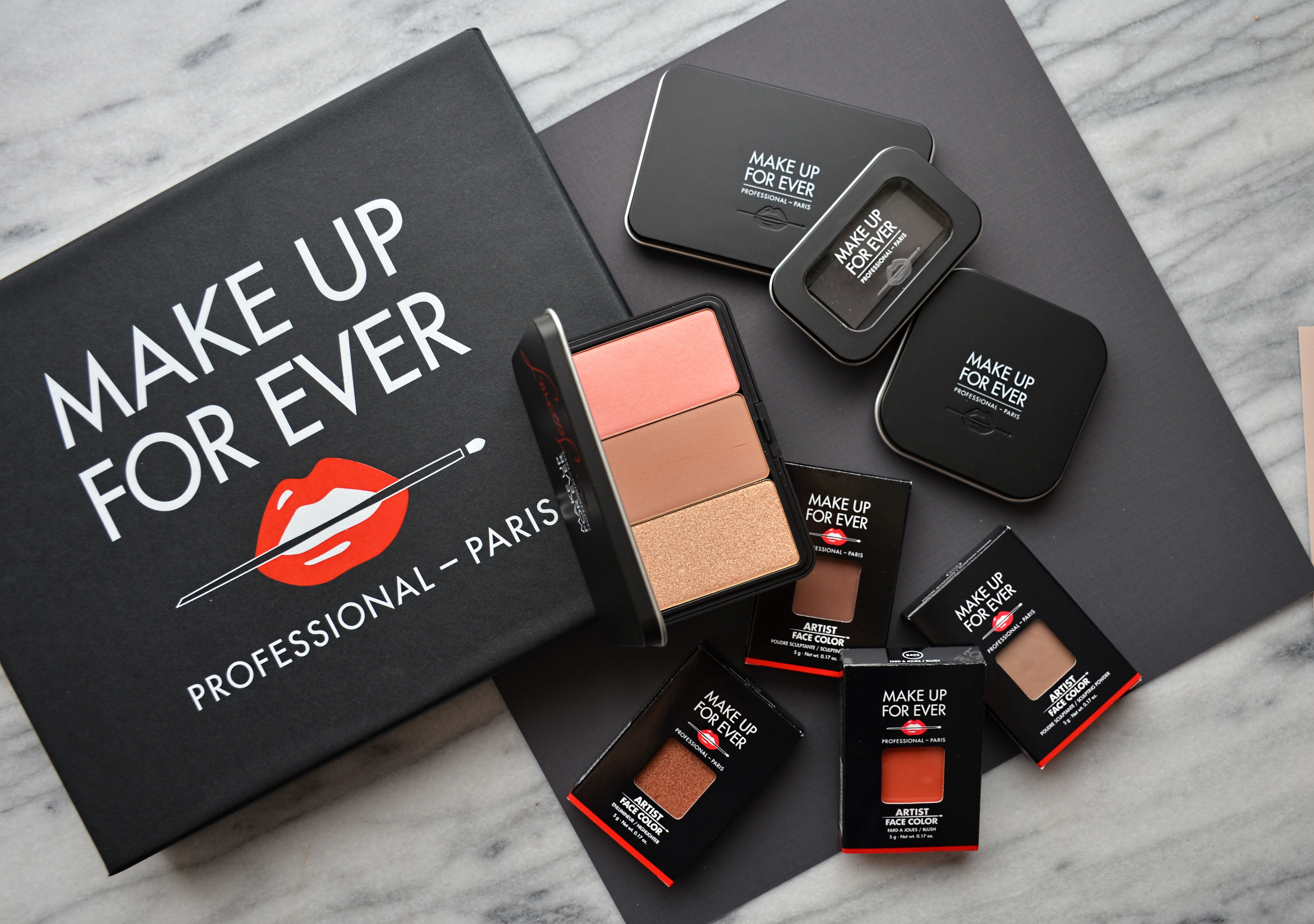 From the website:
Reveal your inner artist and create endless looks with Artist Face Color. Choose your palette size, then customize to your needs by mixing and matching your favorite. Artist Face Color's unique formula features atomized pigments, which provide intense color payoff while blending and diffusing for a natural, long-lasting finish. The super-fine powder melts into skin while also seamlessly layering for a natural, result. Available in matte, shimmer, and pearl finishes across 34 shades, Artist Face Color provides endless ways to enhance and define your features for your desired result.
I've been playing with the shades that I was sent as a preview and I have to say that I'm quite impressed with the formula. It was not a surprise that I like the formula since MUFE makes great quality makeup and especially powders. The formula feels smooth, pigmented and blends beautifully on the skin.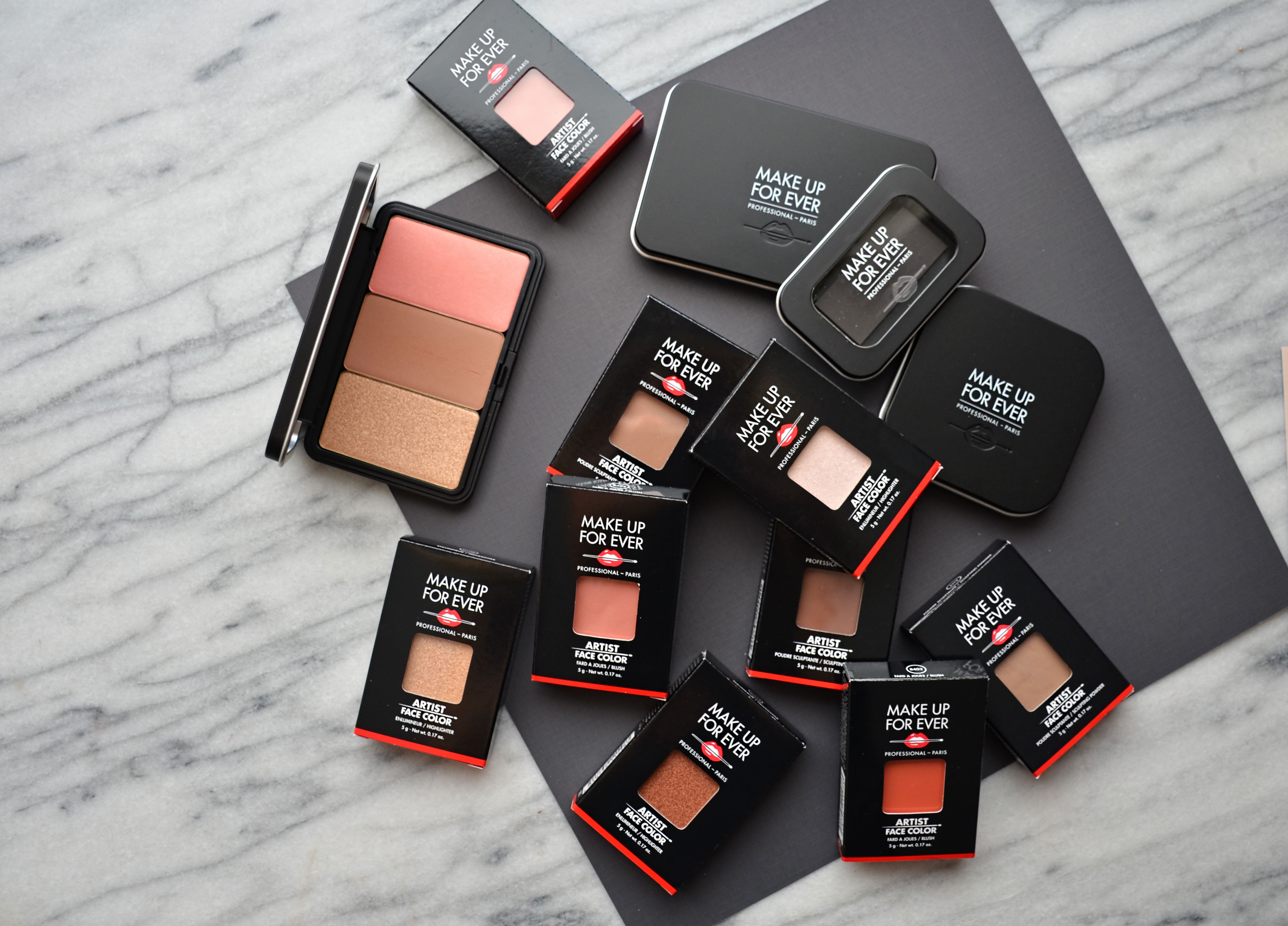 Both the Sculpt and Blush shades that I received are of great quality. They are pigmented but not overly pigmented that you have to worry that you will end up with a lot of product on your face. Especially for blush and sculpting powders you don't want insane pigment since it's harder to work with. I am still careful when I pick up the product and I don't push or swirl hard on the pan, just to make sure you don't pick up a lot and then you spend a lot of time blending that excess.
The formula of the highlights is different from the rest since it's shimmer. It feels almost like a mix between a powder and a cream to the touch. The finish is shimmery but not over the top, at least not with only one swipe. I like that the pigment is buildable, you can get a natural finish but also get a beaming highlight. For me, I stick to a more natural glowy look so one swipe works perfect for my liking.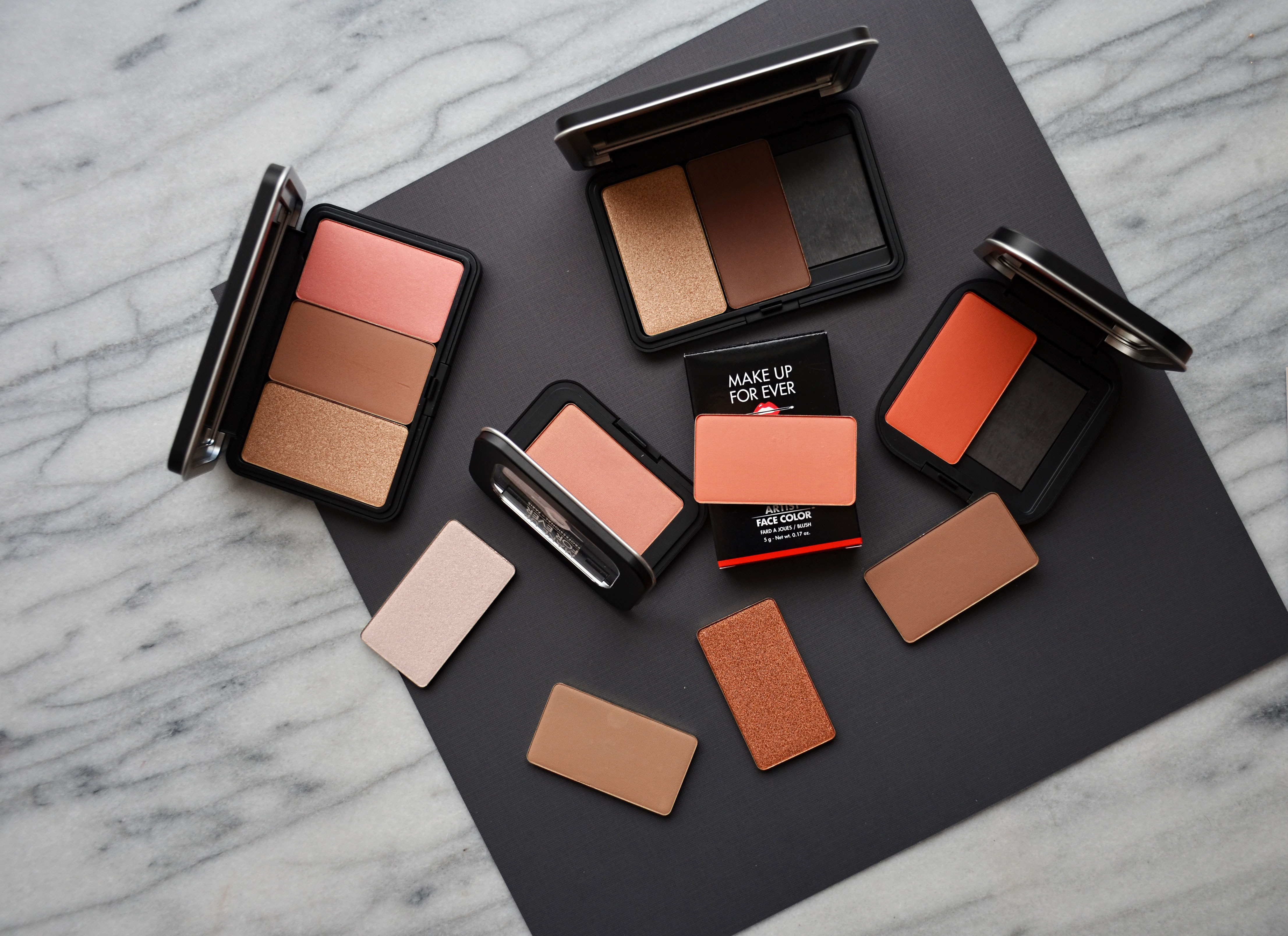 Make Up For Ever has a promotion if you get two or more powders. You can get two powders of your liking plus the two pan palette for $35 ($48 value) with the code ARTISTDUO. For the three pan palette, you can get a price of $45 with code ARTISTTRIO ($71 value). Both promotions are available on Sephora's website but I am not sure if they will be permanent or it's just for their launch.
Regarding the shades that I got, I got three blush shades in B302 (shimmery peach blush), B308 (coral blush) and B402 (vermillion blush).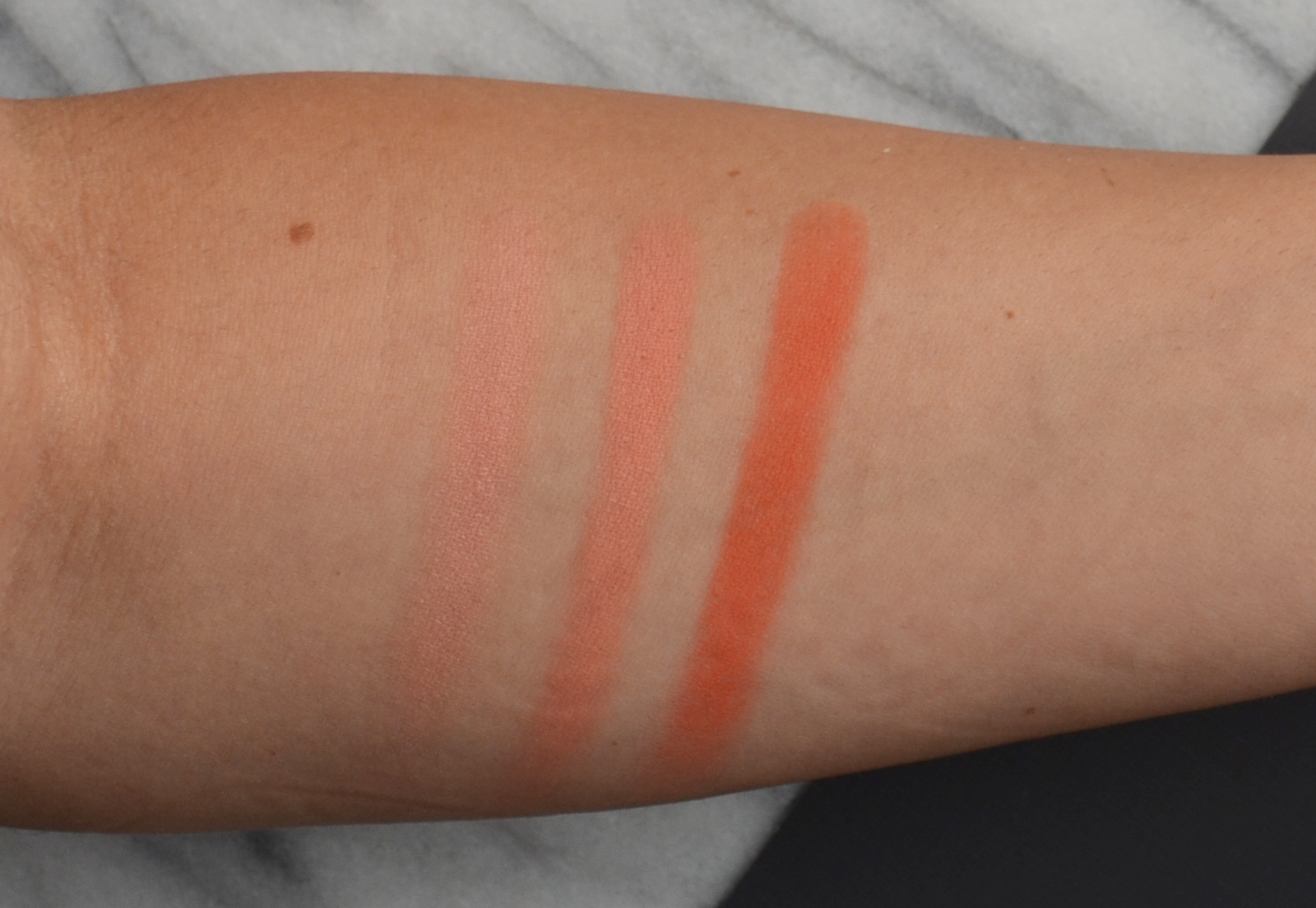 Swatches L to R: B302, B308, B402
I also got three highlighter shades in H102 (shimmery pink alabaster), H106 (shimmery champagne) and H312 (shimmery gold copper).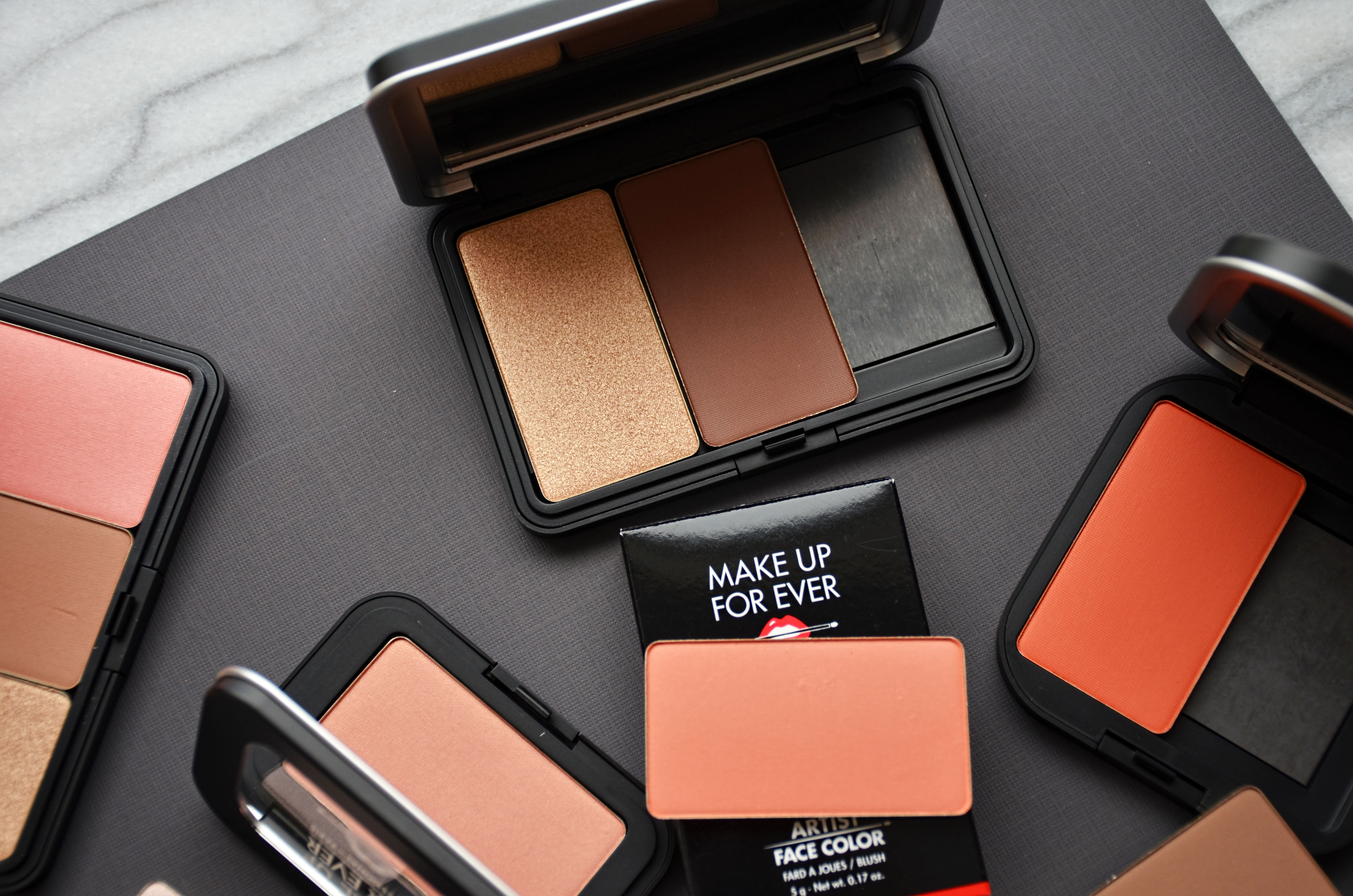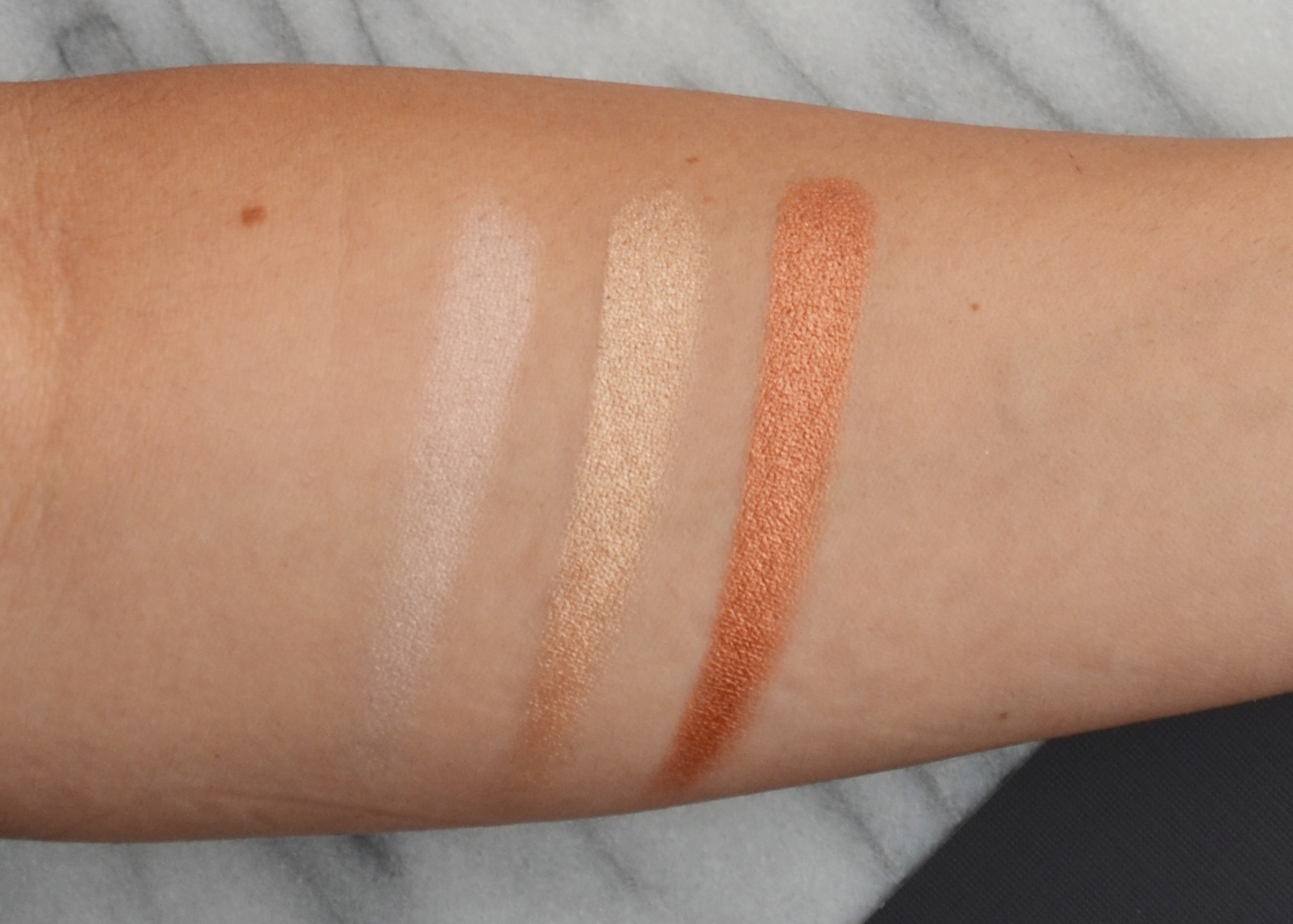 Swatches L to R: H102, H106, H312
For the Sculpt shades I got: S112 (shadow sculpt), S116 (medium shadow sculpt) and S118 (dark shadow sculpt)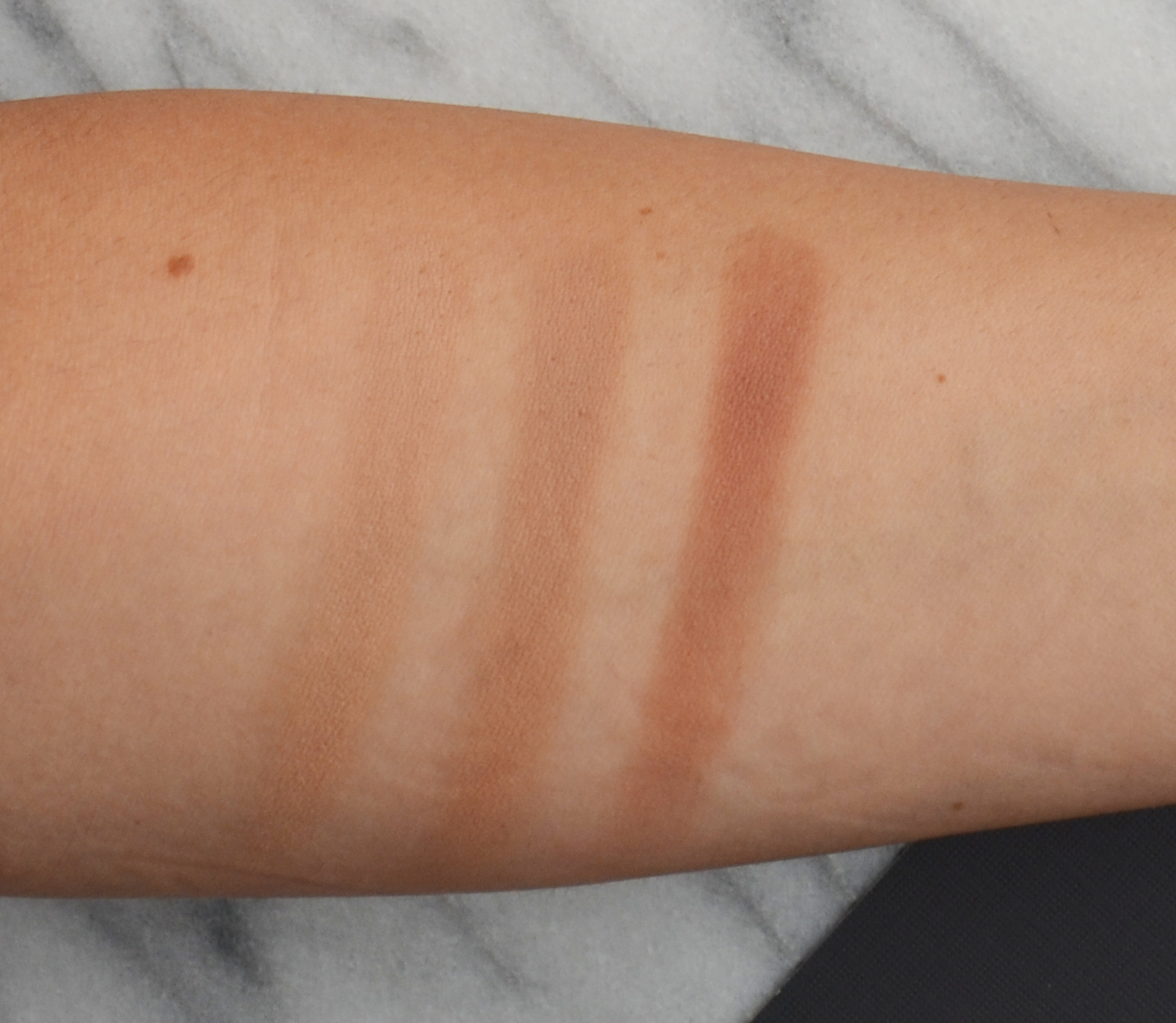 Swatches L to R: S112, S116, S118
The Sculpt shades are all matte finish. They are meant for contouring so they are on the cooler side. The lightest shade in S112 will work for fair to light skin tones. I think it's a great cool toned light brown that will make for a perfect contour shades for lighter skin tones. If you are light/medium and medium skin tone, I would go with S116. If you are on the darker side of medium and tan, S118 will work great for your skin tone.
For the highlight shades, H102 is very light so it didn't work for my light to medium skin tone. I think that shade would look great on fair skin. If you are looking for a beautiful champagne shade, H106 is the way to go. H312 is too dark for my skin to be used as a highlight but it makes for a great shimmery blush.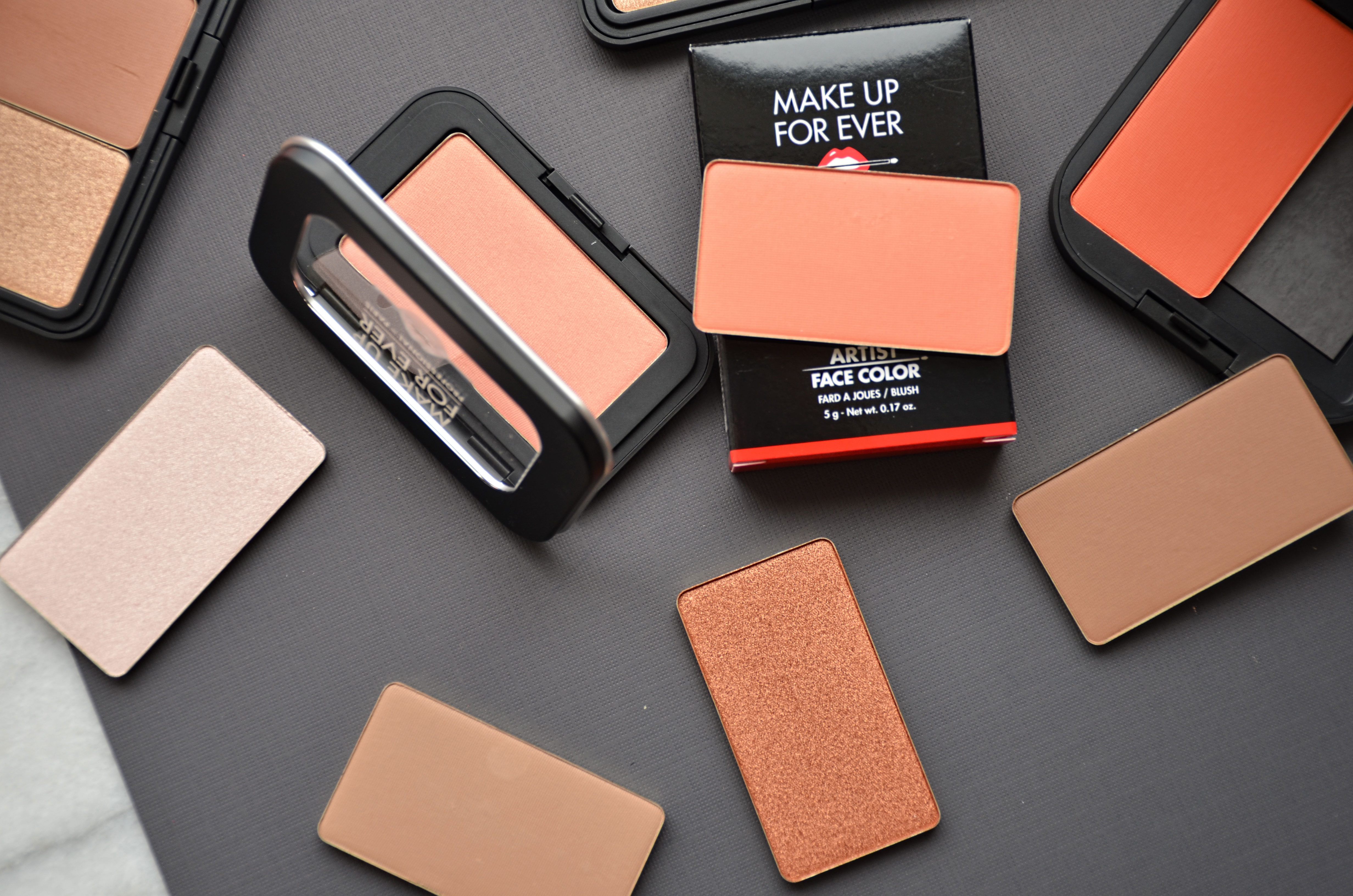 The Blush shades both come in matte and a shimmery finish. The peach shade in 302 has some shimmer but it is nothing over the top. Both B308 and B402 are matte and give a natural look to the cheeks.
Make Up For Ever also sent a pre made palette that was done in collaboration with Jessie J. It comes with three powders in the shades H106 (shimmery champagne), S114 (chamois sculpt) and B210 (shimmery warm pink).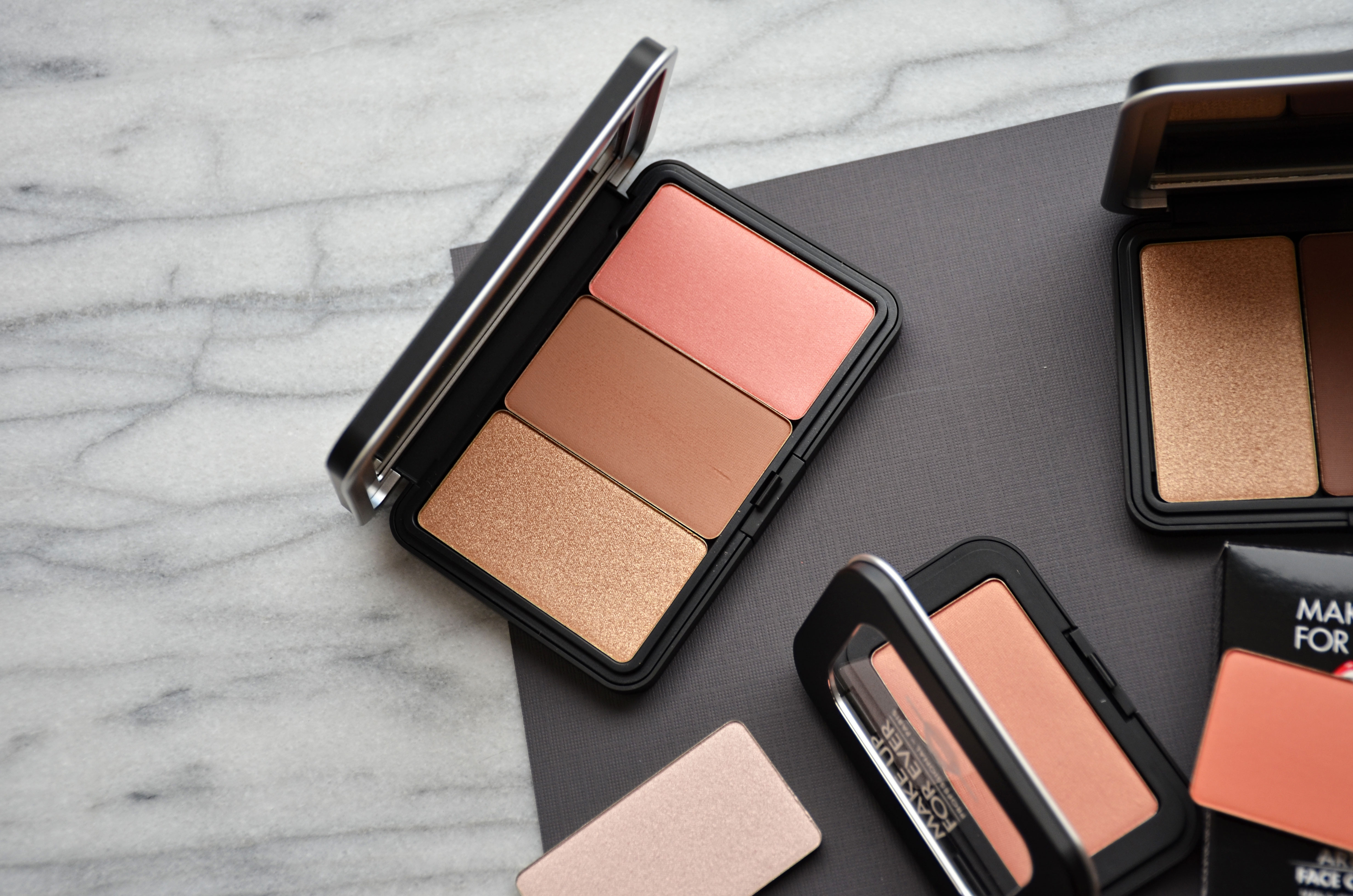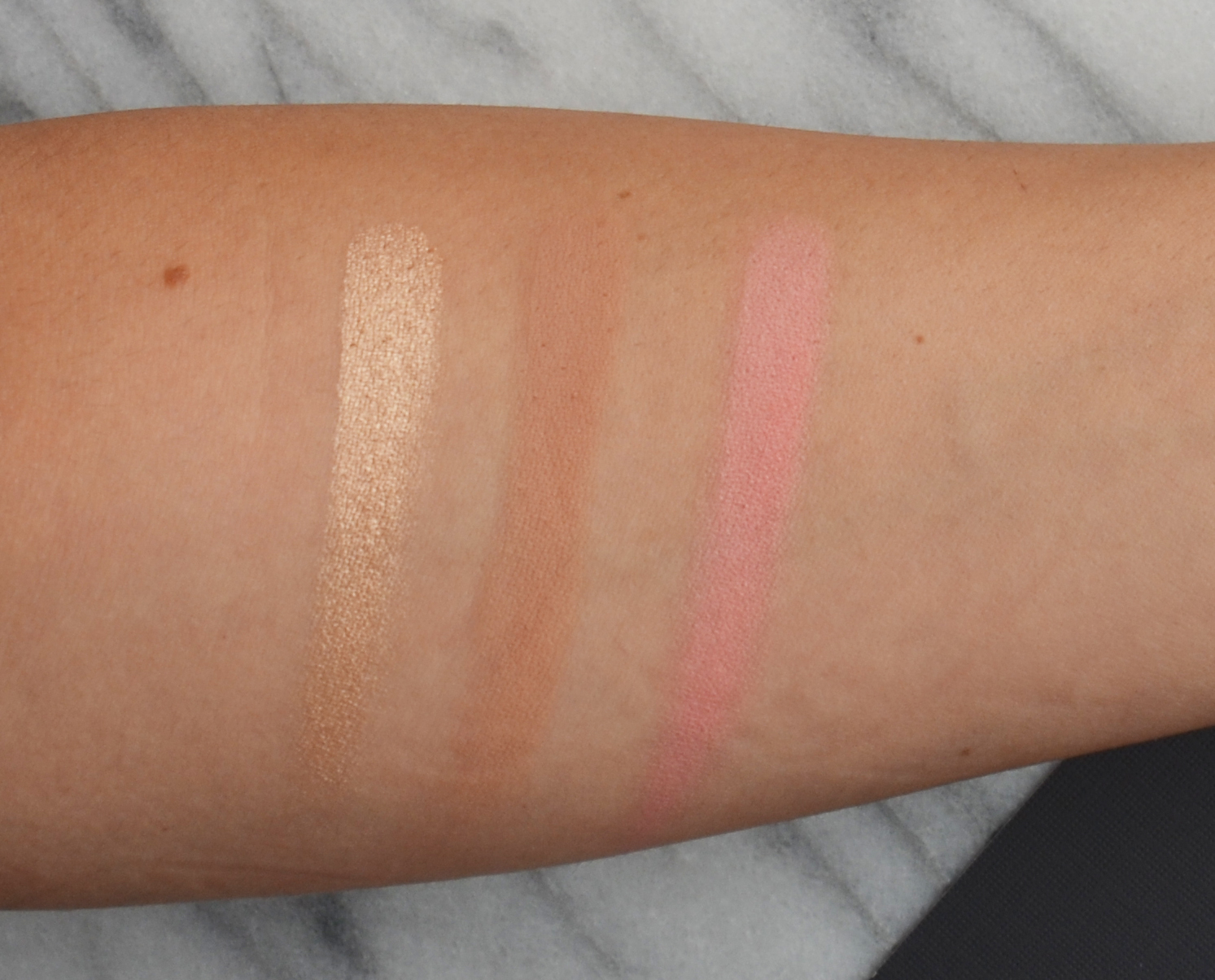 Swatches L to R: H106, S114, B210
Bottom line, I love the concept of the new Make Up For Ever Artist Face Color Powders! The refillable palettes are very inexpensive but also well made and did I mention the two and three pans come with a mirror? Yes! Finally a refillable palette that has a mirror! Also having 34 shade options, there really is a shade for everyone.
Are you planning on picking up a shade or two? Let me know if you need any help or recommendations for the shades.
Both the Artist Face Color and Palettes are already available on Sephora and makeupforever.com. The powders run for $23 each and the palettes are $2.
*PR Sample