Urban Decay released a new palette that's part of their Naked line. This time they are giving us a palette that is fire themed. The Naked Heat palette features different hues of warm browns, oranges and all the shades you need to create beautiful sunset looks.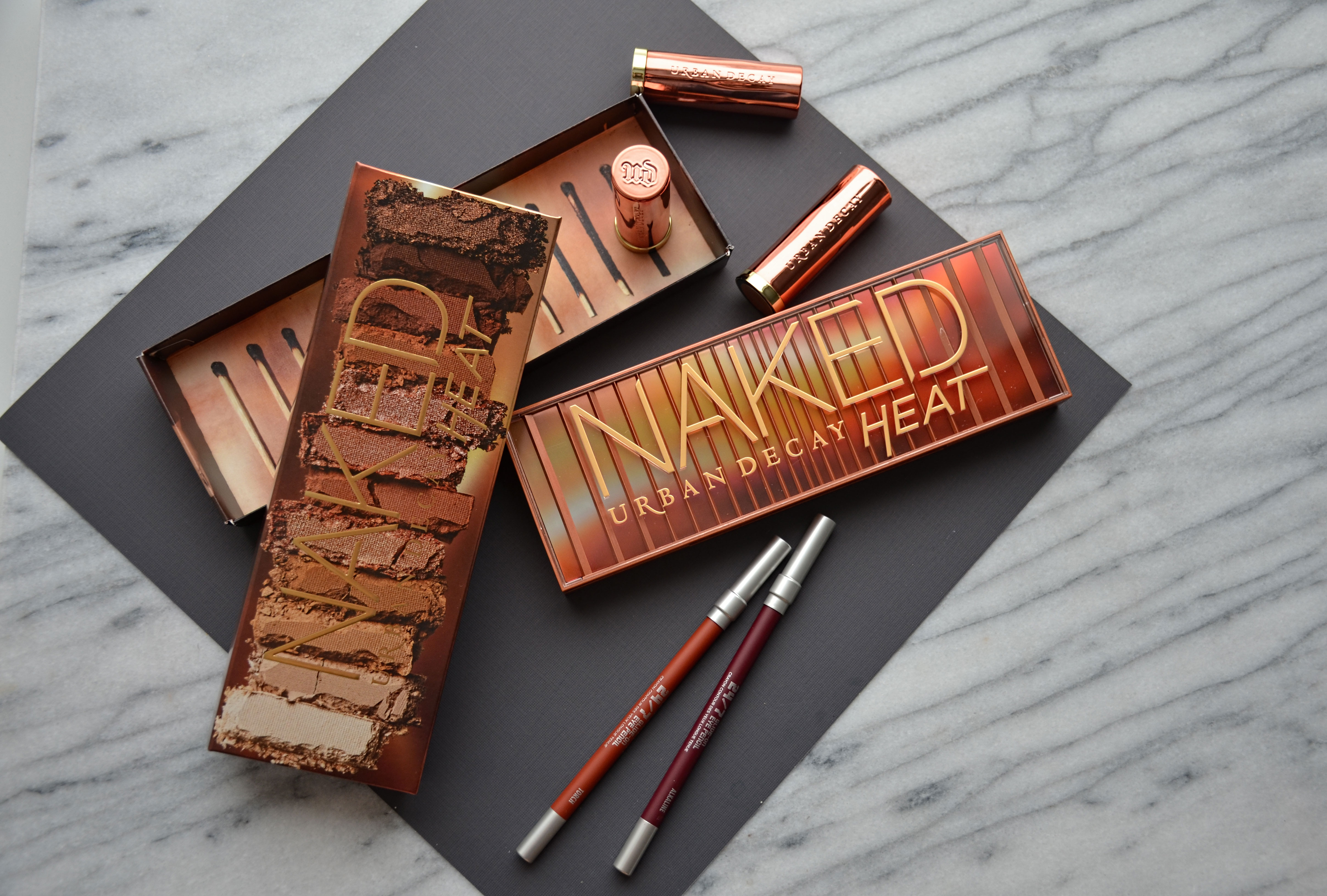 They also released three limited edition Vice lipstick shades to go with the palette and two 24/7 Glide On Eye Pencils.
The fire themed palette houses beautiful gradient packaging with gold lettering. I think this is my favorite packaging out of all Naked palettes. It's not only sturdy but it is beautiful to look at.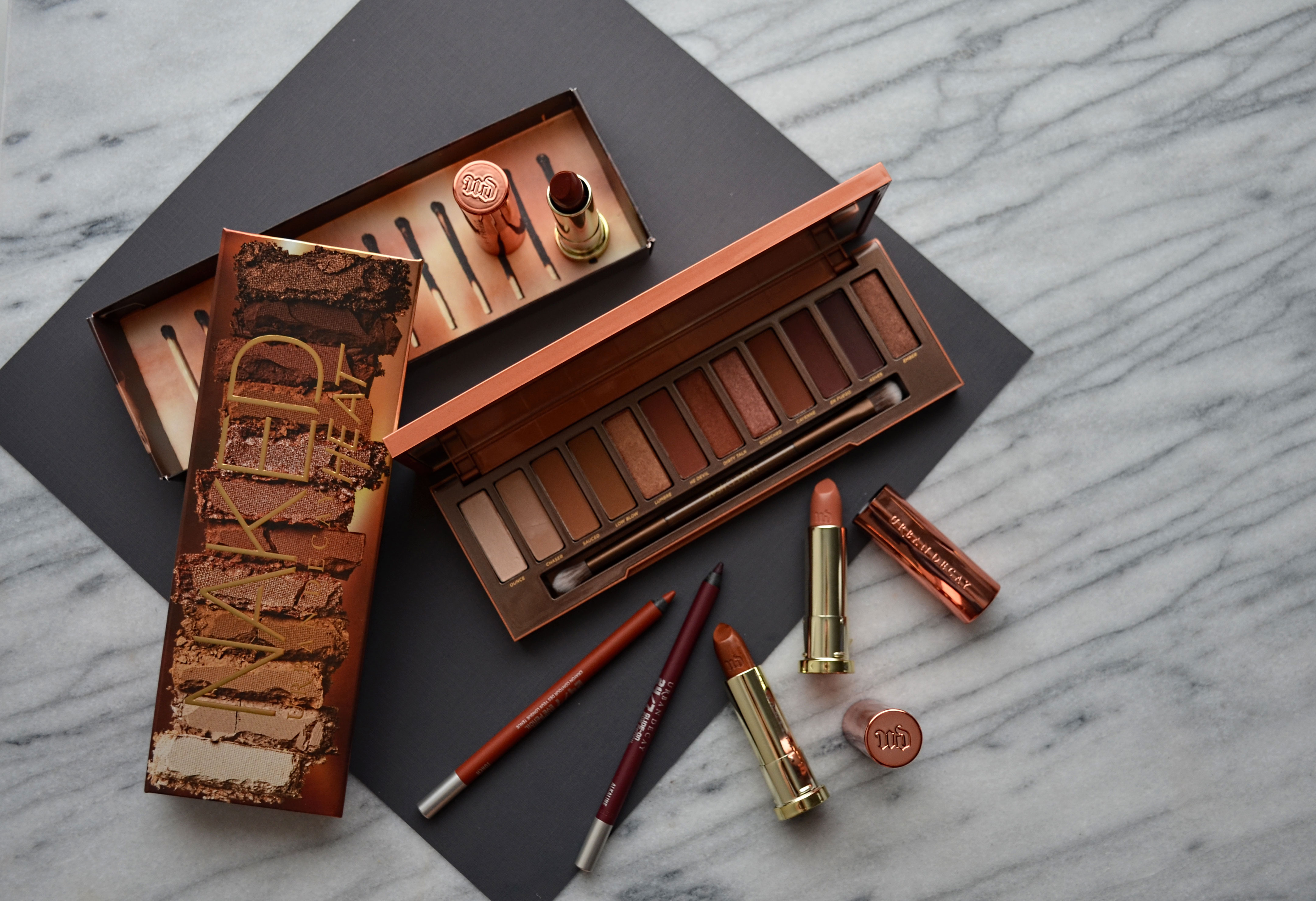 As with every Naked palette, the palette comes with twelve shades in matte and shimmery finish. There are all brand new shades ranging from rich warm browns, orange and rich siennas. It is a palette that is great for creating warm toned every day looks but also fiery sienna smoky eyes that are great for night time makeup.
This time Urban Decay included more matte shades than shimmery which was not the case with previous palettes. Seven of the twelve shades are matte so you really get every shade that you need to create a look ( from a light crease shade to a deeper crease and a lighter transition shade).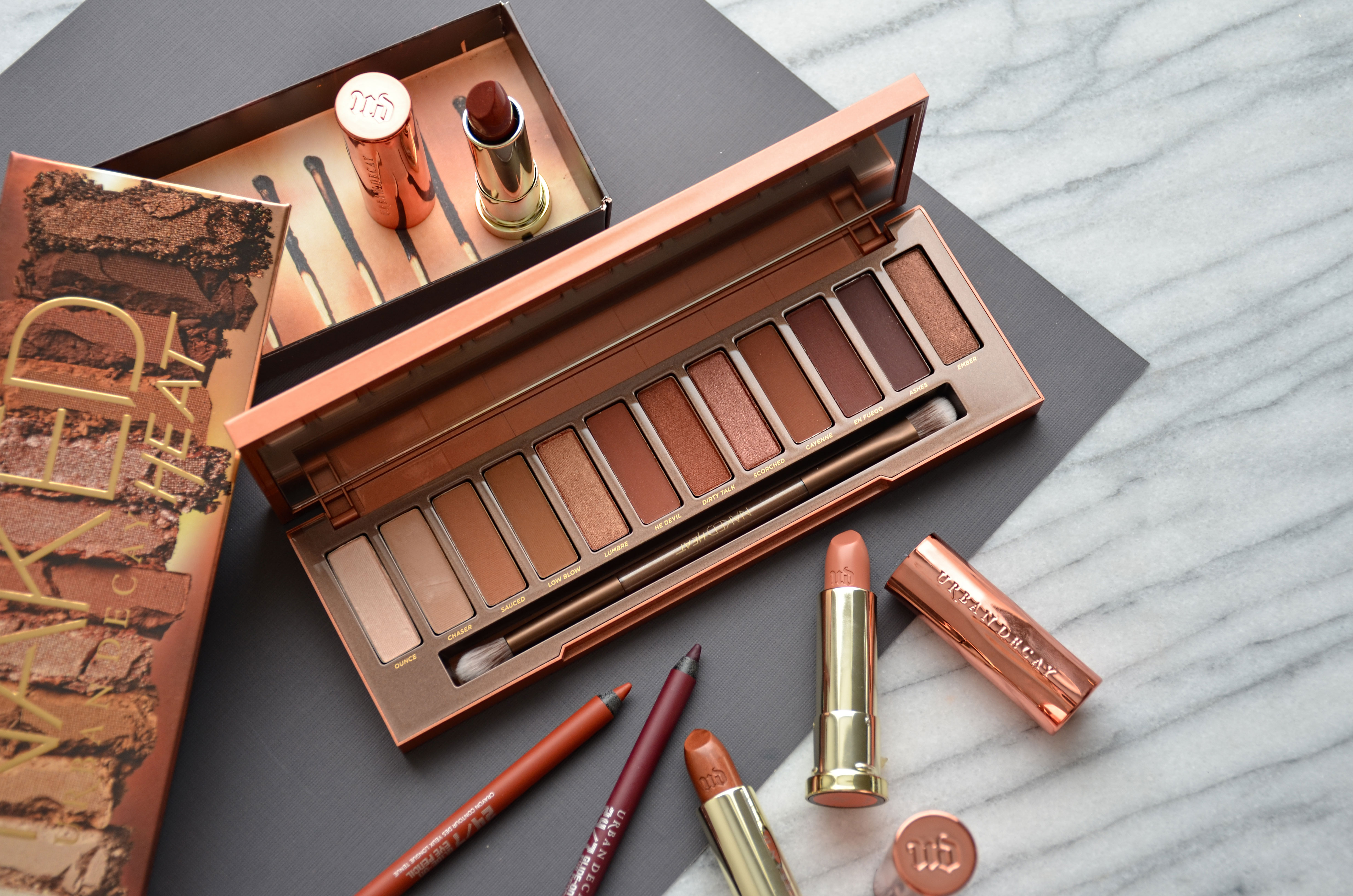 There is a good variety of shades and there is not a lot of similarities in any of the shades. The shades that come in the Urban Decay Naked Heat Palette are:
Ounce (ivory shimmer)
Chaser (light nude matte)
Sauced (soft terra-cotta matte)
Low Blow (brown matte)
Lumbre (copper shimmer with gold pearl shift)
He Devil (burnt red matte)
Dirty Talk (metallic burnt red)
Scorched (deep red metallic with gold micro-shimmer)
Cayenne (deep terra-cotta matte)
En Fuego (burgundy matte)
Ashes (deep reddish-brown matte)
Ember (deep metallic copper-burgundy)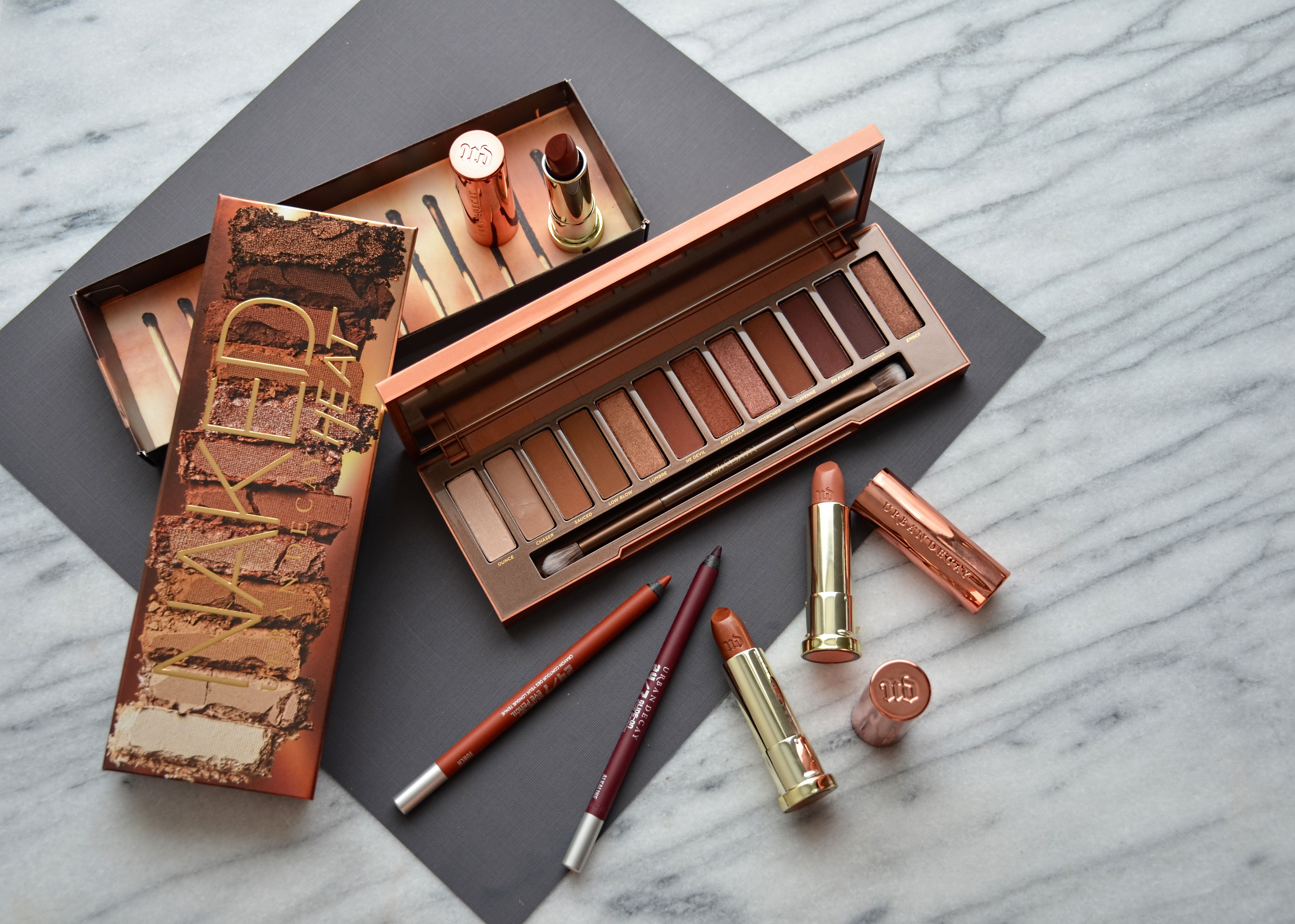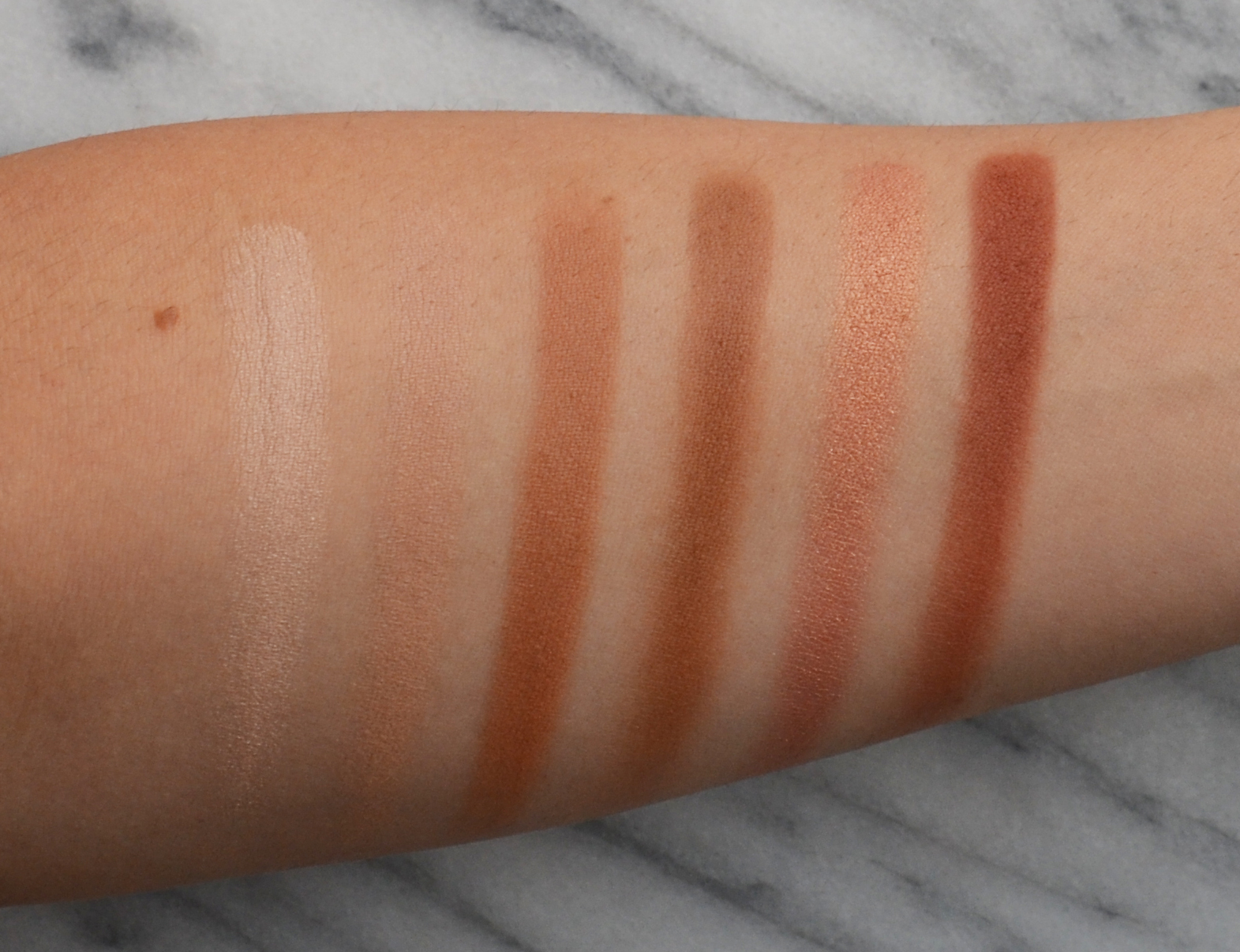 Swatches L to R: Ounce, Chaser, Sauced, Low Blow, Lumbre, He Devil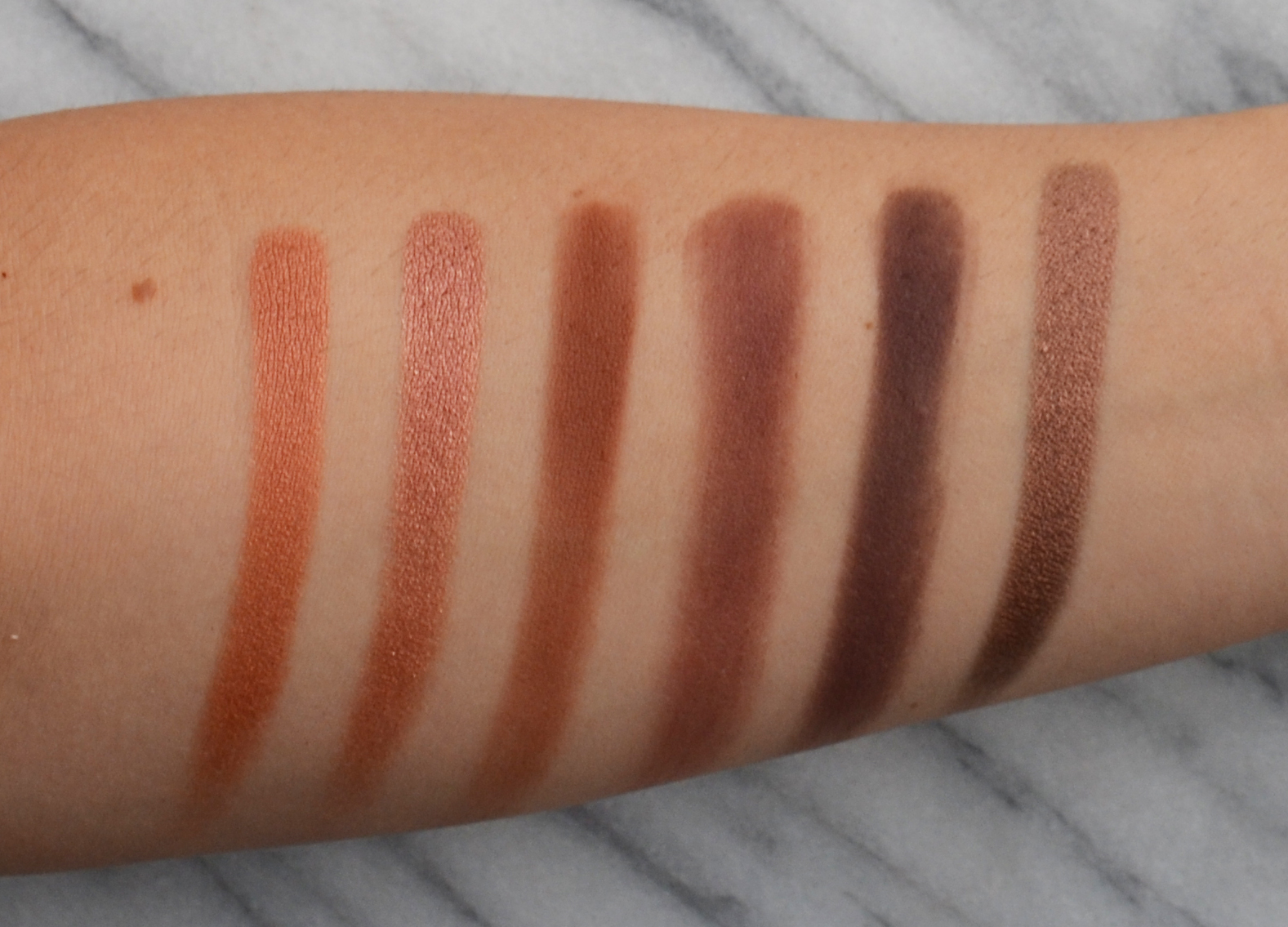 Swatches L to R: Dirty Talk, Scorched, Cayenne, En Fuego, Ashes, Ember
The swatches were done with one swipe using fingers. As you can see they swatch really well but they also apply well on the eyes. The matte shades are very pigmented so I had to tap off any excess before going in with a brush just to prevent applying too much. You can apply the shimmery shades with a flat synthetic brush or even using your fingers if you want to get more pigment but also by using a damp brush if you want to amplify the metallic finish.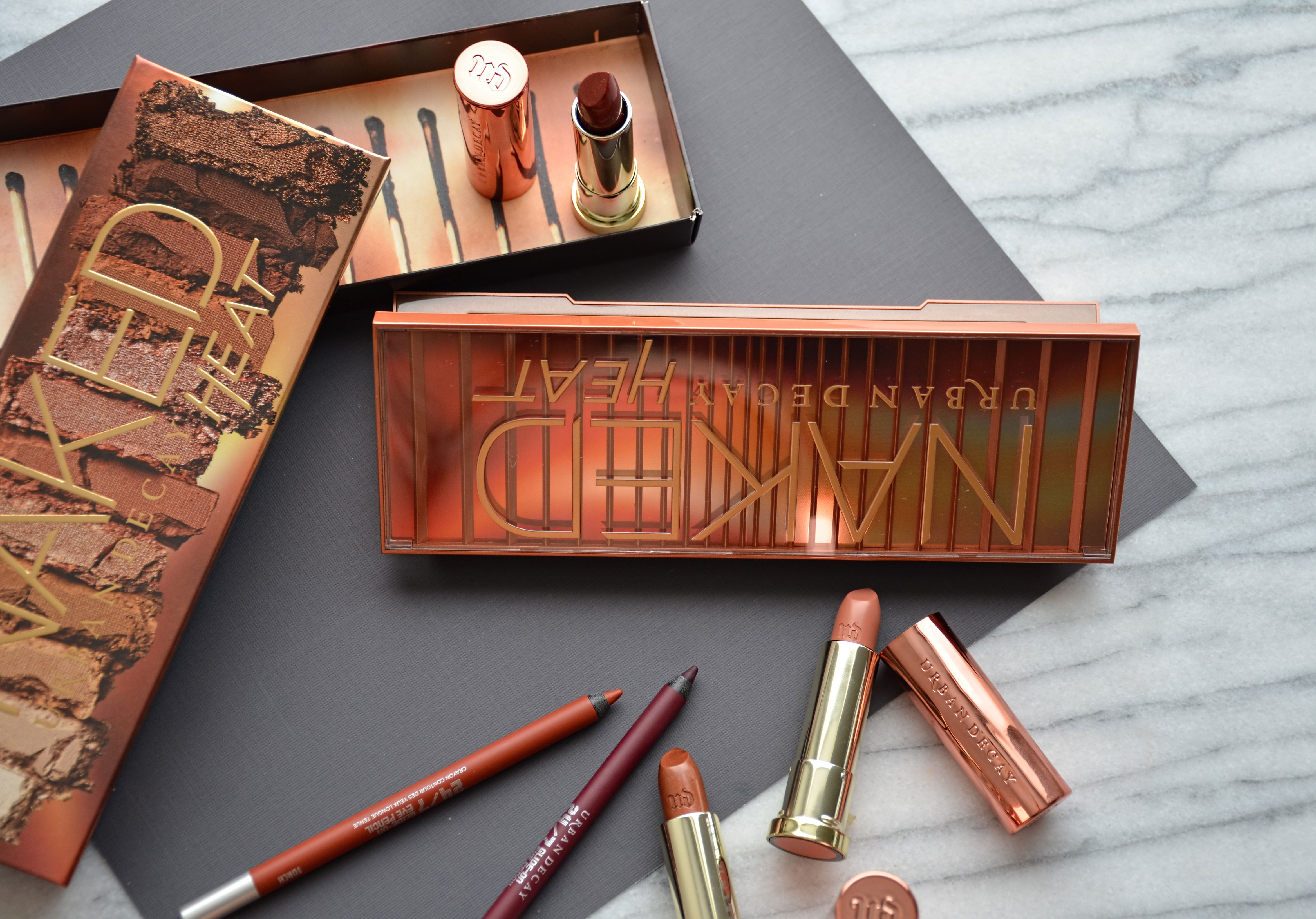 Urban Decay also released three limited edition Vice lipstick shades that compliment the palette. Fuel, a warm peachy nude in the cream finish is my favorite of the bunch. Both Heat (burnt red with gold pearl) and Scorched (metallic copper) come in the Vice metallic finish. They are beautiful rich shades but I still can't get used to the metallic lip trend, at least not on me.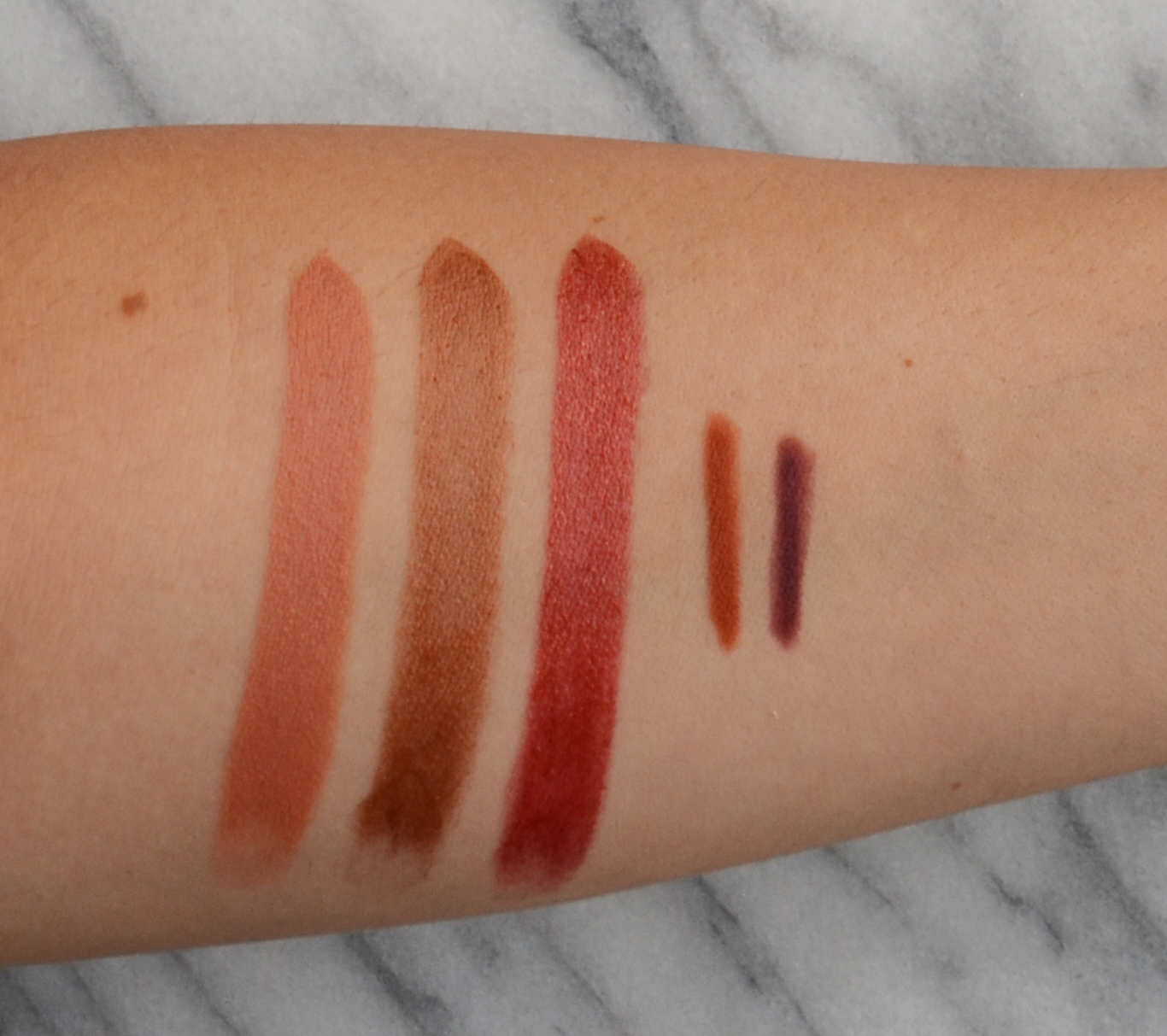 Swatches L to R: Fuel, Scorched, Heat, Torch, Alkaline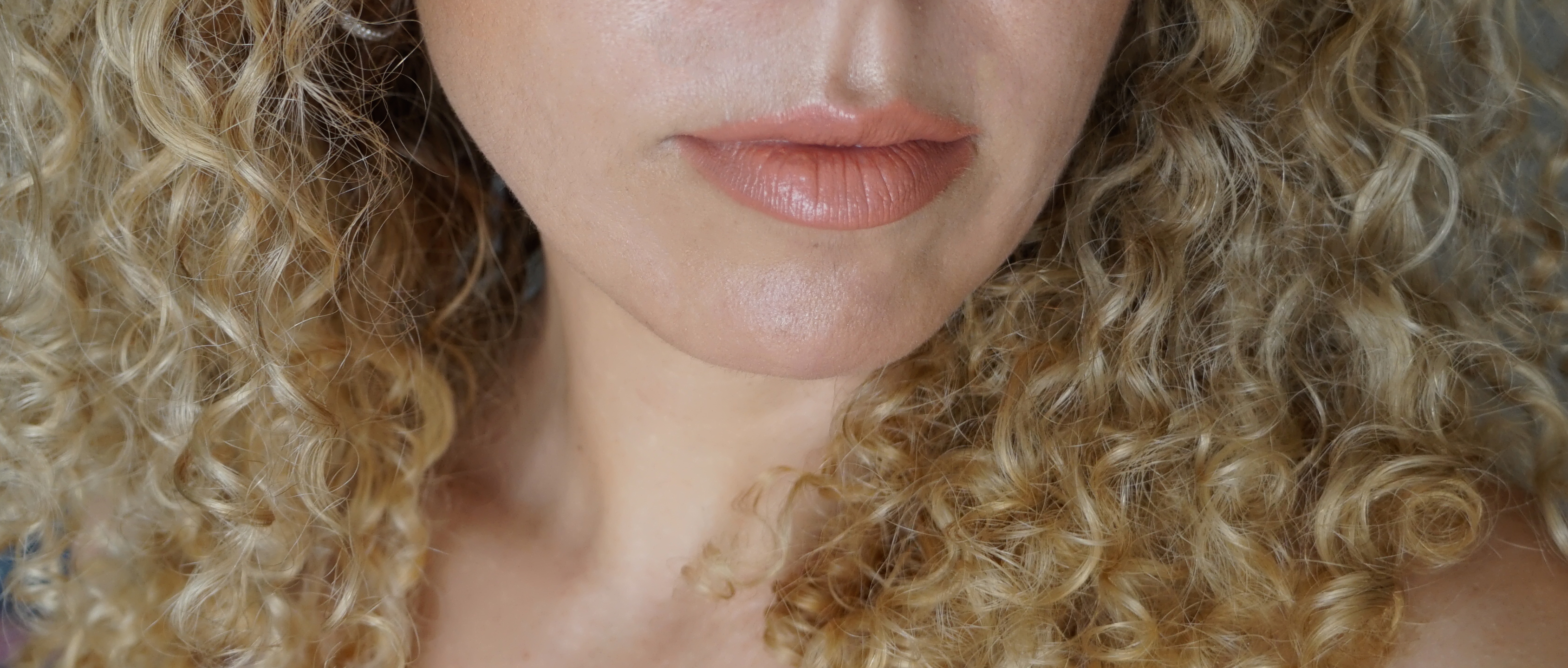 Urban Decay Vice Lipstick in Fuel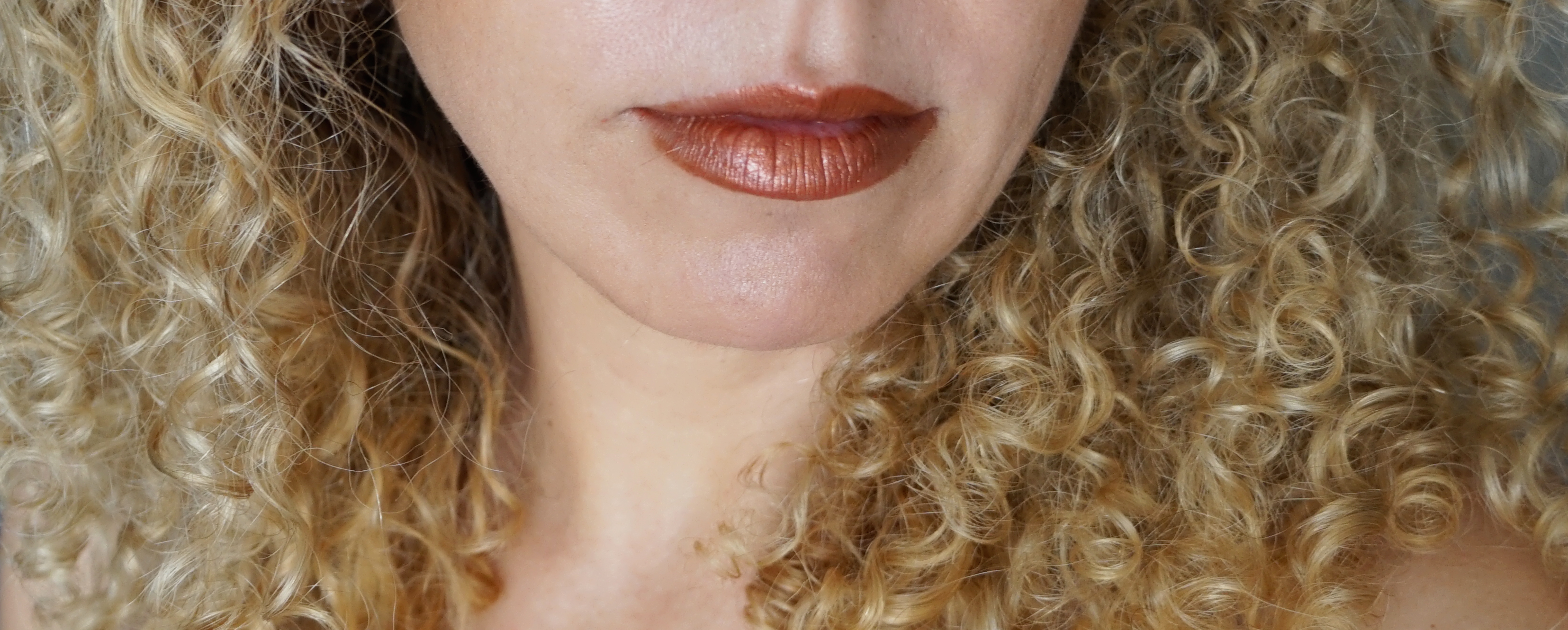 Urban Decay Vice Lipstick in Scorched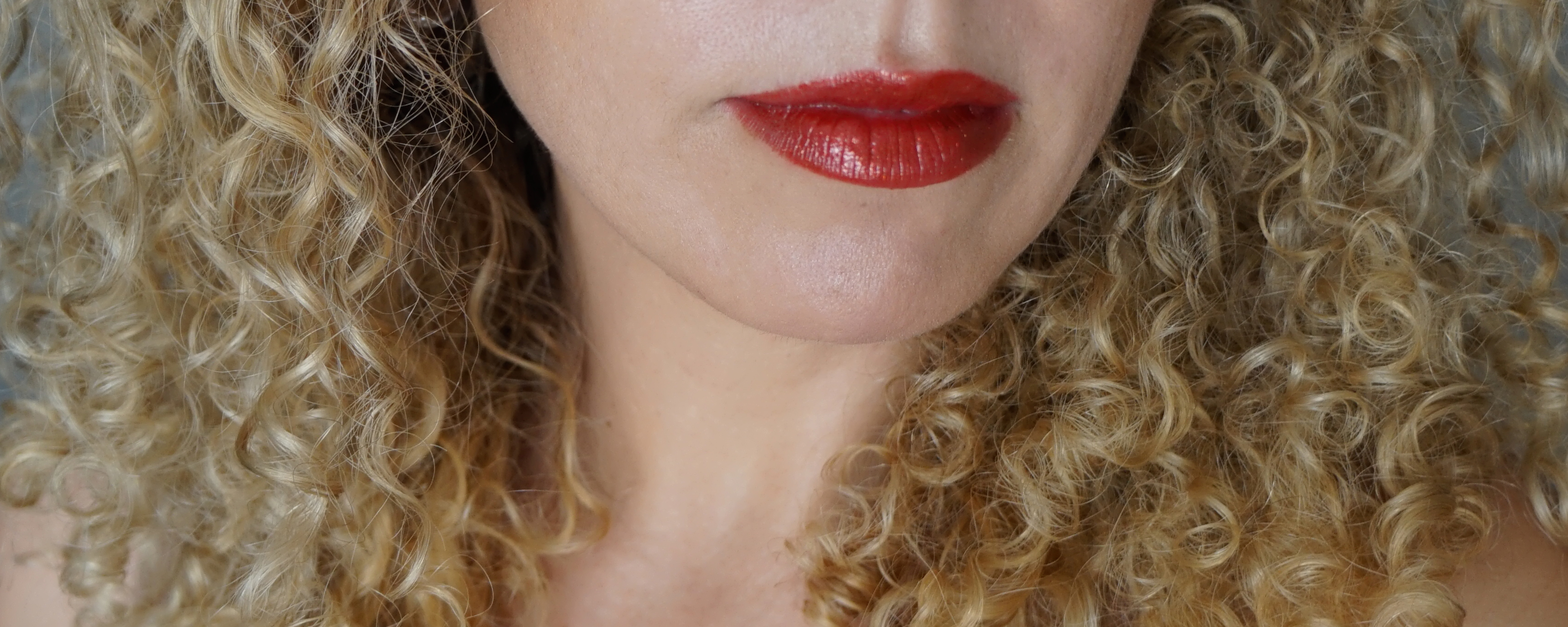 Urban Decay Vice Lipstick in Heat
The 24/7 Glide On Eye Pencils have one of my favorite formula. They glide on the eyes really well but as soon as they set they don't smudge or bleed. Both Torch and Alkaline compliment the Naked Heat palette really well. I like to use them as an eyeliner to add more color to the eye look. They are also good to be used in the waterline and hold up really well.
All in all, I really like the new addition to the Naked family. I would say that if you like your warm shades and prefer to wear a lot of orange, sienna and rich brown shades you should definitely check out the Naked Heat palette. I like to use warm shades in summer and fall so this palette will be well used.
Did you pick up the new Urban Decay Naked Heat Palette? What do you think about it?
*PR Sample