It is no secret that I like my makeup on the natural side. A light base, bronzed skin and eyes, natural highlight and nude lips are my go-to when it comes to my everyday makeup. I love using cream products to achieve a natural dewy look to my skin. This is where cream and liquid highlighters come to the rescue.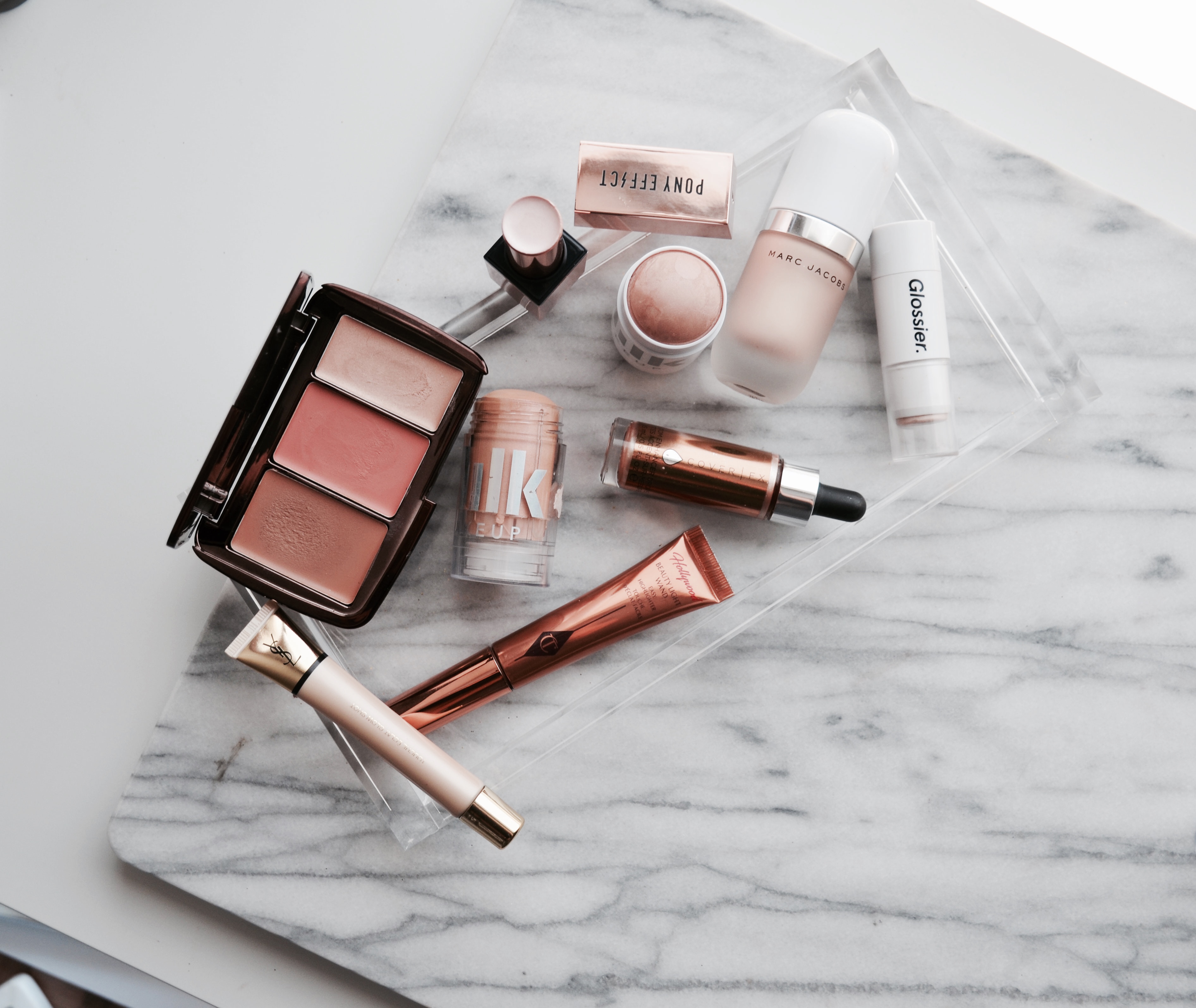 A good cream or liquid highlighter formula is the best if you want that dewy and glowy look to your skin. I find that a cream highlighter looks a little more natural than powder. With creams, you can also achieve an almost glossy look which I love.
You can always layer and use a powder if you like a beaming highlight. But you can easily use some of the cream highlighters I'll mention and you'll get as strong a highlight as with layering.
So here are my favorite and go-to's when it comes to cream and liquid highlighters:
Hourglass Illume Sheer Color Trio – I use all three shades and equally love them. The highlighter shade from the palette gives a beautiful champagne glow to the cheeks and it's subtle, so you can layer it.
YSL Touche Eclat Glow Shot Liquid Highlighter in 1 Daylight – A shot of glow in a tube, Daylight is a beautiful pale champagne shade. The intensity is in the middle, so not too strong but also not too subtle. You can layer for more intensity but with only one swipe, you will get a subtle glow which is great for daytime wear.
Milk Makeup Holographic Stick in Mars and Highlighter in Lit – Mars is a golden peach color. It has a holographic shift and it's quite different from everything else I have. Lit is your classic champagne shade. The formula of Lit is a little creamier than Mars but they have the same intensity when applied on the cheeks.
Charlotte Tilbury Hollywood Beauty Light Wand – This is one intense liquid highlighter. It gives a beautiful glow and even gloss to the skin without any chunky shimmer or glitter. A little bit goes a long way so if you want an intense highlight you don't need to use a lot.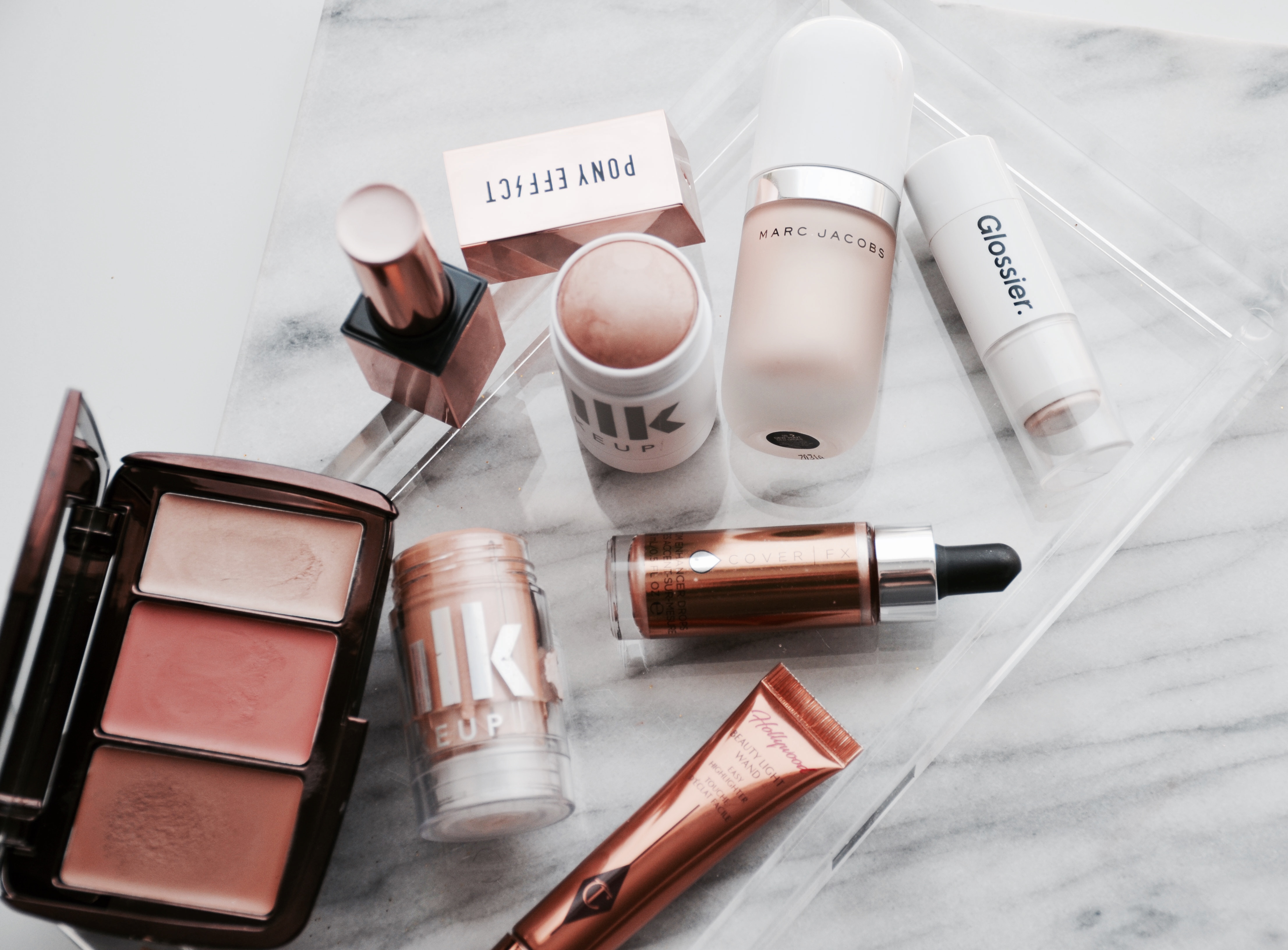 Cover FX Custom Enhancer Drops in Sunlight – When it comes to liquid highlighter, these are one of the best on the market. Heavy swatched, you get a liquid gold look but they can also be sheered out for a more natural look. I also like to mix this formula with my foundation for an all over glow. I love all the shades in the line but Sunlight (a soft golden glow) is a favorite.
Marc Jacobs Dew Drops Coconut Gel Highlighter – The name says it all. These drops give a natural looking golden dewy look to the skin without being over the top. You also have the option to mix them with your foundation or primer for an all over glow. They also smell like coconuts which always takes me to warm summer days by the beach.
Pony Effect Makeup Art-Stick Highlighter in Dreamlike – This is my newest addition to my cream highlighter collection. It's a beautiful light pinky beige highlighter that gives an etherial glow to the skin. You can find Pony Effect at Urban Outfitters so I'm definitely planning on trying more from the brand.
Glossier Haloscope in Quartz – Quartz is similar in color to Dreamlike but the finish is quite different. Since the stick has a clear balm in the middle, it appears a little lighter on the skin but it also gives a glossy look. This one makes my skin look wet which I love for the summer.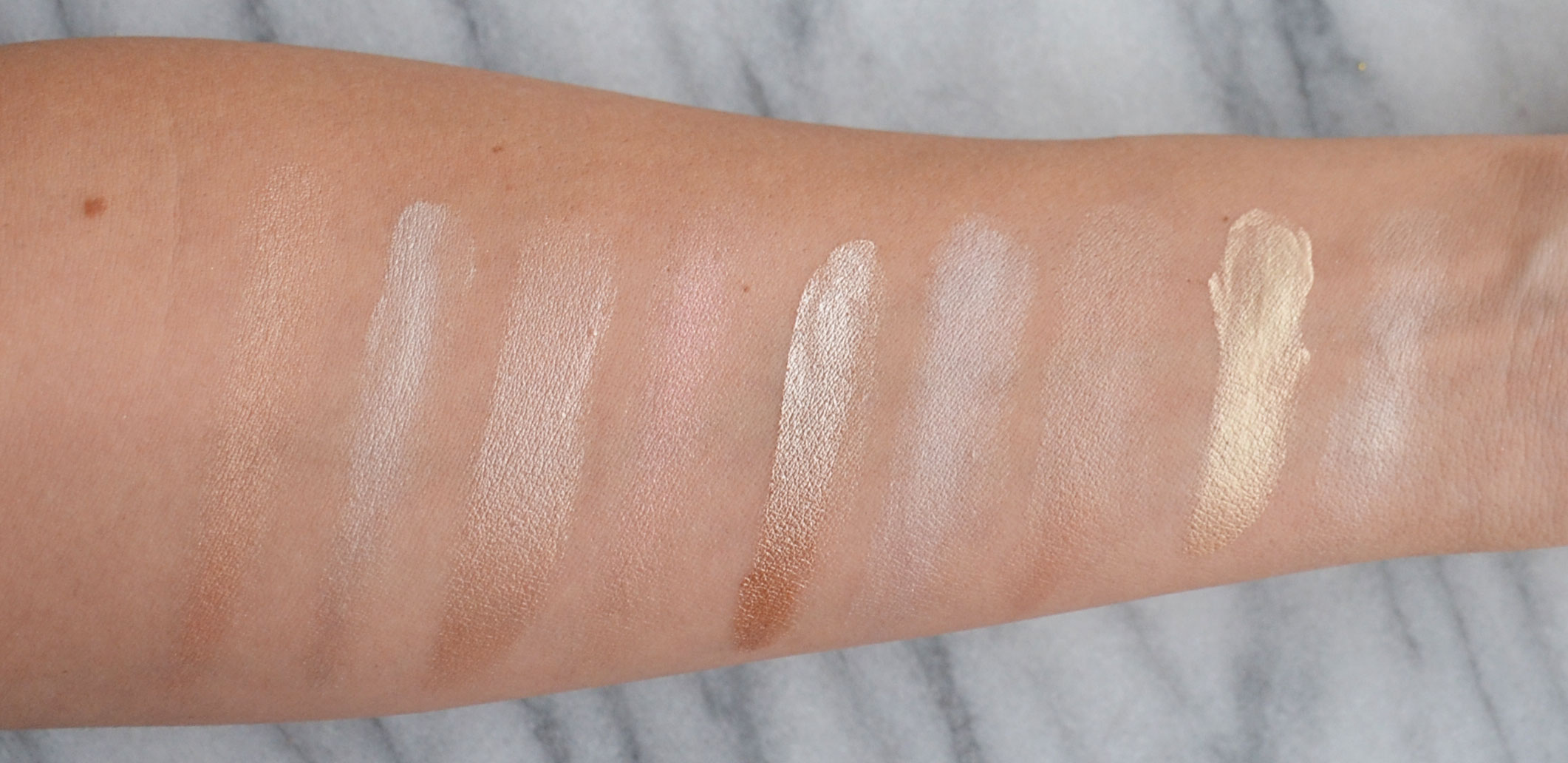 Swatches L to R: Hourglass Illume Sheer Color, YSL Glow Shot in 1 Daylight, Charlotte Tilbury Hollywood Beauty Light Wand, Milk Makeup Mars, Cover FX Sunlight, Pony Effect Dreamlike, Milk Makeup Lit, Marc Jacobs Dew Drops, Glossier Quartz
Because my skin is normal, I don't have to set any creams that I put on my skin. But if you have oily skin or even combination, I would use a little powder on top to make sure the cream doesn't move. You also have the option to use cream to powder formulas which are better suited for oily skin.
What's your favorite cream or liquid highlighter for daytime use?
SaveSaveSaveSaveSaveSaveSaveSaveSaveSaveSaveSaveSaveSaveSaveSave