Smashbox's newest release are the Always On Matte Liquid Lipsticks. They're described as an eight hour wear liquid matte lipstick with a lightweight comfortable formula that stays put and appears fresh as the first swipe. The formula is infused with the Smashbox Primer Oil which provides comfortable wear and highly pigmented colors.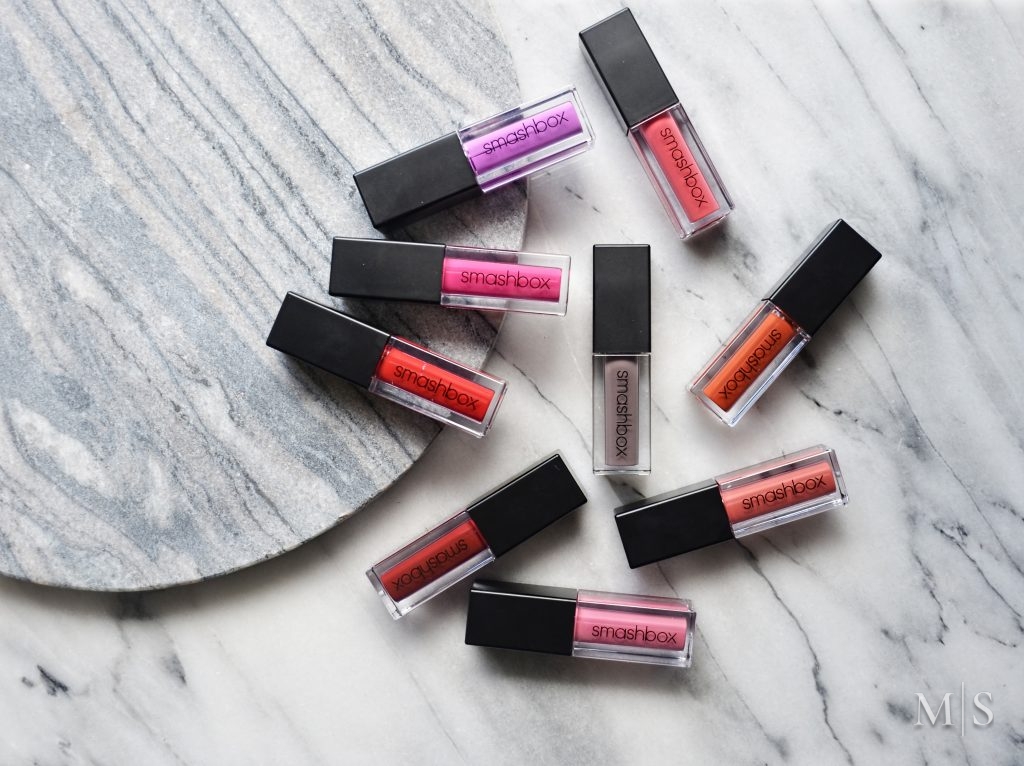 They claim that the formula is smudge proof, budge proof, non-feathering and lasts up to eight hours.
The Always On line has twenty available shades ranging from pretty nudes to some bright purples and a very unique cool grey shade.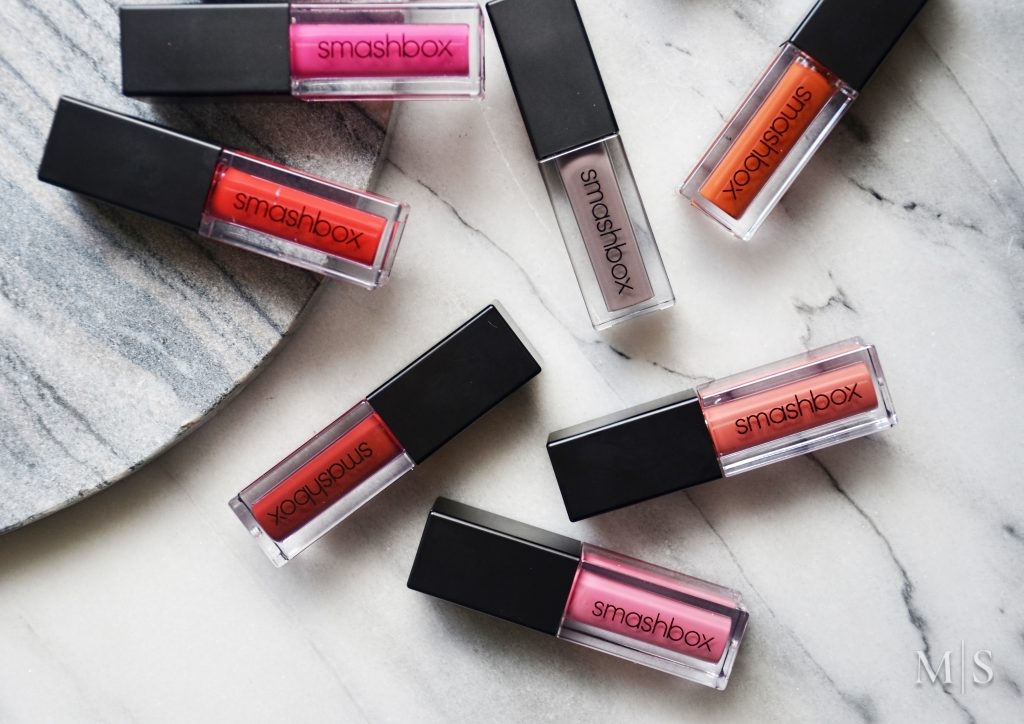 The packaging of the Always On liquid lipsticks is super compact but you do get a good amount of product for the price. They come with a short doe foot applicator which makes for a super easy and precise application. The doe foot applicator is very similar to the YSL Glossy Stains meaning it has the same hole in the middle that picks up enough product for a one swipe application. It's also pointed which makes precise application a breeze and you can carve out very precise lines on your lips and skip on the lipliner.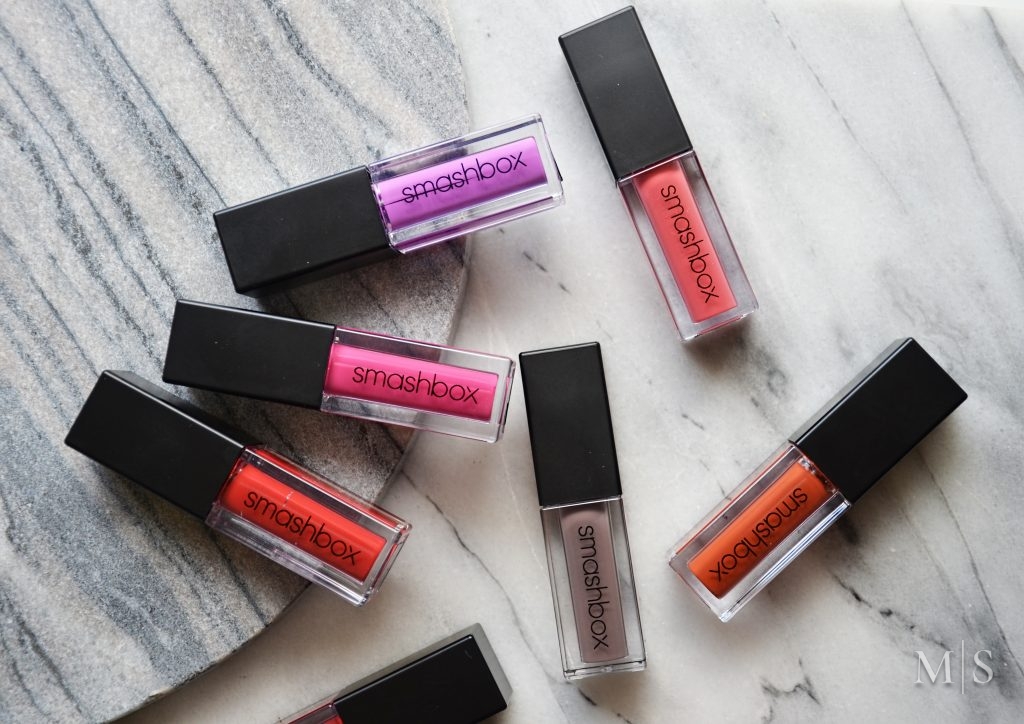 The formula of the Always On Matte Liquid Lipsticks is mousse like but thin enough to make application very easy. It also doesn't dry down quickly so you can take your time with application. What I like about it is that it dries down to a matte finish but it doesn't have that sucking out dryness feeling that a lot of matte lipsticks give. It doesn't settle in to fine lines and it's actually very comfortable to wear.
I don't find the formula completely transfer proof, if you kiss you hand after the lipstick has dried you can see a little bit of transfer which I don't mind since the formula is so comfortable to wear. The Always On also wear very well and are buildable so if you eat something that contains oil you can easily touch up and it will look nice.
I received ten out of the twenty available shades and I ended up loving them all. The formula is very consistent with the shades so every shade performs the same. I also didn't have problems with the darker shades and they equally applied and looked good on the lips.
The shades that I received are:
Driver's Seat (warm pink)
Dream Huge (mauve pink)
Baja Bound (pink coral)
Out Loud (deep orange)
Bawse (deep red)
Shockaholic (bright pink)
Some Nerve (vibrant purple)
Miss Conduct (deep warm plum)
Chill Zone (deep cool grey)
They included Out Loud twice in the package so I'll definitely have that shade in an upcoming giveaway.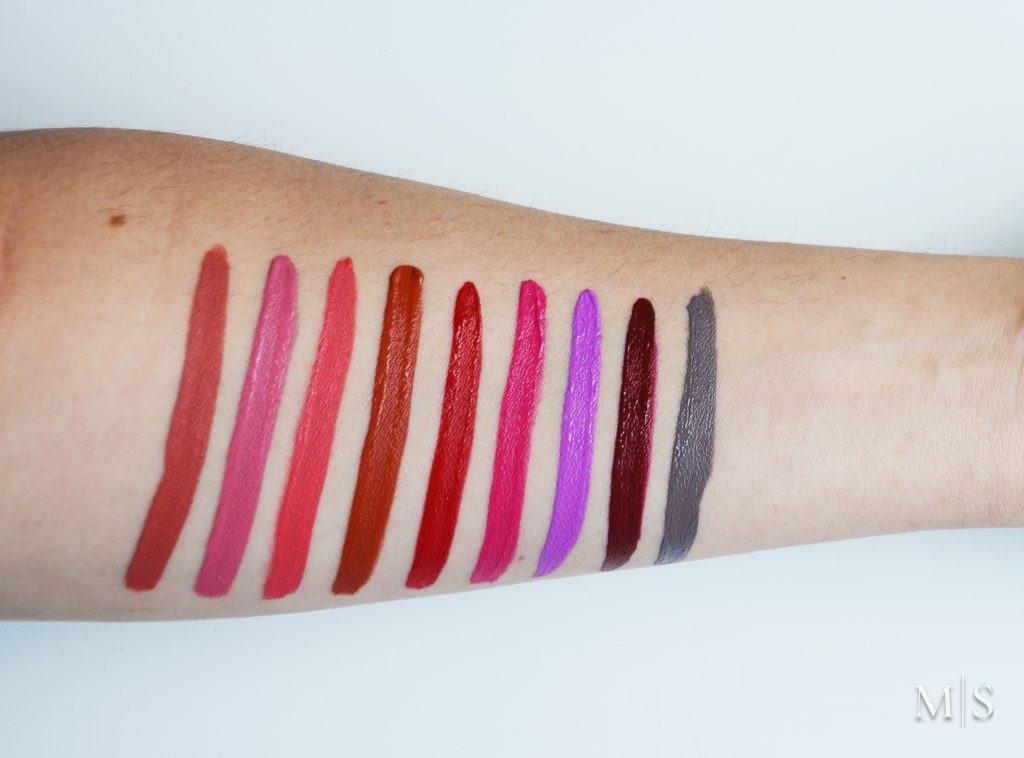 Swatches off the Smashbox Always On Matte Liquid Lipsticks L to R: Driver's Seat, Dream Huge, Baja Bound, Out Loud, Bawse, Shockaholic, Some Nerve, Miss Conduct, Chill Zone
The swatches were done with one swipe so you can see that these pack a good pigment. My favorite shades include Driver's Seat, Dream Huge and Miss Conduct but I also love Chill Zone as a very unique shade.
The Smashbox Always On Matte Liquid Lipsticks get a huge thumbs up from me. If you're looking for a comfortable matte liquid lipsticks these are a great option to try. They have some very nice shades and the wear time is excellent.
*PR Samples