Cover FX are famous for having products that are made to customize your own foundation or skincare product. From Custom Cover Drops that you can use to customize your foundation to Custom Infusion Drops that you can use with your skincare, they have it all. They recently added their Custom Enhancer Drops to the line of customizable products and they are amazing.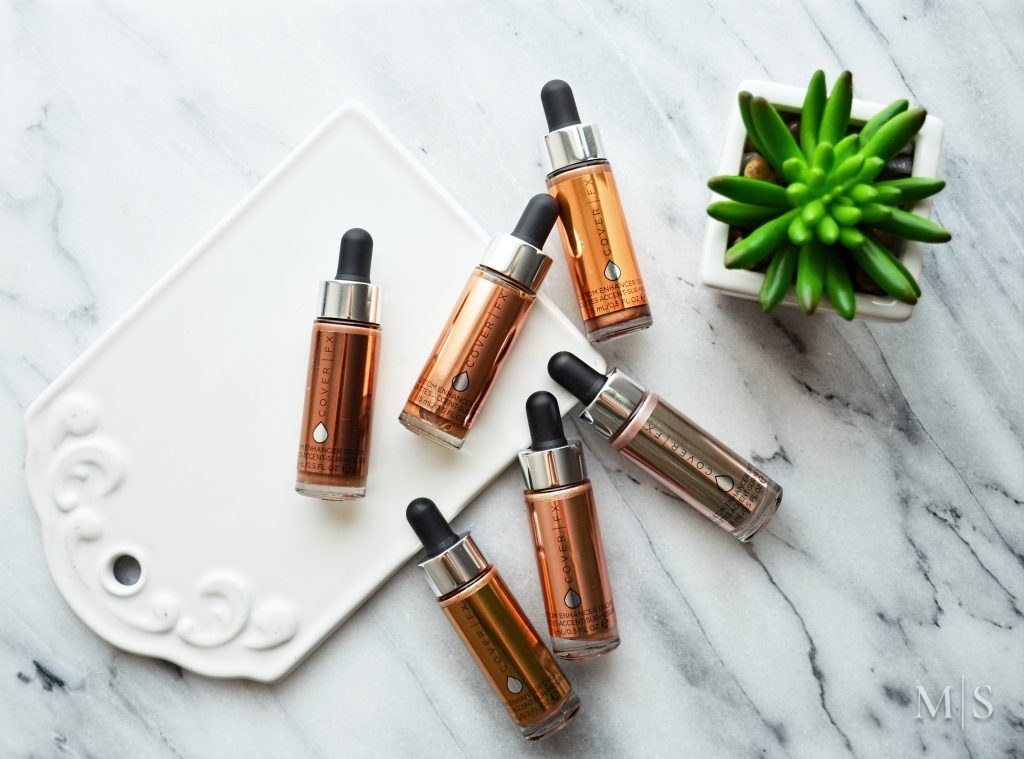 The Cover FX Custom Enhancer Drops are a drop formula that's meant to be used for highlighting, strobing or bronzing or you can also mix it with your favorite beauty product. The line has six available shades, four are different shades that are meant for highlighting and two are a lighter and a darker liquid bronzer.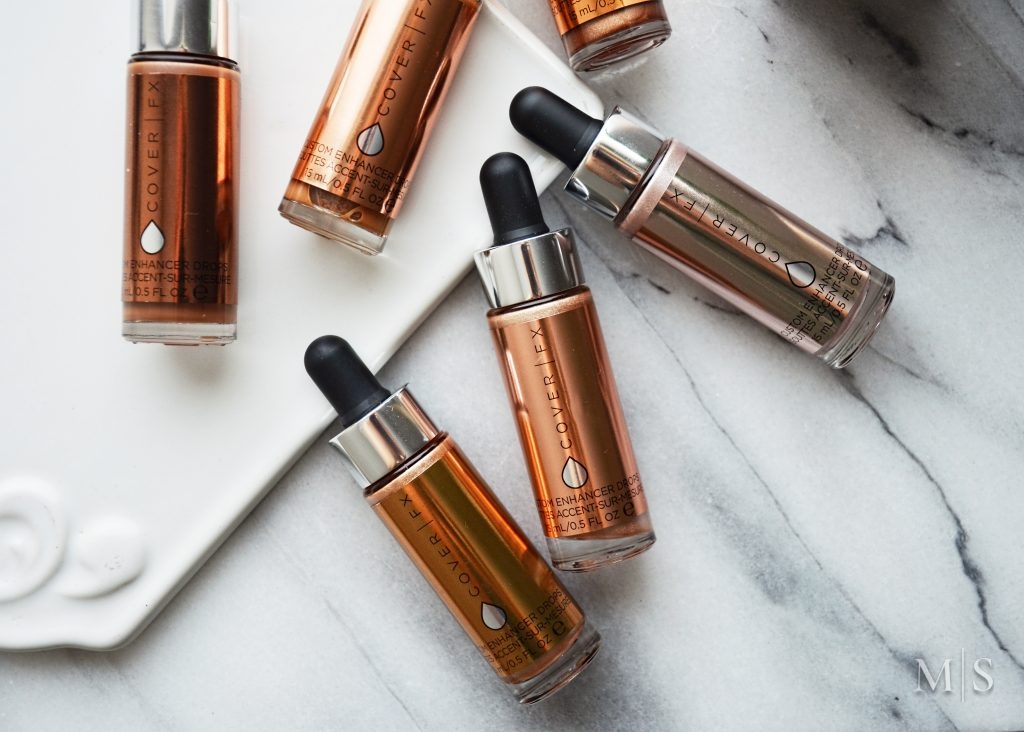 The six shades of the Custom Enhancer Drops are:
Celestial (glistening pearl)
Moonlight (imparts a soft silver glow)
Sunlight (imparts a soft golden glow)
Candlelight (shimmering golden bronze)
Sunkissed (for a light sunkissed look)
Sunset (for a deeper sunkissed look)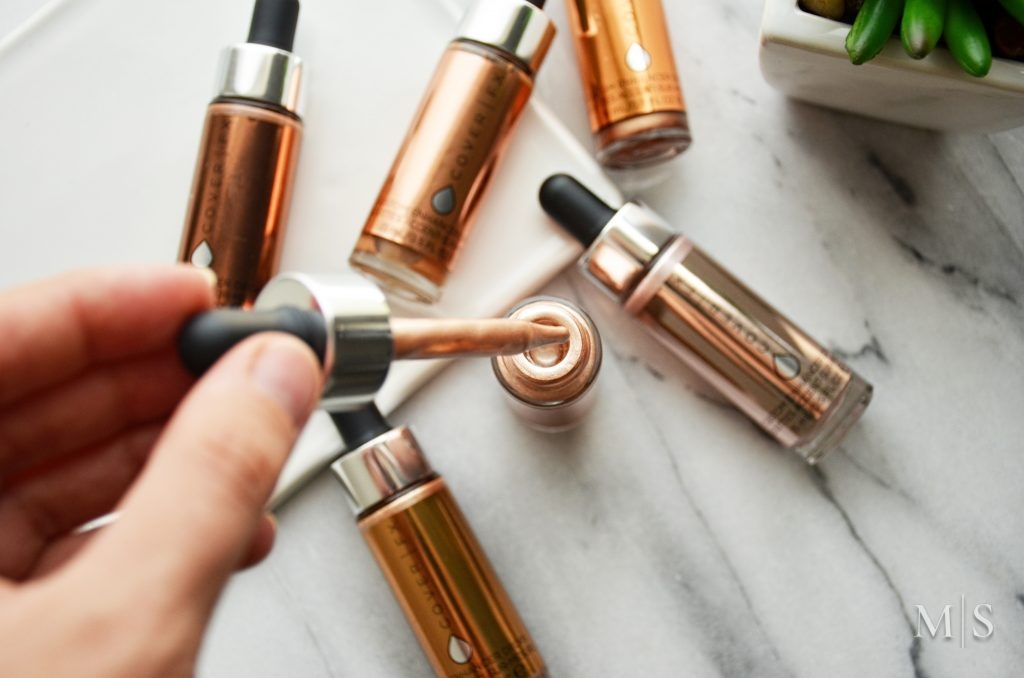 From the website:
"Custom Enhancer Drops makes bringing adding a highlighting, strobing, or bronzing effect to any liquid cosmetic or skincare product easy. Add them to your favorite foundation, primer, serum, and moisturizer. Available in six universal shades, including four illuminators and two bronzers, these drops can also be used alone, even on top of powder, to create a buildable highlight or sunkissed tint. Custom Enhancer Drops were formulated with a high concentration of pearls that produce a lit-from-within glow without appearing too glittery or overdone. The more drops you use, the more luminosity you'll get. The result is a beautiful, camera-ready, radiant finish."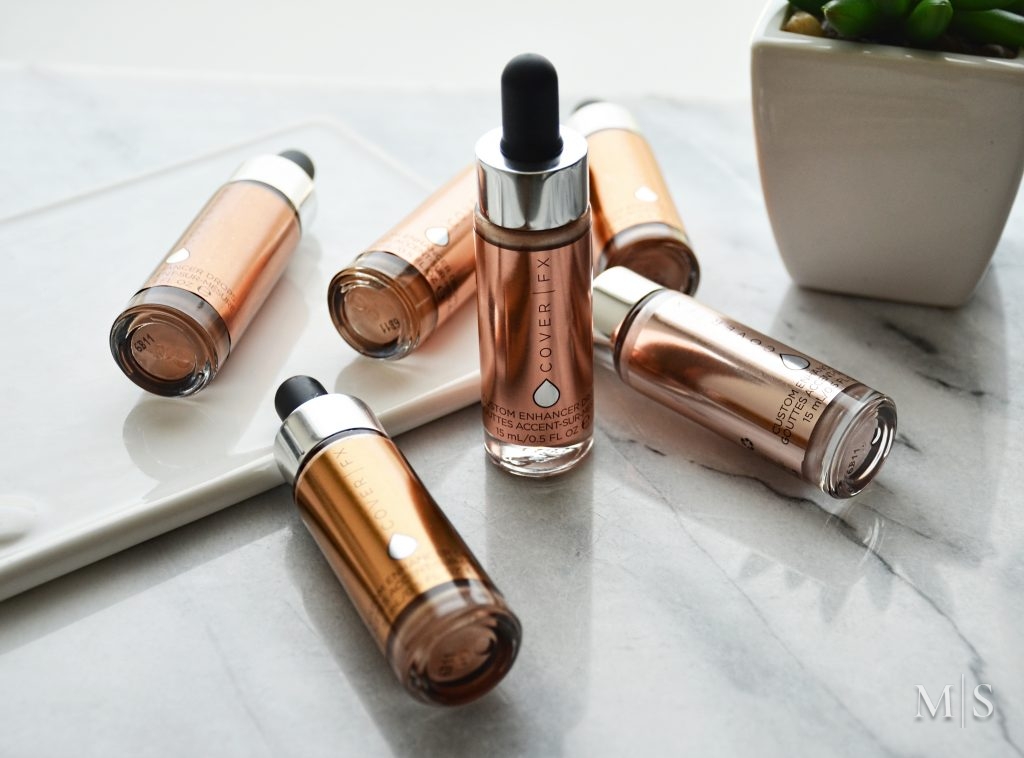 The product comes with a dropper that is very convenient and great for controlling how much product you dispense and use. The formula is super pigmented, the highlighting shades look like liquid metal when they're not blended so you only need a tiny bit of product if you're highlighting or bronzing or mixing some product with your foundation.
The six shades that come in the line are all beautiful shades and I think they released a good variety that will suit most skin tones. If you're fair or light I would recommend going with Celestial or Moonlight since those two are the lightest of the bunch and if you're looking for a bronzing shade, the lighter shade in Sunkissed would work wonderfully for fair to light skin. For medium to deeper skin tones the shades in Sunlight and Candlelight would work great as highlighters and Sunset is a great deeper tone bronzing shade.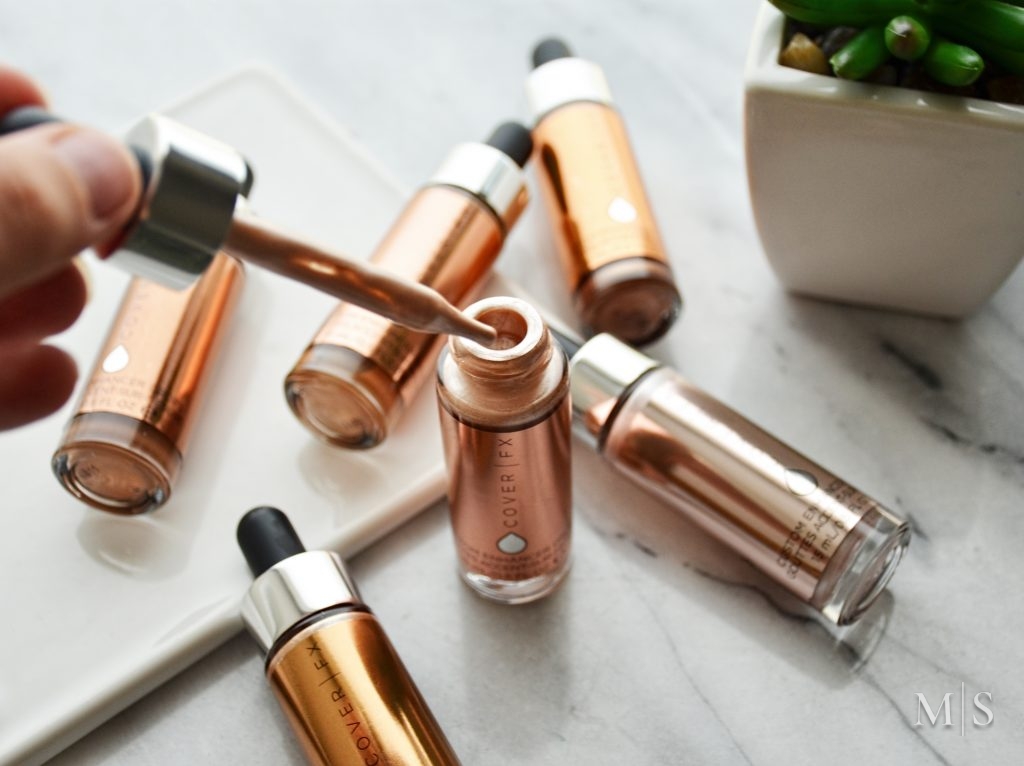 What I love about the formula is that it's very versatile. You can use the product over or under foundation, also over powder which is pretty rare for a liquid product. You can mix it with your foundation, skincare, body care, use it on it's own as highlighter or bronzer and also use it as a liquid eyeshadow. The bronzing shades can be also used to deepen a foundation so you don't have to buy a different shade of your favorite foundation for summer.
For application I used a damp sponge and it blended out nicely, but you can also use your hands if you're in a hurry or use a buffing brush.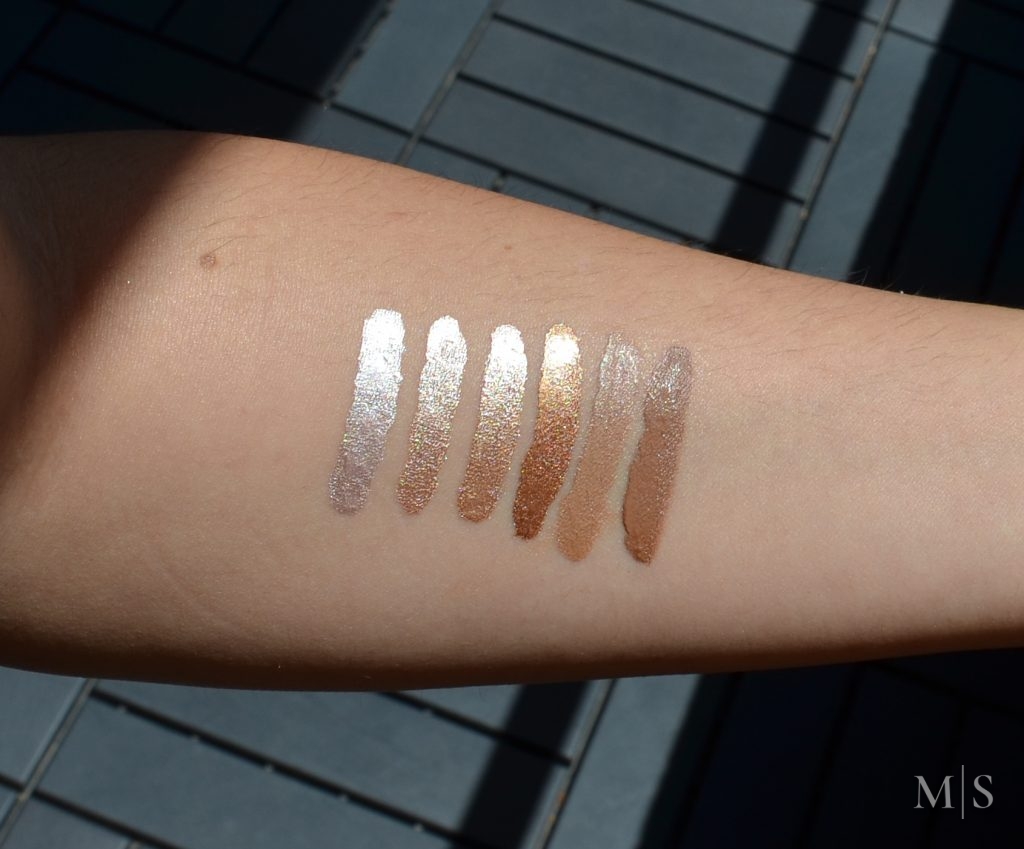 Swatches of the Cover FX Custom Enhancer Drops L to R: Celestial, Moonlight, Sunlight, Candlelight, Sunkissed, Sunset
The swatches were taken on direct sunlight just so you can see how metallic the shades swatch. I think they're a very unique product and one of the most pigmented liquid highlighters/bronzers I've ever tested. You literally need a tiny dot of product so a bottle will last you forever.
I'm lucky that my skin tone is light to medium so I can actually use all the shades. I can't really pick a favorite since they're all so beautiful so my recommendation is just to go with your skin tone if you're interested in picking up a shade or two.
The Cover FX Custom Enhancer Drops are available both at Sephora and coverfx.com and they retail for $42.
*PR Sample