Every season Sephora comes out with a lip favorites kit and this spring they released a lip set that's perfect for the nude lipsticks lover. Nude shades are my favorite to wear because they're very easy to pull off and they go with every eye makeup look. The Sephora lip sets are always a great value for the price and the Sephora Give Me Some Nude Lip is no exception. The set is priced at $28 and it's a $86 value.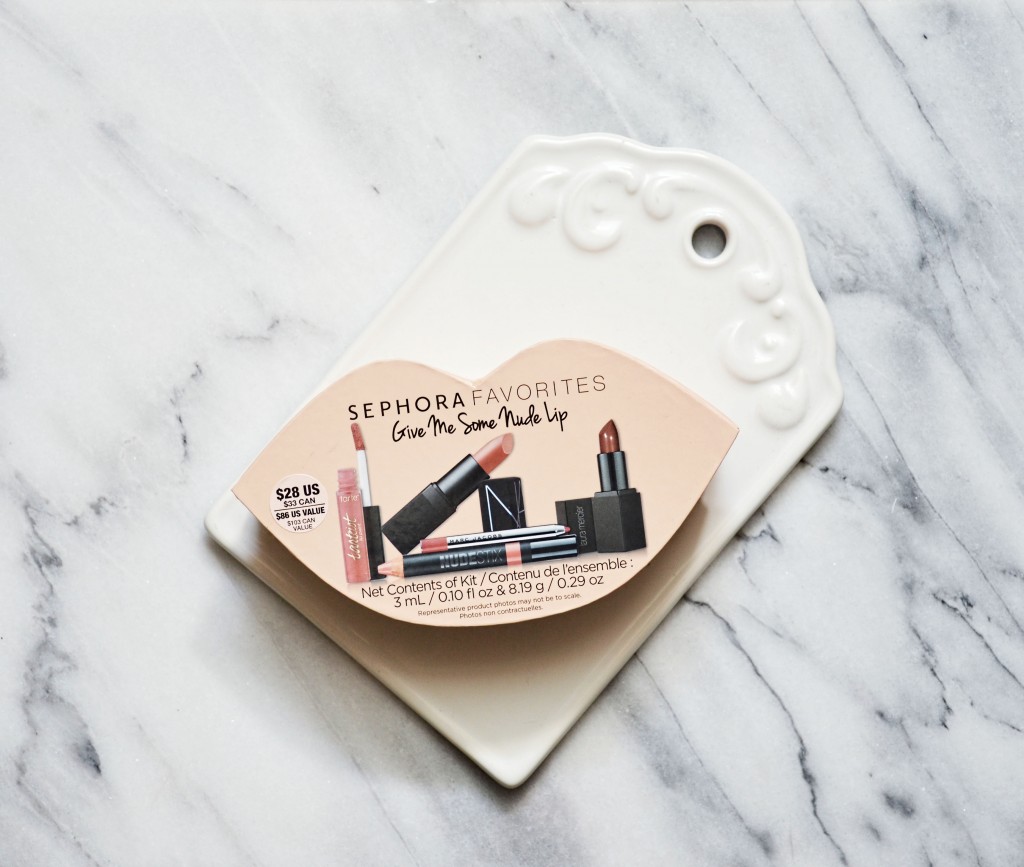 The Give Me More Nude Lip set comes with five lip products and two of them are full size. The other three are deluxe sizes which means you get a good amount of product so you can test out a lip product before you decide if you want to get the full size.
The set contains:
– 0.01 oz Marc Jacobs Beauty Mini (P)Outliner Longwear Lip Pencil in Prim(Rose) (cocoa spice)
– 0.12 oz NARS Dolce Vita Lipstick in Dolce Vita
– 0.07 oz Laura Mercier Milky Way Crème Smooth Lipstick in Miky Way (nude)
– 0.088 oz NUDESTIX Lip + Cheek Crayon in Whisper
– 0.10 oz Tarte Tarteist Lip Paint in Namaste Nude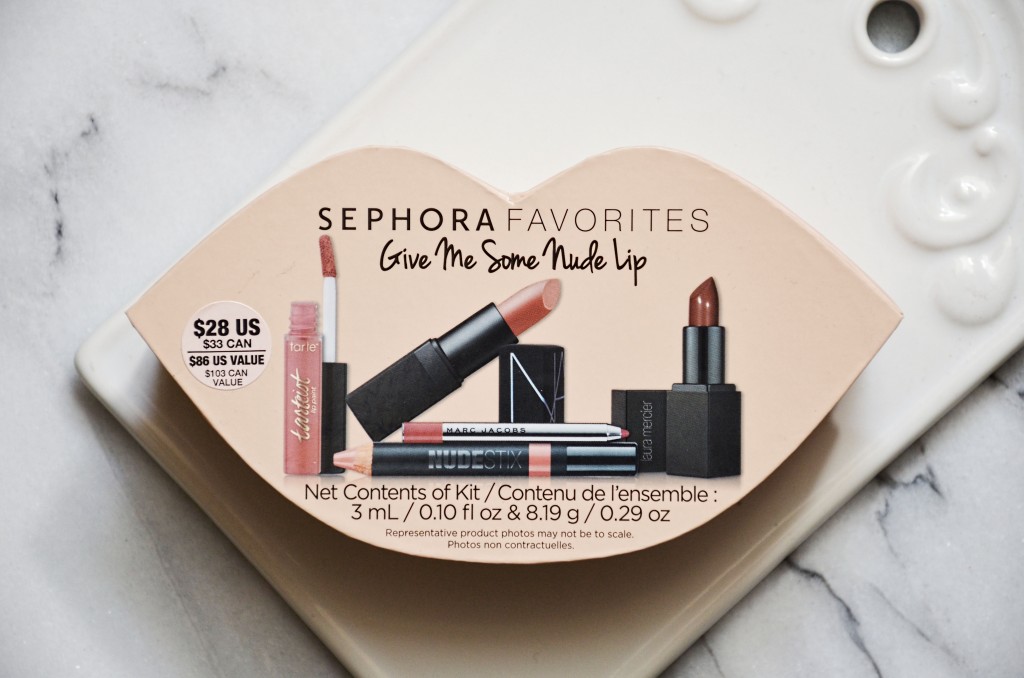 The set comes in a pretty lip shaped boxed which I'll definitely reuse to store some jewelry or my mini lip products.
The two full size items are the Nars Dolce Vita lipstick and the NUDESTIX Lip+Cheek Crayon in Whisper. The Nars Dolce Vita lipstick has a semi sheer finish and feels very comfortable and hydrating on the lips. It's one of those every day no fuss shades that you always carry in your purse.
The NUDESTIX Lip+ Cheek Crayon in Whisper is a pretty nude mauve shade with a cream finish. I haven't tried it on the cheeks but I do love it as a lipstick. It's super easy to apply since it's a pencil and also great to carry in your bag for touchups.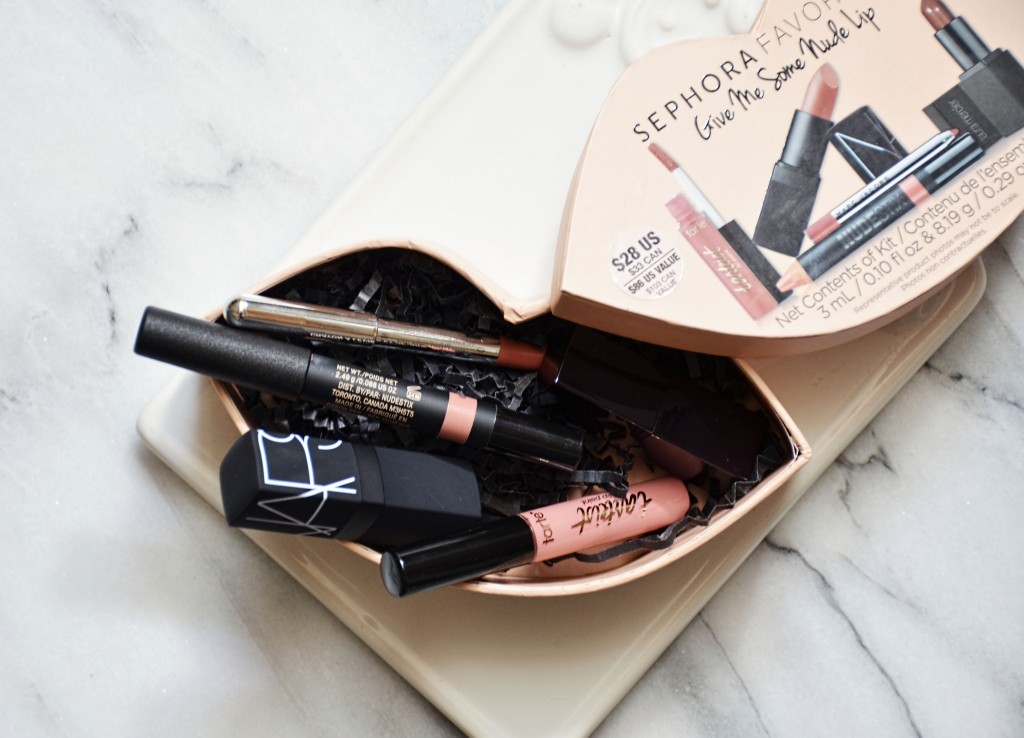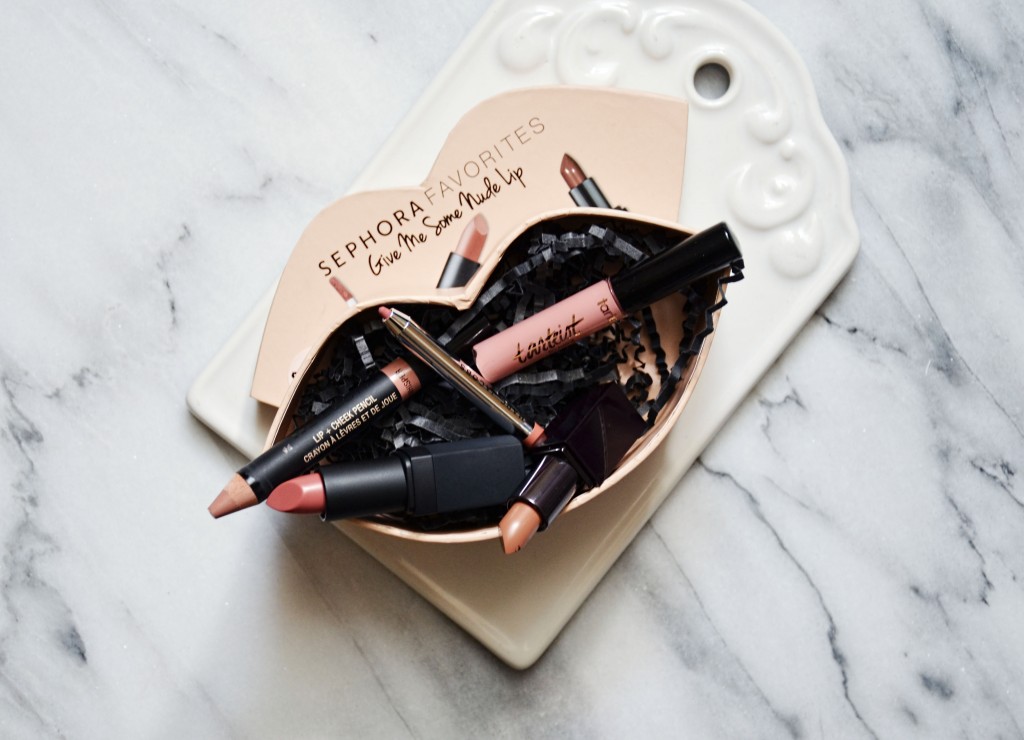 I have a full size of the Marc Jacobs  (P)Outliner Longwear Lip Pencil in Prim(Rose) which I love so a mini of the same shade is always welcome. These liners literally last all day. The formula is creamy enough so it makes application very easy but it also has as certain grip to it which makes the lip liner super long-lasting. The shade is described as Cocoa Spice and it's just a beautiful darker nude mauve shade that goes with every lip shade that comes in the kit.
I also own a mini size of the Laura Mercier lipstick in Milky Way, a pretty cool toned nude beige lipstick. It has a creamy formula that is very comfortable to wear but still packs a good pigment. If you're a fan of cool toned nudes you will love this shade.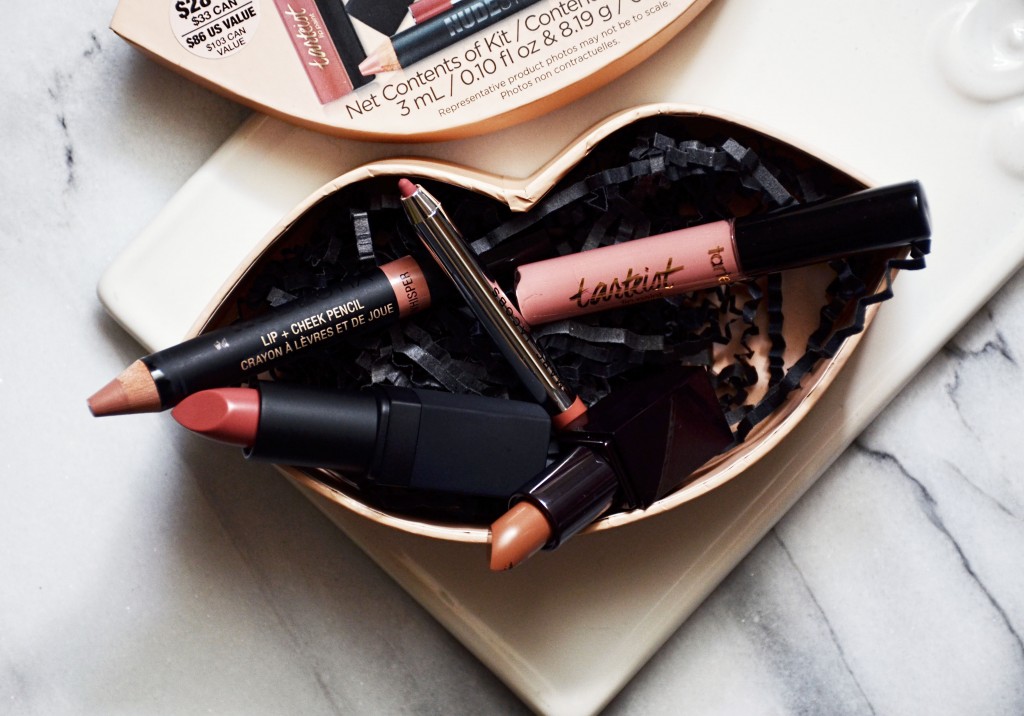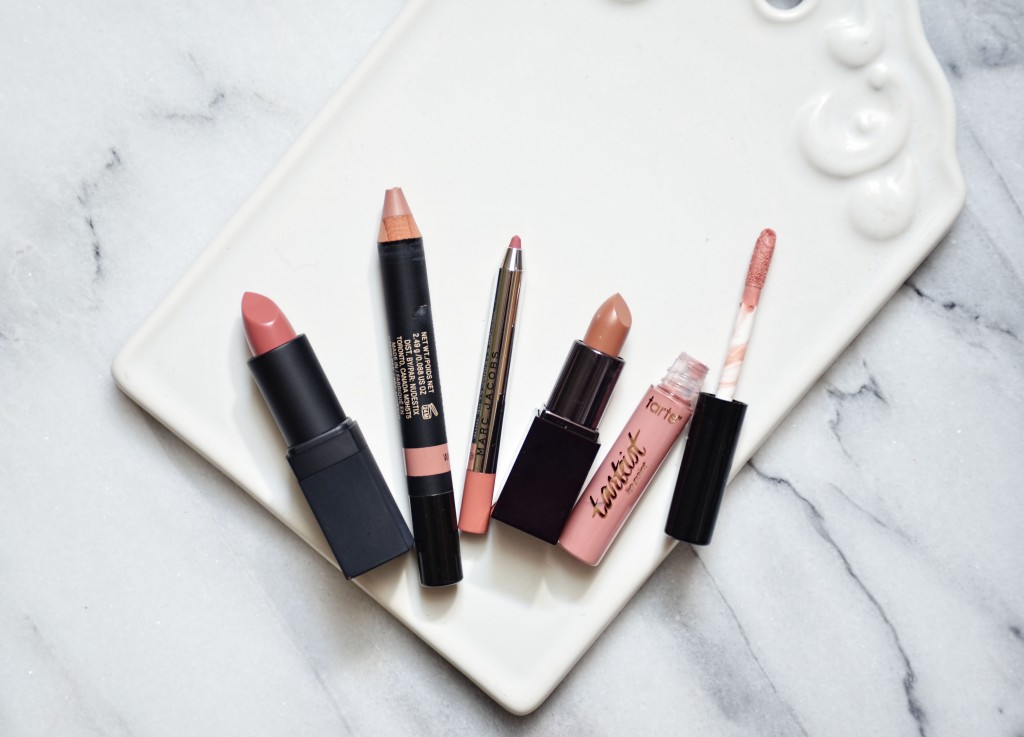 And lastly the Tarte Tarteist Lip Paint in Namaste Nude, a pretty light pinky nude shade. The formula of this lip paint is matte but also comfortable to wear. I think this lighter shade will look very flattering on lighter and medium skin tones and makes for a great light pinky nude. It's my first time trying the Lip Paints and I'm planning on trying more shades since I like the formula.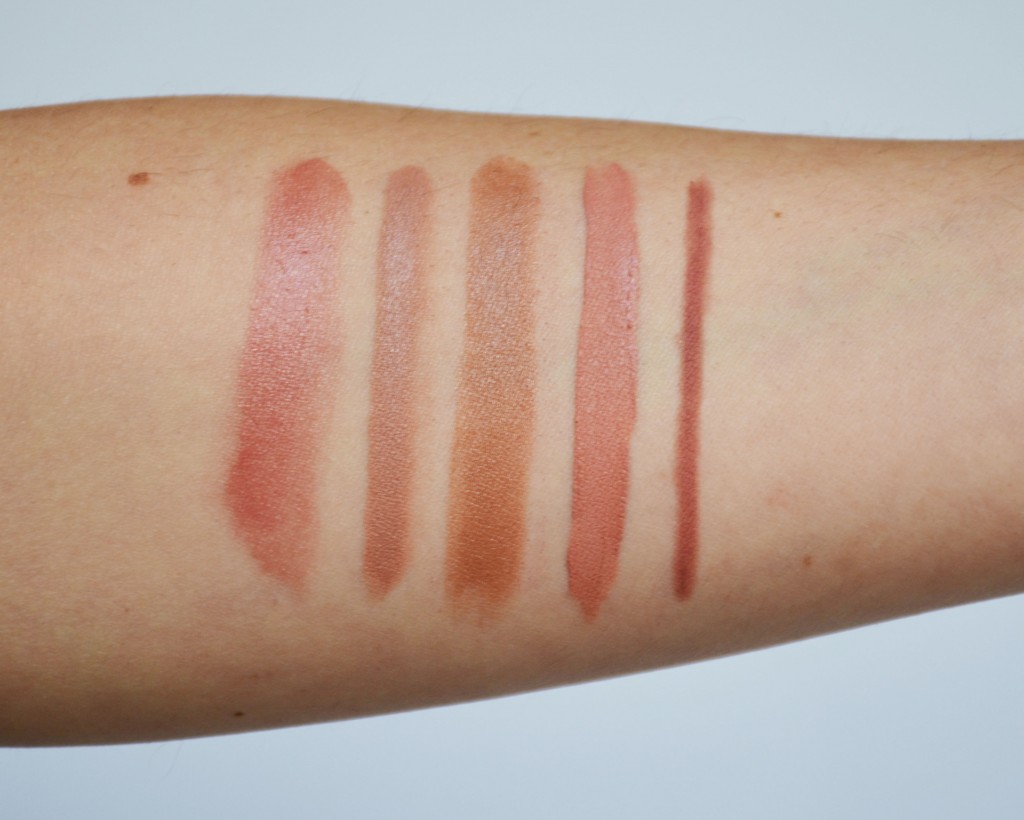 Swatches L to R: Nars Dolce Vita, NUDESTIX Lip+Cheek Crayon in Whisper, Laura Mercier Milky Way, Tarte Tarteist Lip Paint in Namaste Nude, Marc Jacobs  (P)Outliner Longwear Lip Pencil in Prim(Rose)
I think you get a great variety of nude shades in the Give Me Some Nude set and the shades are all very wearable. For the amount that you pay I think this is a great set to get if you're a fan of nude lipsticks which most of us are. For $28 you basically pay for the Nars lipstick and you get the other lip products for free, now you can't beat that.