Physicians Formula released highlighters that are part of their Butter line. I'm a big fan of both the bronzer and the blushes so was curious how they compare. The Butter Highlighters come in four shades. Both the packaging and the formula is quite different than the other Butter products.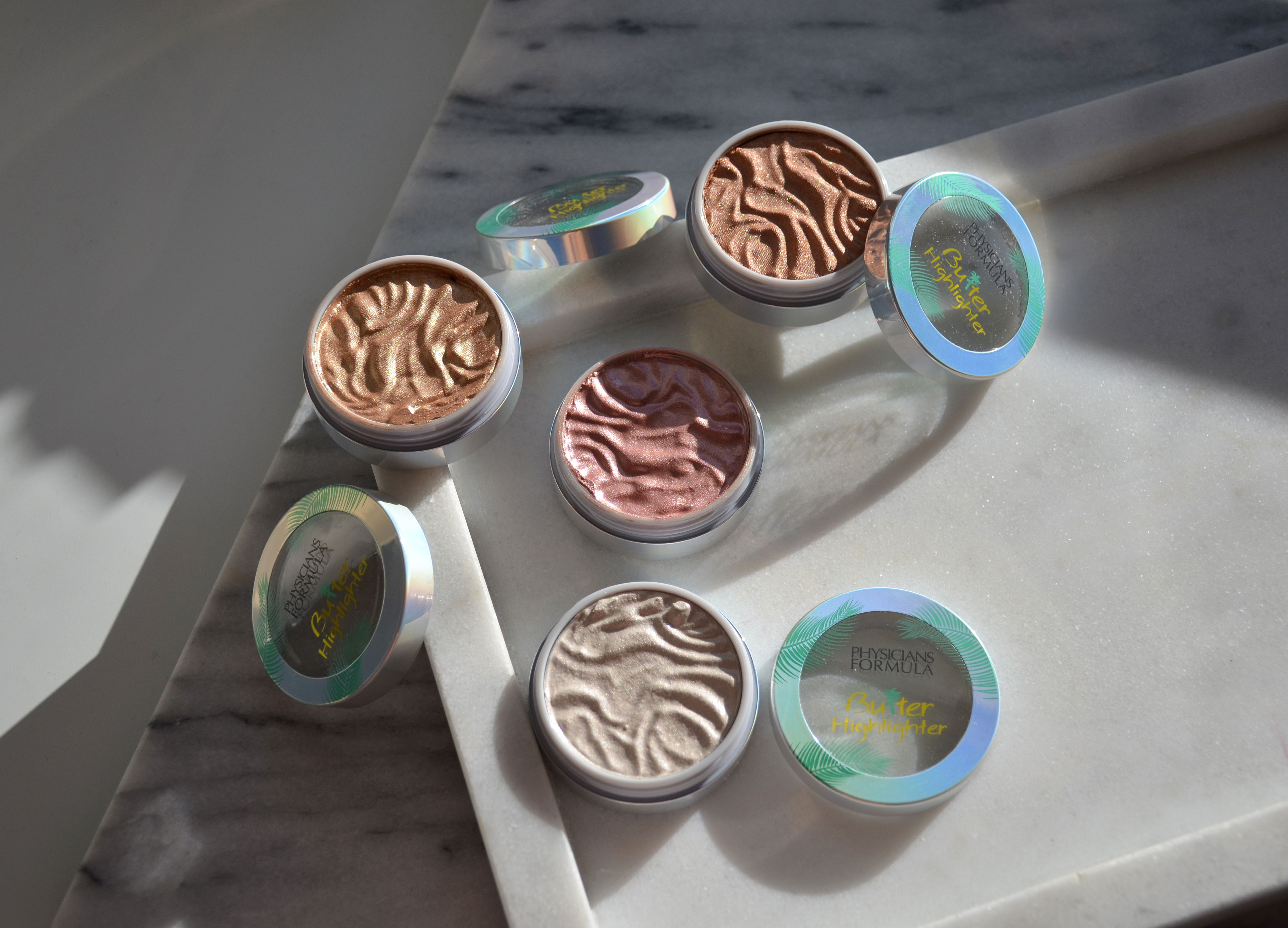 The Butter Bronzers and Blushes come in a compact that is bulkier and comes with a separate compartment that has a mirror and a sponge applicator. I never use those so didn't care about them. Well the Butter Highlighters come in a sleek smaller packaging with a screw on cap that resembles to the Colourpop Shock Highlighters but with a nicer designer in my opinion.
The formula of the Butter Highlighters is also very different. They have a cream to powder formula that is infused with Murumuru Butter. They feature ultra blendable formula with soft focus pearl finish.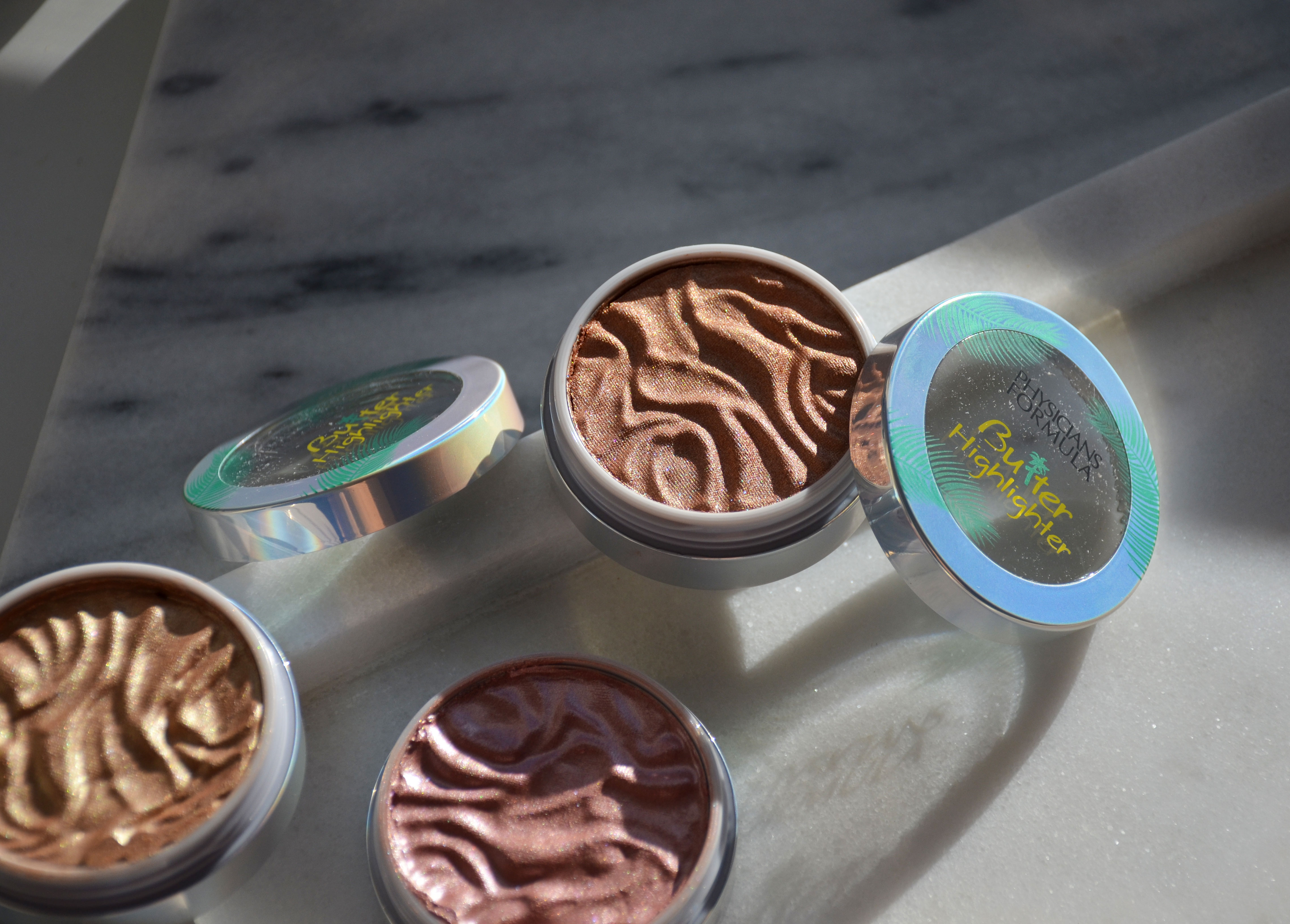 The texture reminds me of a creamier, more pigmented version of the Colourpop Super Shock Highlighters. When you dip your fingers in the pan you can actually feel the butter in the formula. They have a metallic finish and give a sheen when applied on the skin. There is no noticeable glitter on the skin which I prefer when it comes to highlighters.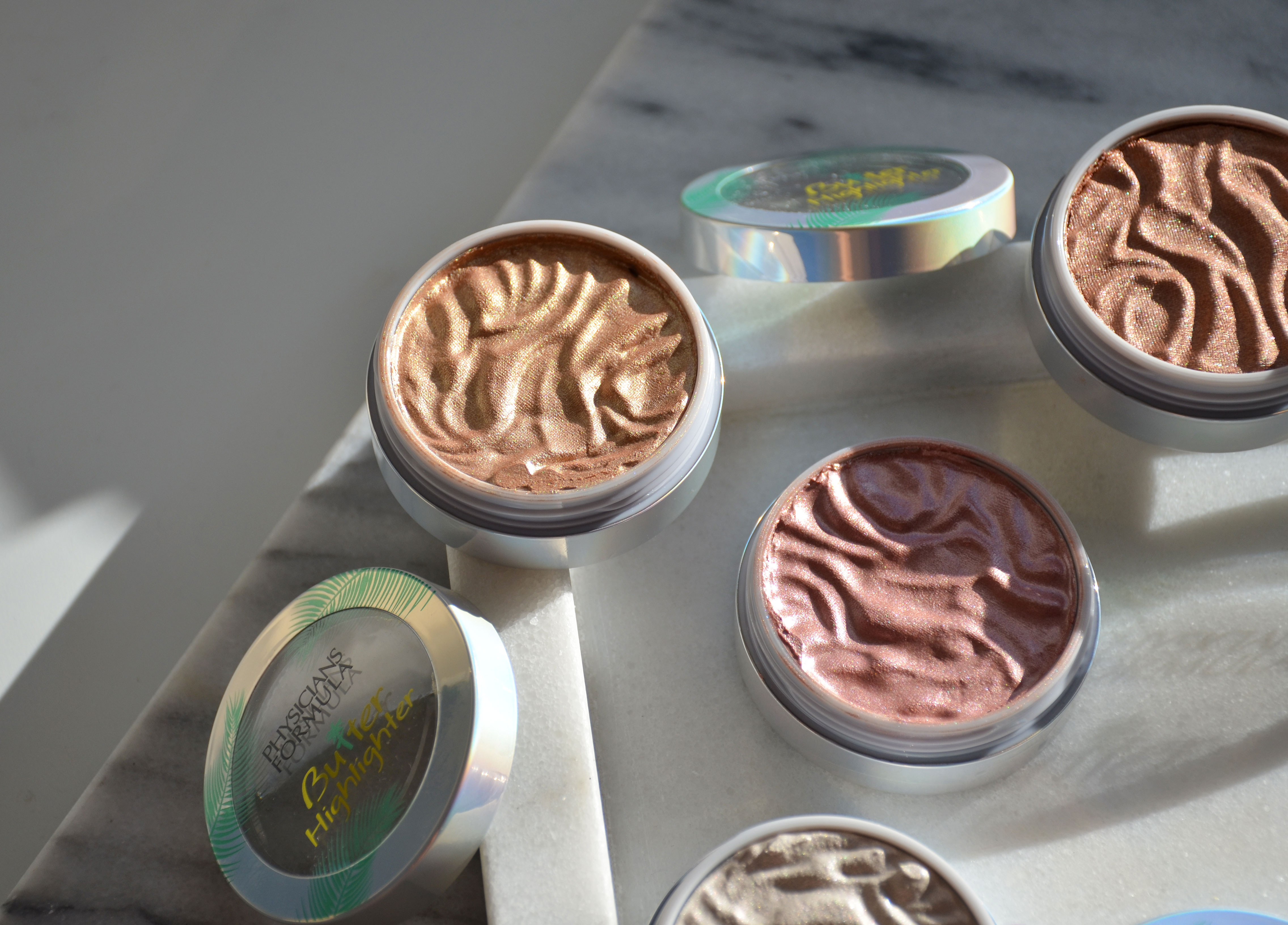 The four shades that come in the Butter Highlighter line are:
Pearl – the lightest shade in the line. It's a beautiful pearl white with pink shift.
Champagne – a true gold shade
Pink – a light pink metallic shade
Rose Gold – a rose gold shade with bronze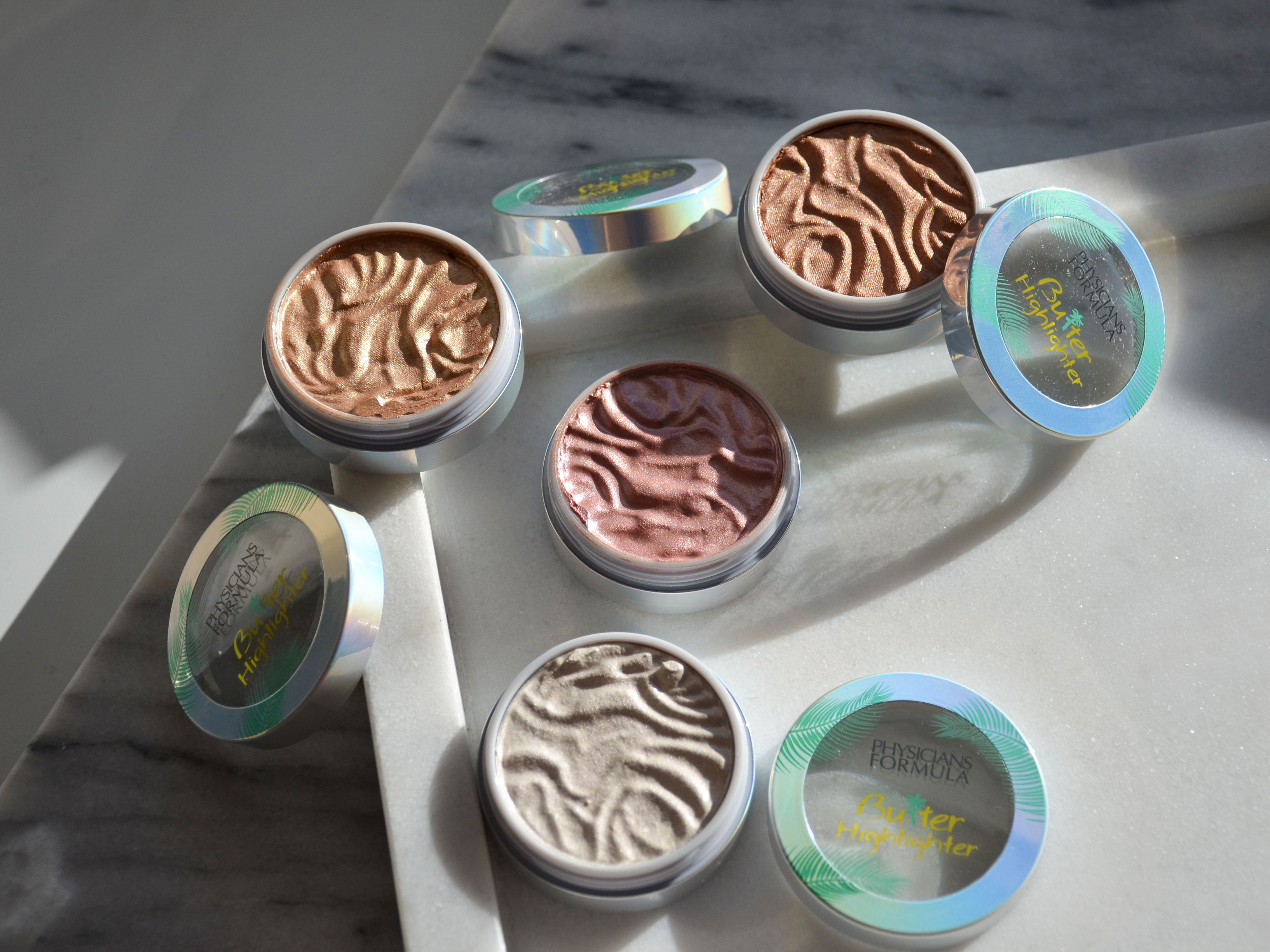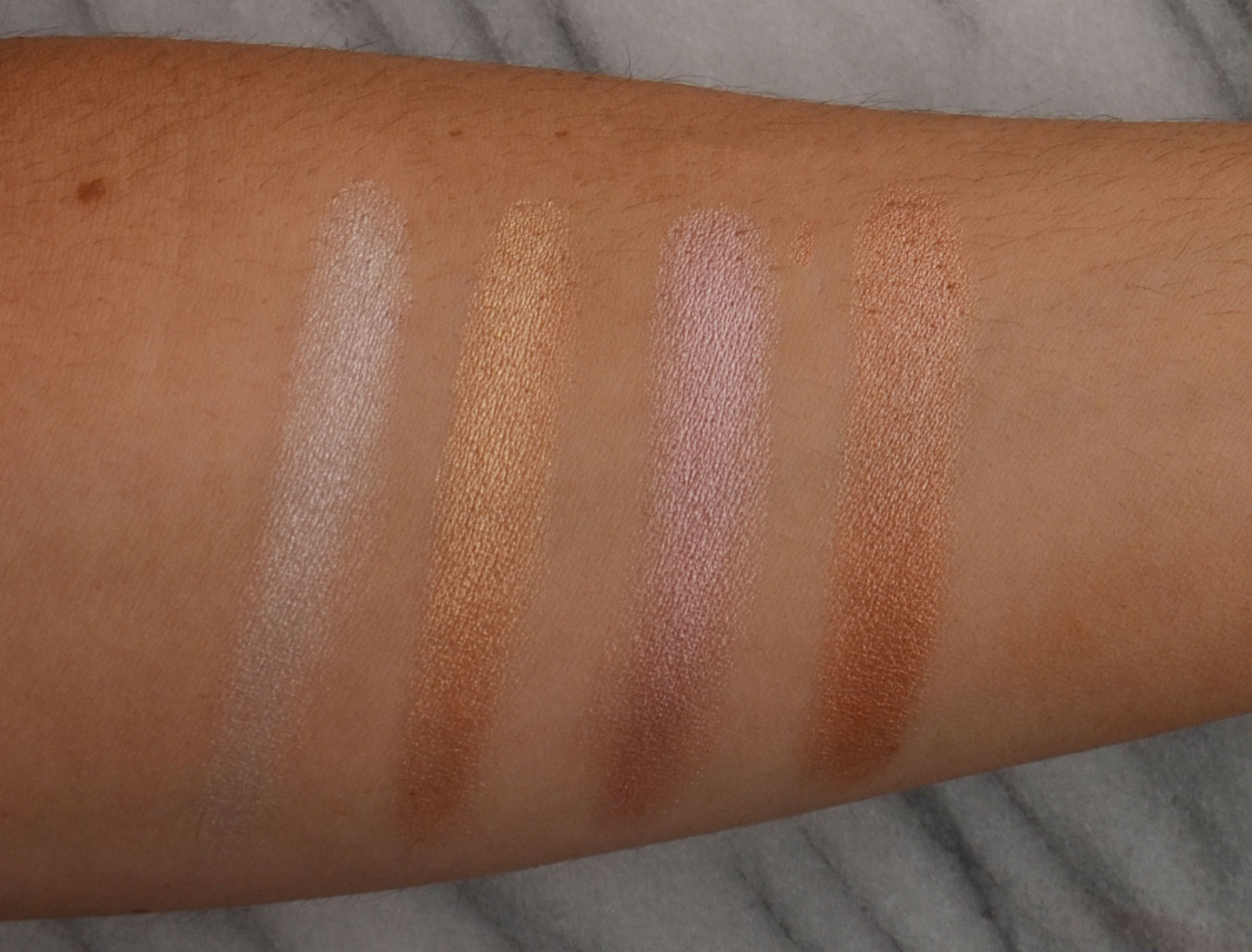 Swatches L to R: Pearl, Champagne, Pink, Rose Gold
Swatches taken in direct sunlight
For application Physicians Formula recommend using your fingers and I agree. When it comes to cream products I prefer using my fingers since I get more control where I apply the product. Plus I think the product also blends more effortlessly.
You can go for a natural looking highlighter with one layer or build up the pigment and get a more metallic finish. The wear was good for a cream product. It wore well for 6 hours on my skin and that's without using any powder on my skin. I do have normal skin so cream products wear really well on me.
The only place I can find the Butter Highlighters is on Physicians Formula's website. I haven't spotted them yet in my local drugstore but I've heard that people have spotted them in Bed Bath and Beyond.
The Butter Highlighters are priced at $10.95 and I think they are a steal for the quality. Both the packaging and the formula resemble of a more expensive product. Highly recommend if you are a fan of cream highlighters!
*PR Sample
SaveSave