Urban Decay launched new Complexion Primers, Prep Priming Sprays and repackaged their well known Setting Sprays. I've been testing everything for awhile now and here are my thoughts on them. My skin is normal to dry so I will let you know which ones worked for my skin and which didn't. All of them are addressing different concerns so they will not suit every skin type.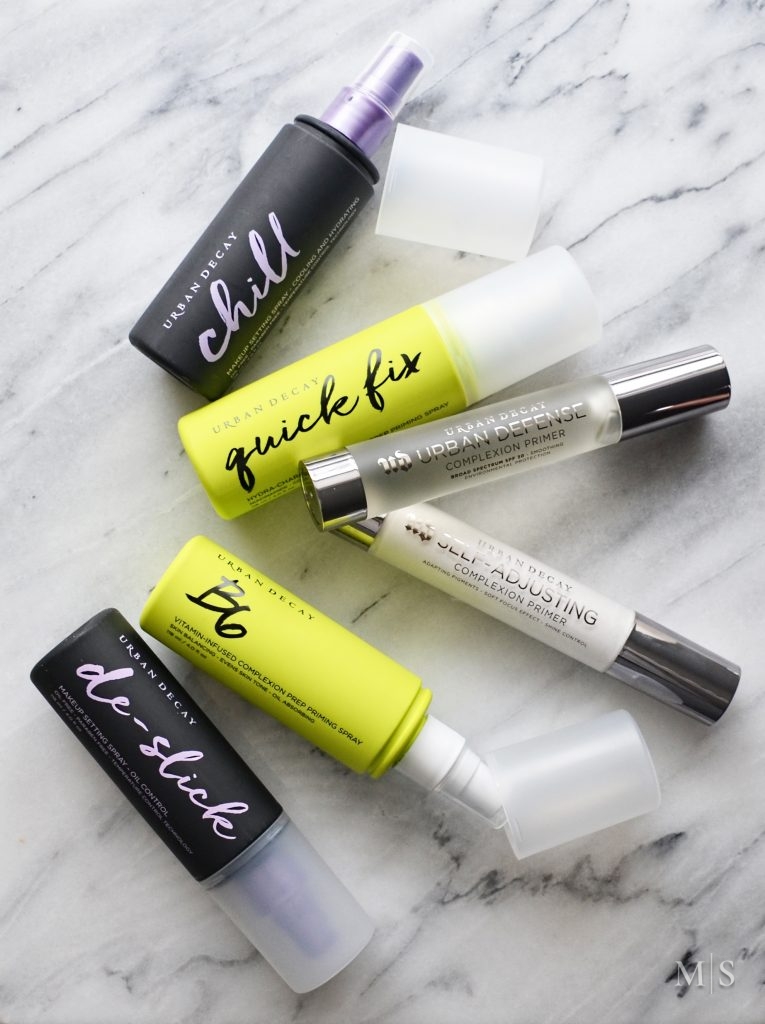 There are four different types of primers in the Complexion Primer line: Optical Illusion, Urban Defense, De Slick and Slef-Adjusting Complexion Primer.
The Urban Decay Optical Illusion Complexion Primer is described as a primer that instantly blurs the look of fine lines and pores. Your foundation with not only look better, it will also last longer. It has a blend of argan, rosehip and meadowfoam seed oils which provide moisturizing and antioxidant benefits while Vitamin E conditions the skin. UD says that this primer should work for all skin types.
The consistency of the primer is thick but it blends out very nice and sinks right in. Since it contains a blend of oils, at first it feels oily when you are blending it in to the skin but as soon as it sinks in it sets and you get a velvety finish. It works really well for my normal to dry skin and doesn't catch on any dry patches while it helps with the appearance of pores and fine lines. If you're extremely oily you might want to stay away since the oils will probably make you more oily through the day.
The Urban Decay Urban Defense Complexion Primer Broad Spectrum 30 is a clear sunscreen and primer in one. It smooths out your skin while working really well under your makeup. The hydrating formula is packed with sesame seed extract, tomato fruit extract,  squalene, and bisabolol—derived from the Brazilian candeia tree.
The primer has a gel like formula that feels hydrating when applied but it sinks well in to the skin and doesn't leave you greasy or shiny. I think this primer would work for every skin type. If you need a new sunscreen to try that doesn't leave a white cast this is a good one to try.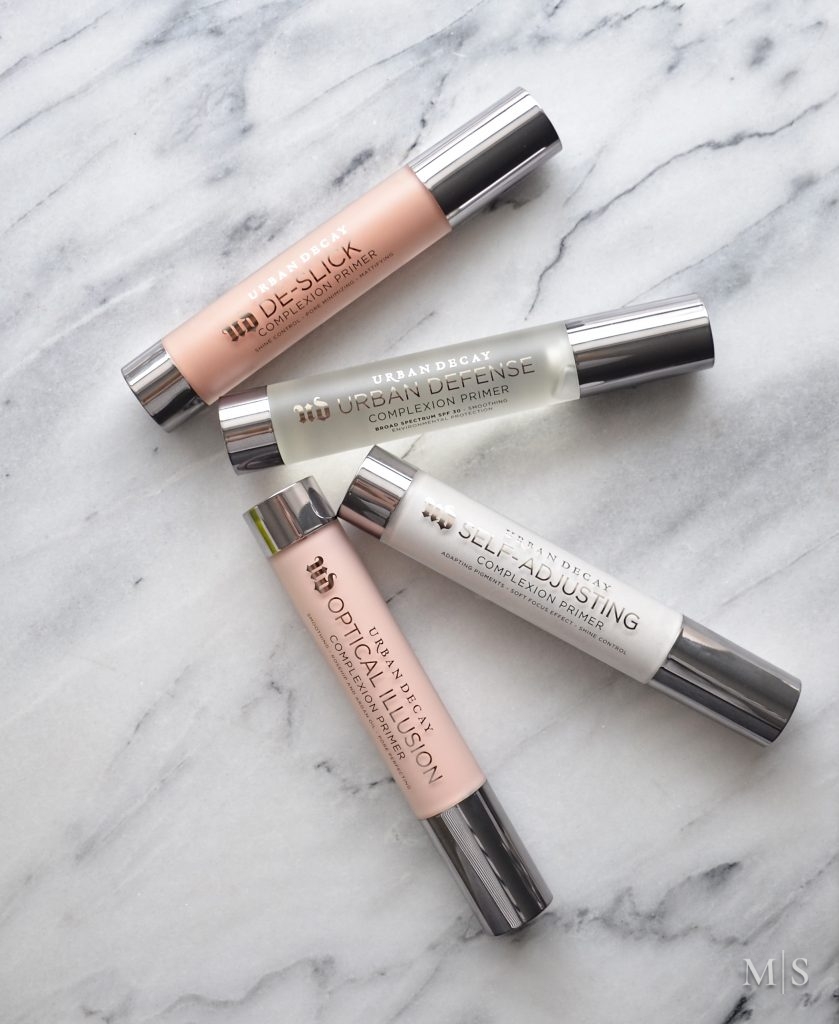 The Urban Decay De Slick Complexion Primer is described as a lightweight oil absorbing primer that controls shine and improves the longevity of your makeup. It's an oil free, paraben free formula that has mattifying blend of veegum (a natural clay derivative) and silica, which can absorb up to three times its weight in oil.
The most important part about this primer is application. Do not in any way rub this product or otherwise you'll end up with product crumbling and uneven application. Instead, make sure to press the product on to areas that you want to control oil.
To be honest I couldn't test this primer properly since currently I don't have an oily parts on my face. I applied it on my t zone and it made it very matte but also didn't catch on my dry patches. If you're combination or oily, I bet this primer will work really well at keeping oil through the day.
And lastly, the Urban Decay Self-Adjusting Complexion Primer is a color adjusting primer that creates a soft focus effect and prolongs the wear of your makeup. Micro-encapsulated beads of pigment are suspended in the formula and burst on your skin, adapting to your skintone as you apply. The primer also fills out fine lines and pores and controls shine.
This is a product that is similar to a CC cream that appears white and when you start blending, it adjusts and adds color to your skin. The formula releases more pigment with more blending. While adding pigment to your skin you will use less foundation to cover any imperfections that you have which is genius.
Unfortunately this does not work if you have dry skin or any dry patches because it catches on them and makes the skin look flaky. I would recommend this for people who have combination or oily skin.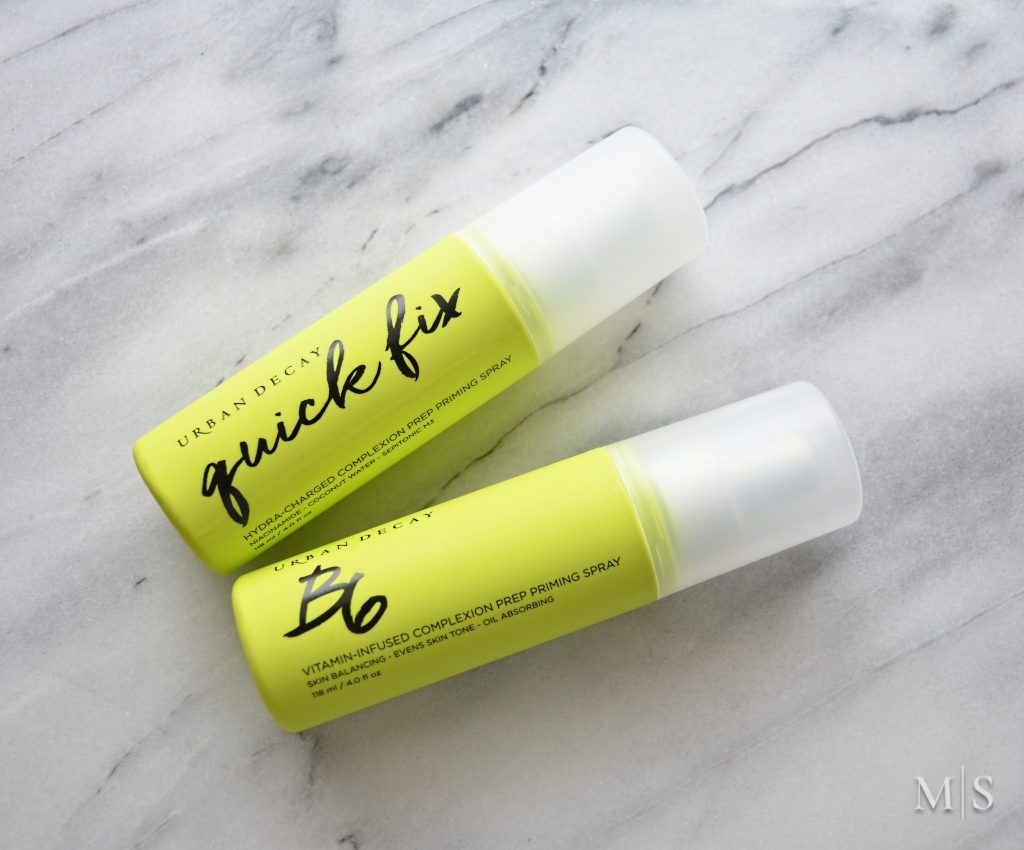 Urban Decay also released two Prep Priming Sprays. The Quick Fix Hydracharged Complexion Prep Priming Spray is a hydrating and soothing priming spray. It feels very refreshing and hydrating on the skin and has a wonderful coconut scent. You can either use it before you apply your makeup or through the day to freshen up and hydrate your skin. This product reminds me of Mac Fix + in the means that it adds hydration and preps the skin for makeup but it doesn't prolong the wear.
It is an extra step in your makeup routine but if you have dry skin you will love this. I use it before I apply my primer and after I'm finished with my makeup and layer it up with a setting spray. I also like to use it in my skincare routine before my serum.
The B6 Vitamin-Infused Complexion Prep Priming Spray is a soothing prep spray that has Vitamin B6 which absorbs oil, minimizes pores and reduces redness. Like the other spray, you can use it before makeup but also to refresh your makeup through the day. Since it absorbs oil I recommend it for people who want to target that, people with combination and oily skin. If you have dry or normal skin and want to add hydration I would go for the first option.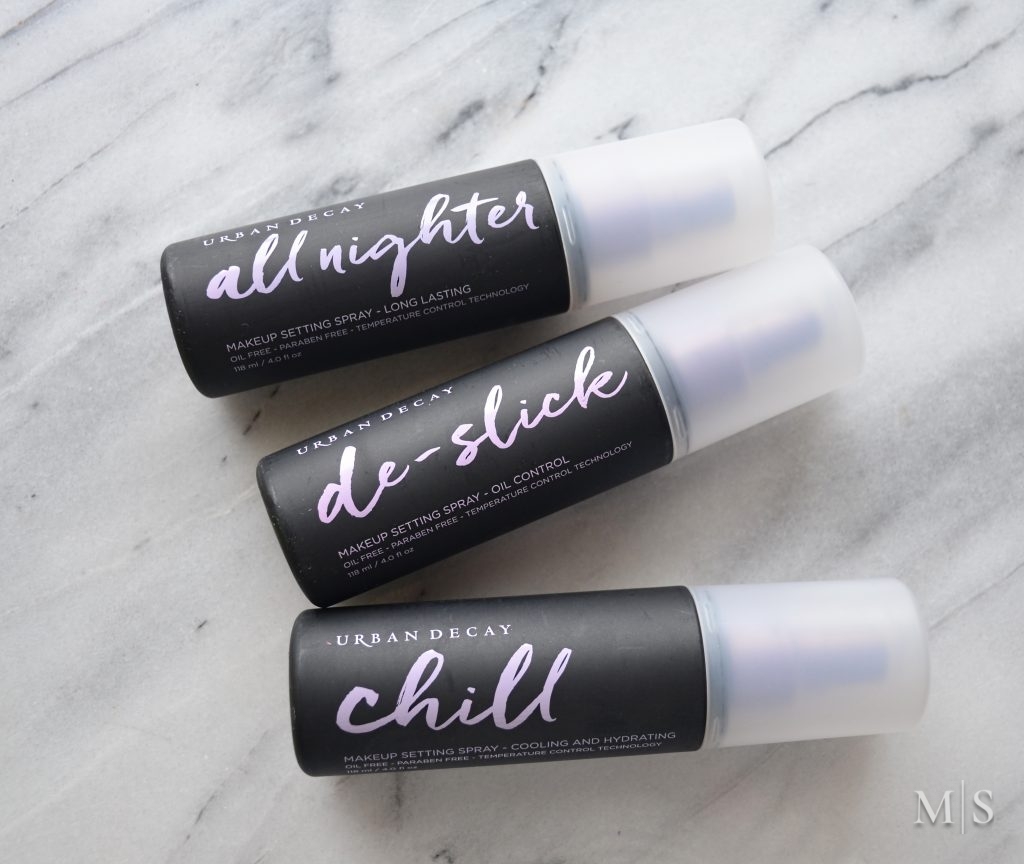 Urban Decay also repackaged their setting sprays. I will not go in much detail about them since they're not a new product but I will list their benefits.
I think the All Nighter Long Lasting Makeup Setting Spray is their most famous one. It claims to keep makeup last up to 16 hours and it really does. It is good for all skin types.
The De Slick Oil Control Makeup Setting Spray is a weightless spray that controls oil and also prolongs your makeup. If you have oily skin this spray is a must.
And finally my favorite, Chill Cooling and Hydrating Makeup Setting Spray helps with hydration but also prolongs the wear of your makeup. It gets rid of the powdery look of your skin and leaves you with a beautiful glow. It's recommended for people with dry, normal and combo skin.
All in all, a great lineup of new releases. I hope this post helps you with picking up a product that will suit your skin type. For me and my normal skin I love using the Optical Illusion and Urban Defense primer, Quick Fix Prep Spray (if you love coconuts you need this) and Chill Cooling and Hydrating Setting Spray.
*PR Sample