The beginning of 2018 has been full of new skincare releases. As much as I love makeup, I love skincare more. Being in my 30's I try to use better skincare and focus a lot on anti-aging. I have a ton of new launches to share with you so let's get to it. Just be warned, this is an extremely long post as I share a short review for every product that is pictured.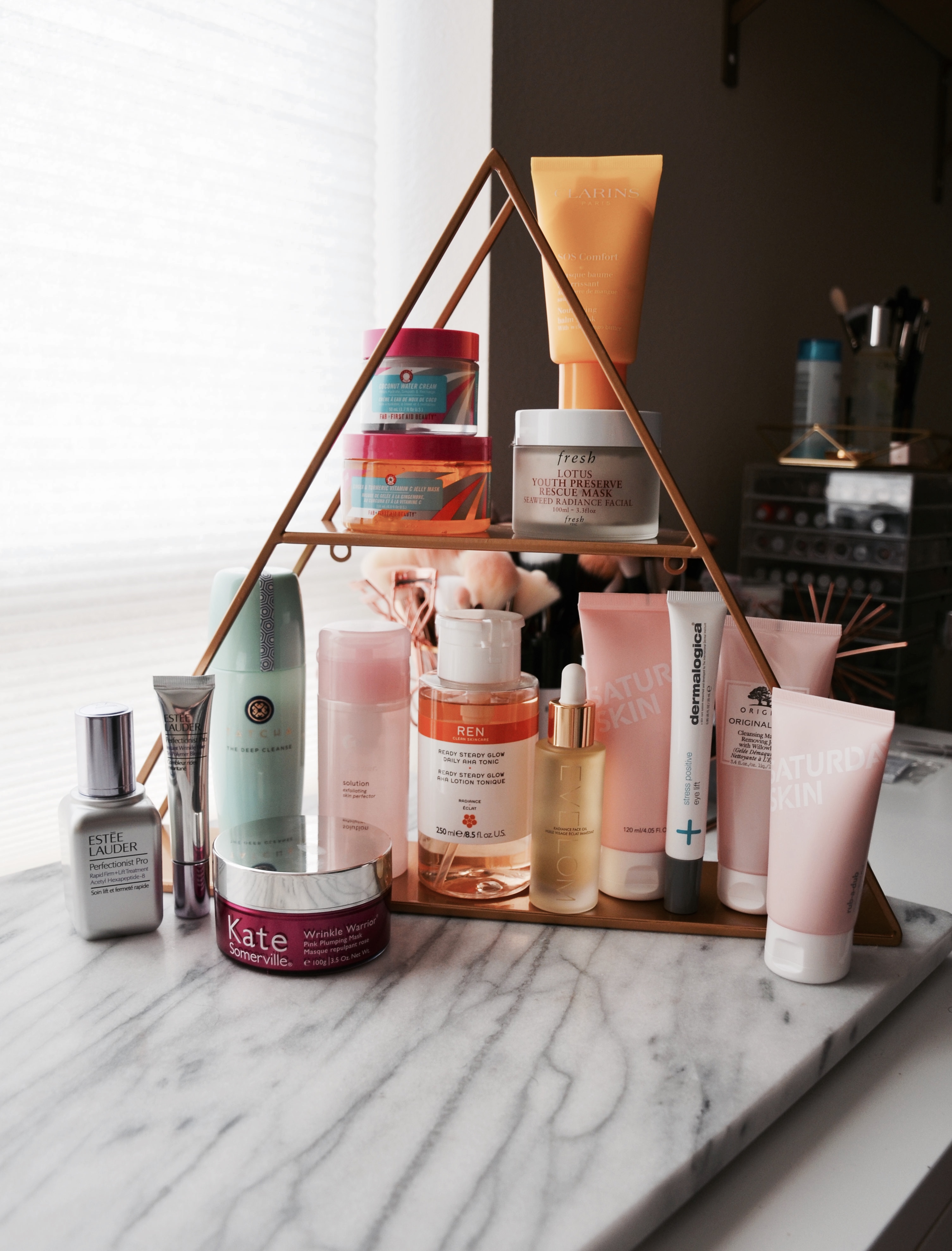 I will categorize everything by product type so it's easier to follow and also makes it easier for me (so I don't forget to mention something).
Cleanser 
Tatcha The Deep Cleanse* – Is a gel type cleanser that has natural fruit exfoliants from the Japanese luffa fruit. It is an oil free cleanser that helps cleanse the skin, unclog pores and provide gentle exfoliation. The gel turns in to a creamy foam and removes any impurities without drying out the skin.
Ingredients:
-Japanese Luffa fruit Exfoliant: Hydrates, clarifies, and soothes damaged skin for a visibly healthier look.
-Japanese Wild Rose: Balances skin and diminishes the look of pores while providing antioxidants.
-Tatcha's Signature Hadasei-3 (a trinity of anti-aging Japanese superfoods born from nourishing Green Tea, Rice and Algae): Restores a healthy-looking, youthful radiance.
I use The Deep Cleanse as a second cleanser after my balm cleanser (when I remove makeup). It removes all my leftover makeup and makes my skin feel clean but not dry. It is recommended for every skin type and I can confirm that it works great even if you have dry skin. It's also a good cleanser for when you are not wearing any makeup and just want to cleanse the skin of any oils and impurities. Love!
Saturday Skin Rise + Shine Gentle Cleanser* – A whipped cleanser that has a creamy gel texture and removes impurities without stripping the skin. This is another good gentle cleanser that works for most skin types. It is gentle but also helps with removing makeup really well.
Ingredients:
-Coco-Glucoside: Mild cleansing agent that does not strip skin.
-Peach Extract: Controls excess sebum and oil.
-Apple Extract: Helps hydrate skin and improve clarity.
-Cha-7 es complex: Powerful, proprietary peptide complex that has anti-aging benefits.
As with the Tatcha cleanser, I use the Rise+Shine Gentle Cleanser as a second cleanse to remove any impurities that I've missed with the first. It doesn't dry out the skin and feels gentle enough even for sensitive skin.
Origins Original Skin Cleansing Makeup Removing Jelly With Willowherb* – You guessed it, it is a gentle cleanser that has a jelly texture and transforms in to milky emulsion that helps with makeup removal, impurities and excess oil.
Ingredients:
-Willowherb: Helps skin rebound from a dullness causing protein change.
-Pink Rock Rose: Used in herbal medicine and is known as an anti-irritant.
-Sunflower Seed Oil: Helps maintain skin's barrier.
Now the Origins Cleanser works really well as a first cleanse when you need to remove your makeup. It is gentle enough that I can use it on the eyes and after cleansing, I love that it doesn't dry out my skin but leaves it squeaky clean.
Saturday Skin Rub-A-Dub Refining Peel Gel* – This is more of an exfoliator rather than a cleanser that you use to remove makeup. It is a gentle gel that removes impurities with the help of natural enzymes like papaya and bromelain.
Ingredients:
-Papain: Helps to fight free radicals and boost skin renewal.
-Bromelain: Assists to gently exfoliate impurities from skin .
-Aloe Barbadensis Leaf Polysaccharides: Help to calm and nourish skin.
-Date Seed: Boosts overall skin vitality.
After the first use, I noticed that my skin felt smoother and less dull. It is a great product to use before you apply your makeup as it removes any dryness that you have, but it is still gentle enough that it will not irritate your skin.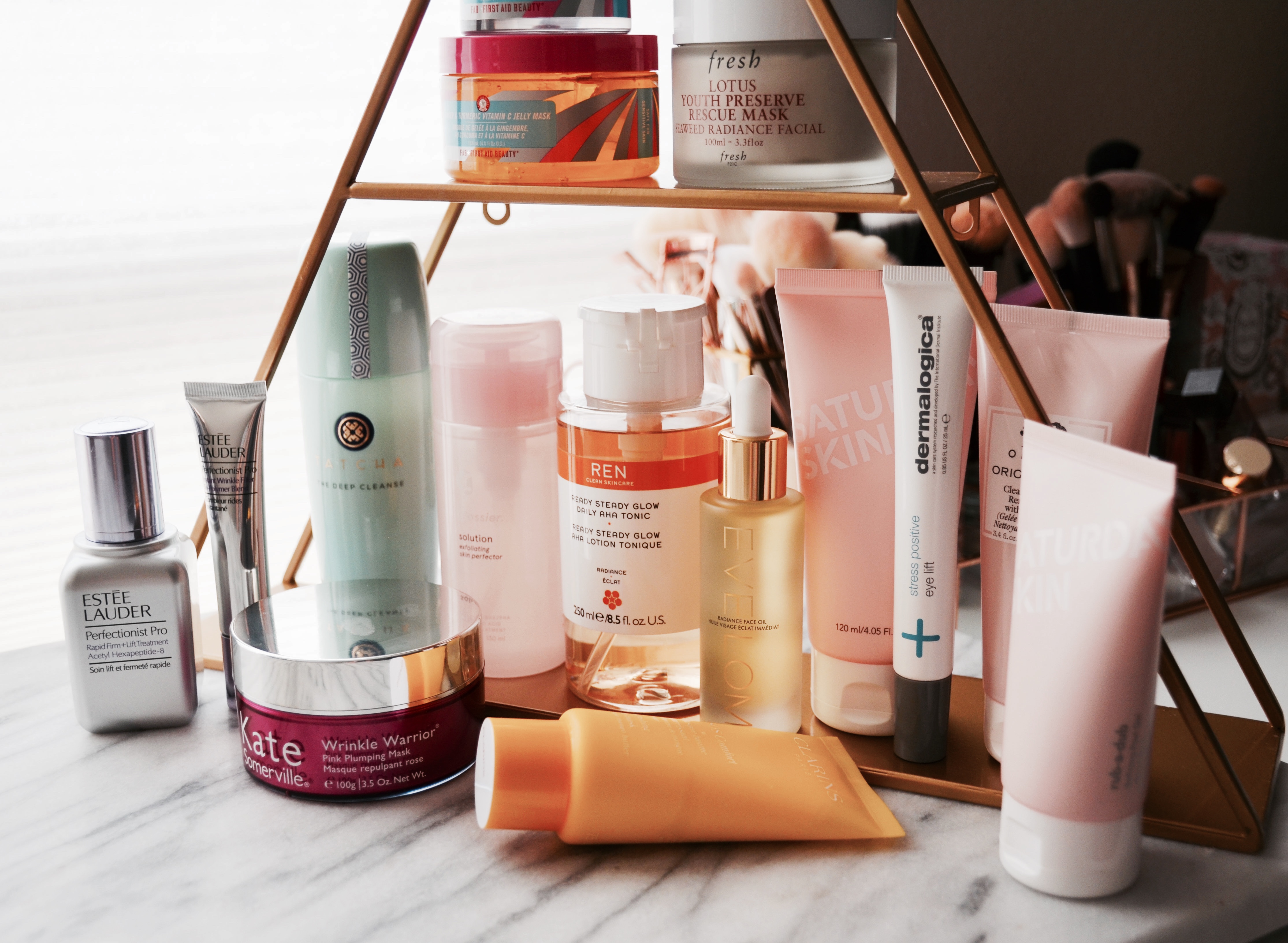 Toners
REN Ready Steady Glow AHA Tonic* – A skin resurfacing toner which helps with exfoliation and glow, all done in a natural way. Lactic acid and willow bark extract work together to smooth, tone and help reduce the pore size, while azelaic acid precursor will brighten and help to even out skin tone for the perfect glow. It is listed for all skin types, even sensitive.
Ingredients:
-LacticC38:F42e with discoloration
-Azelaic Acid Precursor: Prevents the melanin production, promoting a balanced skin tone; addresses uneven skin tone and dark spots while improving skin quality for a brighter and more luminous appearance.
The toner has also grapefruit, tangerine and orange peel oil so they give it a nice citrus scent. I didn't experience any burning or tingling sensation after application. I use it mainly at night time and I've noticed a more even complexion. It is gentle enough that I can apply it all over the face and it doesn't dry me out, which is very important since my skin has been on the dry side.
Glossier The Solution – It's an exfoliating toner that has Alpha Hydroxy Acid (AHA), Beta Hydroxy Acid (BHA), and Polyhydroxy Acid (PHA). The claims are that it helps with blackheads, clears acne, helps the appearance of pores and reduces redness which exfoliating the skin.
Ingredients:
Lactic AcidAHA that visibly reduces acne and dark spots.
Glycolic AcidBrightening AHA that breaks water bonds attaching dead cells to skin, improving tone and texture.
Salicylic Acid0.5% BHA that reduces acne and unclogs pores by breaking oil bonds attaching dead cells to skin, and 0.5% of overall formula.
GluconolactonePHA that exfoliates while moisturizing and conditioning.
Anti-Stress ComplexUltra-soothing aloe, hydrating glycerin, and calming niacinamide
I gave The Solution 5 days of use and I stopped using. I don't have problems with acne anymore so I can't say that it works, but I can say that it is too potent for my skin type. I think because of the Salicylic Acid, it dried my skin really bad. I'm guessing this toner would work better on people with oily or combo skin. Or if you want to try it, my advice is not to use it every day. Instead, start two or three days per week and then build up if you don't notice any dryness.
Moisturizers & Oils
First Aid Beauty Hello Fab Coconut Water Cream* – An oil-free light water cream that has coconut water to help with moisture. Coconut Water is rich in electrolytes, amino acids, enzymes, antioxidants and phytonutrients, and  it's known as nature's perfect hydrator.
Ingredients:
-Coconut Water: A nutrient rich water composed of electrolytes, amino acids, enzymes, antioxidants, and phytonutrients that helps hydrate and replenish skin.
-Sodium Hyaluronate: A powerful humectant that boosts skin's moisture content, helps skin appear smoother and reduces the appearance of fine lines and wrinkles.
-Alteromonas Ferment Filtrate: Helps protect skin against exposure to the elements and helps regenerate, soothe and retain moisture in skin.
-FAB Antioxidant Booster: Helps stave off environmental aggressors with licorice root, feverfew and white tea extracts.
The Coconut Water Cream has light texture and sinks very fast in the skin. If you are looking for a light moisturizer that hydrates the skin, this is a good one to try. I like to use the Coconut Water Cream mostly as a daytime moisturizer since I prefer something heavier at night.
Eve Lom Radiance Face Oil* – A hydrating and quick-absorbing oil with antioxidants that help with radiance and smoother skin. It's developed with blend of oils and claims to provide hydration up to 12h.
Ingredients:
-Hemp Seed Oil: Rich in essential fatty acids to moisturize the skin without being greasy.
-Vitamin C: Antioxidant which fights free radicals and helps to even skin tone for a brighter complexion.
-Extract of Paracress: Enhances skin density and firmness.
-Abyssinian Oils: Condition the skin leaving a smooth and supple look; help to reduce the appearance of fine lines and wrinkles.
I love layering oils over moisturizer for when I need extra hydration but I can totally use this oil on it's own and get enough hydration for my normal to dry skin. The Eve Lom Radiance Oil makes my skin baby soft and hydrated without leaving an overly greasy feeling. Love it!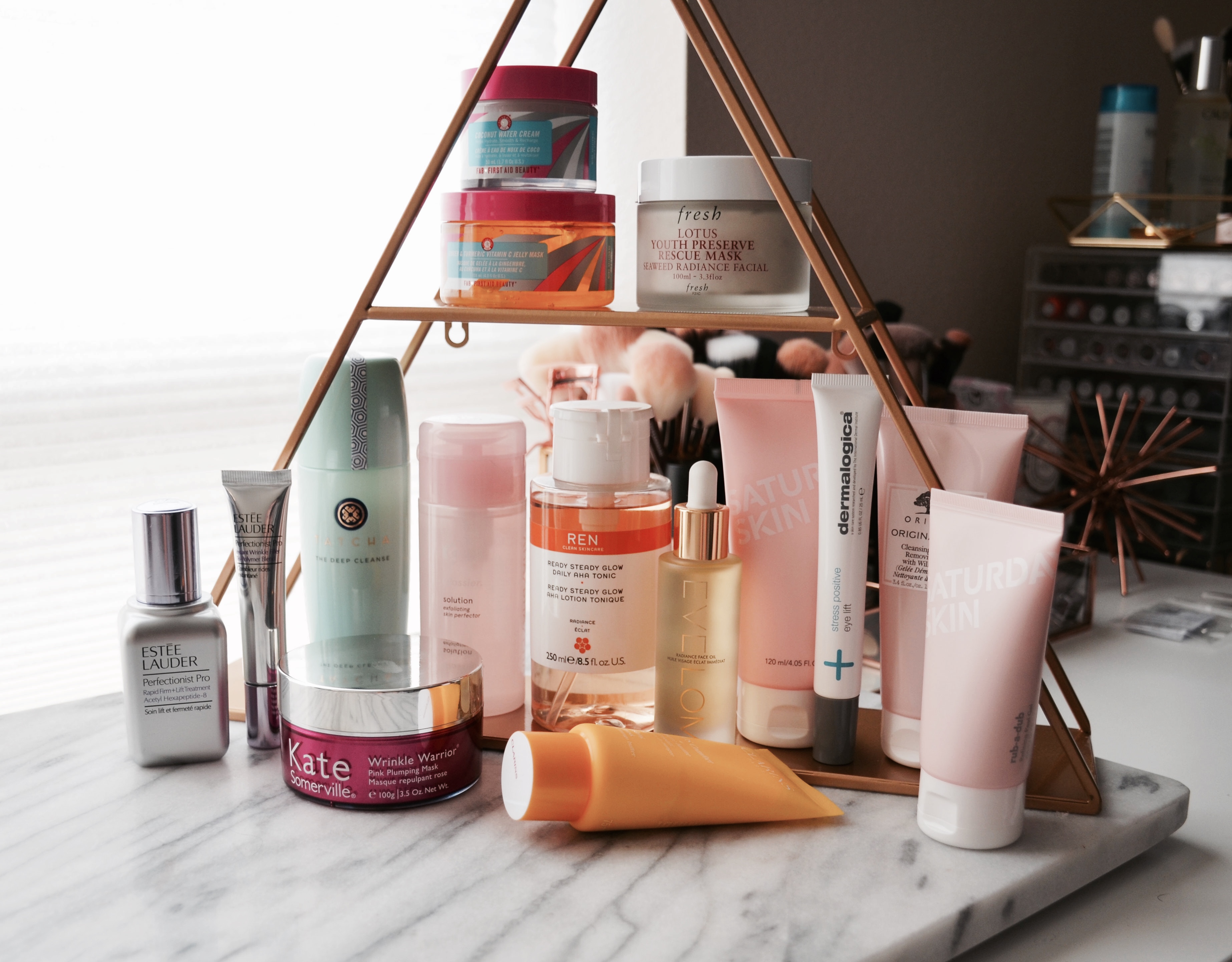 Eye Cream
dermalogica Stress Positive Eye Lift* – Cooling gel cream masque energizes skin to reduce visible signs of stress. It helps with puffiness, dark circles, lifts the eye area and increases skin luminosity.
It feels very cooling upon application as it has a metal tip. What I do if I'm extra puffy is I massage the product with the metal tip to get more of a cooling effect which helps with reducing puffiness. I can't tell for the other claims as I haven't used the Eye Lift for long so I will report back.
Serums
Estee Lauder Perfectionist Pro Rapid Firm + Lift Treatment* – With a powerful concentration of Acetyl Hexapeptide-8—a custom-designed rebuilding peptide—the formula helps support skin's natural collagen and elastin production to strengthen its vital support network. It claims to help with loss of firmness, fine lines and wrinkles, dullness and even texture. Gentle AHAs help with skin texture and the appearance of a more youthful look.
You should see results after two weeks but I noticed a difference after my first use. I have fine lines on my forehead from squinting and raising my eyebrows and I could totally see that they appeared softer than usual. I don't have problems with firmness but I can report back that the Perfectionist Pro works on fine lines.
Estee Lauder Instant Wrinkle Filler Tri-Polymer Blend* – A formula to immediately and directly help fill facial lines and wrinkles for dramatically smoother, younger-looking skin. It supposed to instantly blur and fill in fine lines and wrinkles so I'm guessing this will be great to use under makeup. I haven't tested this product yet so I will report back if it actually works.
Masks
Kate Somerville Wrinkle Warrior Pink Plumping Mask* – A gel mask formulated with three different sizes of hyaluronic acid to help plump, hydrate and smooth the appearance of fine lines.
Ingredients:
-Hyaluronic Acid (Three Different Molecular Sizes in the HA Complex): Deliver instant plumping and hydration for visible reduction of fine lines and deep wrinkles.
-Pyrus Malus (Apple) Fruit Extract: Moisturizing saccharide complex that increases skin hydration
-Chondrus Crispus Extract (Red Algae): Provides long-lasting skin moisture.
The mask has a cooling effect upon application and feels very nice on the skin. You leave it for 10 minutes and then rinse off with warm water. My skin felt soft and nourished after each use so this is a go, especially for the winter months.
Clarins SOS Comfort Nourishing Balm Mask* – It's an ultra rich cream mask that has mango butter which helps with skin softness, soothes and gives radiance to the skin.
Ingredients:
-Wild Mango Butter: Nourishes and softens the skin.
-Mango Oil: Comforts skin.
This is also a 10 min mask that turns in to oil after it touches your skin. It feels very nourishing and hydrating and left my skin with a beautiful glow. If you have dry skin, definitely give this a try.
First Aid Beauty Hello FAB Ginger & Turmeric Vitamin C Jelly Mask* – A jelly mask packed with ginger and turmeric to comfort stressed-out skin, while vitamin C helps brighten skin's appearance. It's a brightening and soothing mask that is alcohol free and made without any parabens, sulfates and phthalates. It's also vegan and suited for all skin types.
Ingredients:
-Ginger Extract: Helps soothe and calm skin
-Vitamin C: Helps skin appear brighter and helps reduce the appearance of fine lines and wrinkles.
-Rose of Jericho: A botanical extract that helps hydrate, cool, and soothe skin.
-Turmeric Extract: An antioxidant that helps brighten and soothe skin .
The mask feels very cooling on the skin and gives almost a tingling sensation. After just one use I noticed that my skin looked brighter and less dull. I've also heard that this helps with redness which I don't have.
Fresh Beauty Lotus Youth Preserve Rescue Mask – A five-minute facial in a jar that instantly resets the skin while targeting dullness, rough texture, and uneven skin tone. The mask targets dullness, uneven skin tone, dryness and restores the natural radiance of the skin.
Ingredients:
-Super 7 Complex: A blend of seven super-charged ingredients, including lotus flower extract, that helps to hydrate, improve radiance, and promote a youthful-looking complexion.
-Kombu Seaweed Flakes, Red Algae Particles, and Lotus Seeds: Refine and smooth skin texture.
-Sea Fennel Extract: Helps to smooth and enhance suppleness.
If you have dull and dry skin, I highly recommend this mask. It feels very refreshing on the skin and hydrates so well that after I washed it off my skin felt like I used a good moisturizer. One of the best masks I've tried from the brand.
Well that was a long one! I've been really enjoying most of the new skincare releases. Of course some products might work great for my skin and don't work as good for others.
What was you last skincare purchase that you fell in love with?
*PR Samples marked with *
SaveSaveSaveSaveSaveSaveSaveSaveSaveSaveSaveSaveSaveSaveSaveSaveSaveSave
SaveSaveSaveSave
SaveSave