I am so late on trying the Nudestix Nudies All Over Face Color. I'm not sure why it took me so long to try these cream products. If you are a long time reader, you know that I love using cream product in my day to day makeup routine. Well, first I got one shade to try in Bondi Bae which is the bronzer shade and then I got three more.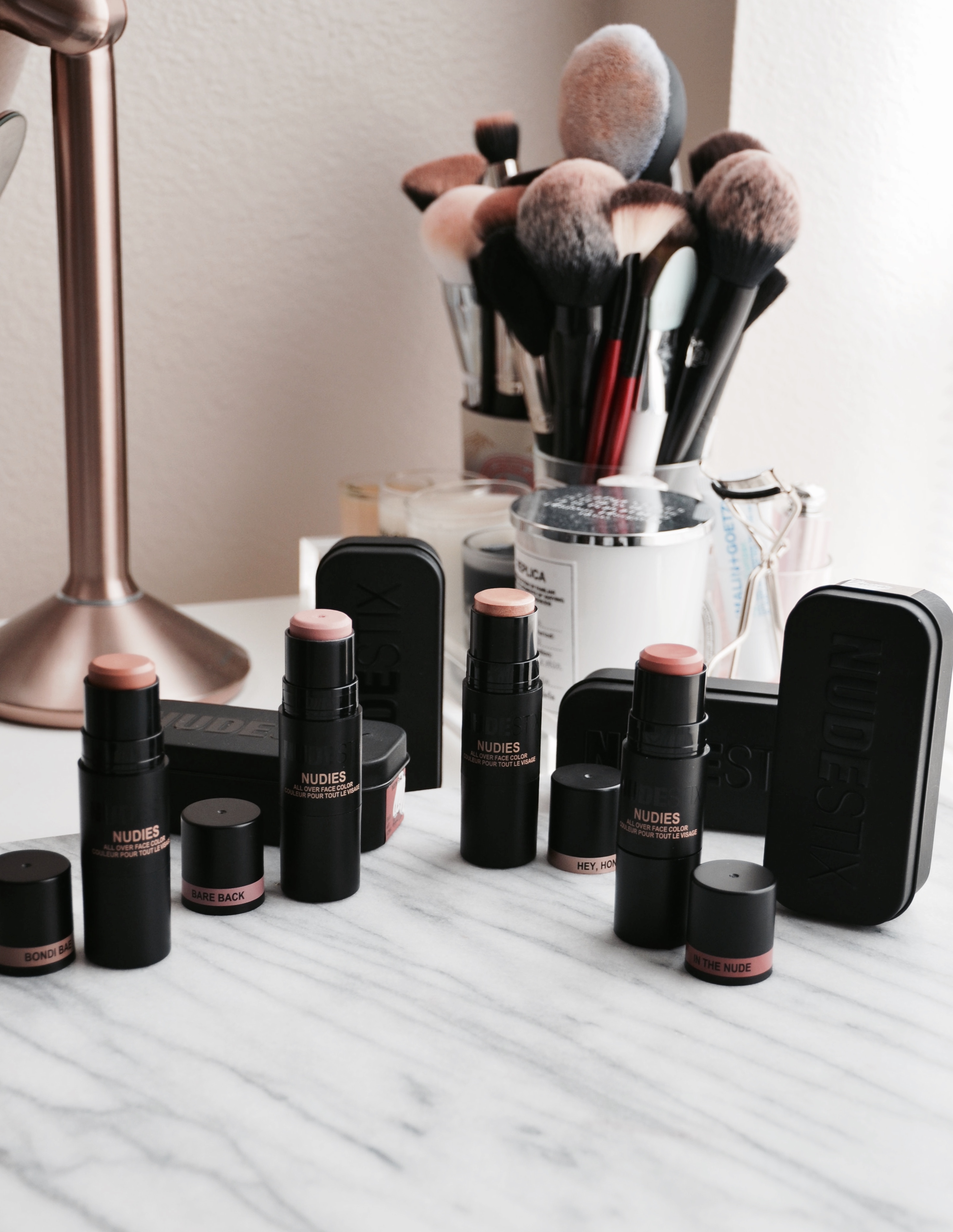 The Nudestix Nudies All Over Face Color come in Matte and Bronze + Glow, which is the more highlighter shimmery shades. As I mentioned before, I picked up the shade in Bondi Bae which is a matte bronzer shade. I also got the shades in Bare Back (cool nude), In The Nude (neutral nude) and Hey, Honey (golden sun-kiss).
The Nudestix Nudies All Over Face Color Matte is a matte monochromatic cream formula that you can use on your cheeks, eyes and lips. They are dual-ended, so come with the twist up cream product on one end and a blending brush on the other. The brush
is actually quite nice and does a great job with blending. It's also removable for easy cleaning and wash.
The shade in Bondi Bae is described as a bronze nude. It's medium warm toned bronze shade that gives off a nice bronze effect to the skin. It warms up the complexion but it is not overly warm so it looks orange or red on the skin. The formula is very pigmented but blends in to a nice natural bronze shade. I apply Bondi Bae directly from the stick and then blend with a brush. I find that the formula is creamy but doesn't move my foundation which is hard to find with cream products.
Bare Back is described as a cool nude. It's a beautiful light mauve nude that works really well as a blush. At first, by the description I though this shade would work for contouring but I think the shade has too much mauve. The formula performs the same as the bronzer shade and blends seamlessly on the skin. For application, I don't drag the product, I just dab about two times and then either blend with my fingers or a brush.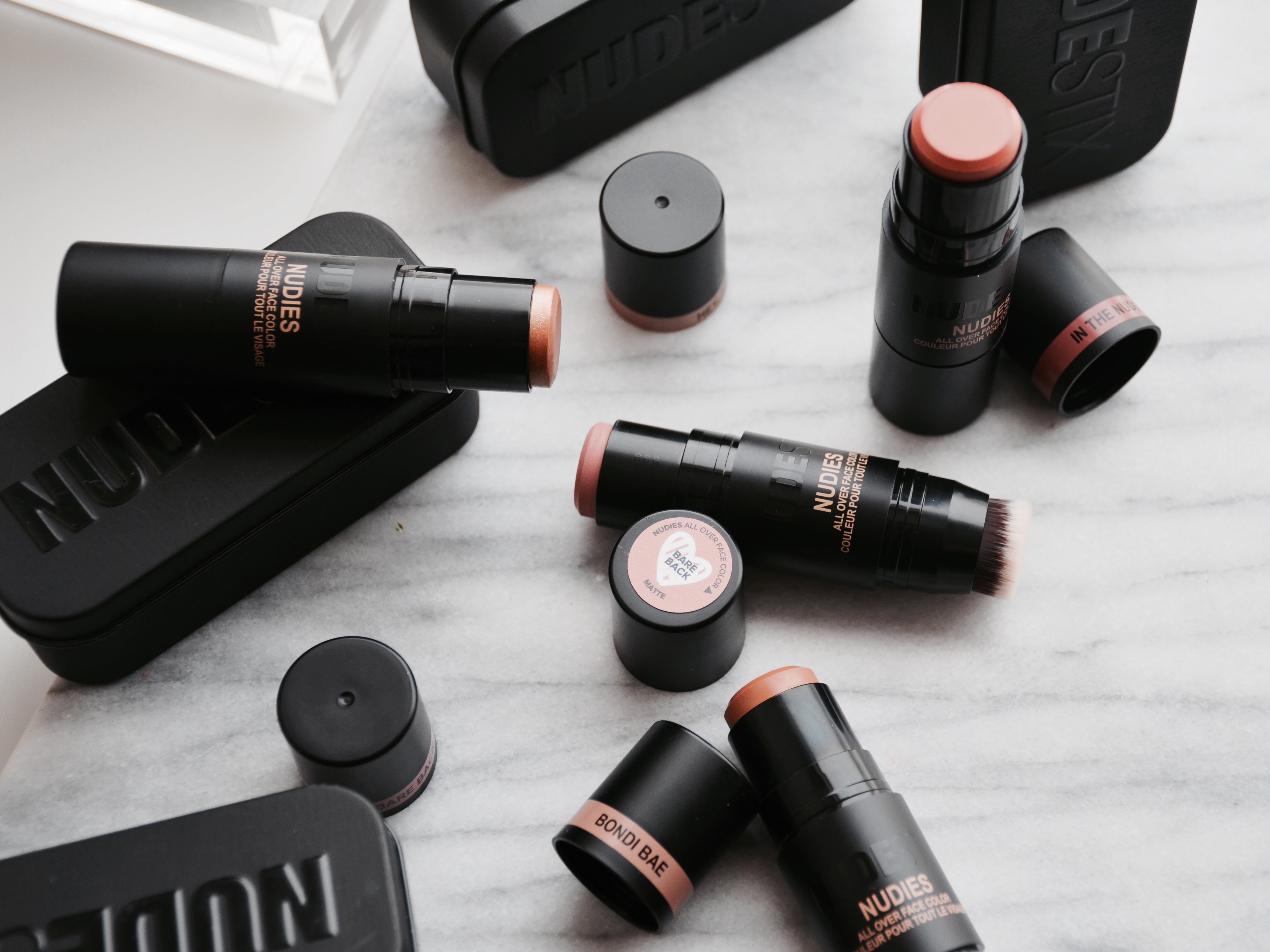 In The Nude is listed as a neutral nude shade. On me, it's actually a beautiful muted nude peachy shade that I love using as a blush in spring/summer. The formula of In The Nude performs as wonderful as the other two. Oh and I almost forgot to mention that these dry down so I don't have to set them with powder. They don't dry down to a totally powdery finish but since I have normal and even a little dry skin, I can get away without powder over top.
There are two other shades in the Nudies All Over Face Color Matte line that also look like great every day neutral shades and will make for good cream blushes.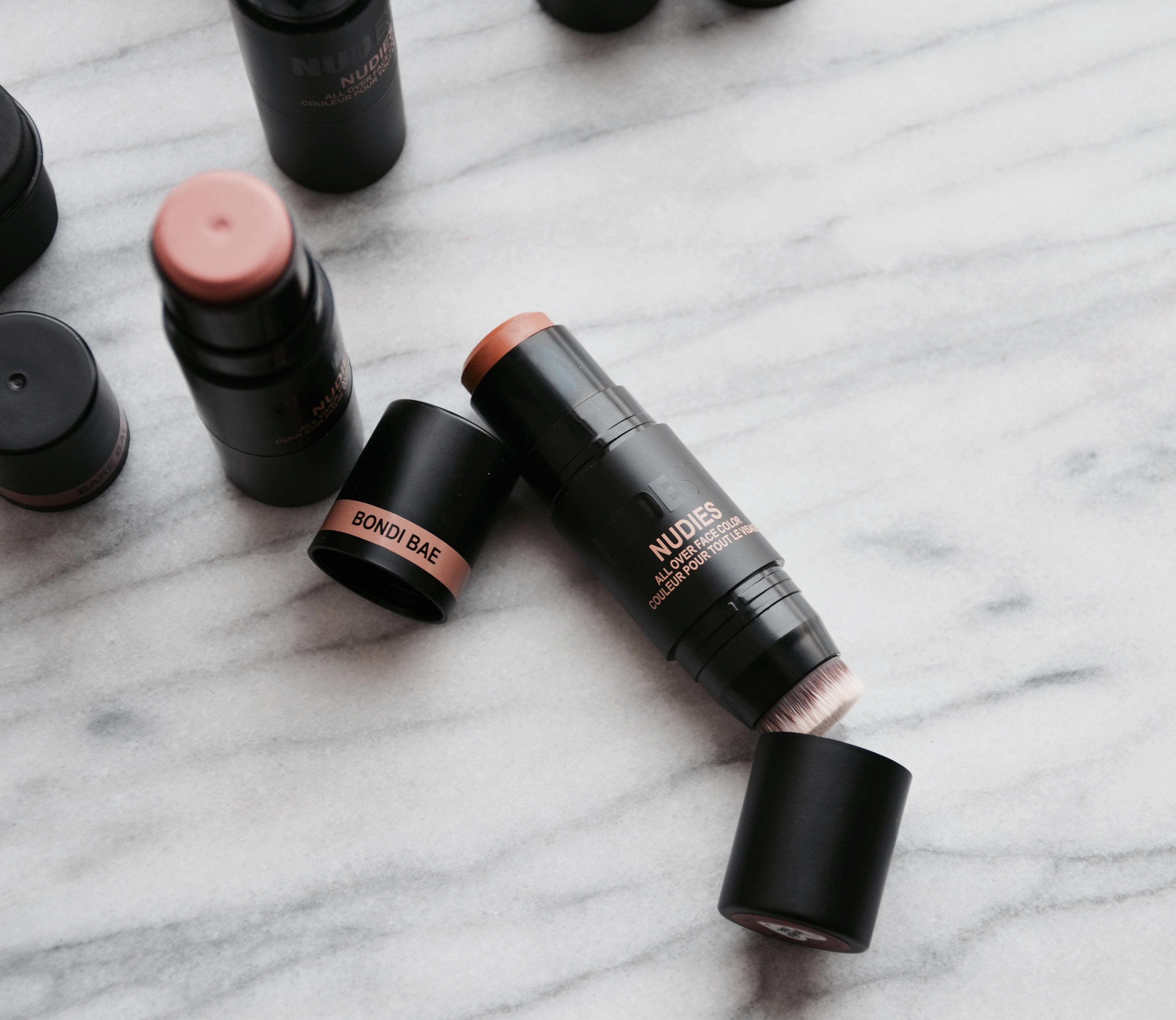 The only shade that I got from the Nudestix All Over Face Color Bronze+Glow is the shade in Hey, Honey. It's a beautiful gold shade that gives a dewy look to the skin. Like the matte shades, it can be used on the cheeks, eye and lips.
Now this shade, I prefer to apply with my fingers or a brush. I find that if you just swipe it directly from the stick and you wear a fuller coverage foundation, it will move your base. So the best way, is just to take some product either on your fingers or a stippling brush and apply on the skin using dabbing motion. Never drag a cream product as you will move everything that's below it.
Hey, Honey gives a dewy, hydrating and healthy look to the skin and never looks over the top. The formula of this shade is a little more creamy than the matte shades so if you are oily, I recommend setting with a little powder or just layer the shade with powder highlighter. For my normal skin, I can totally wear it on it's own.
Swatches L to R: Hey, Honey, Bondi Bae, Bare Back, In The Nude
Bottom line, I quite enjoy the Nudestix Nudies. They are great for doing minimal and quick makeup looks and I also like that you can use them on the eyes and lips. With the stick compact packaging, they also make for great travel products. The brush on the other end is of great quality so you can also use them on to go.
Pure love for the Nudestix Nudies! I hope they will add more shades in the future but for now I'm eyeing Illumi-Naughty.
Have you tried anything from Nudestix? What's your favorite product from their line?
SaveSave
SaveSave