Mac released a new line of concealers and powders that are part of the permanent line. They also released two products that are part of the Mineralize line. The Mac Studio Waterweight Line features foundation, concealer and powder. It is a line for people who like their makeup on the natural side (me in a line). As I remember, the foundation was released a long time ago so they just added concealers and new powders.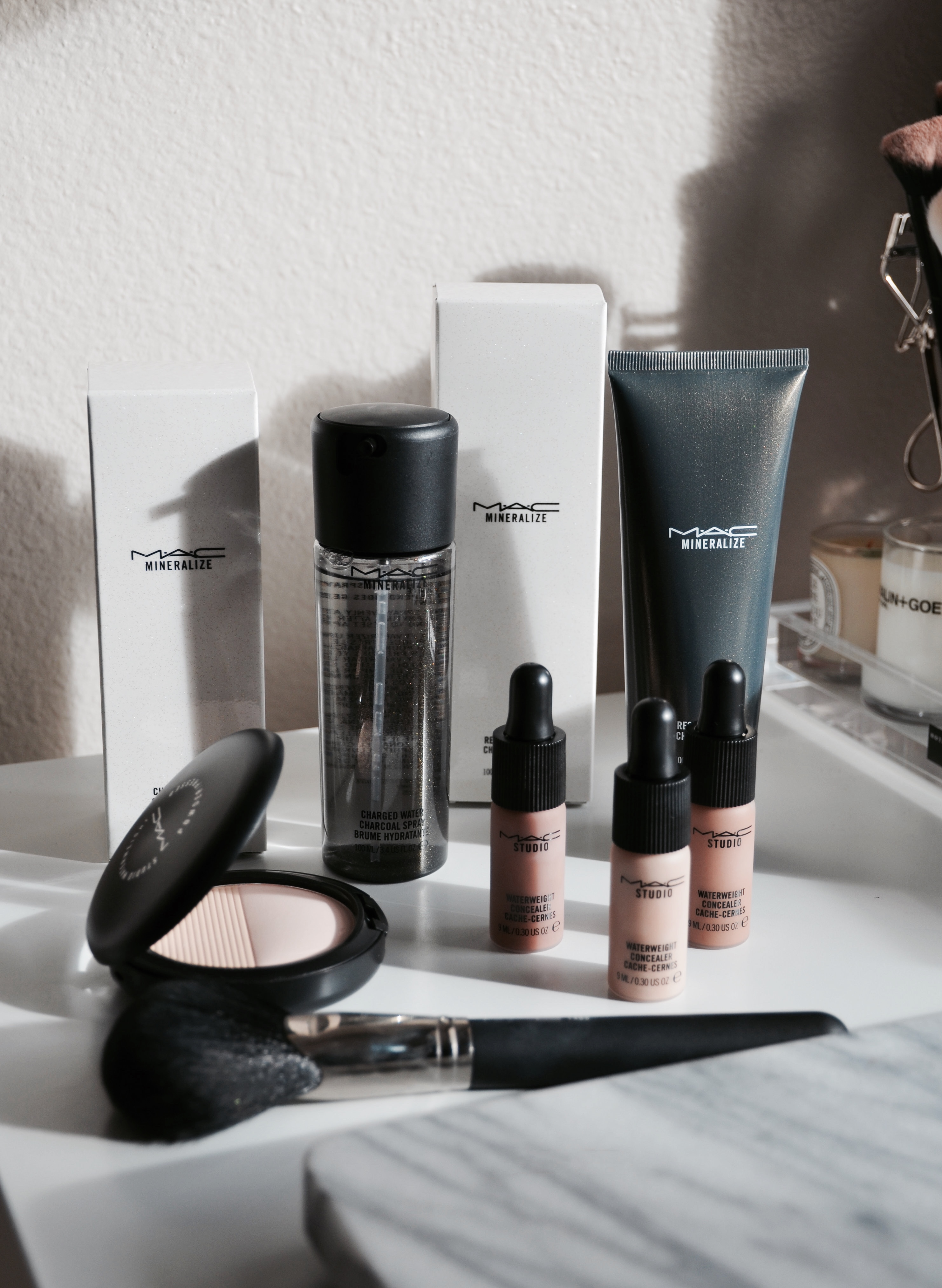 The Mac Studio Waterweight Concealer is a super liquidy concealer with medium to full buildable coverage and a natural finish. It comes in 16 shades and different undertones as with most of their base lines. The concealer is housed in a glass bottle and has a dropper for easy dispensing. The consistency of the concealer is very watery but packs good pigment.
A little goes a long way when it comes to this concealer. At first when I felt the texture, I though this would be a sheer concealer since the formula is watery. But after application, with just a drop I could do both my under eyes and get good medium coverage. I never go full on under my eyes since it can look a bit heavy and overdone so I haven't tested the buildability.
Since it's a watery consistency I prefer using a brush for blending. A damp sponge would soak up a lot of the product. I do go over with a damp sponge after blending with a brush, just to get a more flawless look.
Pictured shades L to R: NW45, NC20, NC45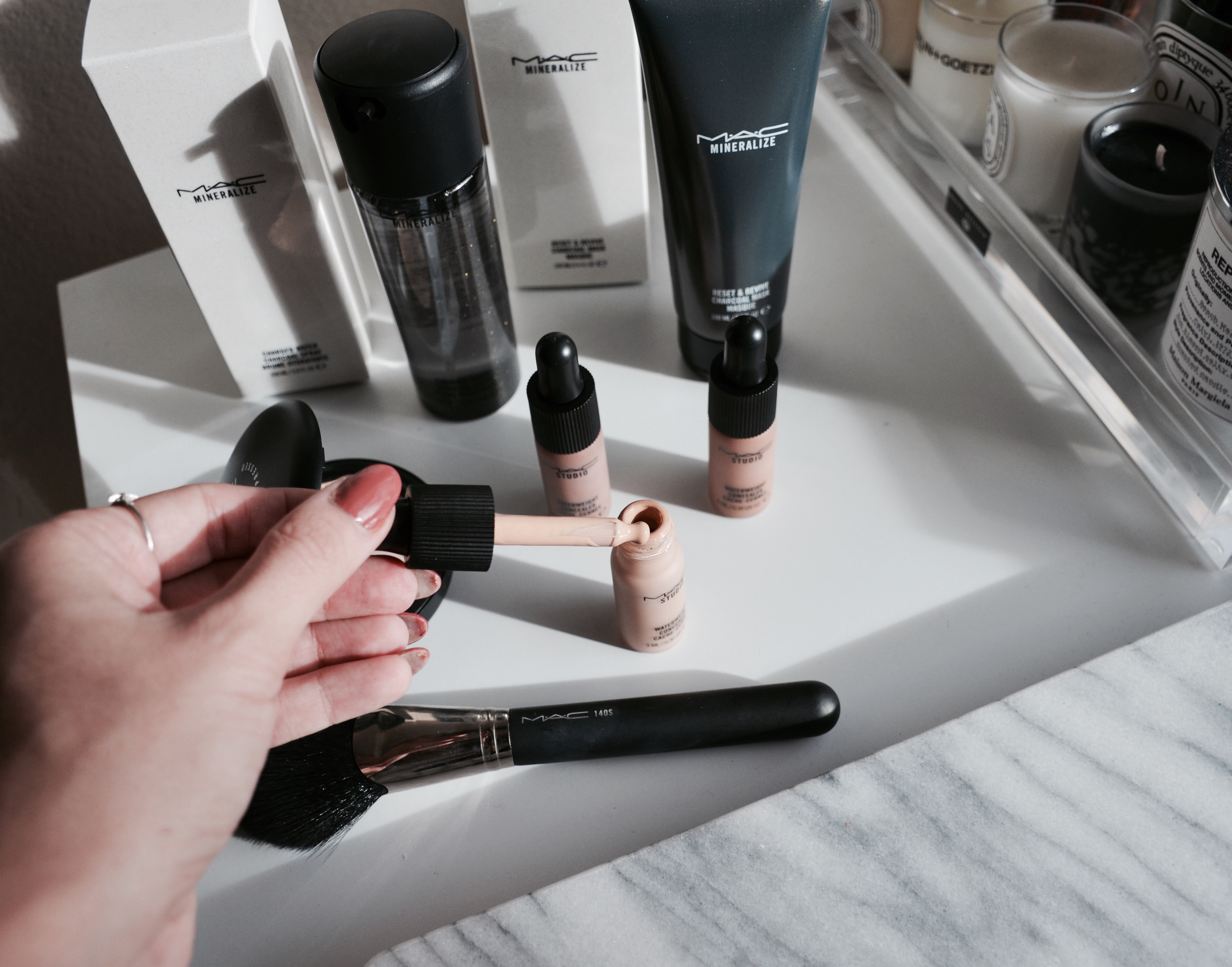 Swatches L to R: NC20, NC45, NW45, Studio Waterweight Powder in Light
Mac Studio Waterweight Powder Pressed is a dual toned powder with a medium to buildable coverage and a natural finish. It features a warm and cool toned shade so you can create your custom powder.
The texture feels like silk to the touch and very light on the skin. I like my powder on the neutral side so I like to swirl my brush and mix the two shades. You can definitely build up the coverage of the powder,  but I prefer a light layer over my base and just where I need it. The compact comes with a dual sided sponge applicator but also a flat brush for blending.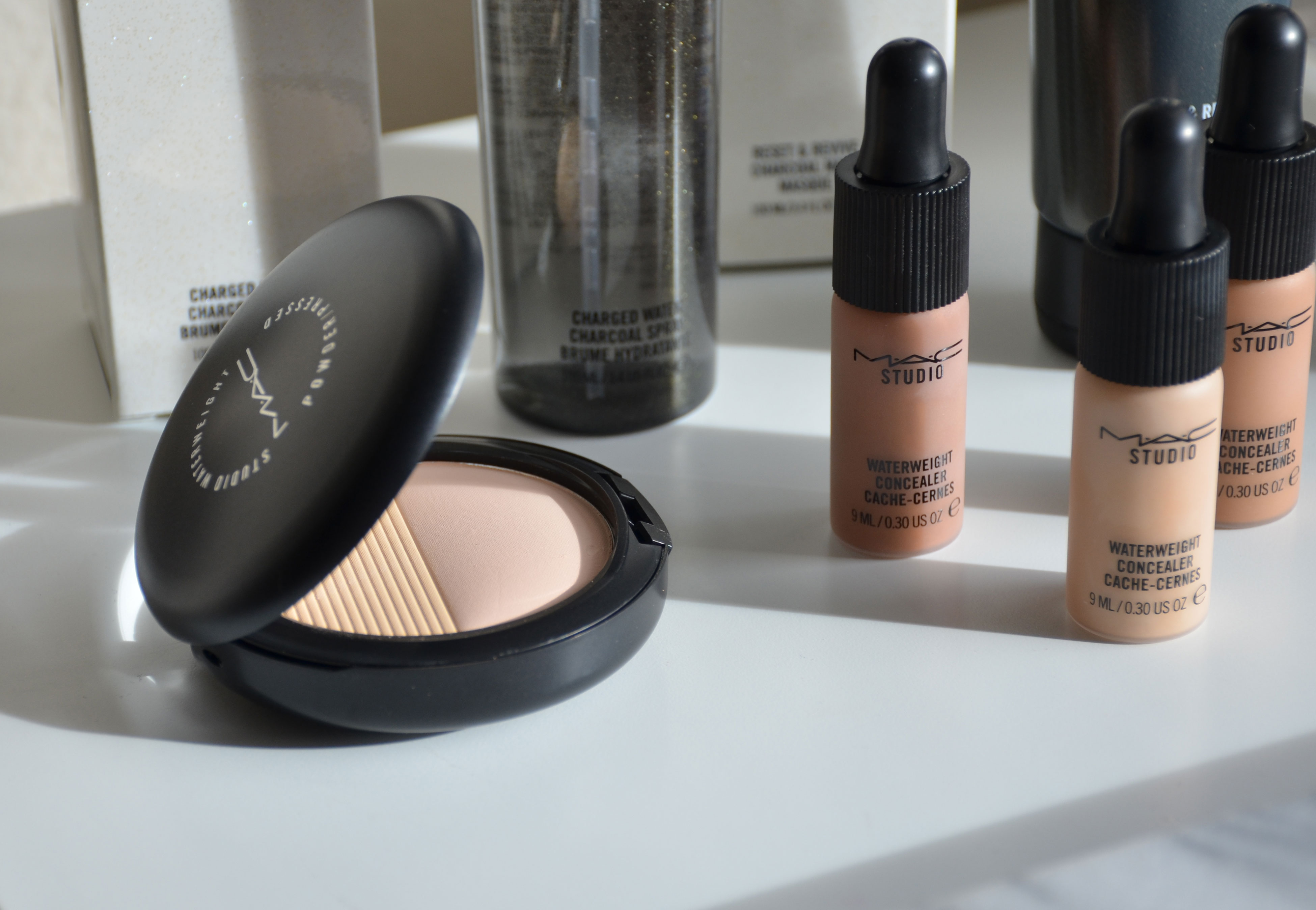 The two other products that were recently released are both skincare. The Mineralize Charged Water Charcoal Spray is a charcoal infused spray that helps with moisture. It's a face spray that replenishes the moisture in the skin and also preps it for makeup. The recommended use is to spray all over the face after cleansing and before moisturizer. You can also use the spray over makeup if you have problems with dryness or just to refresh your base.
The Mineralize Reset & Revive Charcoal Mask is a purifying mask infused with bamboo charcoal powder and mineral rich white clay which both help with deep cleansing. It helps with excess oil and cleans out any dirt you have in your pores. After one use, my skin felt soft and I could definitely tell that my skin looked clearer. The mask also doesn't dry out your skin so it's even good if you have dry skin.
How to use:
Smooth a thin layer over clean skin, avoiding eye area.
Leave on skin until completely dry, up to ten minutes.
Rinse well with tepid water
If you are in need of new powder, I highly recommend the Mac Studio Waterweight Powder. It is very soft and it's almost untraceable on the skin. Plus it works really well even if you have dryness which is hard to find when it comes to powders. As for the concealer, I think I have to use it more to get used to the watery texture. I'm so used to the classic creamy concealer, so it's a little hard for me to switch. Otherwise, it provides good coverage and it looks natural on the skin which is what I prefer.
What was the last product that you bought from Mac?
*PR Sample
SaveSaveSaveSave