Cover FX has two new products and both are multi-purpose shimmers and glitters. The Cover FX Glitter Drops come in multidimensional finish and sparkle for days. The Shimmer Veil can be used on eyes, lips and wherever you would like a touch of shimmer. For me, I love to use them on the eyes as cream eyeshadows, since I don't like shimmer anywhere else on my face.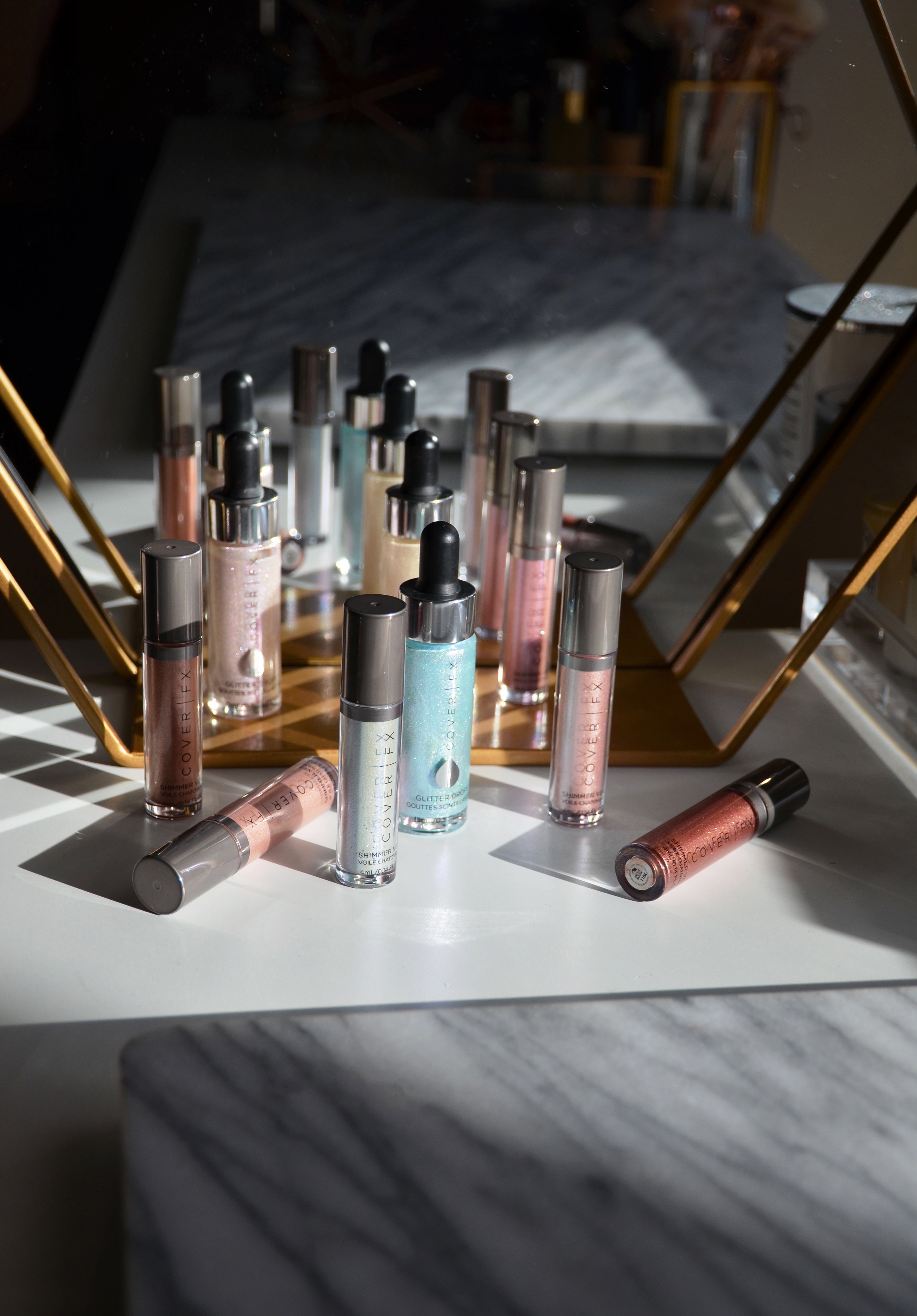 The Cover FX Glitter Drops come in three shades, Aurora (multi-tonal pink glitter), Mirage (golden champagne glitter) and Lunar (multi-colored pastel glitter).
The liquid glitters can be used under or over makeup or mixed with your favorite base product. You can use them on the eyes to add a pop of sparkle, mix them with your favorite body lotion or apply them on the cheeks or lips.
They come in the same dropper bottle as the Custom Enhancer Drops which I like. You can really control how much product you are dispensing and they are very easy if you want to mix them with other products.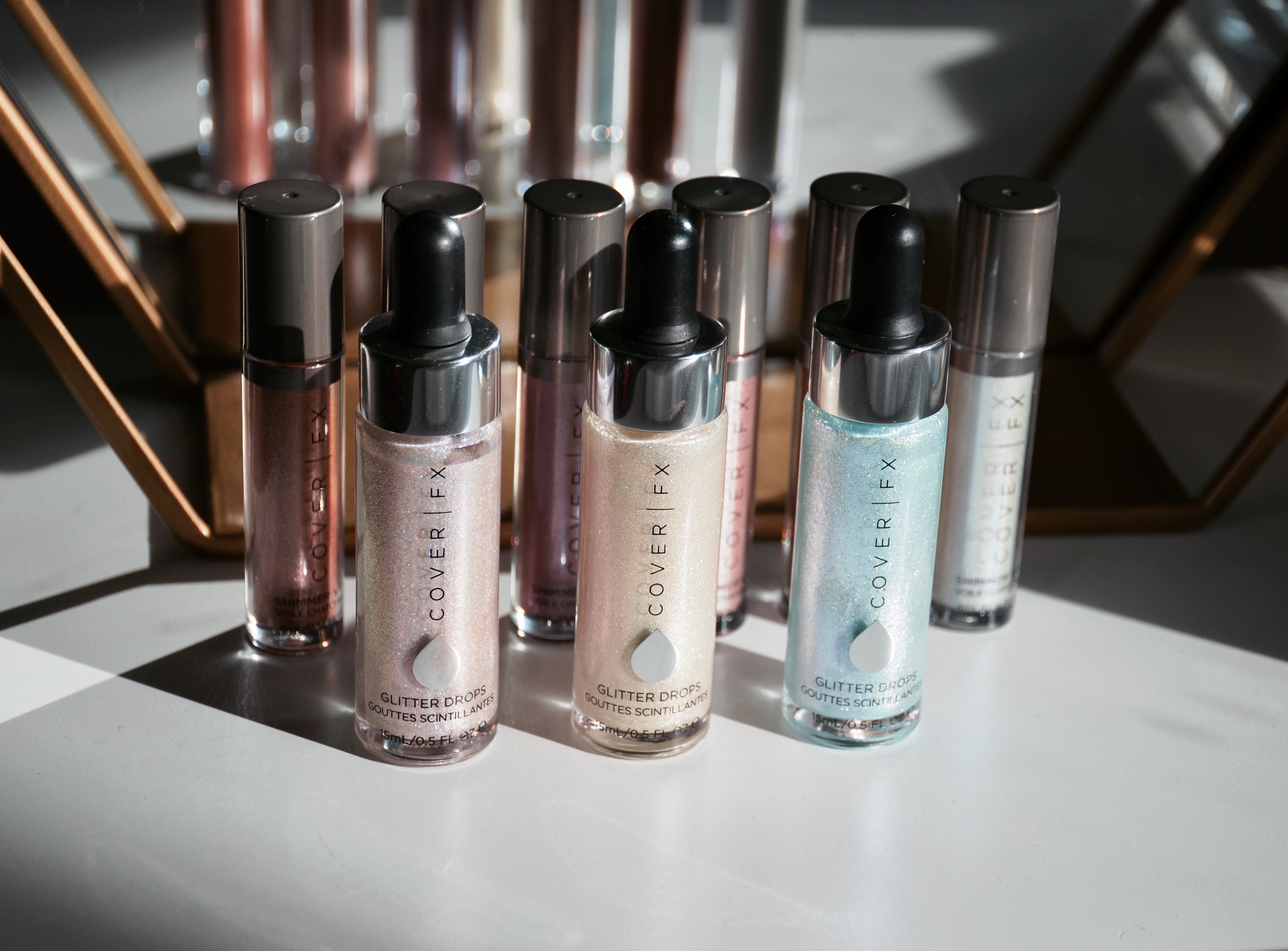 Pictured from L to R: Aurora, Mirage, Lunar
My preferred way to use the Glitter Drops is on the eyes and mixed with my body cream. On the eyes, they give a beautiful shine and an almost wet look. Mixed with a body lotion, they give a nice glow to the skin without being overly shimmery or glittery. I will definitely put them to good use this summer.

Swatches L to R: Aurora, Mirage, Lunar
As you can see by the swatches, the formula of the Cover FX Glitter Drops is not as concentrated as the Custom Enhancer Drops. Since it's basically liquid glitter, I think this makes them more wearable and also easier to layer over other products.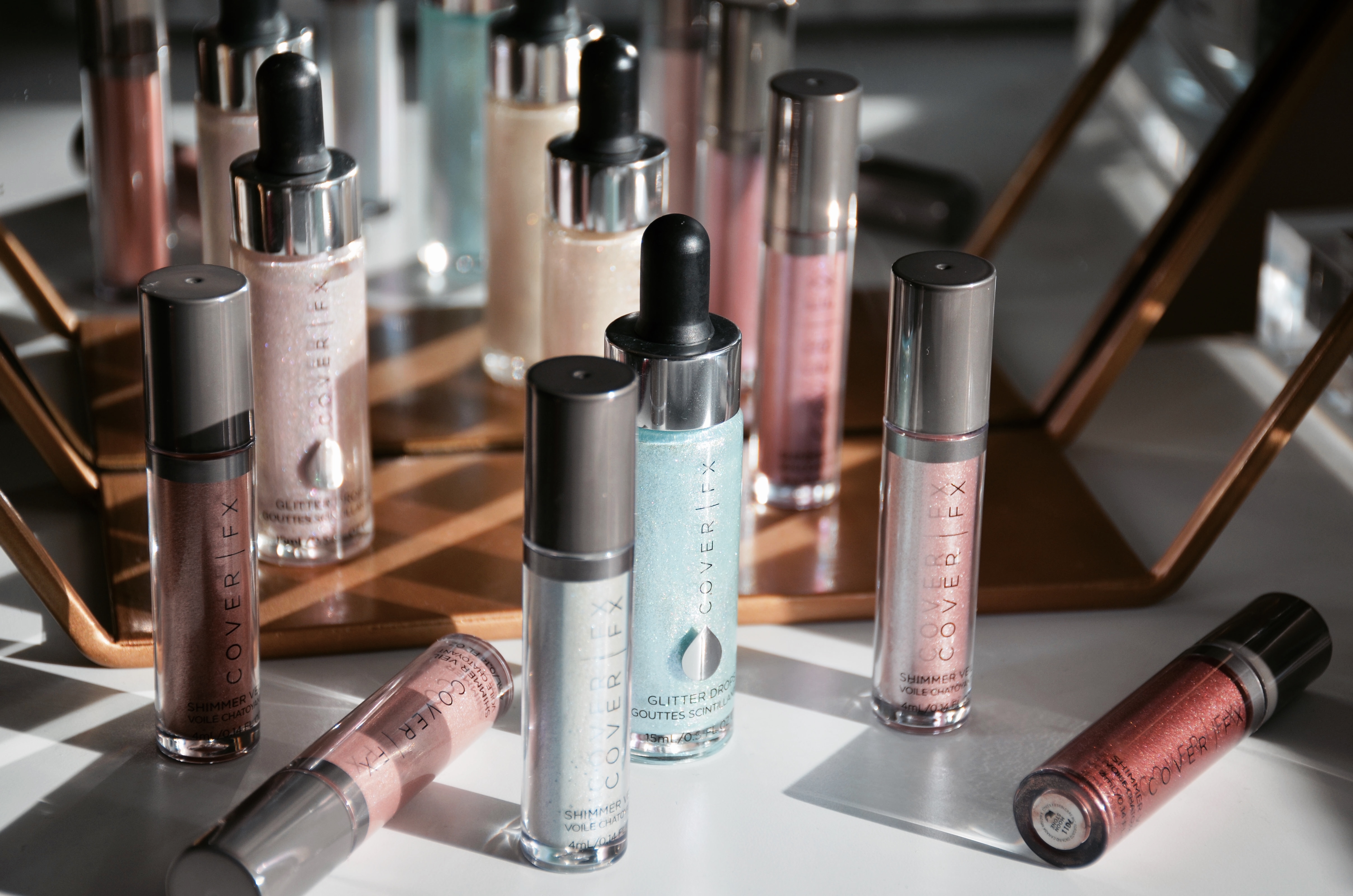 The Cover FX Shimmer Veil also come with a multidimensional finish but in a cream formula. They are cream shimmer that is highly concentrated and can be used on the eyes, lips or anywhere else you want to add some sparkle.
I love to use these as cream eyeshadows. The formula is crease proof and dries pretty fast, so as soon as they set, they don't budge. I didn't experience any flaking or creasing through the day even when using them without primer.
The Shimmer Veil comes in six shades:
Celestial (glistening pearl shimmer)
Halo (holographic multi-dimensional shimmer)
Magic (shimmering blush champagne)
Amethyst (iridescent lavender shimmer)
Moonstone (shimmering topaz)
Soleil (shimmering peachy pink)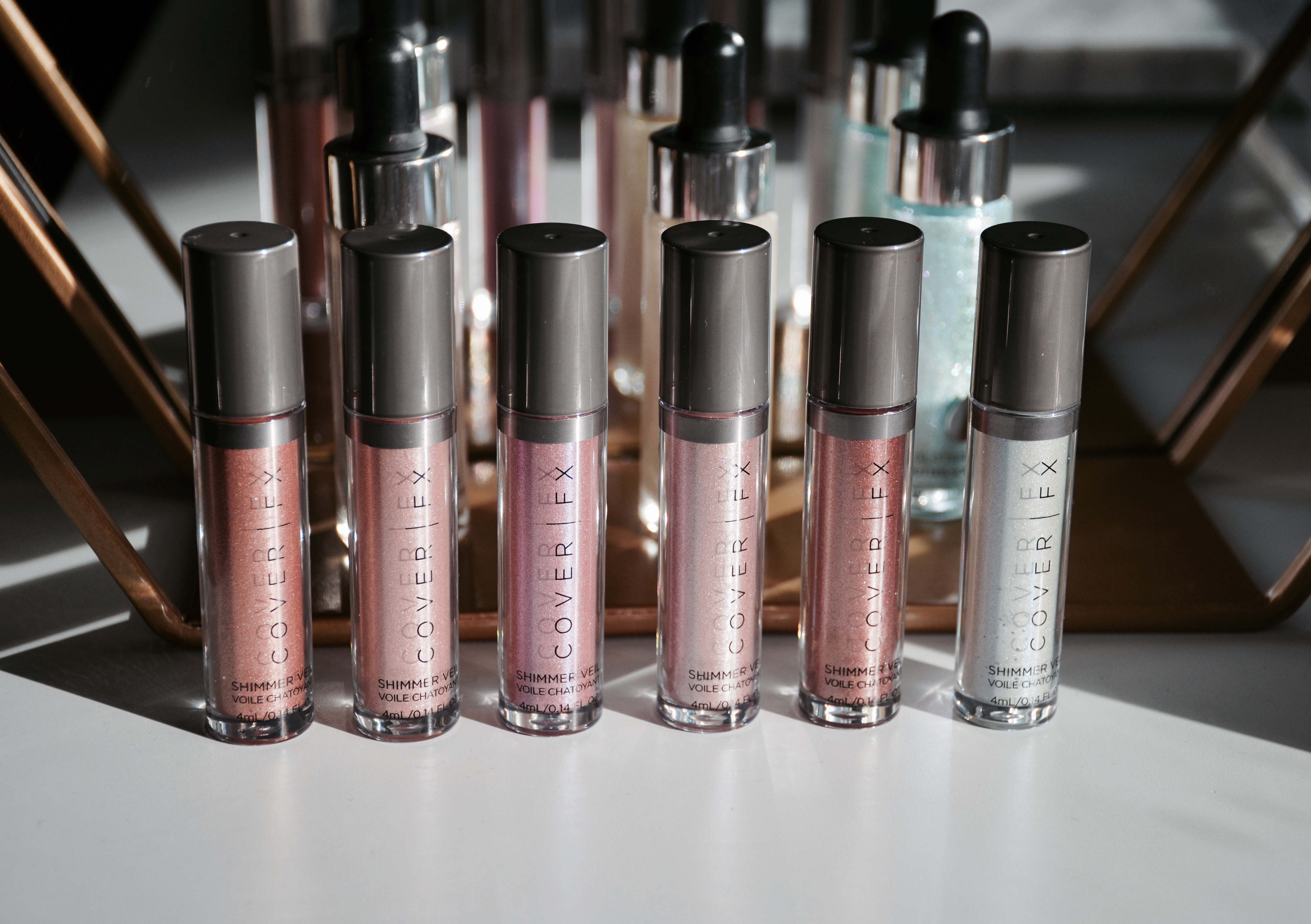 Pictured L to R: Soleil, Magic, Amethyst, Celestial, Moonstone, Halo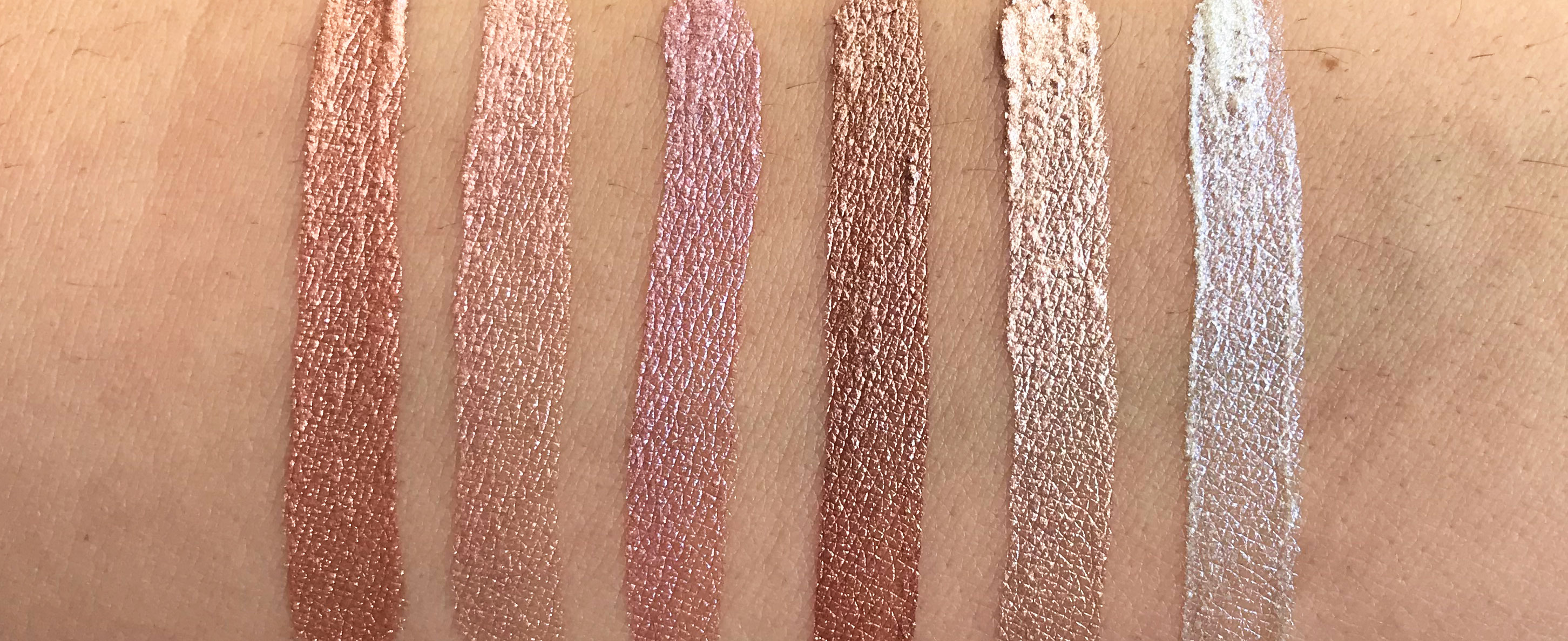 Swatches L to R: Soleil, Magic, Amethyst, Moonstone, Celestial, Halo
Except of Halo, they are all very wearable shades. I love wearing neutral bronze shades on the eyes, so these are right up my alley.
Moonstone is a favorite from the bunch but I also love Soleil, Magic and Celestial. I use Halo in the center of the eyelids or as an inner corner highlight since it's a very brightening shade.
The Cover FX Shimmer Veil come with a doe foot applicator which is convenient for precise application. For the eyes, I use a matte crease shade first, and then go in with the Shimmer Veil with the applicator and blend with a brush. They are very easy to use and great for doing quick makeup looks.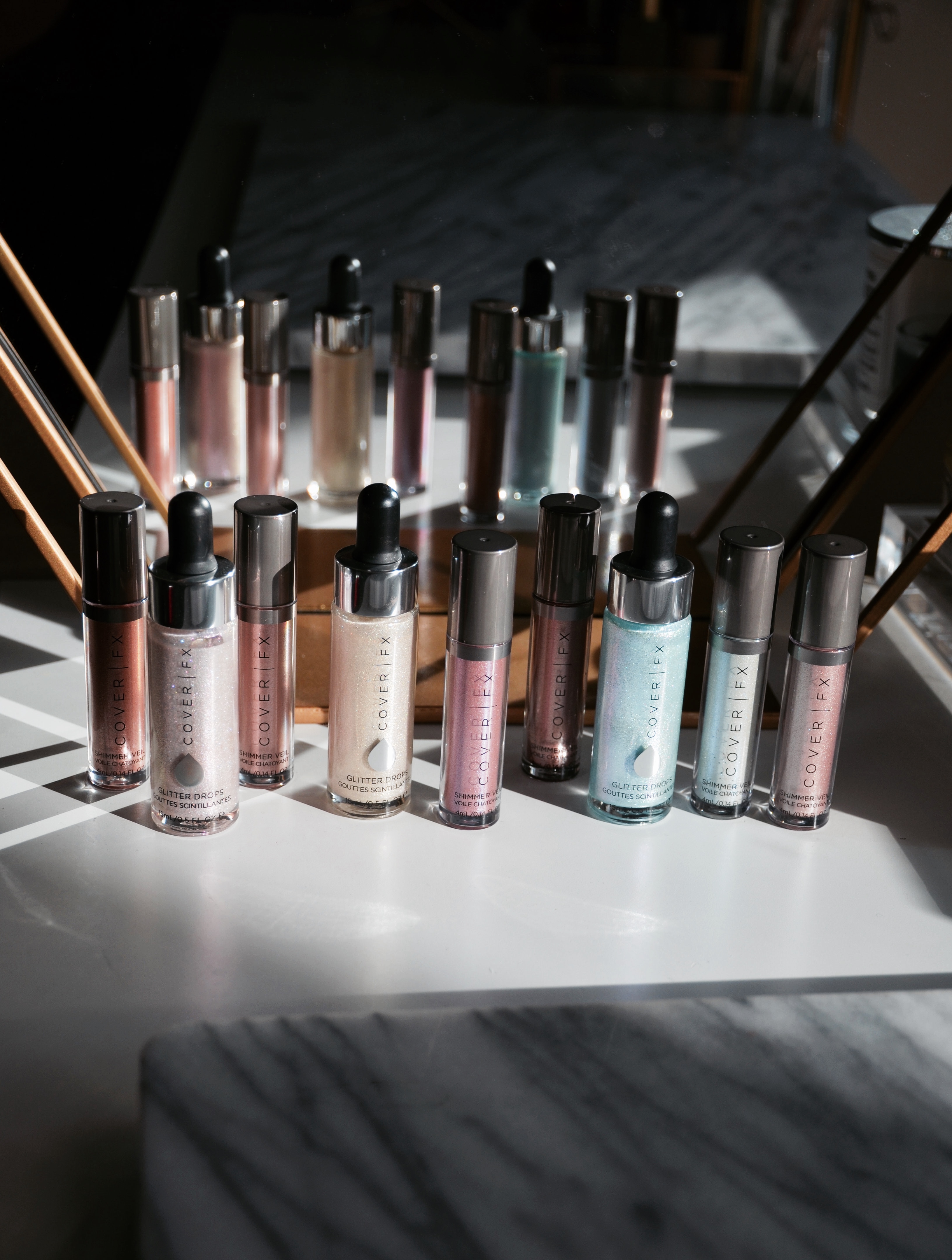 Both the Glitter Drops and Shimmer Veil are excellent products and perform really well. If you love your shimmer and glitter, definitely check these out. Also if you love using cream shimmery eyeshadows, the Shimmer Veil is a great formula to have. I like using cream eyeshadows for every day so I will definitely put these to good use.
*PR Sample
SaveSave