Maybelline is starting the year with a bang. They released some pretty exciting new products at the start of 2017. In addition to the Dream Cushion Foundation (review here), they released a new concealer, liquid highlighters and Baby Lips crayons. They also released a new nudes lipstick line which I'll feature in an upcoming post.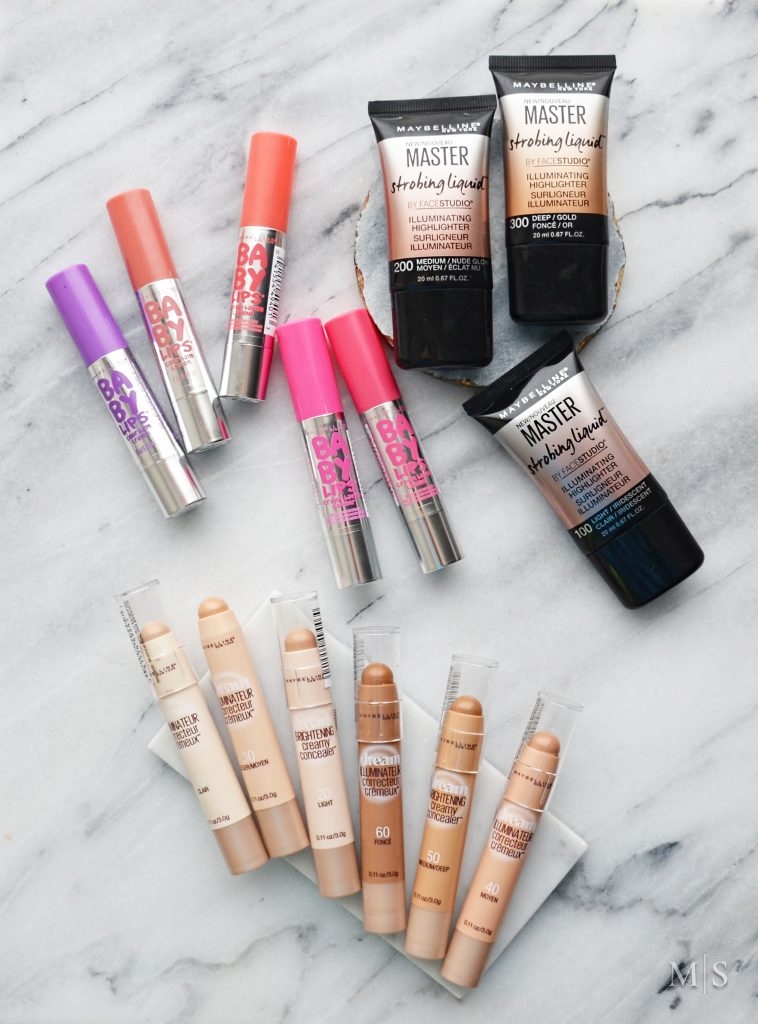 The new concealer is called the Dream Brightening Creamy Concealer. The line has six shades: Fair, Light, Light/Medium, Medium, Medium/Deep and Deep. With the formula described as a cream glide formula with light-reflecting pearls it supposed to help with brightness.
This concealer is advertised as a concealer for the under eye area but in my case it worked better as a spot concealer. I tried both Light and Light/Medium under the eyes and since I have dry patches it didn't work really well. It blended out fine and provided medium coverage but it also accentuated dryness.
Interestingly enough it didn't do that when I tried it as a spot concealer for the face. I find that it conceals redness and breakouts really well, providing medium coverage and a natural finish.
It also didn't work for my under eye area because I prefer a more liquidy formula for under the eyes. If you use a tiny bit of product and if you don't have problems with dryness this might work for you but for me it will be a nice spot concealer.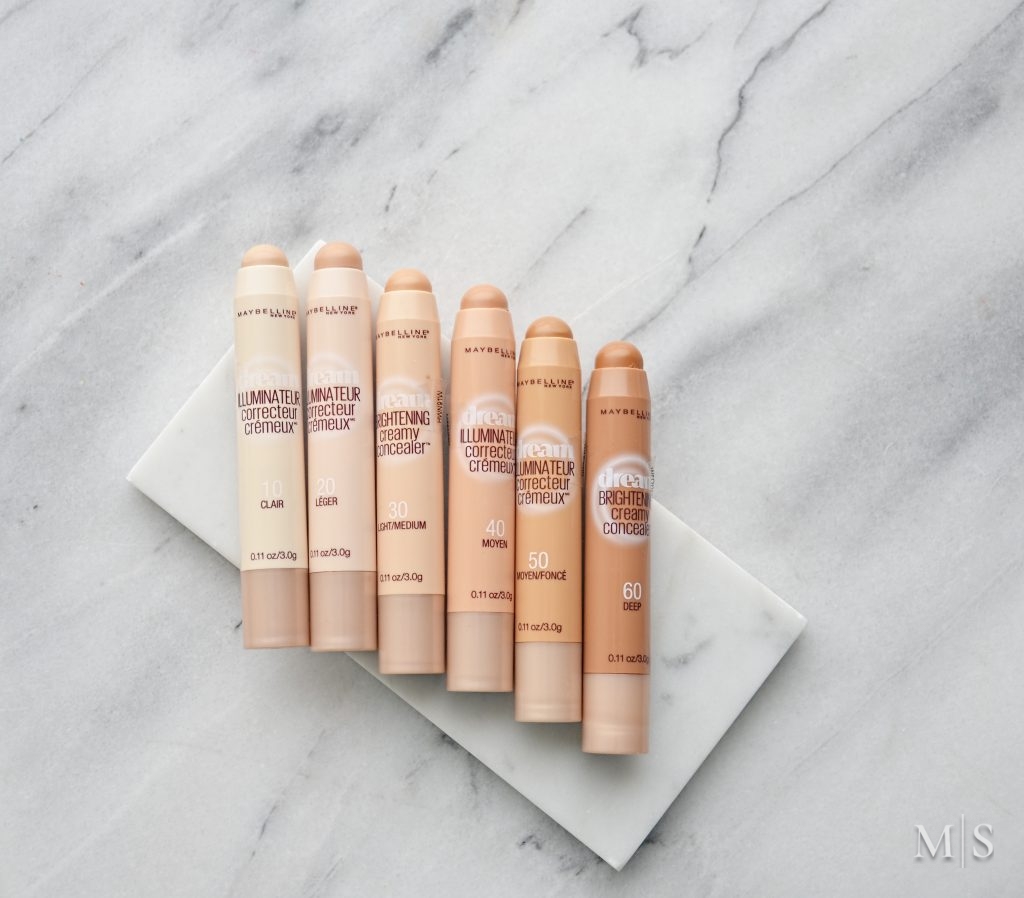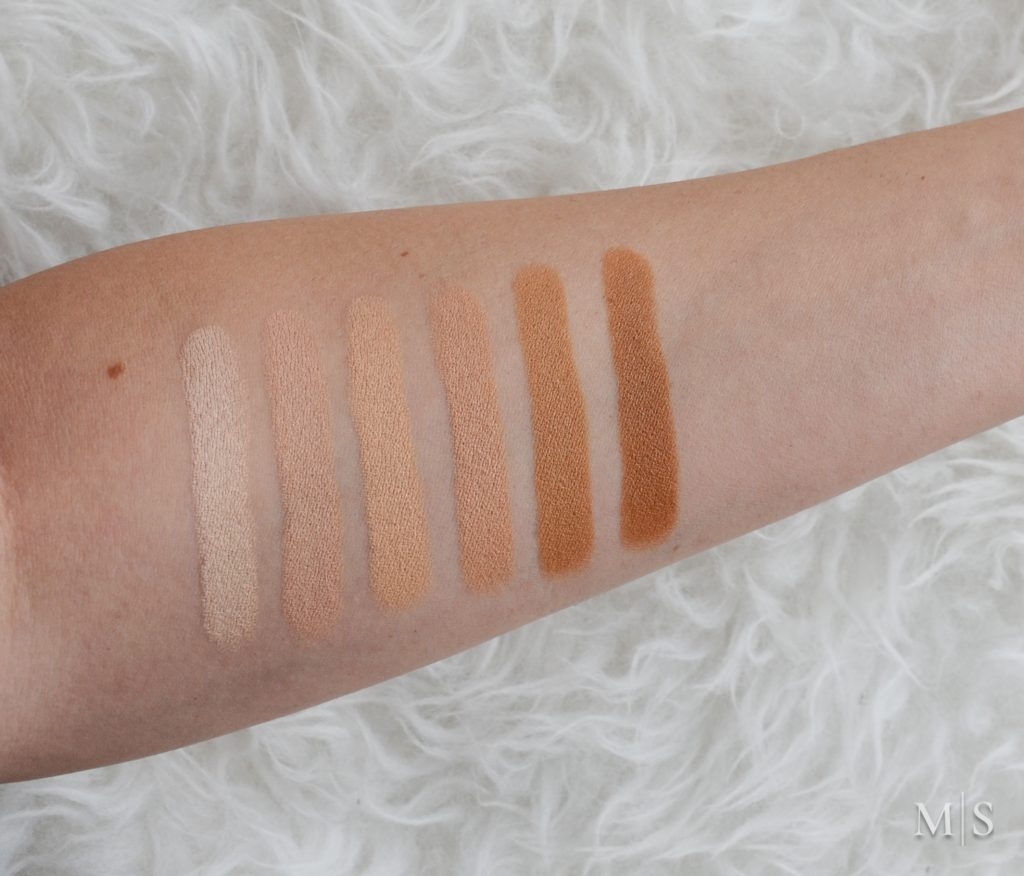 Swatches of the Maybelline Dream Brightening Creamy Concealer L to R: Fair, Light, Light/Medium, Medium, Medium/Deep, Deep
On a product that I loved, the Maybelline Face Studio Master Strobing Liquid Illuminating Highlighters are amazing! They come in three shades: Light/Iridescent. Medium/Nude Glow and Deep/Gold.
They have a liquid to cream formula and are good for mixing with your foundation or as spot highlighting. I even used them as illuminating primers and they worked really well under foundation.
The finish is super natural and glowy. They give a luminous glow to the skin without any noticeable shimmer or glitter, it just looks like your skin is glowing in within.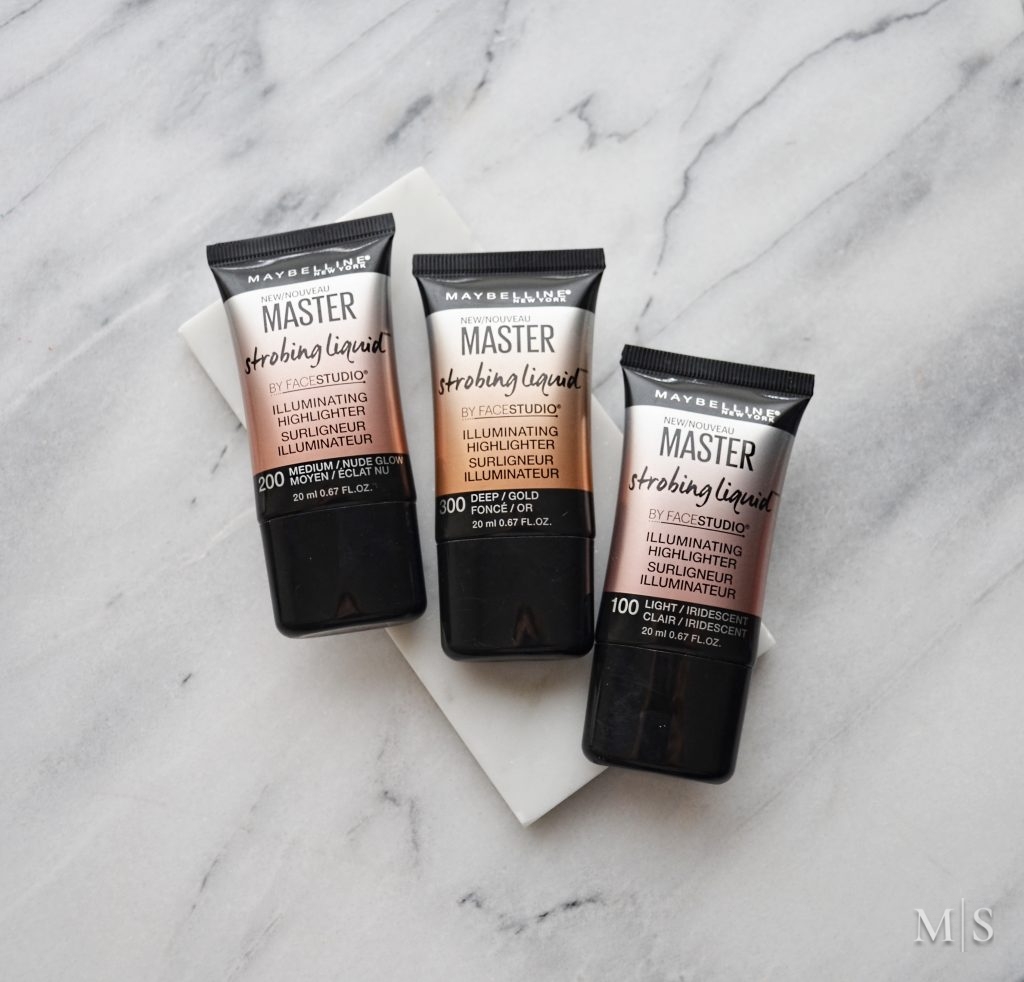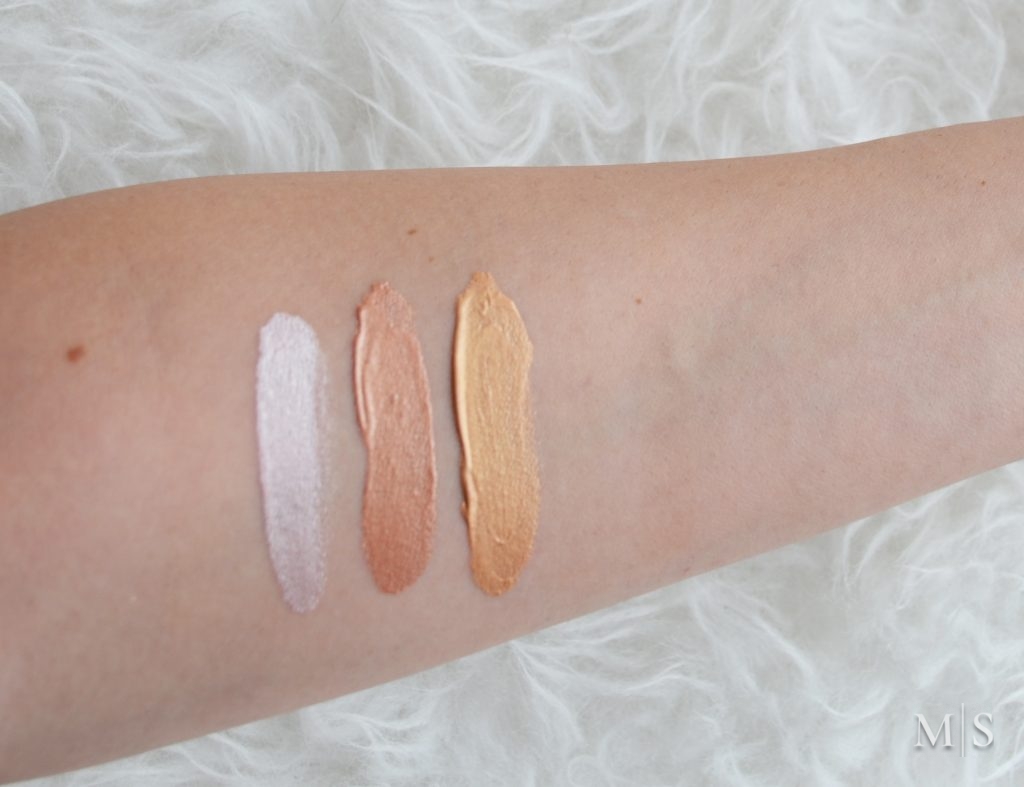 Swatches of the Maybelline FaceStudio Master Strobing Liquid Illuminating Highlighter L to R: Light/Iridescent, Medium/ Nude Glow, Deep/Gold
As you can see by the swatches the Light/Iridescent shade is a light pinky pearl shade that suits fair to light skin tones.
Medium/ Nude Glow is a rose gold shade which is too dark for me to use as a highlight. Maybe when I'm tanner in summer it will work but for now I may use it as a blush topper.
Deep/Gold is a true medium gold shade. This is meant for deeper skin tones but it actually works for my light to medium skin tone too.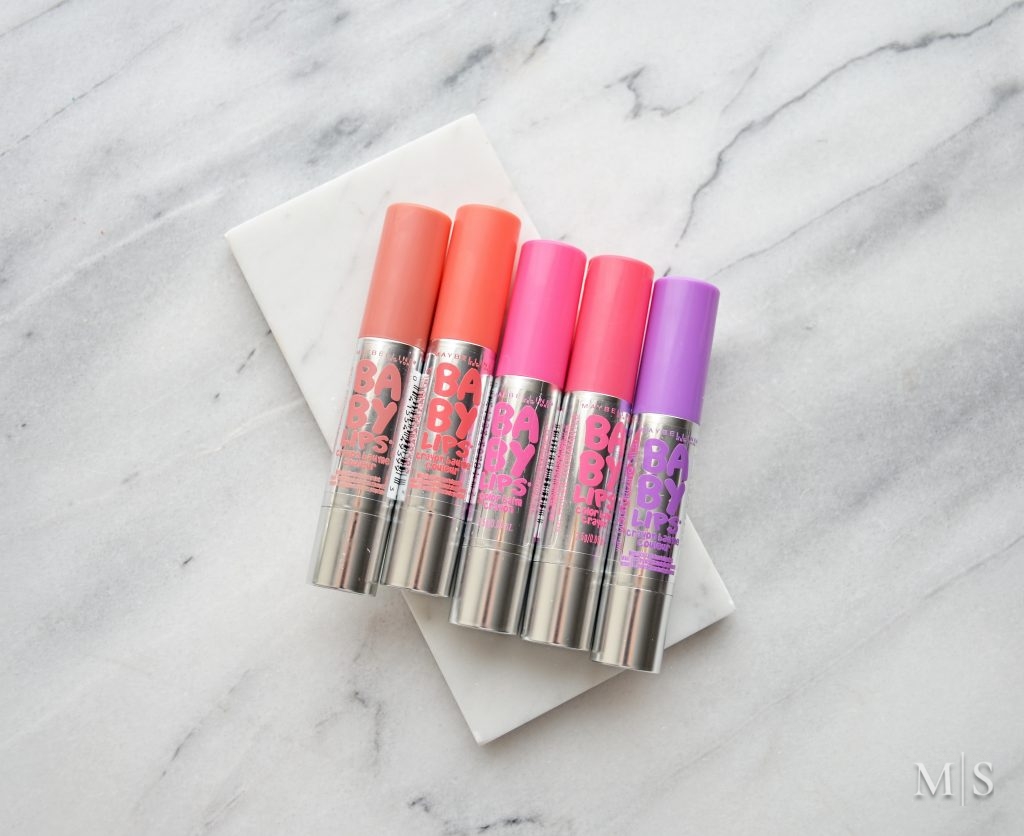 And lastly, the Maybelline Baby Lips Color Balm Crayons, a hydrating balm that also adds a pop of color to the lips.
They come in eight shades and I got five of them to test out in:
Blush Burst (pinky nude)
Creamy Coral (bright true coral)
Pink Smooch (bright neon pink)
Strawberry Pop (true pink)
Playful Purple (bright purple)
The scent of each shade is different. Blush Burst has a sweet vanilla scent while Strawberry Pop smells like watermelon. The scents are yummy and subtle and go away after application.
I've used the original Baby Lips back in the day and while I like them I do prefer a richer lip balm since my lips are pretty dry.
The new Baby Lips Color Balm Crayons are more like a hydrating lipstick that provides medium coverage. They pack good pigment and they feel very comfortable on the lips.
The concept actually reminds me of the Clinique chubby sticks. While providing hydration, they also provide the wear and look of a lipstick.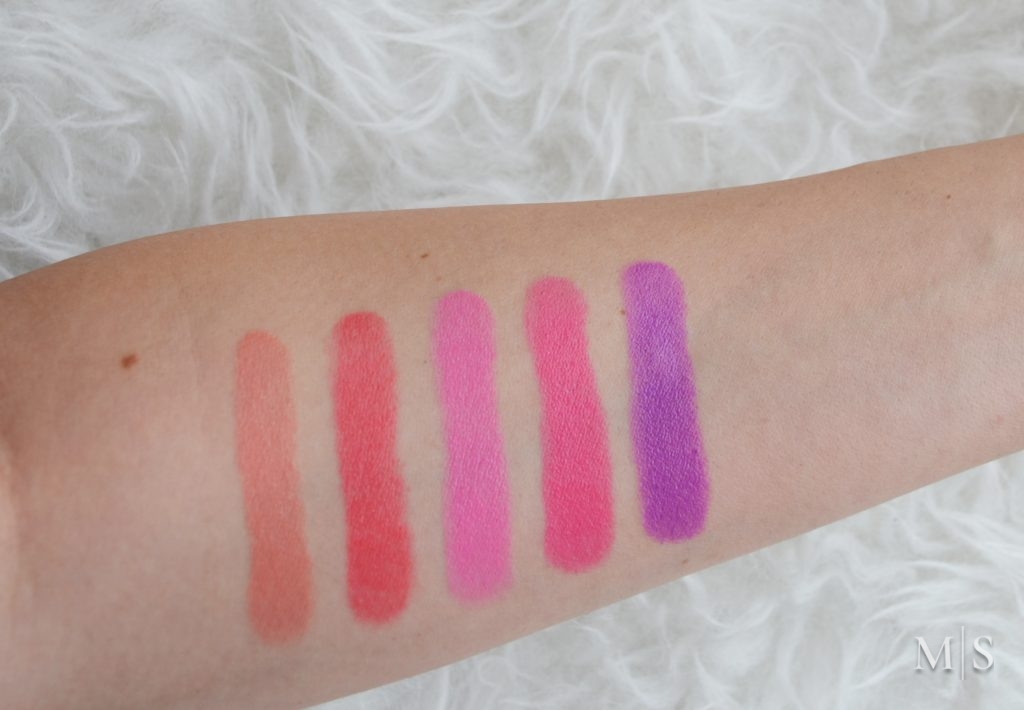 Swatches of the Maybelline Baby Lips Color Balm Crayon L to R: Blush Burst, Creamy Coral, Pink Smooch, Strawberry Pop, Playful Purple
All in all, some pretty exciting releases from the drugstore. If you're thinking of getting anything I recommend checking out the Master Strobing Liquid Illuminating Highlighters. They are on the affordable side and the quality is comparable to higher end brands.
Have you checked out any of the new launches from Maybelline? So far my favorites has been the Dream Cushion Foundation, Master Strobing Liquid Illuminating Highlighters and the new Color Sensational Inti-Matte Nudes (review and swatches coming soon).
*PR Sample