My love for cream products has been growing through the years. I am so glad that a lot of brands are coming out with new formulas of cream makeup products! I love everything about creams. From how natural they look on the skin, to the fact that I don't even need brushes for application and blending. Also you can't really beat the glow that a cream highlighter can give. That wet glow in within look that powders can't really give.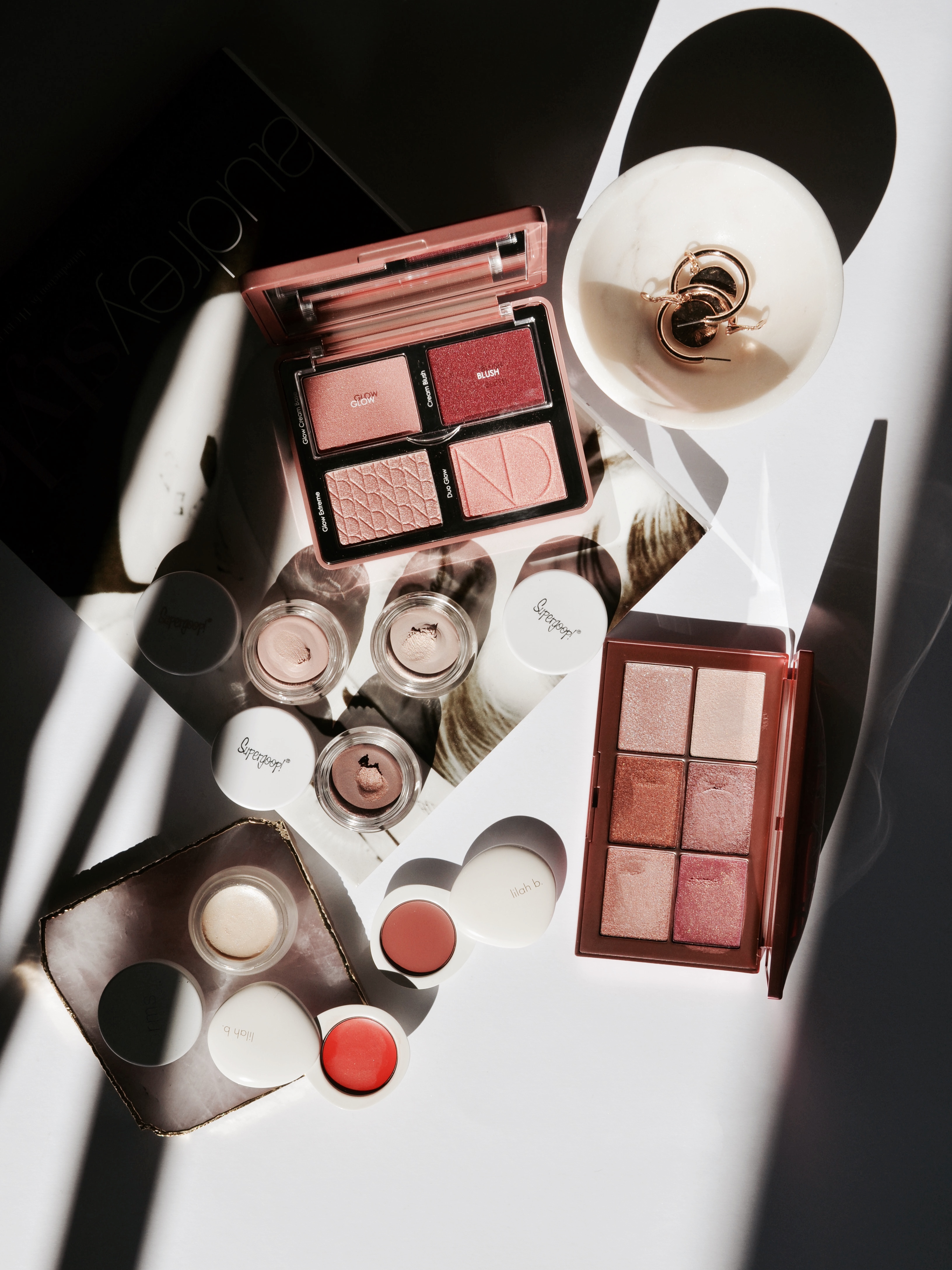 I've been testing a lot of new releases and some cream products that are not new releases, but they are new to me. I wanted to share the products that I love and use a lot (cream products are my go to's for my daily makeup).
First up, the Natasha Denona Bloom Blush & Glow Palette. Now this is not completely a cream palette (the top two shades are creams) but I still decided to put it in this blog post since I love the two cream shades that come in the palette. Plus her powders are so creamy that they are borderline cream in powder form.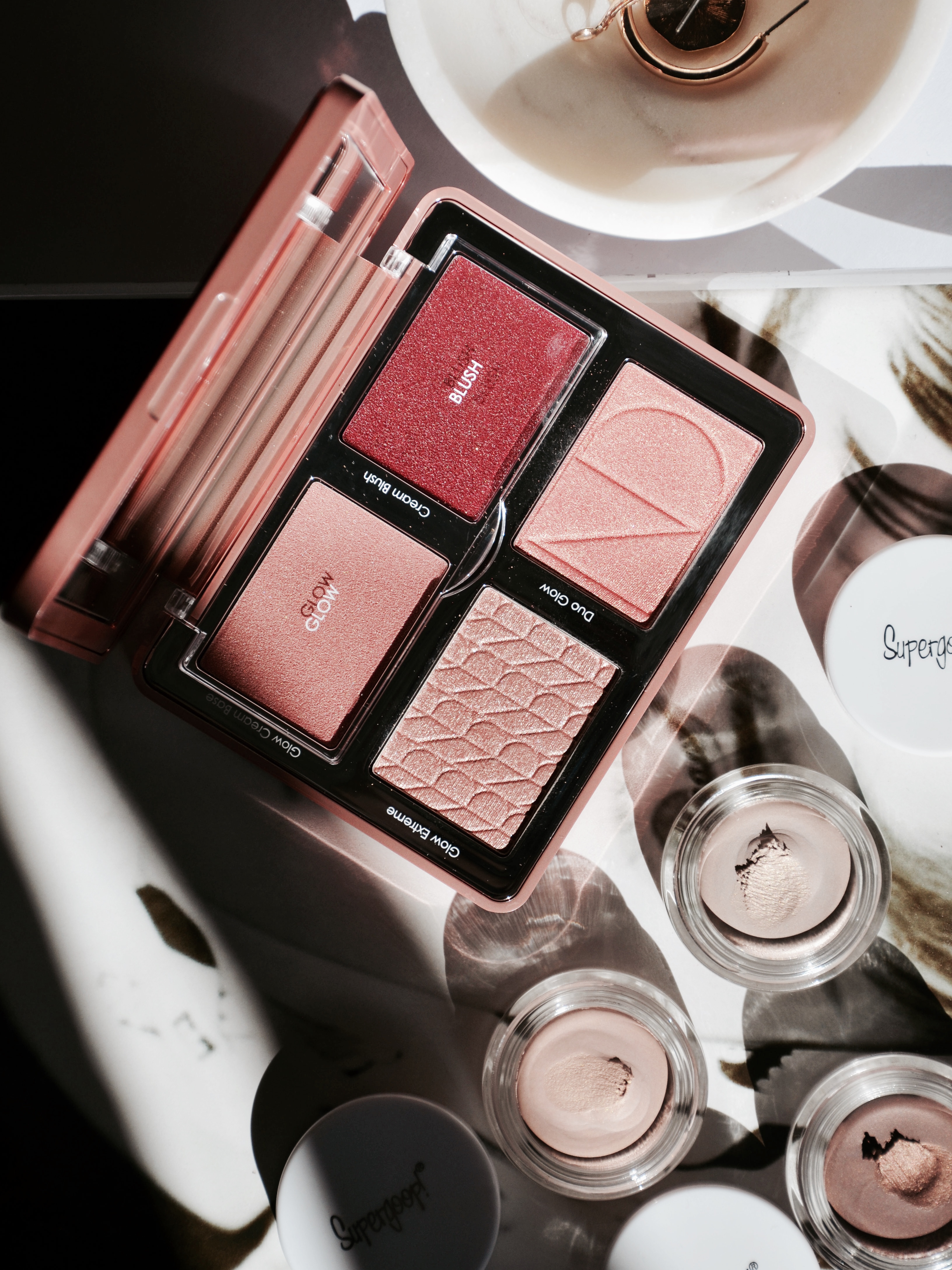 The Bloom Blush & Glow Palette comes with two cream shades, Glow Cream Base in Peach (natural peach) and Cream Blush in Fuchsia (deep cherry red with a subtle bronze shine) and two powders in Glow Extreme in Rose (nude champagne) and Duo Glow in Vibrant Golden Coral (coral with golden shimmer).
For my skin tone I get two blushes and two highlighters in this palette. The Vibrant Golden Coral shade gives enough color that makes for a beautiful glowy blush on my light to medium skin tone. For deeper skin, this shade will make for a great highlighter.
The formula of both the creams and powders is exceptional. They are creamy and blend beautifully on the skin. The cream highlighter is more subtle which is great for every day use and the Rose powder shade is as glowy and metallic as you can get from a highlighter. The red blush looks intimidating in the pan but with a light hand you will get a beautiful flush of color. Even if you are fair, the blush shade will work for you.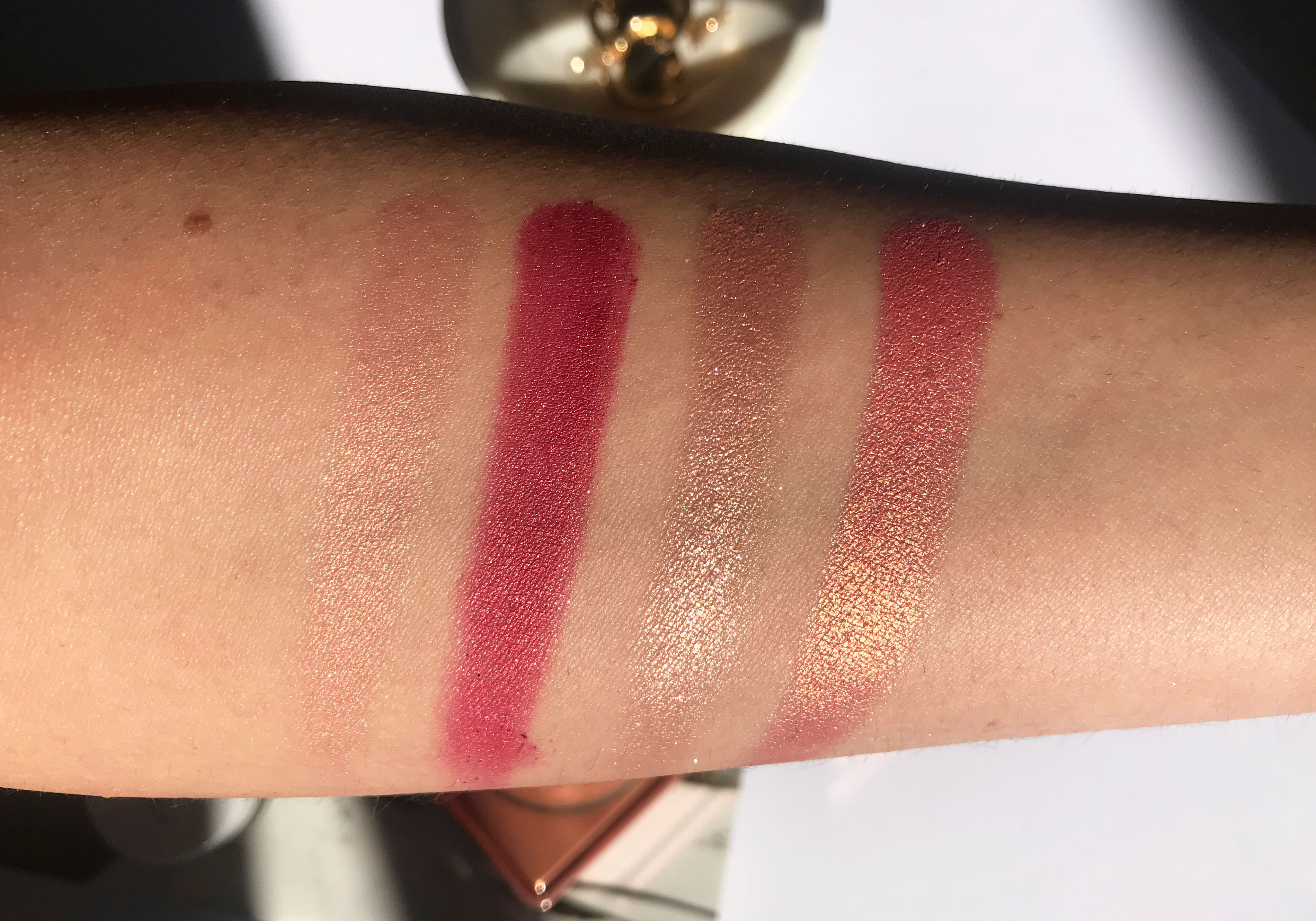 Swatches L to R: Peach, Fuchsia, Rose, Vibrant Golden Coral
Supergoop recently released cream eyeshadows with SPF. I don't think I've tried or heard of eyeshadows that have SPF so I was pretty stoked to try them. The Supergoop Shimmershade Illuminating Cream Eyeshadow SPF 30* comes in three shades. It is formulated with:
– Flower Essences: A blend of rose, roman chamomile, jasmine, and sunflower extracts provides antioxidant protection and soothes the delicate eye area.
– Zinc Oxide 20 % and Octisalate 5%: Provide sunscreen protection.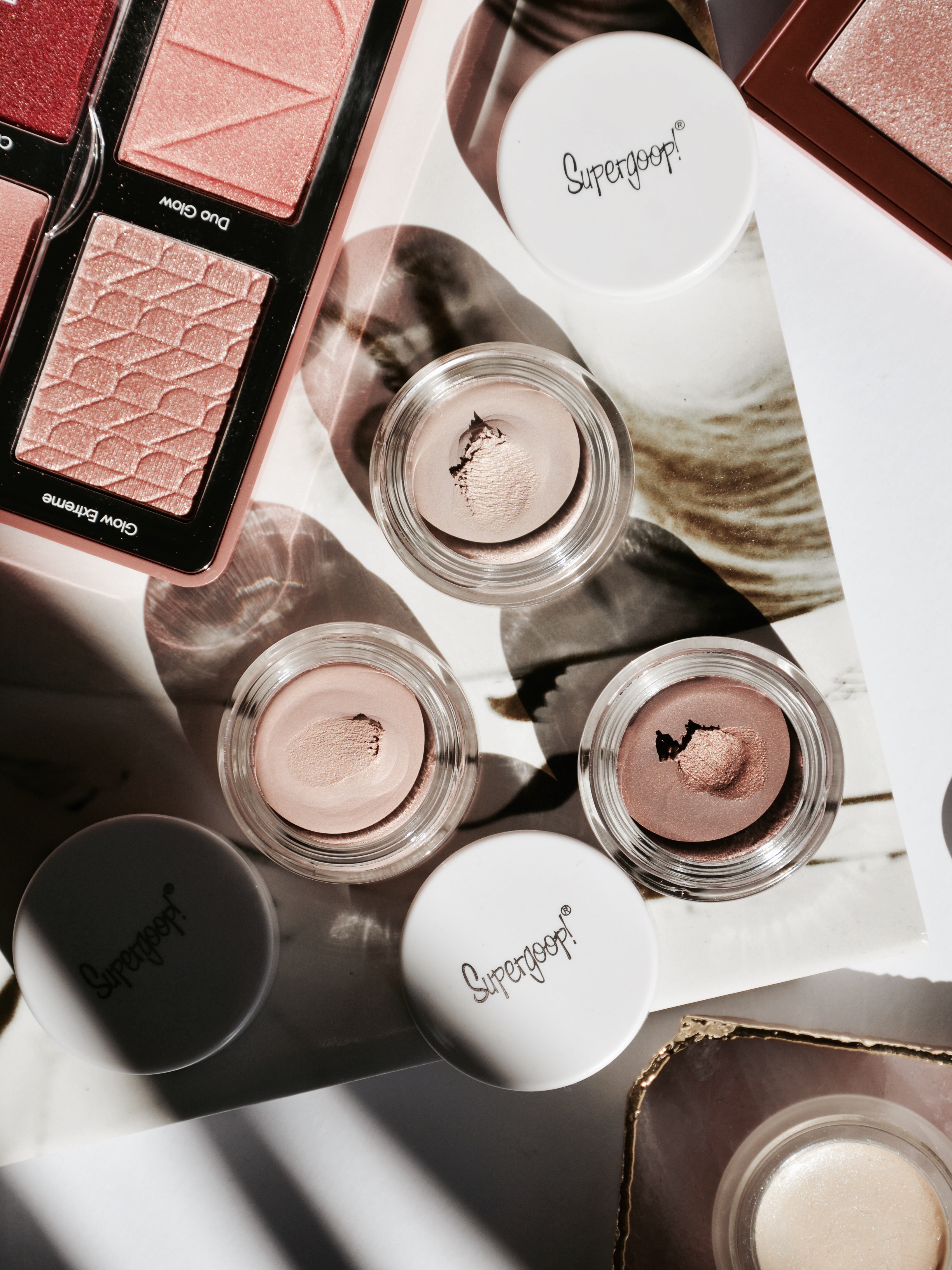 The three shades that come in the line are all wearable neutral shades. First Light is a beautiful light champagne shade and Golden Hour is your classic warm gold shade. The third one and my favorite in Sunset is a deep bronze with gold shimmer. The formula of the Shimmershade Illuminating Cream Eyeshadow SPF 30* is creamy and easy to blend. They work really well applied with both fingers and a synthetic brush. I had no creasing with any of the shades at the end of the day and no fading or cracking. A great cream eyeshadow if you are looking for every day no fuss neutrals.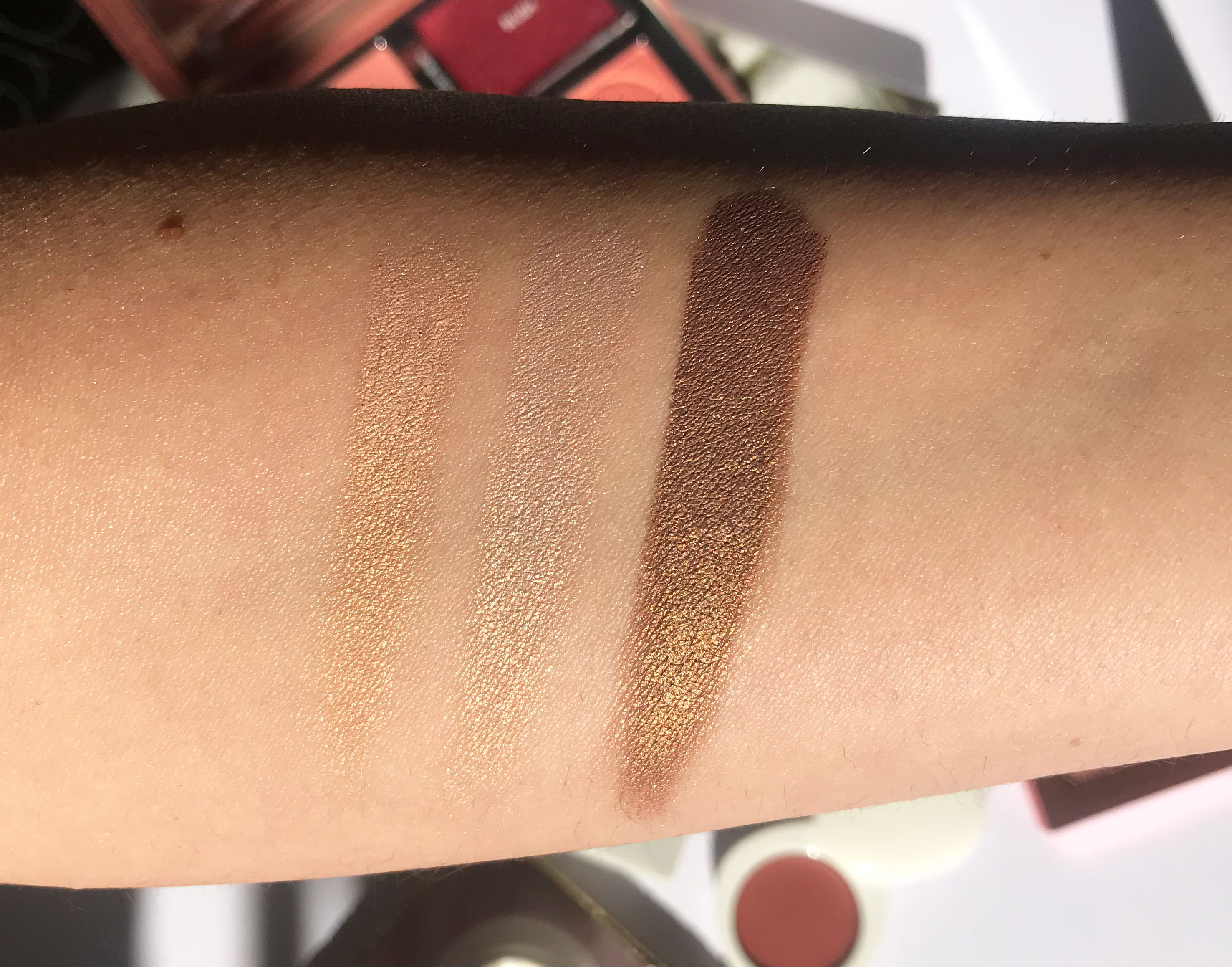 Swatches L to R: Golden Hour, First Light, Sunset 
My first product from rms Beauty had to be their cult favorite Living Luminizer*. It is a cream formula highlighter that gives a dewy look on the skin. The shade is like a pale pearl champagne but since the formula has a clear base, it really gives the look of wet skin. This is a formula that doesn't truly set which I don't mind because I hardly ever use powders. But since it has oils in it, I'm guessing if you are oily this would be too dewy for your skin. For my normal skin, the Living Luminizer is perfect.
For application, I use my fingers and just tap the product on the skin instead of dragging. When it comes to cream products, you never want to drag product since it can move your base.
As for cream blushes, I've been loving the lilah b. Divine Duo Lip & Cheek* in b.lovely (neutral beige) and b.daring (coral orange). In fact b.darling is my idea of a perfect summer shade for both cheeks and lips. The formula of the Divine Duo Lip & Cheeks is creamy but sets in to a more powdery finish so they are more long wearing than your usual creams.
They blend very easy by using just your fingers and again, I only tap the product on the cheeks and I get the perfect flush of color. I also like to use these on the lips and create a blotted lip look. I love how they wear both on my cheeks and lips.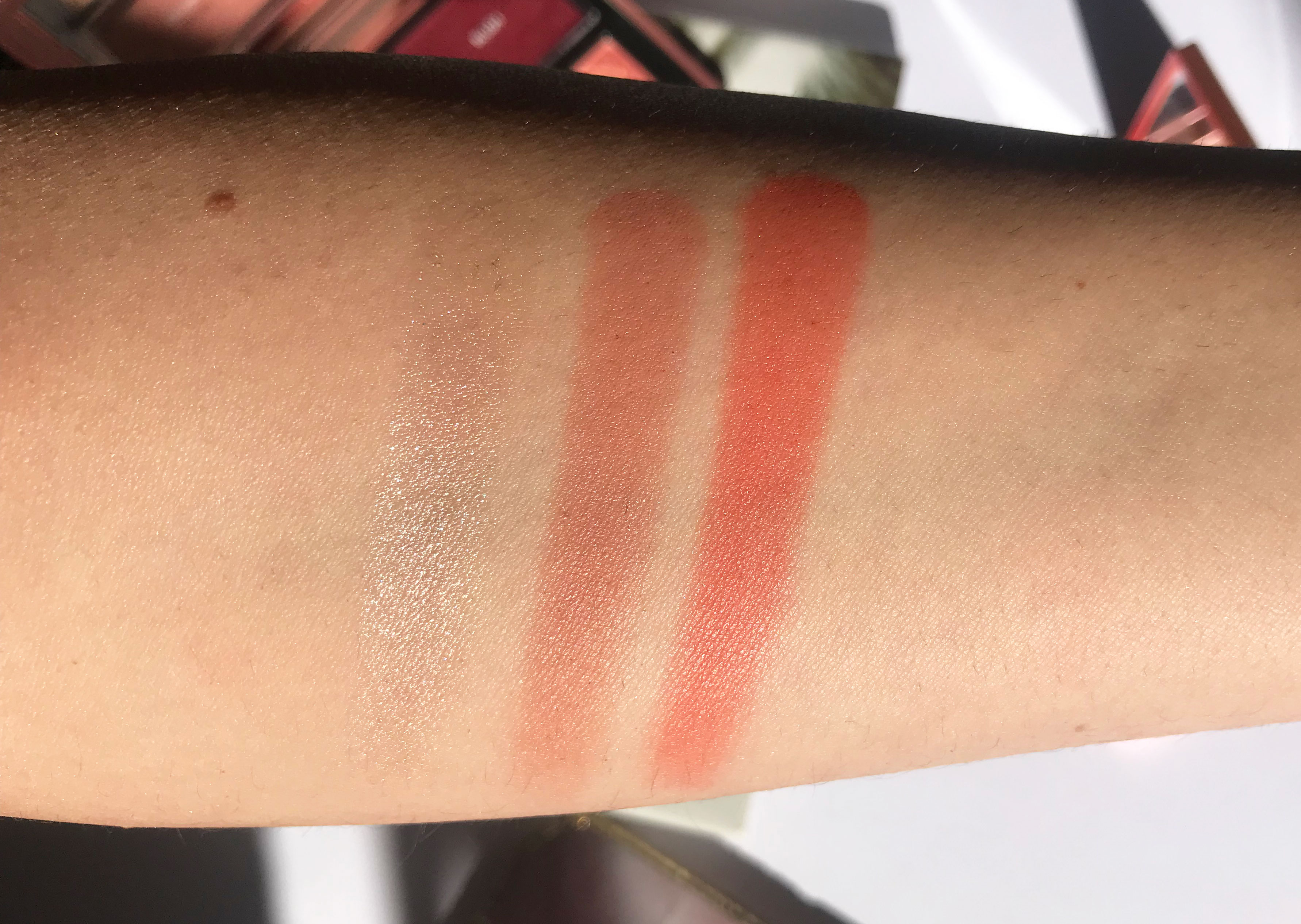 Swatches L to R: Living Luminizer, b.lovely, b.daring
Nars recently released the palette of my dreams. The Nars Endless Orgasm Palette comes with six shades in cream form that you can use on your cheeks, lips and eyes. They are all shimmery majestic shades that work as highlighters or subtle blushes depending on your skin tone.
I don't like shimmer on my lips so I mainly use the Endless Orgasm Palette on my cheeks and eyes. The shades that comes in the palette are:
Orgasm Ecstasy (soft beige with gold pearl)
Deep Orgasm (metallic mauve)
Super Orgasm (iridescent pink with golden shimmer)
Double Orgasm (iridescent pink-lilac with silver shimmer)
Orgasm Fever (iridescent copper)
Orgasm (metallic rose gold)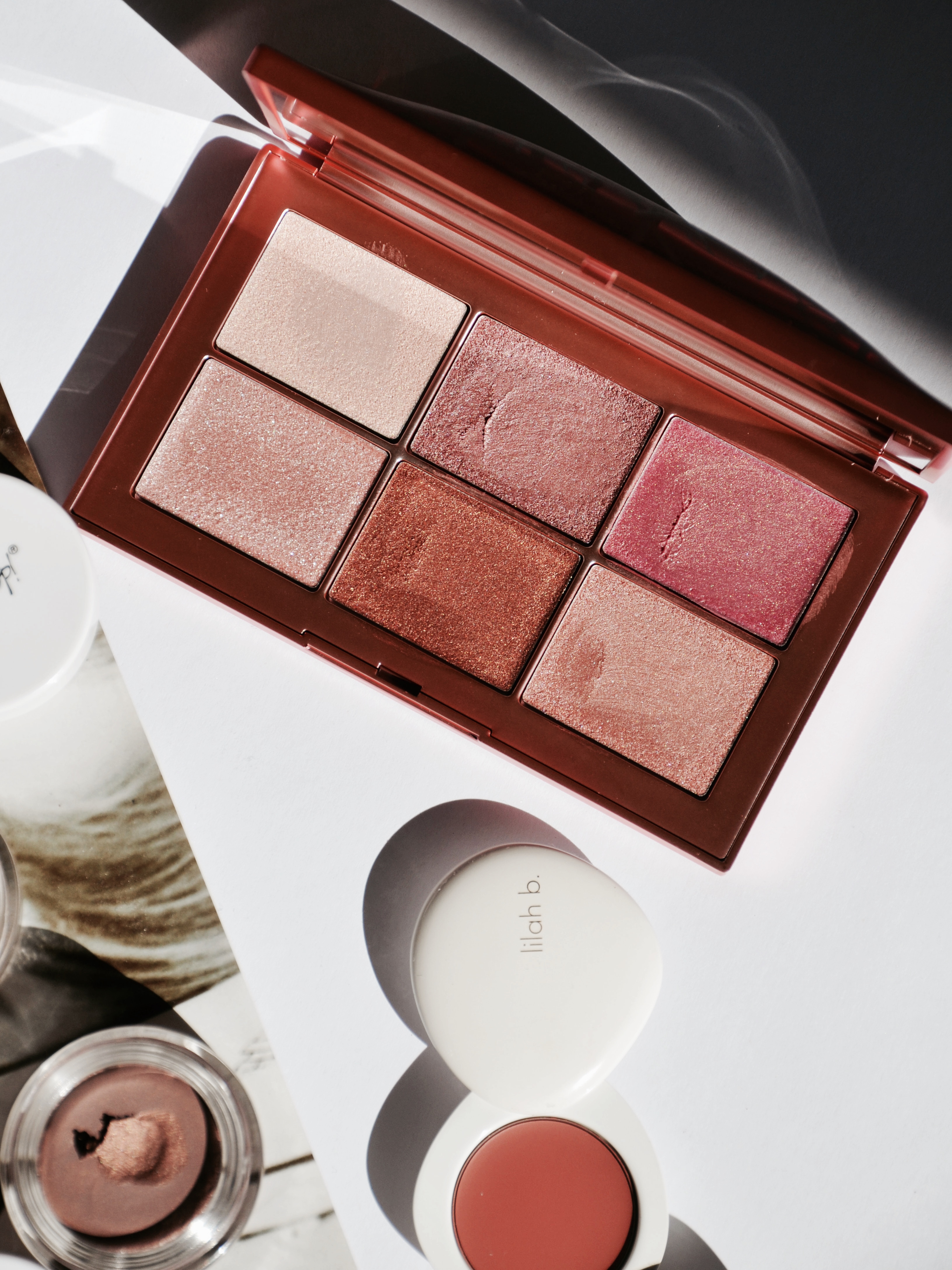 This is a palette that you will either love or hate. It is not for people who like heavy makeup (not judging, I sometimes like to glam it up too). It's also not for anyone who doesn't like creams since it is an all cream palette. If you like natural glowy makeup that you can apply with your fingers, you will love this palette.
The formula of the Endless Orgasm Palette is very emollient. It is creamy and blends easy but it doesn't set. It gives a dewy and wet look on the skin which I love for summer. Since the creams are emollient, if you are oily, they might not work for you. Also if you live in a hot and humid climate, you will need to set these so they don't move.
As for me, I have nothing but love for the Nars Endless Orgasm Palette. The shades are on the sheer side but they are buildable so the darker shades work great for me as glowy blushes. For the eyes, I do like the shades but they crease. so if you don't like the worn in grungy look, I would just use these on the cheeks.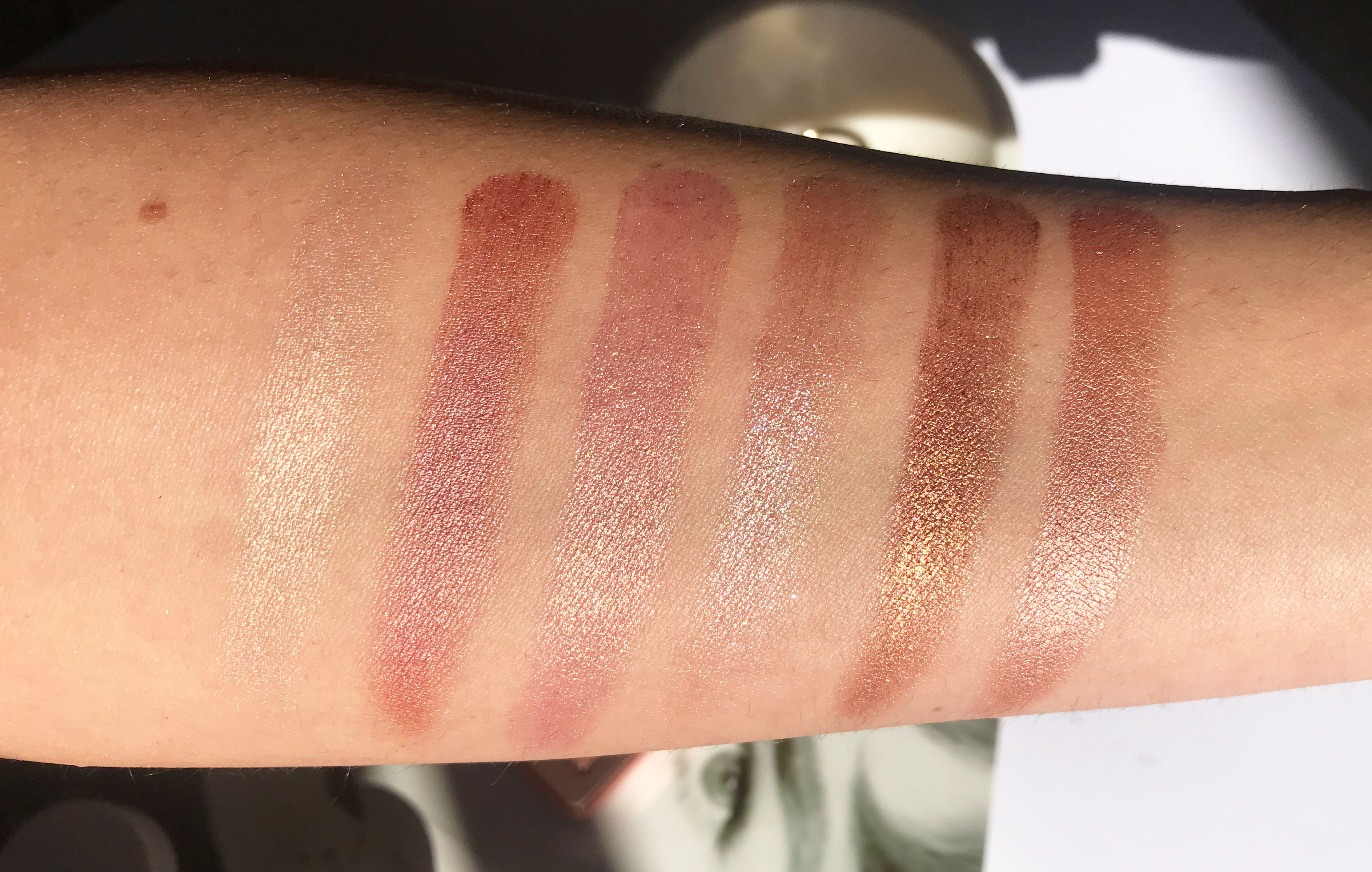 Swatches of the Nars Endless Orgasm Palette 
Bottom line, I can't get enough of cream makeup. I just picked up two of the new Nudestix Nudies Bloom All Over Dewy Color and looking forward to trying them. I'm also waiting on the new Charlotte Tilbury Beauty Light Wand in Peachgasm and hoping that it is as good as the original which is one of my favorite liquid highlighters.
Do you use cream products? Let me know if you have a favorite product that I need to try.
*products marked with * were gifted