The bareMinerals Clean Glow Collection is all about the bronze and glowy skin. It features powder bronzers and highlighters, liquid bronzers and highlighters (not new) and a Dew Mist Setting Spray.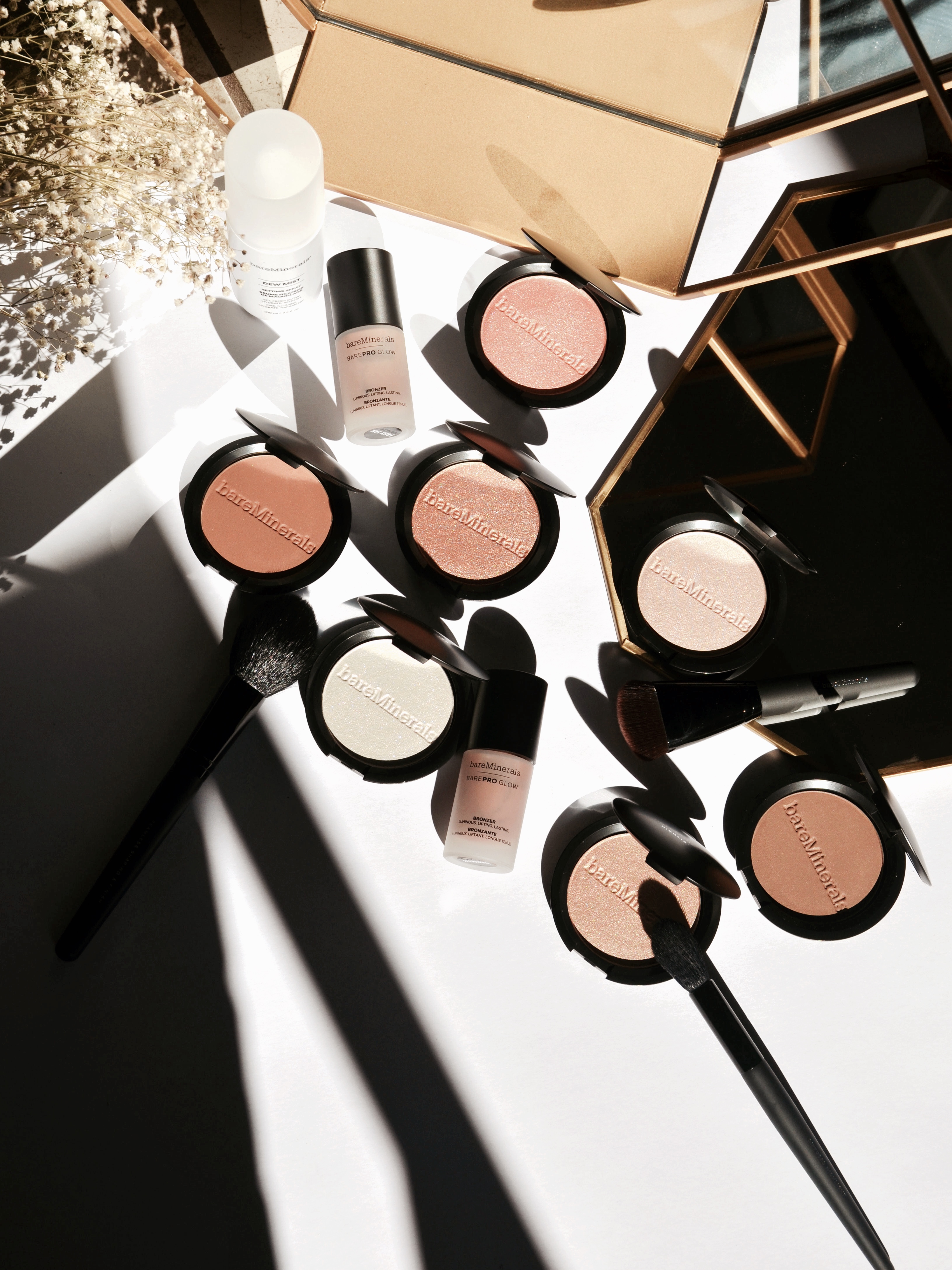 The Clean Glow Collection is my idea of a perfect summer collection. It has everything that I need to create a beautiful summer bronzed glow on the skin.
First up, the BarePro Glow Bronzer. It is a liquid bronzer that comes in two shades, Faux Tan, which is the lighter, more cooled toned of the two and Warmth, a great mid tone warm bronze shade.
The formula provides a sheer, natural looking glow on the skin while blurring any imperfections on the skin. A little goes a long way with the BarePro Glow Bronzer. For application, I dispense half a pump on my hand and then go in with either my fingers or a stipple brush (you can also use a damp sponge). You can build up the color if you want or do a more natural look by using less products. The liquid bronzer blends in to the skin really well and looks very natural. Always shake the bottle before application since there can be product separation in the bottle.
Faux Tan is cooler toned in shade so it mimics shadows perfectly. It will be a good contouring bronzer for anyone who is fair up to medium skin tone.
Warmth is the deeper and warmer shade of the two. It is a great medium warm bronzer that would work if you are light (use a really light hand) and up to tan skin.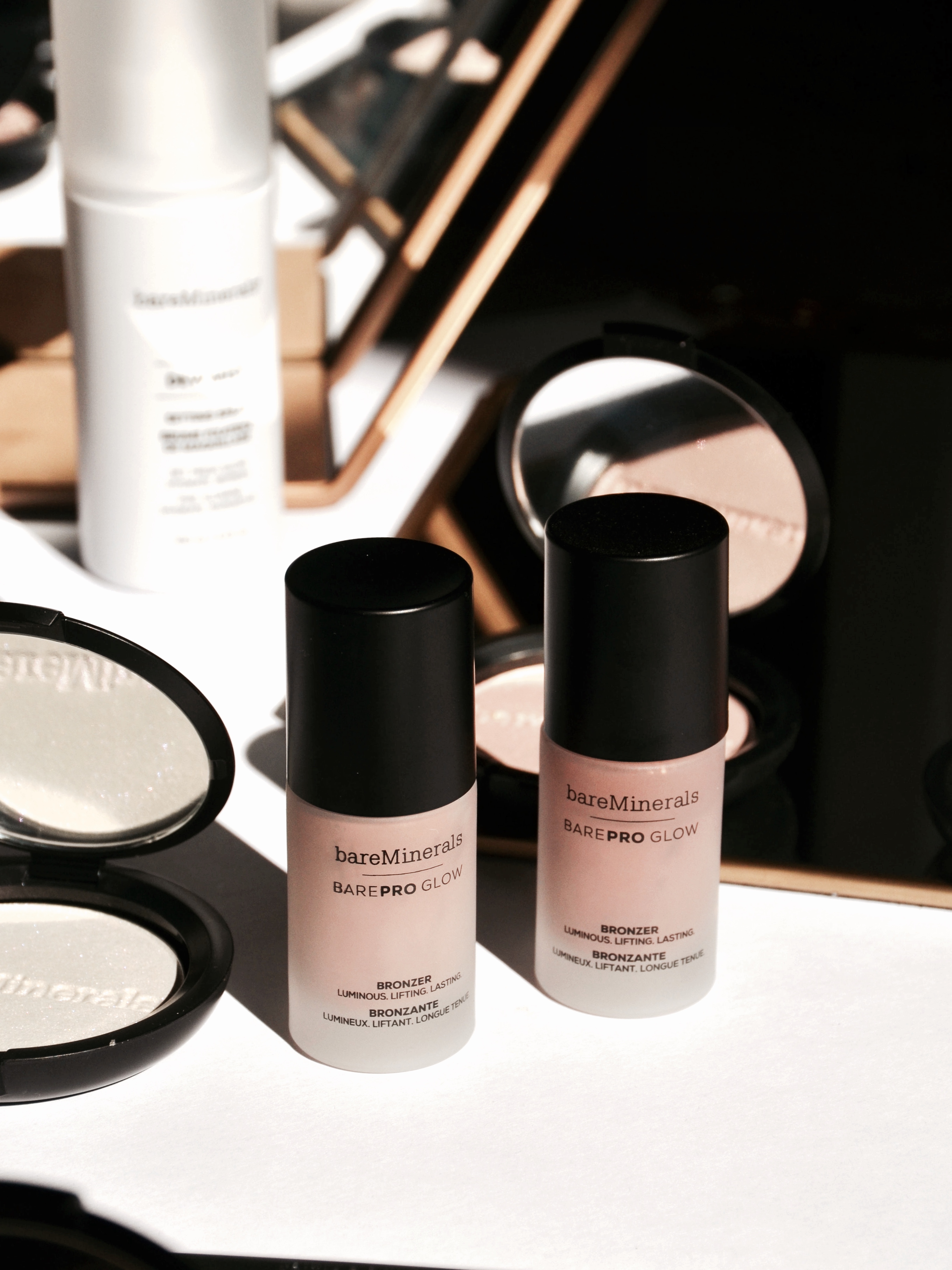 The Endless Summer Bronzer also comes in two shades, in Faux Tan and Warmth. Faux Tan is described as a sun kissed bronze that is good for fair up to medium skin tones. Warmth is a terracotta bronze that is best for medium and up to deep skin tones.
The formula of the Endless Summer Bronzer is sheer but buildable. Both shades come in matte finish and give a beautiful bronzed look on the skin. The powders have blurring properties and over time give a sunkissed look on the skin. They are mineral based and very easy to blend. You can't really go overboard with these bronzers since the formula is sheer. When it comes to bronzers, I prefer a more sheer formula since it's easier to blend and looks more effortless on the skin. It is better to slowly build the color than to have an over-pigmented bronzer that is hard to blend.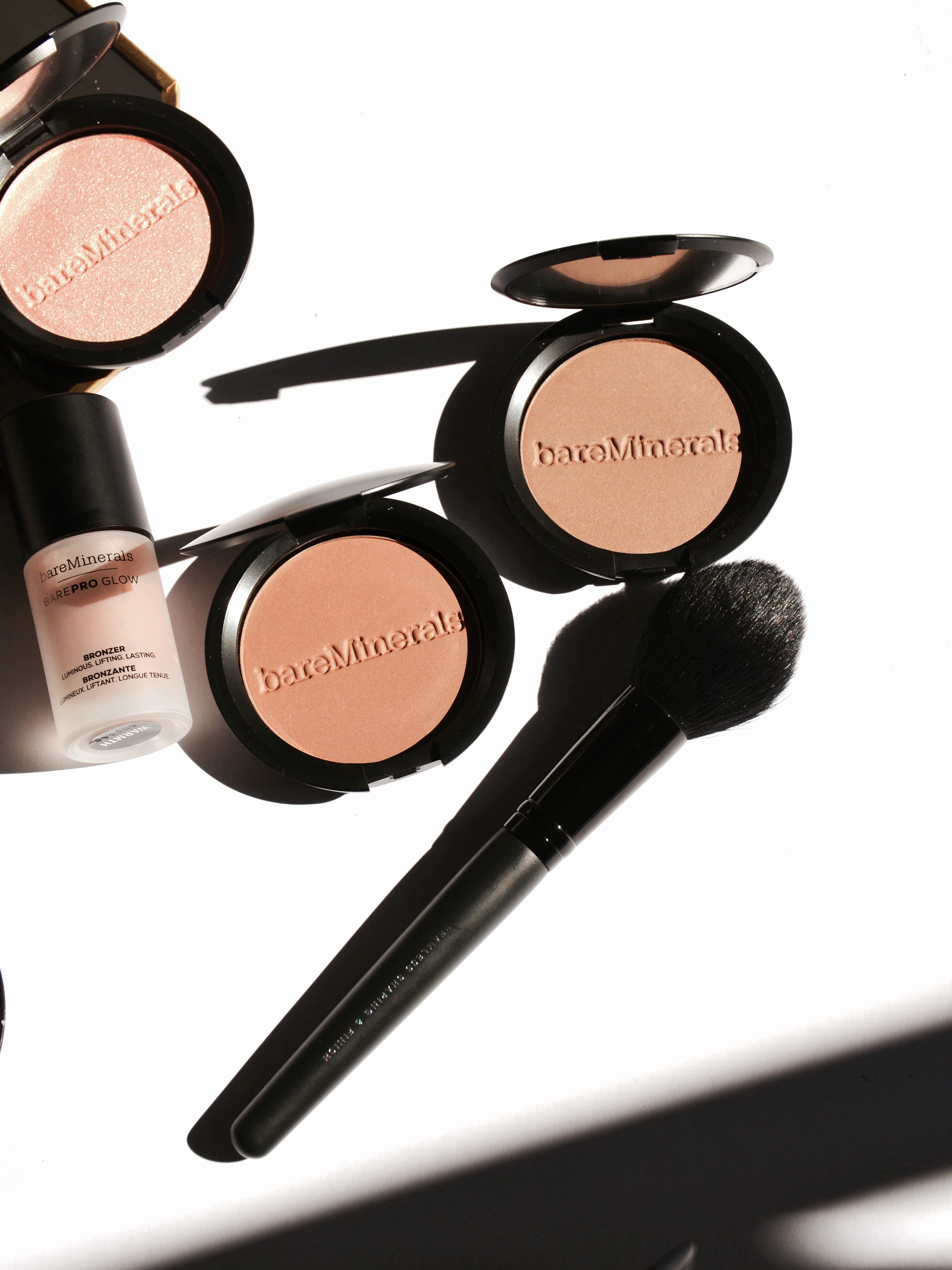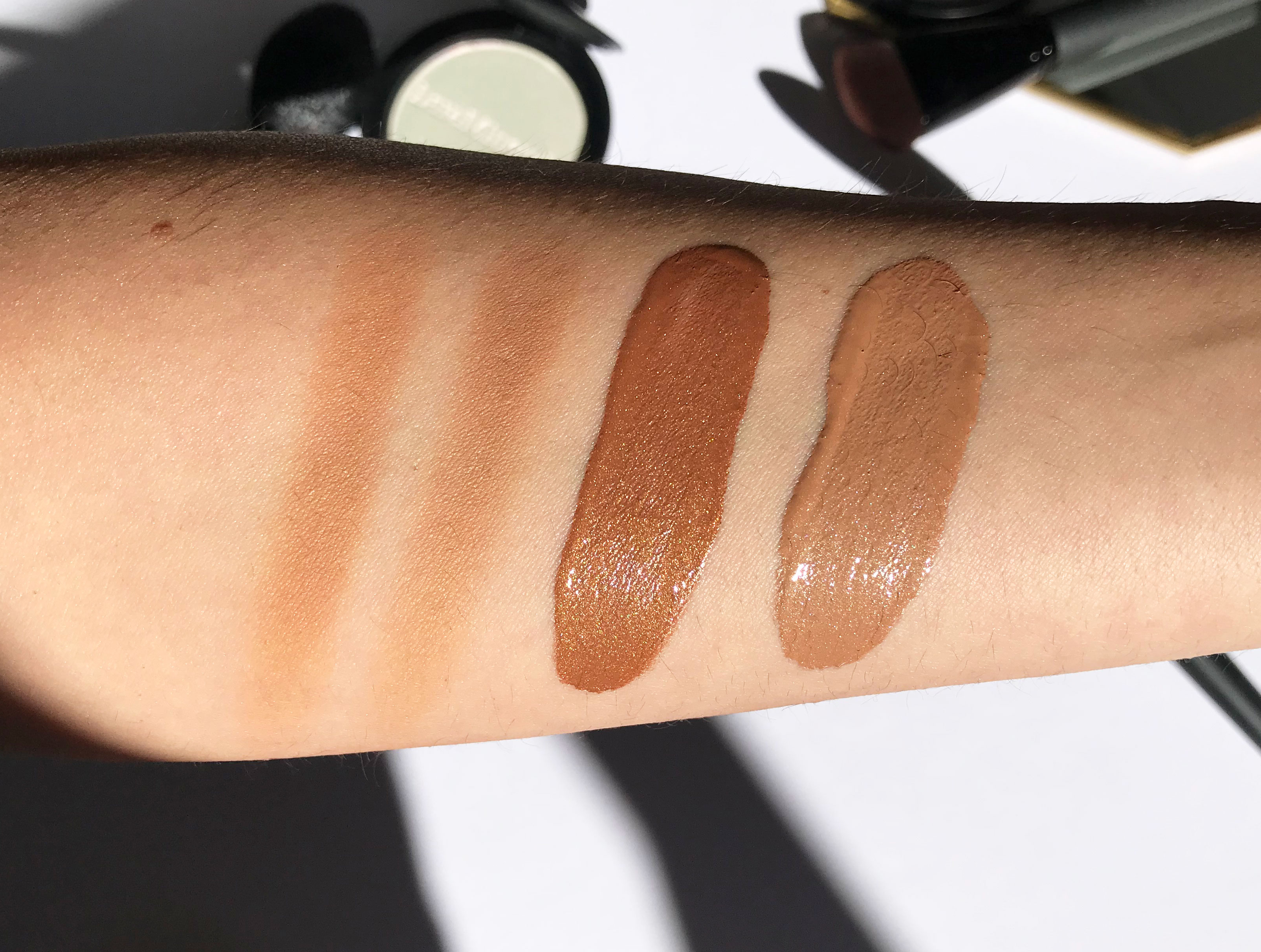 Swatches L to R: Endless Summer Bronzer in Warmth and Faux Tan, BarePro Glow Bronzer in Warmth and Faux Tan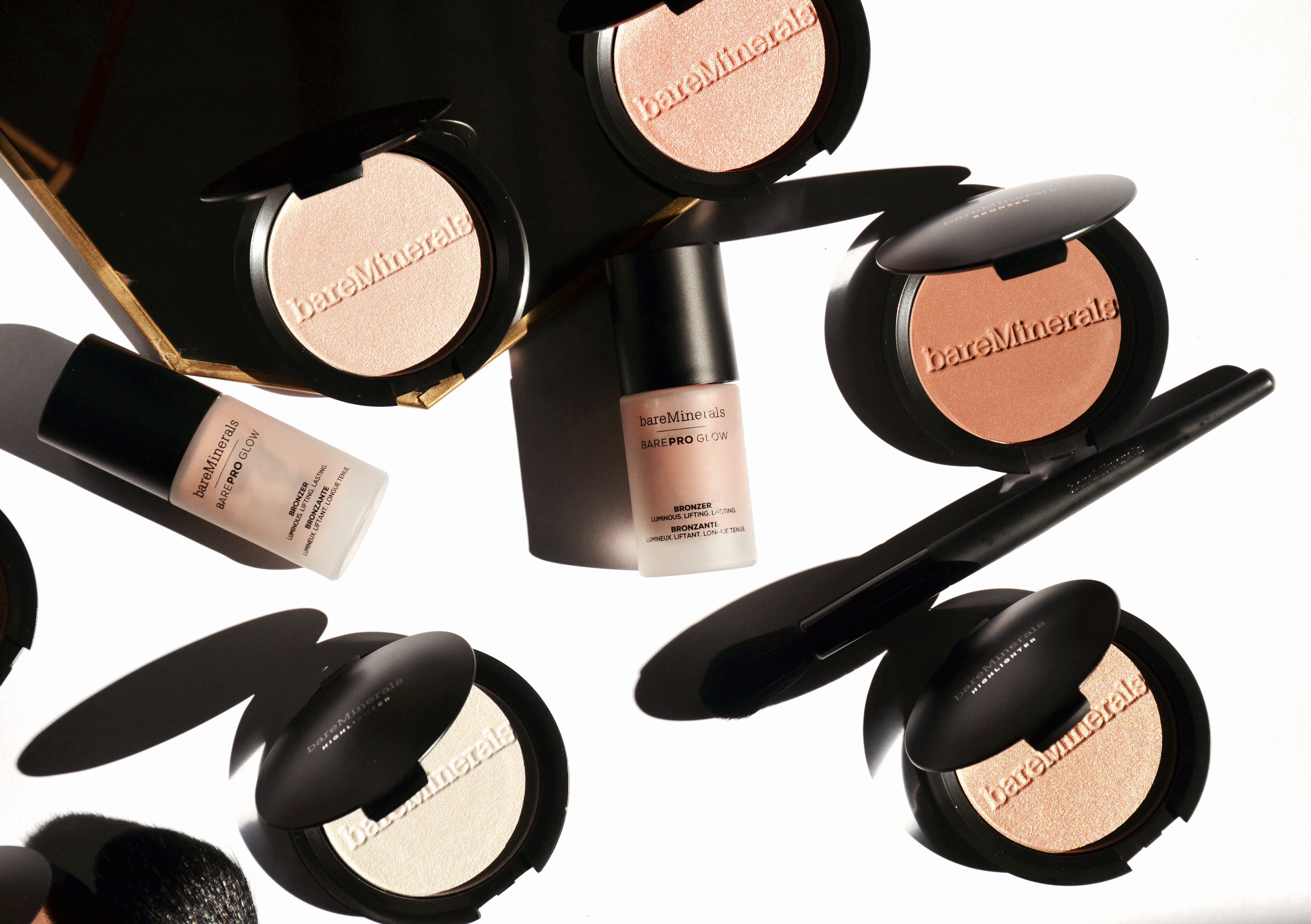 bareMinerals also released Endless Glow Highlighters that are available in five shades. They are described as a mineral based highlighters that give a natural luminous dewy glow on the skin while blurring the look of pores and imperfections. The formula of the Endless Glow Highlighters is amazing. Like the description says, they are natural dewy but also buildable. Since they have blurring properties, they don't emphasize any lines or imperfections that you have. The finish that they give is glowy and dewy without any noticeable shimmer particles.
If you've tried the Nars Highlighting Powders, these feel very similar. The Endless Glow Highlighters have the same soft feel to the touch and give the same glowy finish. They are not powdery and blend on the skin beautifully.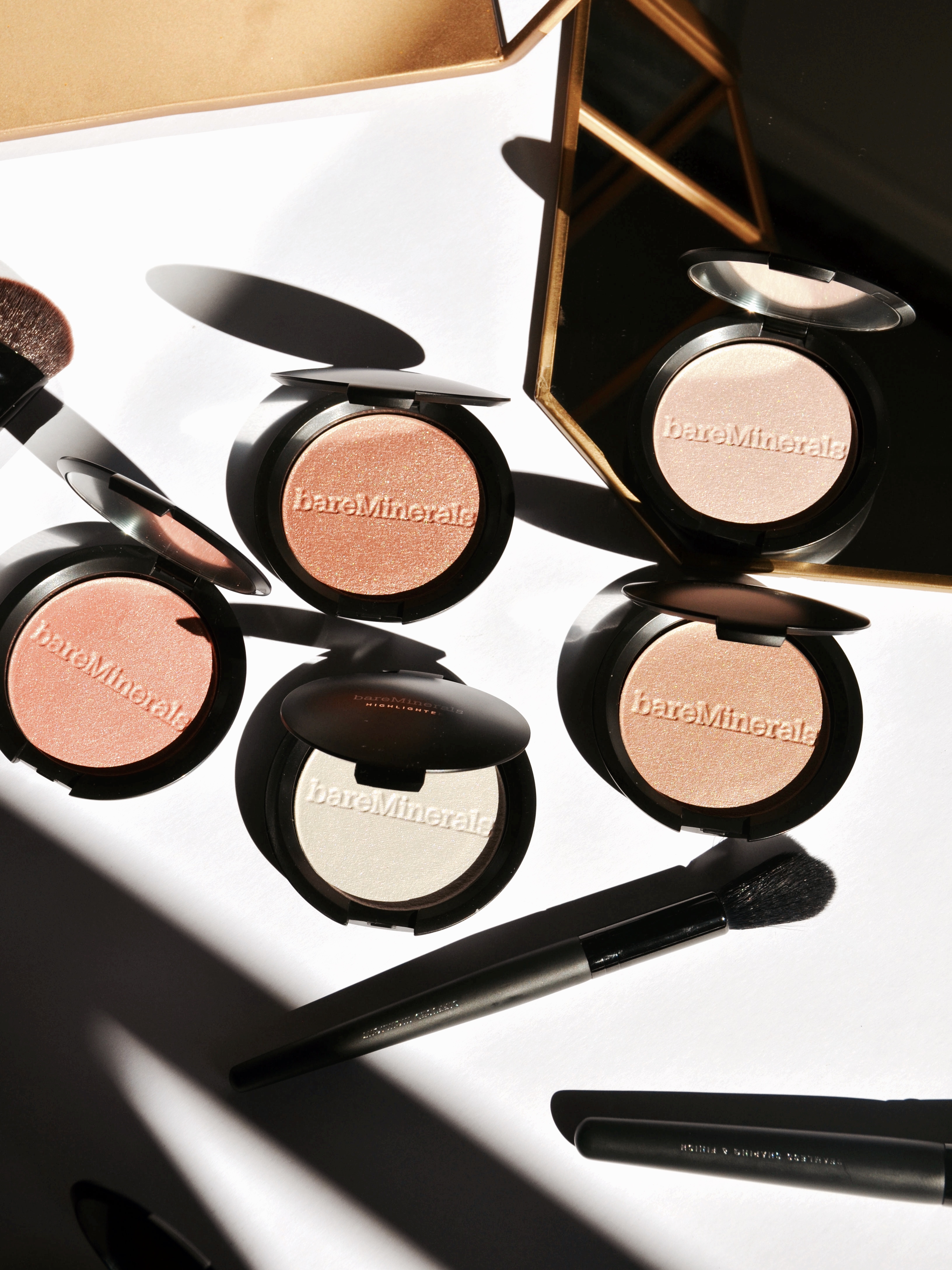 The shades that come in the Endless Glow Highlighter line are:
Whimsy (white pearl holographic)
Zen (pale gold with peach undertone)
Free (champagne gold)
Joy (true peach gold)
Fierce (bronze gold)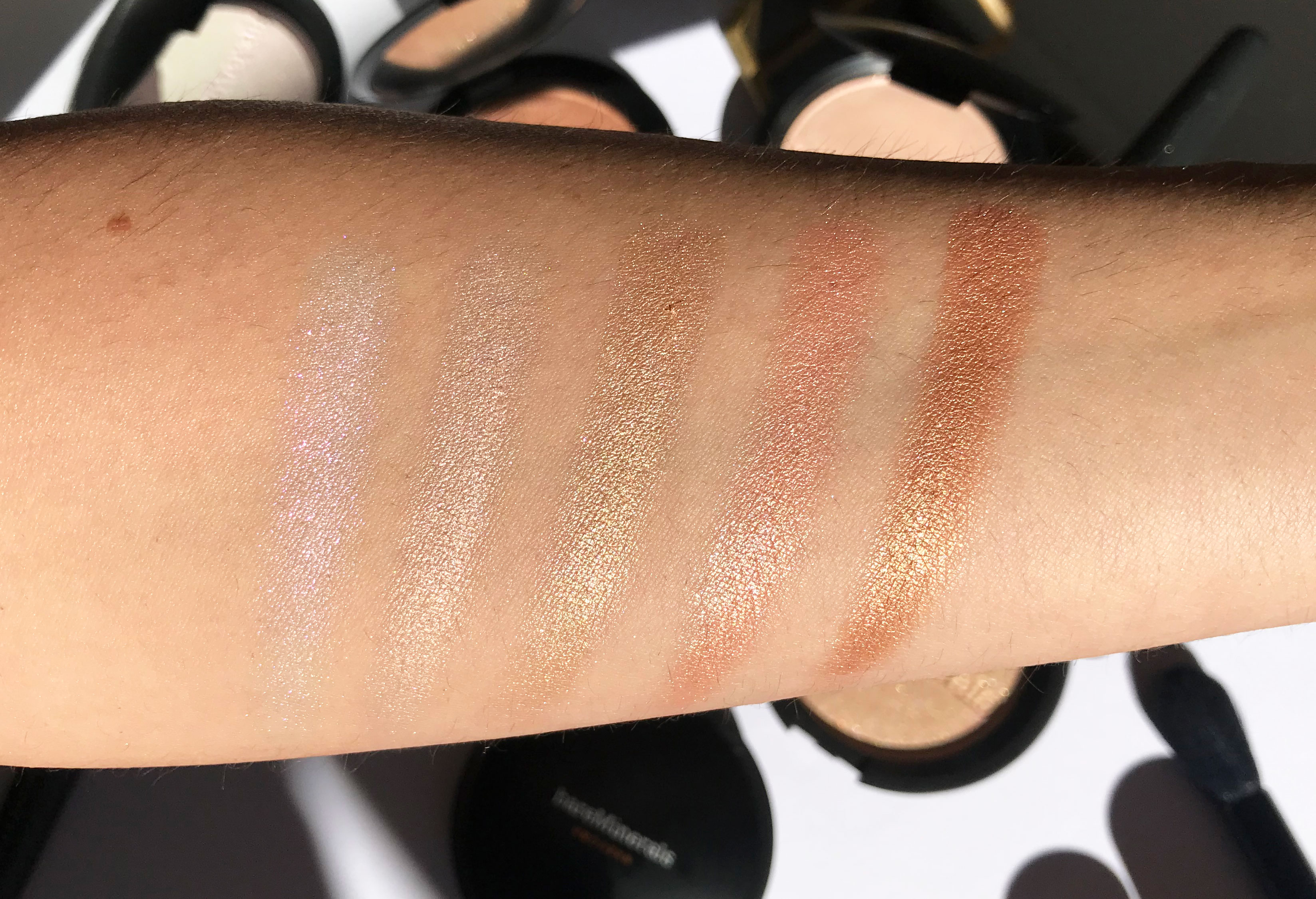 Swatches L to R: Whimsy, Zen, Free, Joy, Fierce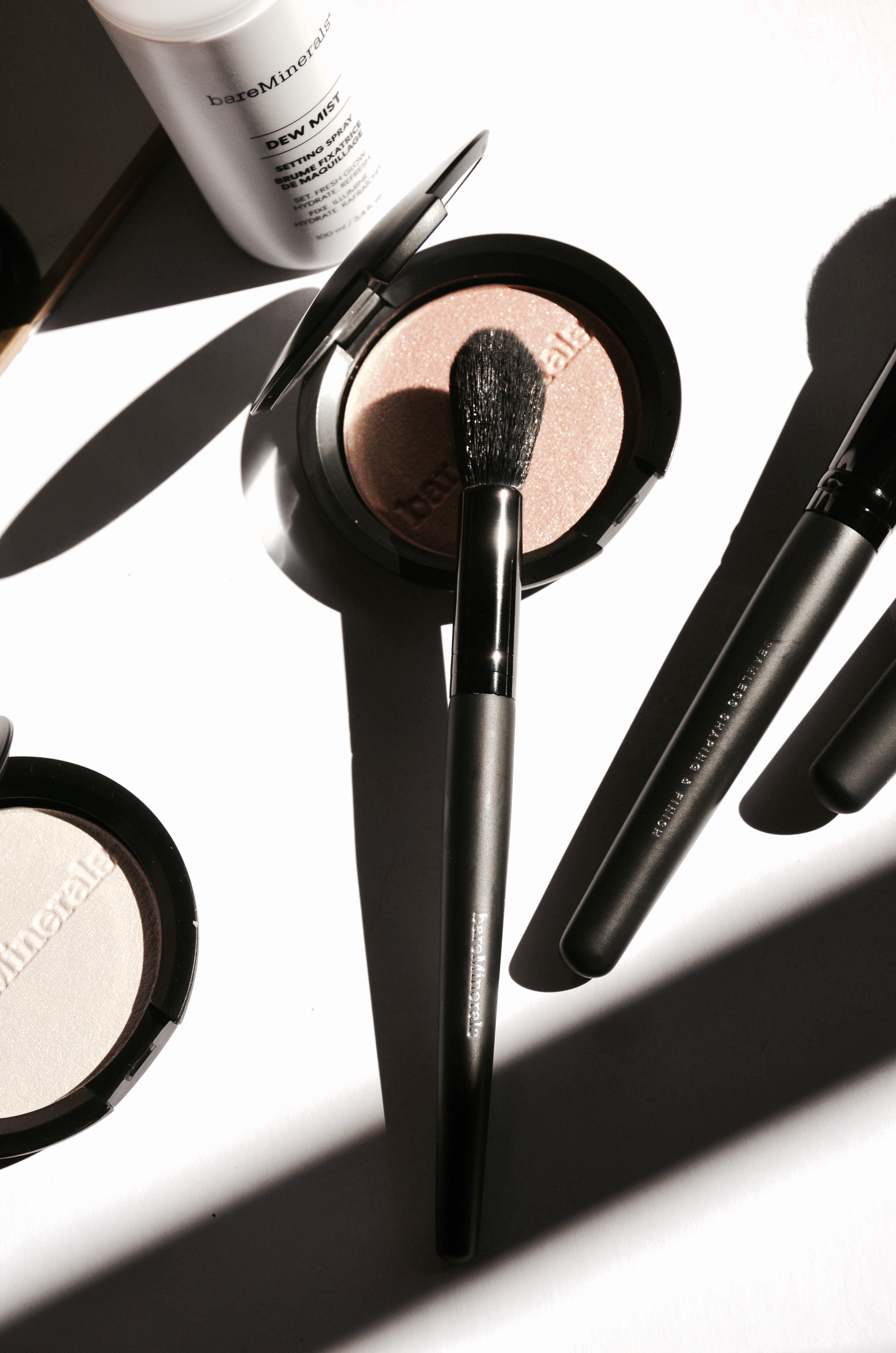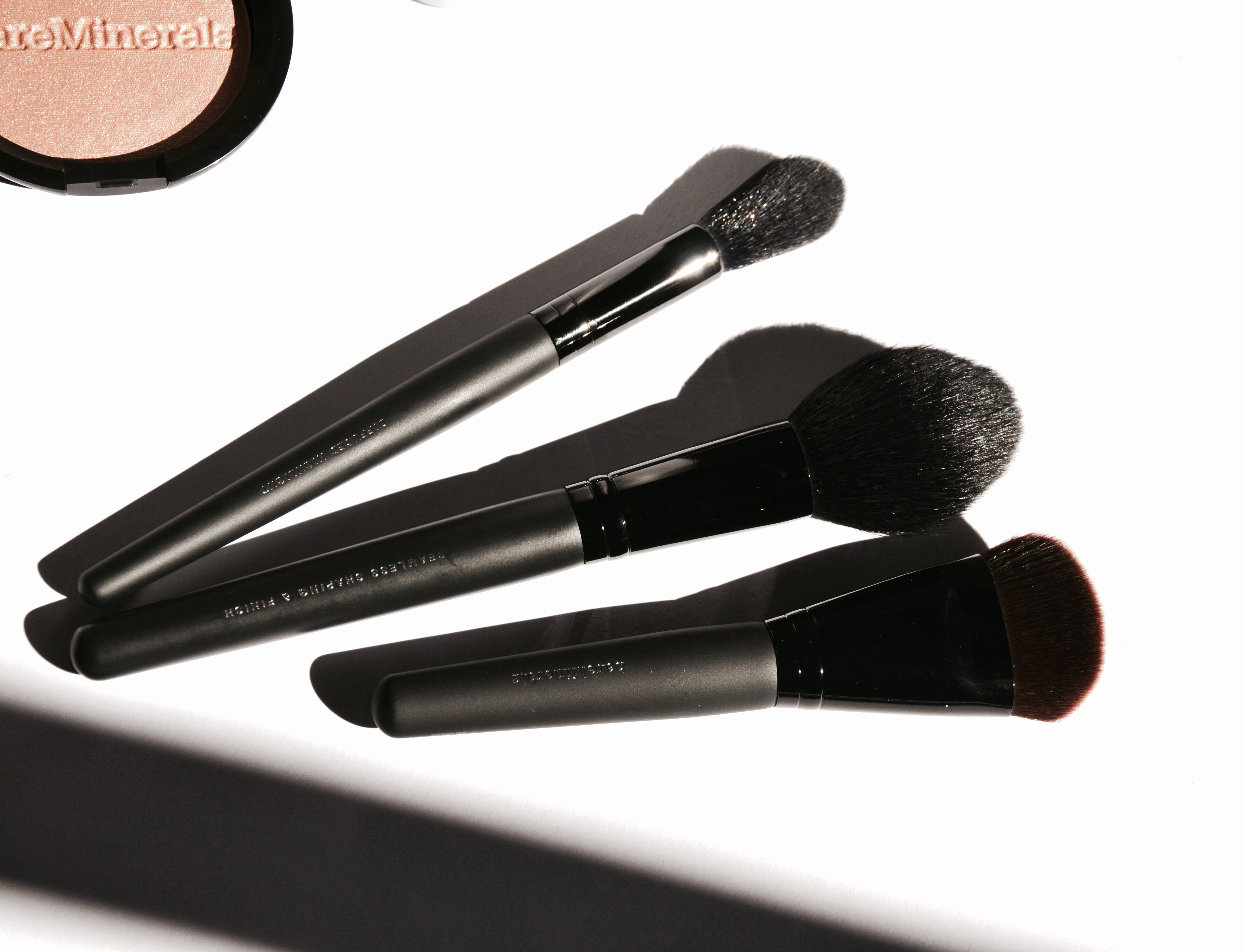 bareMinerals sent three brushes with the Clean Glow Collection. Two are already part of their permanent collection (the Luxe Performance Brush that's great for contouring and Seamless Shaping & Finish Brush, good for bronzer) and their new Diffused Highlighter Brush which is my favorite type of brushes for applying highlighter. The quality of the brushes is nice and they feel soft on the skin. They work well with the new bronzer and highlighter collection. The only thing I have to see is how they wash and last through time, otherwise they are really nice.
And lastly, the Dewy Mist Setting Spray, is a glowy makeup spray that sets your makeup, hydrates the skin and refreshes your makeup through the day. It has Kombucha Ferment that helps improve the look of skin's radiance, Watermelon and Apple Extracts, help hydrate and brighten the look of skin and Meadowsweet Extract, helps reduce the look of pores. The mist is light and doesn't feel greasy on the skin. It is nice for adding extra glow to your base or just for when you want to refresh your makeup.
Bottom line, I love everything about the bareMinerals Clean Glow Collection. If you are debating what to get from the collection, I highly recommend the liquid bronzers and the Endless Glow Highlighters. Those two pieces are my favorite from the collection and will be on rotation this summer.
*PR Sample