The Game of Thrones show is one of the most popular shows that has ever been released. I'm a huge fan so I was glad to see that they collaborated with a makeup brand that I personally love. Urban Decay x Game of Thrones Collection features a beautifully designed eyeshadow palette, a highlighter palette, four lipsticks, four eyeliners, two eyeshadow brushes and a lip & cheek stain.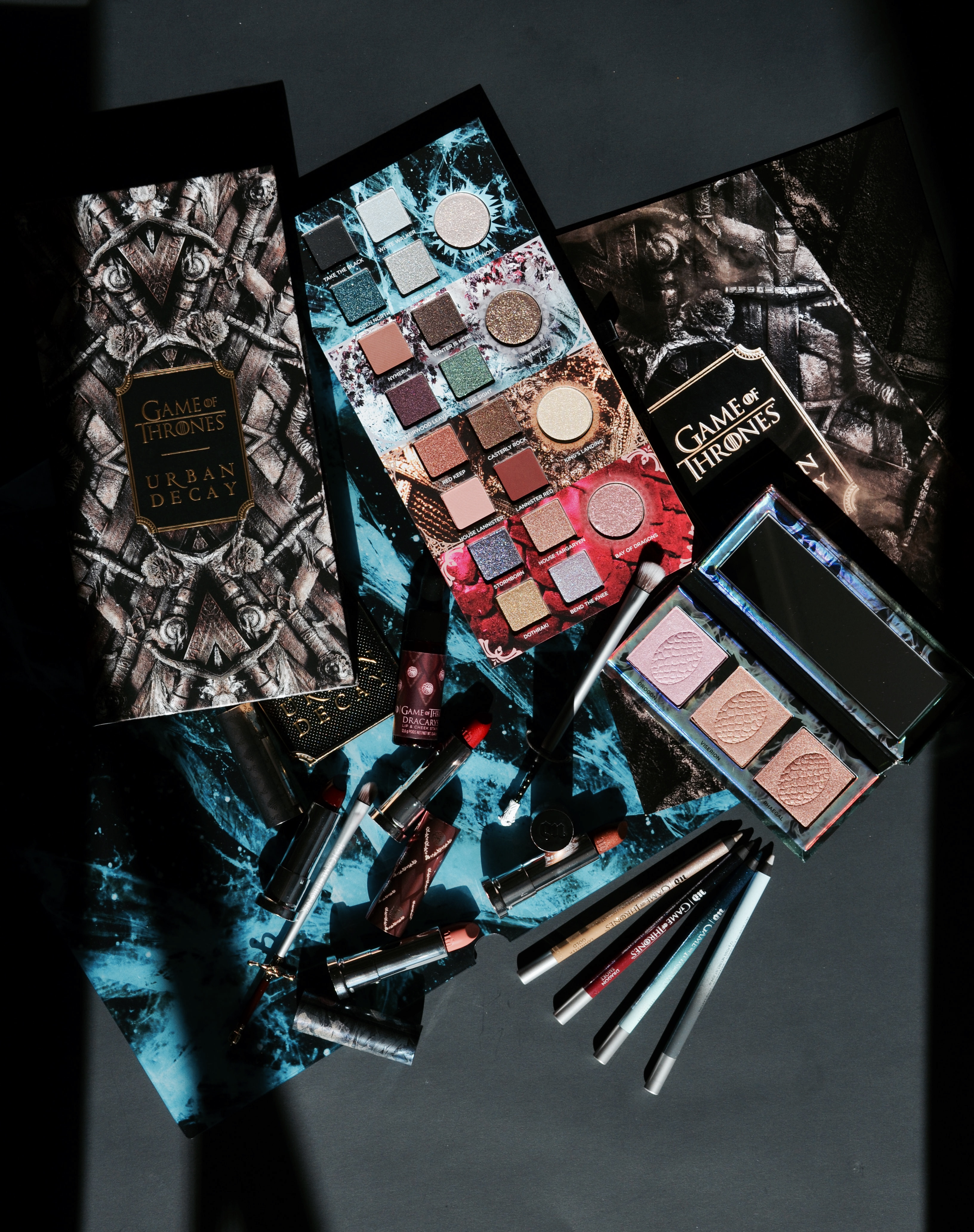 Let's be honest here. Even if I didn't get a preview of the collection, I would of grabbed at least the eyeshadow palette since I'm a big fan of the show. I'm happy to report that the quality of the products is also amazing as the design of the packaging. I know some people will say that the eyeshadow palette is bulky, but this is a collectors item and features a pop up design of the Iron throne.
The Urban Decay Game of Thrones Eyeshadow Palette comes with 20 shades both in shimmer and matte finish but it also has four transformer shades which are the glittery shades in the round pan.
The eyeshadow palette was inspired by the brand's favorite places in Westeros and the strong women of the Seven Kingdoms.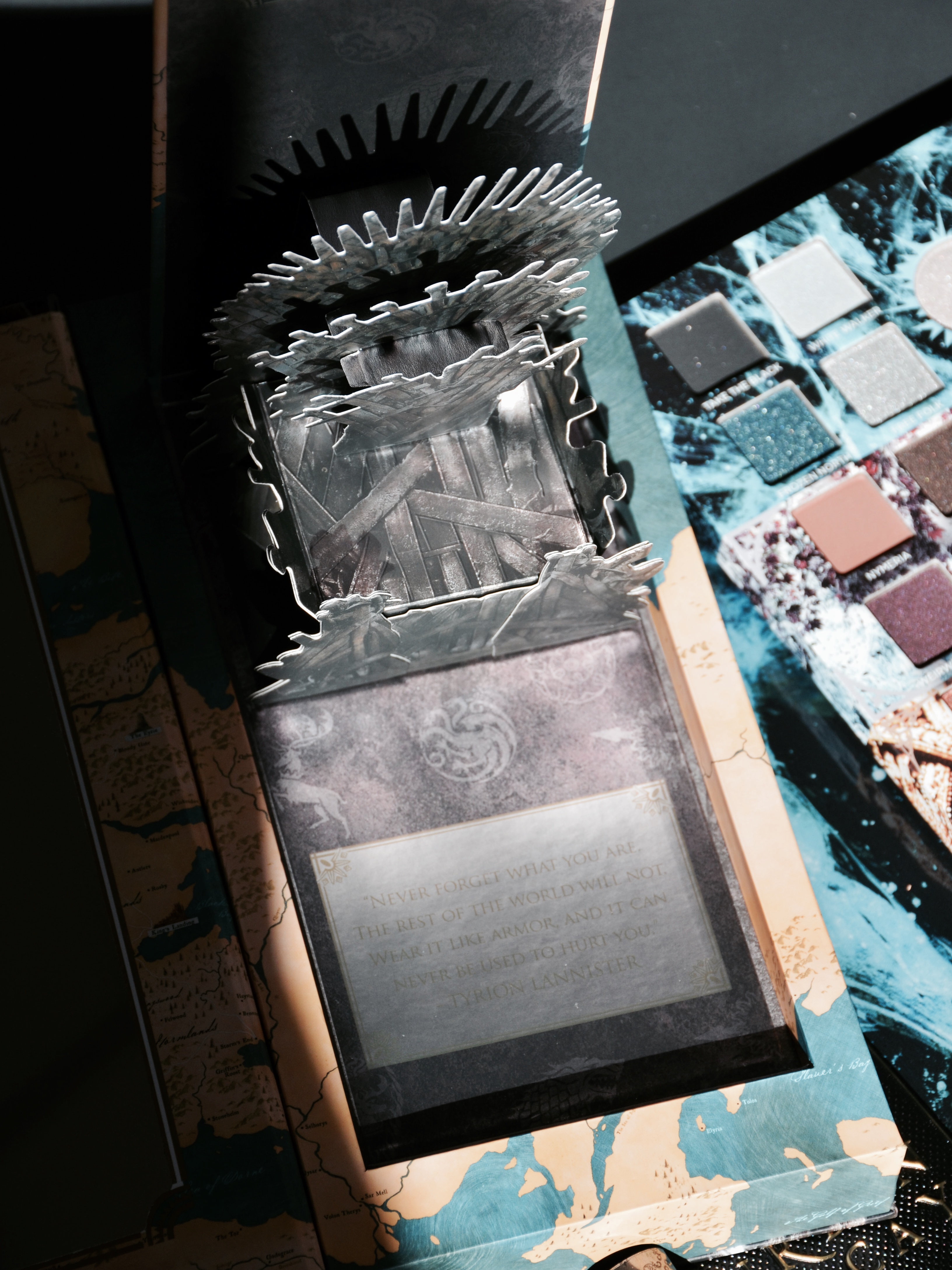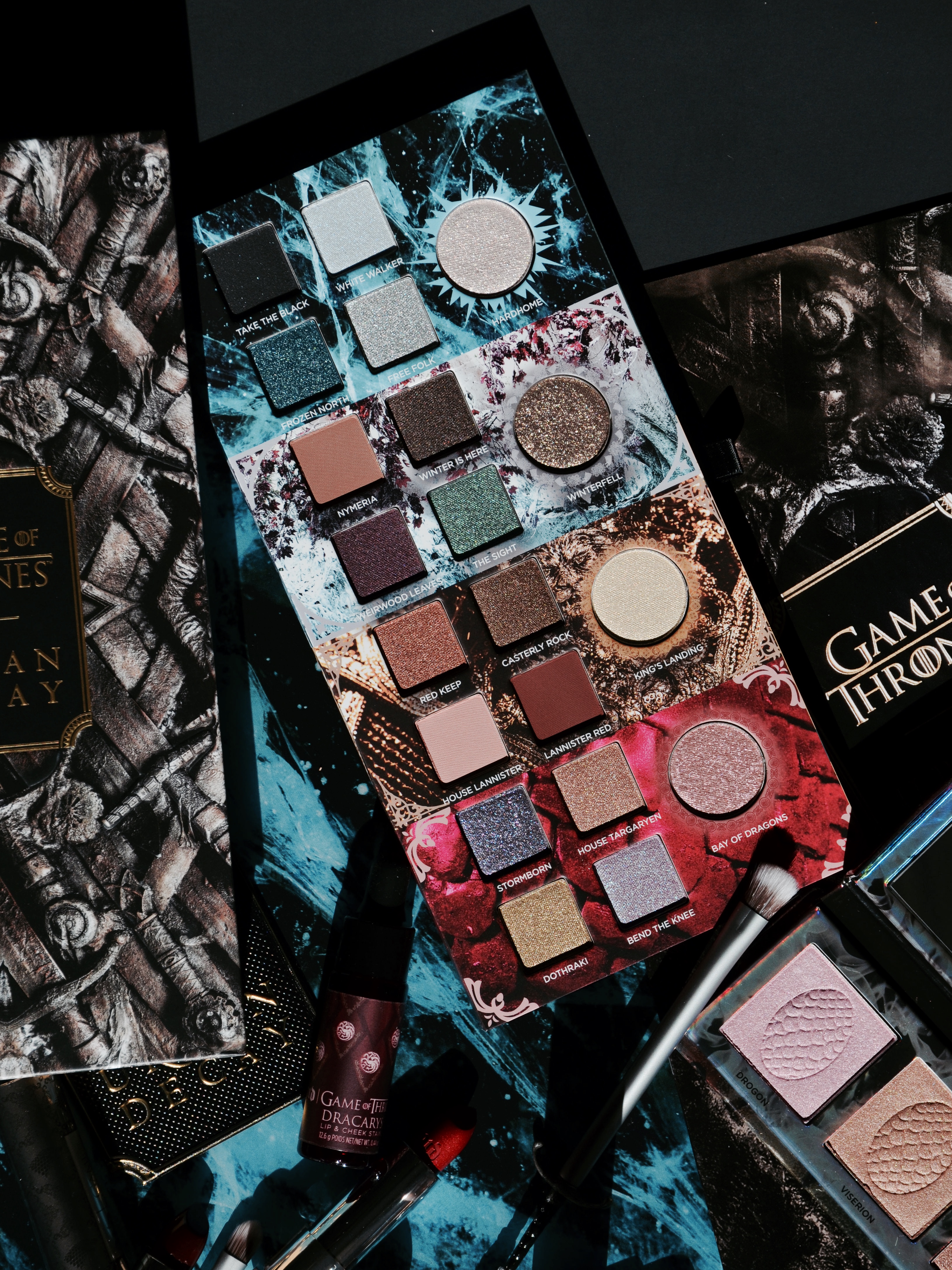 The Game of Thrones Eyeshadow Palette is divided by the White Walkers, House Stark, House Lannister and House Targaryen. It features both warm and cool tones which I like. You get three shades in matte finish and the rest are either shimmers or glitter shades with the four transformer shades at the end, which remind me of Urban Decay's Moondust eyeshadows.

Swatches L to R: Take The Black, White Walker, Frozen North, Free Folk, Hardhome

Swatches L to R: Nymeria, Winter is Here, Weirwood Leaves, The Sight, Winterfell

Swatches L to R: Red Keep, Casterly Rock, House Lannister, Lannister Red, King's Landing 

Swatches L to R: Stormborn, House Targaryen, Dothraki, Bend The Knee, Bay of Dragons
Swatches were done with no primer and with one swipe so you can see the true pigment and colors of the eyeshadow palette. The quality is really nice and I really like how they divided the colors by houses. If you are a fan of the show, this one is a must in my opinion.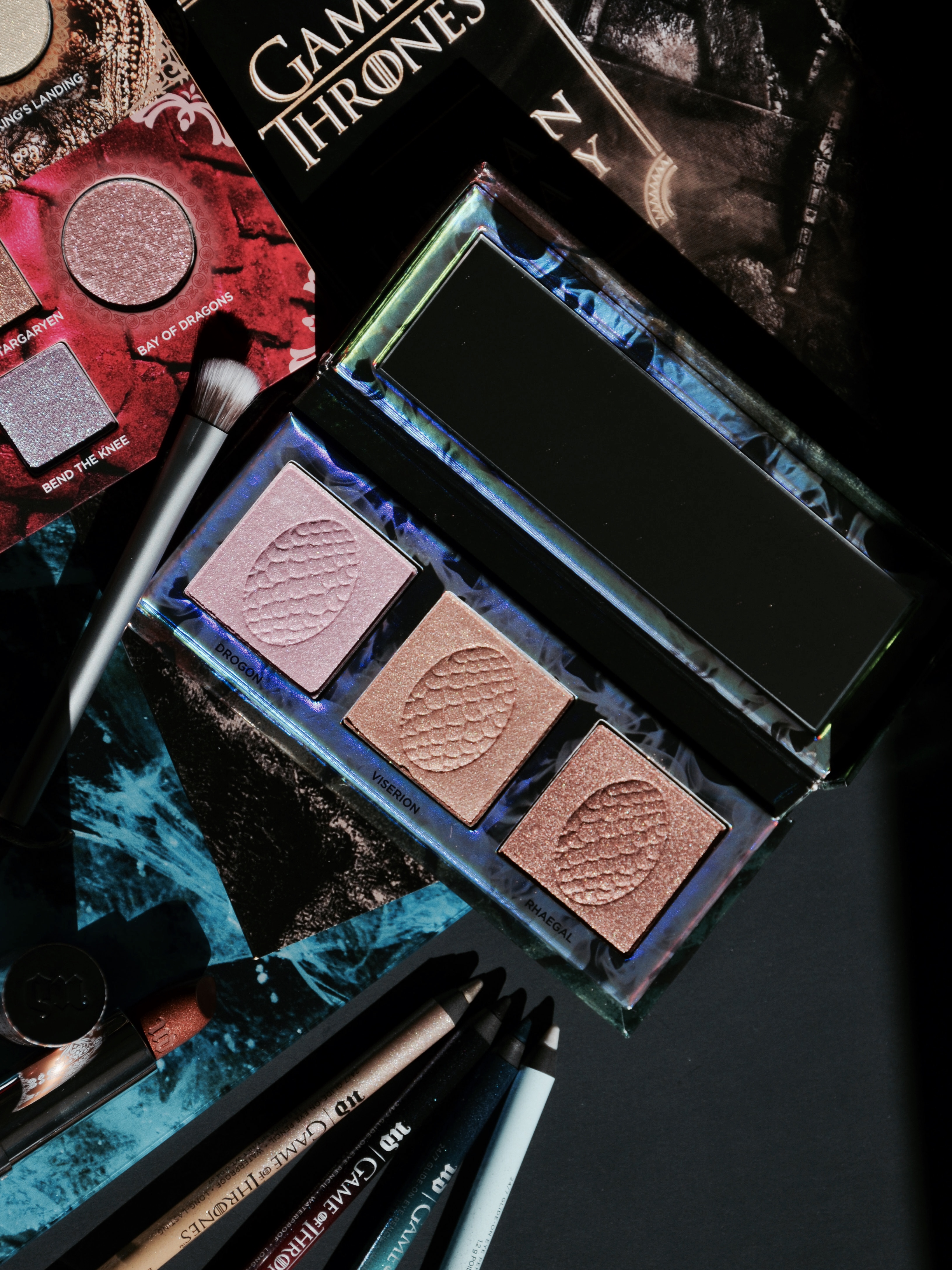 The Urban Decay Mother of Dragons Highlight Palette comes with three new shades of the Afterglow highlighter. You get a pretty pinky pearl shade, the classic golden and a beautiful bronze shade which would look amazing on deeper skin tones. I really like the Afterglow highlighter formula. It is soft but not powdery and it is also buildable. They are one of those powders that when you work them in the skin, they look like a dewy glow rather than a fake stripe.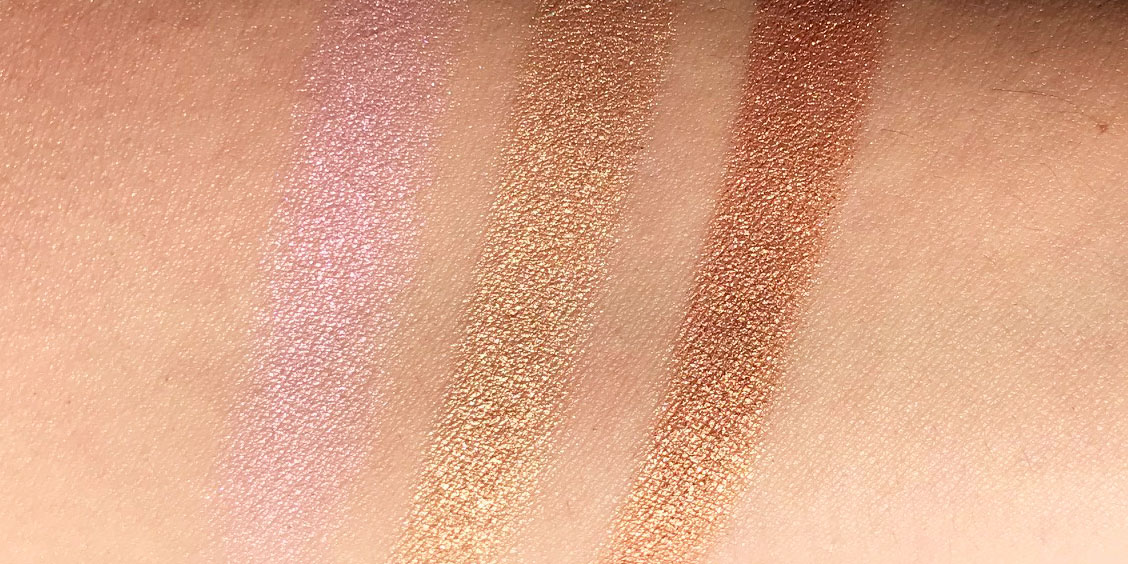 Swatches of the Urban Decay Mother of Dragons Highlight Palette
The first two shades work great as highlighters for my skin tone and the bronze shade, I like to use as an eyeshadow since it's too dark for me.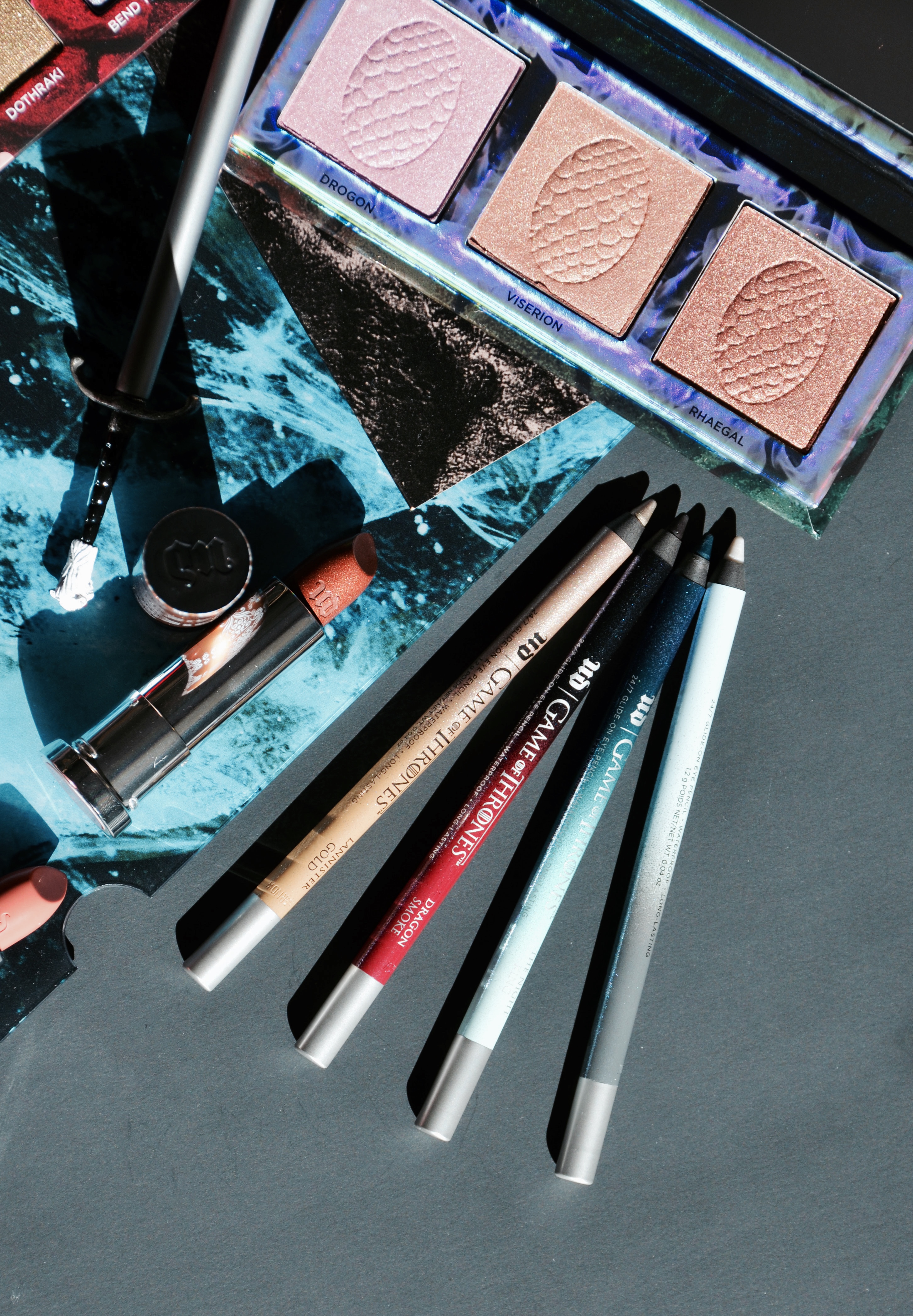 There are four shades of Urban Decay's 24/7 Glide on Eye Pencils in the Game of Thrones Collection. They are brand new limited edition shades that come in: Winterfell Snow (iridescent white), The Night King (shimmery dark teal), Dragon Smoke (smoky holographic black) and Lannister Gold (metallic gold).
Swatches L to R: Winterfell Snow, The Night King, Dragon Smoke, Lannister Gold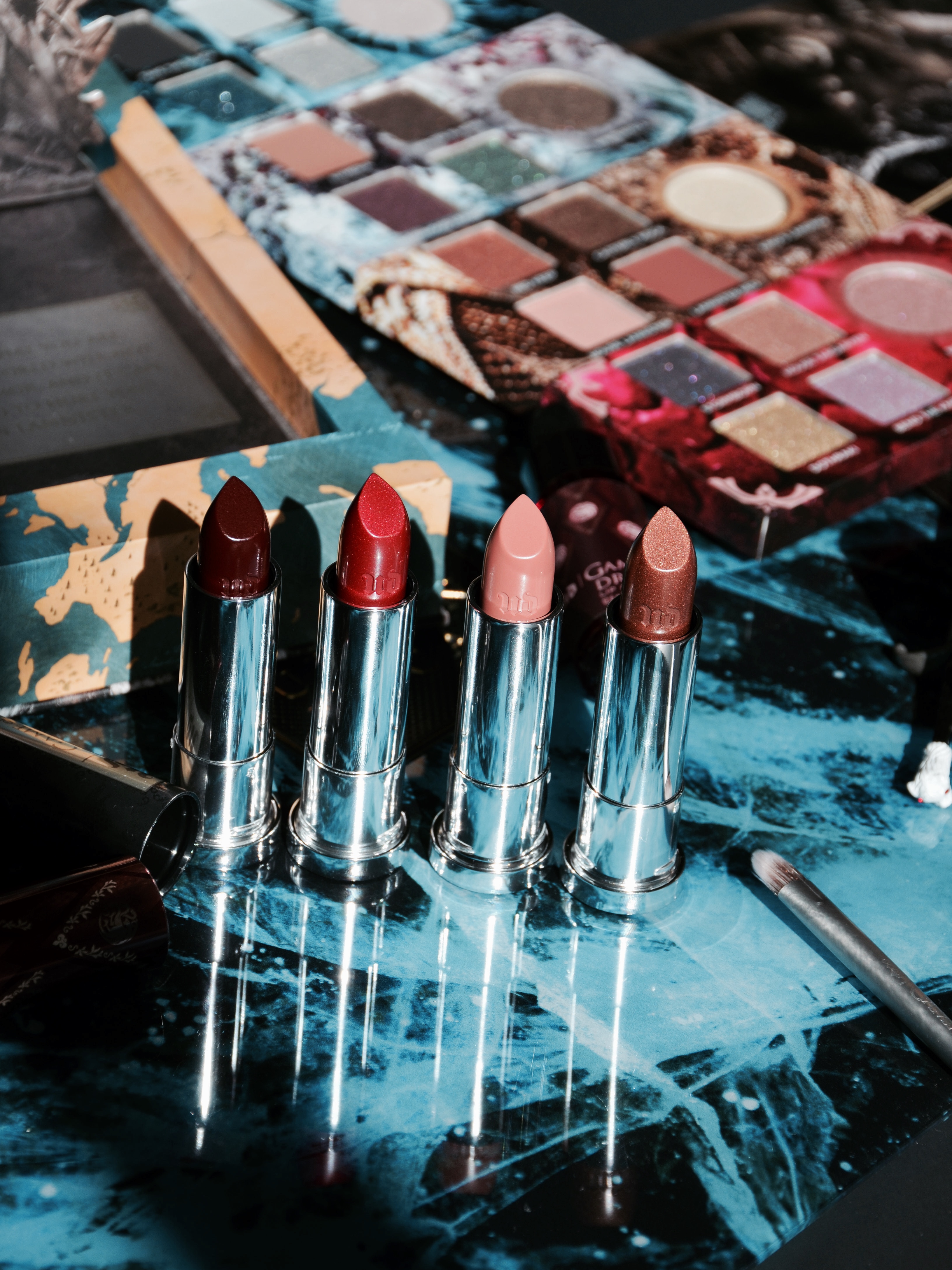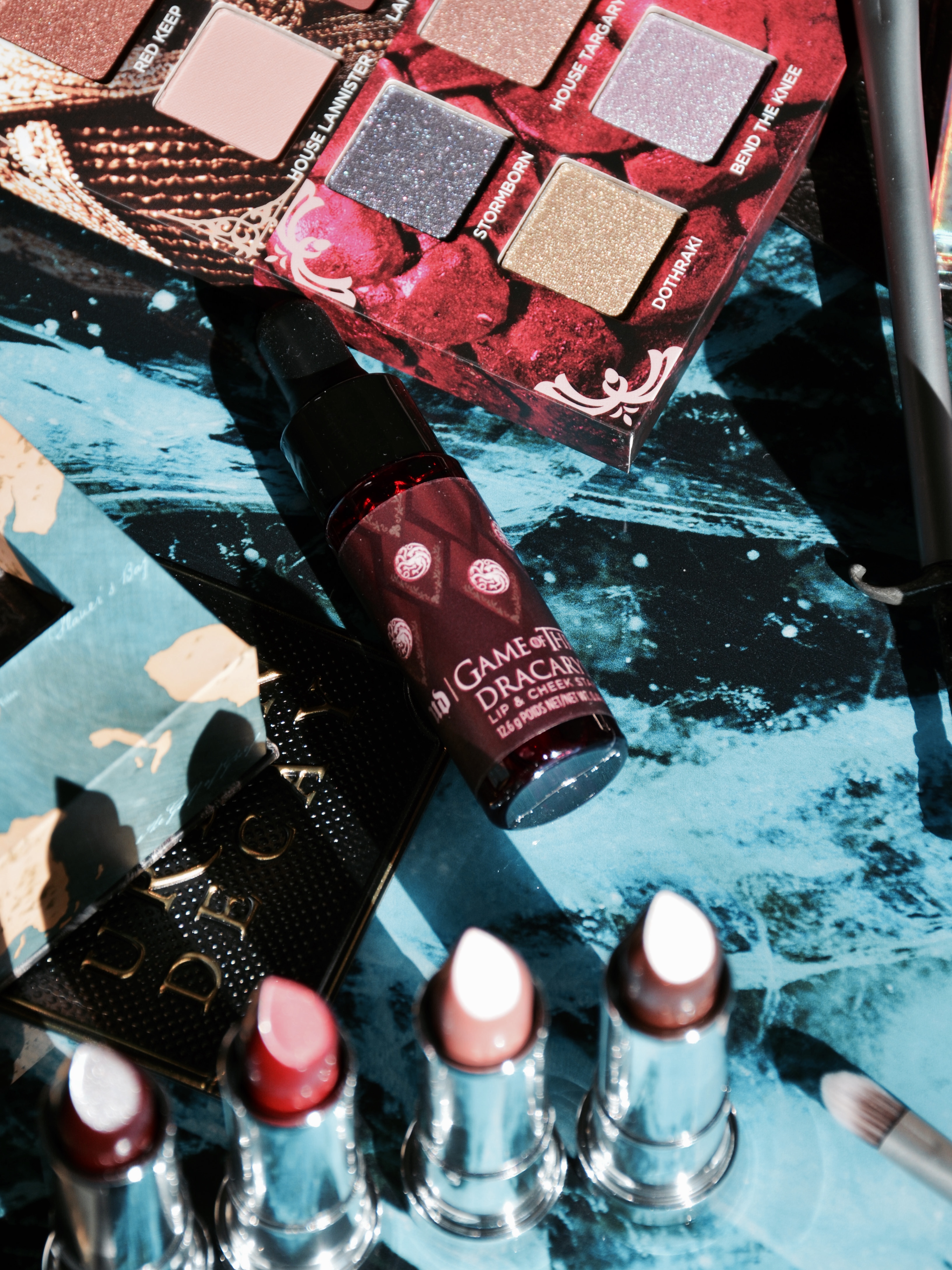 As I mentioned, there are also four lipsticks in the Game of Thrones Collection and a beautiful red lip & cheek stain. The Vice Lipsticks that come in the collection are Sansa Stark (warm peach nude in a sheer finish), Cersei Lannister (metallic gold), Daenerys Targaryen (fiery metallic red) and White Walker (deep berry wine in matte finish).
The Dracarys Lip & Cheek Stain is a sheer red stain that you can use on your lips as a long-lasting wash of color or on your cheeks. The formula is very easy to work with and you can use your fingers for both application and blending. A little goes a long way with this formula, so you only need a drop or two. It lasted up to eight hours both on my lips and cheeks. A great option if you like a sheer wash of red color.

Swatches L to R: Sansa Stark, Cersei Lannister, Daenerys Targaryen, White Walker, Dracarys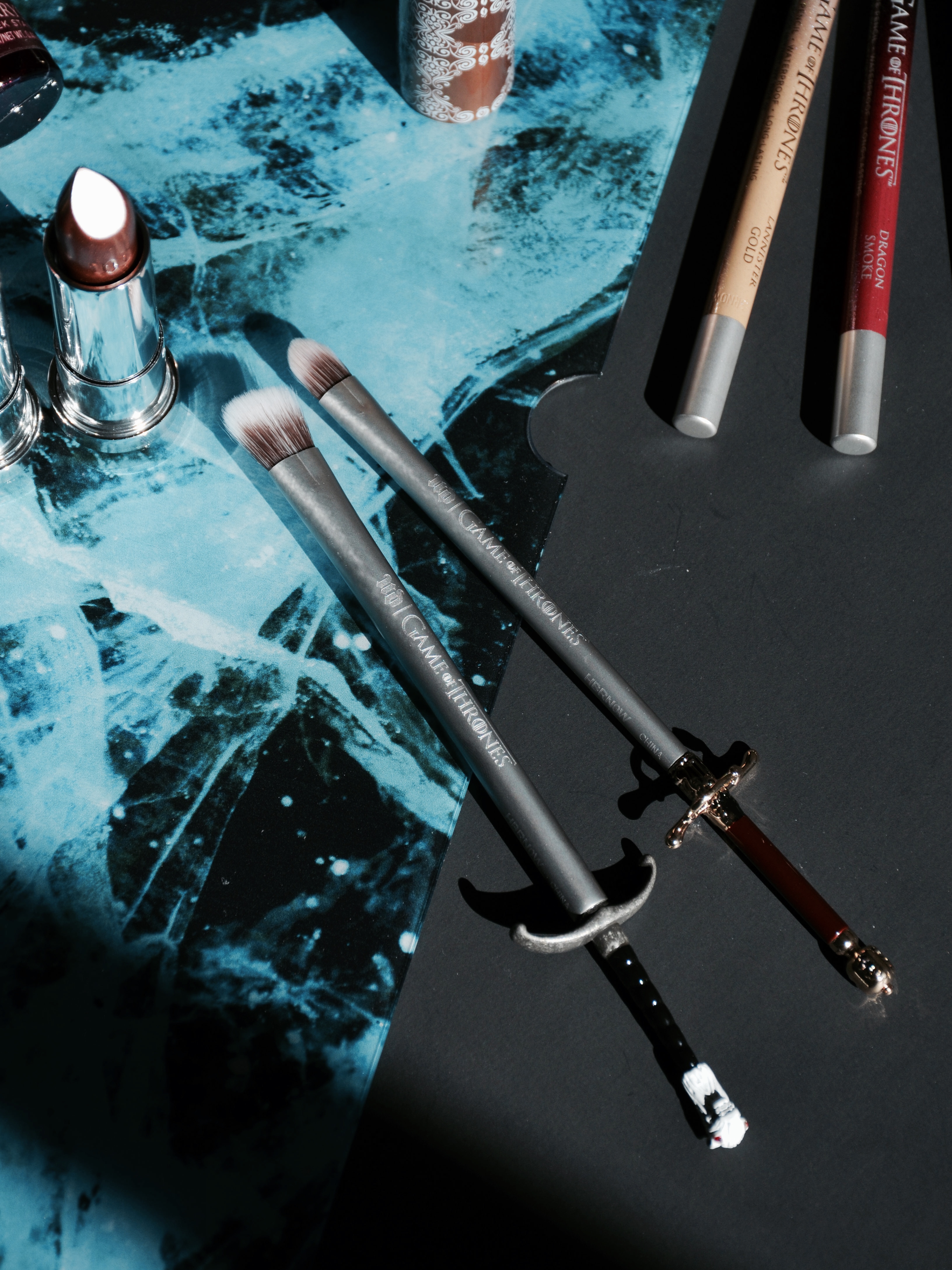 Lastly, Urban Decay released two eyeshadow brushes. The Large Eyeshadow brush was inspired by Jon Snow's Longclaw and the the Flay Eyeshadow Brush, from Arya Stark's Needle. Both brushes are soft and feel nice on the skin. These will go in my vault collection and will not be used because they are definitely a collectors item.
Bottom line, I love this collection not only because I am a big fan of the show. I think Urban Decay did a great job with both packaging and the product and color selection. You can tell that everything was well thought out. As for favorite pieces from the collection, I would pick the Game of Thrones Eyeshadow Palette and the Vice Lipstick in Sansa Stark.
The Urban Decay x Game of Thrones Collection will be available online on April 29th and in stores starting May 2nd. The brand did a pre-release on their website on April 14th but everything sold out the first day.
*PR Sample