We are in full spring mode, although when I look out my window it doesn't look like spring much. We got snow today! Spring and Summer are one of my favorite seasons not only because of the warm weather. As a beauty lover I love the spring and summer beauty releases the most. Companies always focus on fresh, bright and glowy skin which I'm all about. 
Here are some new releases that caught my eye and that you will probably see them again here on the blog either for a review or as a favorite.
Christophe Robin new line of hairbrushes (pictured here is the Detangling Brush) – The hairbrush is made by hand with wood and natural boar-bristles. It's made to protect your hair fibre, enhance shine, avoid hair damage and activate blood circulation for a healthy scalp. As a girl with curly hair I know how tough it is to find a hairbrush that doesn't tug on my hair but also helps with detangling. I only brush my hair when it's wet and after applying detangling spray and this brush works wonders. I haven't seen any hair breakage or extra hair fallout since I started using this brush.
Smashbox Be Legendary Liquid Lip – These are a hybrid between a pigmented liquid lipstick and a high shine gloss. The line has two finishes, a high shine and metallic finish and I received all shades to test. Blog post with swatches is coming soon.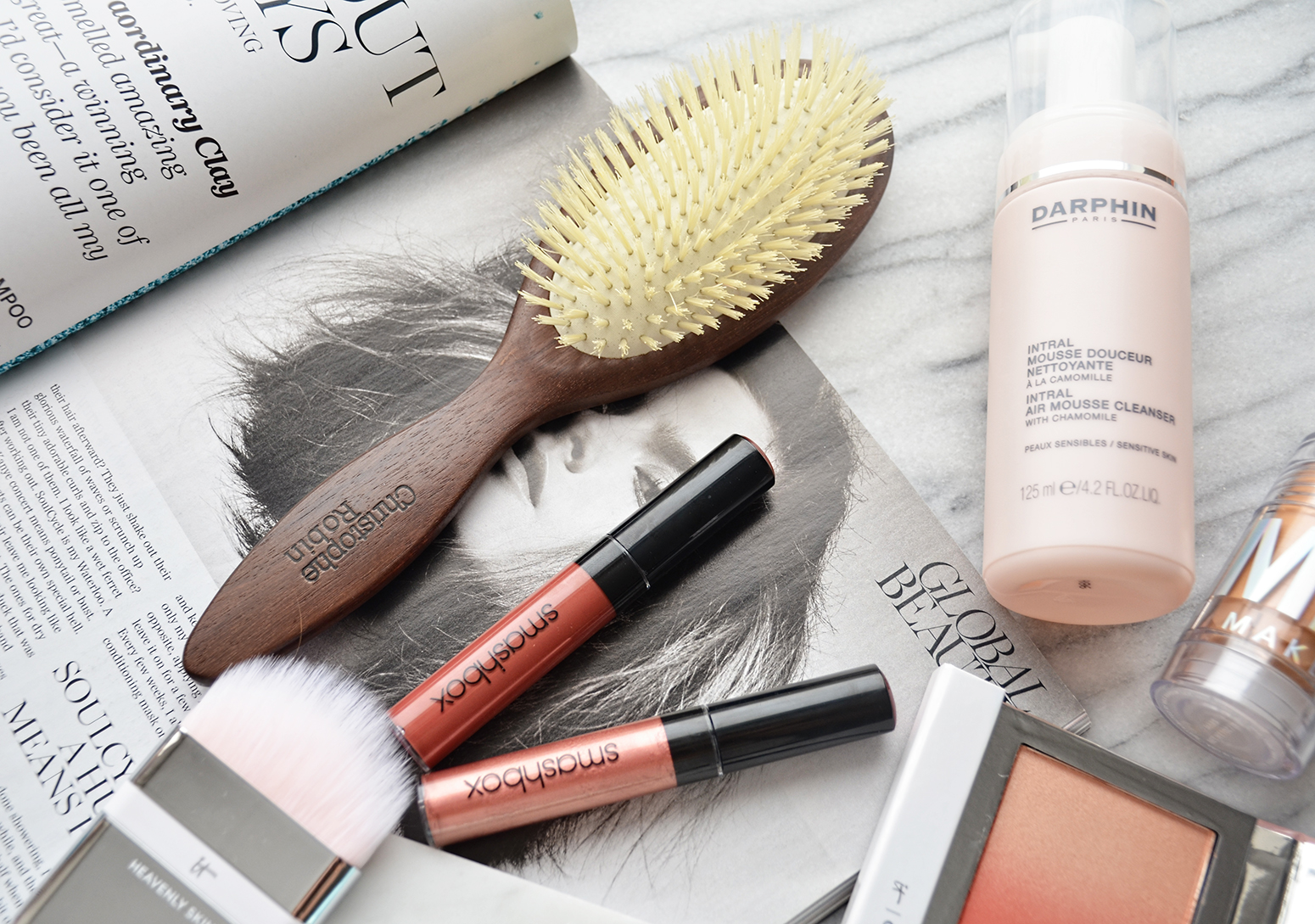 It Cosmetics Confidence In Your Glow – A highlighter, bronzer and blush in one palette with a beautiful ombre design. The line has three shades and they are all stunning. They also released a new brush to go with the palette called the Heavenly Skin One Sweep Wonder Brush which helps with application. I've been testing the palettes and the formula feels soft, pigmented but not powdery. I'll have a full review with swatches next week.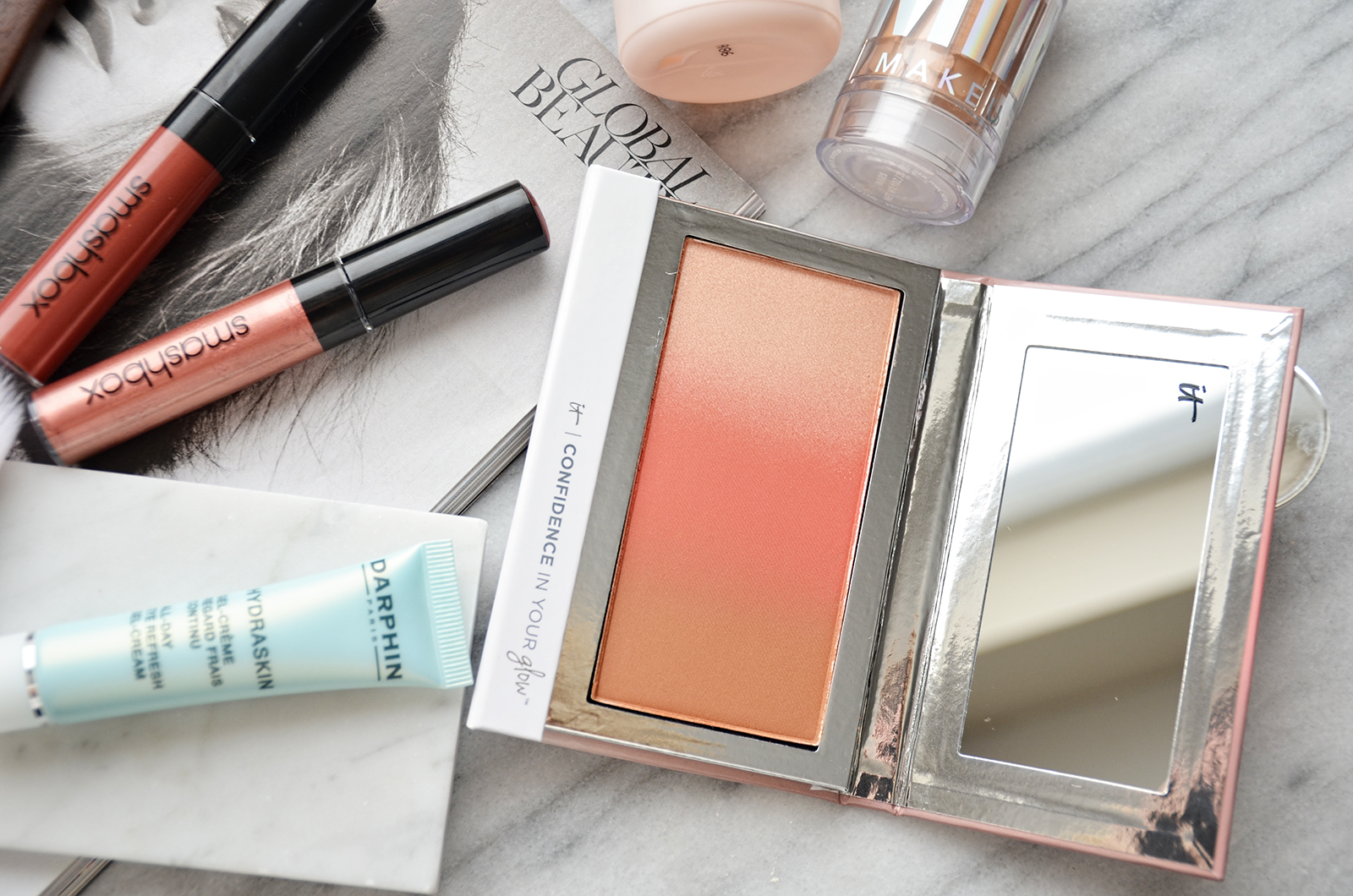 Milk Makeup Cream Highlighter in Mars – This is coming out May 2nd and it is stunning. The shade is a peachy gold that reflects light beautifully. I just use my fingers for application and the highlighter just melts in to the skin. It gives you glowy highlighted skin without the powdery look and you can use as much or as little as you prefer. I'm planning on doing a blog post about my favorite Milk products so you will definitely see this in it.
Darphin Intral Air Mousse Cleanser with Chamomile – A liquid cleanser that transforms in to air mousse after dispensing. It is a gentle cleanser that doesn't strip your skin but still manages to cleanse and get rid of any impurities. It's made with 89% natural ingredients and great for sensitive skin. I've noticed that while cleansing your skin it also helps with reducing redness and keeps your skin hydrated but clean.
Another new release from Darphin is the Hydrating All Day Eye Refresh Gel-Cream. It's a lightweight eye cream that helps with hydration and depuffing. Formulated with frozen water algae, Salicornia Herbacea, and Butterfly Lavender, the eye area is infused with refreshing hydration. I struggle with dry under eye area so I'm always looking for something hydrating. This is a good option as it hydrates but also refreshes and depuffs the under eye area.
The summer releases also started coming in and I have a lot of bronzers to share with you. So expect a lot of glowy and bronze themed posts in the future.
*PR Samples included