I have to admit that as a beauty blogger I test a lot of skincare. As soon as I finish a jar of moisturizer I'm curious to try something else and see if I can find something better. I'm lucky that my skin is not that problematic and sensitive to products so I'm able to test out a lot of products and not get any bad reactions.
But sometimes you find a product that amazes you with the results and that definitely will be a repurchase. I've continuously been adding extra steps to my skincare routine just to see what those products will do for my skin. Here are some of the new products that I've added to my skincare routine and that I genuinely really like: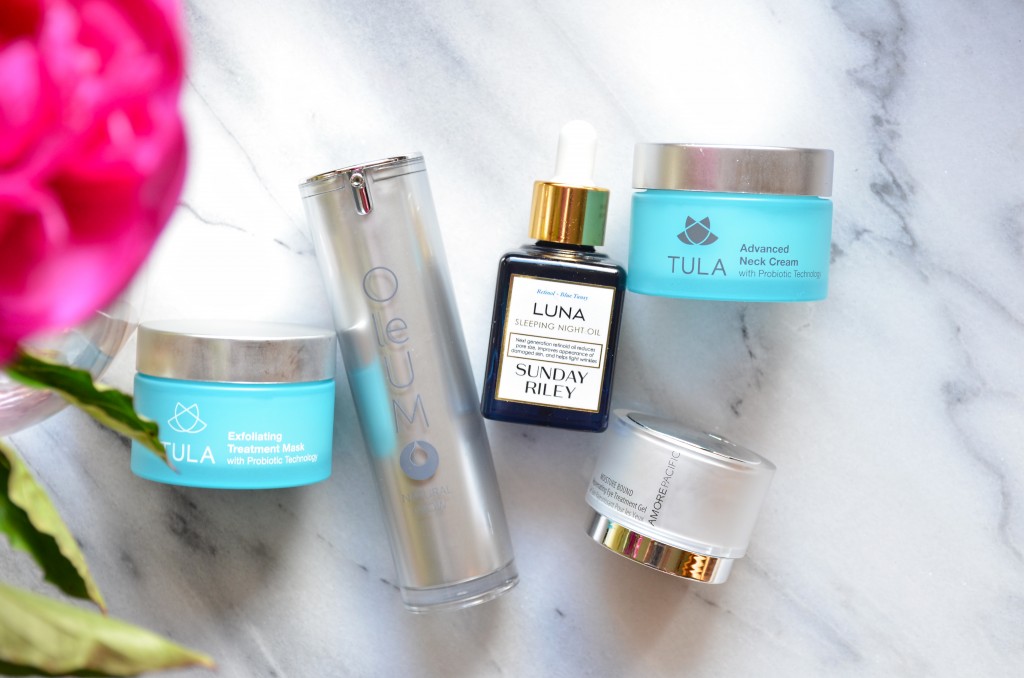 Tula Exfoliating Treatment Mask* – It provides both chemical and physical exfoliation. There is Lactic Acid that helps with dirt and debris on your skin and the Bentonite Clay and micro beads which contain Jojoba Oil, Volcanic Sand and Vitamin E help with removing dead skin cells and leave you with baby soft skin. I love the feeling that this mask leaves, it makes my skin very soft and clean but doesn't make it dry. If you suffer from clogged pores or you just need good exfoliation I highly recommend it.
Oleum Natural Glow Cleansing Oil for Combination Skin* – It's formulated with 6 botanical oils: Castor, Jojoba, Apricot Kernel, Almond, Jasmine and Lavender Oil. The company offers oils that are customized to your skin type so they have oils for Acne Prone Skin, Combo Skin, Dry Skin, Oily, Mature and Normal Skin. What I like about this cleansing oil is that it's natural and doesn't contain any bad stuff. I use it to remove my makeup and it manages to take off everything and doesn't leave any oily residue.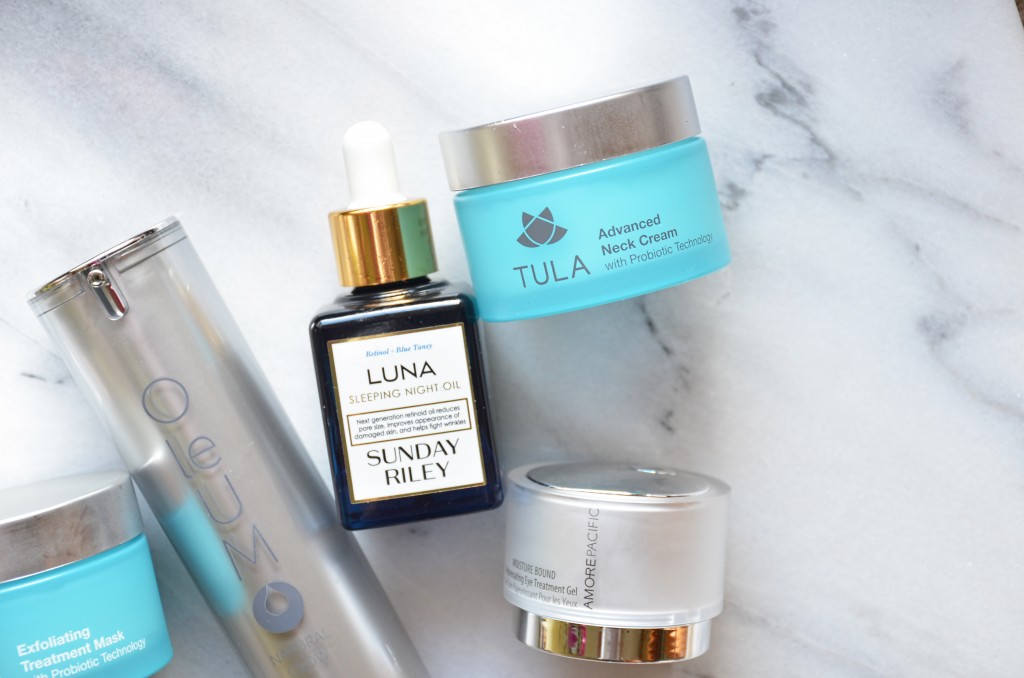 Sunday Riley Luna Sleeping Night Oil – This is miracle in a bottle! It's a retinoid oil that promises to reduce pore size, improve the appearance of damaged skin and help fight wrinkles. This is the only product I use at night. I apply the oil before I go to bed and just let it sink in, cause of the blue color it can stain your sheets so don't go to bed right away. Some people complain about the smell but I actually don't mind it at all. To me the oil smells earthy and very natural so it means that it doesn't have any perfume added. Some of the ingredients that are in the Luna oil are: Cold Pressed Avocado, Chia and Concord Grape Seeds Oil, Trans-retinol Ester and Blue Tansy. If you suffer from acne marks and scars or have enlarged pores and uneven skin tone this oil is for you. It's on the pricy side but I don't mind spending the extra money when it comes to skincare that works.
AmorePacific Rejuvenating Eye Treatment Gel – I had a deluxe sample of this cream which I used up and loved it so I had to get the full size. This cream has already been in my monthly favorites so you know how much I love it. It has a unique gel-cream formula that helps with dark circles, puffiness and prevents wrinkles. It just does amazing stuff for my under eye area. Again pricy but it works.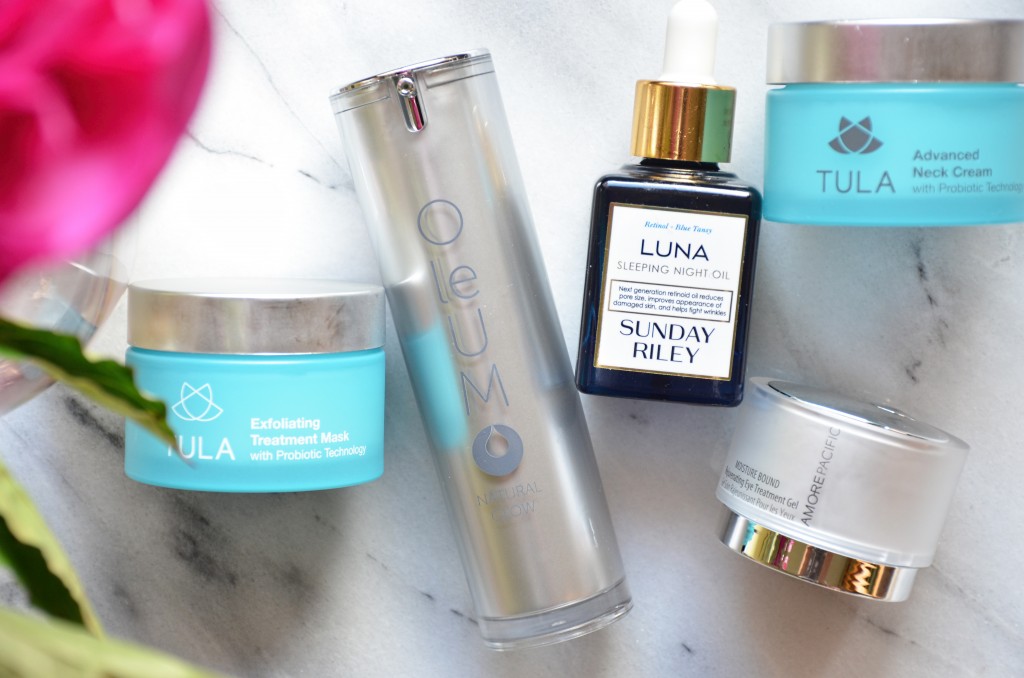 Tula Advanced Neck Cream* – It's the first time I have a neck cream in my skincare routine. I have to admit that I've been kinda lazy in the past when it comes to applying any creams to my neck which is so bad. The skin on your neck actually shows signs of aging quicker than your face so you have to make sure the skin on your neck gets plenty of hydration and love. That also goes for the décolletage. The Tula Advanced Neck Cream has the signature Tula probiotic technology plus Omega 3 and 6 fatty acids, rice proteins, Vitamin A, C and E and fruit extracts. It helps with hydration and firmness and reduces the appearance of fine lines. I've used the cream in my morning skincare routine for almost a month now and I love how my skin feels around my neck and décolletage area.
What are your skincare staples? Do you like to experiment with new products or do you keep your skincare routine pretty simple?