Another month has passed and I can't believe almost half a year went by, how is the time passing so fast? On a beauty note May has been a great month, filled with a lots of new releases and discoveries. The weather got warmer and it finally feels like summer is coming so all the light makeup is coming out to play.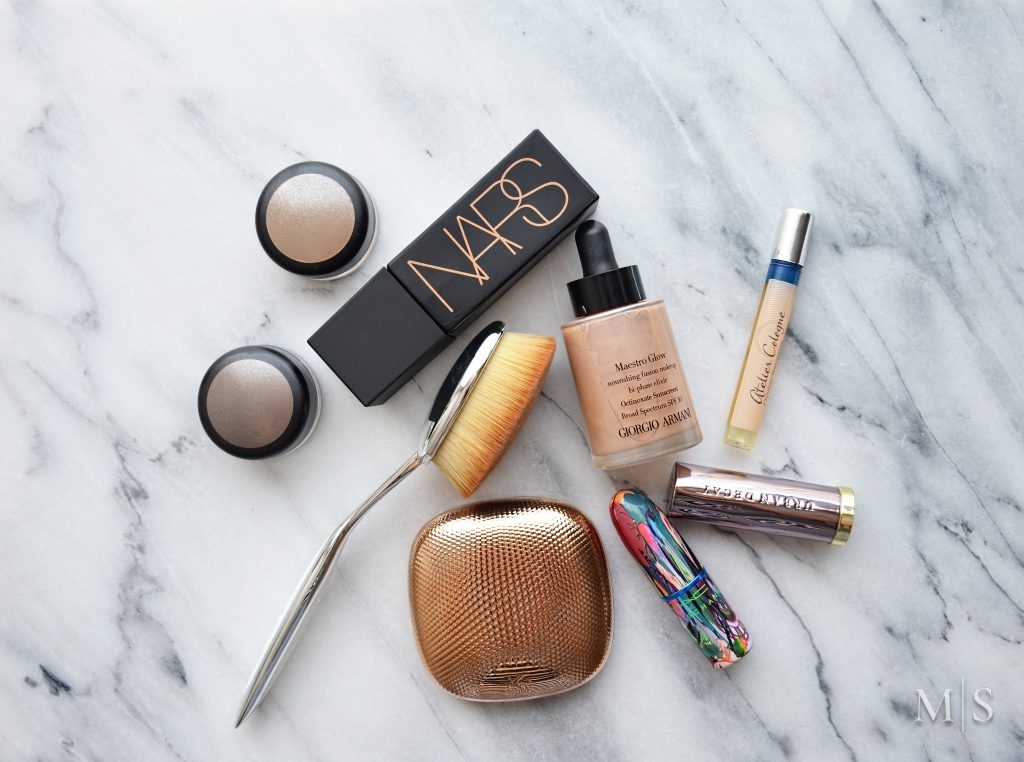 Lighter makeup products are my go to when it comes to summer, everything from foundation to using cream products for both eyes and face, I try to keep my makeup routine pretty simple and quick.
Base
I discovered a new favorite light coverage base, the Armani Maestro Glow. It has light coverage with the most beautiful glowy finish but still doesn't make my skin super greasy. It's very light on the skin and almost feels like you're not wearing any foundation plus it looks super natural on the skin which I love.
Brush
Yup it had to be a very expensive brush that I ended up loving. The Artis Oval 8 brush has been my go to foundation brush for the past month, especially with the Armani Maestro Glow foundation, because how liquidy it is this brush doesn't soak up any product so I can use a tiny bit of product to achieve good coverage. It's definitely an investment but in my opinion, oh so worth it.
Cheeks
Cream bronzers are my favorite for summer but when I saw that Nars came out with a liquid version of their Laguna bronzer I had to try it since I've never tried a liquid bronzer. The shade is almost the same as the powder Laguna and gives a natural bronzed glow to the skin. What I love about this liquid bronzer is the versatility, you can use it as a bronzer but also mix it with your foundation if you're looking for that bronzed glow look that we all love for summer.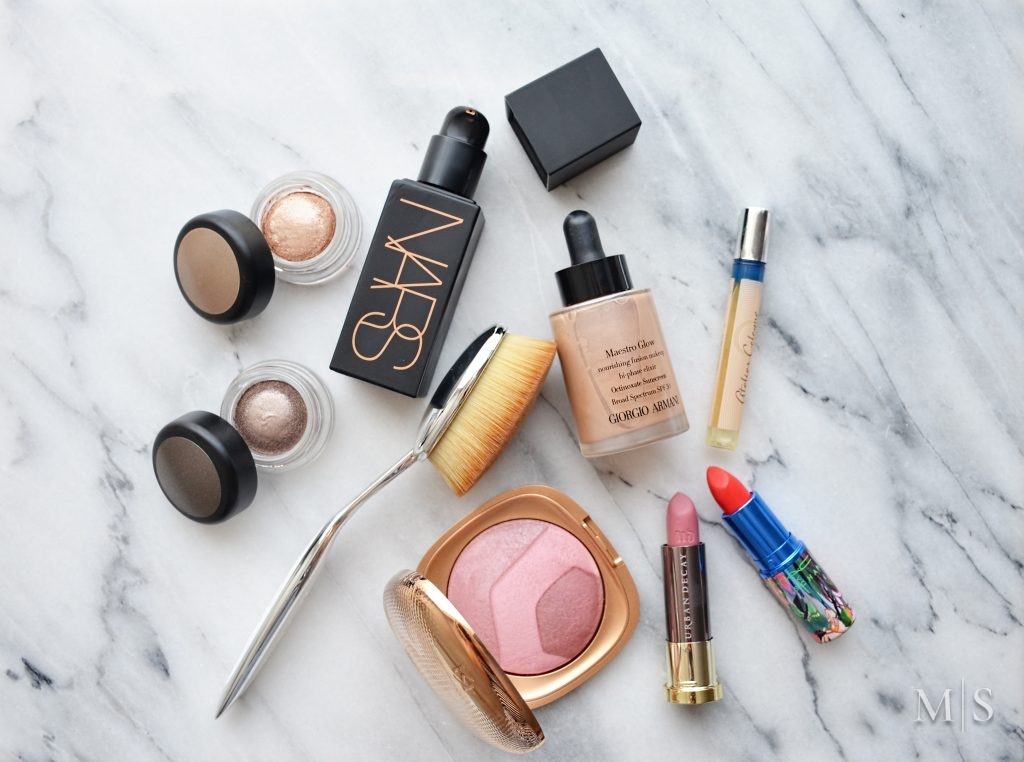 The other cheek product that I've been reaching for a lot is the Kiko Cosmetics Desert Dunes Trio Baked Blush in 03 Impulsive Mauve, a very pretty mauve shade that you can basically wear with every makeup look. The blush is part of their LE Summer collection and gives a beautiful glow to the cheeks without any shimmer.
Eyes
MAC launched a LE collection of cream eyeshadows and it's all I've been using since I got them. The Soft Serve eyeshadows have a very unique soft and cushy texture and give a sheer to light pigment to your eyes with some beautiful shimmer. They're no fuss eyeshadows that you can use for every day if you prefer just a wash of color on the eyes or use them as an eyeshadow topper to add some sparkle to your eye look. The two shades that I've been loving are Cushy Life, a light warm golden beige in pearl finish and Put Me To Shame, midtone dirty taupe in satin finish. You can find swatches of the shades that I got here.
Lips
I have a neutral every day shade and a pop of color to share with you. The neutral shade comes from the new Urban Decay Vice Lipstick line that's about to launch this month. The shade in Backtalk is a beautiful dusty mauve shade that's perfect for every day use. The pop of color comes from MAC's LE Chris Chang collection, a beautiful orange red shade in Vermillion Vee. I can't decide what's more beautiful, the shade or the packaging.
Fragrance
I got a deluxe sample from Sephora of the Atelier Cologne Orange Sanguine Cologne and OMG I can't stop using it. It's a very fresh scent with notes of Blood Orange, Bitter Orange, Jasmine, Geranium, Amber Woods, Tonka Beans, Sandalwood. It's my perfect light scent for summer so I'm definitely getting a big bottle as soon as I finish the sample. If I have to compare it with other perfumes, Dolce&Gabbana Light Blue is quite similar, meaning it has the same lightness and freshness as the Atelier Cologne Orange Sanguine.