Mac Studio Fix 24 Hour Smooth Wear Concealer is the newest base launch from the brand. It's described as a lightweight long-lasting concealer with medium but buildable coverage and a natural matte finish. The line has an amazing shade range of 33 shades and two different undertones.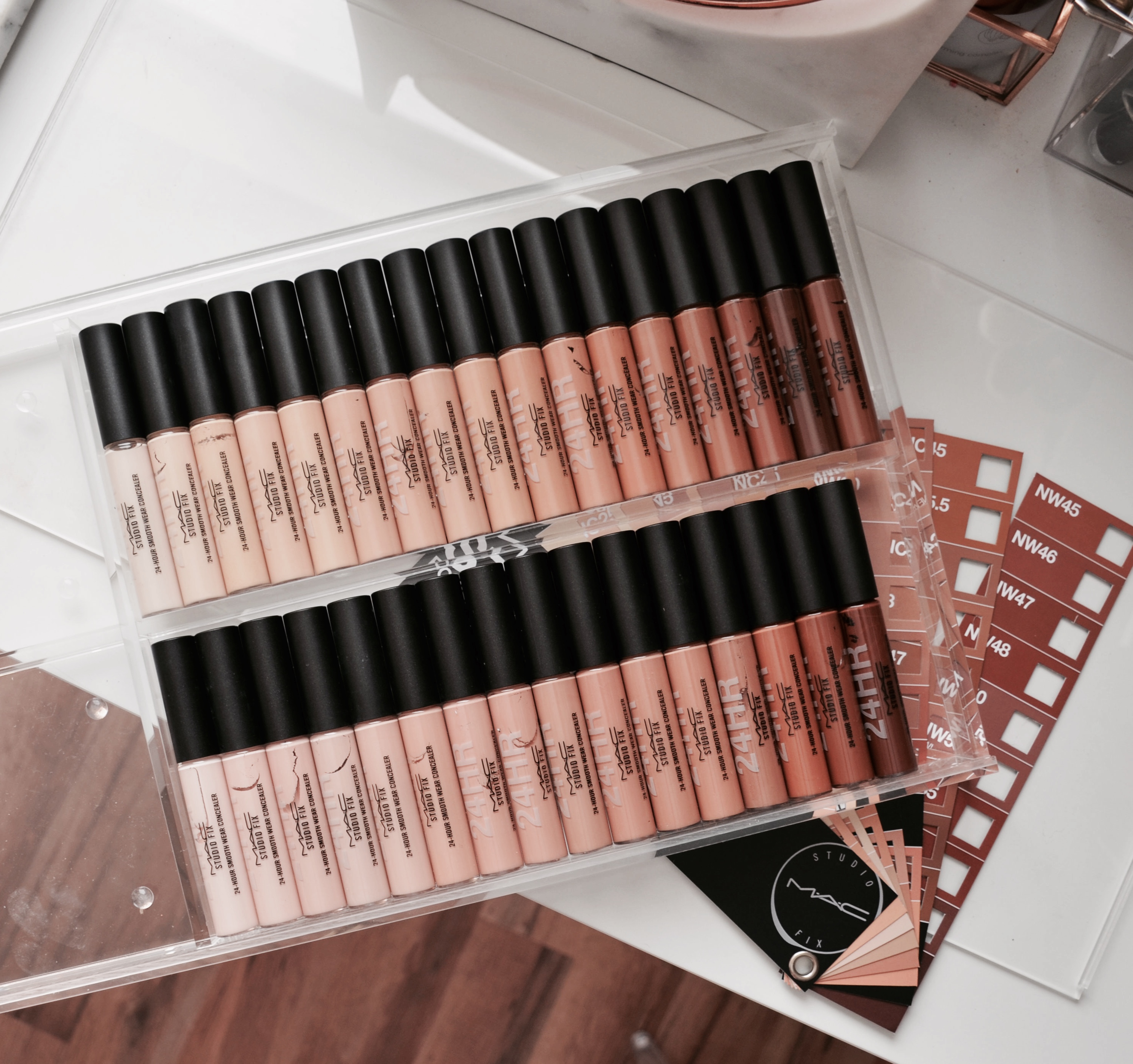 The Mac Studio Fix 24 Hour Smooth Wear Concealer has NW shades which stands for not warm so the shades have a cool undertone and NC – not cool, with shades having a warm undertone.
When it comes to concealer, I'm looking for a light to medium coverage concealer (sometimes even full), a natural finish and it has to have a non drying formula. Also having a lightweight formula is a plus too.
Well, the new Mac Studio Fix Concealer fills all the criteria to be a great concealer. The formula of the concealer is super lightweight and liquidy. It has good medium coverage but it is buildable. The finish is natural matte but doesn't catch on any dryness that I have. It doesn't crease on me even if I don't set it with powder (I sometimes do that when I use a natural matte concealer since my under eye skin is on the dry side).
The shade range is amazing! As I mentioned before, it comes in 33 shades and two different undertones. For my light to medium skin tone, the shade in NC 25 works really well for under the eyes and NC 30 for blemishes.
The concealer comes in plastic packaging and a doe foot applicator. You get 7ml of product which is more than the average concealer for $22.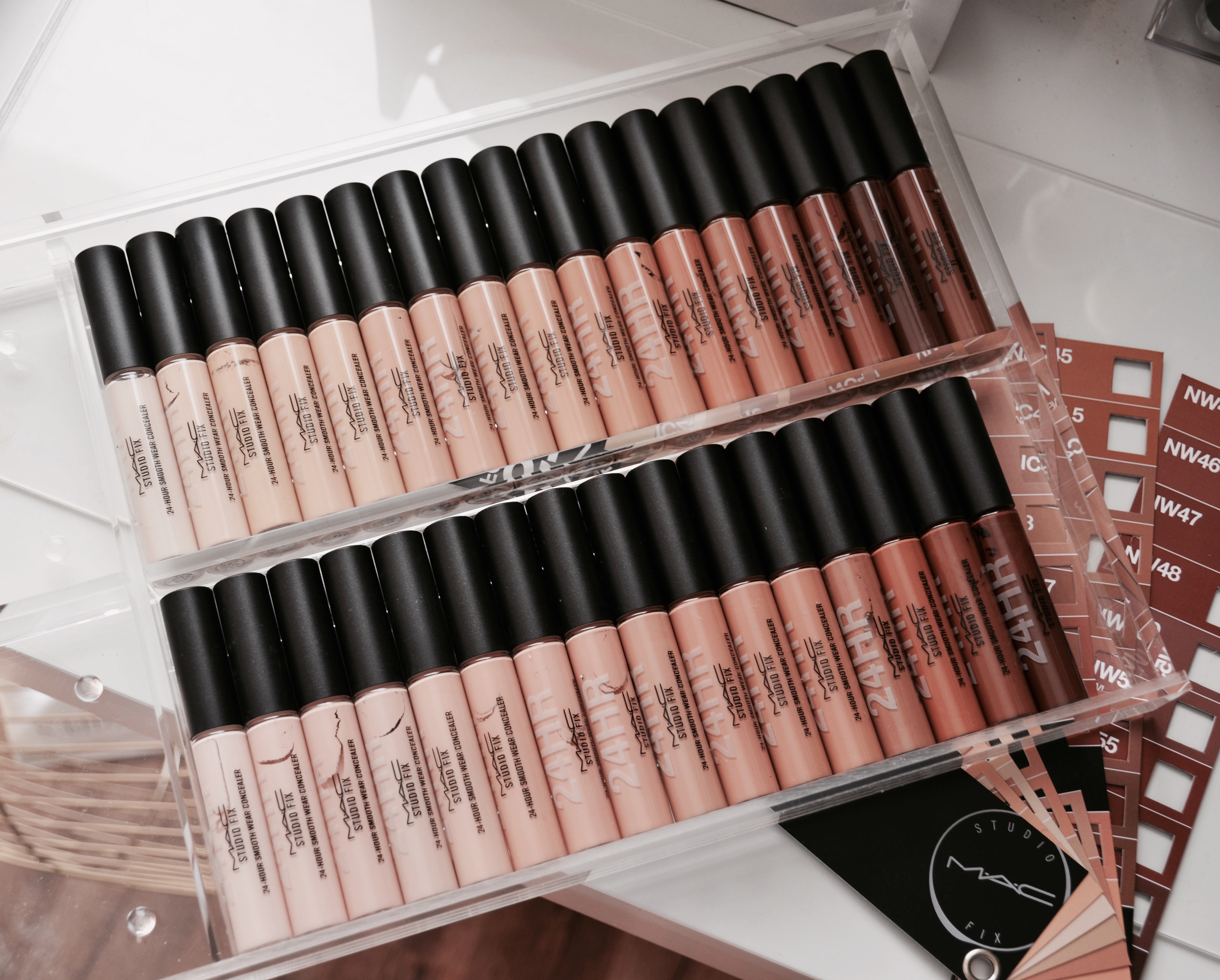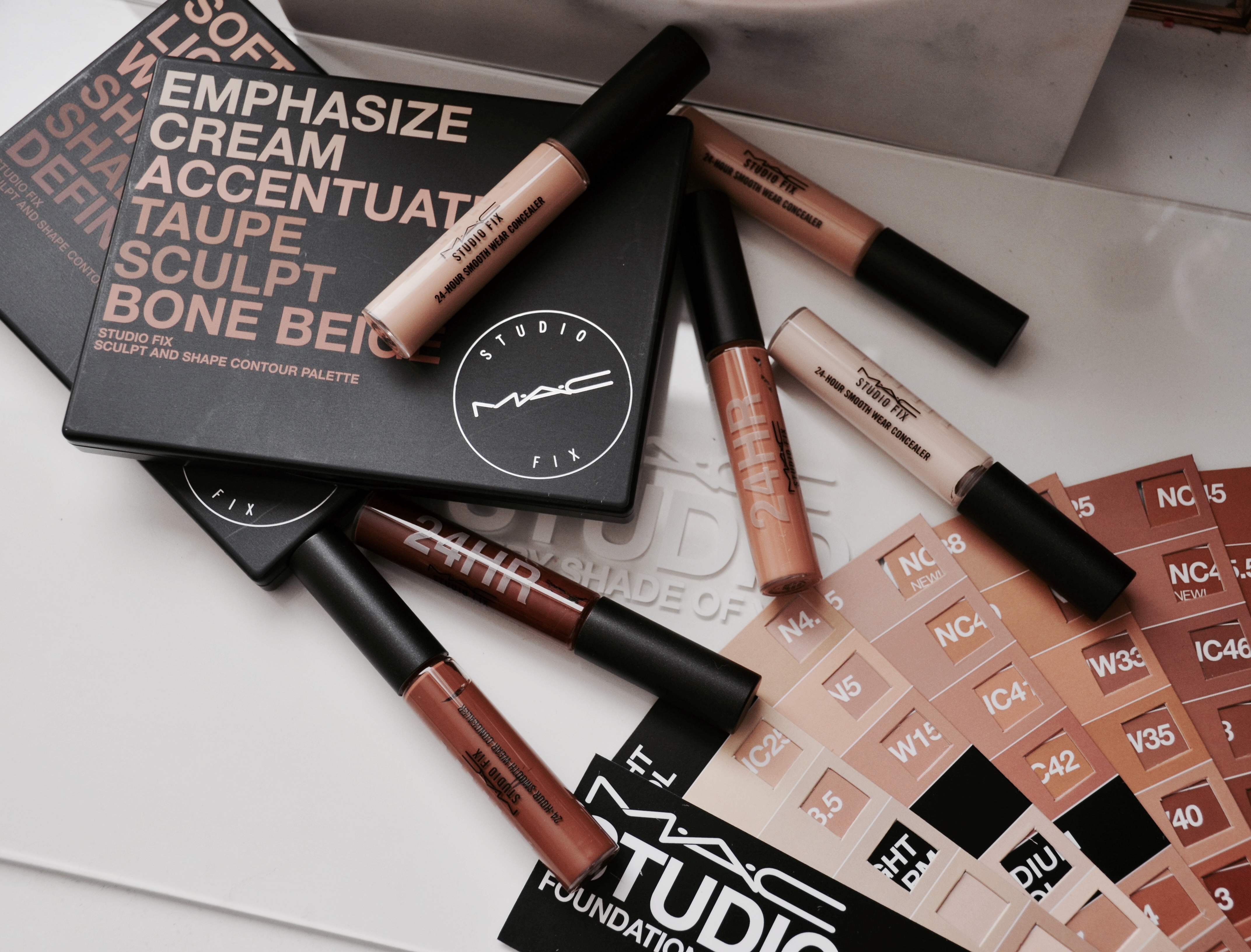 I also like this concealer because I can use it on it's own with no other makeup on. On days when I don't wear makeup but I still need to go out, I like to use a concealer on any blemishes that I have and for under the eyes so I look more awake and well rested. Some concealers that are heavier can't be used on their own just because it looks weird when you apply a heavy full coverage concealer and nothing else.

Swatches L to R: NC10, NC15, NC20, NC25, NC30, NC35, NC38, NC40, NC42, NC43, NC44, NC45, NC48, NC50, NC55

Swatches L to R: NW10, NW15, NW20, NW22, NW24, NW25, NW28, NW30, NW32, NW34, NW35, NW40, NW42, NW45, NW50, Nw51, NW53, NW55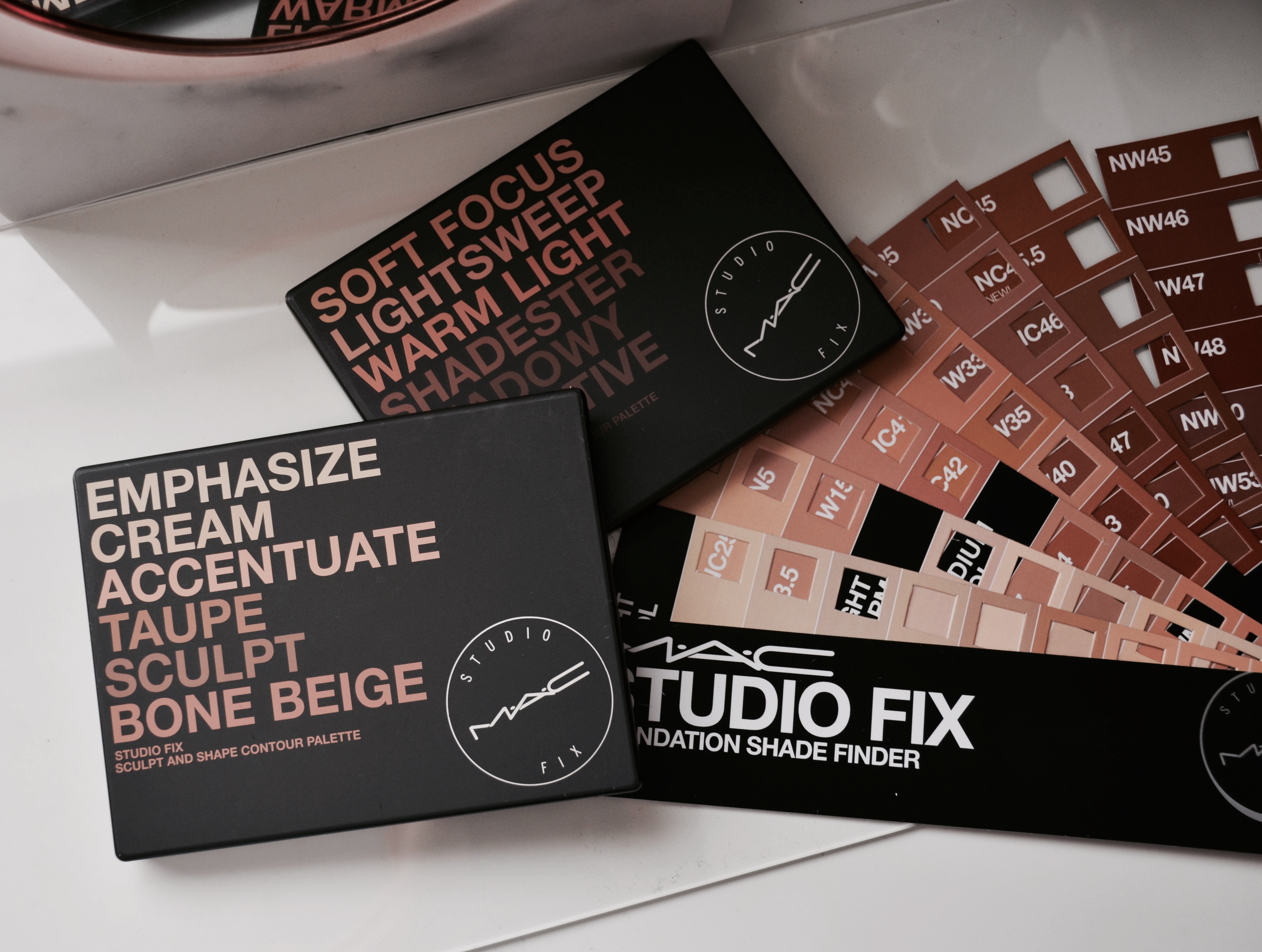 Mac also released a Sculpt And Shape Contour Palette that comes in Light/Medium and Medium Dark/Dark option. The powders that come in the palette are actually part of the permanent line and can be bought in single pans. But the palette is a better value for the price especially if you are a makeup artist or if you like to contour your face on the daily.
The shades that come in the Sculpt And Shape Contour Palette Light/Medium are:
Emphasize (off white with fine pearl)
Cream (light creamy beige with fine pearl)
Accentuate (peachy beige with fine pearl)
Taupe (soft muted beige brown)
Sculpt (soft taupe matte)
Bone Beige (soft warm brown matte)
The tones of both the brightening and sculpting powders are indeed perfect if you have fair, light to medium skin tone. I like using Taupe for some natural contouring and the shade in Emphasize for brightening my under eye area. The brightening shades in the palette have subtle shimmer which is not shimmery on the skin. Instead it gives a brightening effect which is nice for under the eyes and for any area that you like to emphasize.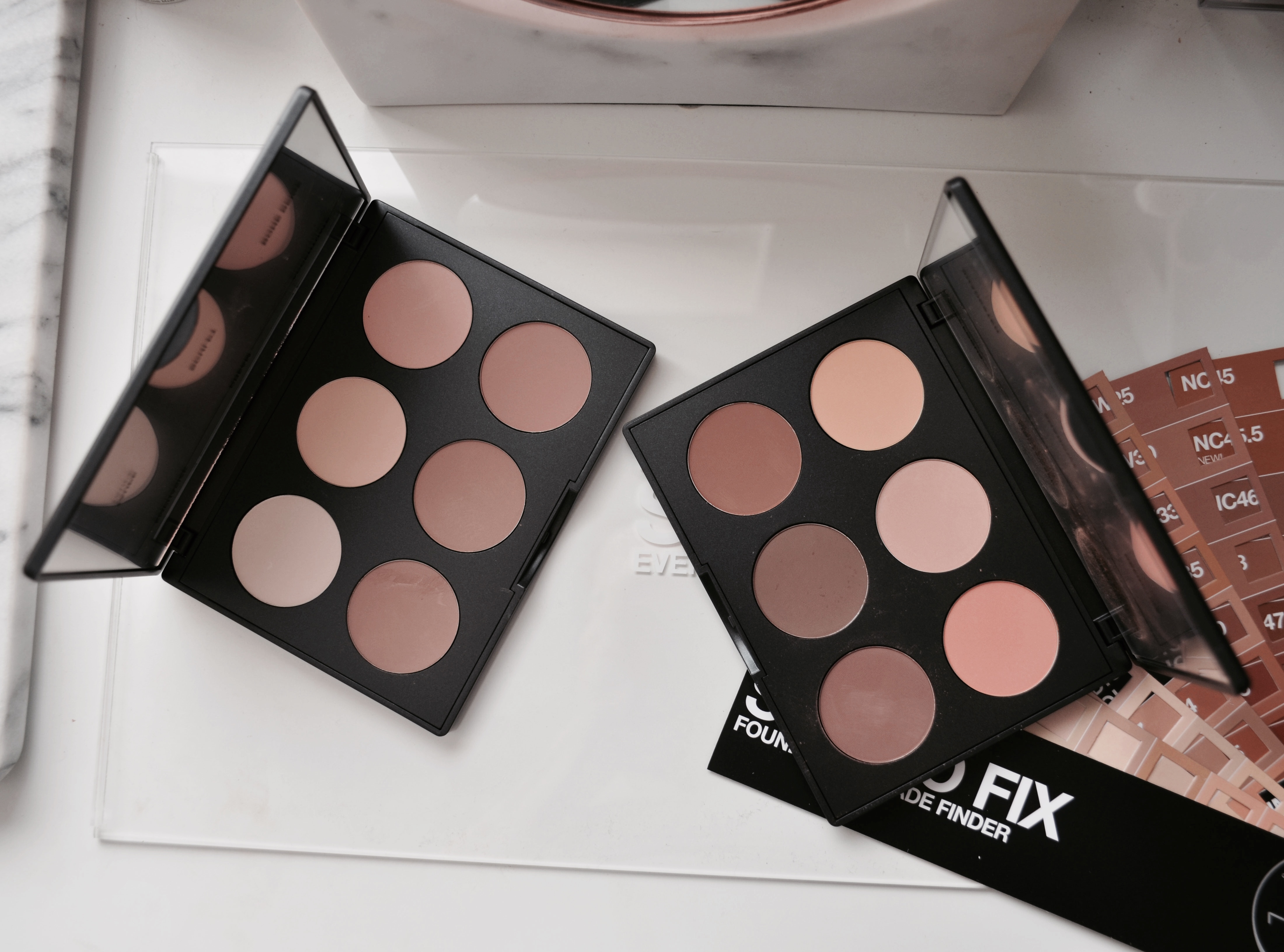 The Studio Fix Sculpt And Shape Contour Palette in Medium Dark/Dark comes with:
Soft Focus (plantain yellow gold)
Lightsweep (warm beige with fine pearl)
Warm Light (clean peach)
Shadester (mid tone leathery brown)
Shadowy (deep brown matte)
Definitive (mid tone reddish brown)
The darker palette is suitable for people who have medium, deep and dark skin tones. For me, the lighter palette works really well (I can actually use all the shades in the palette).

Swatches of Light/Medium: Emphasize, Cream, Accentuate, Taupe, Sculpt, Bone Beige

Swatches of Medium Dark/Dark: Soft Focus, Lightsweep, Warm Light, Shadester, Shadowy, Definitive
All in all, I'm very impressed with the new Studio Fix line. The concealer is definitely a win both because of the beautiful formula but also because of the shade range. The Sculpt and Shape Contour Palette is nice to have but not a necessity. I don't contour my face every day but for a working makeup artist or someone who likes to contour, it is a great value for the price.
As for the concealer, I highly recommend it. Especially if you have dry under eye area, it is a good one, but also for anyone who is looking for a good medium coverage concealer.
*PR Sample