I think the Kate Somerville's ExfoliKate Intensive Exfoliating Treatment is one of those cult beauty product that everybody loves. It really is a facial in a bottle and I love that you can see instant results. Recently Kate added a new product to the line, the ExfoliKate Glow Moisturizer.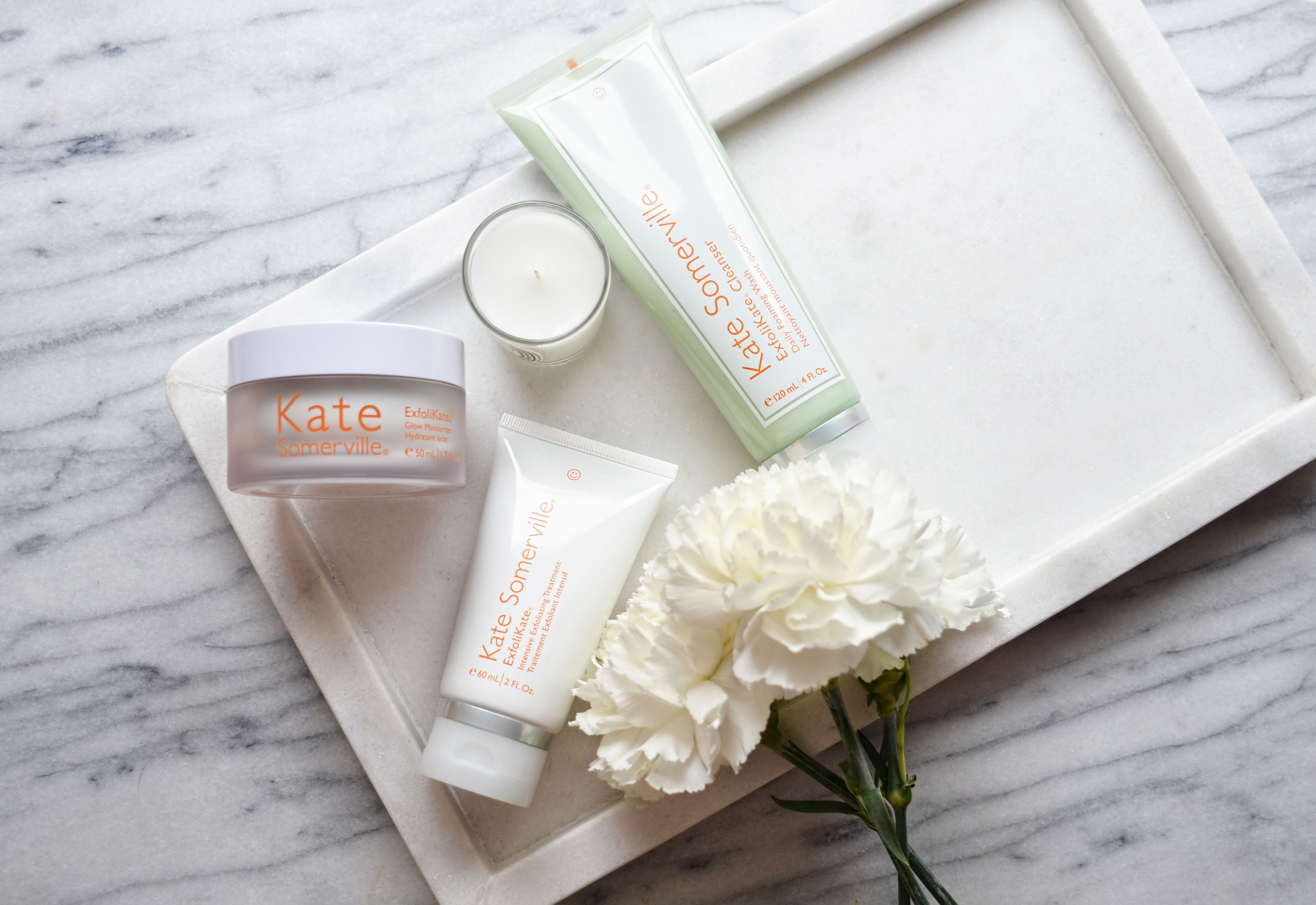 Now I'm all about glowy skin, so everything that says glowy, I'm all about. The new Kate Somerville ExfoliKate Glow Moisturizer promises to reduce uneven skin texture, dulness and the appearance of fine lines and wrinkles.
It's formulated with Glycolic & Lactic Acids which help with dead surface skin cells, revealing smooth and glowing skin. Pineapple, Pumpkin, & Papaya Enzymes help to enhance skin exfoliation and Napol Cactus Fruit Extract helps to reduce any potential irritation caused by AHAs.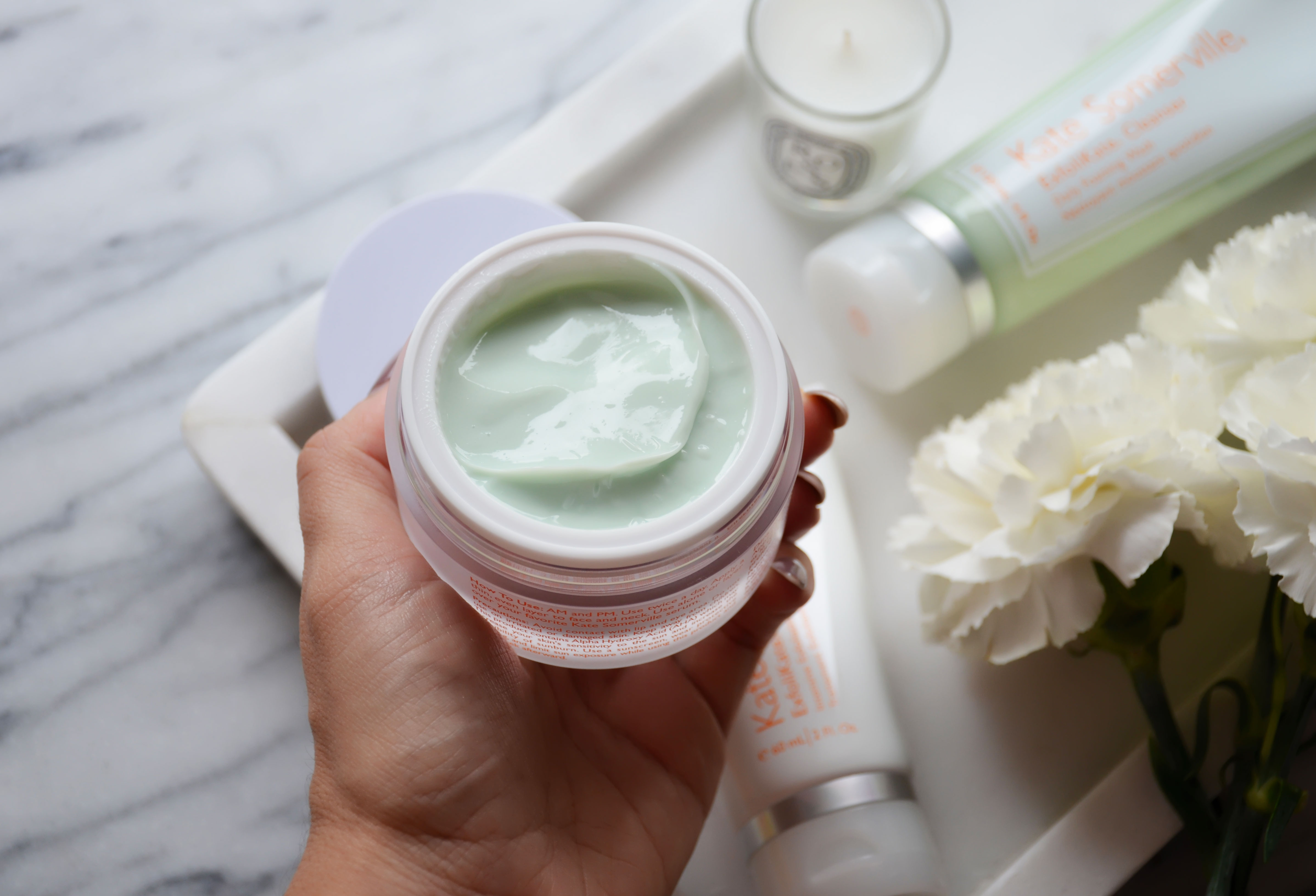 The ExfoliKate Glow Moisturizer feels very hydrating when applied on the skin and leaves a beautiful glow. It doesn't feel heavy on the skin and it also doesn't leave a sticky or greasy feeling. Since I have normal skin I like to use this moisturizer both in the morning and at night. It is listed as suited for normal, oily, combination and dry skin but if you are oily, I would use it in your nigh time routine since it's quite rich.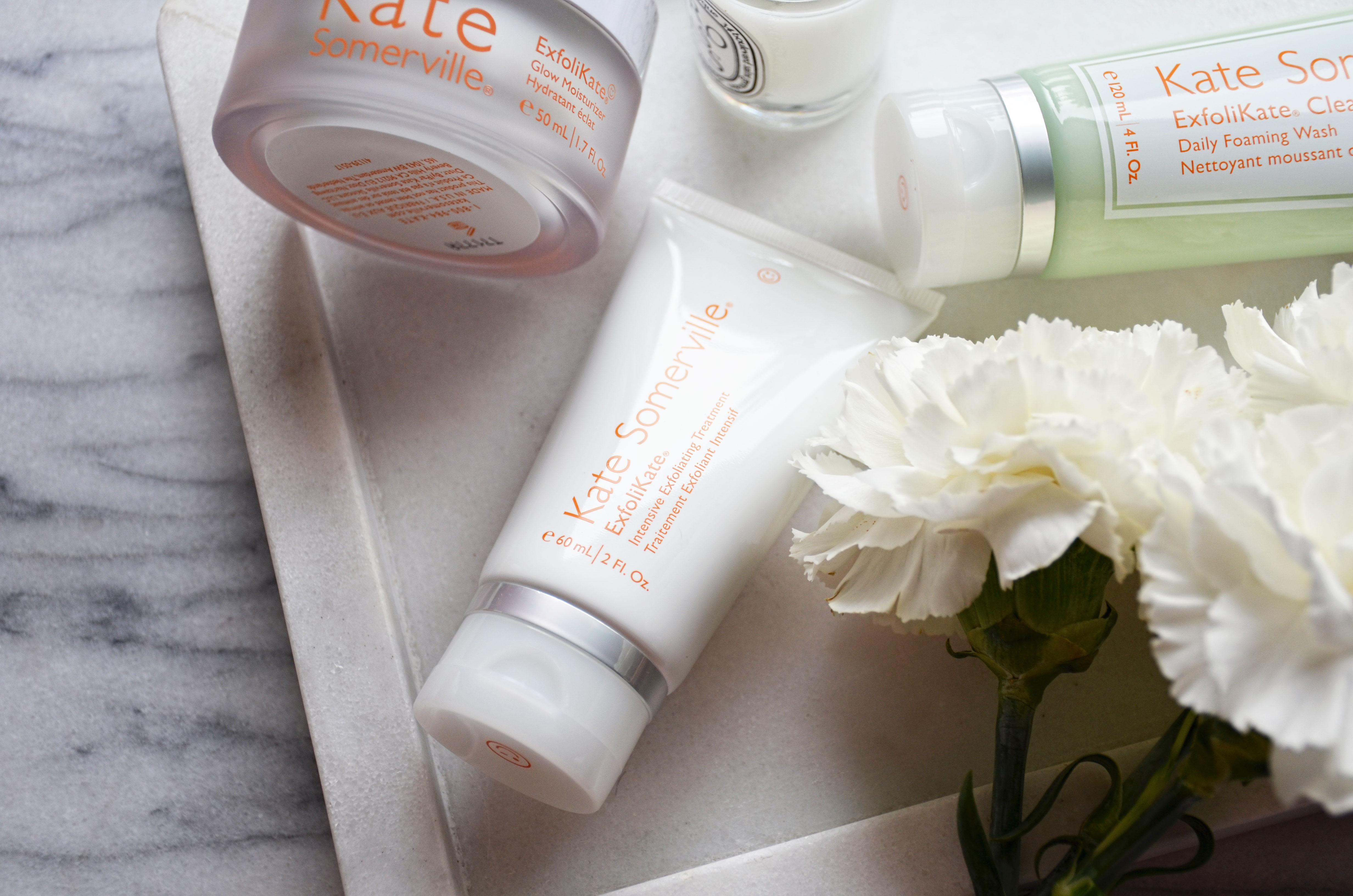 If you haven't already tried the ExfoliKate Intensive Exfoliating Treatment,  I recommend you do. Specially if you have dry patches and problems with texture, it can really do wonders.
It is both a physical and chemical exfoliator that improves the appearance of pores, skin texture, crow's feet, fine line and wrinkles. The key ingredients that are in the Exfolicate Intensive Exfoliating Treatment are:
Lactic Acid is a natural AHA that "chemically" exfoliates skin.
Silica is a natural exfoliant that "physically" exfoliates skin.
Papaya, Pineapple, and Pumpkin Enzymes help enhance skin exfoliation.
Salicylic Acid helps improve the appearance of pores.
Aloe Vera and Honey helps soothe and condition skin.
Vitamins A, C and E provide antioxidant benefits.
Soy-Lipid replenishes skin's natural barrier function.
I always use this treatment in the shower. You apply a thin layer, massage for 30 seconds and leave it for up to 2 minutes to work it's magic. Since it's a quite potent product you might feel a little tingle. After using the treatment, my skin feels super soft and appears more even. Even my pores look clearer and seem smaller.
If you have sensitive skin though, this might be too potent. Kate has a ExfoliKate Gentle Exfoliating Treatment that is more suited for sensitive skin types.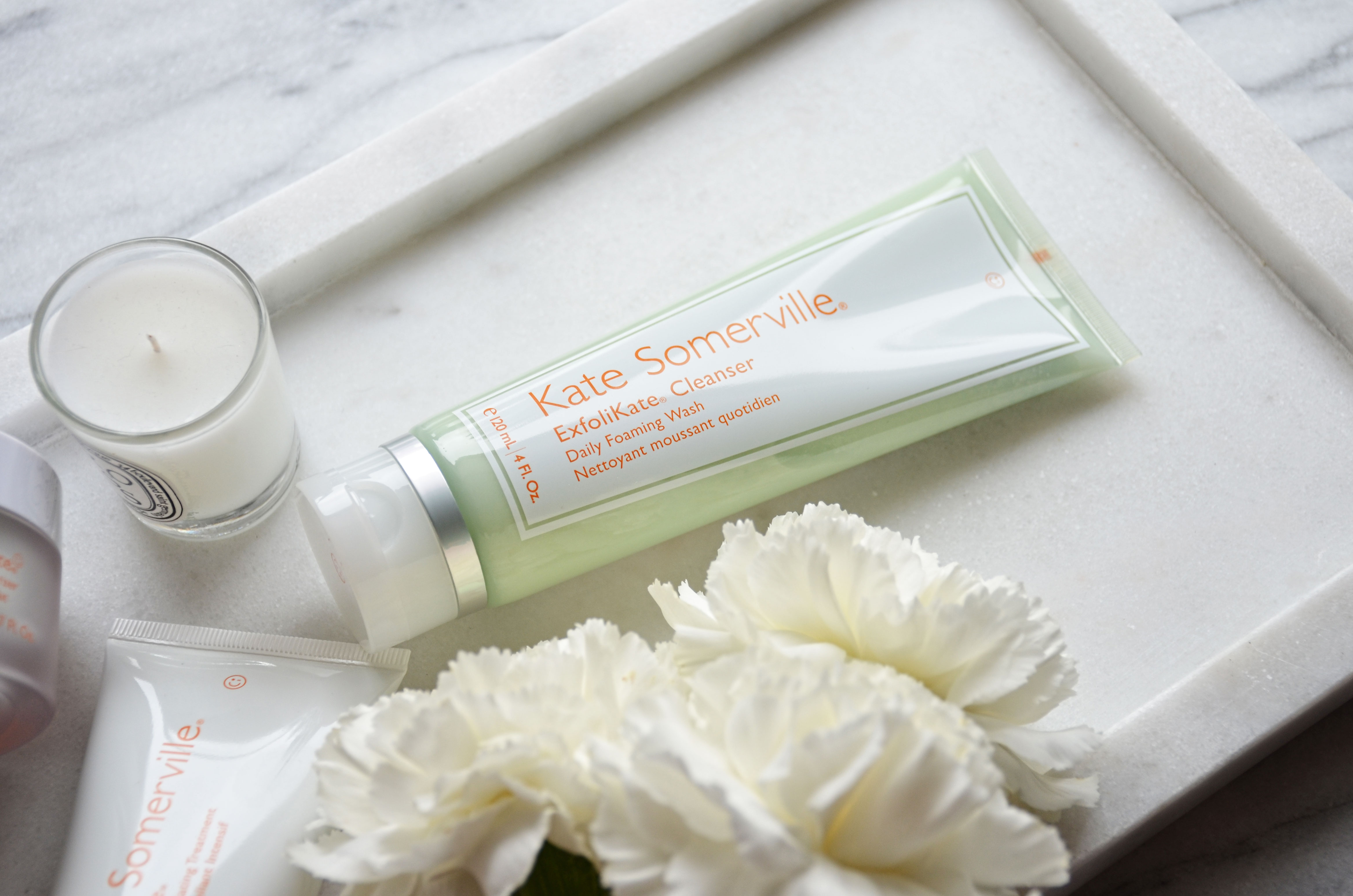 The last product from the ExfoliKate line is the ExfoliKate Facial Cleanser. It is a foaming cleanser that is both good for removing your makeup but also to use as your daily cleanser. It's formulated with Glycolic Acid and Lactic Acid which refine the appearance of pores and help clear buildup. Pineapple, Pumpkin and Papaya Enzymes gently purify without over-drying, leaving skin feeling soft and moisturized.
When it comes to cleansers, I only use cleansers that don't strip the skin. I don't like the tight feeling after washing my face plus my skin is normal so it doesn't need harsh cleansers. I am happy to say that the ExfoliKate Facial Cleanser doesn't do that. In fact, like the claims say, it leaves my skin well nourished. I've only used it on bare skin so I will report back how it works with removing makeup.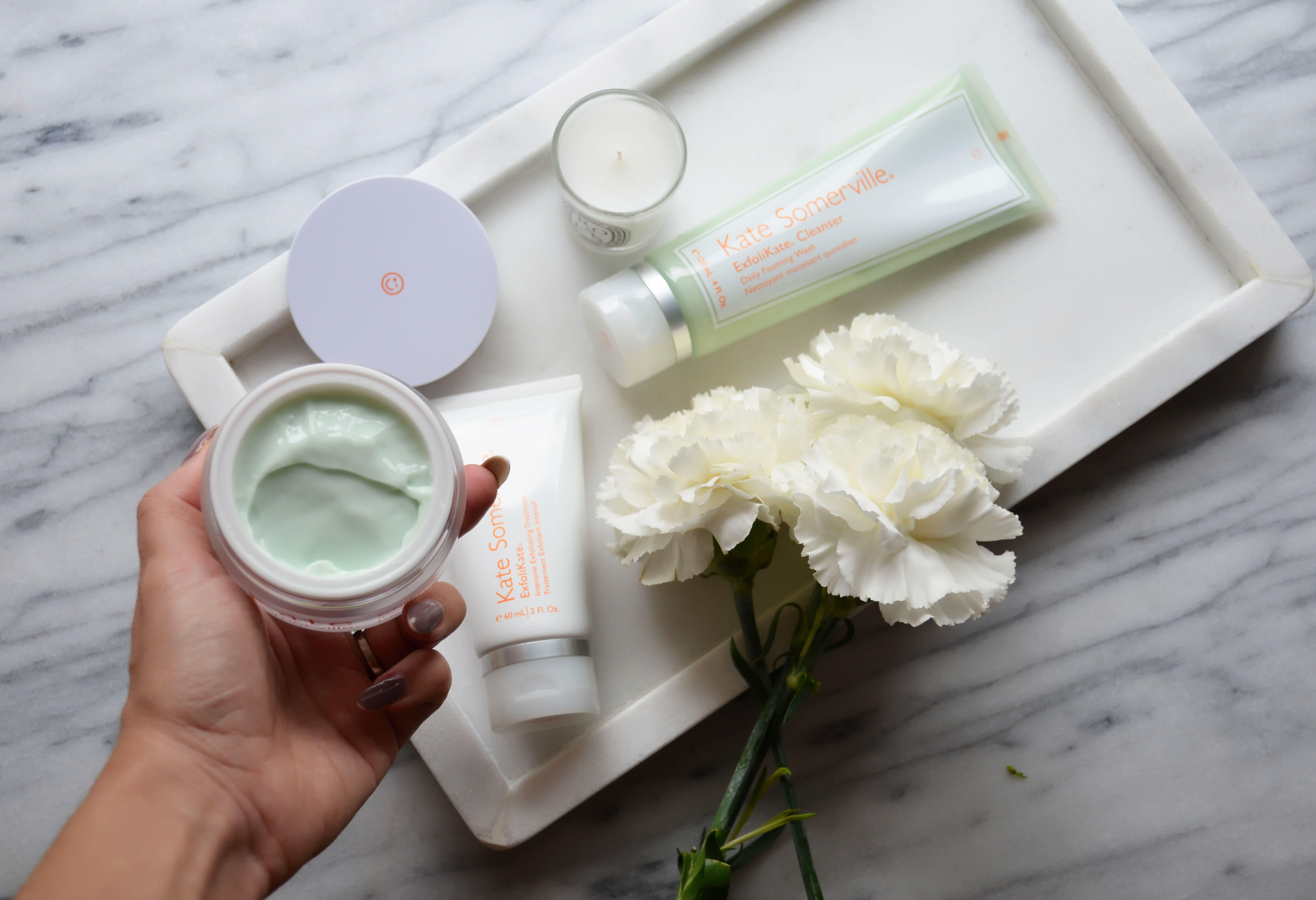 Kate Somerville is having a Friends & Family Sale on katesomerville.com and they were kind enough to provide me with a code that will get you 25% off of your total order. You can use the code 25MAKEUP17 (not an affiliate code) to save you some money on your skincare purchase. The code is valid till September 18th.
I also wanted to mention some of my favorites from the brand just in case you need any recommendations.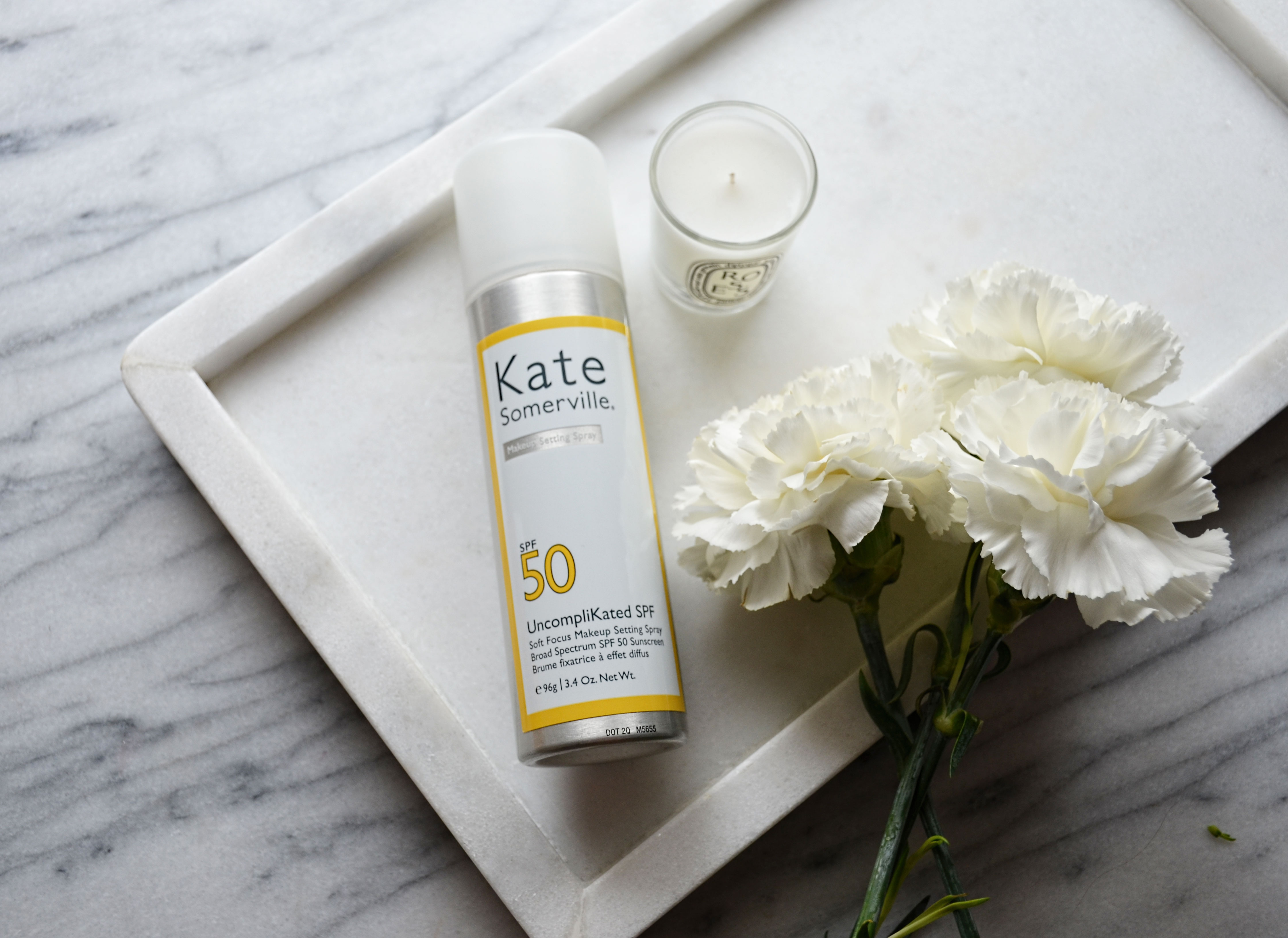 This summer Kate released the UncomliKated SPF 50 Soft Focus Makeup Setting Spray. It is a face sunscreen with SPF 50 that also sets you makeup, reduces shine and provides you with a soft focus effect. I love it because it removes one step in my makeup routine. And even if I forget to apply my sunscreen before my foundation, I can do that with the spray.
If you have dry skin, I highly recommend Kate's Goat Milk line. It is so gentle on the skin but provides a lot of hydration. I always come back to this line during the winter time since my skin gets on the dry side.
For anti-aging products, I recommend Wrinkle Warrior ( a 2-1 plumping moisturizer and serum), Mega C Dual Radiance Serum (a very potent Vitamin C serum) and Wrinkle Warrior Eye ( a great anti-aging and dark circle reducing eye cream).
As always feel free to email me or leave a comment here if you need any recommendations. Again, you can use the code(25MAKEUP17) till Monday September 18th and it will save you 25% off of any product on katesomerville.com.
*Products provided by Kate Somerville
SaveSave
SaveSaveSaveSaveSaveSave
SaveSaveSaveSave
SaveSave