The Hourglass Vanish Seamless Finish Liquid Foundation is the newest base launch from the brand. It is a full coverage but weightless foundation with a soft-focus satin finish. The new foundation is waterproof, transfer-proof and made to last up to 24 hours. It is vegan, cruelty free and non-comedogenic.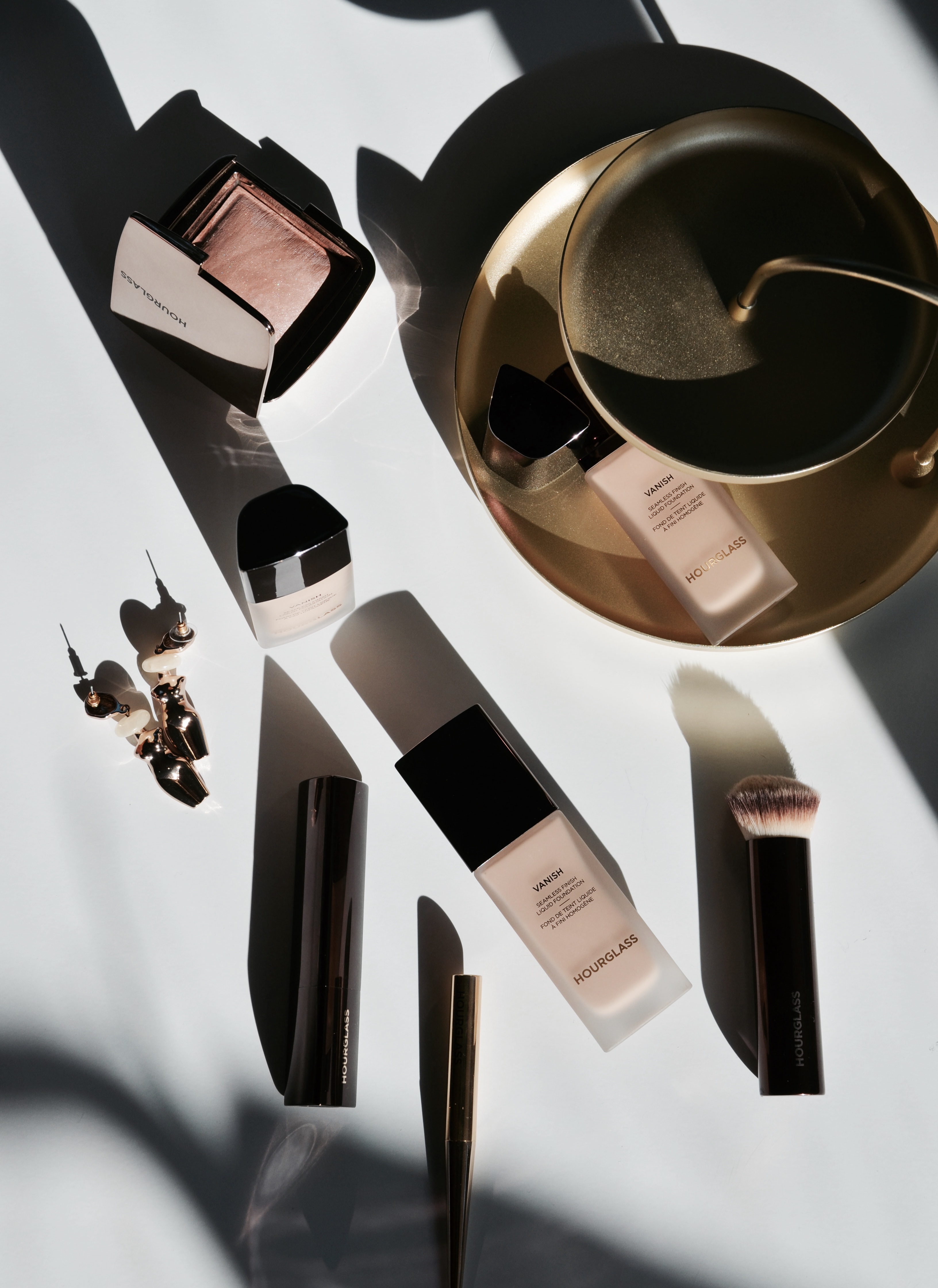 The Hourglass Vanish Seamless Finish Liquid Foundation comes in 32 shades, same as the Vanish Stick Foundation. I'm a big fan of the Vanish Stick foundation because it is very convenient. I use it both as a foundation and concealer and I can go as light or as heavy handed as I would like. But I know some people prefer a liquid foundation just because it is easier to work with.
The liquid Vanish Foundation is highly concentrated. You literally need half a pump to achieve full coverage, so less is more when it comes to this foundation.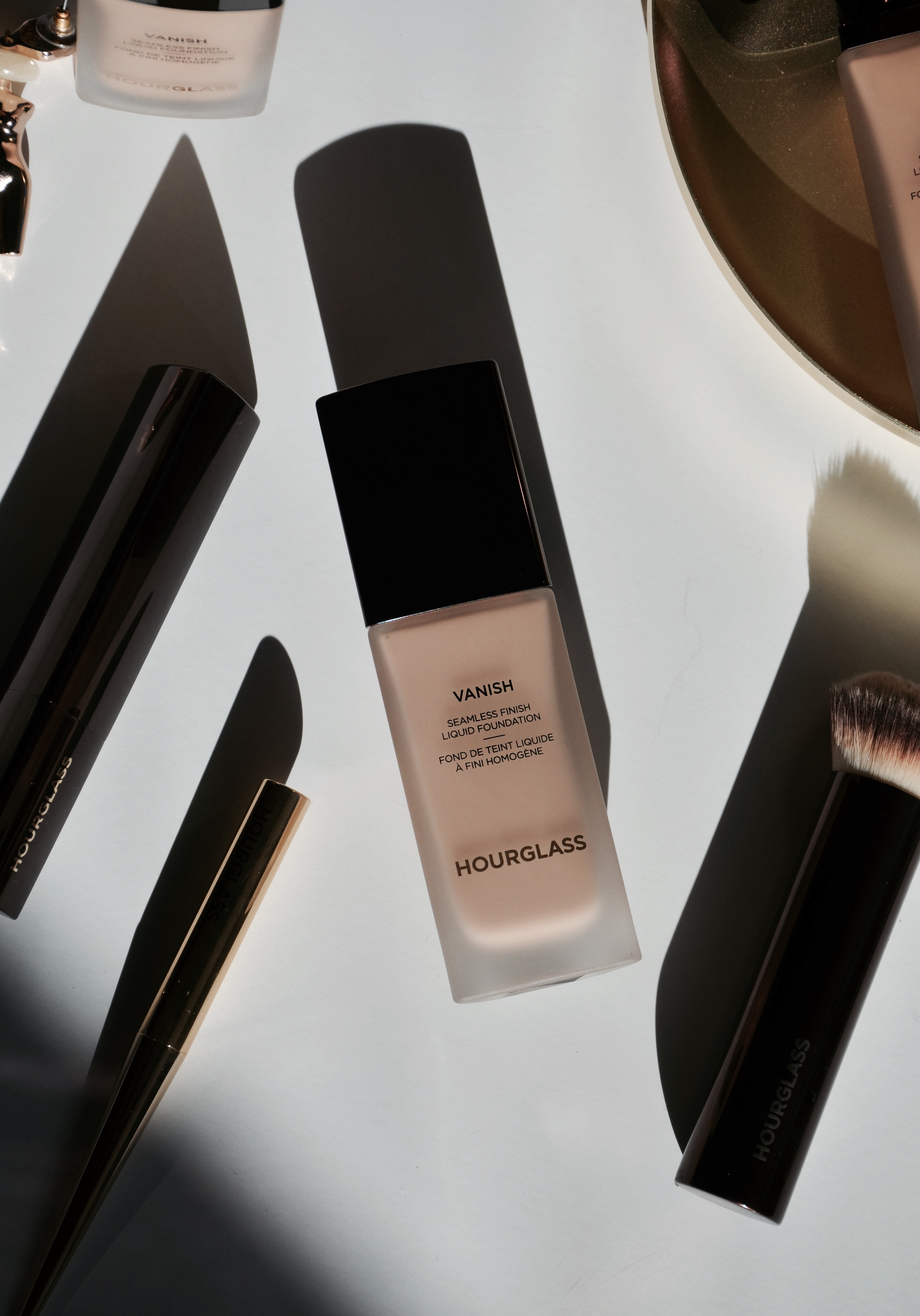 The Hourglass Vanish Liquid Foundation comes in a glass bottle and a pump. The design as with every Hourglass product, is very elegant and sleek. You get 0.84 fl oz in the bottle which is a little less than your usual foundation, but since you don't need a lot of product, I'm guessing the bottle will last you even more.
As for the shade range, the shades seem to be similar with the Vanish Stick foundation. I wear the shade in Nude in the stick and the same shade in the Vanish Liquid matches me well. I did notice (as you will see by the swatches) that the liquid version of my Nude shade has more yellow pigment. For shade reference, the shade in Nude is listed for light to medium skin tone with neutral undertones.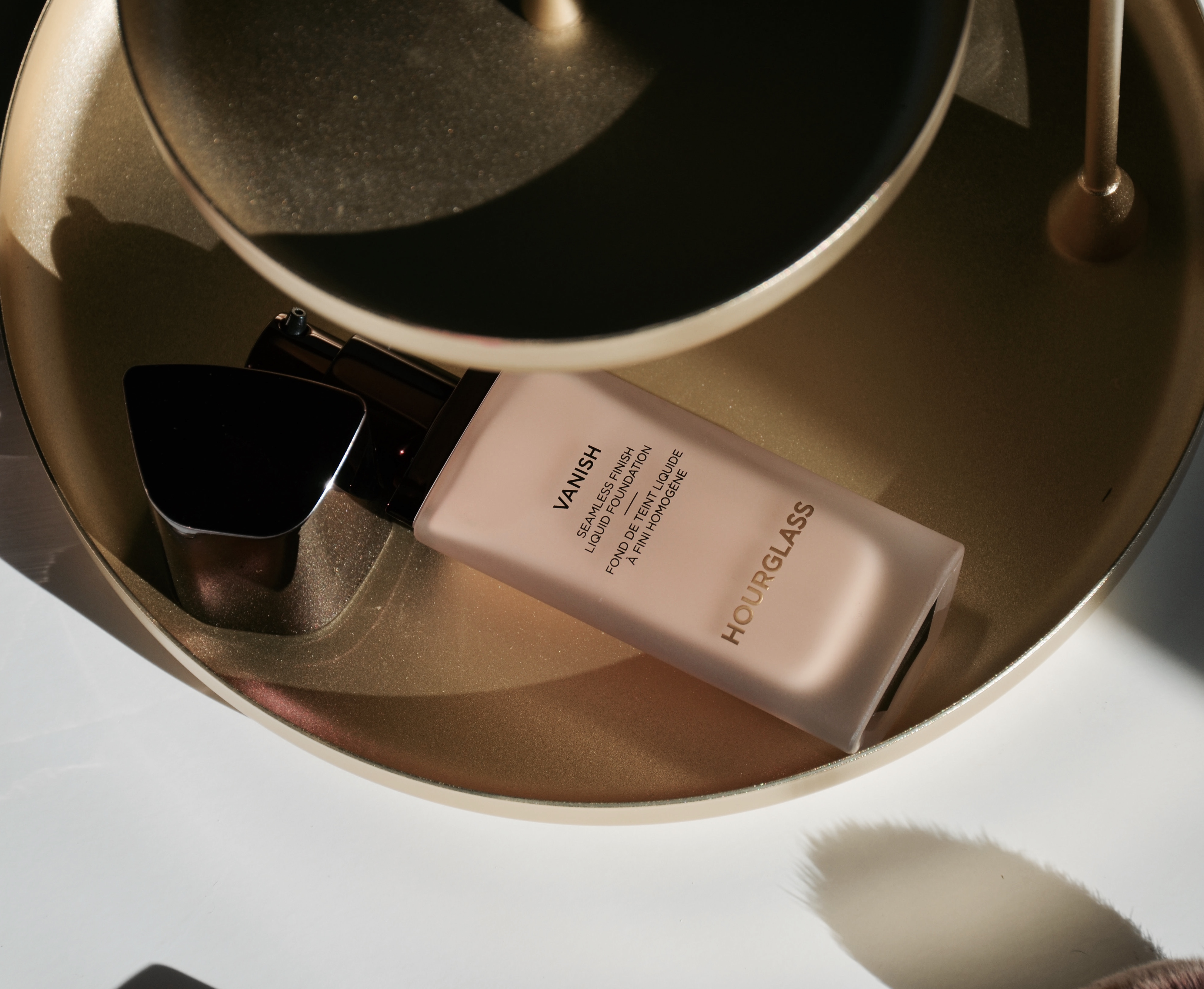 I also received two other shades to test in Ivory, good for light to medium skin tones with cool undertones and Warm Ivory, good for light to medium skin tones with warm undertones.
Hourglass's artists say that you don't need to use a primer with the Vanish Liquid Foundation. It is formulated that it doesn't need a primer in order to stick to the skin and last longer. Of course, if you are dry or even have normal skin like me, always make sure to moisturize your skin really well before applying a satin finish foundation.
When I first tested the Hourglass Vanish Liquid Foundation, I just applied a rich moisturizer before application. I used less than half a pump since I prefer lighter coverage on day to day basis. The foundation is indeed very pigmented. With less product, it covered my redness and some healing blemishes that I had and managed to look like skin. It has blurring properties so my pores near my nose looked less visible and more refined. The foundation didn't sink in in any lines and looked very natural on the skin.
I didn't use any powder to set it (except for my under eyes) and the Hourglass Vanish Liquid Foundation lasted good 8 hours. There was no fading or patchiness at the end of the day and the foundation finish got a little glowy at the end of the day.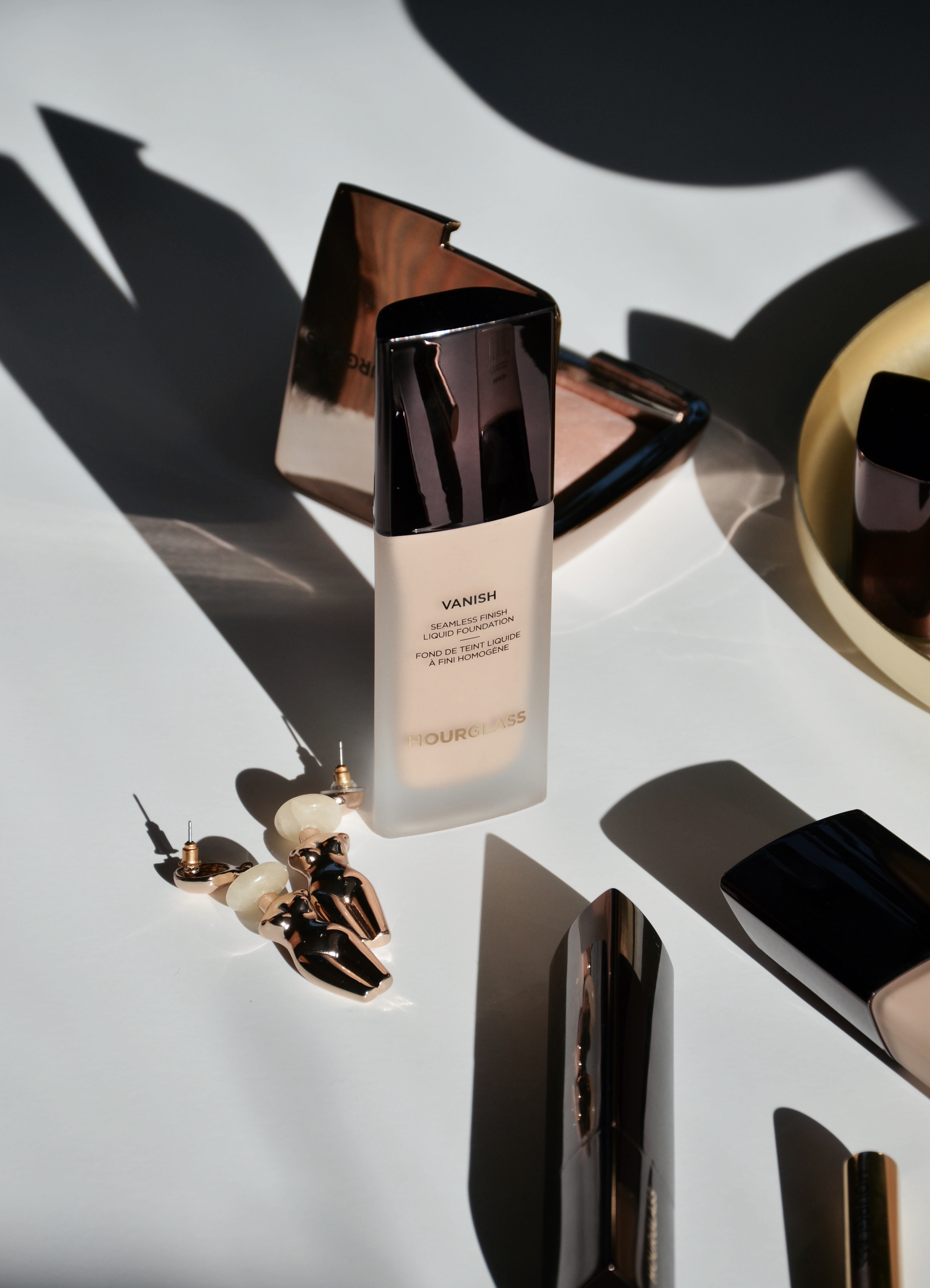 I used both a buffing brush for application and also a damp sponge, and both ways worked really well. Hourglass recommends using a fluffier brush if you like a more sheer coverage. They also recommend dotting the foundation directly on the face to make sure you get the most coverage on the spots where you need it the most. Also make sure to shake the bottle before application.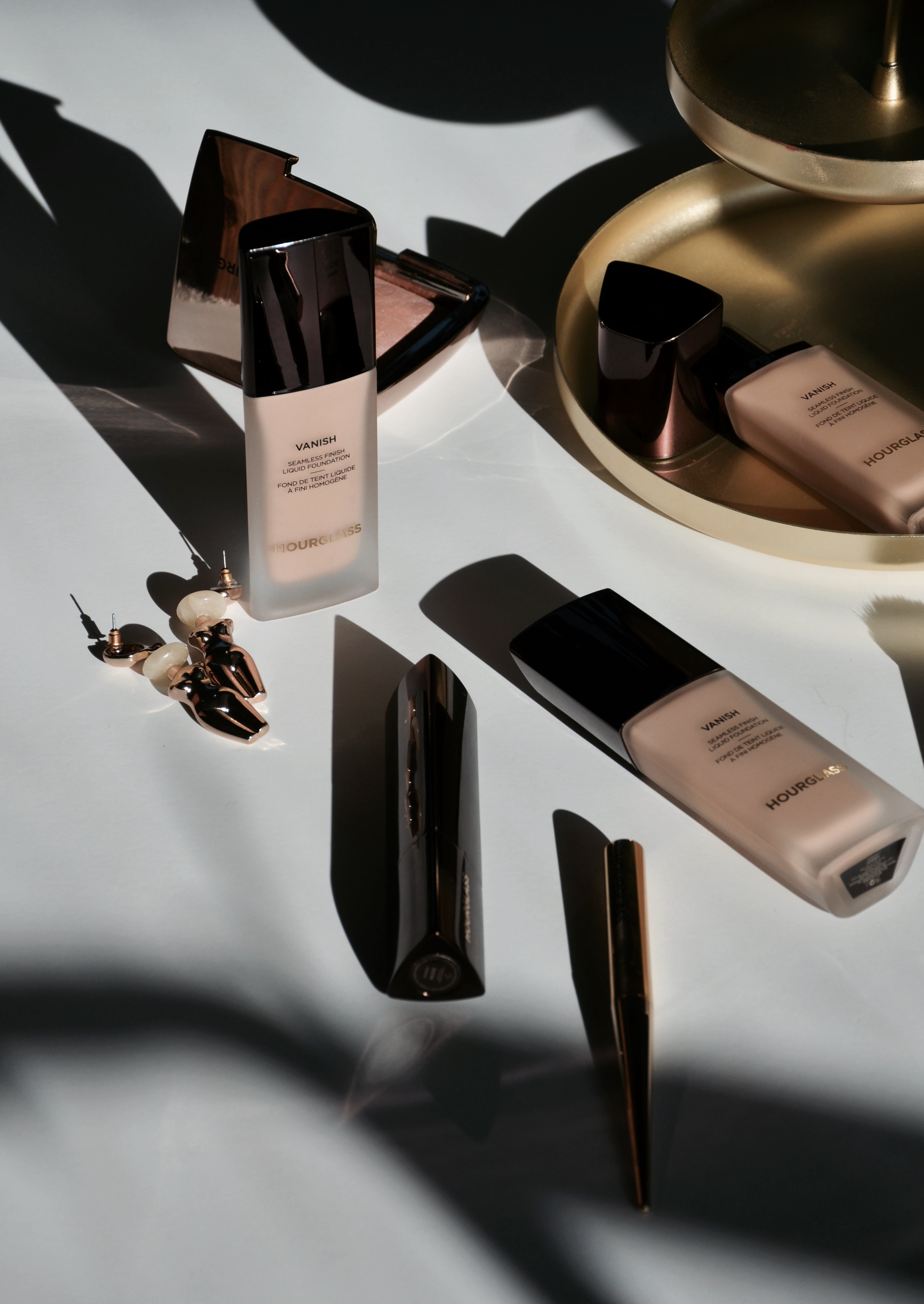 Swatches L to R: Hourglass Vanish Stick in Nude, Hourglass Vanish Liquid in Nude, Ivory, Warm Ivory
Bottom line, I love the Hourglass Vanish Seamless Finish Liquid Foundation. It will definitely be my go to foundation for both special occasions or even for every day (of course I'll have to use less product). It is the perfect foundation if you are looking for a flawless finish, full coverage but a base that still looks like skin. Since it's more of a satin matte finish, it will work for most skin types. If you are extremely dry or have a lot of dry patches, I recommend using a richer moisturizer before application (I always exfoliate if I have dry patches). If you are oily, I would use a primer that you usually use and set with powder.
If you are interested in seeing the Hourglass Vanish Liquid Foundation in action, I have saved my stories in my highlights under Tested on my Instagram page.
The Hourglass Vanish Seamless Finish Liquid Foundation is available at Beautylish, Sephora and Hourglass Cosmetics and is priced at $56.
*Many thanks to Beautylish for sending me three shades to try. As always all opinion is my own.