Persona Cosmetics is a newer brand in the makeup world. It was created by makeup artist and beauty blogger Sona Gasparian (you might know her from Youtube too). The brand started with eyeshadows and now it has lip and face products too. They sent me some of their best selling products to try so I wanted to share my thoughts with you guys.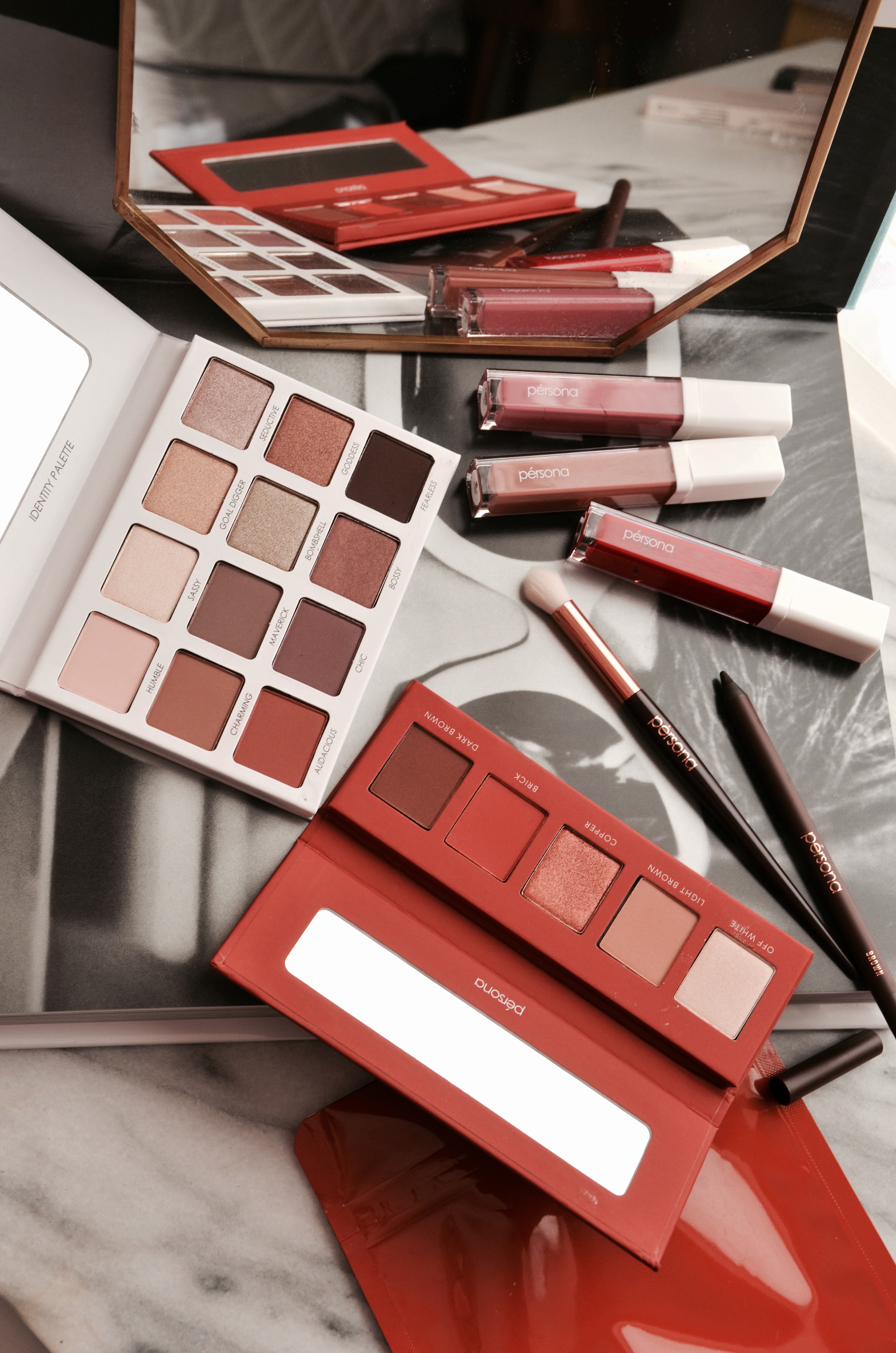 First up, the Identity Eyeshadow Palette. I think this was the brand's first release when they officially launched in 2016. The palette has 12 neutral shades both in matte and shimmer finish. It comes in thin cardboard packaging with a mirror that feels very sturdy and well done (I love the cute illustration on the palette).
The Identity Eyeshadow Palette is what I would call my perfect neutral palette. It features both warm and cooler tones and a good variety of matte and shimmery shades. You get your crease and lighter shades but also some deep shades that are perfect for creating smoky eyes.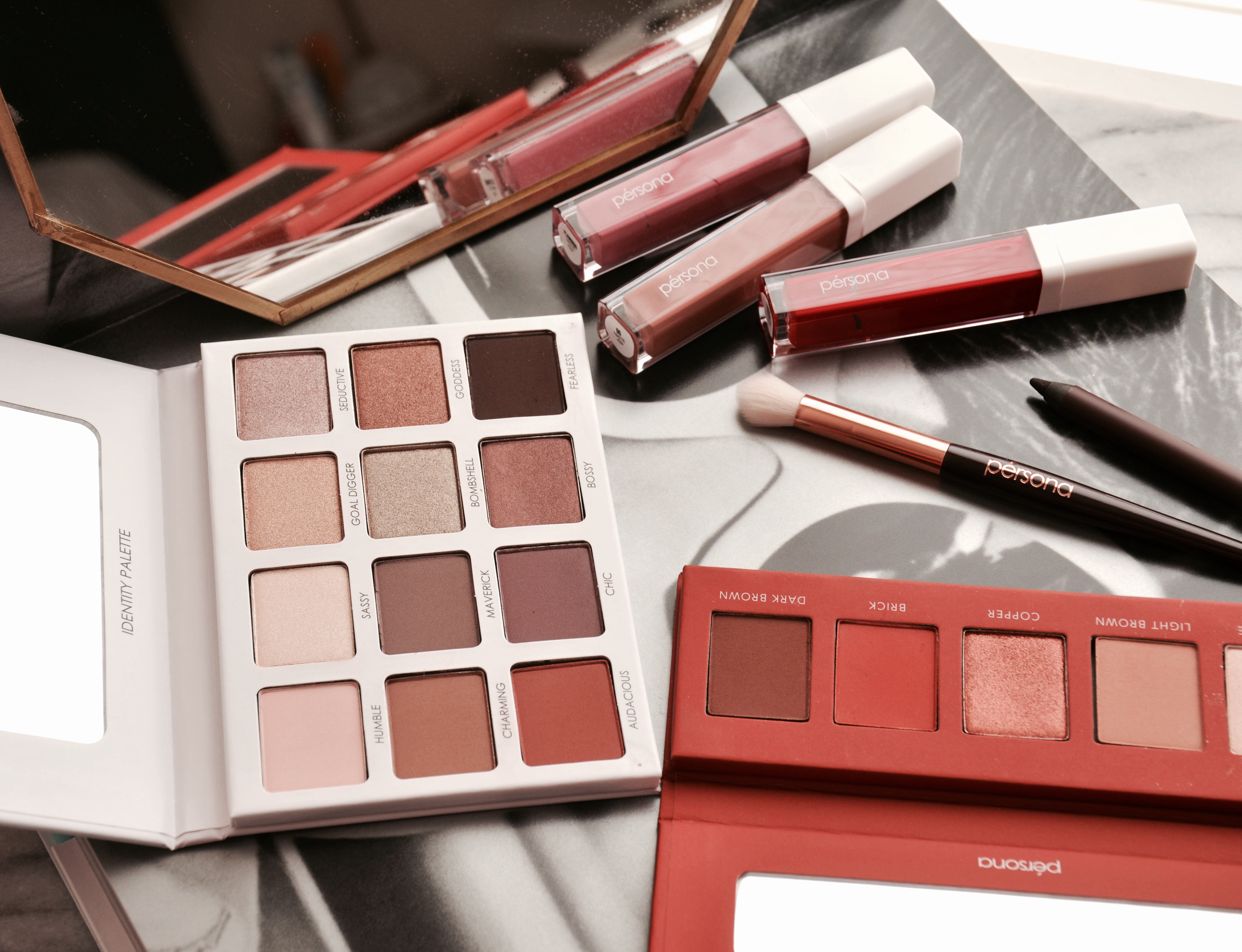 The formula of both matte and shimmers is amazing. They are buttery soft but don't have a lot of fallout. They blend with little to no effort on the eyes so they are beginner friendly too.

Swatches L to R: Humble, Sassy, Goal Digger, Seductive, Charming, Maverick

Swatches L to R: Bombshell, Goddess, Audacious, Chic, Bossy, Fearless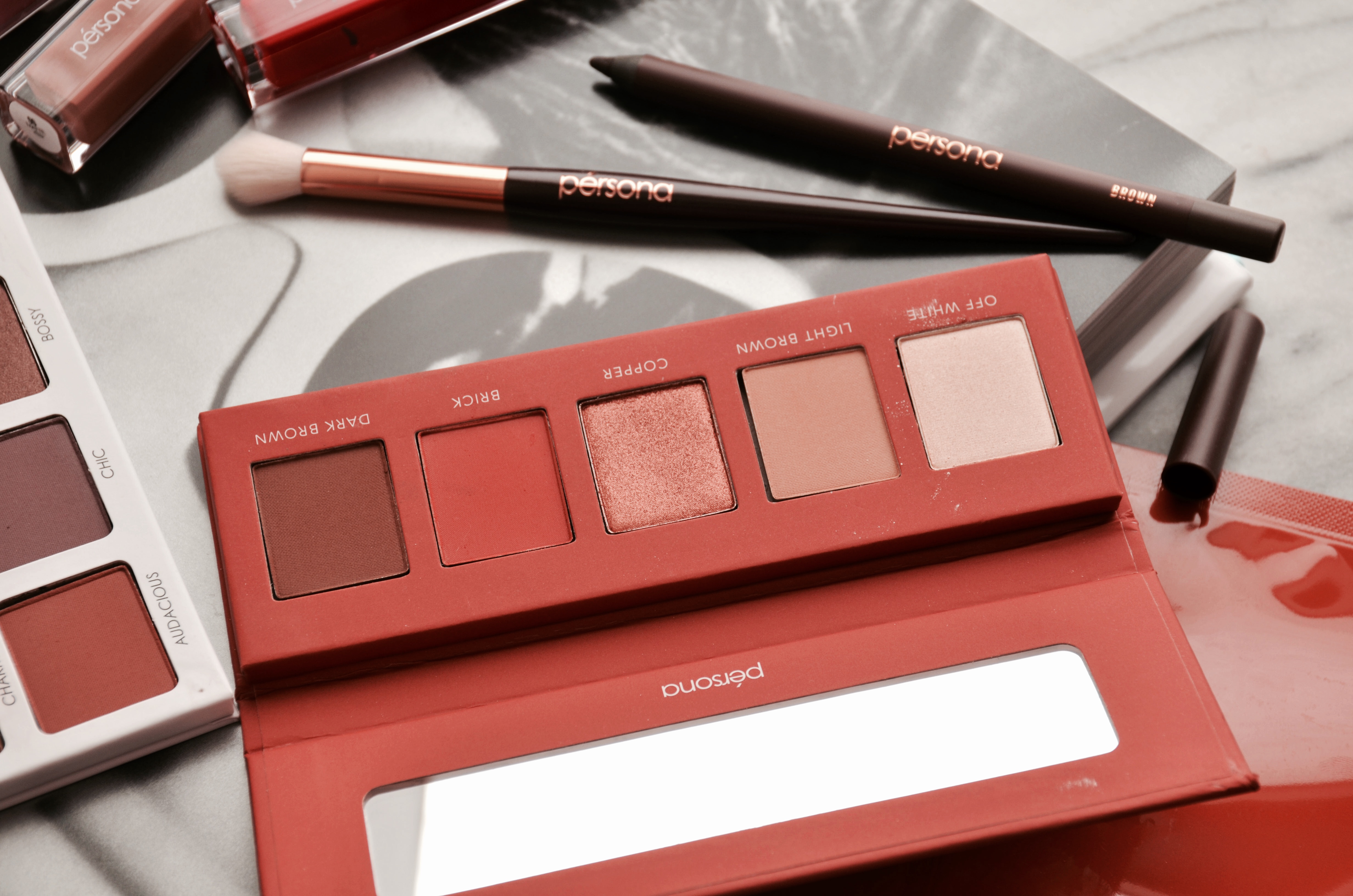 One of the newest releases from Persona Cosmetics are the Color Theory Eye Kits. There are two kits in the line in Copper and Pink. Both come with an eyeshadow palette, an eyeshadow brush and an eyeliner.
From the two, I received the Color Theory Eye Kit in Copper. The kit was formulated specifically to compliment brown and blue eyes. It features warm copper, orange and brown neutral shades. The five pan palette has a good variety of colors and finishes (three matte and two shimmers), enough to create different looks.

Swatches L to R: Off White, Light Brown, Copper, Brick, Dark Brown, waterproof eyeliner
If you like your warm toned coppers and orange shades, you will love this kit. The formula of the shadows is as amazing as their bigger palette (the shades might even feel creamier). I think that the dark brown eyeliner that's included in the kit compliments the eyeshadow palette really well. I used it both in my waterline and as an eyeliner and both times it worked really well and stayed put all day.
The fluffy brush that's included in the kit is of great quality. It is a good blending brush and very comparable in quality to Mac and Zoeva brushes.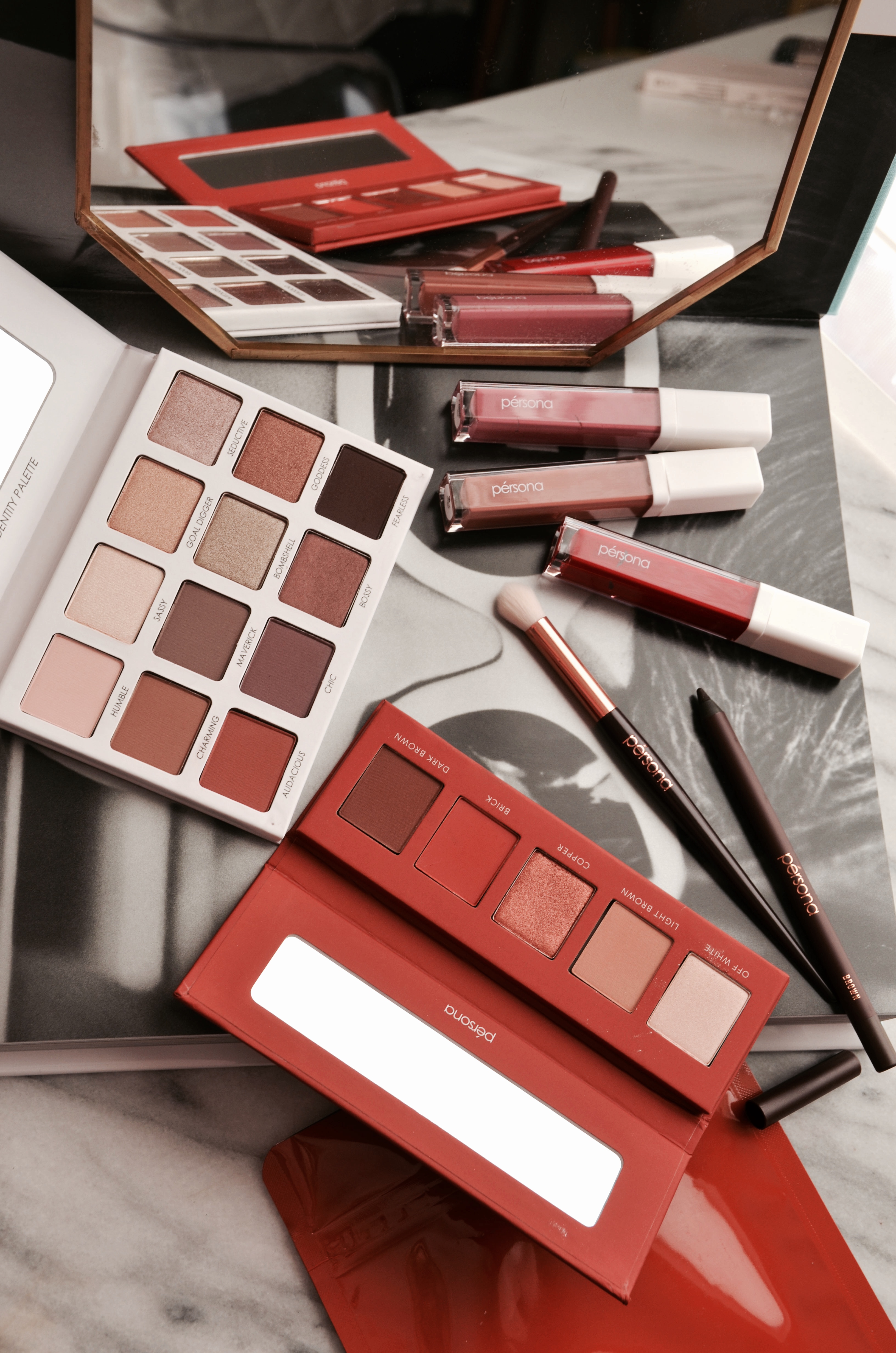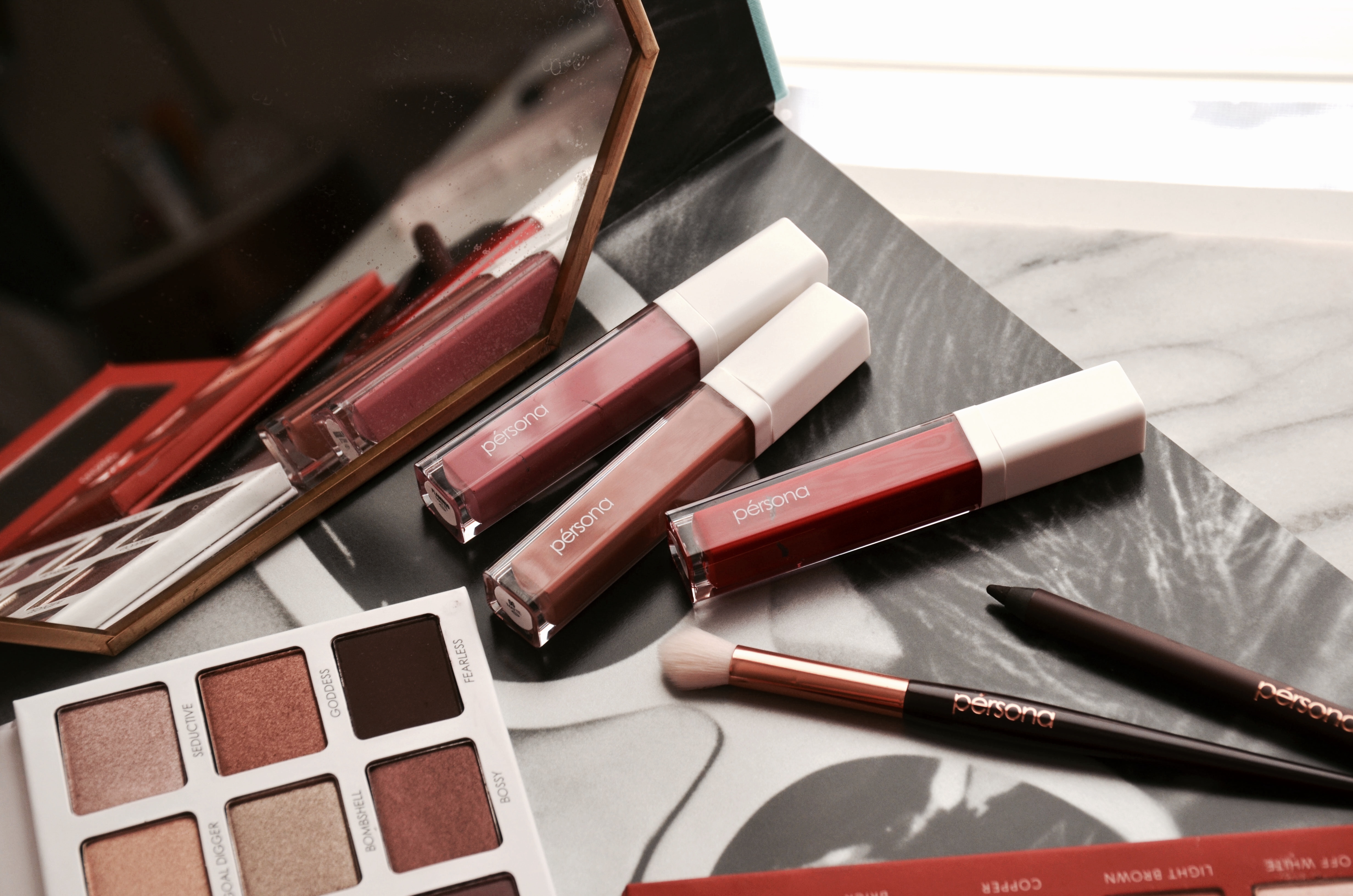 And lastly, the Matte Liquid Lipsticks. She has three shades in OG (classic warm nude), Flamingo (mauve pink) and Holy Grail (a classic red).
The formula of the Matte Liquid Lipsticks is one of the most comfortable formula I've tried. It is opaque with one swipe, very long-lasting, but also doesn't feel overly drying on the lips. I think for a first launch she picked some great colors, colors that will suit all skin tones. I love all three shades but especially the Holy Grail red shade.

Swatches L to R: OG, Flamingo, Holy Grail
Bottom line, I pretty much liked everything that I've tried so far from Persona Cosmetics. There was not one miss for me which is pretty impressive for a newer makeup brand. I feel like her products are well thought out and they feel like they were worked on for awhile before their release.
I'm looking forward to seeing what's next for the brand. I would love to see more lipstick formulas or even glosses, some cream eyeshadows and base products.
*PR Sample