Estee Lauder released a new makeup collection that is in collaboration with their Global Beauty Director, Violette. The La Dangereuse Collection was inspired by femme fatale, the glamorous and mysterious woman. The collection features everything from eyeshadow palettes, to a cheek palette and lipsticks.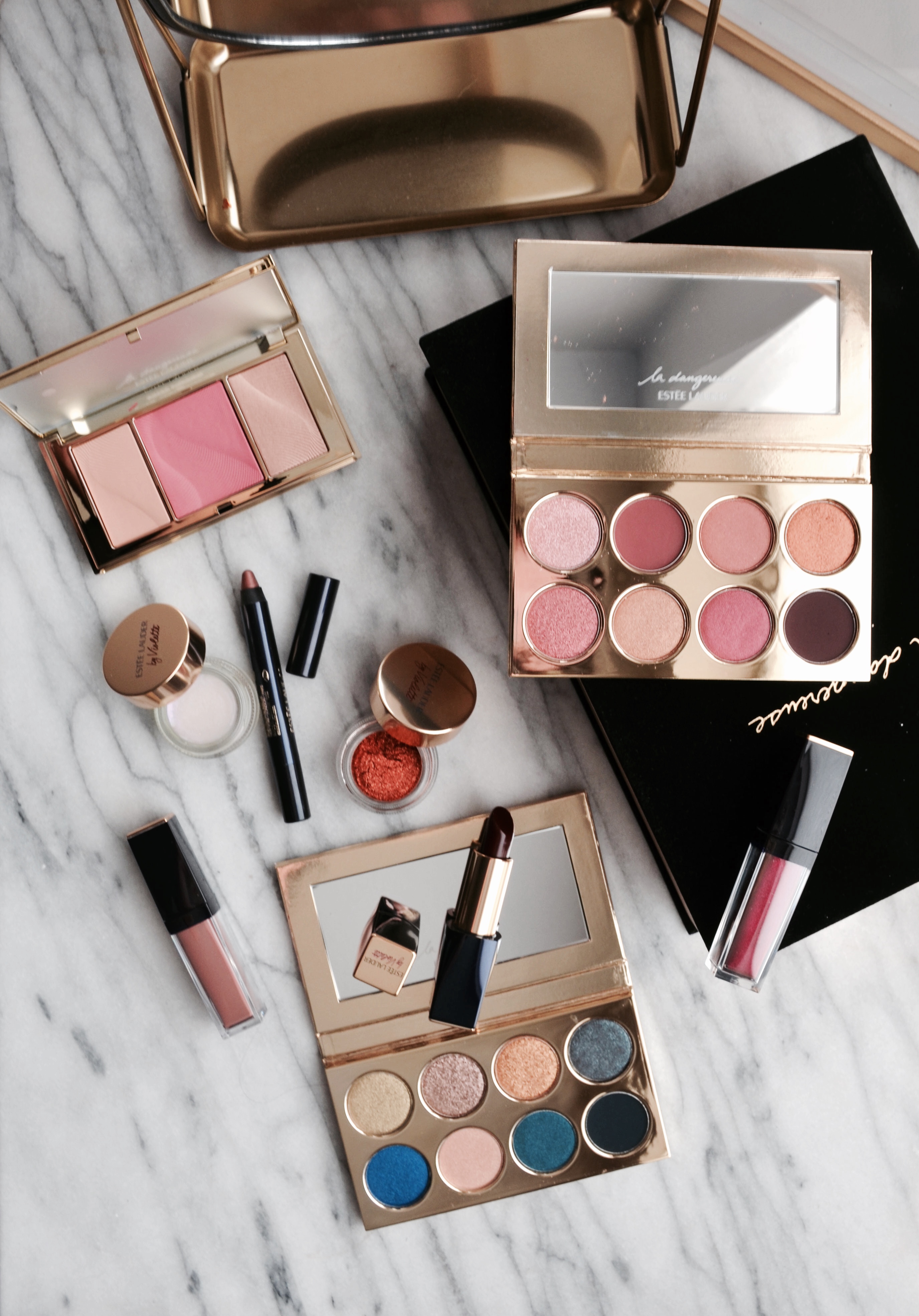 As I mentioned before, the La Dangereuse Collection has everything you need to do a full face of makeup (you will still need your base and a mascara).
There are two eyeshadow palettes in the line, both featuring a lot of pops of color but also some neutral shades. The Amour Amour palette has 8 eyeshadows that come both in a shimmer and matte finish. It has warm toned and rich coppers, burgundy and golds.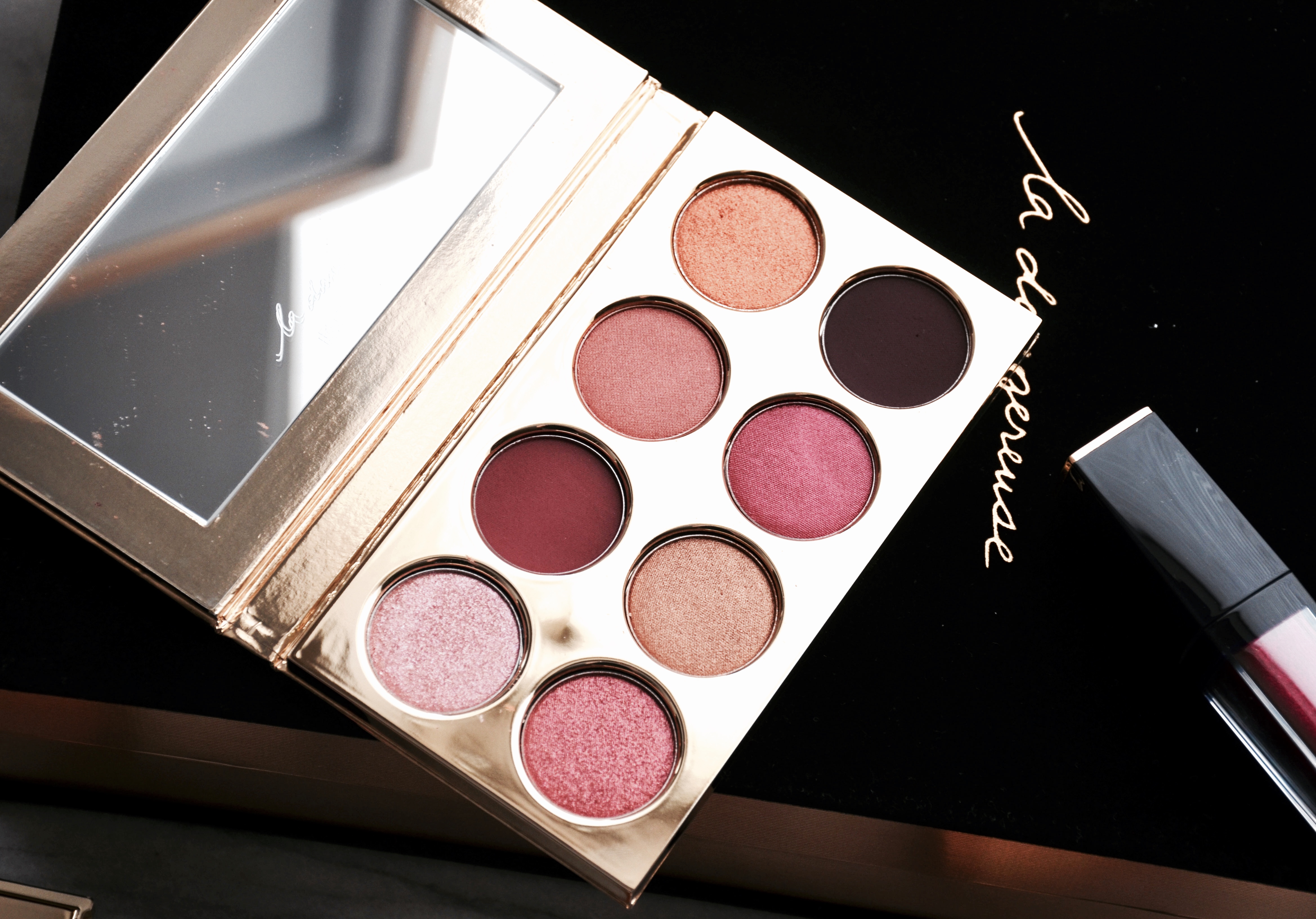 The Amour Amour Eyeshadow Palette is definitely for someone who loves warm toned smoky eyes with a pop of color. The rich burgundy and dark purple make for great shades for the fall but I would also wear some of the warm shades in summer. The pigment of both the shimmers and matte shades is excellent. The matte shades are buildable and easy to work. They blend well and I didn't experience any patchiness.

Swatches of the Estee Lauder La Dangereuse Amour Amour Eyeshadow Palette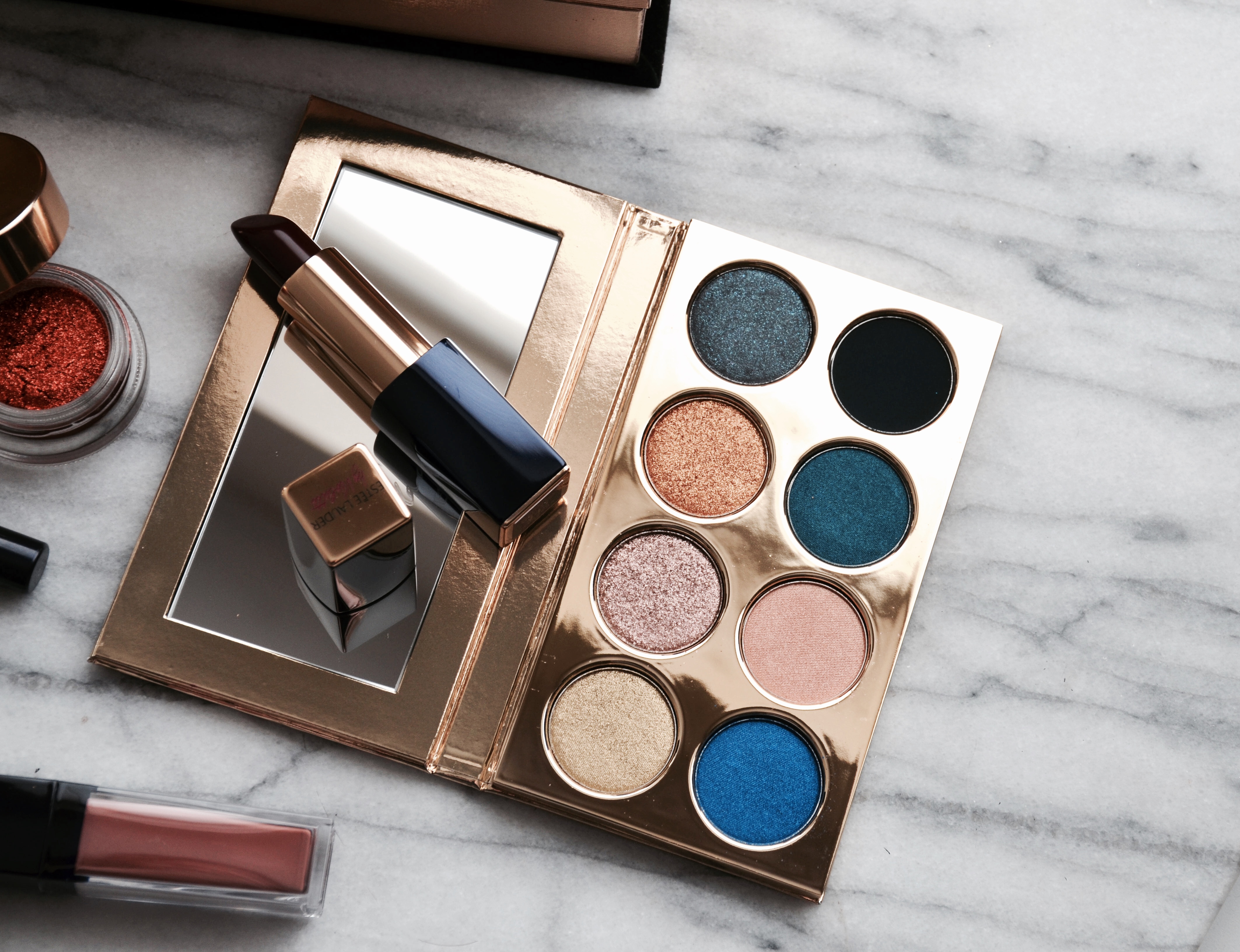 Blue Dahlia is the other eyeshadow palette in the collection. It comes with beautiful gold shades but also blue shades that make for great pops of color.
This is actually my favorite from the collection since I don't have any palettes that feature the shades of blue that the Blue Dahlia has. The pigment feels the same as the Amour Amour Palette and the palette is very easy to work with.

Swatches of the Estee Lauder La Dangereuse Blue Dahlia Eyeshadow Palette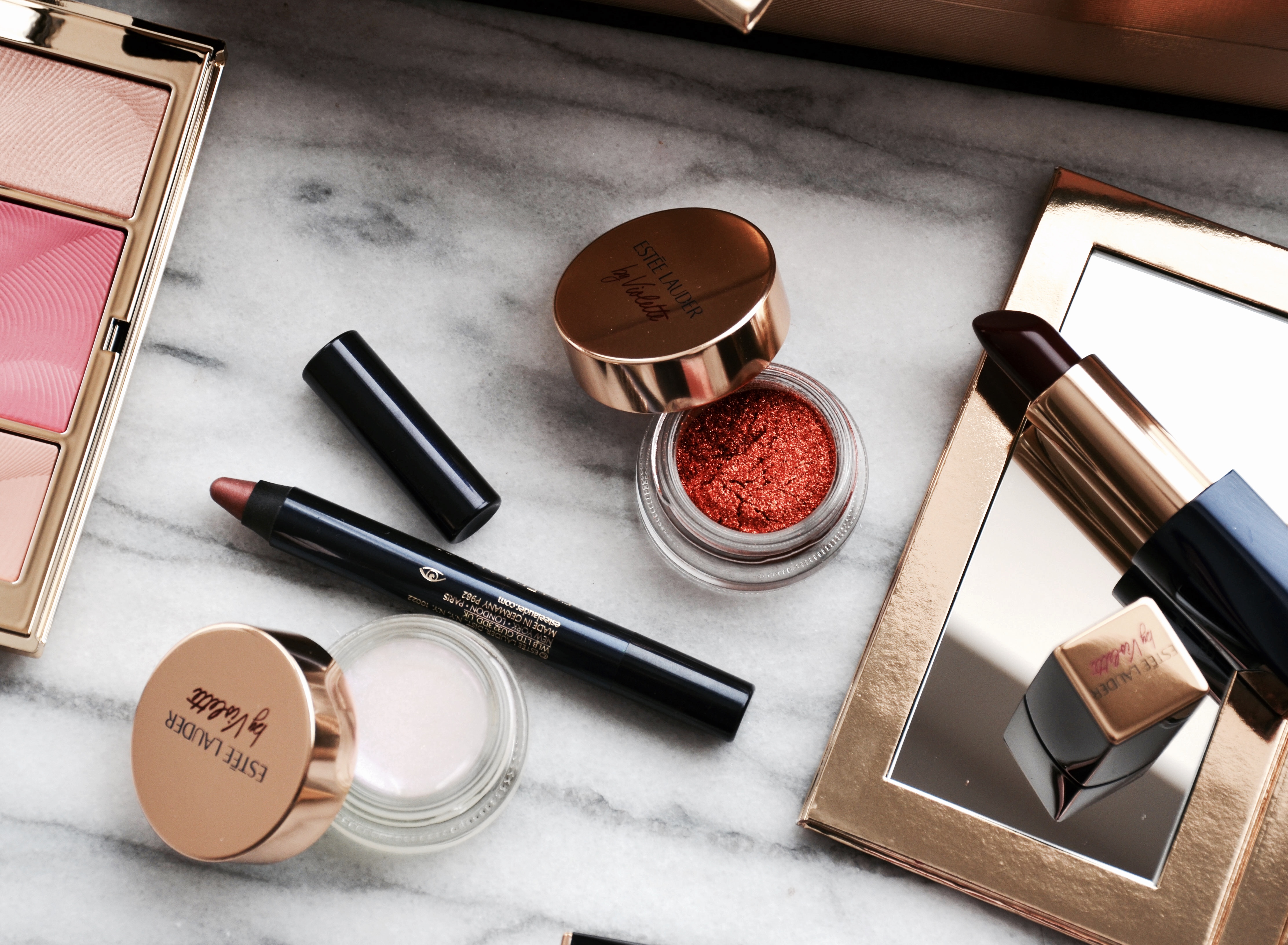 To complete the eyeshadow look and add a touch of glamour or grunge, Estee Lauder added an Eye Gloss and a Glitter Pot in Burning Star. There is also Deluxe Eye Crayon in Sly & Sultry that you can use for quick eyeshadow looks, as an eyeshadow base or even as eyeliner.
The Eye Gloss in Sheer Scandal has a sheer base and a pearlescent shine. You can use this on it's own or over top powder eyeshadows. The eye gloss will crease if its used over powder eyeshadow (that happens with every eye gloss) but I love that worn in grungy look that an eye gloss gives. The formula is a little bit sticky and adheres really well on the eyes. On it's own, it gives a glossy, almost wet look on the eyes which I love.
The Glitter Pot in Burning Star is a loose glitter in a burned orange copper shade. It is meant to be used on the eyes, cheekbones, lips and bare shoulders. It is quite messy so I recommend using some kind of glitter glue on the eyes before application.
The Deluxe Eye Crayon in Sly & Sultry is a beautiful burned bronze shade. The formula is creamy but sets and doesn't budge all day. I love to use these types of cream eyeshadows for quick eye looks but also as an eyeliner.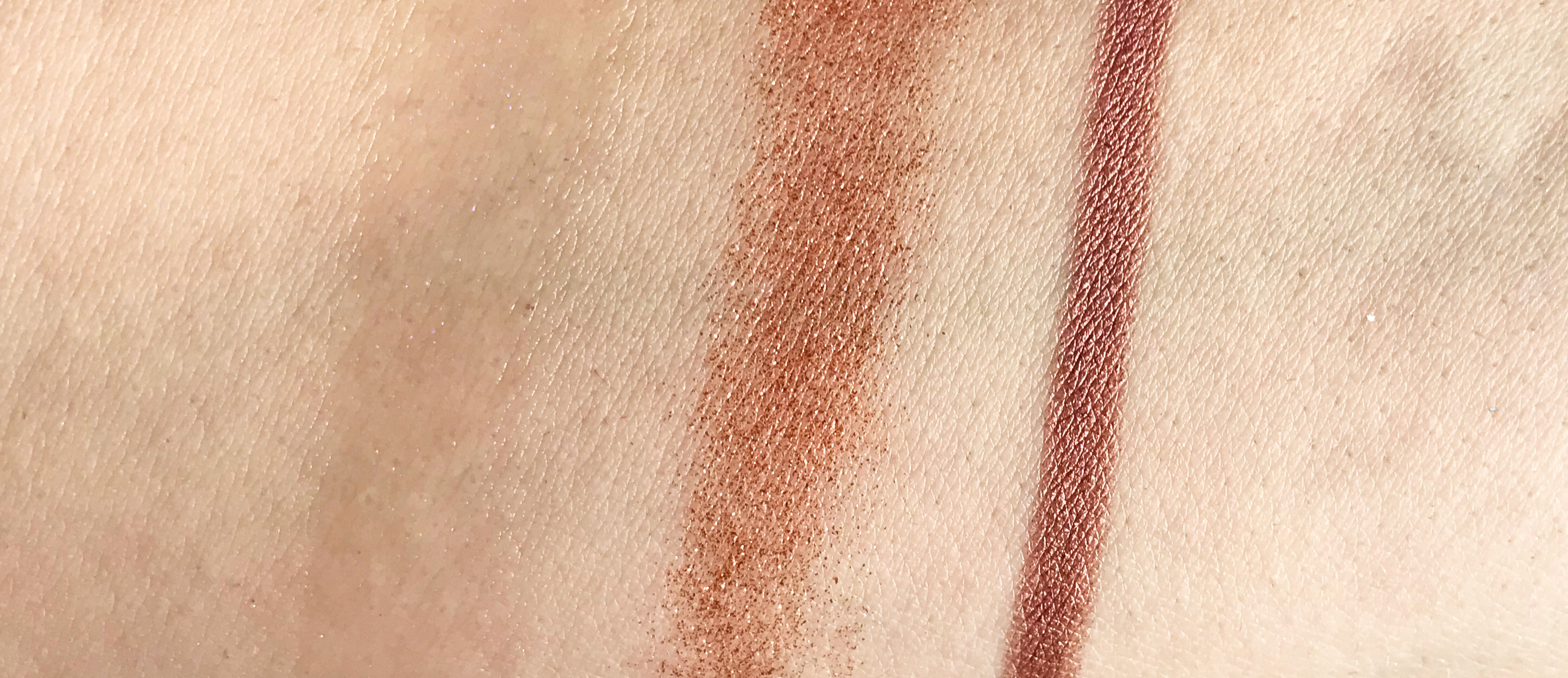 Swatches L to R: Eye Gloss in Sheer Scandal, Glitter Pot in Burning Star, Deluxe Eye Crayon in Sly & Sultry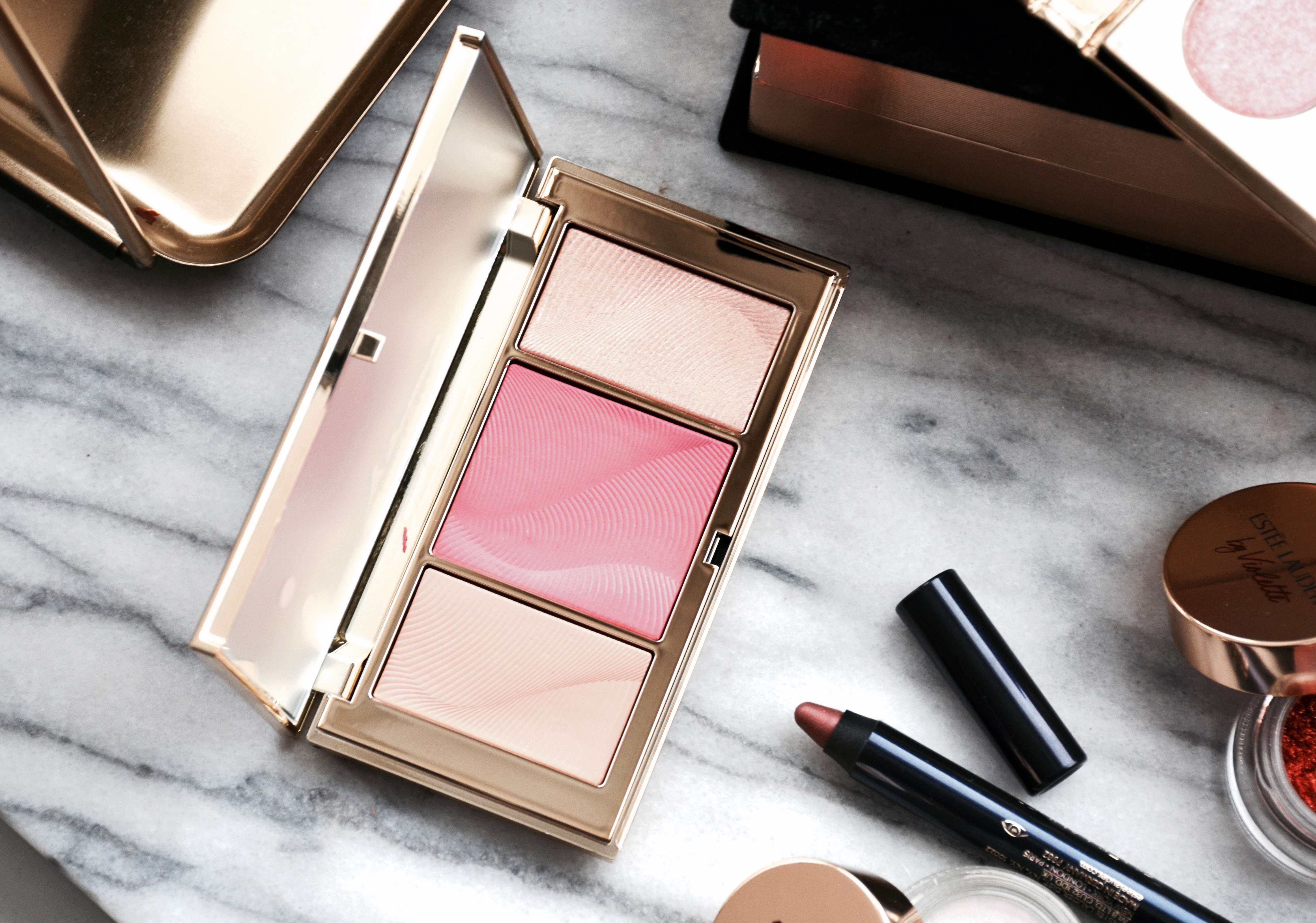 The Pure Color Envy Sculpting Face Trio in Swirling Passion is a face palette that comes with a bronzer, blush and highlighter. The colors in the palette are quite light so they are better suited for people with fair and light skin tones. Except of the blush and highlighter, if you are darker, the bronzer will not show up on your skin.
The formula of the powders in the palette feel like a mix of gel and powder. They don't kick off any powder when you dip your brush in to the pan and appear very smooth on the skin.
Swatches of the Estee Lauder Pure Color Envy Sculpting Face Trio in Swirling Passion
There are three lip products in the line. One is a classic lipstick and two are liquid lipsticks. The Pure Color Envy Sculpting Lipstick in Diabolique is a beautiful deep wine shade. The formula is creamy and feels hydrating on the lips but the lipstick has pretty good lasting power. Since it is a vampy shade I always use a lip liner to prevent bleeding and make sure the lipstick lasts longer.
The Pure Color Envy Paint On Liquid LipColor in Naked is a cooler toned beige nude shade in a matte finish. The formula of these is super light and liquidy but dries down to a matte finish. It is very comfortable to wear and doesn't dry out the lips like other liquid lipsticks.
La Dangereuse comes in the same formula as Naked but has a foiled finish. You can see sparkles but it is a very wearable metallic shade that is not over the top. I don't like metallic lipsticks but this shade is more subtle so I would definitely wear it.

Swatches L to R: Naked, La Dangereuse, Diabolique 

Naked

Diabolique

La Dangereuse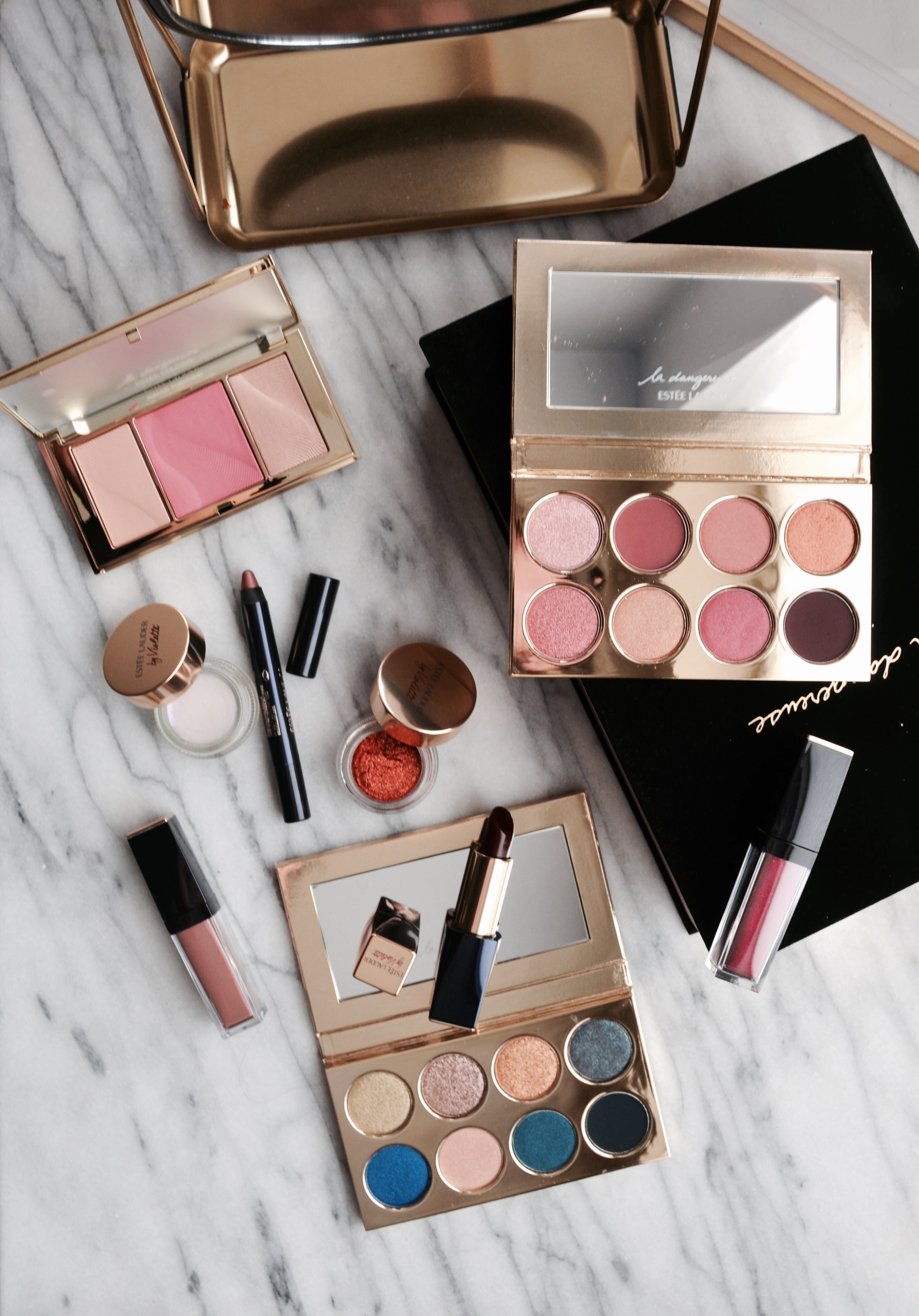 Bottom line, The La Dangereuse Collection is a big hit for me. I love both eyeshadow palettes and the lipstick shades that come with the collection. I wish Estee Lauder made more shades of the face palette because the formula is lovely (the bronzer is too light for my medium skin tone). The eye gloss is also lovely and the cream eyeshadow will be used a lot since I love cream eyeshadows for every day use.
*PR Sample