I'm a big fan of dewy and glowy skin. I wear a glowy base year round but especially for summer, I love it even more. As the season changes and we get to warm and then hot weather, my base changes too but also the makeup products that I use. In summer, it's all about the cream and liquid makeup products.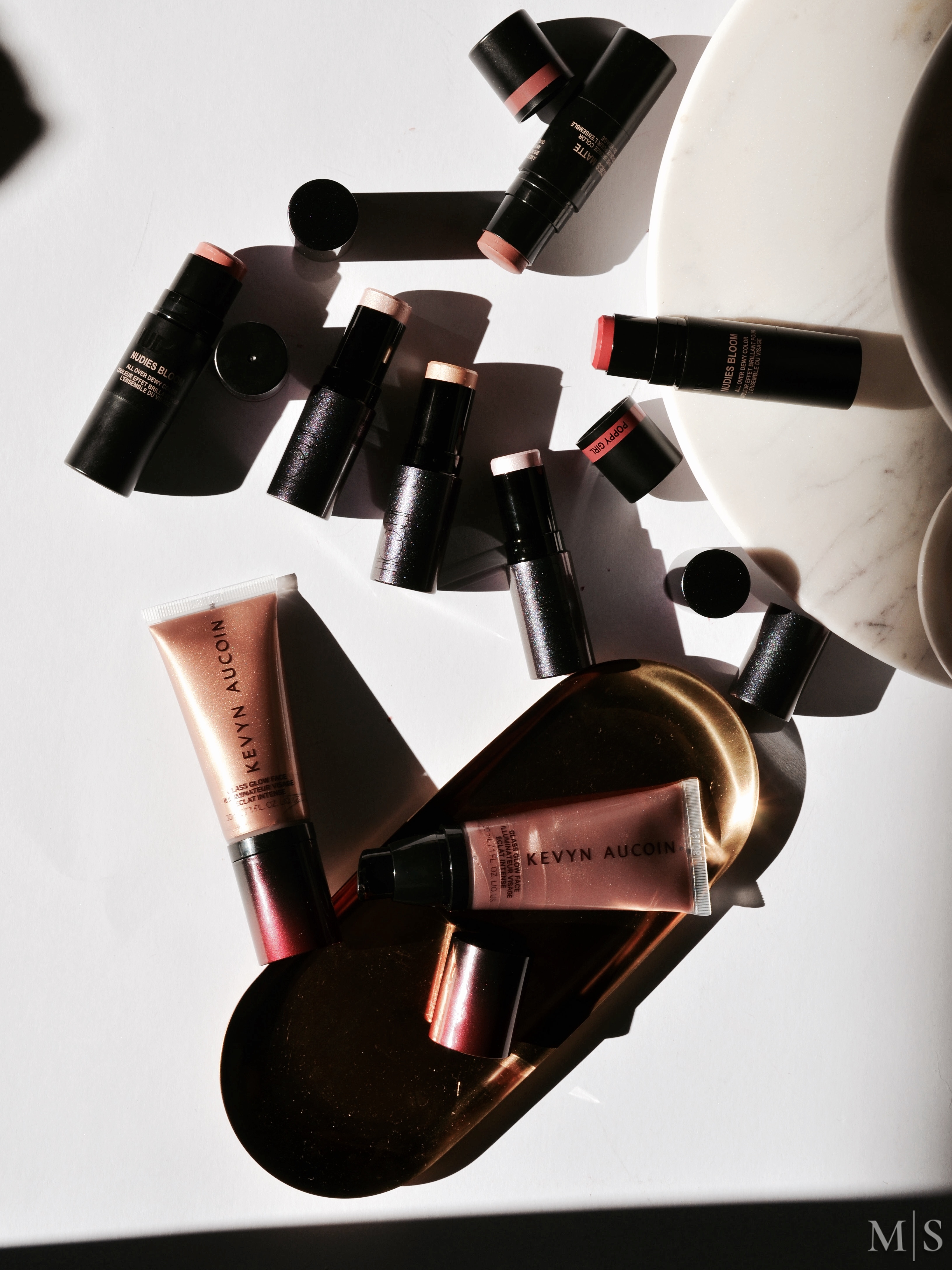 I've been testing some new cream/liquid makeup releases so I wanted to share my picks. These are products that I recommend if you are looking for glowy skin but without the harsh shimmer. I focused mainly on cheek products that include cream blushes and cream and liquid highlighters.
First up is the Kevyn Aucoin Glass Glow Face Liquid Highlighter*. This comes in three shades and I got two to share. The Kevyn Aucoin Glass Glow Face Liquid Highlighter* is described as a face gloss that gives the complexion and youthful glow and a glassy complexion.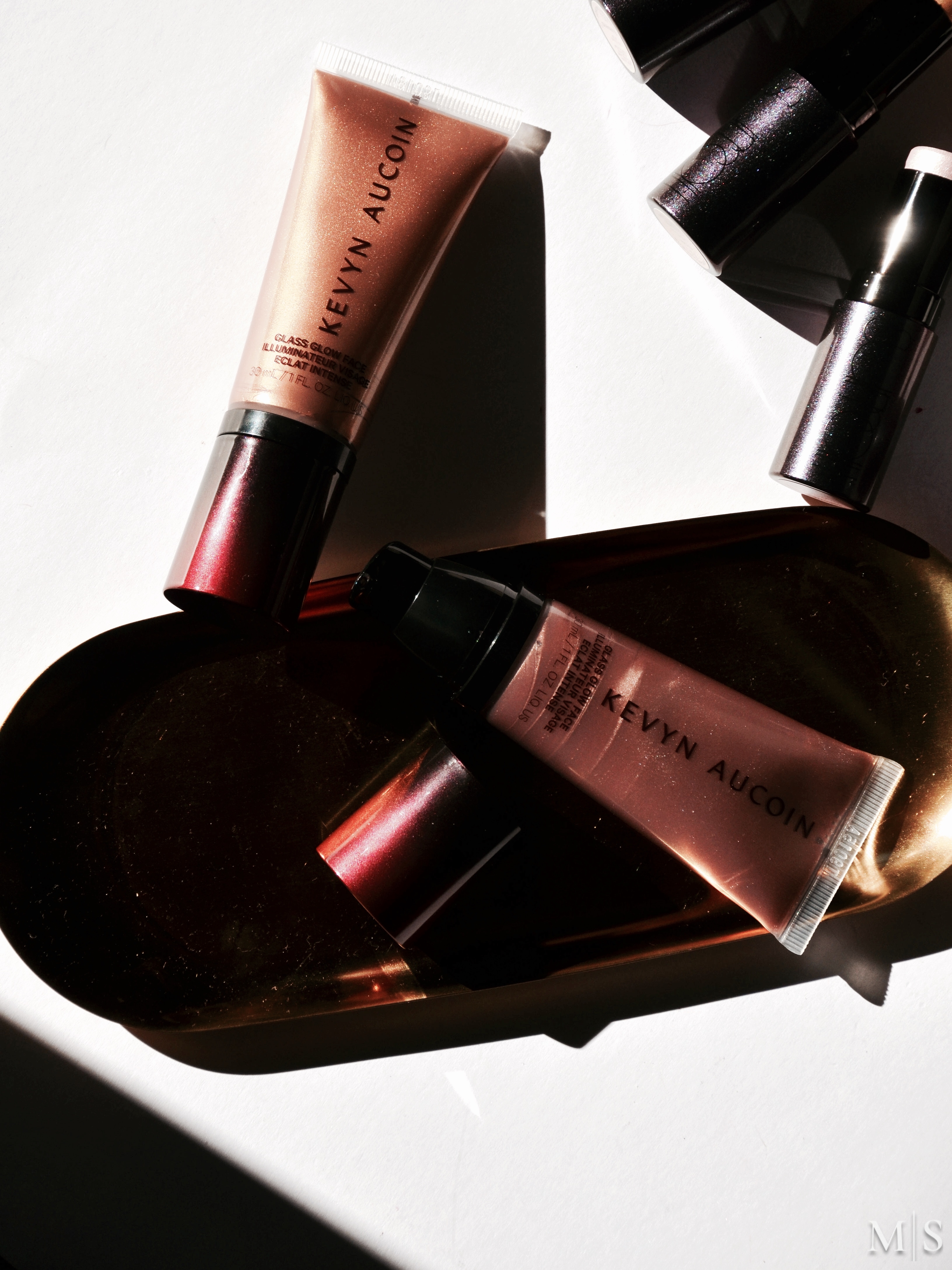 Highlighted Ingredients:
– Passion Fruit Oil: Rich in omega 6, promotes a smooth touch on the skin.
– Marula Oil: Rich in antioxidants and with omega fatty acids 3, 6, and 9; supports skin hydration; and soothes and reduces redness.
As I mentioned before, there are three shades in Crystal Clear (sheer), Prism Rose (radiant) and Spectrum Bronze (warm).
Both Prism Rose and Spectrum Bronze work well for my medium skin tone. Spectrum Bronze is a tiny bit darker but when I sheer it out, I can get away with using it as a highlighter.
You can use the Kevyn Aucoin Glass Glow Face Liquid Highlighter as a spot highlighter, mix with your foundation or BB cream and also use as an illuminating primer.
The finish of the Glass Glow is magical. As the name implies, this gives a beautiful dewy glow on the skin and a glass effect. It is hydrating and balm like and doesn't dry down. If you are oily, this might be too dewy for you, but if you are dry, normal and even combo, you will love it.

Swatches L to R: Prism Rose (heavy swatches and blended), Spectrum Bronze (heavy swatched and blended)
Nudestix released a new cream blush formula called the Nudies Bloom All Over Dewy Color. I picked up two of the four available shades in Sweet Peach Peony (soft peach) and Poppy Girl (vivid glowing coral). I also included a shade from their Nudies Matte Blush & Bronze in Sunkissed (coral bronze) because I've been wearing that shade a lot.
The new Dewy Color gives a glossy effect on the skin with a sheer wash of color. The shades that I got appear darker in the stick, but as soon as you blend them, you get a subtle wash of color. These don't set as their matte formula so I think will be more suited for dry and normal skin.
I find the formula similar to the Nudies Matte when it comes to blending and wear. They are easy to blend, you can use either your fingers or a brush and wear well through the day.
Just a tip, if you are wearing a fuller coverage foundation, I would either use my fingers for application or a brush. If you apply the Nudies Bloom All Over Dewy Color directly from the stick, your foundation might move and not look as perfect. This doesn't happen to me when I wear a light or sheer coverage base.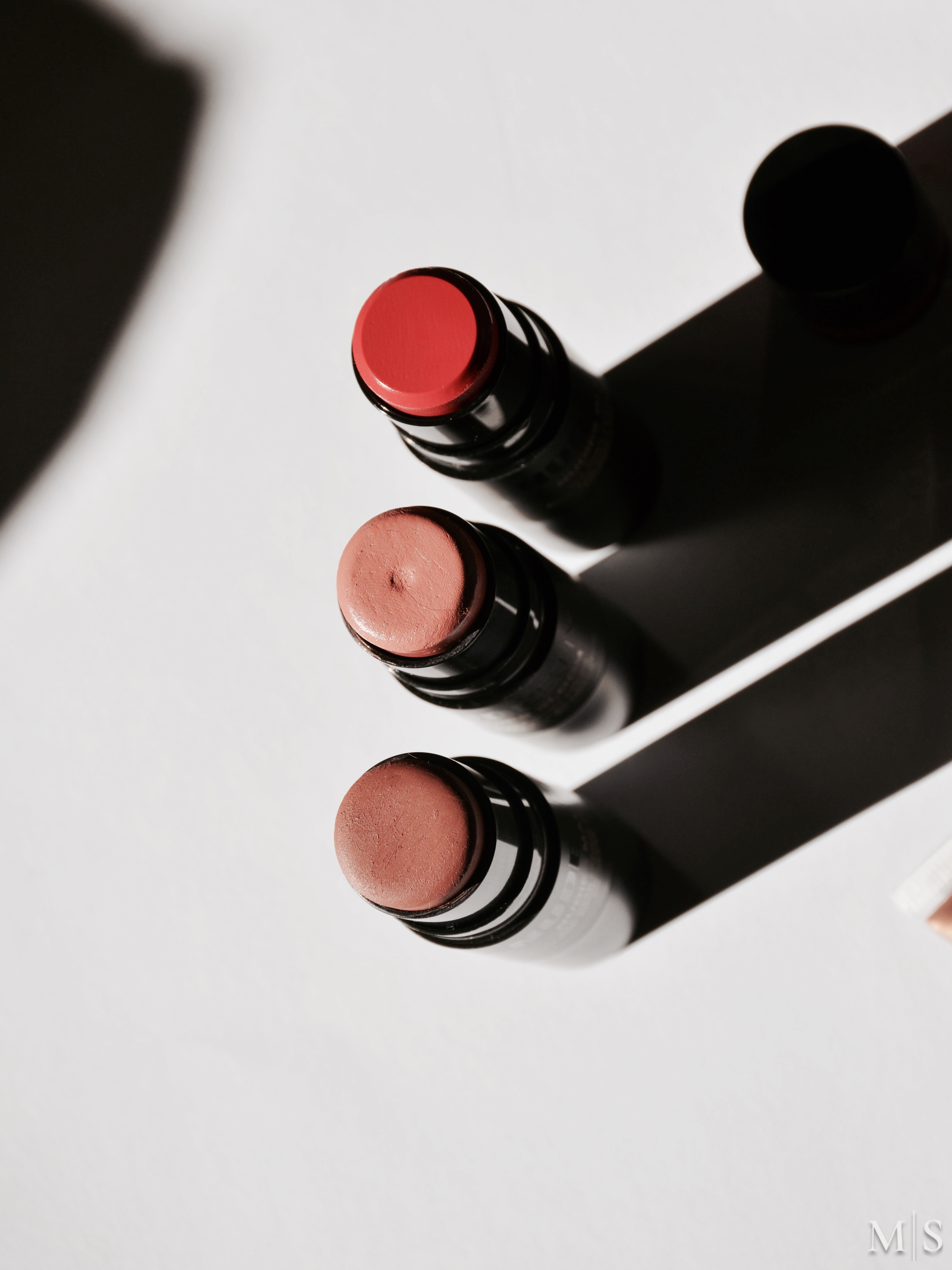 As for the Nudestix Nudies Matte Blush & Bronze in Sunkissed, this is my perfect burned bronze coral shade. It gives that "just came from the beach" look on the cheeks and I can use it both as a blush and a bronzer.
Swatches L to R: Sunkissed, Sweet Peach Peony, Poppy Girl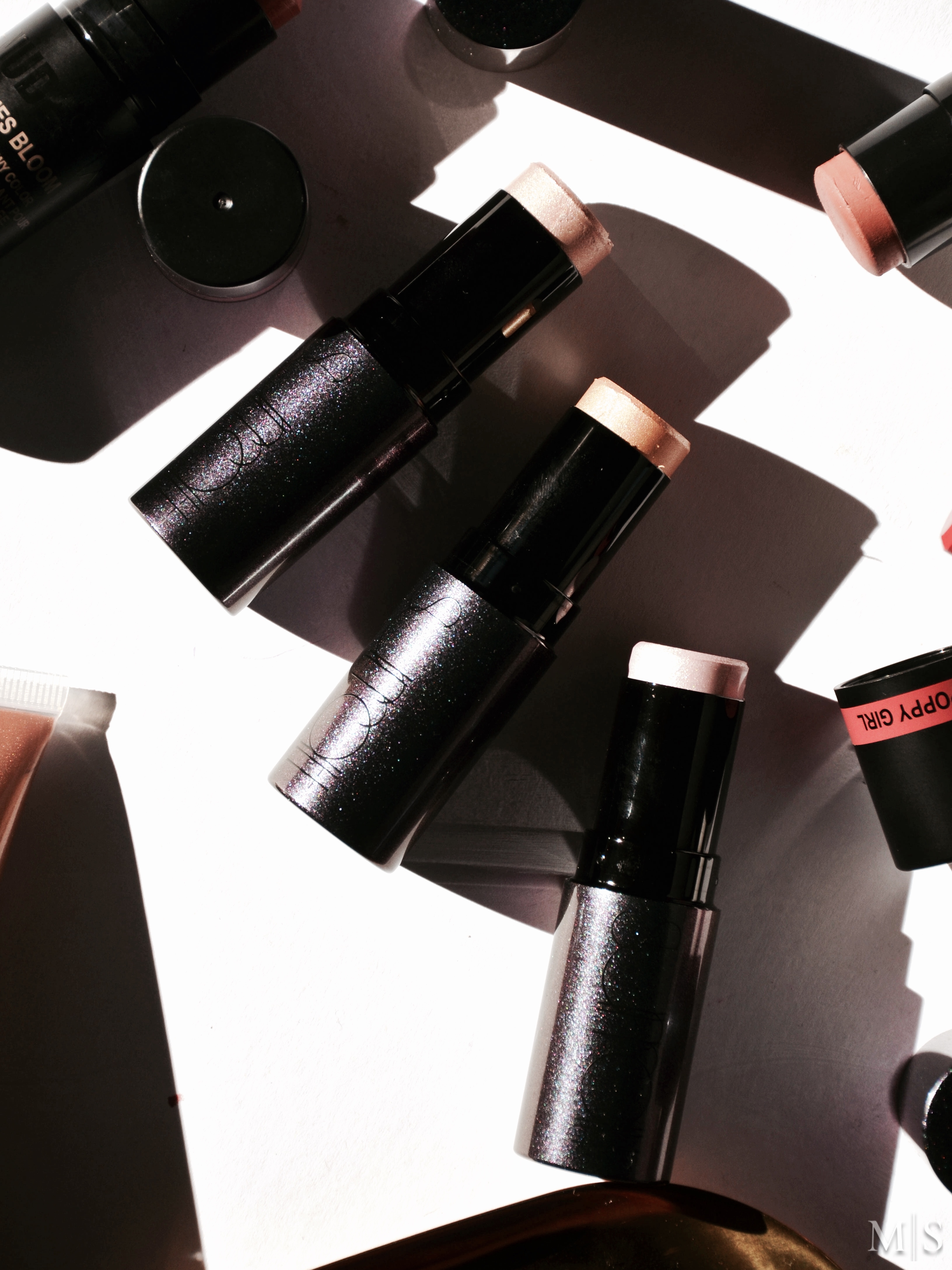 Surrat Beauty recently launched Torche Lumiere* which is a cream highlighter stick that comes in three shades. The Torche Lumiere comes in Diamante (champagne with a luminous finish), Rose Diamante (rosy pink with a luminous finish) and D'or (warm gold with a luminous finish).
From the brand:
If the face is like a jewel, highlighters emphasize its facets. Inspired by the sparkling gems in the vitrines at the Place Vendôme in Paris, Torche Lumiere Highlighter from Surratt Beauty brings a luminous, multifaceted glow to your complexion.
The Surrat Beauty Torche Lumiere* is formulated with real gold and diamond dust. They all have a subtle luminous finish that you can mix and match and create a more intense look. I find the formula best applied and blended with fingers. That way you warm up the product and you get a more natural luminous glow on the skin.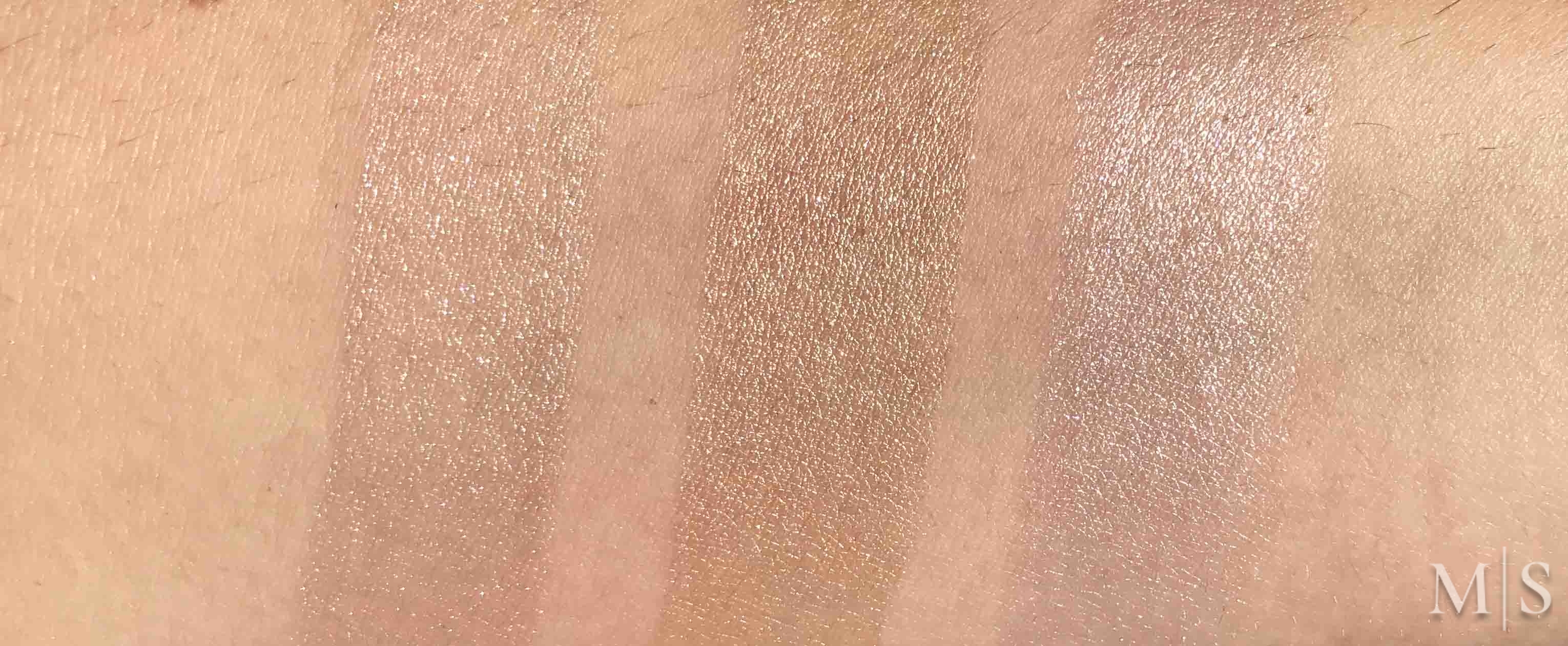 Swatches L to R: Diamante, D'or, Rose Diamante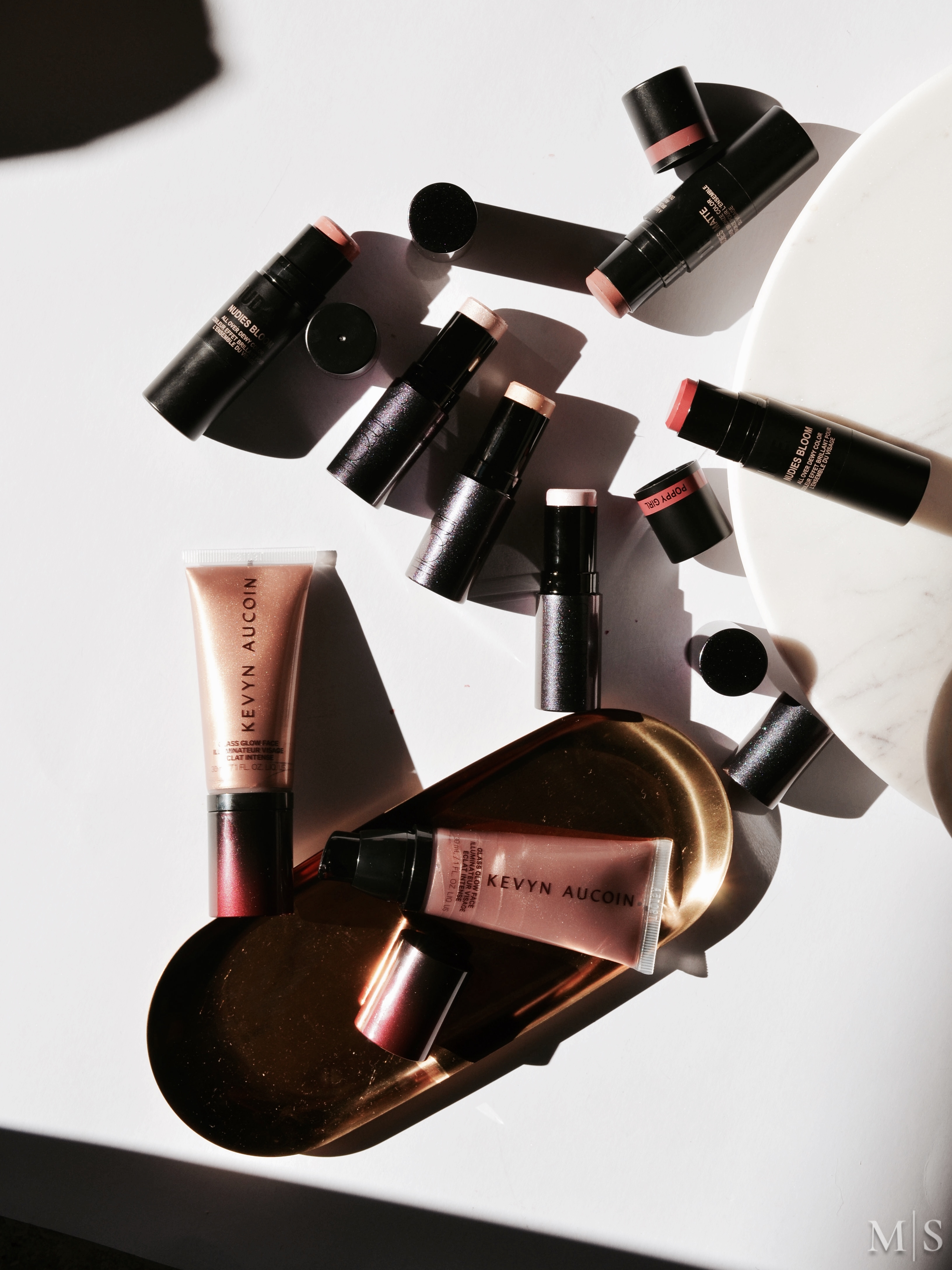 That completes my product roundup of new cheek products that give a dewy glow on the skin. If you are in to more minimal glowy makeup, as I am, you will love either of the products I shared in this blog post. They all give that heavenly wet look on the skin without being over the top. Just perfect for the summer!
*Products marker with * were gifted