Charlotte Tilbury's latest release for summer is every makeup lover's dream. The Charlotte Tilbury Glowgasm Collection is as glowy as you can get. The collection features two limited edition multi-use palettes, three new shades of the Beauty Light Wand, Dreamgasm Luxury Palette and she also brought back Star Gold and Rose Gold now in the permanent line (these were first limited edition Eyes to Mesmerize shades, review and swatches here).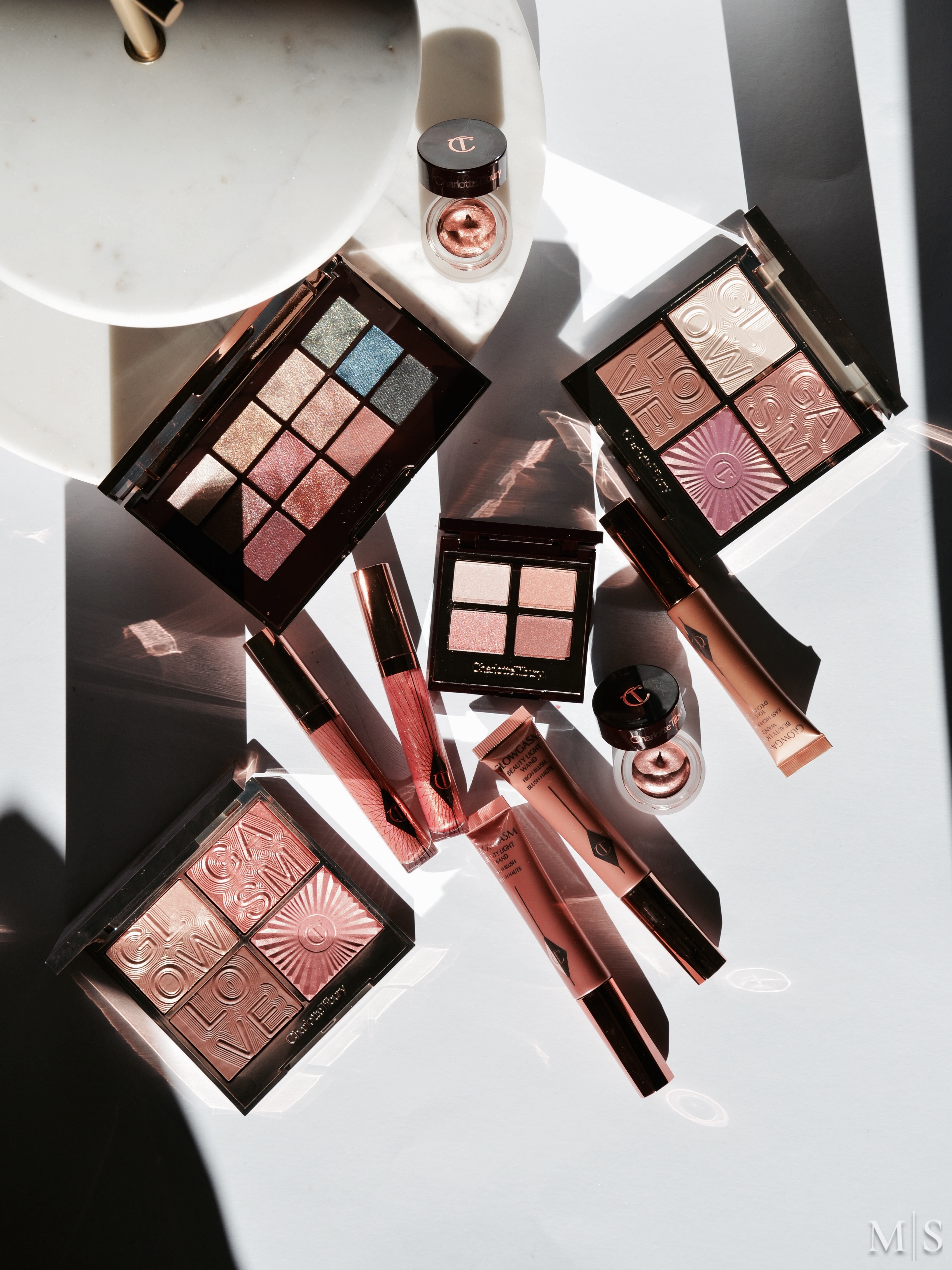 I'm also including her two new Collagen Lip Baths and the beautiful Icon Eyeshadow Palette. There really is not a piece in the collection that I don't love. Charlotte Tilbury products are usually a hit for me and this new collection is not an exception.
First up, the Lightgasm and Lovegasm Face Palettes. Lightgasm is the lighter version and great for fair to light skin tones, while Lovegasm is the darker version, with shades that will suit medium to deep skin tones.
Both palettes come with four shades:
LIGHT IT: a soft champagne to highlight and illuminate your features.
GLOW IT: layer your level of illuminating glow.
POP IT: a youthful rosy blush to illuminate your skin.
BRONZE IT: a neutral cocoa to tone, sculpt and define contours.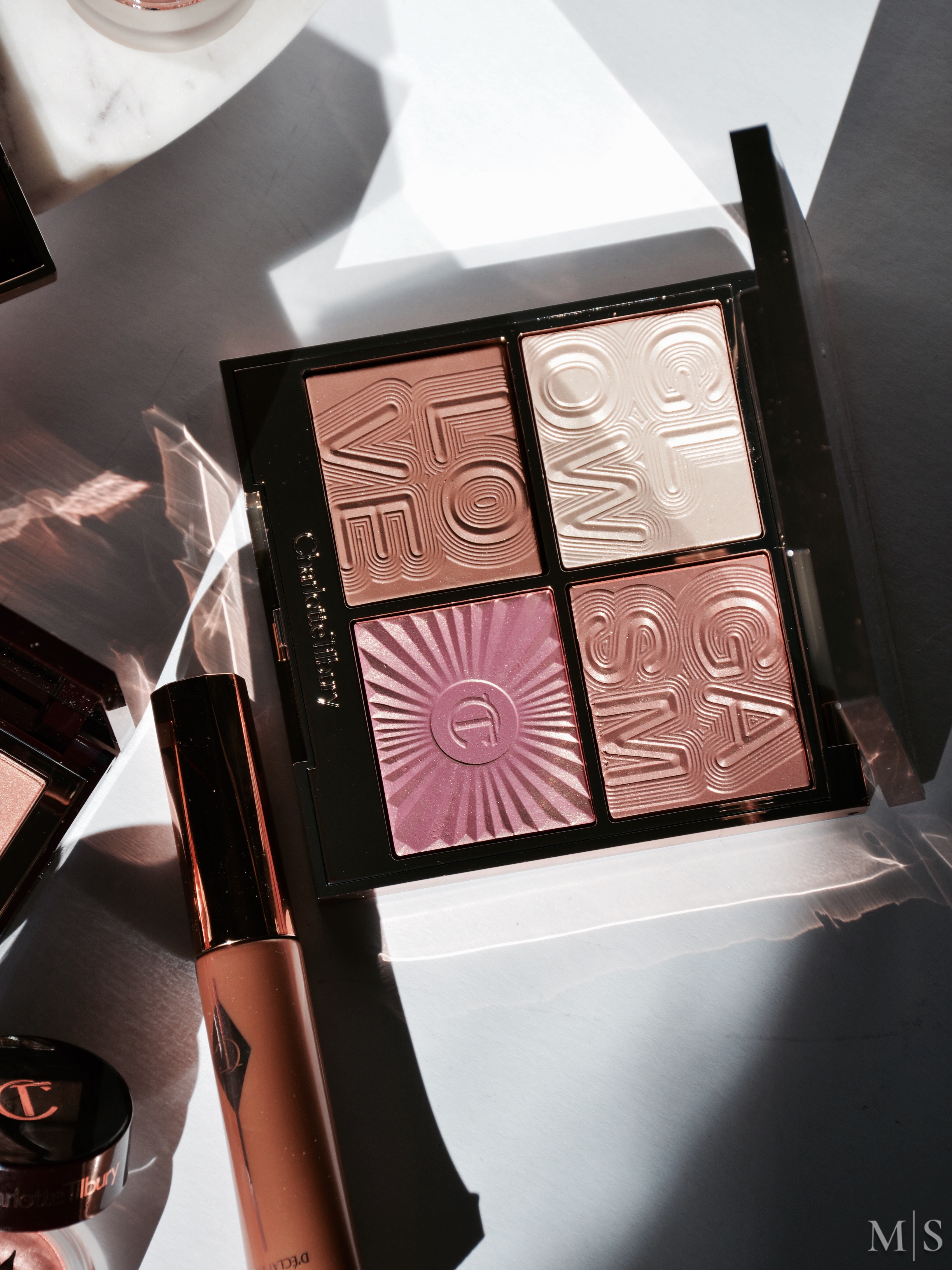 Pictured above, the Charlotte Tilbury Lightgasm Face Palette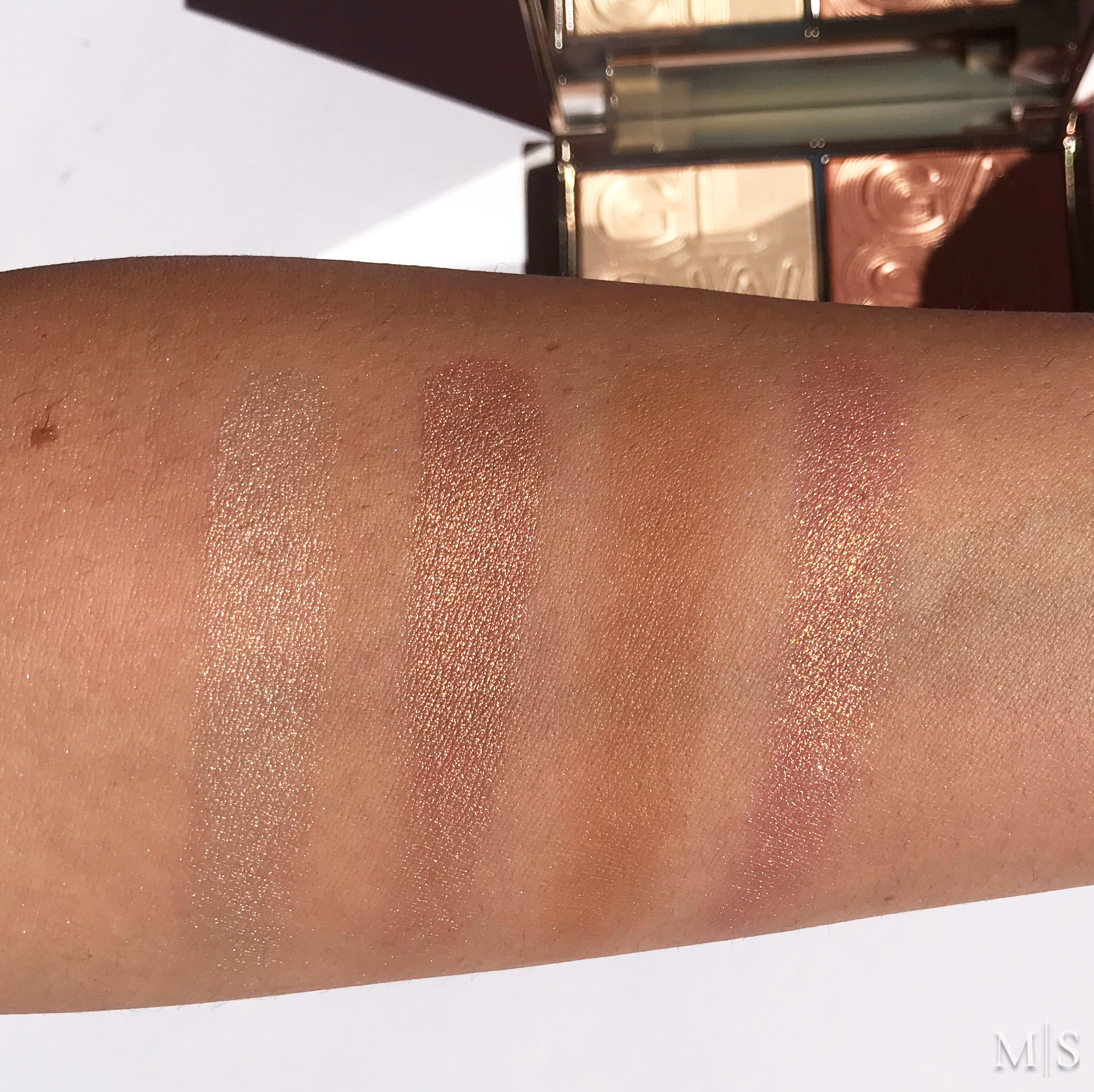 Swatches of the Charlotte Tilbury Lightgasm Face Palette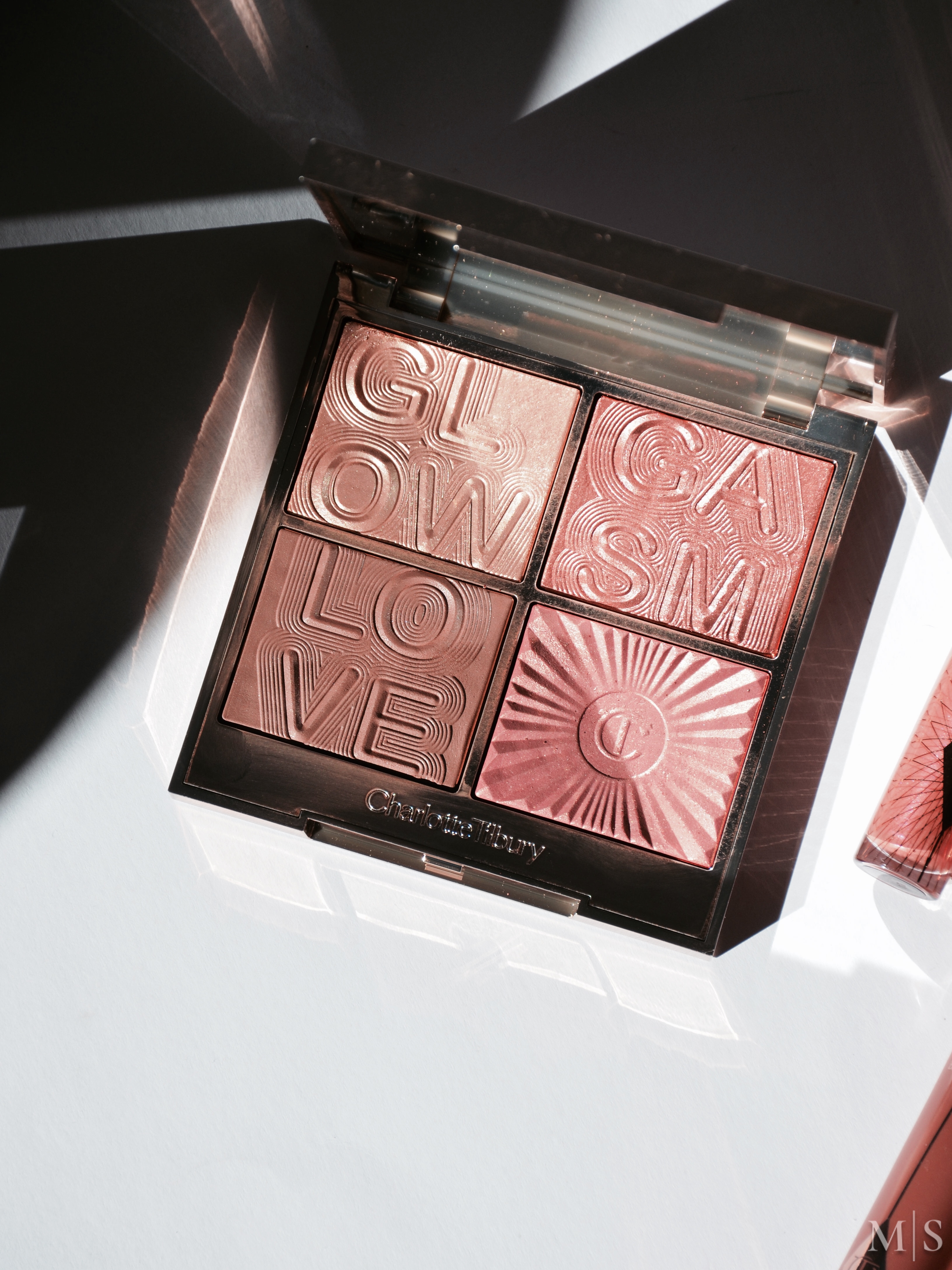 Pictured above, the Charlotte Tilbury Lovegasm Face Palette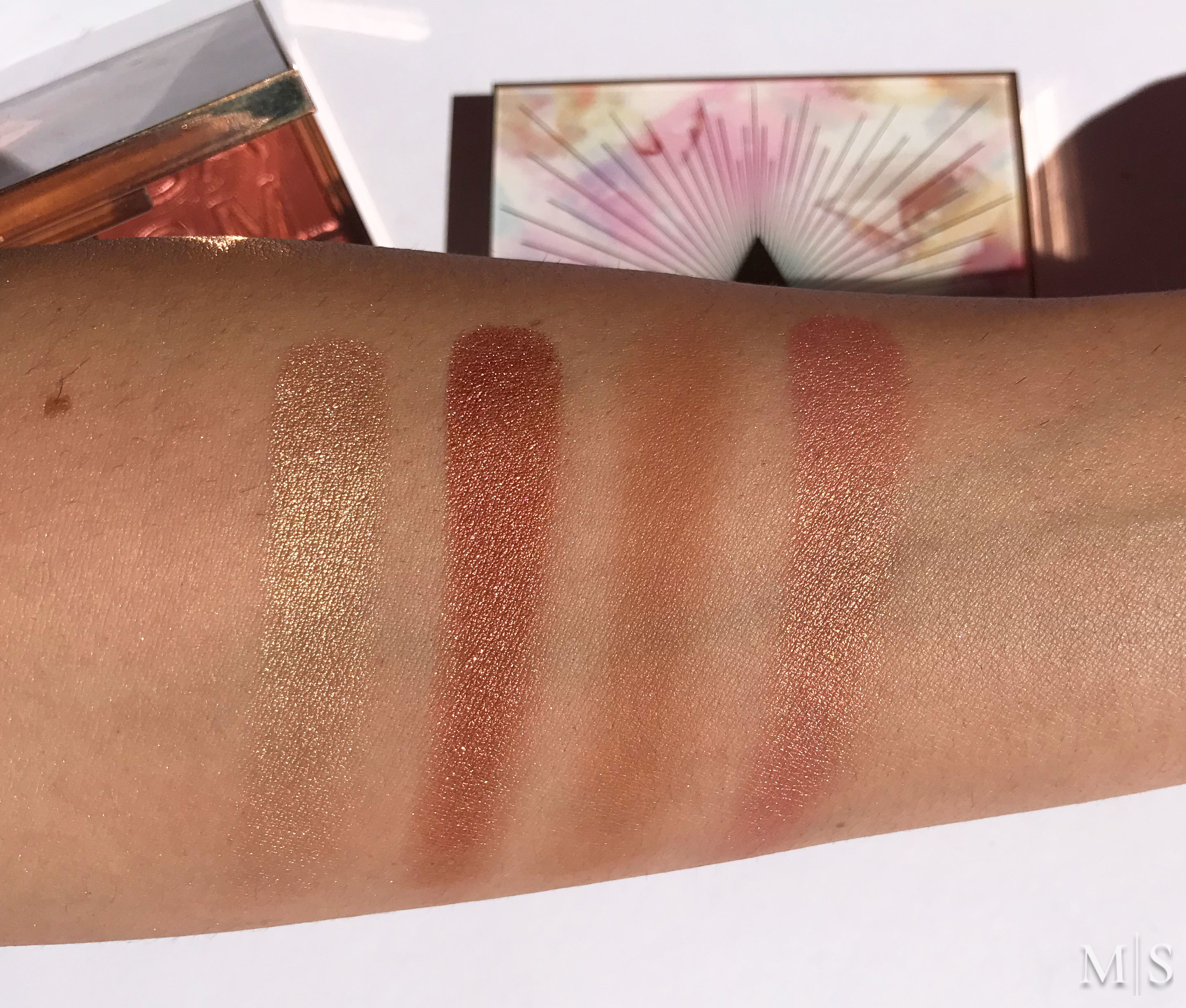 Swatches of the Charlotte Tilbury Lovegasm Face Palette
The palettes have a gel to powder formula which looks more natural on the skin. They are all buildable powders so you can go from natural to beaming by just layering.
I find all of the shades very natural on the skin. The shimmers don't accentuate any texture or imperfections on the skin and give a beautiful glow. The bronzers appear matte in the pan but actually have a sheen that gives a subtle glow.
For my medium skin tone, I prefer the Lovegasm Face Palette which is the darker version of the two. Lightgasm will make for a great winter palette for me when I'm paler. I would say if you are up to light/medium skin tone, the Lightgasm palette would be a good match. But if you have my skin tone or you are darker, Lovegasm is the palette for you.
I love the palettes because they are multi-use. You can use them both on the face and the eyes and create different wearable every day looks. If you love your glowy natural makeup, I highly recommend both palettes depending on your skin tone.
For formula comparison, the formula of the palettes remind me of the Make Up Forever bronzers. They feel very tightly packed and don't kick off any powder.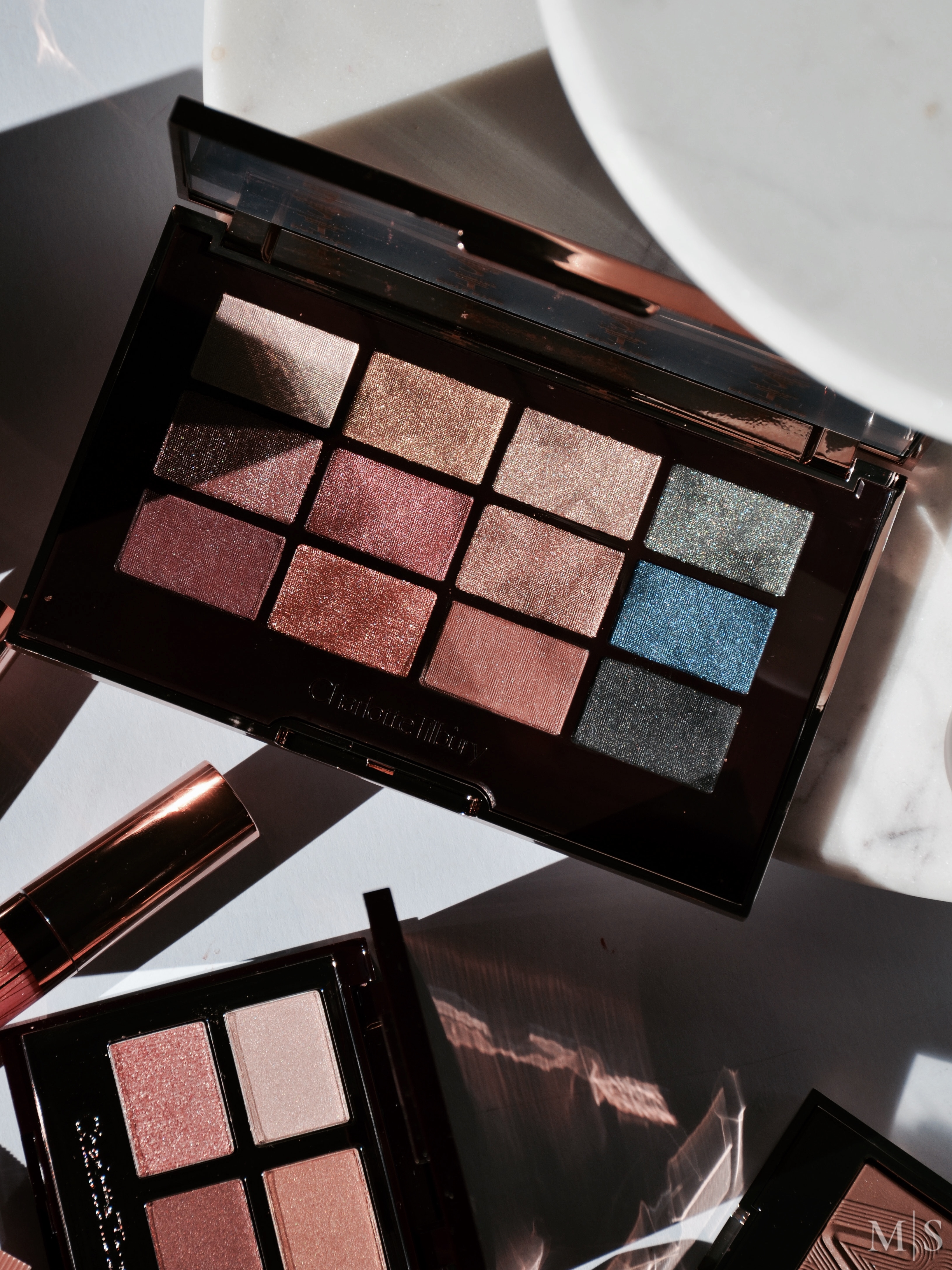 The Charlotte Tilbury Icon Eyeshadow Palette is a limited edition palette that comes with 12 shades. It is a bigger version of her Luxury Palette but you get 12 shades for $65. The shades are more on the neutral, warm side but there is a pop of blue and dark green.
If you are familiar with Charlotte's Luxury Palettes, you will know that the formula of her eyeshadows is very soft and easy to work with. The shadows blend seamlessly without any effort.
When you look at the palette, you would think that it only comes with shimmer shades, but there are three satin shades that perform the same as a matte eyeshadow.
I can easily do two eyeshadow looks with this palette but also create complex looks (which never happens to be honest). I also love to wear the bronze shades all over the lid as a one eyeshadow look (super quick and easy).

Swatches of the Charlotte Tilbury Icon Eyeshadow Palette
There is a new Luxury Palette that is part of the Glowgasm Collection. The Dreamgasm Luxury Palette features champagne, copper bronze and rose gold shades. I love Charlotte Tilbury's quads because they are so convenient for every day looks. Plus they are very compact, so perfect for travel.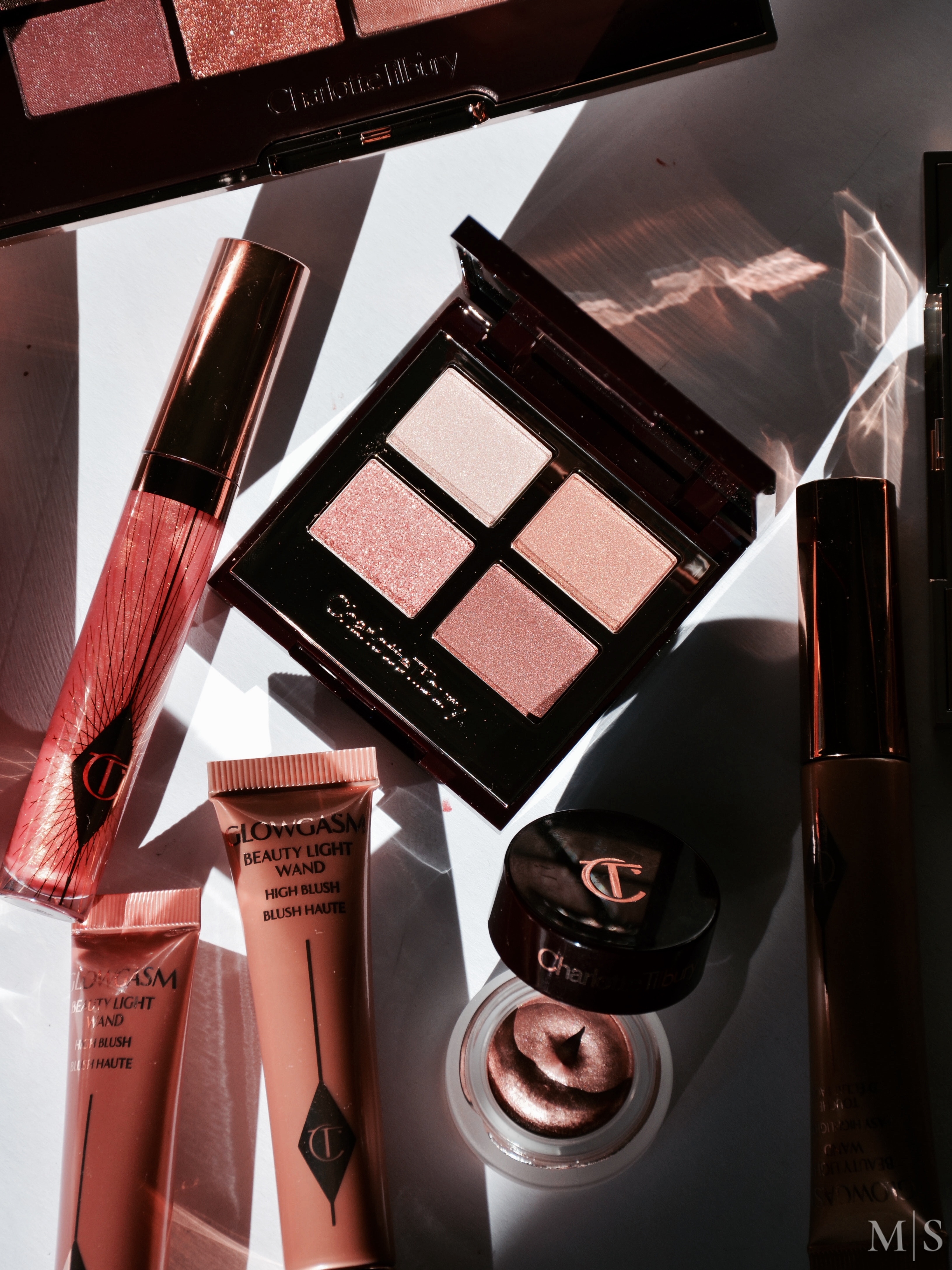 The Dreamgasm Luxury Palette features three shades from Transform-Eyes, Dolce Vita and Pillow Talk. The Dolce Vita is one of my most worn quad but I also love the whole Pillow Talk line (perfect for natural makeup days).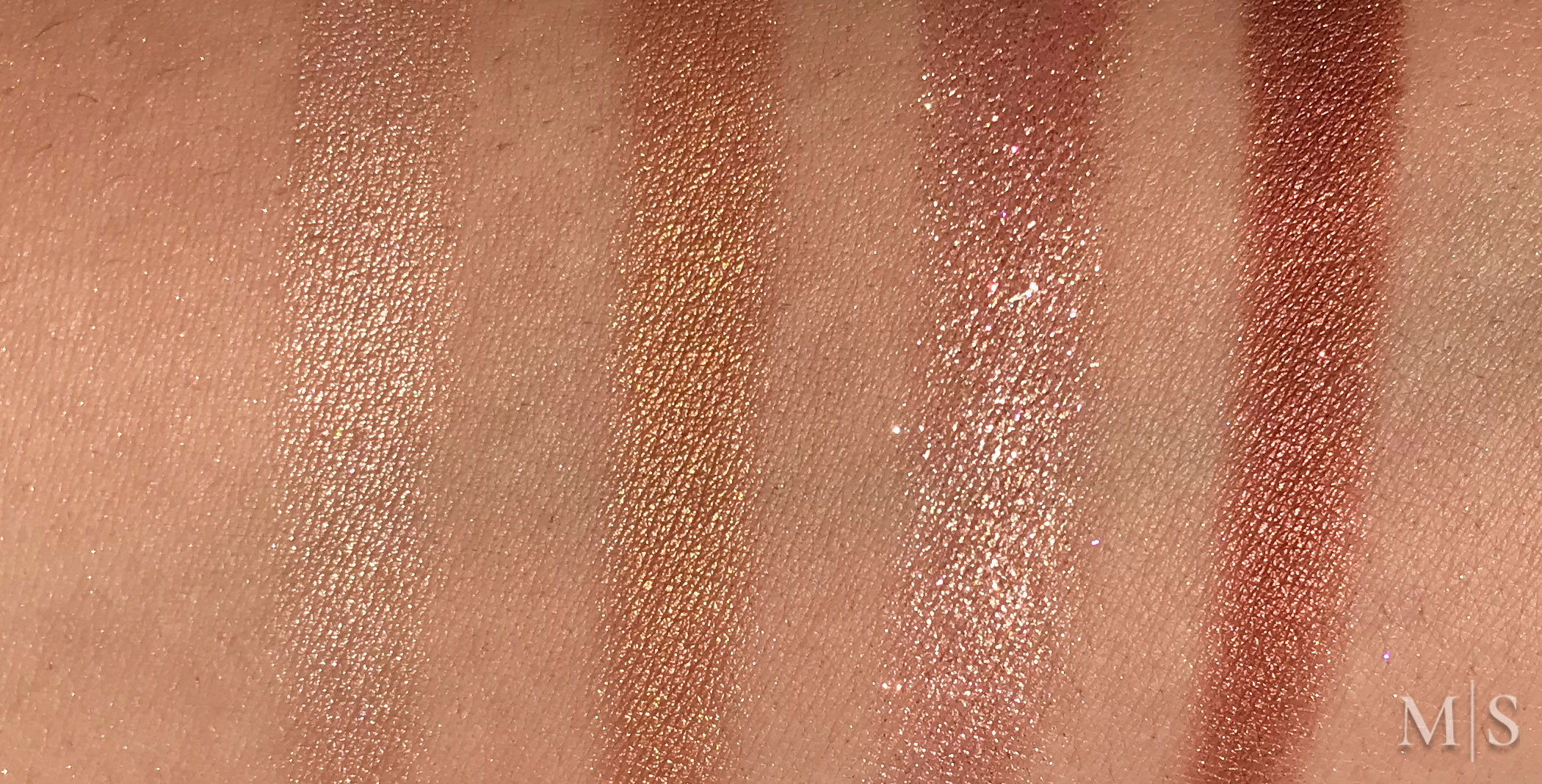 Swatches of the Charlotte Tilbury Dreamgasm Luxury Palette
The Beauty Light Wand in the original shade (Spotlight) is one of my all time favorite liquid highlighters. I love it because it gives the perfect wet looking glow on the skin that lasts all day.
Charlotte released three new shades with the Glowgasm Collection that will be part of her permanent line.
Peachgasm is a peach shade that you can use as a blush or highlighter depending on your skin tone. If you are fair to light, it works well as a glowy peach blush. If you are medium and deeper, it looks beautiful as a peach highlighter on the high points of your face.
Pinkgasm is a beautiful glowy pink shade. This is either a blush or a blush topper for my skin. It is glowy and gives the same effect as Spotlight but just in blush form. It doesn't accentuate any texture on the skin and gives a fresh look on the cheeks.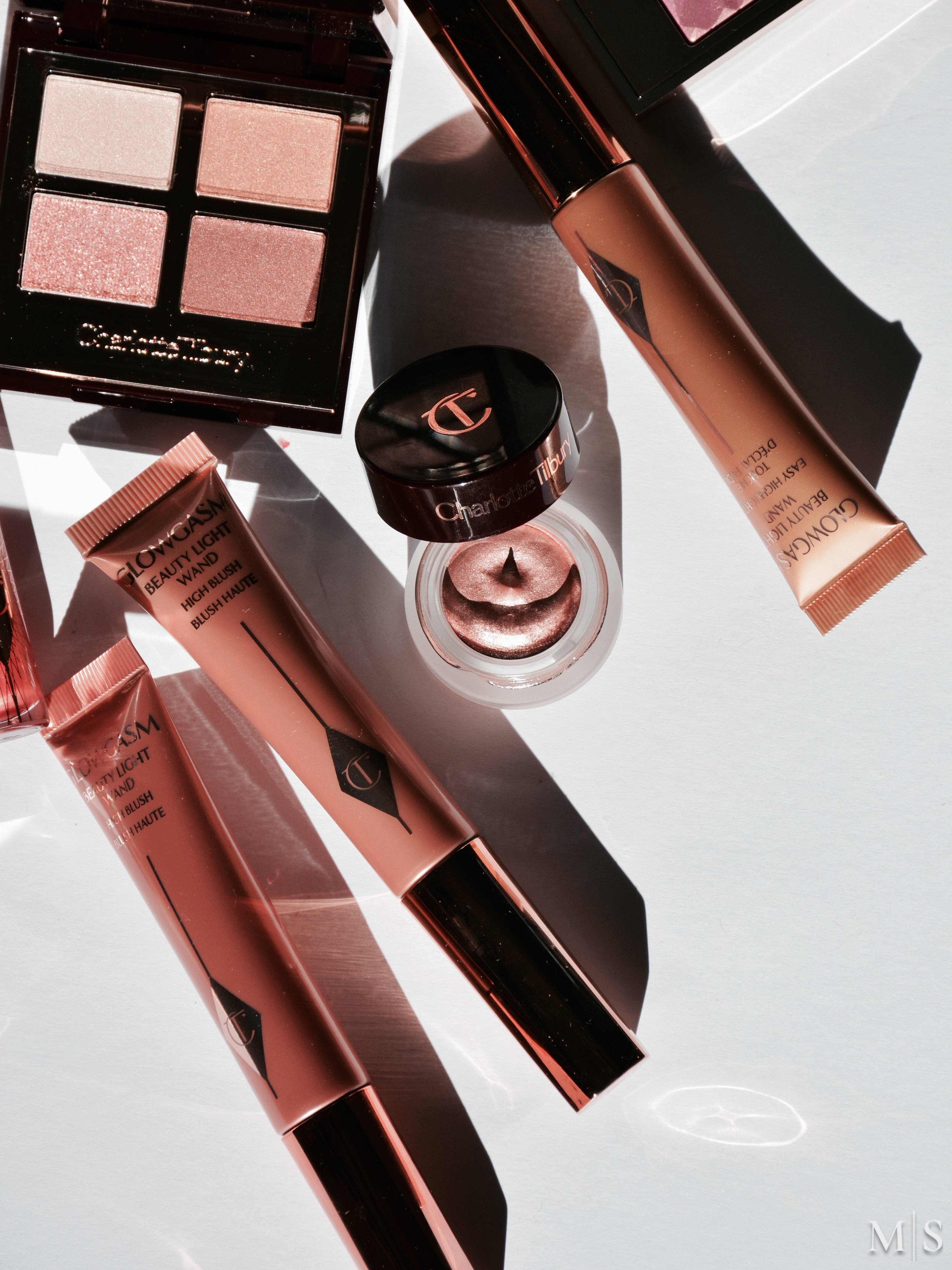 Goldgasm is a warm true gold. At first swatch, I though that this shade would be too dark for me but it actually looks beautiful on my skin. This is a true medium gold so it is great for medium and deeper skin tones.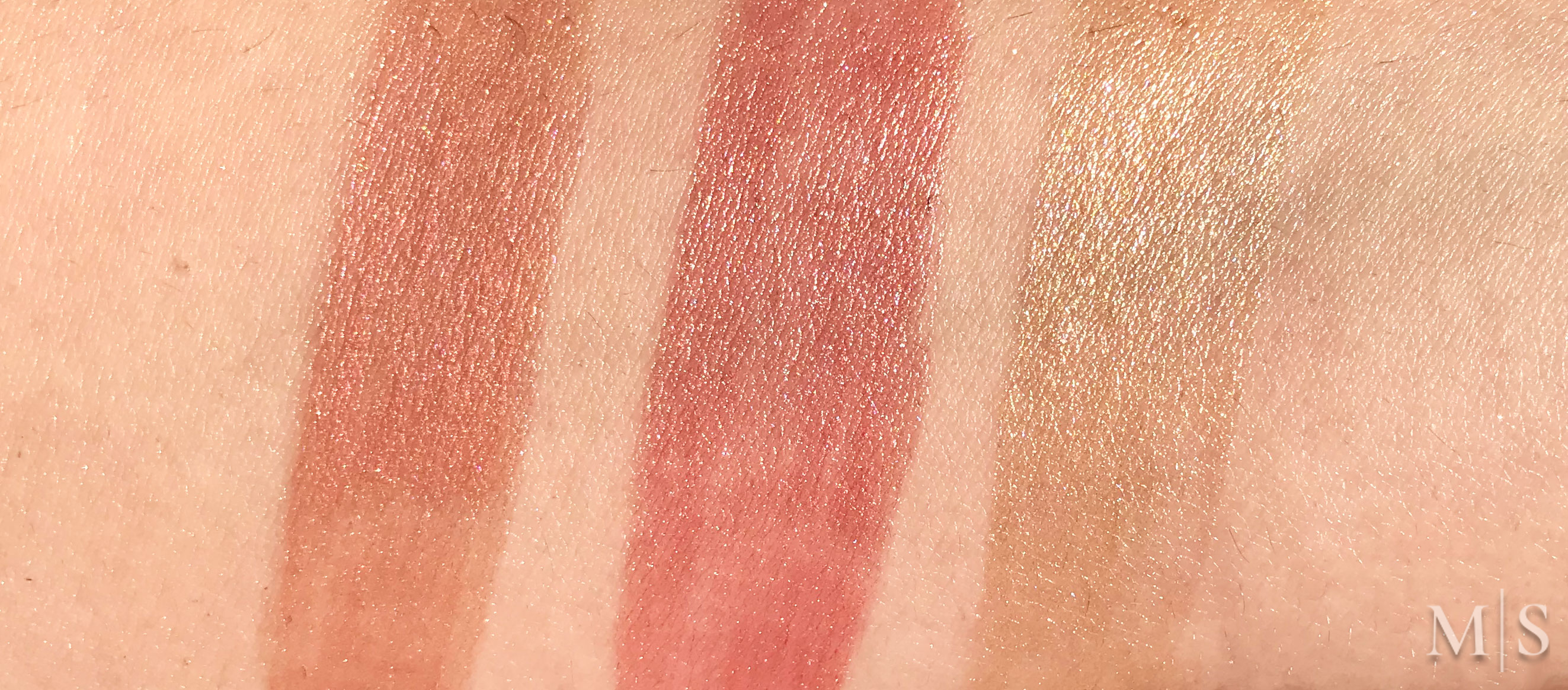 Swatches L to R: Peachgasm, Pinkgasm, Goldgasm
The swatches above are heavy so the colors appear darker than when they are blended on the skin.
Charlotte's latest launch are the two new shades of her Lip Collagen Baths. I haven't tried her original shade so I was excited to try this new formula. She describes the Lip Collagen Baths as a plumping lip gloss that gives a mirror like shine on the lips. The formula helps with moisture and the appearance of fuller looking lips.
The two new shades, Rosy Glow and Peachy Plump come in a supersized tube so you get more product for the price.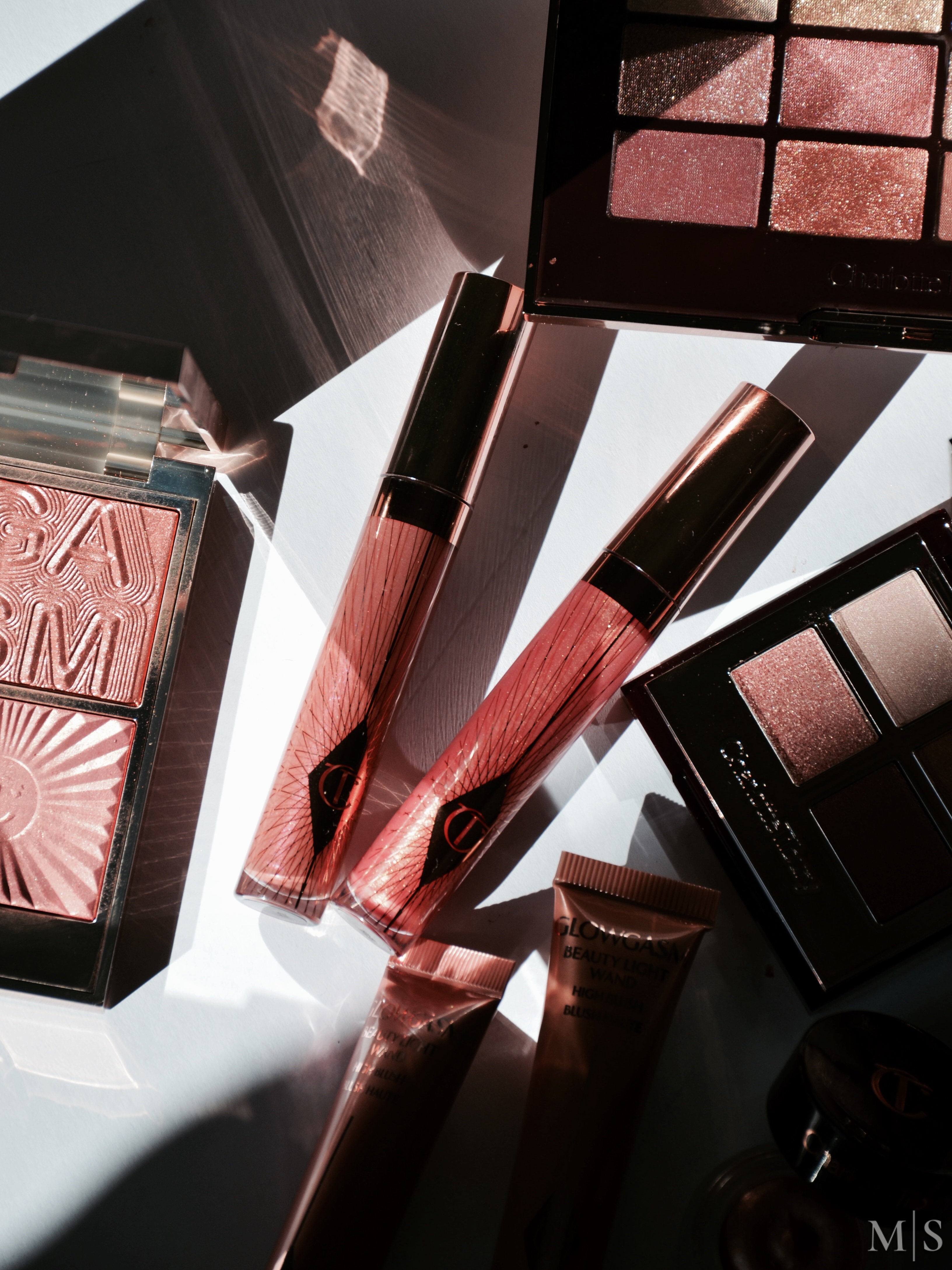 I adore the Collagen Lip Baths! The lipgloss makes my lips appear fuller and just juicy. It is not sticky and gives a little tingle on the lips but nothing that hurts like other lip plumpers. It smooths out any lines that you have on the lips and feels very moisturizing. Both shades give a wash of color on the lips that I can wear on their own (with just a lip liner) or layer over a lipstick.
Rosy Glow is a beautiful mid tone pink shade and my favorite. This shade reminds me of the Pillow Talk lip liner but in gloss form. A new favorite and a gloss that I carry in my bag.
Peachy Plump is a golden peach shade. It gives less pigment than Rosy Glow but still looks amazing on the lips. It has subtle golden sheen so it will be the perfect gloss for summer.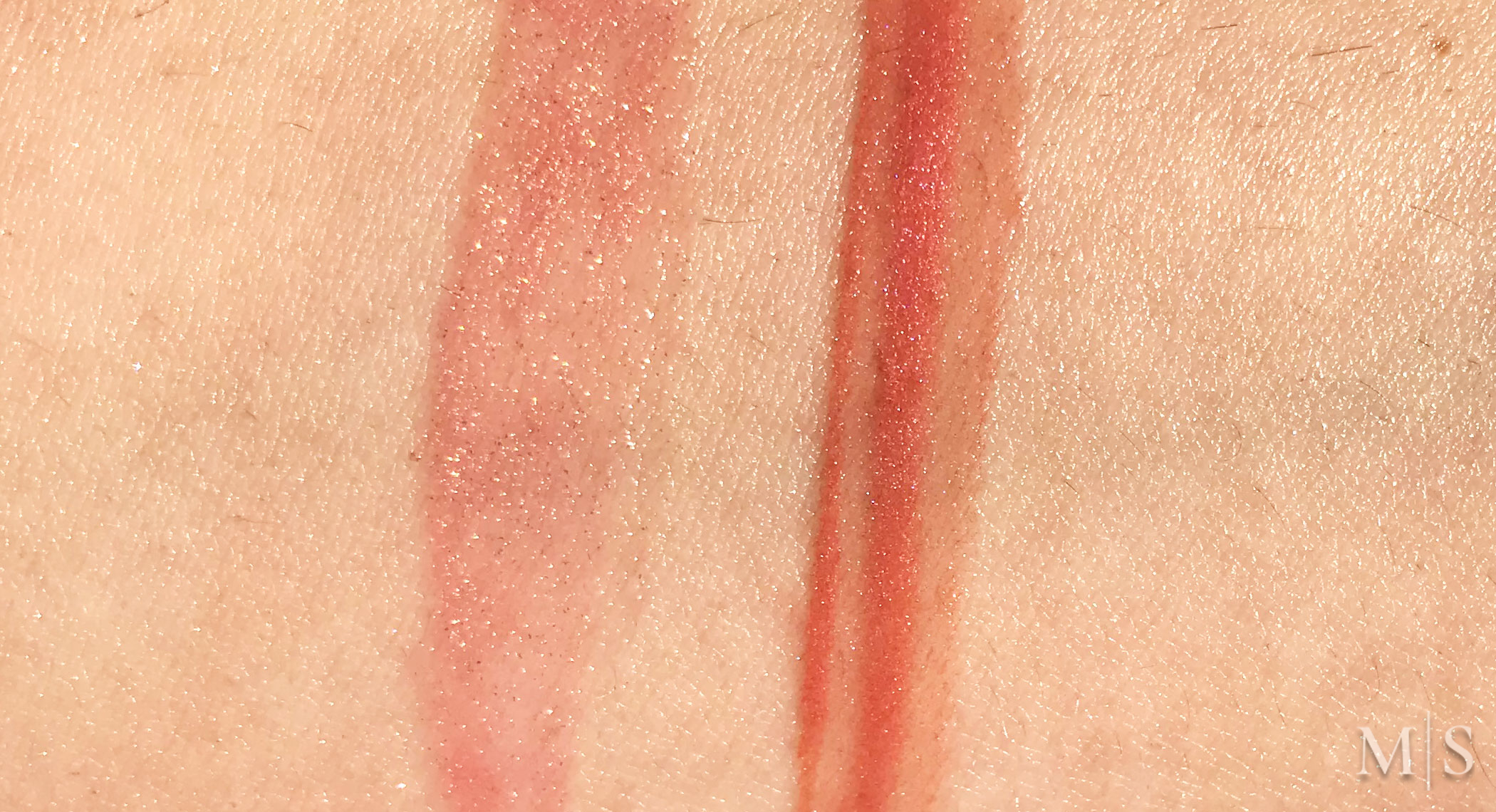 Swatches L to R: Peachy Pump, Rosy Glow
Peachy Plump

Rosy Glow
Bottom line, I love everything about the Glowgasm Collection. It is glowy but not over the top and the shades are perfect for summer. If you love glowy, dewy makeup, this collection is worth taking a look.
The new Collagen Lip Baths have been my go to lipglosses since I got them. Especially Rosy Glow, I've been wearing it every time I wear makeup. Really pleased with all her new releases and looking forward to seeing what she comes out next.
*PR Sample