Charlotte Tilbury Eye Color Magic Collection is the newest release from the brand. Charlotte released four beautiful eyeshadow palettes made specifically to compliment different eye colors. With the new eyeshadow quads, she also released eyeliners and a new formula of the Feline Flick.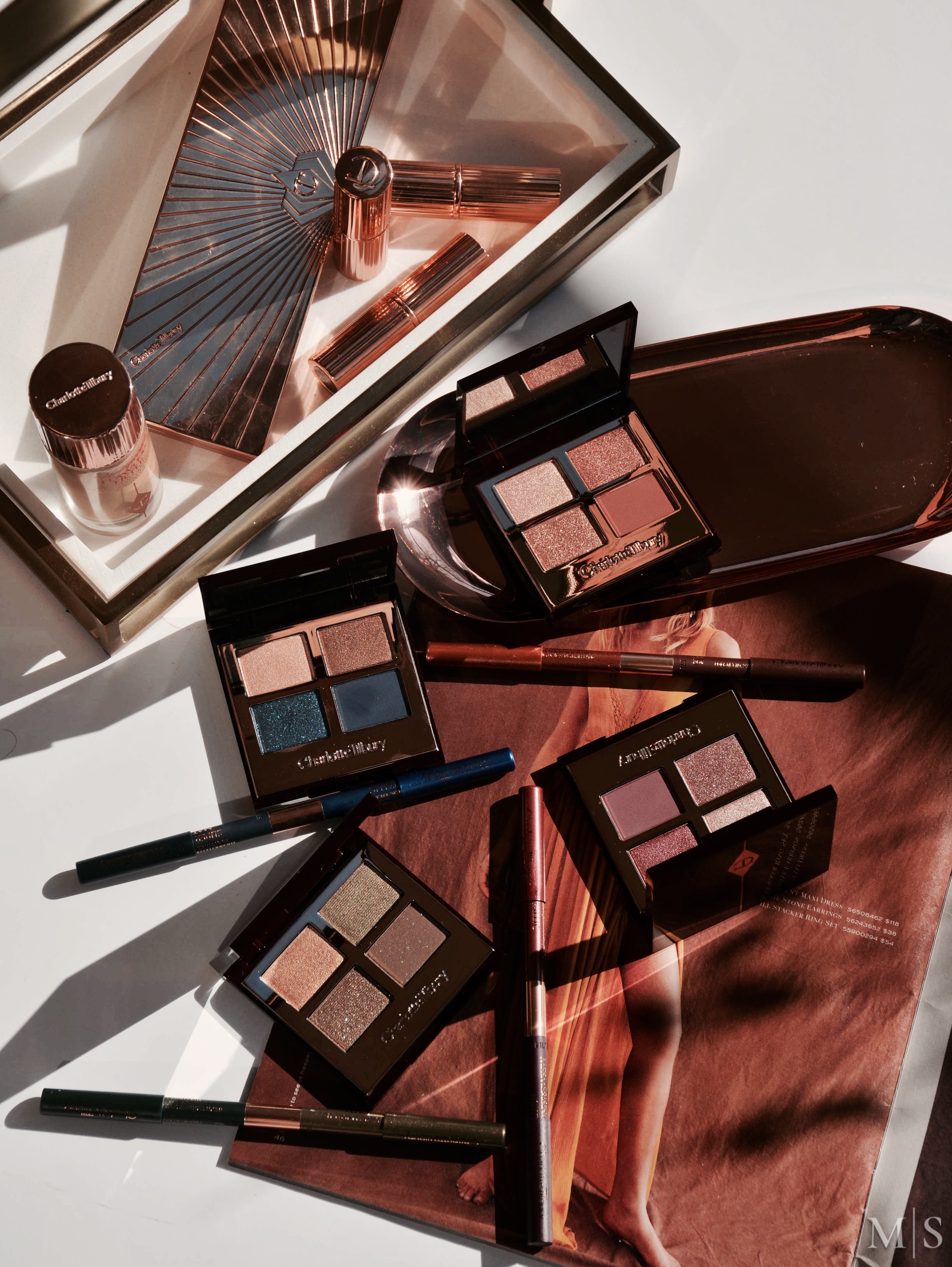 Three of the four eyeshadow palettes are limited edition, with Copper Charge being part of the permanent line. The new Luxury Palettes that she released are beautiful! There is Copper Charge, that is made to make blue eyes pop but also brown eyes glow. Mesmerizing Maroon is meant to accentuate green eyes and Green Lights (also known as Rebel) is made for hazel eyes. And lastly, Super Blue is a gorgeous palette that makes brown eyes pop.
I'm a big fan of Charlotte Tilbury's eyeshadow quads. I think she makes very easy palettes to use and palettes that are great for every day. She always includes a "pop color" which is like a shimmery top coat. That shade takes every look from daytime to night time appropriate. I like to apply the pop shade with my fingers since it's like pressed glitter and use brushes for the rest.
Copper Charge Luxury Palette comes with shimmering gold, rose coppers and russet brown shades. There are two shimmery shades, one pop color and a matte shade.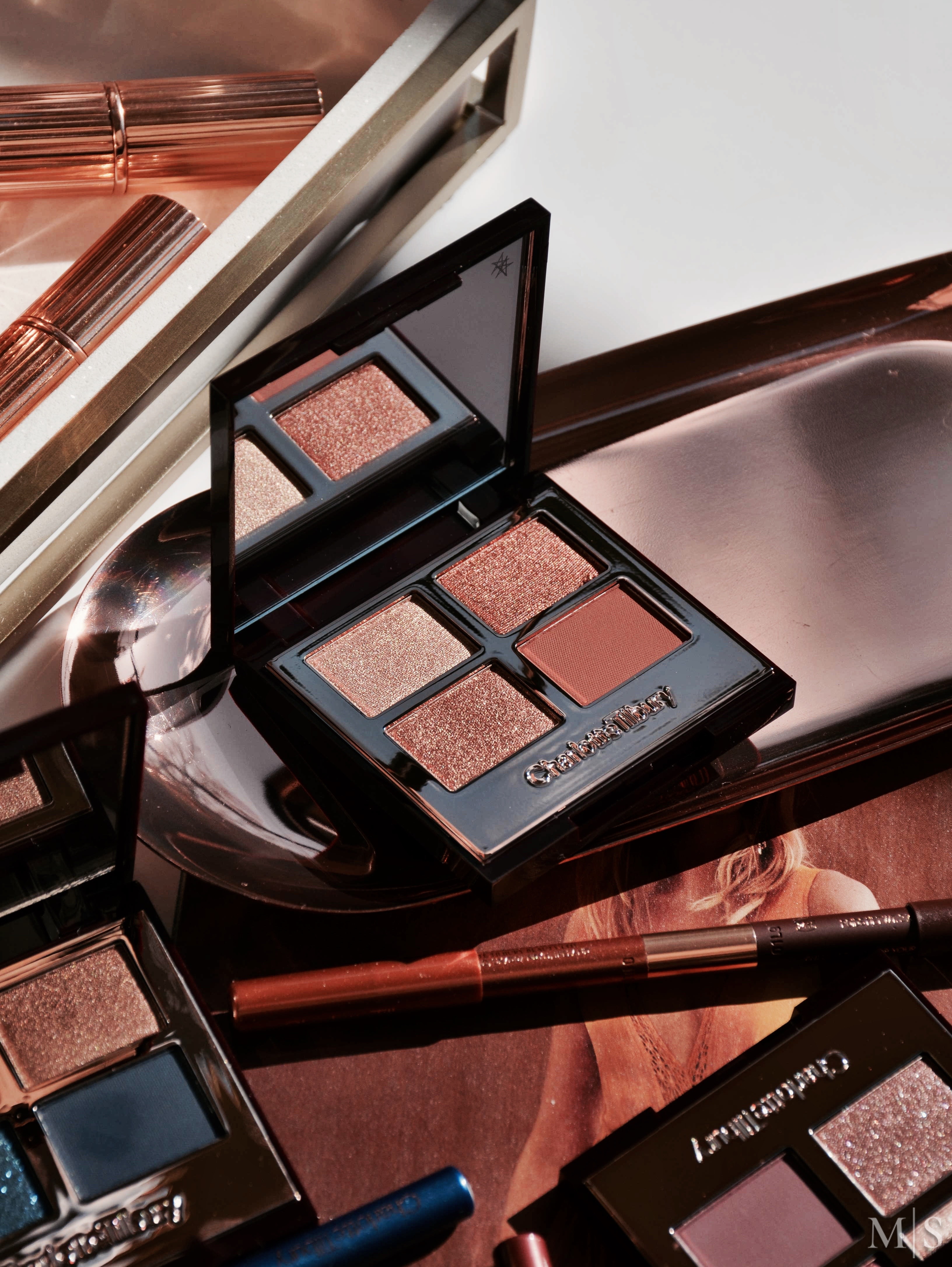 Copper Charge is a palette that is made for blue eyes but honestly anyone can wear it. These are types of shades that I usually wear on day to day basis. The quality and pigmentation of the shadows is amazing as always. They are pigmented but also easy to blend on the eyes.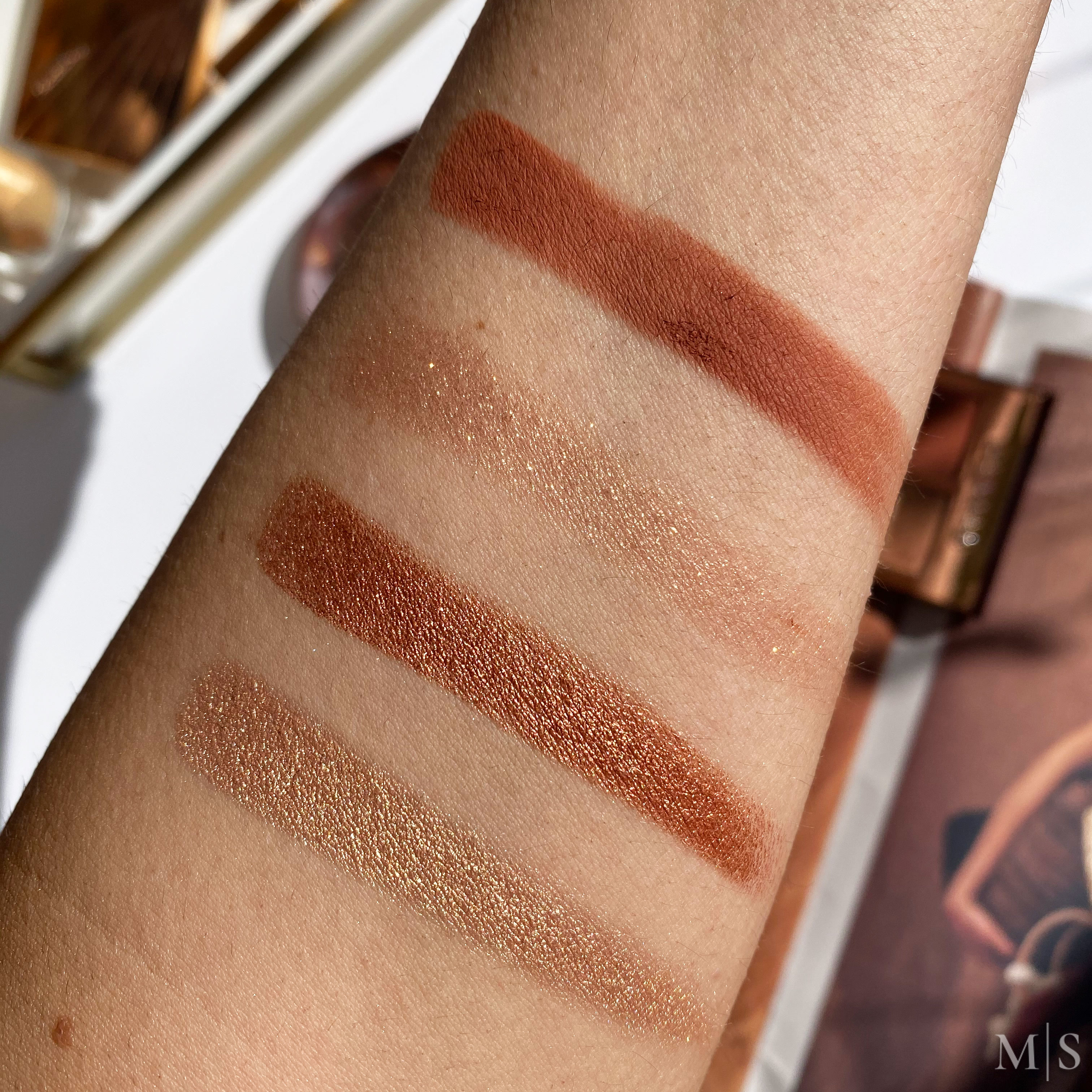 Swatches of CopperCharge Luxury Palette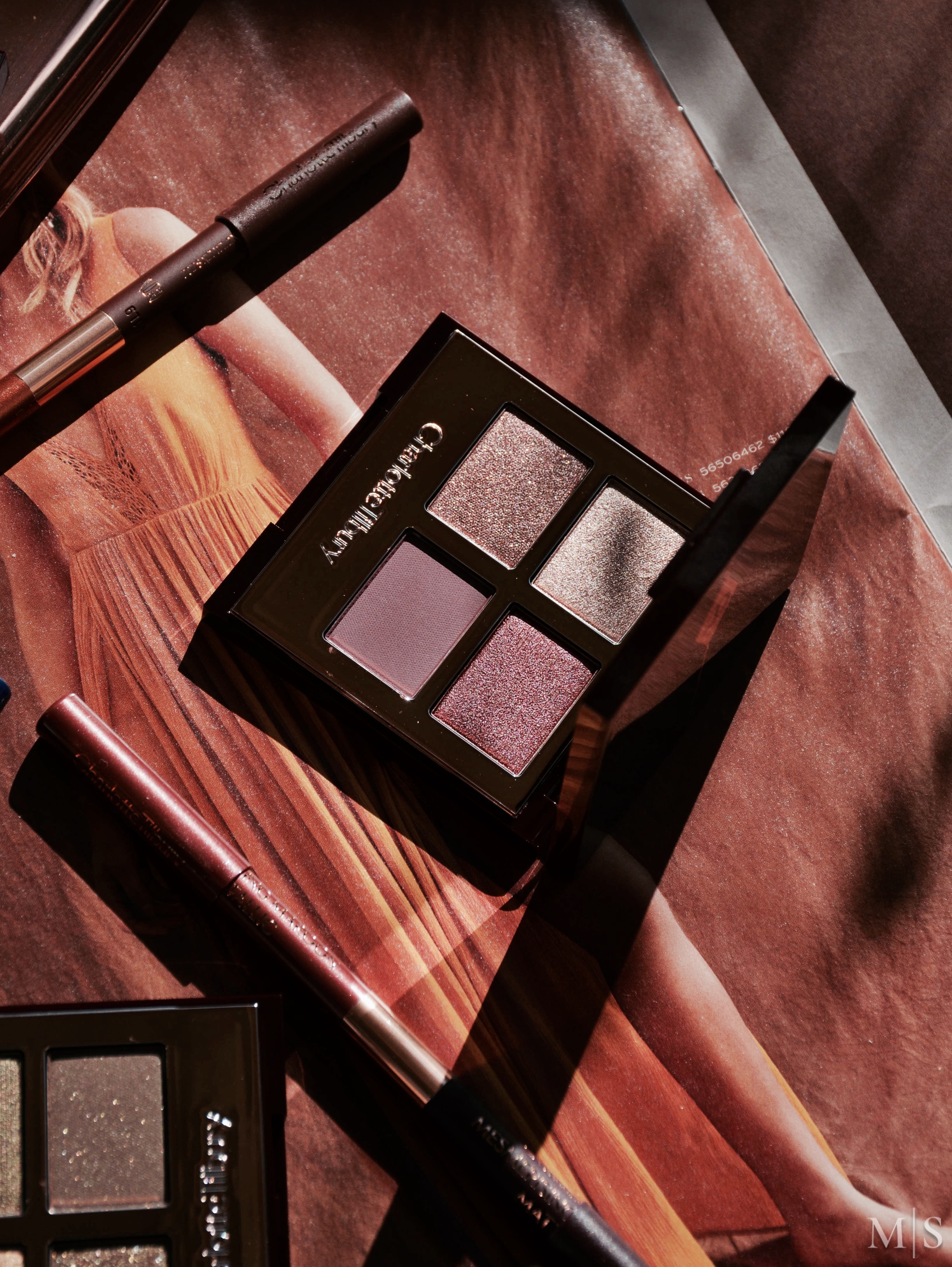 The Mesmerizing Maroon Luxury Palette features a rich purple, plum and maroon shades. This is a palette meant to accentuate green eyes. I think purple shades look amazing on green eyes but I also love them on brown eyes. This palette also has two shimmery shades, one pop and one matte shade. All the shades are so creamy to the touch but also very user friendly.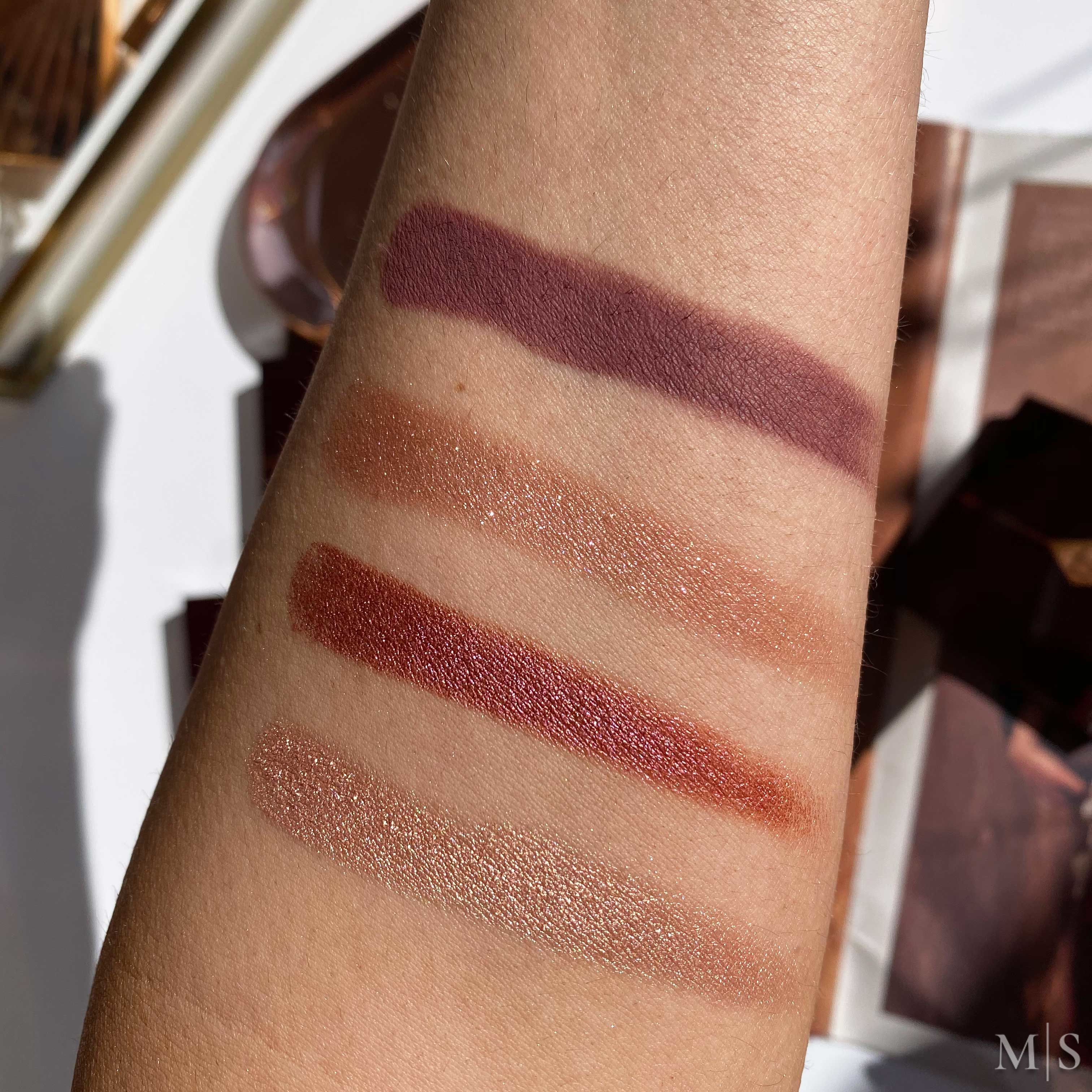 Swatches of Mesmerizing Maroon Luxury Palette
The Green Lights Luxury Palette also known as The Rebel Palette comes with gold, khaki and green shades. Khaki golden shades make hazel eyes pop and really bring the green in them. I love the antique green vibes of this palette. Again, the quality of the shadows is amazing as the other palettes (it is consistent with all four palettes).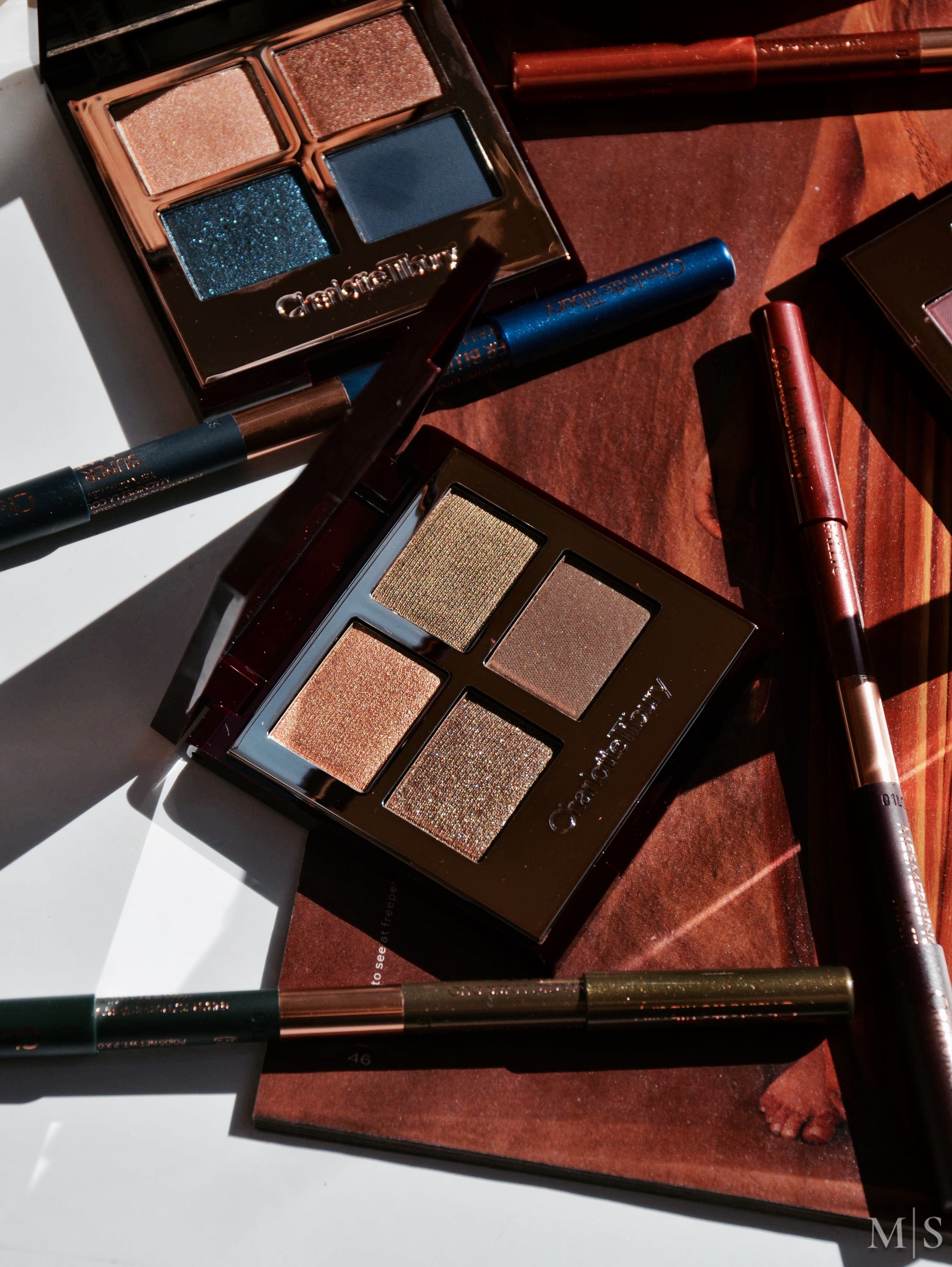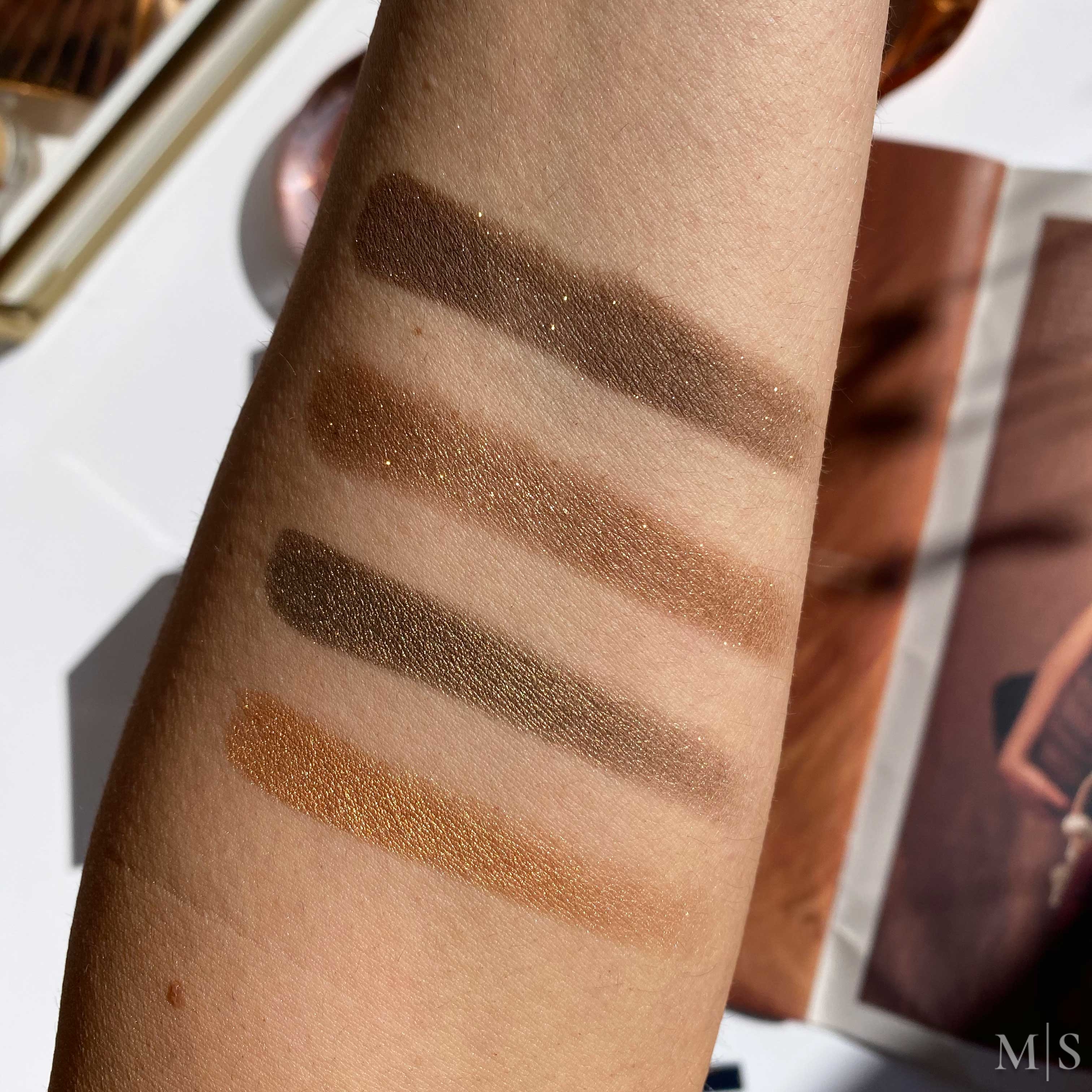 Swatches of the Green Lights Luxury Palette
The Green Lights Luxury Palette comes with two shimmery shades, a pop color and matte based shade with sprinkled sparkle. I love how wearable this palette is! I feel like this is a good palette if you want to implement a little color that is not your usual browns, but still is a neutral palette.
The Super Blue Luxury Palette was the first palette I tried from this line. I was instantly drawn to the deep navy and blue shade. Plus, I have dark brown eyes and this is a palette meant to compliment brown eyes the most.
The shades in this palette are stunning! You get a champagne and a deep bronze shade that are still neutral, but also a deep navy and a shimmering blue that is the pop color formula. You can definitely create every day neutral looks with this palette, but also deep navy smoky eyes.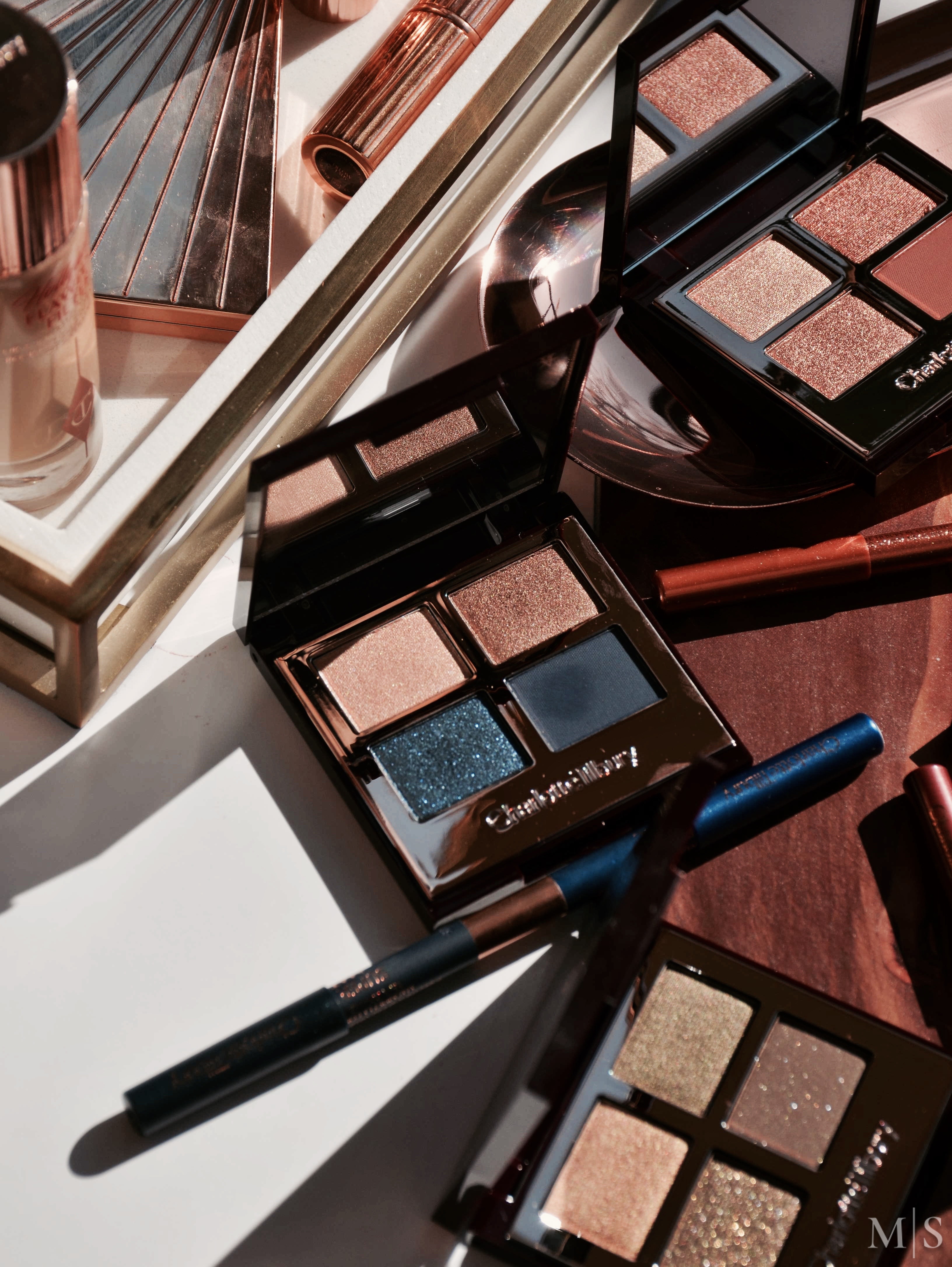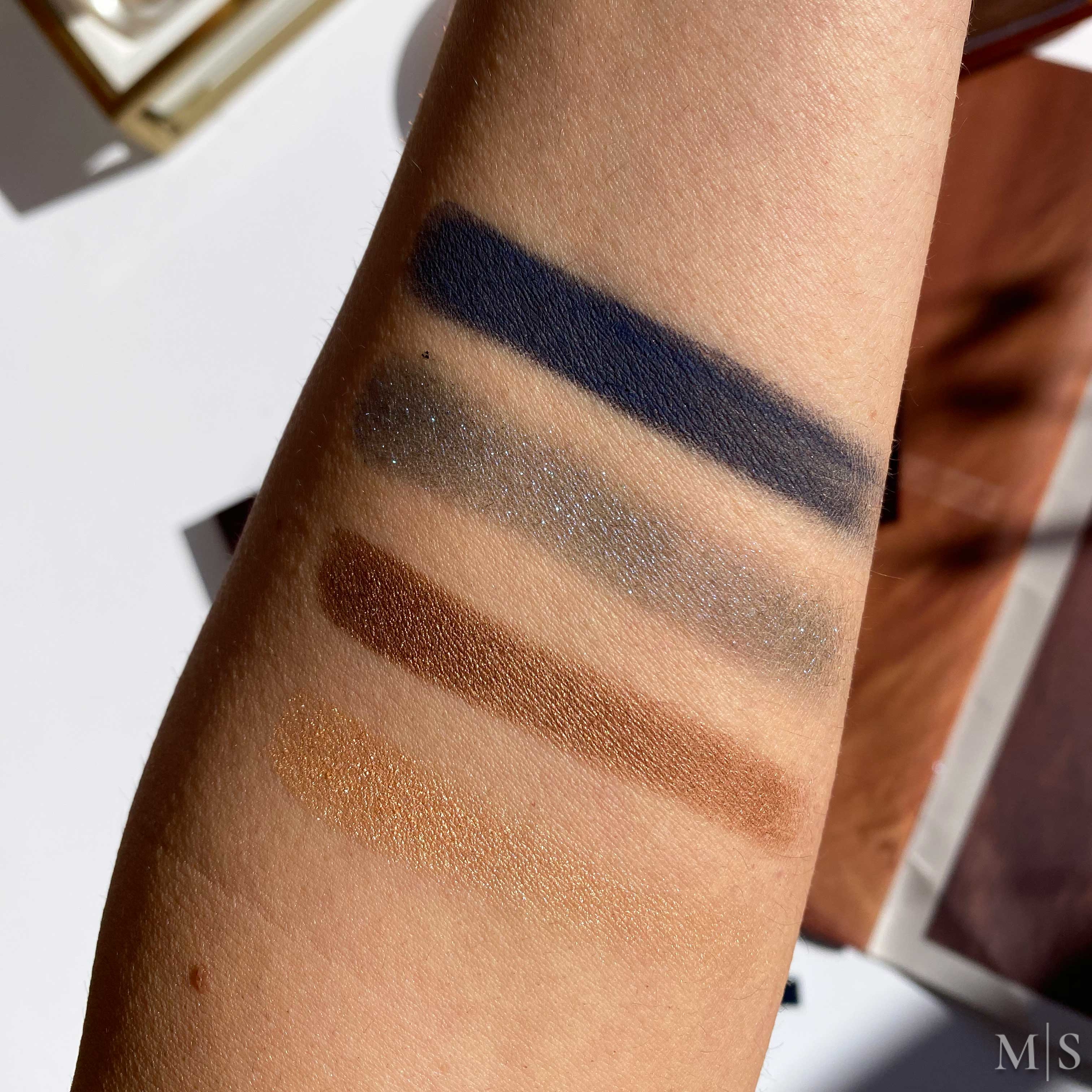 Swatches of the Super Blue Luxury Palette
Charlotte released Eye Color Magic Liner Duos to compliment the four eyeshadow palettes. These come with one matte liner and one shimmer. The formula of the Eye Color Magic Liners is very creamy, so great for smudging. As soon as it sets, the liner doesn't budge all day. The pigment that the Eye Color Magic Liner Duos give is very rich. You can definitely use these as eyeshadow bases, smudged liner or as a classic eyeliner.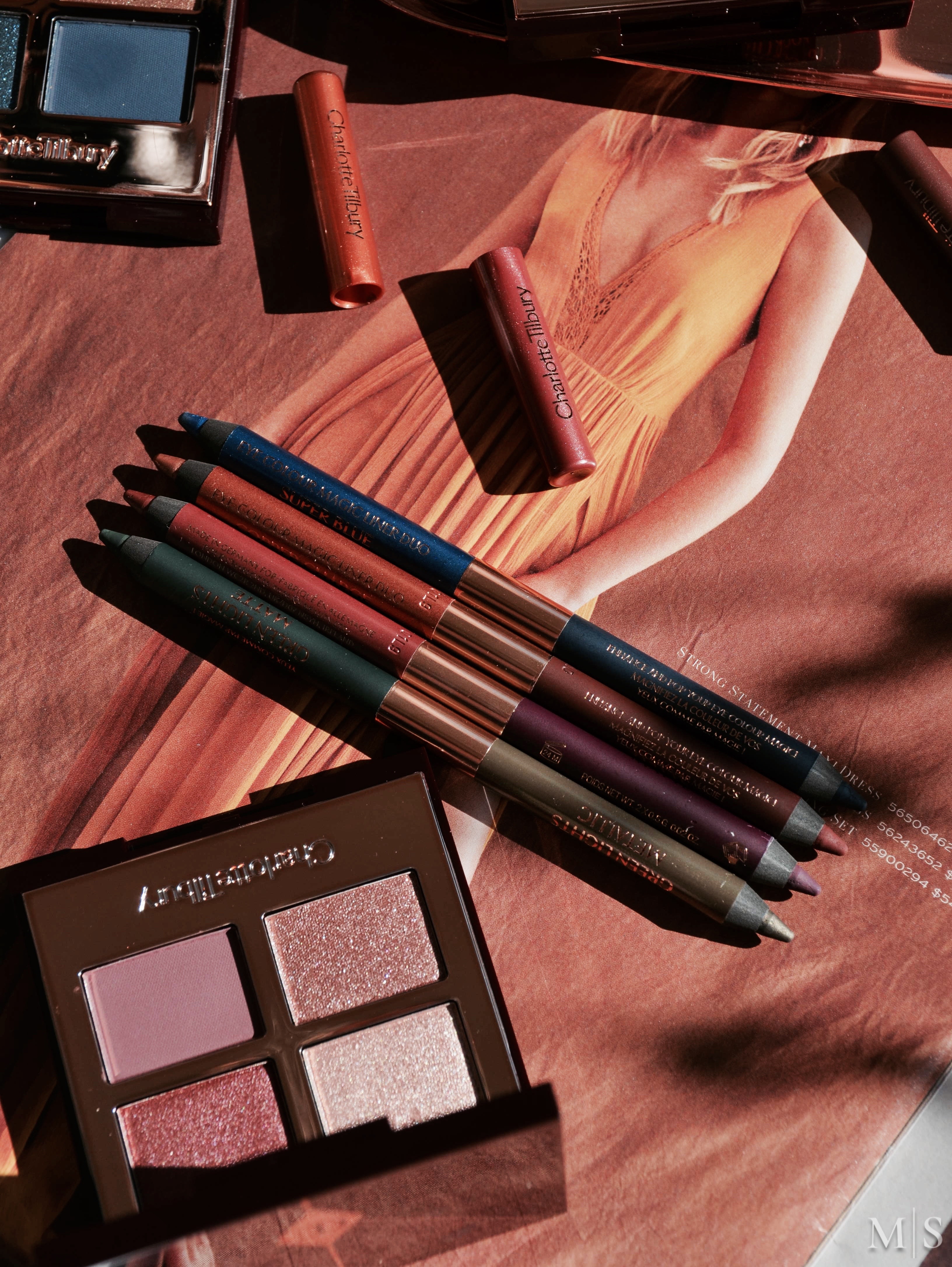 The Charlotte Tilbury Eye Color Magic Liner Duos come in four shades:
Copper Charge (warm russet shade and metallic copper)
Mesmerizing Maroon (maroon and shimmering violet)
Green Lights (matte green and metallic khaki)
Super Blue (matte blue and metallic sapphire)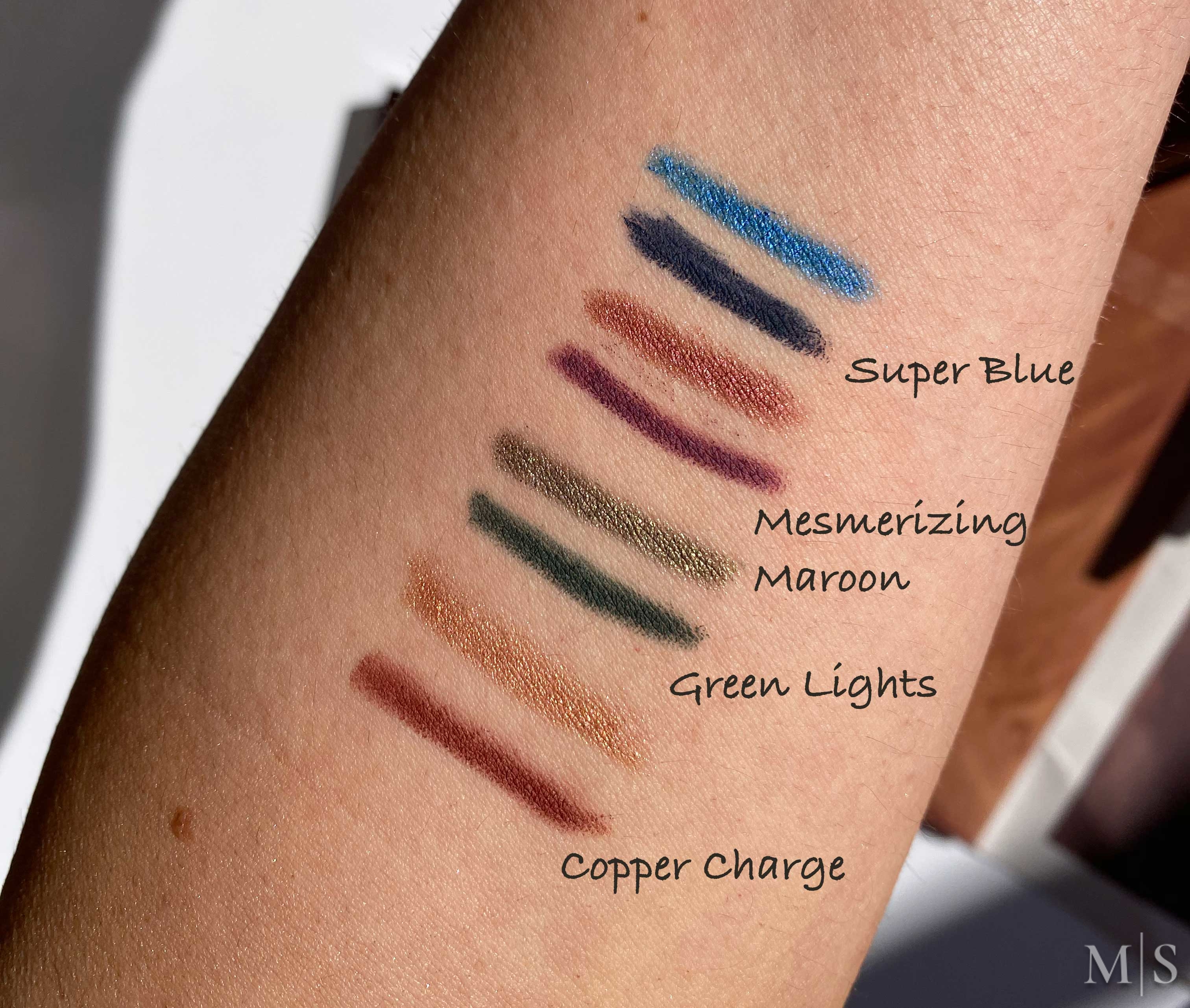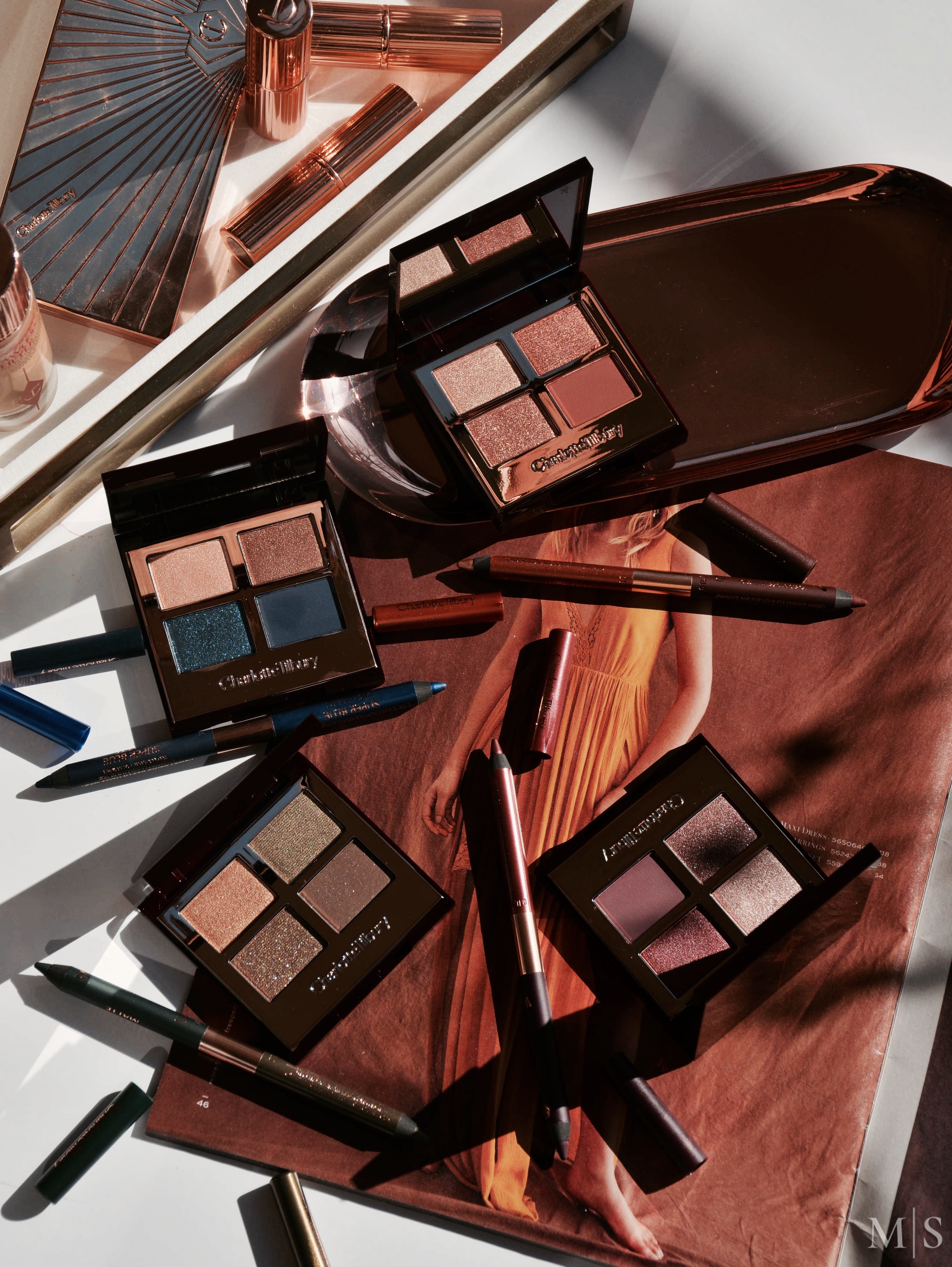 And lastly, The Feline Flick. The Feline Flick comes in a classic black and a brown shade. It has a waterproof matte formula that was easy to apply. The longer felt tip actually makes application easier for someone that is not a pro when it comes to liquid liners. It lasted 8 hours on my eyes without smudging or cracking.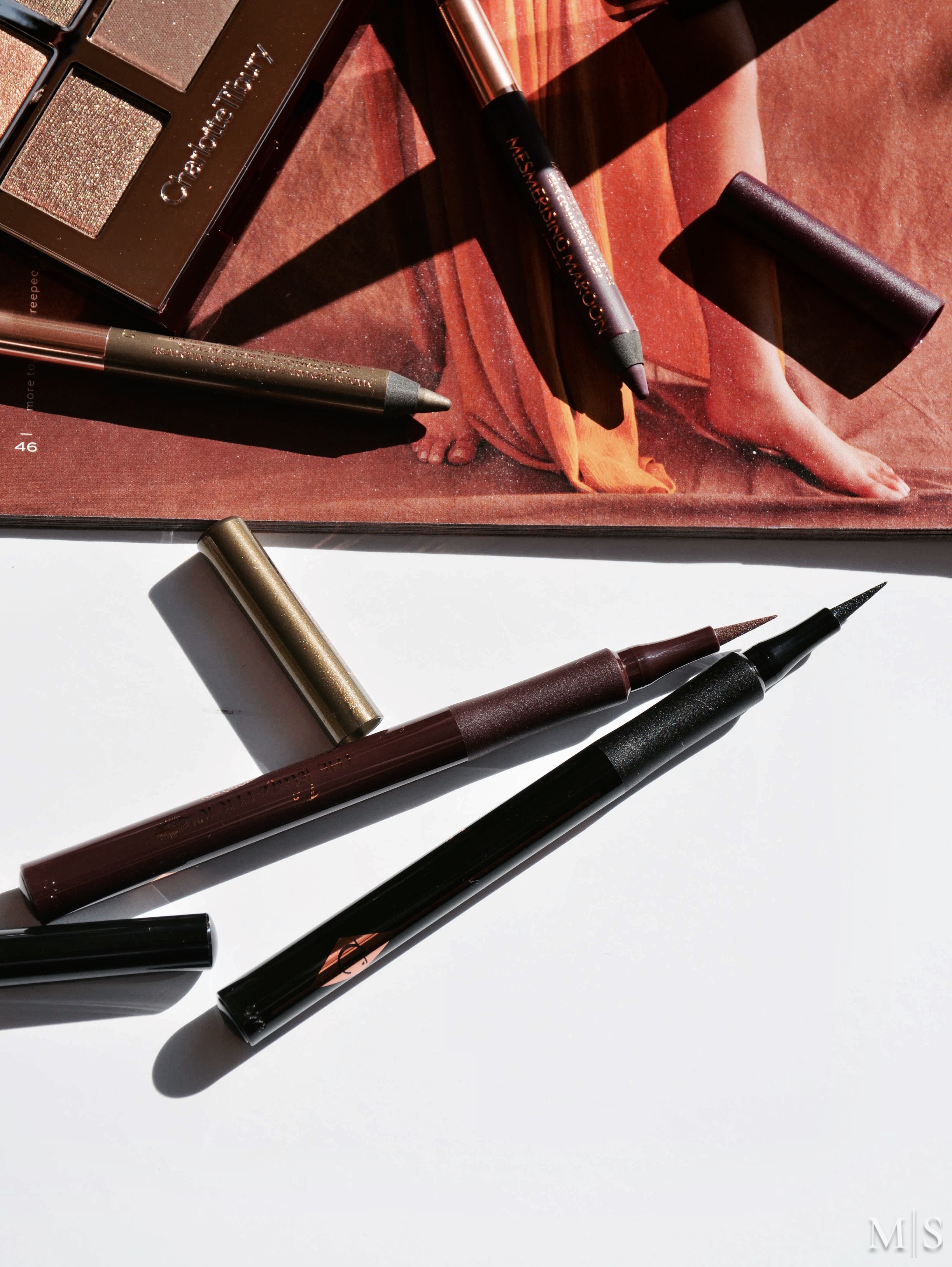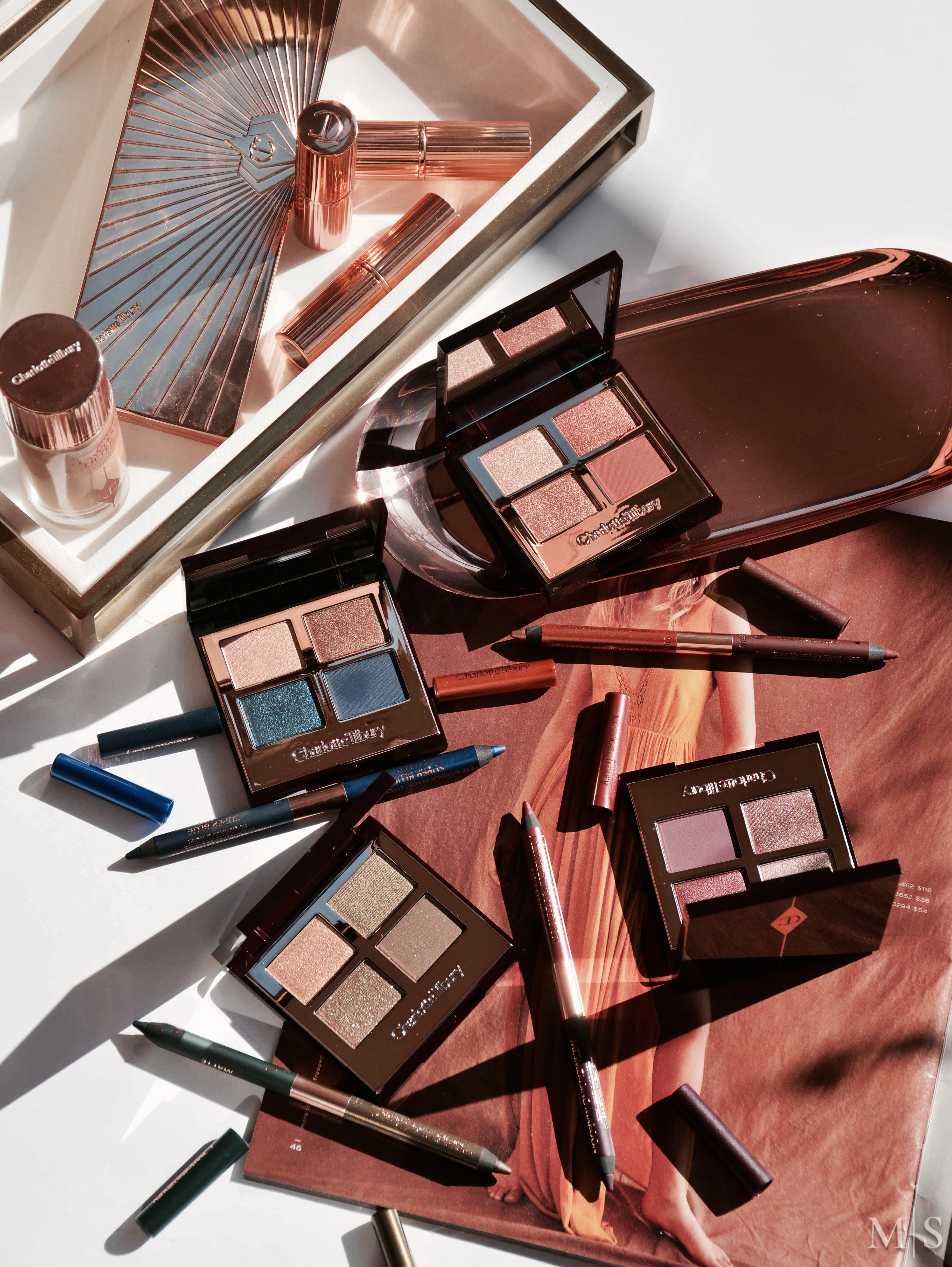 Bottom line, I am very pleased with the new Charlotte Tilbury Eye Color Magic Collection! I honestly can't pick a favorite as I love everything. Depending what shades you prefer wearing, you're not going to go wrong with any of the four palettes. They are great quality, beautiful eyeshadows and great for creating glowy eyes. The wearable sparkle that they give is really unique to me.
If you are looking for good liners, the Duos are amazing. They are so creamy and rich but stay put on the eyes. Nothing but love for this collection!
*PR Sample