It Cosmetics is pretty new to me. I've tried their Bye Bye Under Eye Corrector and really liked it so when I got the chance to test some products from them I jumped in right away.
The It Cosmetics line was developed with the help of leading plastic surgeons. Most of the products have anti-aging properties and are actually good for your skin. Most importantly they're all made without the bad stuff like parabens, mineral oil, petrolatum, talc and synthetic fragrance.
I tested a bunch of products from the line and actually liked pretty much everything. In this post we'll talk about It Cosmetics products that I recommend for you to try, products that I liked the most.
I noticed that their bases are exceptional. I had the pleasure of testing out the It Cosmetics Your Skin But Better CC Cream and the It Cosmetics Celebration Foundation.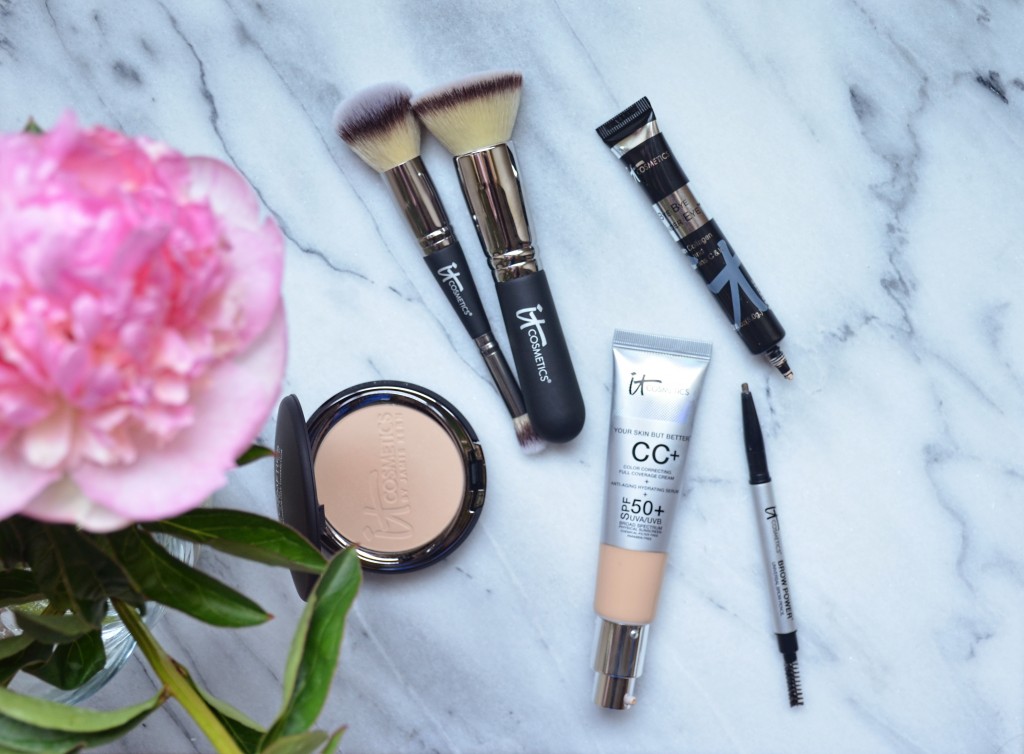 The It Cosmetics Your Skin But Better CC Cream has SPF of 50+ so it's excellent for day time wear cause it's going to protect your skin from the sun but also provide coverage as a foundation. What's different about this CC cream from others on the market is that the CC cream provides up to full coverage. It has a bunch of really good ingredients for your skin, anti-aging serum, it's clinically proven to improve skin texture and help with hydration.
I have combo skin so I do have some dry patches around my chin and nose and the CC cream doesn't grab on to them also the parts that are oily don't get oilier during the day which makes this CC cream good for dry and oily skin. The finish is natural so not totally matte. If I want to add more glow to the face I just mix it with a liquid highlighter and get the perfect glowy non greasy base.
The It Cosmetics Celebration Foundation is a medium to full coverage powder foundation. Like the CC cream it also has anti-aging properties and it's created to achieve flawless looking skin in 30 seconds. What's good about this powder foundation is that mature women can use it cause it doesn't settle in to fine lines and wrinkles. I like to wear this on days when I don't feel like wearing a lot of makeup and I just use a denser foundation brush to even out my skin tone.
The finish is so natural that you can't tell that you're wearing any foundation. It lasted all day on me without creasing and fading, it also hold up my oils pretty well so I can use this also like a setting powder or to add more coverage to a liquid foundation.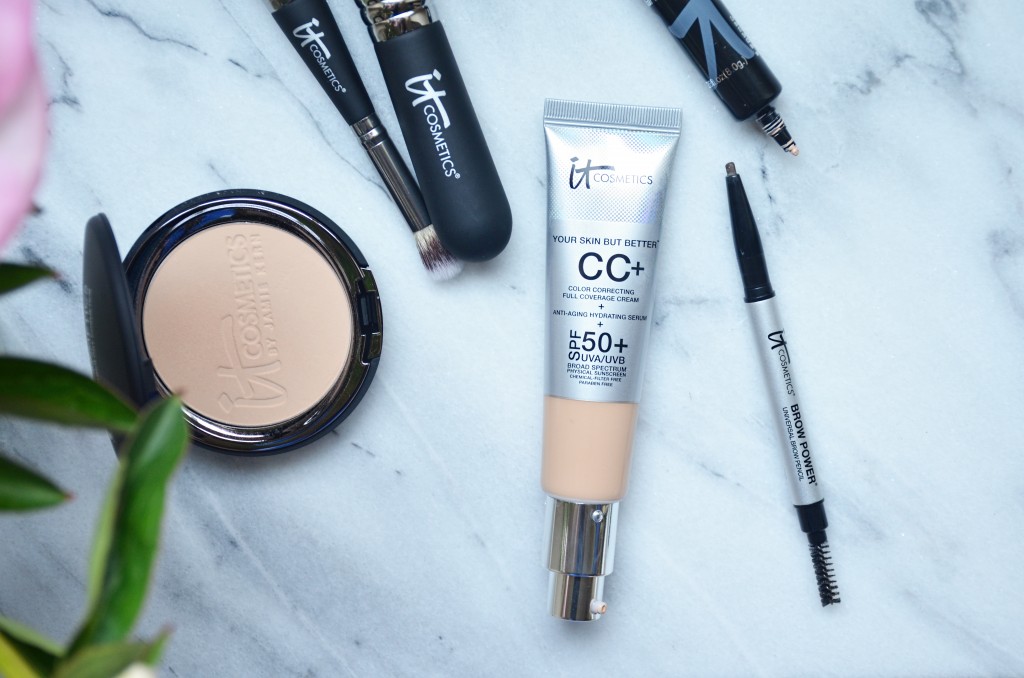 The other face product I tried and loved is the It Cosmetics Bye Bye Under Eye Anti-Aging Concealer. It's a waterproof concealer that doesn't crease. What I like about this concealer is that it's full coverage so if you have really bad dark circles this is the concealer for you. It's also very pigmented so you only need a tiny bit to cover the whole area. As with the bases this also has anti-aging properties so it helps with the under eye wrinkles. The consistency is pretty thick but creamy at the same time. I think that helps a a lot with the not creasing part cause I wore the concealer without setting up my makeup and it didn't crease on me at all which is very rare.
I swore by the Anastasia Brow Wiz until I tried the It Cosmetics Brow Power Universal Eyebrow Pencil. The universal shade works really well for my brows, I'm blonde but I do like my brows to be a little darker and not match my hair. The good thing about this brow pencil is that you can use it light handed and get a very nice natural look that would work for most blondes but if you're darker you can also get bolder and darker brows. The tip is thicker than the Anastasia Brow Wiz so it makes filling in your eyebrows pretty quick. It's also automatic and has a really nice spoolie on the other end.
And last but not least It Cosmetics brushes. I have the Heavenly Luxe Flat Top Buffing Foundation brush and the Heavenly Luxe Dual Airbrush Foundation/Concealer brush. These are my first It Cosmetics brushes that I've ever tried and I'm in love. They're so well made and the softest brushes that have touched my face.
Both brushes are really nice for applying foundation so you're not going to go wrong with either of them. They provide a perfect airbrushed finish and are very easy to use.
Now for the exciting part! It Cosmetics will be available on Beautylish starting May 26th, Tuesday. That's a huge deal for everyone who's not in the US and wants to try It Cosmetics.
Do you have any It Cosmetics favorites that I need to try? Let me know in the comments below.
Disclaimer: Beautylish was kind enough to gift me some It Cosmetics products to try, as always every opinion is my own.